Burger King Japan "fake burger"
---
With more people switching to a vegan diet and the rising popularity of fake meat options these days, the term "fake burger" is increasingly associated with burgers made with plant-based patties. And that's why many were surprised when Burger King Japan revealed that their new "fake burger" is actually one stuffed with French fries instead of vegan meat. 
---
"Fake burger" poster released on 19th October
---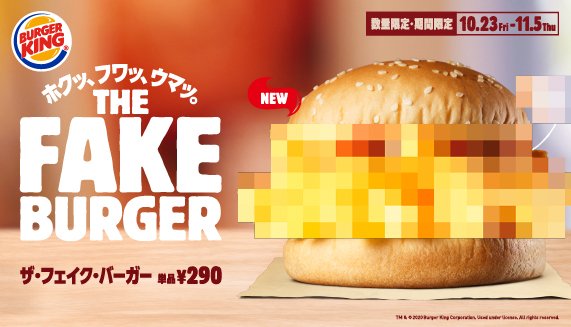 Image credit: @BURGERKINGJAPAN
On 19th October, Burger King released a poster of their upcoming product – the "fake burger". The photo of the new burger – a heavily pixelated yellow filling sandwiched between 2 buns – had netizens intrigued and speculating on the mysterious content.
---
The big reveal
---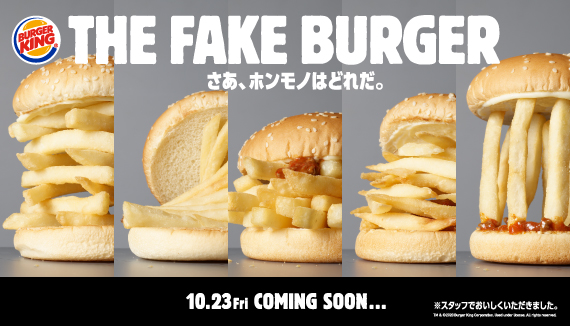 Promotional poster with the caption "So, which is the real one?" 
Image credit: @BURGERKINGJAPAN
1 day before the official release of the burger, Burger King Japan followed up with a new promotional poster and revealed that the unknown yellow filling is, in fact, a pile of French fries. 
On the poster, 5 burgers are loaded with fries arranged in different ways – from a Jenga French fries tower to hastily stacked potatoes. Burger King Japan invited netizens to take their pick and guess which is the real "fake burger".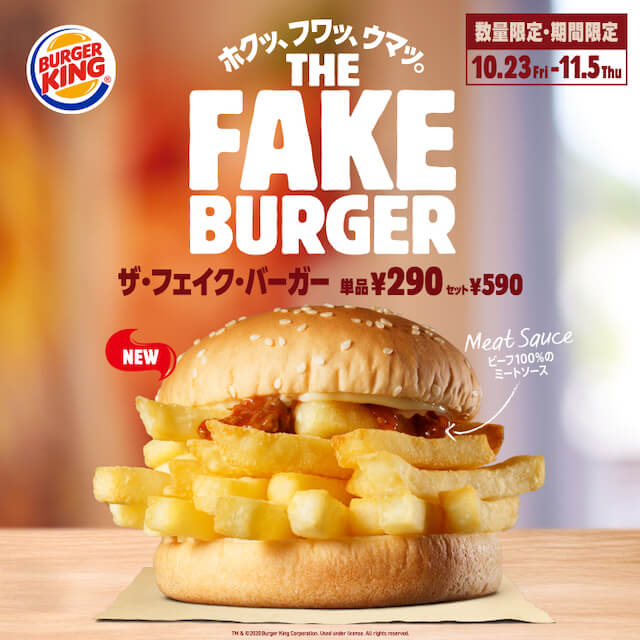 Image credit: Burger King Japan
As it turns out, the real "fake burger" is none other than the one in the middle. The french fry-stuffed burger is doused in a beefy sauce and mayonnaise – good news for those who enjoy their fries slathered in condiments. 
The burger itself costs ¥290 (~USD2.77). But if that isn't enough carbs, customers can opt for the set meal, which comes with a side of fries and a cup of soft drink at ¥590 (~USD5.63). 
Alternatively, top up an additional ¥20 (~USD0.19) for onion rings, and ¥50 (~USD0.48) for coconut shrimp or a healthier Caesar salad. An upgrade to chilli cheese fries is also available at ¥80 (~USD0.76).
---
Netizens divided over the French fry burger
---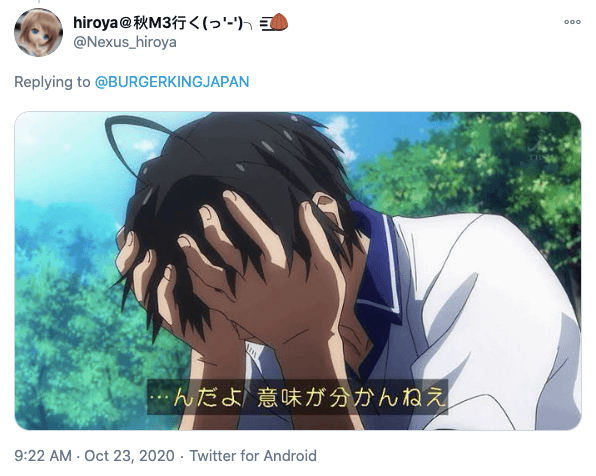 Image adapted from: @Nexus_hiroya
Since its release, the "fake burger" has become a hot topic among netizens. Many were left understandably confused. User @Nexus_hiroya replied with a screenshot from the anime series Magical Warfare, captioned "What? I don't understand the meaning of this". 


Image adapted from: @RARUFISU
Netizens like user @RARUFISU were taken aback by the reveal and expressed that they were "certain that the patty was [going to be] made of soy meat".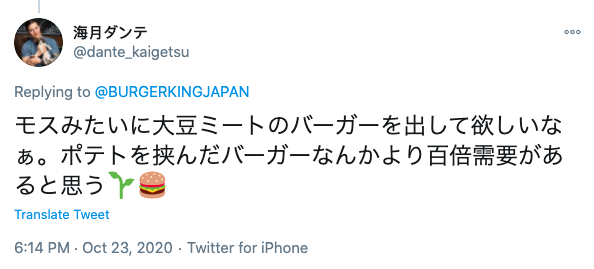 Image adapted from: @dante_kaigetsu
Others expressed their disappointment as they were hoping for Burger King Japan to finally launch a vegan burger. User @dante_kaigetsu commented that he "wants Burger King to release soy-based burgers like the ones offered in Mos Burger", and that the "demand for plant-based burgers is bound to be higher than French fry burgers". 


Image adapted from: @nakao_takuhiko
Those who've tried the new burger noted that it tasted better than expected. It's not a surprise, considering that chip butty – essentially a French fry sandwich – is a traditional staple at takeaways in the United Kingdom. 
If you're in Japan and plan to give it a try, the burger itself should be more than enough to fulfil your carb intake for the day. According to user @nakao_takuhiko, the set comes with so many fries that "he's had enough and will be avoiding potatoes for a while".  
---
Burger King Japan releases "fake burger"
---
Burger King's "fake burger" went on sale on 23rd October, and will only be available until 5th November 2020. It's an awfully short period, but judging from this comment left by Burger King Japan, something seems to be brewing behind the scenes. Hopefully, we can look forward to more exciting releases in December 2020.
Check out these articles for more food-related articles:
Cover image adapted from (left to right): @BURGERKINGJAPAN and @BURGERKINGJAPAN
Get more stories like this!
Drop us your email so you won't miss the latest news.