Japanese romance movies
---
Japanese romance movies and dramas are often overlooked compared to their immensely popular Korean counterparts, but that doesn't make them any less binge-worthy. Here's a list of top 25 Japanese romance films that you can watch with your bae or BFF on a movie night. 
---
1. We Made A Beautiful Bouquet
---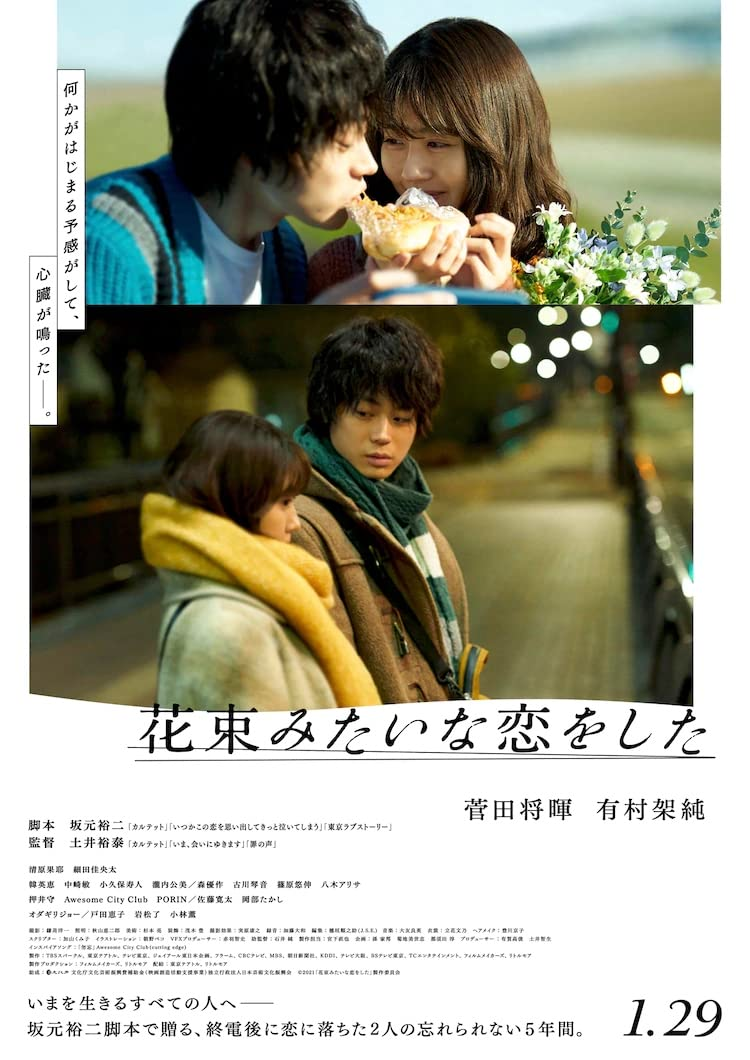 Image credit: IMDb
Fresh flower bouquets, no matter how beautifully made, eventually wither away. We Made A Beautiful Bouquet tells the tearjerking 5-year love story of Mugi Yamane and Kinu Hachiya, whose relationship tragically goes from 100 to 0 and withers under the pressures of adulting.
Yamane and Hachiya first encounter each other at a train station as they both rush to catch the last train home. Sympathising with each other's sorry situation, they spend the night getting to know one another at an izakaya.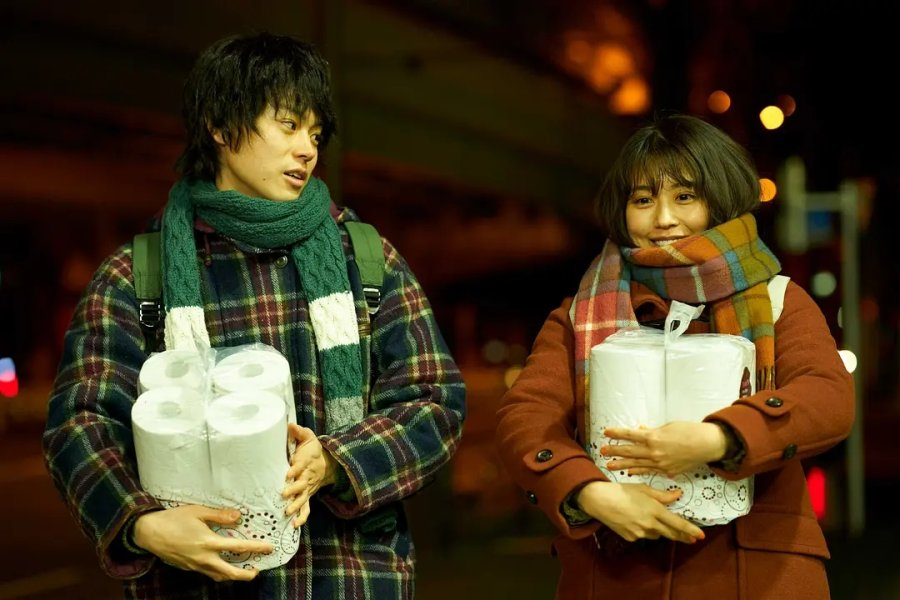 Image credit: _sunflower_
To their surprise, Yamane and Hachiya find numerous commonalities, from their habit of using old movie tickets as bookmarks to the type of music they enjoy. The 2 university students eventually fall for each other and start living together post-graduation.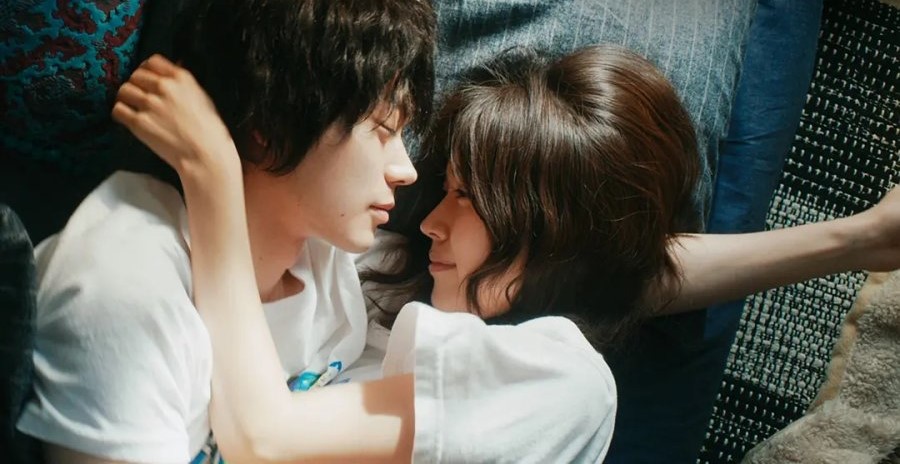 Image adapted from: _sunflower_
However, as adulthood painfully changes them in different ways, Yamane and Hachiya find themselves increasingly estranged from each other. It subtly shows in their everyday lives, from gradually diverging book genres of choice to the type of shoes they wear.
Stuck in an endless cycle of loving each other out of habit and hating each other due to growing incompatibility, the couple grasp at straws to salvage however much of their relationship they can.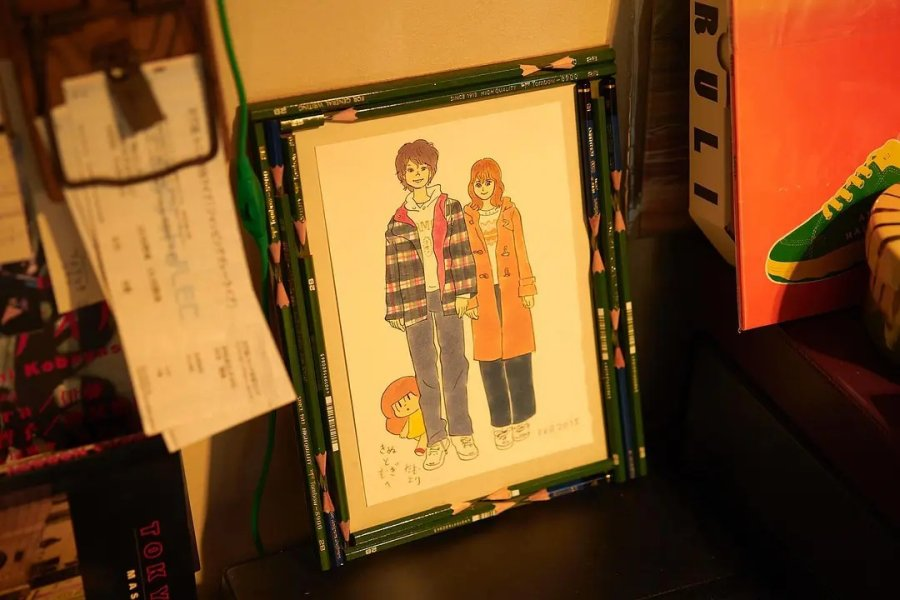 Image credit: _sunflower_
We Made A Beautiful Bouquet is a romance movie that realistically portrays the types of challenges real-life couples face, striking a chord with current and ex-couples alike. 
The down-to-earth movie reminds us that romantic relationships require mutual efforts to nurture regardless of the chemistry a couple initially has.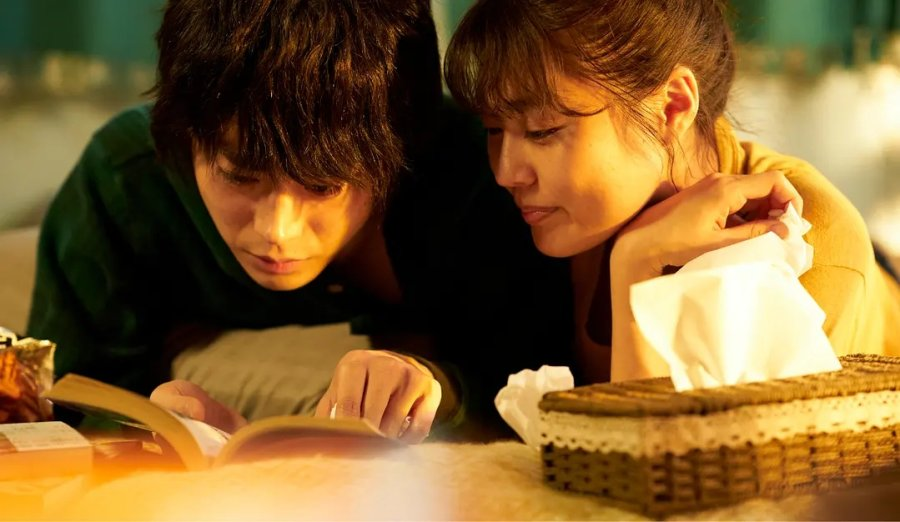 Image credit: _sunflower_
Length: 2 hours 4 minutes
Available on: DVD
---
2. My Tomorrow, Your Yesterday
---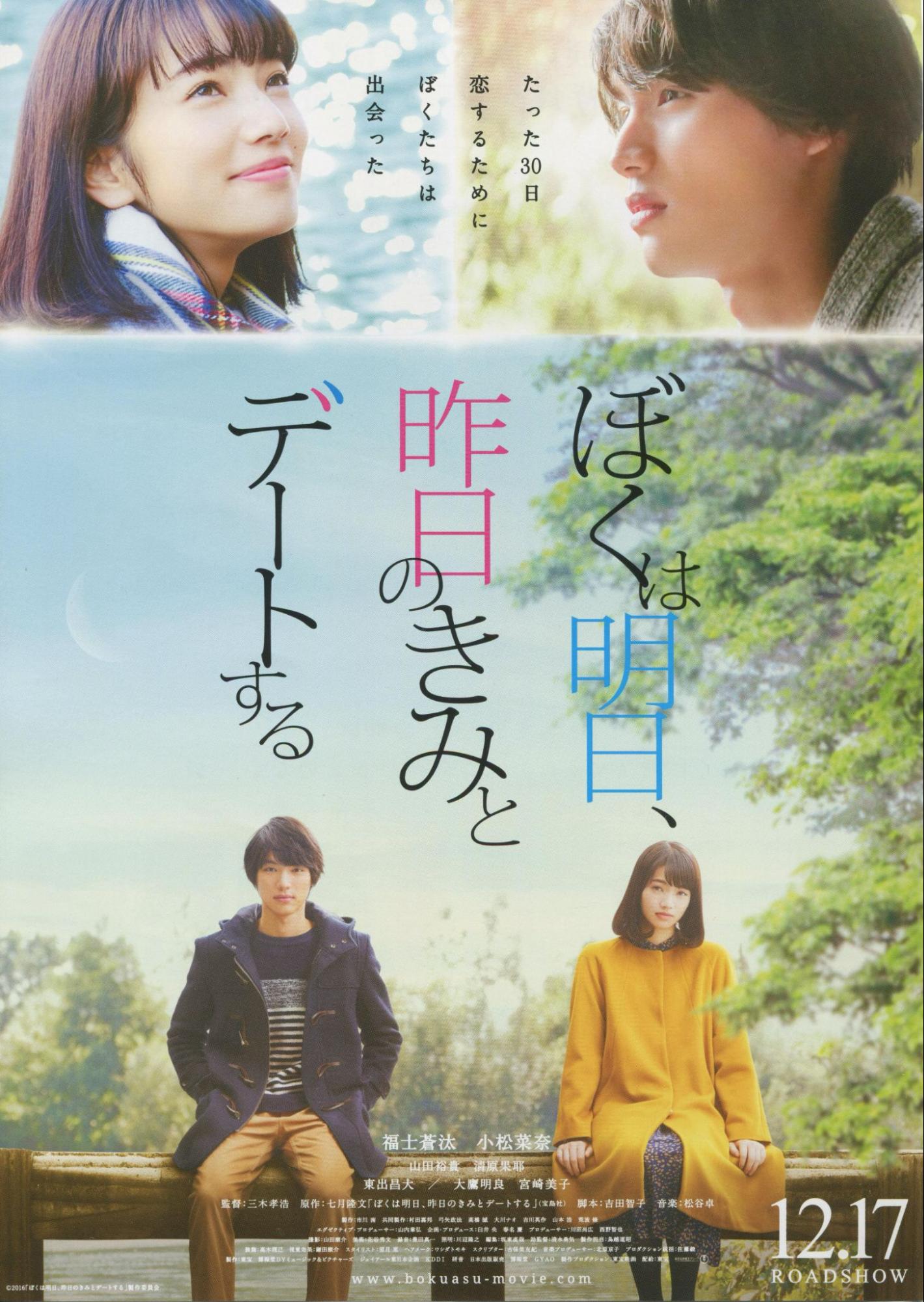 Image credit: IMDb
My Tomorrow, Your Yesterday tells the touching tale of 2 star-crossed lovers, Takatoshi Minamiyama and Emi Fujuku, who age in opposite directions and hold incongruous memories of one another with each passing day.
When Takatoshi first encounters Fujuku at the train station, he immediately falls for her. After a couple of meetings, Takatoshi confesses his love for Fujuku, who reciprocates his feelings.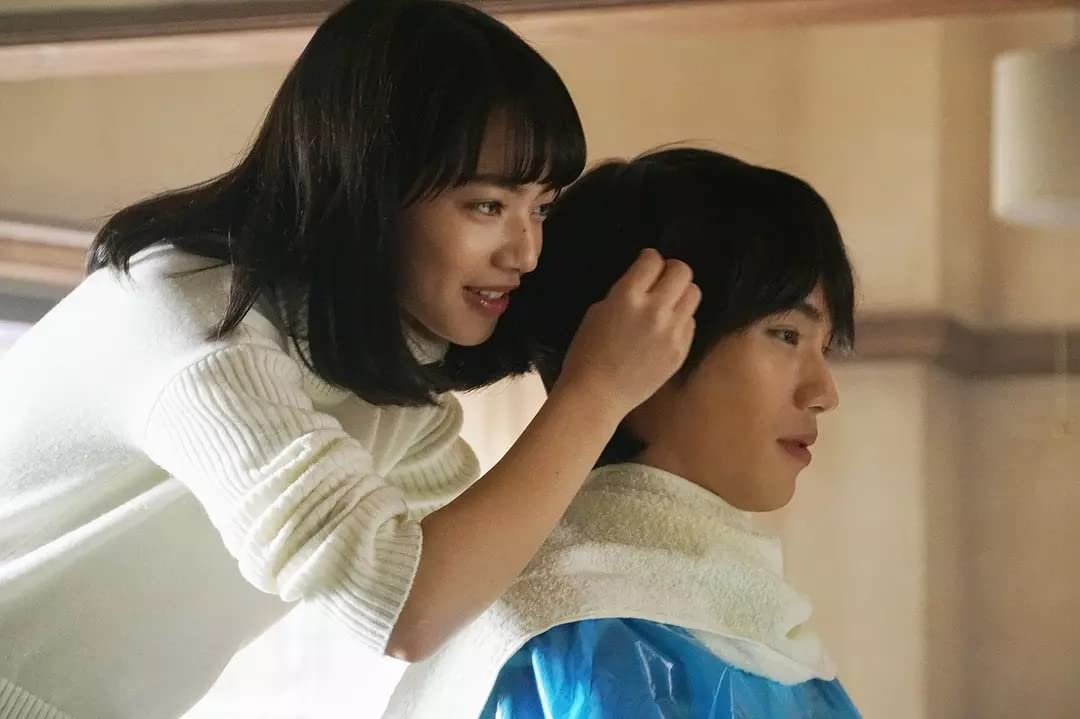 Image credit: IMDb
However, as their relationship progresses, Takatoshi increasingly finds odd qualities in Fujuku, such as the way she gets overly emotional over the things he does for her and how she always bails on their dates past midnight.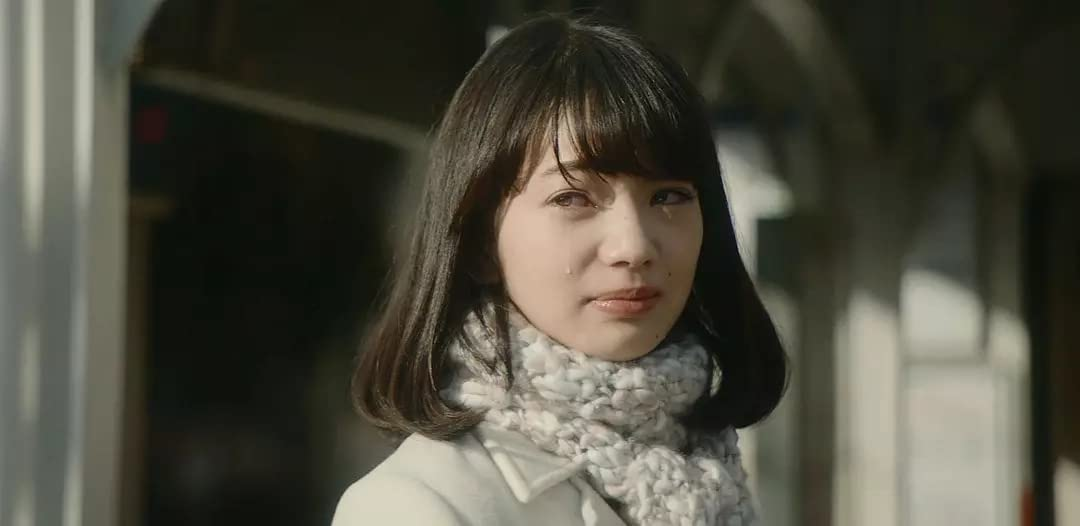 Image credit: IMDb
Takatoshi eventually finds out that Fujuku leads her life backwards, meaning that she gets younger and loses her memory of him with every passing year. Alas, he also learns that they only have a month together as a couple. 
Nevertheless, Takatoshi treasures the limited time he has with Fujuku before her memories of him fade, spending their last day together at the train station where they first met.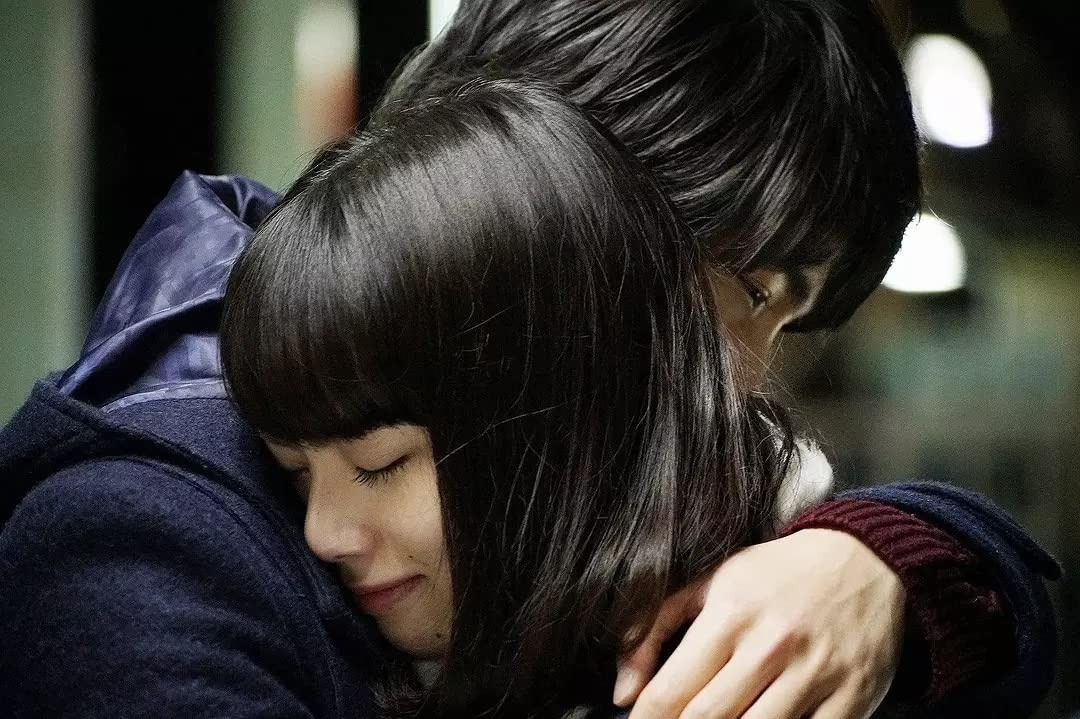 Image credit: IMDb
My Tomorrow, Your Yesterday is a film that reiterates the fragility of life and importance of memories, encouraging us to treasure the limited time we have with our loved ones.
Length: 1 hour 51 minutes
Available on: DVD
---
3. The Liar and His Lover
---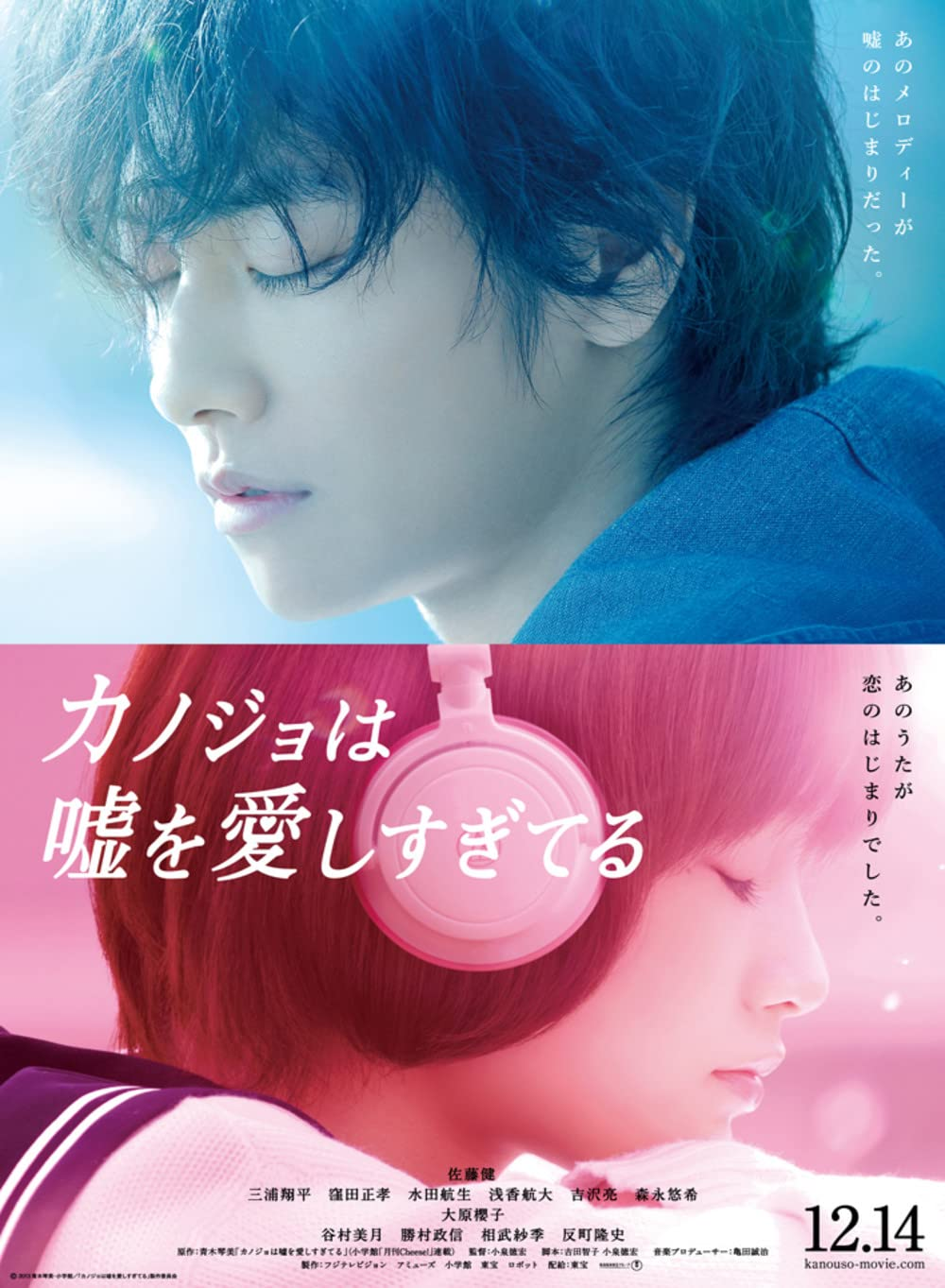 Image credit: IMDb
The Liar and His Lover follows the love story of Aki Ogasawara and Riko Koeda, the former a jaded low-profile songwriter for a famous band and the latter a passionate high school band member. 
The 2 first met at a river where Koeda was drawn by Ogasawara's beautiful humming of a melody he'd composed on the spot. Following Ogasawara's haphazard question – "Do you believe in love at first sight?" – Koeda and Ogasawara start dating while unaware of each other's music affiliations.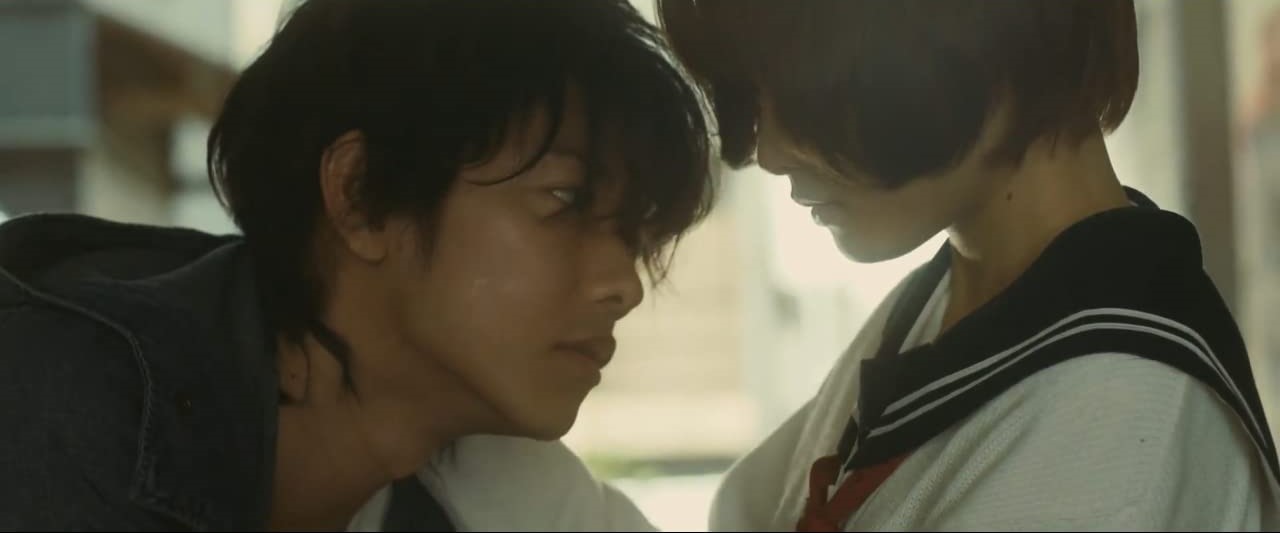 Image adapted from: IMDb
Koeda and Ogasawara finally find out each other's involvement in the music industry when Koeda prepares to debut as a band member. As Koeda's need for a scandal-free image comes into play, Ogasawara is forced to reconsider his relationship with Koeda.
The male protagonist of The Liar and His Lover was played by Takeru Satoh, who's also the male lead in the new J-romance Netflix drama series, First Love. 
Length: 1 hour 57 minutes
Available on: DVD
---
4. Theater 
---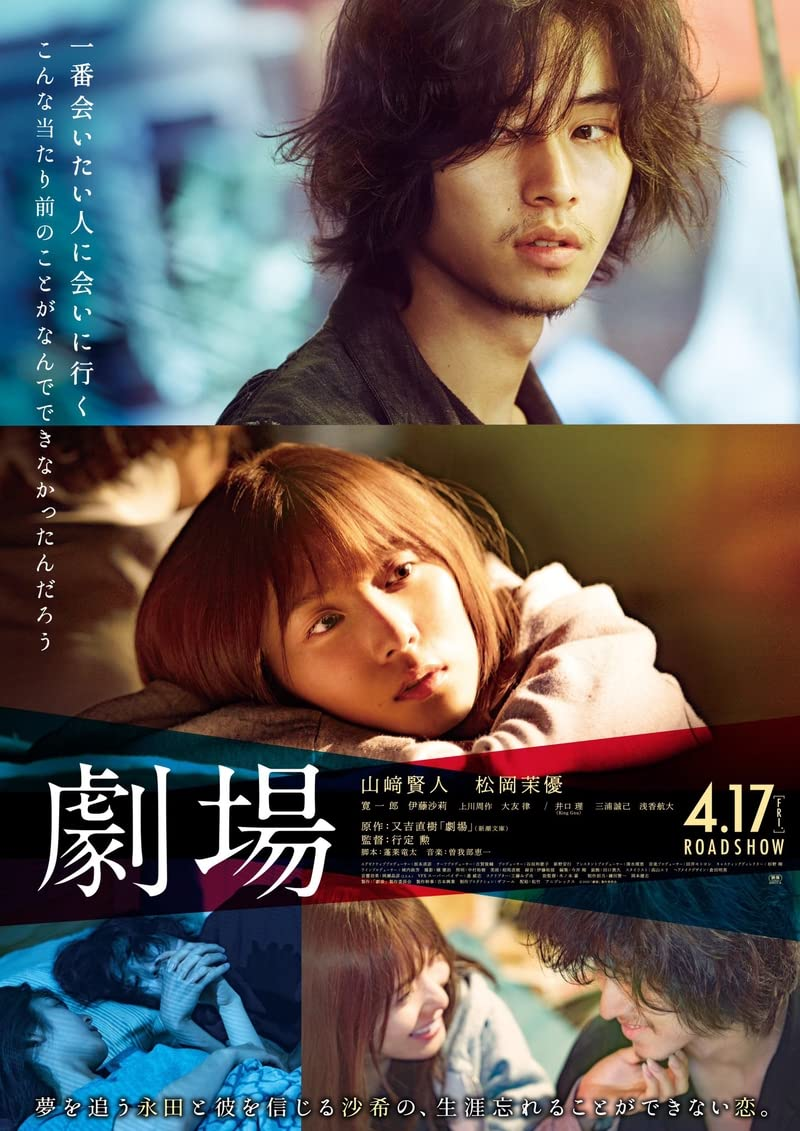 Image credit: IMDb
Theater tells of the turbulent relationship between the egoistic Nagata and the selfless Saki. While Nagata is a theatre director who's hit rock bottom, Saki is an aspiring actress enrolled in university. The 2 meet on the streets by chance, eventually developing feelings for each other and subsequently cohabiting.
Nagata, consumed by low self-esteem, unintentionally takes his grievances out on Saki whenever things don't go his way. His temperamental outbursts get increasingly unreasonable, from shamelessly bumming off Saki's hard-earned money to lashing out at Saki whenever she compliments someone else in the industry as Nagata. Despite her boyfriend's insufferable bouts of anger, Saki unfailingly validates Nagata's hard work and encourages him to press on.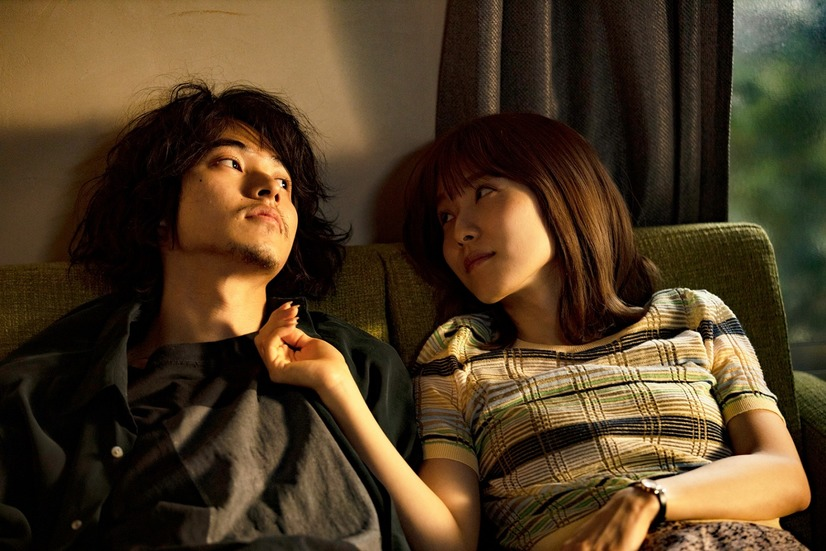 Image credit: Aya
Over time, Nagata starts putting down Saki, causing Saki to doubt her worth and become gloomier each day. The couple's relationship eventually gets so unhealthy that their friends start intervening, convincing both parties to pull out of the relationship.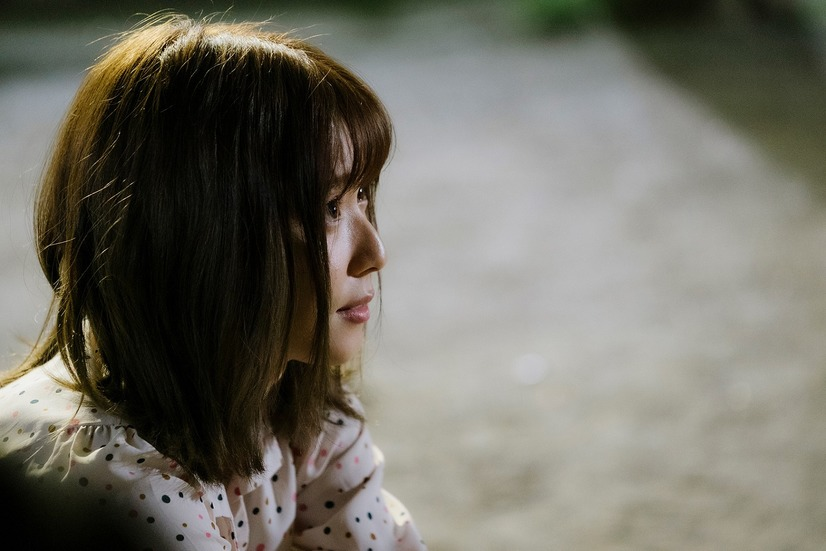 Image credit: Aya
Theater is a heartbreaking love story as we see how Nagata capriciously hurts Saki, who loves and cares for him, and the way Saki loses her sense of self in the course of trying to help Nagata find his.
Nagata was played by Kento Yamazaki, who also plays Arisu in Alice In Borderland.
Length: 2 hours 16 minutes
Available on: DVD
---
5. We Couldn't Become Adults
---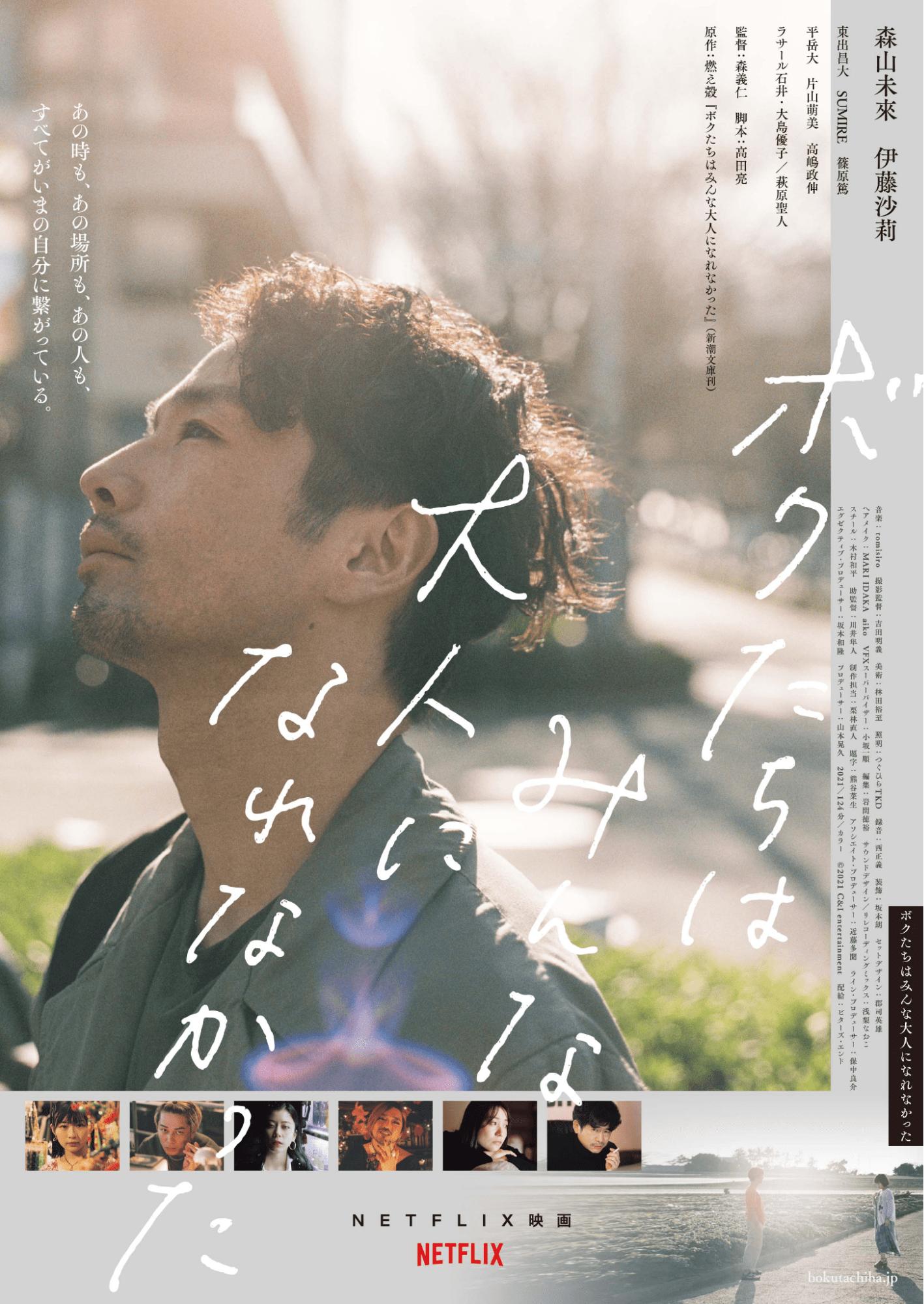 Image credit: IMDb
We Couldn't Become Adults follows Makoto Sato, a 46-year-old man who can't get over his first love from 20 years ago, Kaori Kato. 
Sato was an average student who'd always followed Kato's lead in trying new things. He eventually subscribed to the young Kato's notion of shunning all mainstream activities and constantly being on the lookout for ways to be different from the rest, even after their breakup.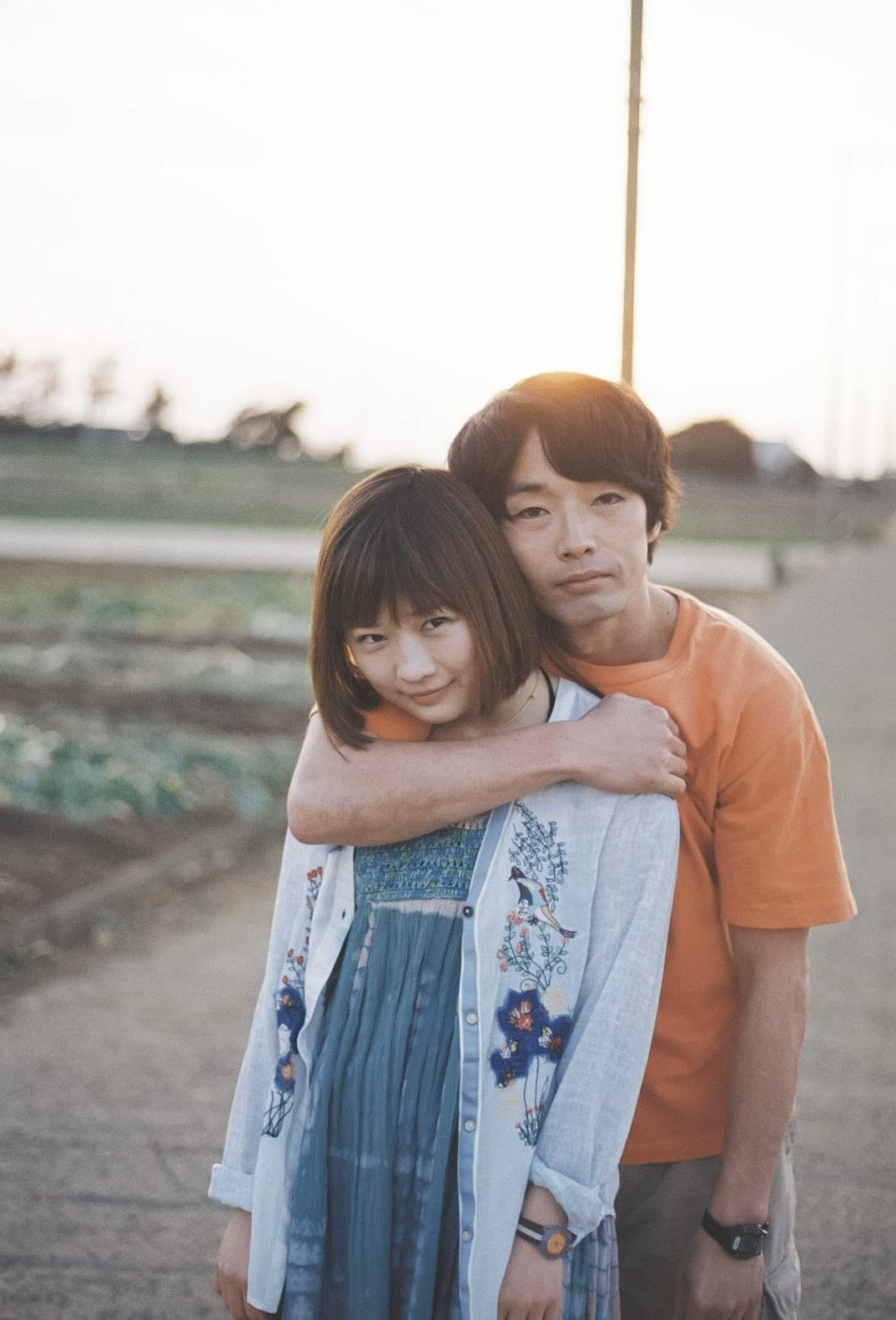 Image credit: IMDb
When Sato gets in touch with Kato 20 years later, he realises that Kato is married – just like most adults. Sato then realises that he's the only one who's been stuck in the past, grasping at what he believed to be the only thing that still connected him and Kato: the need to be unconventional.
We Couldn't Become Adults is a heartwrenching love story that illustrates the consequences of improper closure post-breakup – in Sato's case, it's the inability to move on with his own life well into adulthood for 20 whole years.

Length: 2 hours 4 minutes
Available on: Netflix
---
6. The 100th Love with You (2017)
---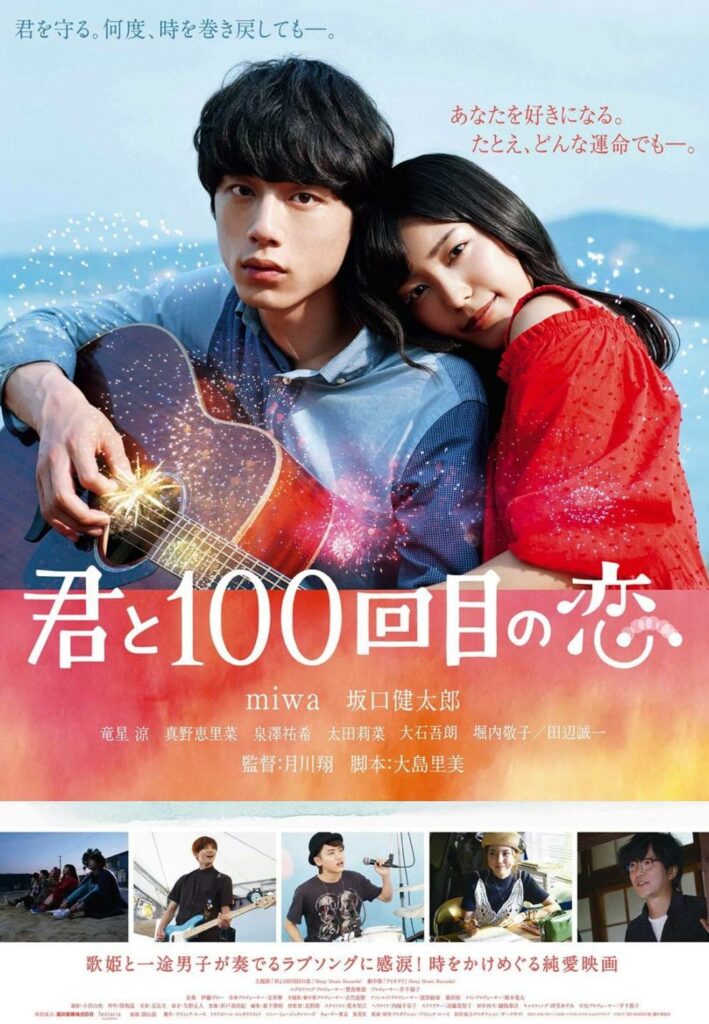 Image credit: IMDb 
The 100th Love with You tells the tale of the music-loving Riku Hasegawa, who seems to have a perfect life. But he actually has a secret special ability: he can reverse time. His childhood friend and crush, Aoi Hinata, becomes aware of his secret when she finds herself reliving the same events right before her fatal accident on 31st July.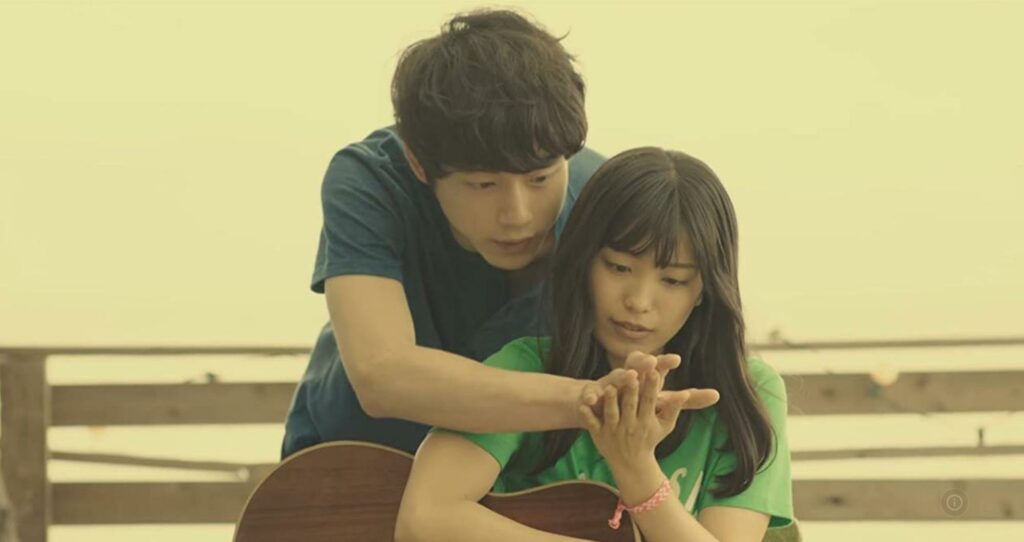 Image credit: IMDb
As Riku and Aoi continuously go back in time and spend time together, they discover the hidden feelings they have for each other and eventually start dating. Their love grows stronger with each passing day. But sometimes, good times don't last, and reality hits them like a truck. 
Truth be told, Riku's ability to reverse time doesn't work all the time. Can Riku really protect Aoi and prevent tragedy from befalling her yet again? 
The 100th Love with You is a heartfelt love story between Riku and Aoi. It portrays the kind of love that will withstand the test of time, literally, and shows us the extent one would go to to protect their beloved.    
Length: 1 hour 56 minutes
Available on: Netflix
---
7. 1,778 Stories of Me and My Wife (2011)
---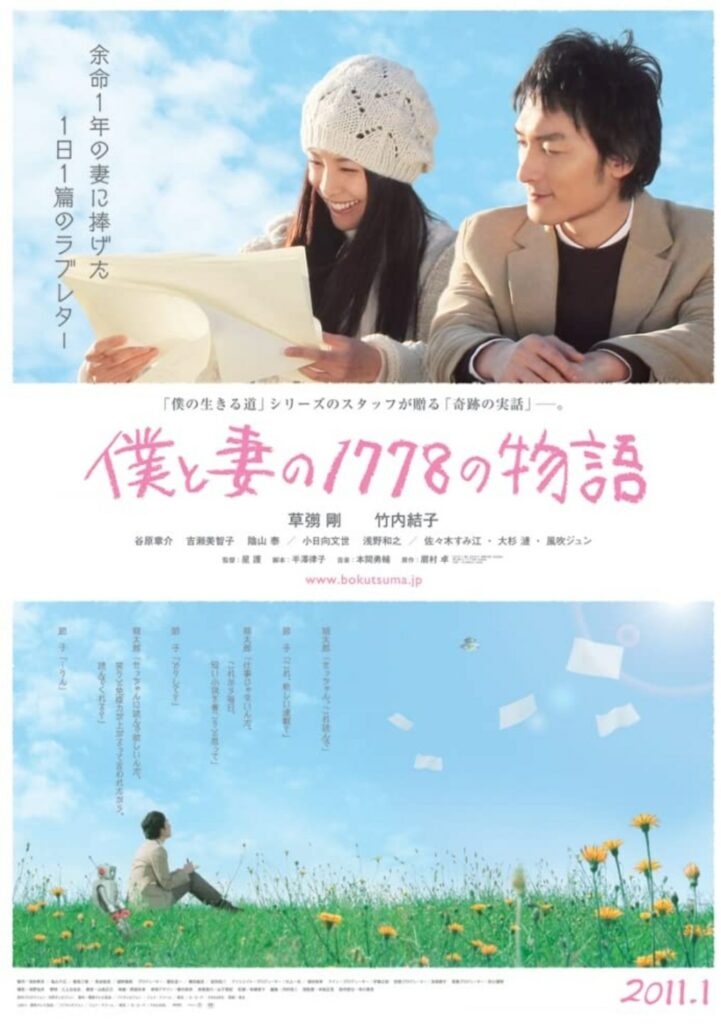 Image credit: IMDb 
1,778 Stories of Me and My Wife is a love story that will move you because of the genuine and faithful love between Sakutaro Makimura, and Setsuko. Setsuko is suddenly diagnosed with a terminal illness and has only one year left to live. 
Sakutaro, a science fiction writer, chooses to write a story for his wife to read every single day in order to lift her spirits and hopefully prolong her lifespan. Sakutaro's unwavering love and devotion towards Setsuko during such a trying period is a true testament to their love.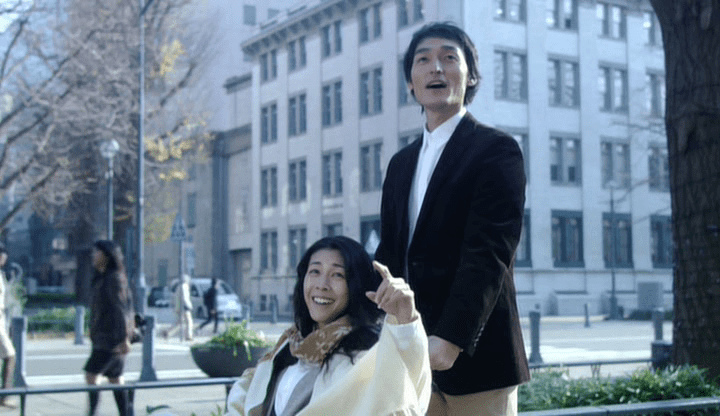 Image credit: Alchetron
The film shows us the journey of Sakutaro and Setsuko as they cherish the remaining time they have with each other. 1,778 Stories of Me and My Wife is a romance based on the real experiences and relationship of the author Taku Mayumura.
Length: 2 hours 19 minutes
Available on: DVD

---
8. Love and Lies (2017)
---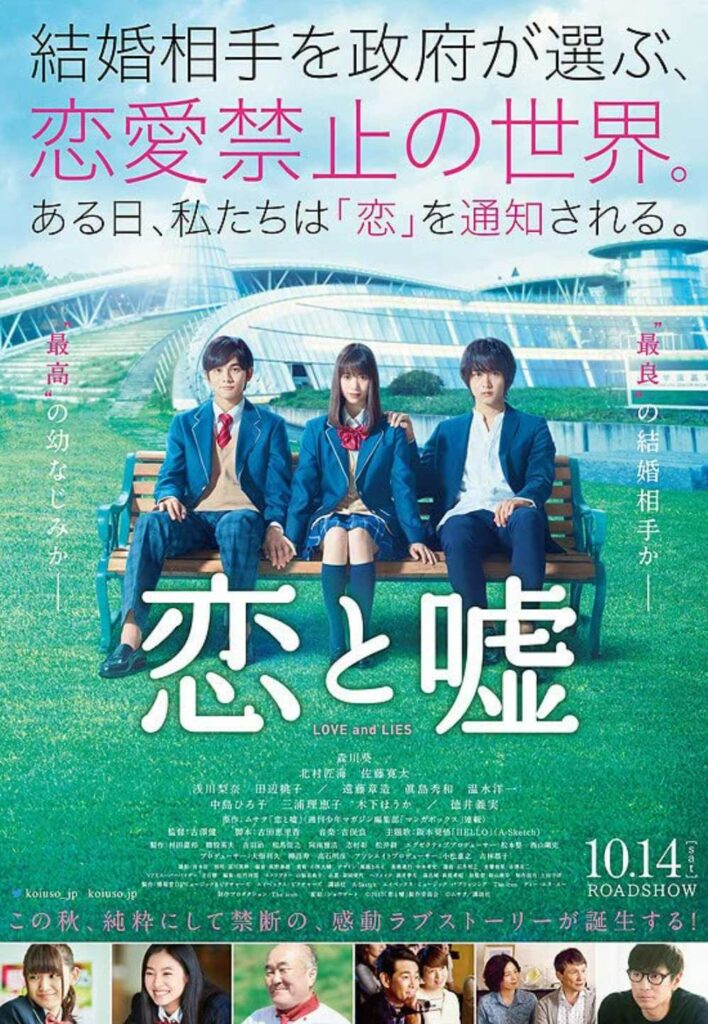 Image credit: IMDb 
Love and Lies follows the story of a complicated love triangle between Aoi Nisaka, Yuto Shiba, and Sosuke Takachino. In modern-day Japan, a new law known as the Yukari Law has been passed. This law states that when a Japanese teen turns 16, they will receive a message from the government, informing them of their arranged spouse. 
No one can choose who they want to date and marry because the partner chosen by the government for you is irrevocable. The lives of childhood friends Aoi and Yuto are overturned when Aoi is assigned a partner who's not Yuto. Aoi's partner turns out to be the aloof and pragmatic Sosuke.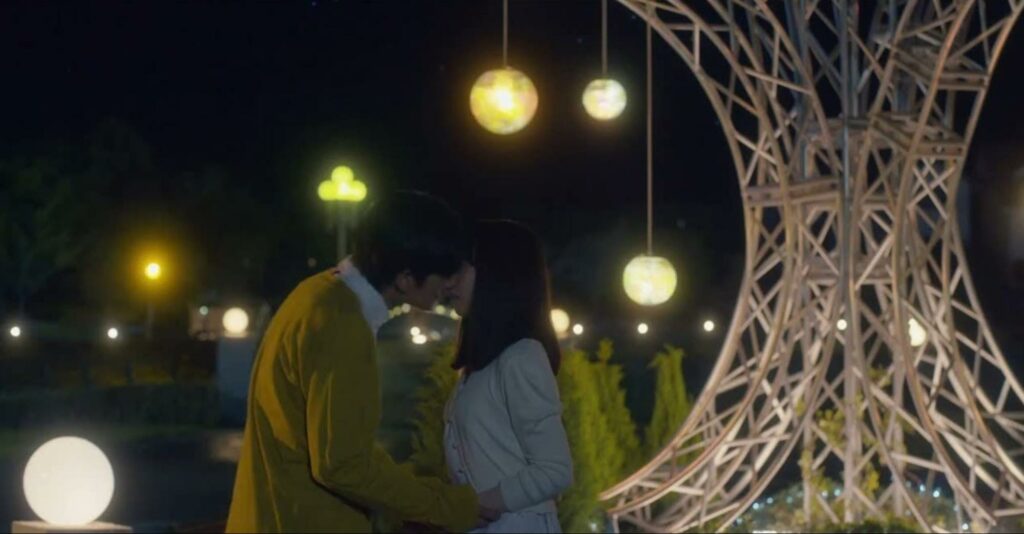 Image credit: IMDb
This film will challenge your views on love and arranged marriages. It all boils down to this: do you trust your heart, or do you trust science when it comes to matters regarding love? Watch how Aoi interacts with the two guys and find out who she ultimately chooses to be her Mr Right.    
Video credit: Panap Media
Length: 1 hour 50 minutes
---
9. I Give My First Love To You (2009)
---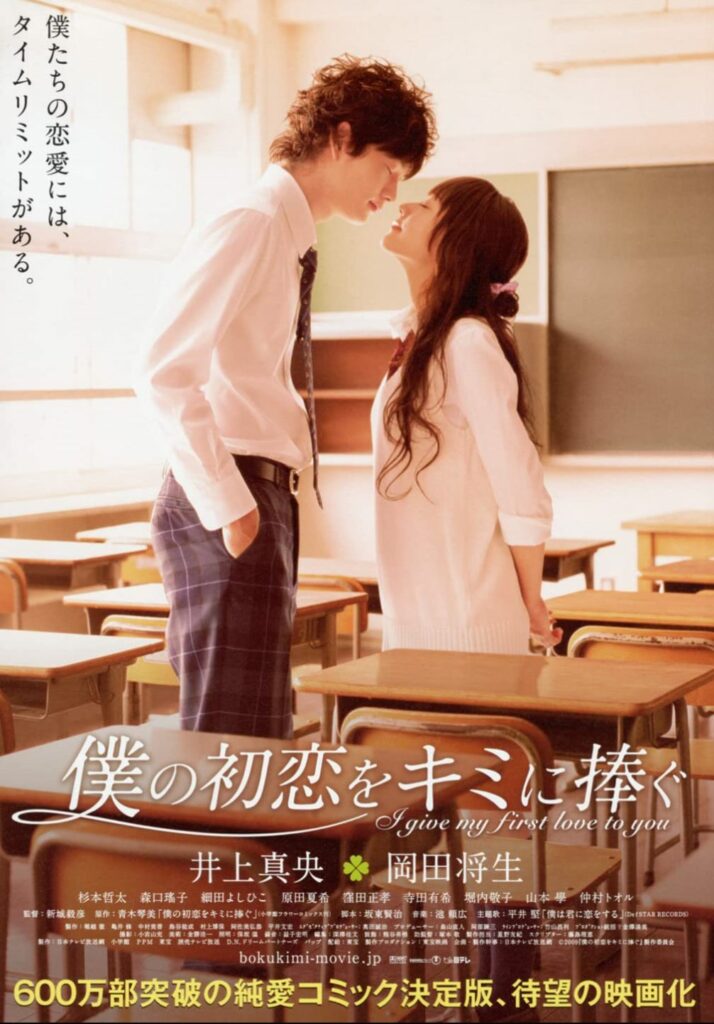 Image credit: IMDb 
Takuma Kakunouchi and Mayu Taneda are childhood sweethearts. When they were eight, they made a promise to marry each other once they turned 20. But here's the catch: Takuma is diagnosed with a heart condition that only lets him live till 20, unless he can find a suitable heart donor before then.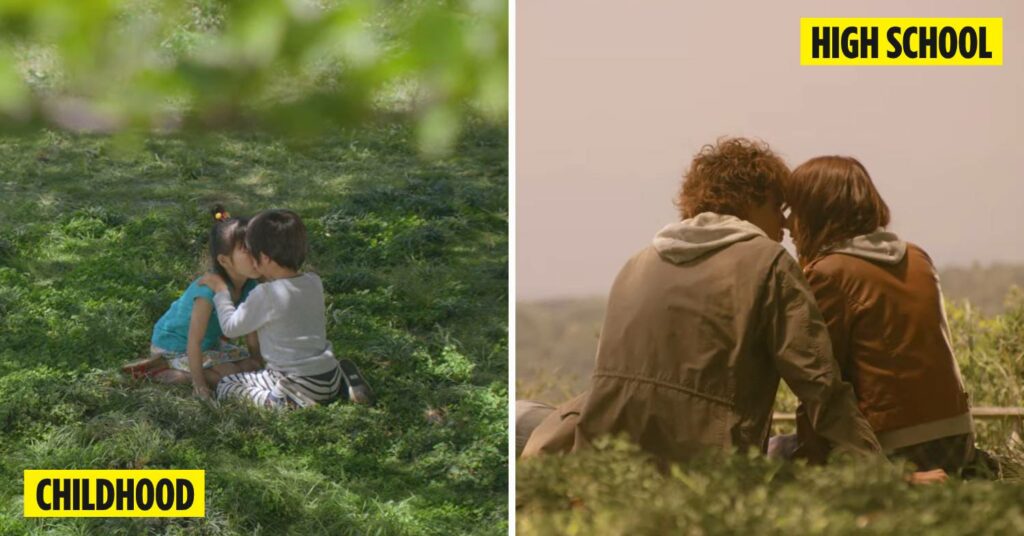 Image adapted from: my theater PLUS公式チャンネル, my theater PLUS公式チャンネル
Despite knowing that their love may be short-lived, Takuma and Mayu can't help their growing affection for one another. Their love may seem impractical because Takuma's heart disease threatens to snatch him away from Mayu at any given time, but Mayu can't bear to be apart from Takuma and is willing to take the risk to be with him.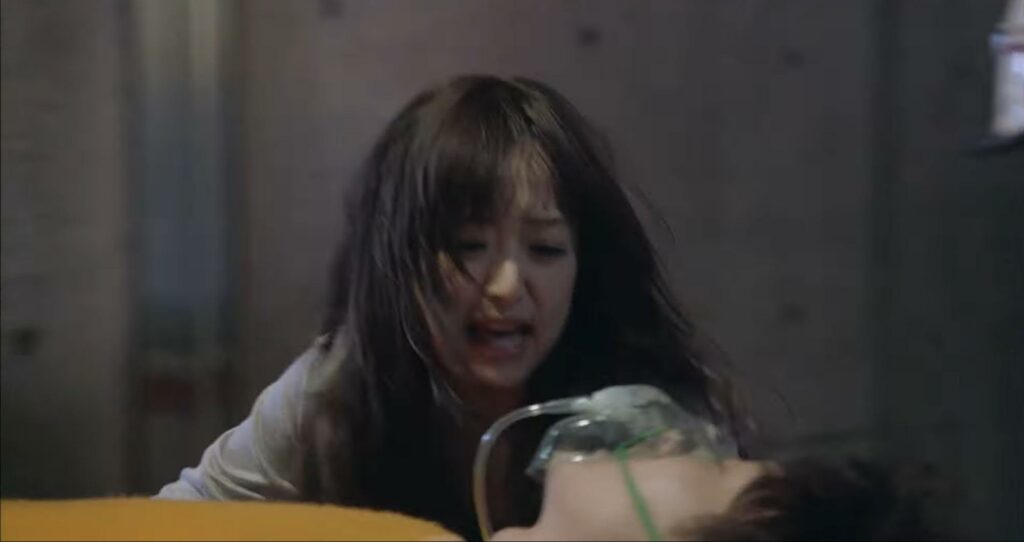 Image adapted from: my theater PLUS公式チャンネル
I Give My First Love To You is a tearjerker that will bring you through a rollercoaster ride of emotions as you watch the pair try to fight against fate, struggle to stay together, and cherish the time they have left with each other.  
The film broke box office records when it premiered in theatres in 2009. It was praised for its touching plot and stellar performance by the actors. The female protagonist in I Give My First Love To You was played by Japanese actress Mao Inoue, who also starred in Hana Yori Dango as the heroine Makino Tsukushi.  
Length: 2 hours 2 minutes
Available on: Netflix
---
10. Paradise Kiss (2011)
---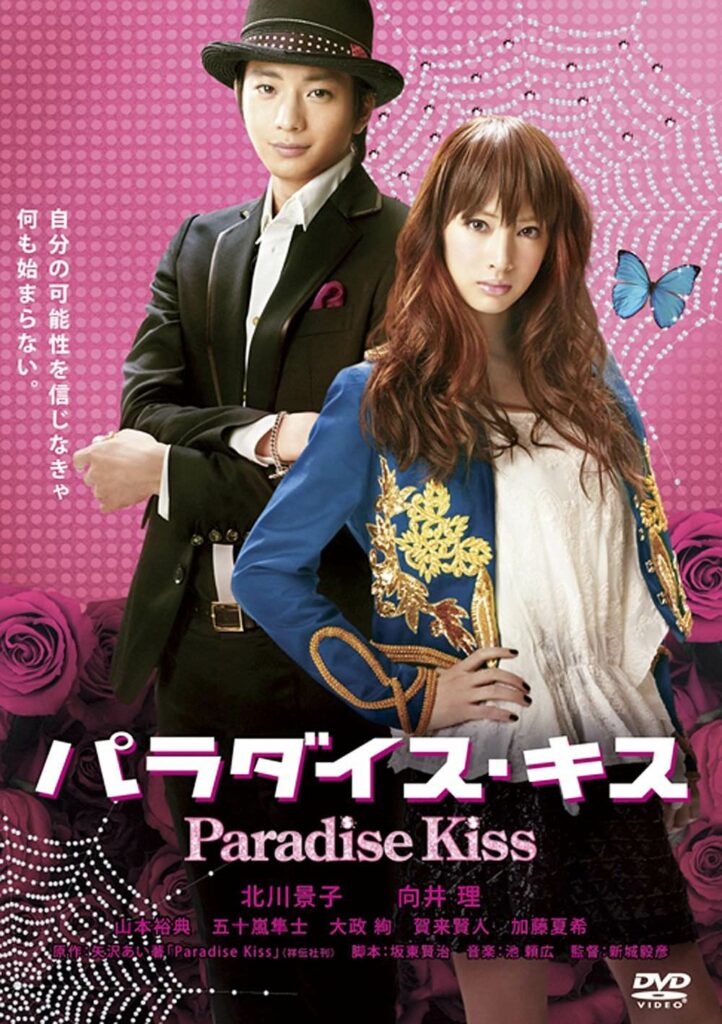 Image credit: @movie28074256 
Paradise Kiss follows the story of Yukari Hayasaka, a beautiful yet snobbish girl who has no goals in life. But that changes when she encounters Joji "George" Koizumi and his group of friends, who are all dabbling in the world of fashion. 
George and his friends have created a brand called "Paradise Kiss". Yukari dives into the world of fashion and gets to know the different people in Paradise Kiss after George manages to convince her to model for their clothes in their upcoming fashion showcase.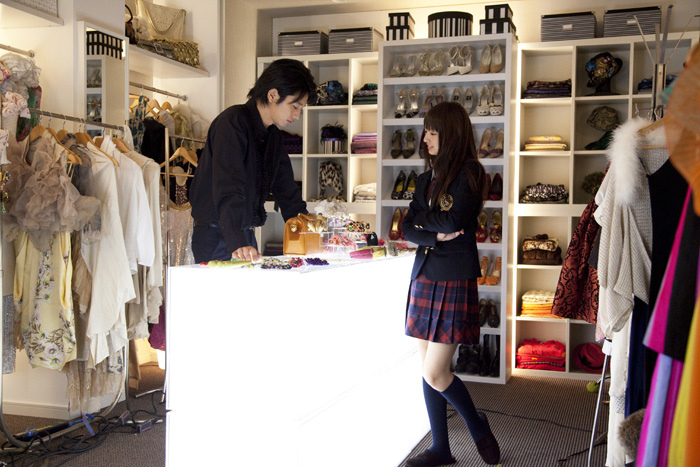 Image credit: youminfengqi – blogger
Thanks to George, Yukari eventually matures to become an independent woman with clear goals. It is a coming-of-age story that will resonate with those who are struggling to determine what they want in life. It is also a love story that will transcend time and borders, teaching the audience that love will find its way back to you when the time is right.       
Paradise Kiss is based on the manga of the same name by Ai Yazawa. However, the film differs from the manga and anime series. All we can say is that if you shipped Yukari with George, then you are in for a treat.    
Length: 1 hour 56 minutes
Available on: Netflix

---
11. Hanamizuki (2010)
---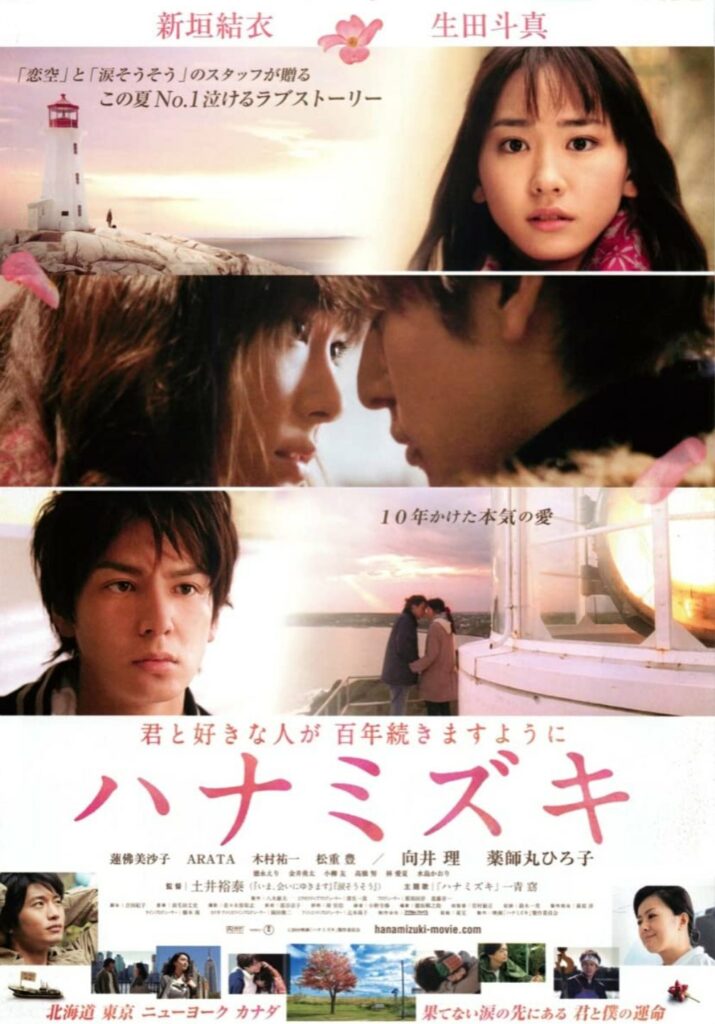 Image credit: IMDb 
Hanamizuki is a 10-year love story that will bring you through the lives of Sae Hirasawa and Kouhei Kiuchi, from their initial meeting to falling in love, and from their subsequent separation to their eventual happy ending.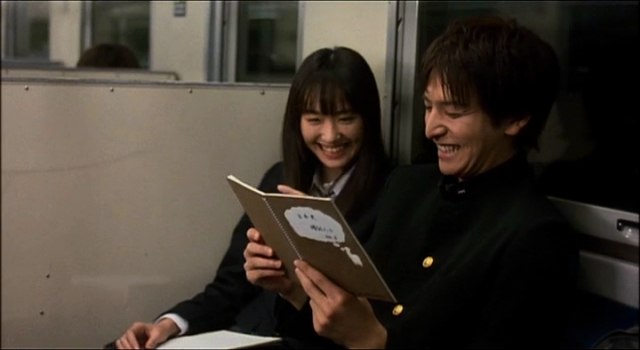 Image credit: rosa-elefante – Dreamwidth Studios
Sae and Kouhei met by accident on the day of their college entrance exams, and that was the start of their budding relationship. However, their relationship has its fair share of ups and downs, and the couple faces problems such as a long-distance relationship, insecurities, love rivals, and missed opportunities. 
The film Hanamizuki is based on the award-winning song of the same name, composed and sung by Yo Hitoto. The inspiration for the song stems from Hitoto's desire for world peace, and it is still popular to this day.  
Length: 2 hours 8 minutes
Available on: DVD
---
12. Heavenly Forest (2006)
---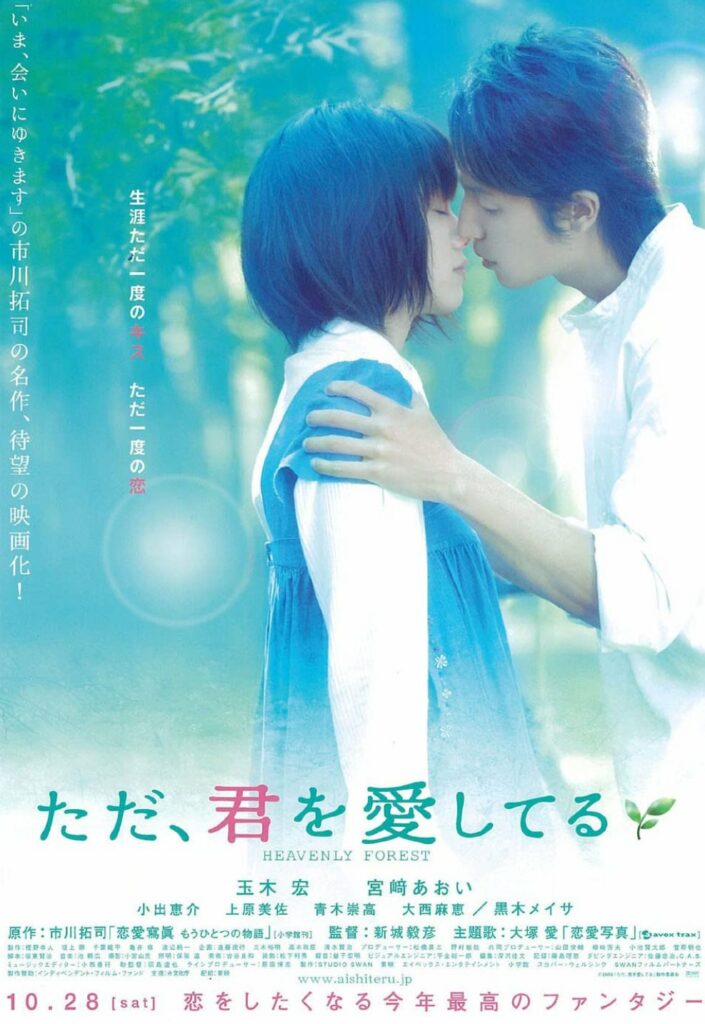 Image credit: IMDb 
Makoto Segawa is an aspiring photographer who is in his first year of college. He gets entangled with two different girls – Shizuru Satonaka, an earnest girl who has a baby face, and Miyuki Toyama, a gorgeous and kind girl – in college. Makoto later forms a deep connection with Shizuru as they share a love for photography and can relate to one another.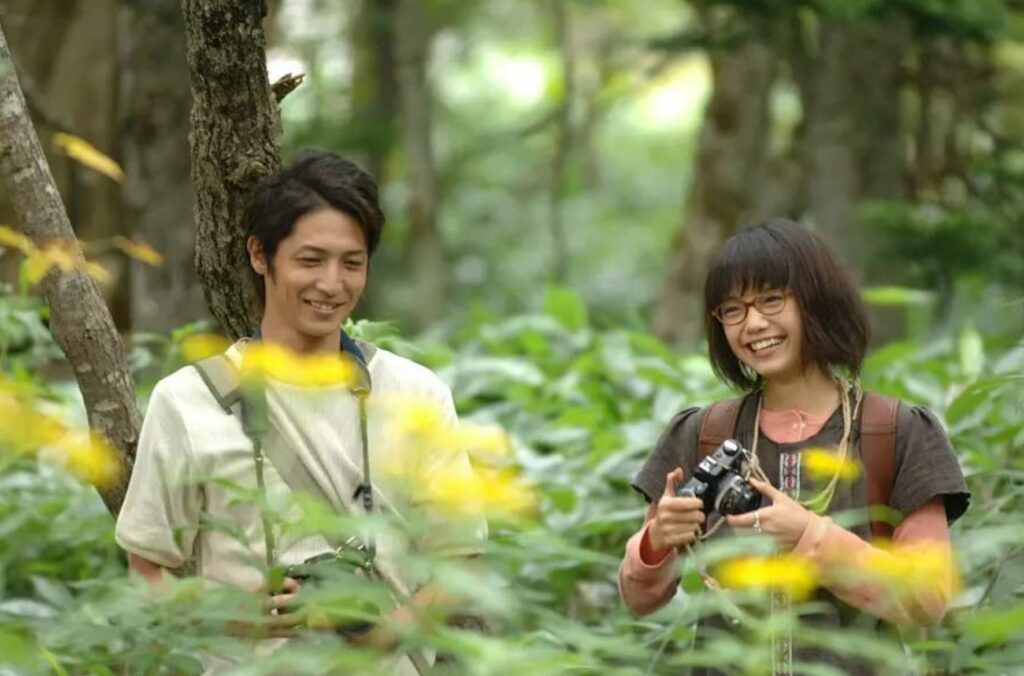 Image credit: IMDb
However, Makoto struggles with his conflicting feelings for both Shizuru and Miyuki, and is unable to decide who he truly loves. After Makoto celebrates Shizuru's birthday, she suddenly vanishes from his life. Upon her departure, Makoto finally figures out that Shizuru was the one he truly loved. 
The love story of Makoto and Shizuru will teach us to cherish the people we love while we still can because time truly waits for no man.   
Heavenly Forest is adapted from the novel and manga of the same name by Takuji Ichikawa. The manga title, Tada Kimi wo Aishiteru, is literally translated as "I only love you", which is an apt description of the kind of love Shizuru had for Makoto.   
Length: 1 hour 56 minutes
Available on: Netflix
---
13. Tonight, at the Movies (2018)
---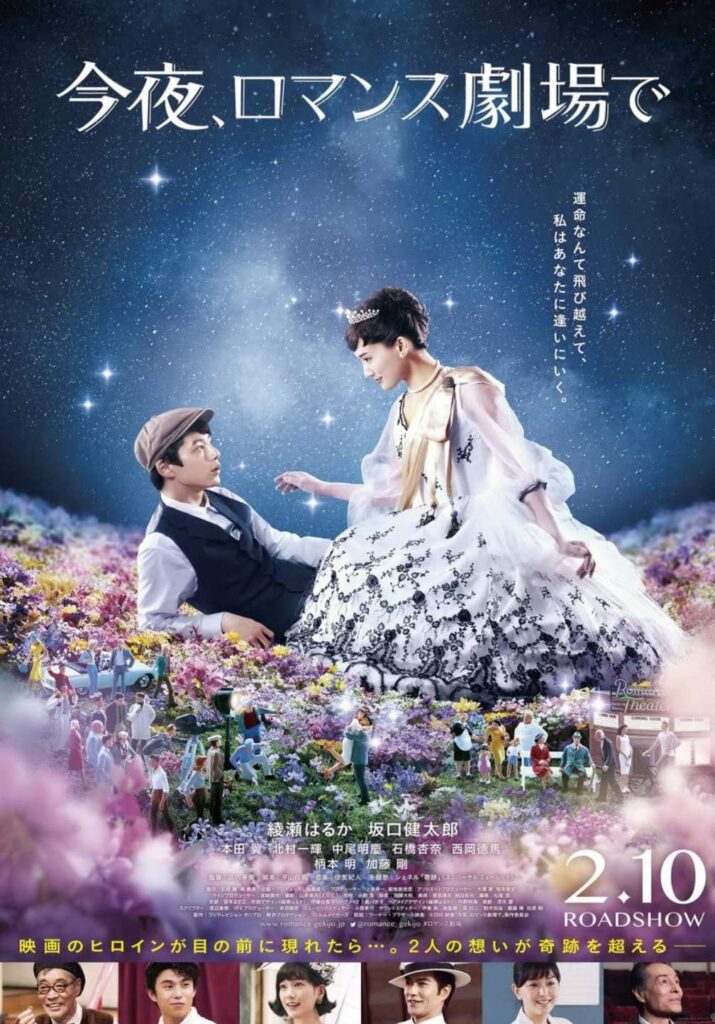 Image credit: IMDb 
Tonight, at the Movies, alternatively known as Colour Me True, is a funny yet emotional love story between Kenji, who loves movies, and Miyuki, who is Kenji's beloved female lead in an old film.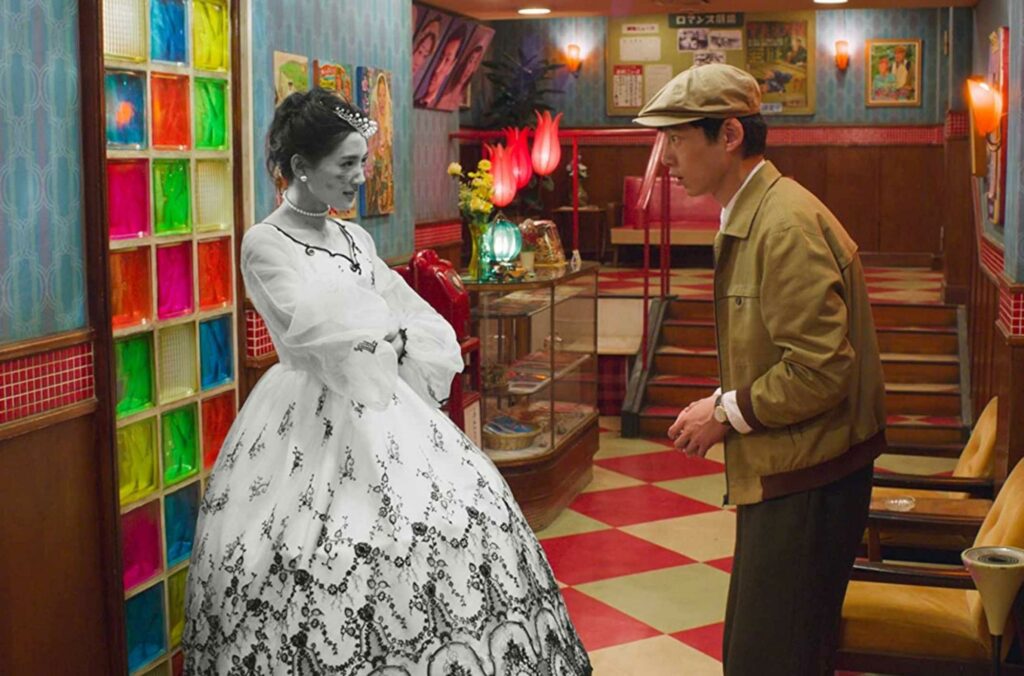 Image credit: IMDb
One day, Miyuki mysteriously appears in the real world and meets Kenji. Through a series of hilarious moments and touching interactions, Kenji and Miyuki fall in love with each other. However, the fact remains that Miyuki is not of this world and she will disappear into thin air if she were to be touched by a real human. 
Despite knowing their love can never bear fruit, Kenji still loves Miyuki with all his heart and desperately wishes for a way for them to be together.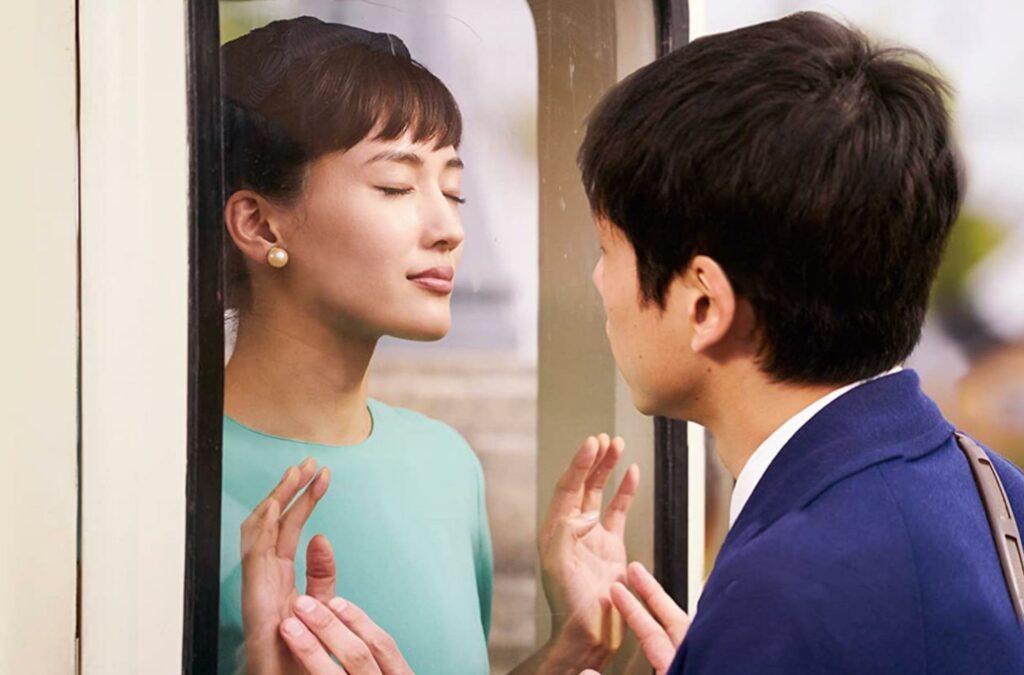 Image credit: IMDb
Tonight, at the Movies is similar to Hotarubi no Mori-e in terms of the love between two individuals from different dimensions, being unable to physically touch each other, and the sad reality of their impossible love.      
Length: 1 hour 48 minutes
Available on: Netflix
---
14. The 8-Year Engagement (2017)
---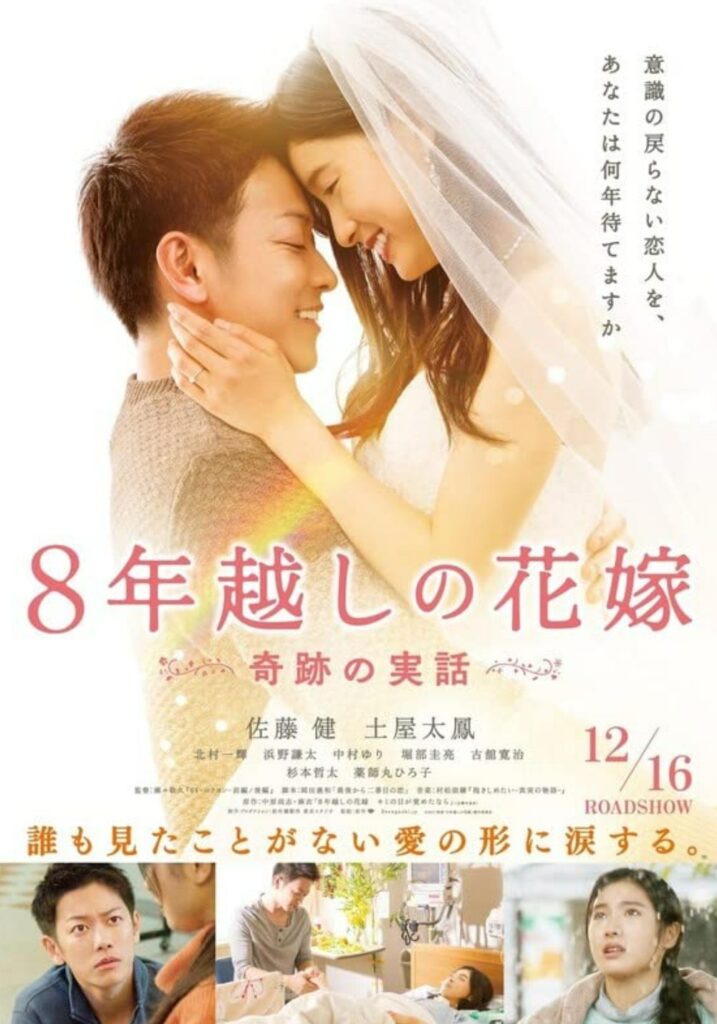 Image credit: IMDb 
The 8-Year Engagement is based on the true story of real-life couple Hisashi Nishozawa and Mai Nakahara. Author Yoshikazu Okada wrote the film using the couple's autobiography. The film tells the story of the faithful and steadfast love between Hisashi and Mai. 
Hisashi and Mai meet, fall in love, and were in the midst of planning their wedding when Mai suddenly suffers a terrible seizure that leads to a heart attack and minor brain damage. She slips into a coma and the chances of recovery are slim. But Hisashi refuses to give up on Mai, and he diligently visits her each day to take care of her.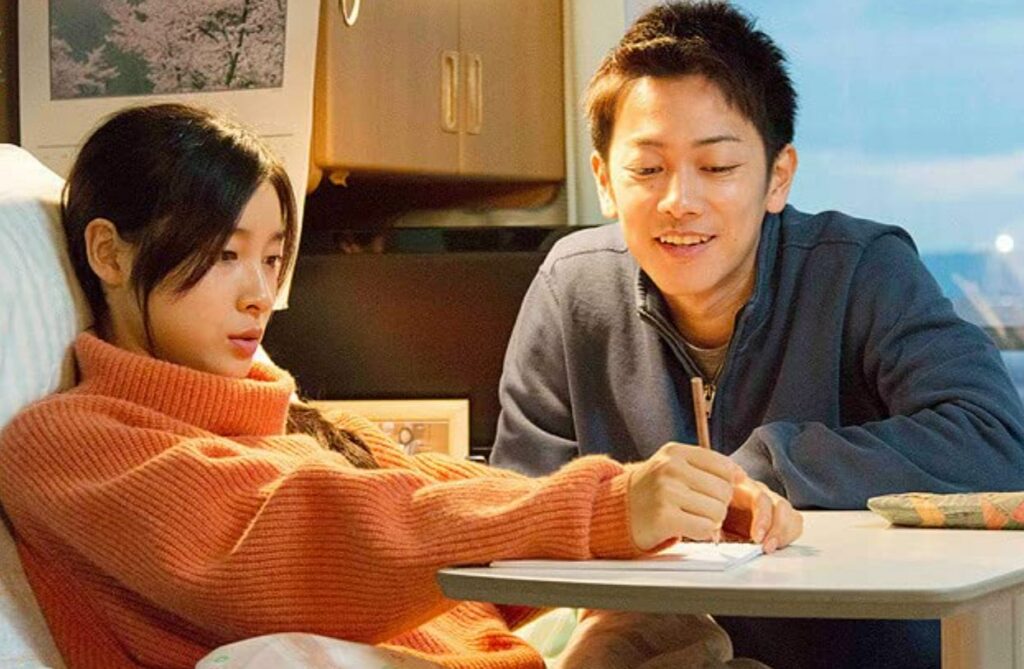 Image credit: IMDb
A miracle happens and Mai wakes up from her coma. But the couple still can't get their happy-ever-after because a slew of problems awaits them –  Mai suffers from amnesia and also has to go through physiotherapy to regain her motor skills, which causes her emotions to fluctuate. 
The 8-Year Engagement is a touching love story as we see Hisashi's devotion towards Mai, and also Mai's eventual resolve to love Hisashi all over again even if she can't remember their past right now.       
Length: 1 hour 59 minutes
Available on: Netflix
---
15. Cyborg She (2008)
---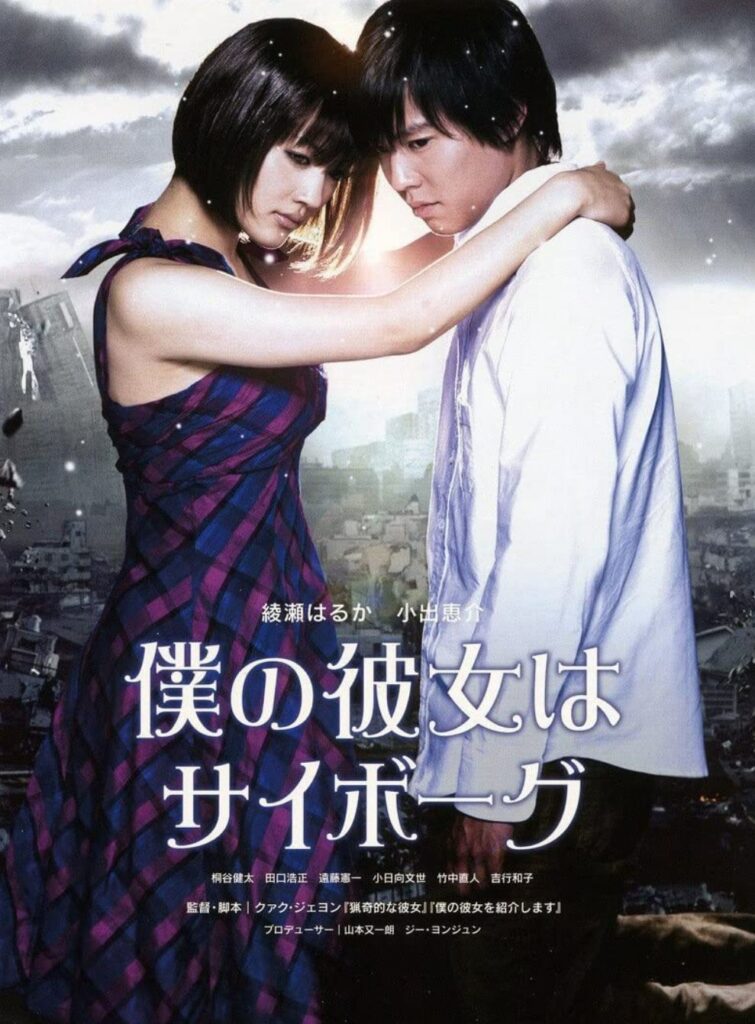 Image credit: IMDb 
Cyborg She follows the story of the smart yet lonely Jiro Kitamura. On his birthday in 2007, Jiro encounters a girl in the mall and falls in love at first sight. They spend the day together but the girl suddenly bids him goodbye and disappears without a trace. 
One year later, Jiro encounters a girl who looks exactly like the girl he fell in love with, but she seems to be a cyborg. The cyborg saves Jiro's life in a shooting. From that day onwards, she began to live with Jiro.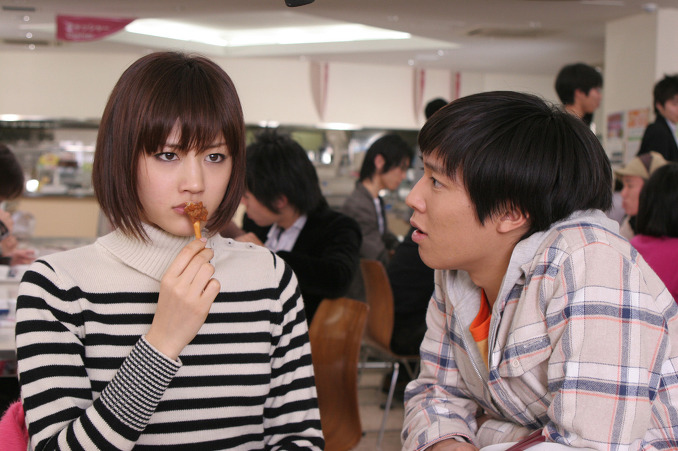 Image credit: lifestyle – blogger
Jiro later falls for the cyborg girl. However, problems arise in their relationship because the cyborg cannot comprehend human feelings and doesn't seem to be capable of having emotions. 
Jiro also has to figure out the background of this cyborg girl, her connection to the first girl he met a year prior, and the reason for their uncanny resemblance.
Length: 2 hours
Available on: DVD
---
16. Evergreen Love (2016)
---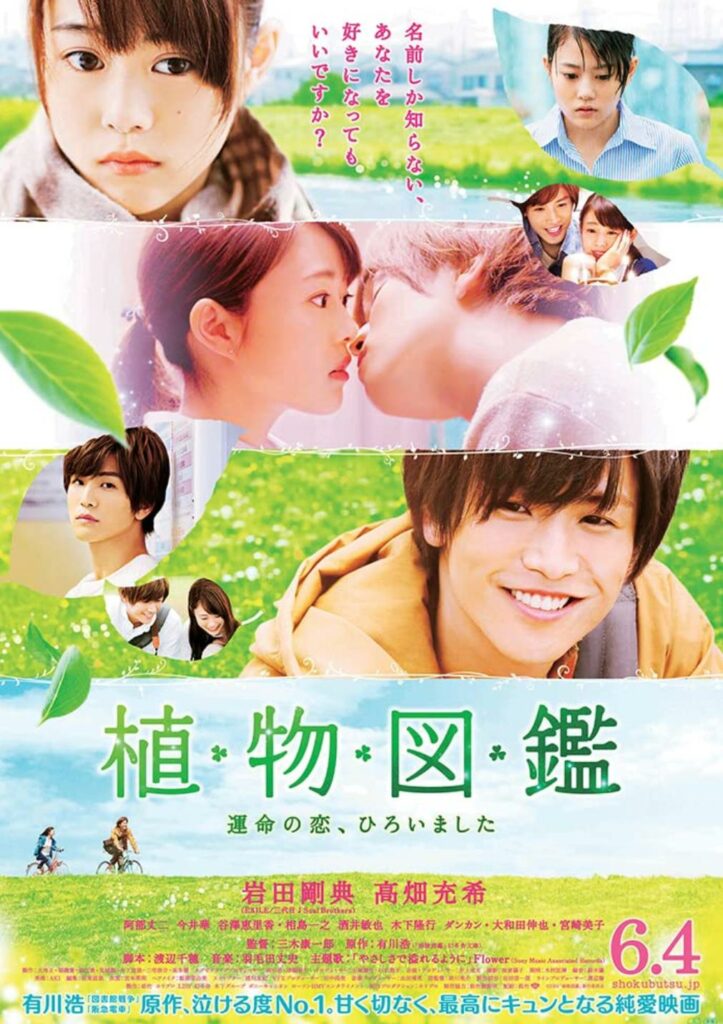 Image credit: IMDb 
This film tells the tale of an office lady named Sayaka, whose life gets entangled with a mysterious man named Itsuki. Evergreen Love is a word play on Sayaka's love for plants and her lack of experience in the love department. Sayaka's life starts to look brighter and more lovely after Itsuki moves into her house, but little is known about Itsuki's background and past.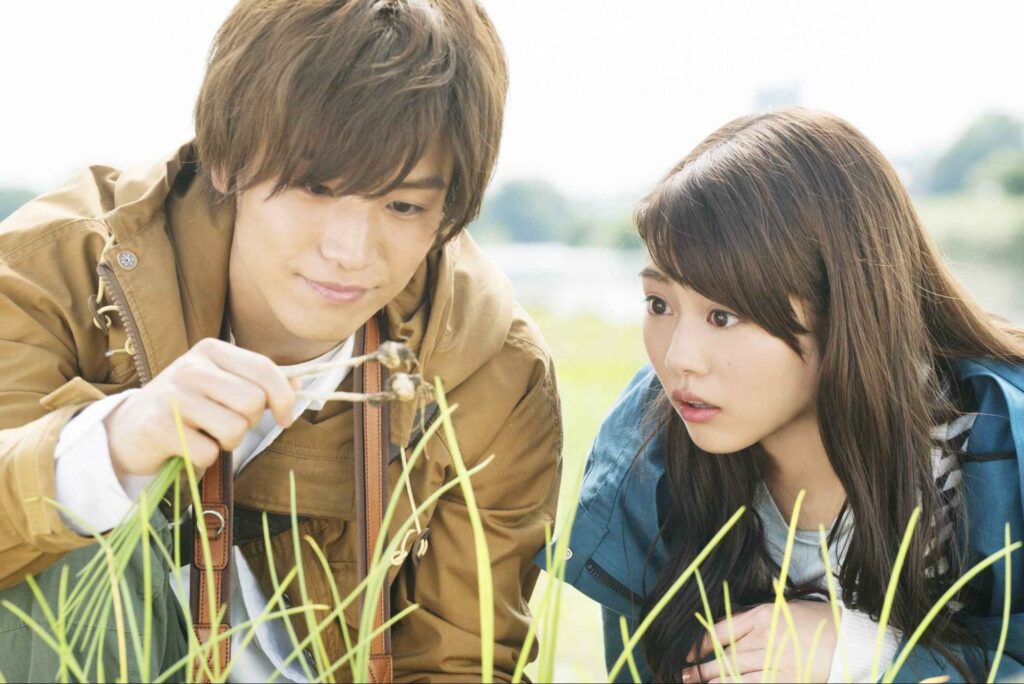 Image credit: @shokubutsuzukan
They spend time together and Itsuki teaches Sayaka many things. They create many fond memories together, from cooking and eating to planting herbs and going on dates. Everything seems to be going well for Sayaka now, but things aren't as simple as it seems because Itsuki's background is still shrouded in mystery.   
Length: 1 hour 52 minutes
---
17. I Just Wanna Hug You (2014)
---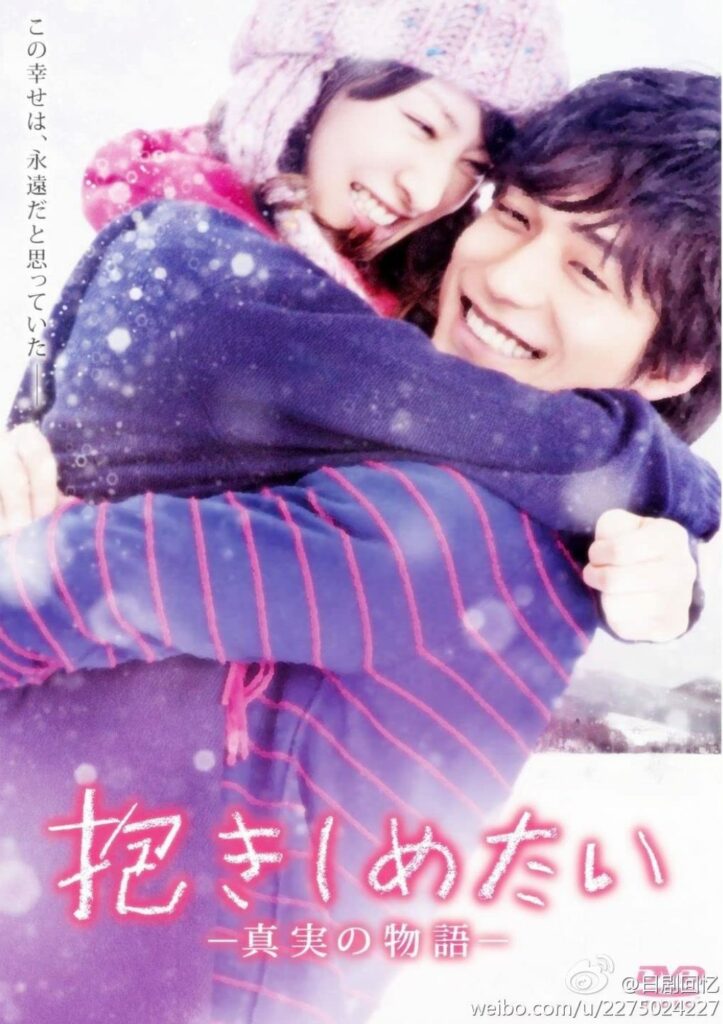 Image credit: IMDb 
I Just Wanna Hug You is a tragic romance between the wheelchair-bound Tsukasa Yamamoto and the basketball enthusiast-cum-taxi driver Masaki Koyanagi. This heart-wrenching movie is based on the life of a woman who became disabled after an accident in her youth.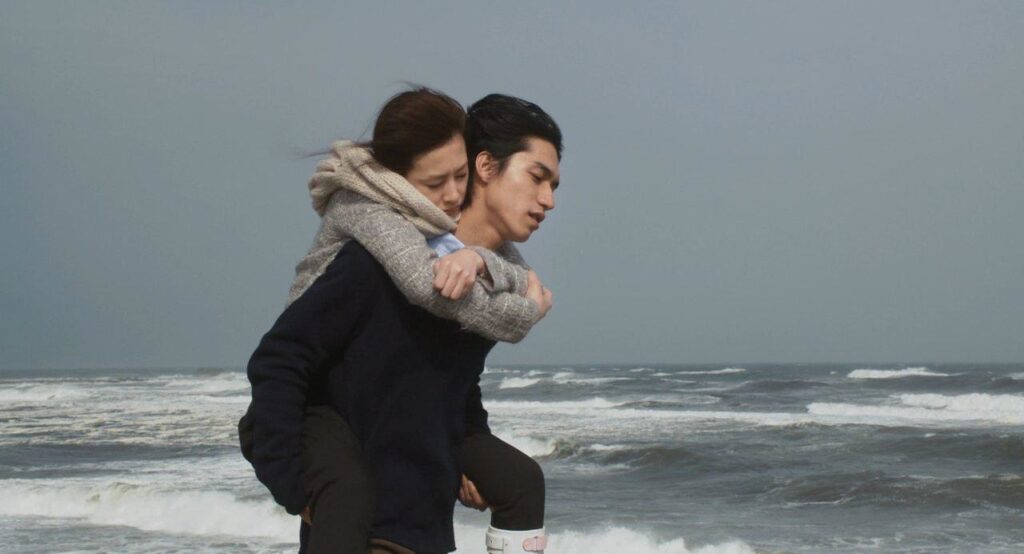 Image credit: @AsianCinemaTips 
Masaki falls in love with Tsukasa at first sight due to her strong spirit and positive outlook on life despite her physical impairment. They fall in love and overcome all sorts of obstacles that stand in their way, including the disapproval from both their parents.     
Tsukasa is played by actress Keiko Kitagawa, who also starred as Yukari in Paradise Kiss and Kyoko in Let Me Eat Your Pancreas.
Length: 2 hours 2 minutes
Available on: DVD
---
18. My Brother Loves Me Too Much (2017)
---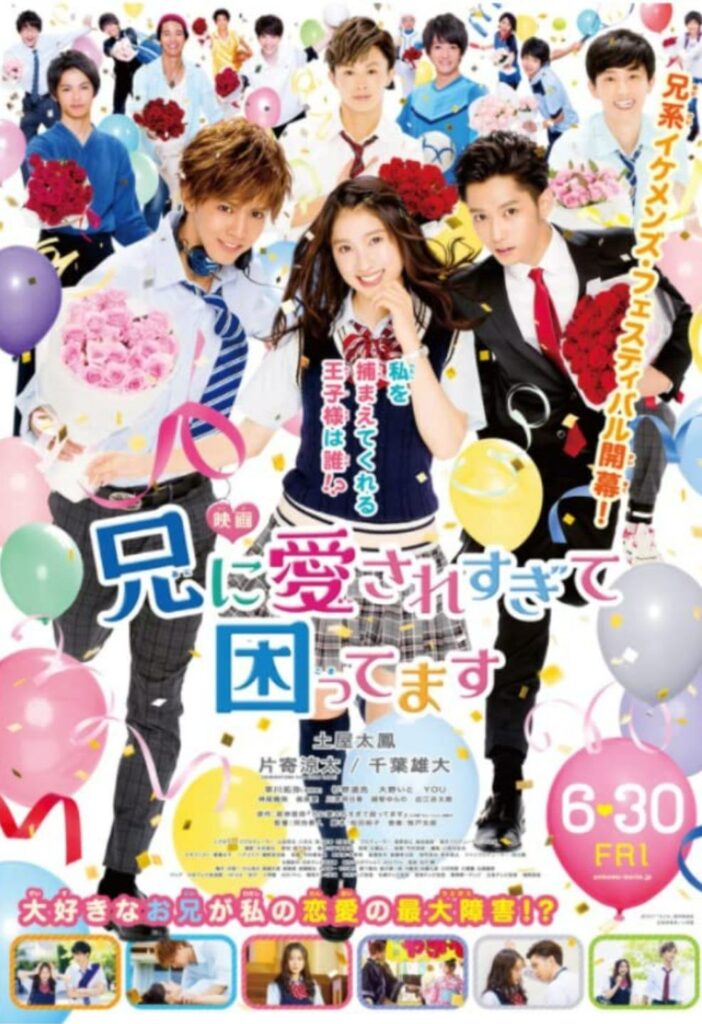 Image credit: IMDb 
My Brother Loves Me Too Much follows the story of the Tachibana siblings, Setoka and Haruka. Setoka is a pretty and straightforward girl who can be a little oblivious and naive. Funnily enough, whenever she confesses, she will be rejected. And whenever she is being confessed to, the boy's confession would be thwarted by her overprotective and athletic brother Haruka. 
As such, Setoka has never dated in her life. While she struggles to get attached, her brother struggles with his own internal turmoil. The truth is, Haruka and Setoka are not blood-related siblings, but only Haruka knows of this. In addition, he has been increasingly tormented by his growing romantic feelings towards her.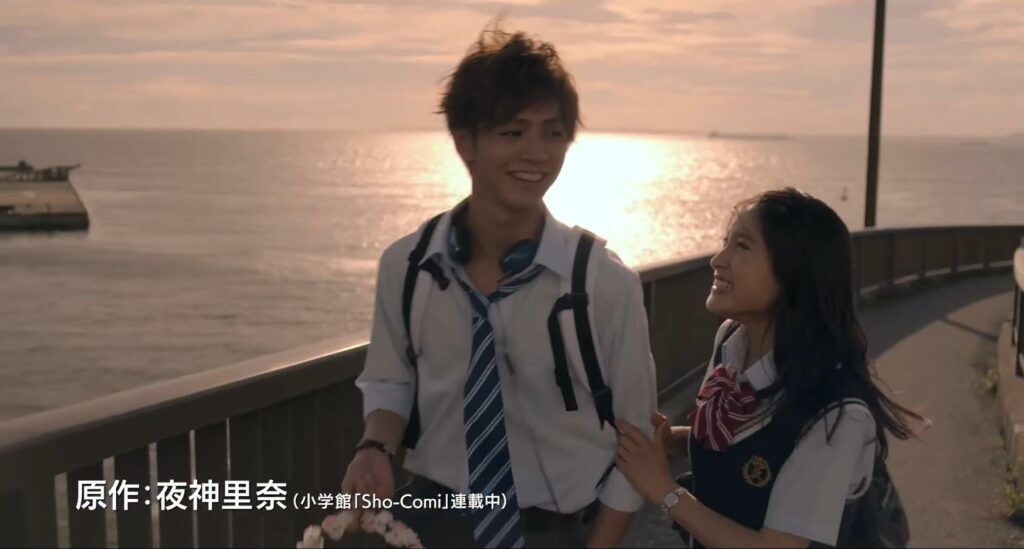 Image adapted from: J Trailers
My Brother Loves Me Too Much was also adapted into a five-episode drama series that aired in 2017. 
Length: 1 hour 39 minutes
Available on: DVD
---
19. A Song to the Sun (2006)
---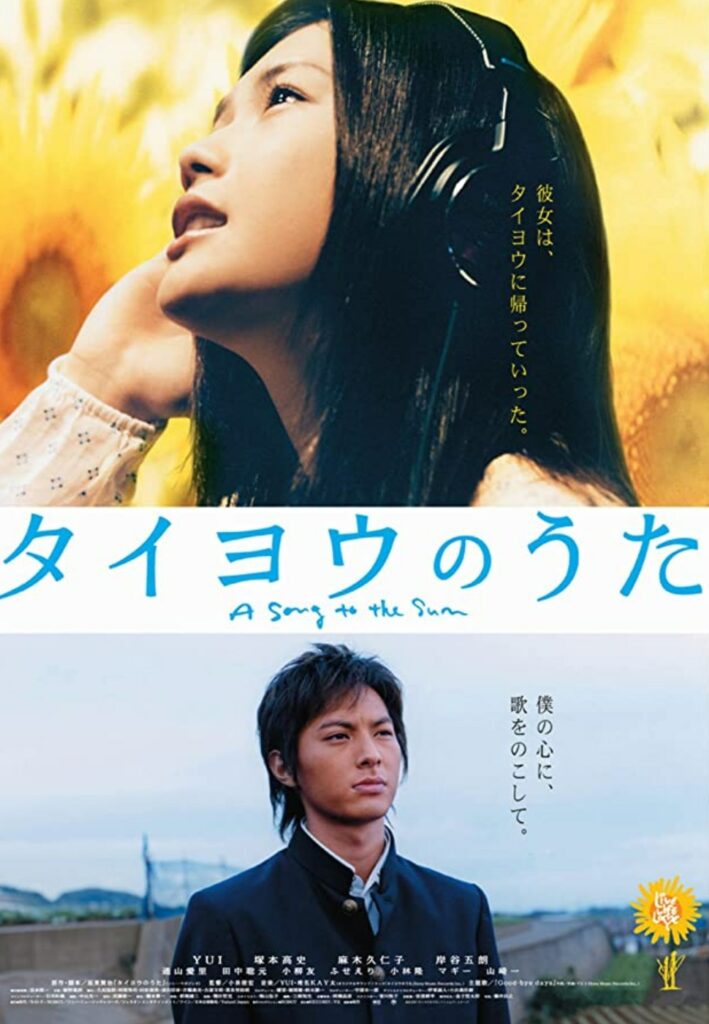 Image credit: IMDb 
A Song to the Sun is a love story between the sun-evading Kaoru and the sun-loving Koji. Kaoru Amane is a kind and gentle girl who is exceptionally talented in music. However, she suffers from a rare disease that leaves her unable to be out in the sun. On the other hand, Koji Fujishiro is an energetic and hardworking surfboarder. 
After finding out about her medical condition, Koji declares his love for Kaoru and promises to meet with her at night. With Koji's encouragement, Kaoru begins to look forward to life and boldly chases after her dream of releasing her own CD. 
Koji's presence brings light to Kaoru's dull life, and Kaoru's angelic voice brings warmth to Koji's soul.     
Length: 1 hour 59 minutes
Available on: Netflix
---
20. The Lightning Tree (2010)
---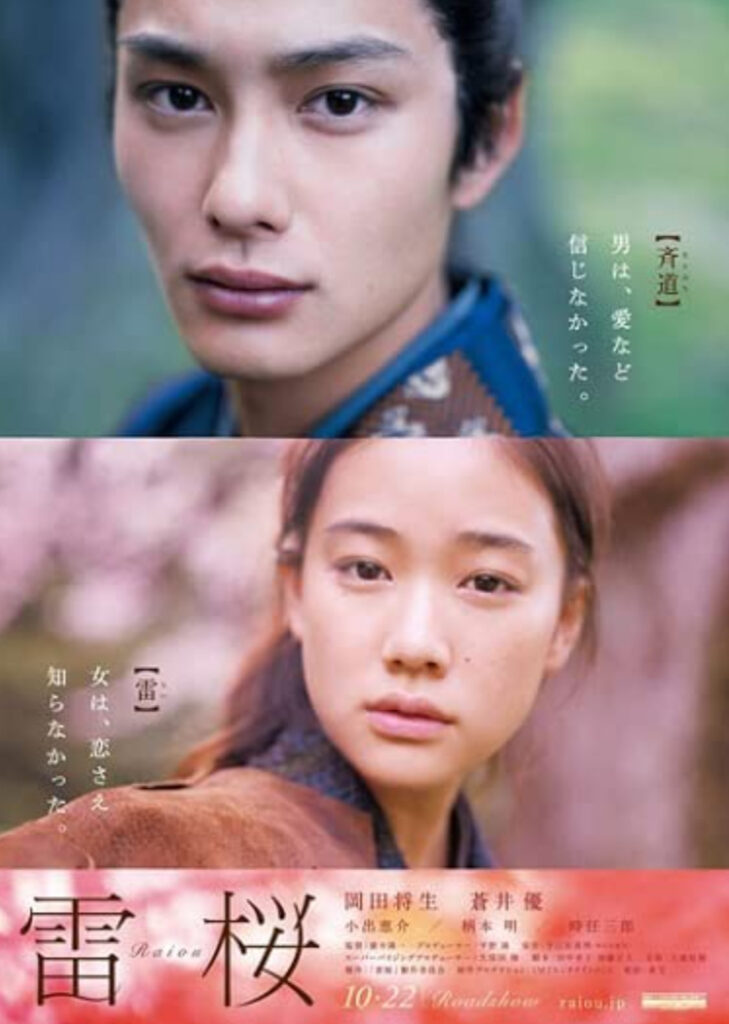 Image credit: IMDb 
The Lightning Tree follows the love story of Narimichi and Rai, who have different social classes and personalities. Their romance in the Edo period is reminiscent of Shakespeare's Romeo and Juliet because although Narimichi and Rai begin to fall in love with each other, their relationship is threatened by their family backgrounds and the pressure from society. 
Narimichi finds himself drawn to Rai because of her straightforward personality and how she treats him normally in spite of his nobility. Rai also falls in love with Narimichi as they open up to one another and grow closer. Watch to find out if these star-crossed lovers will be able to overcome the problems that threaten to tear them apart, and ultimately have their happily ever after.  
Length: 2 hours 13 minutes
Available on: DVD
---
21. The Kodai Family (2016)
---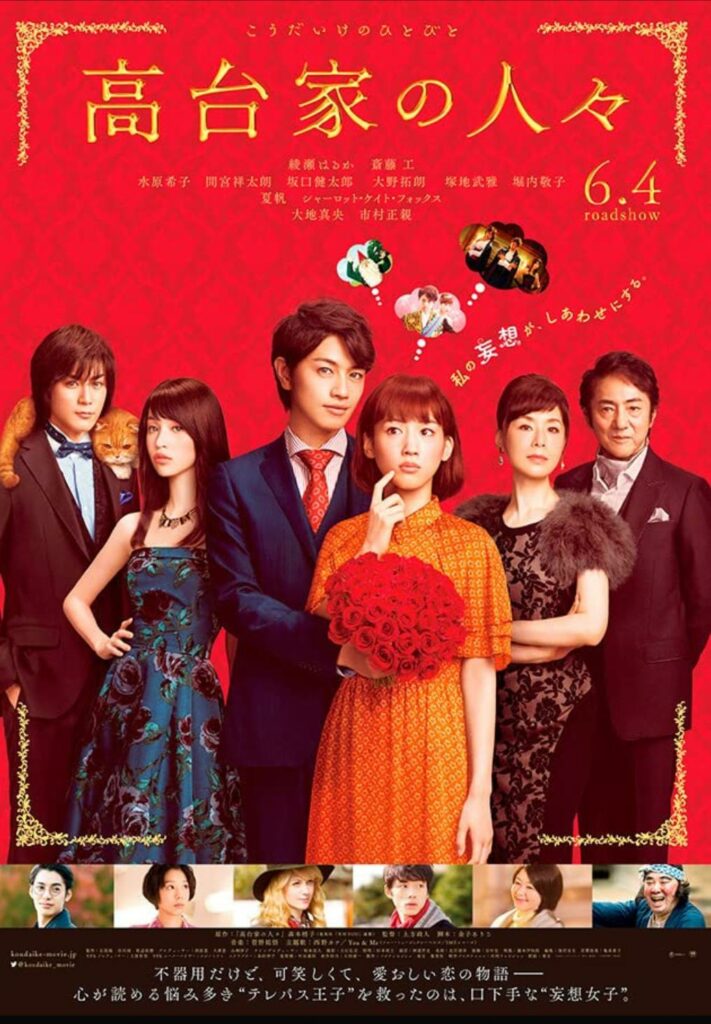 Image credit: IMDb 
The Kodai Family tells the tale of Kie Hirano, who works in the same company as Mitsumasa Kodai, the eldest son of the rich and famous Kodai household. Kie is a shy, cute, and naive lady who loves to fantasise, and the subject of her daydreams is none other than the sweet and intelligent Mitsumasa. They get to know each other on a personal level and fall in love.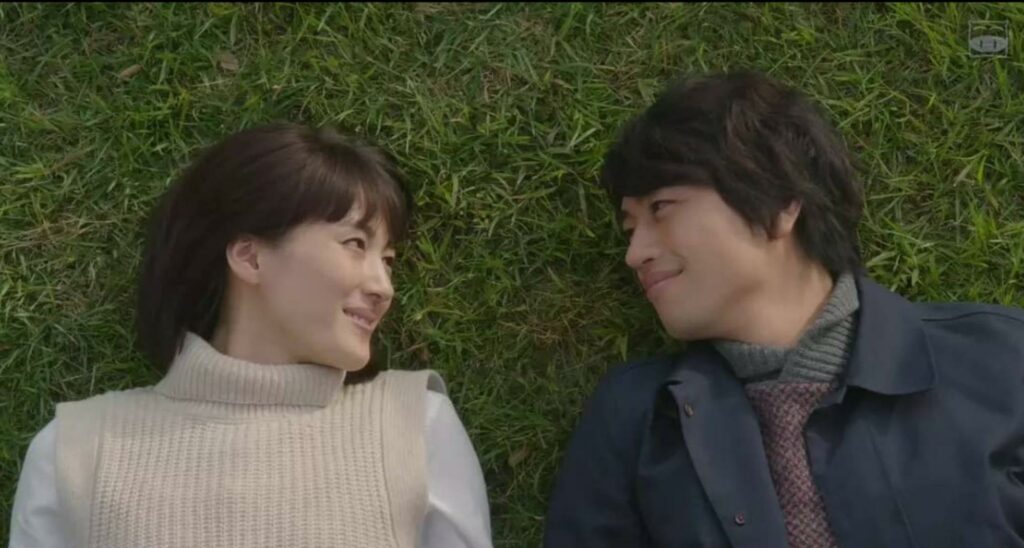 Image credit: IMDb
However, what Kie doesn't know is that Mitsumasa and his siblings are all telepaths who can hear her fantasy. The oblivious Kie begins to date Mitsumasa, but Mitsumasa's mother disapproves of their relationship. What will become of Kie and Mitsumasa's relationship, and will Kie be able to accept the fact that Mitsumasa is privy to her every thought?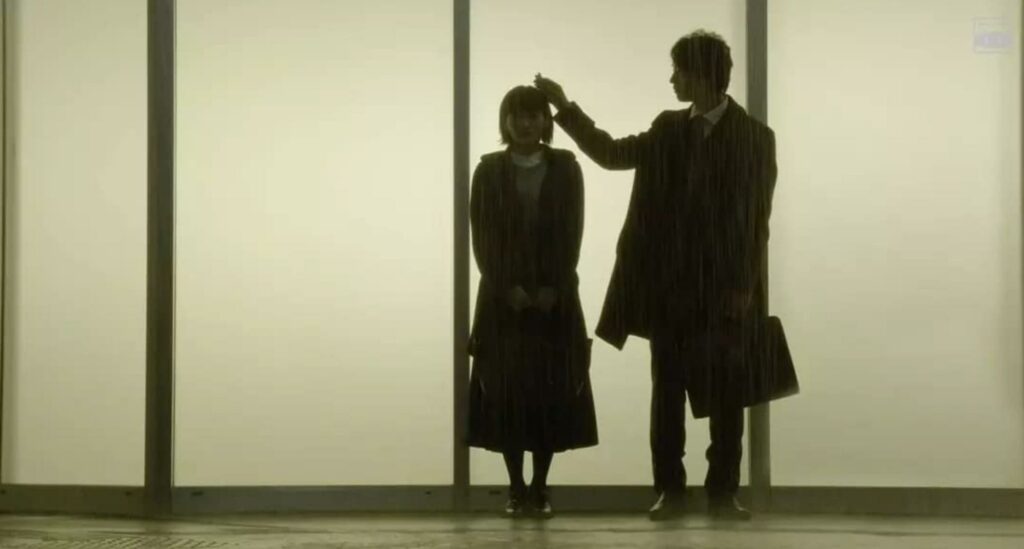 Image credit: IMDb
The Kodai Family is a romantic comedy that will touch on the topics of privacy, communication, and acceptance.   
Length: 1 hour 56 minutes
Available on: Netflix
---
22. A Gentle Breeze in the Village (2007)
---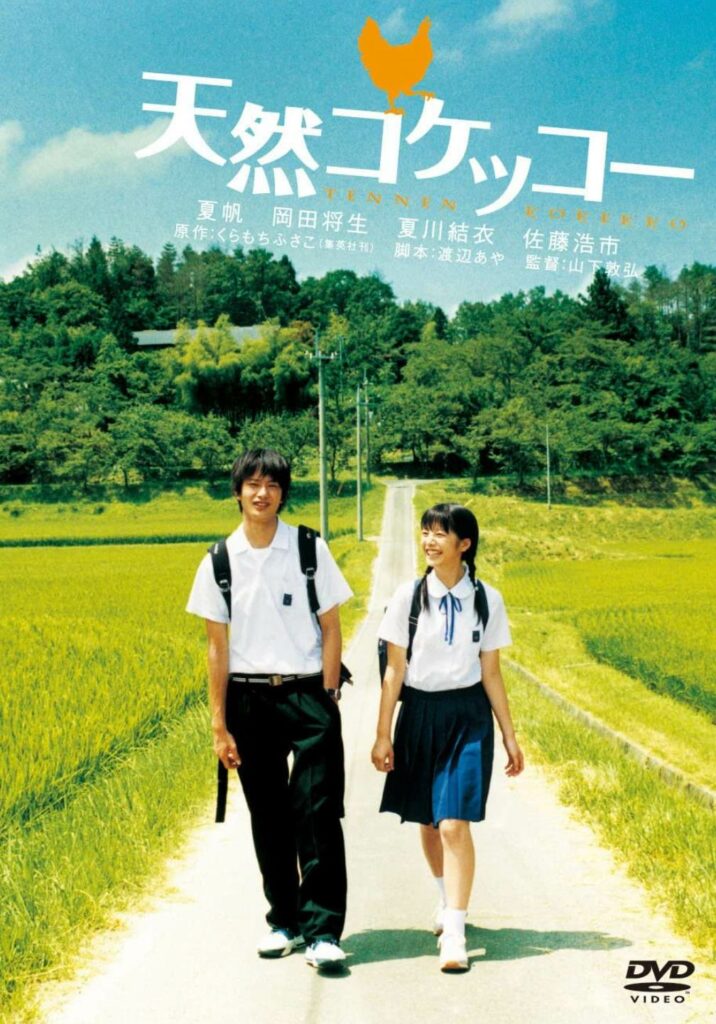 Image credit: IMDb 
A Gentle Breeze in the Village tells of the budding romance between country bumpkin Soyo Migita and city boy Hiromi Osawa, both second-year junior high school students. In their rural town, there is only one school. It accommodates all the children from elementary school to junior high. 
The peaceful and mundane lives of Soyo and her friends start to change when Hiromi transfers to their school from Tokyo. Soyo and Hiromi are slowly attracted to each other, and a sweet love starts to blossom. However, their love won't be as simple as you'd think, because problems such as insecurities, family, and even high school options come about.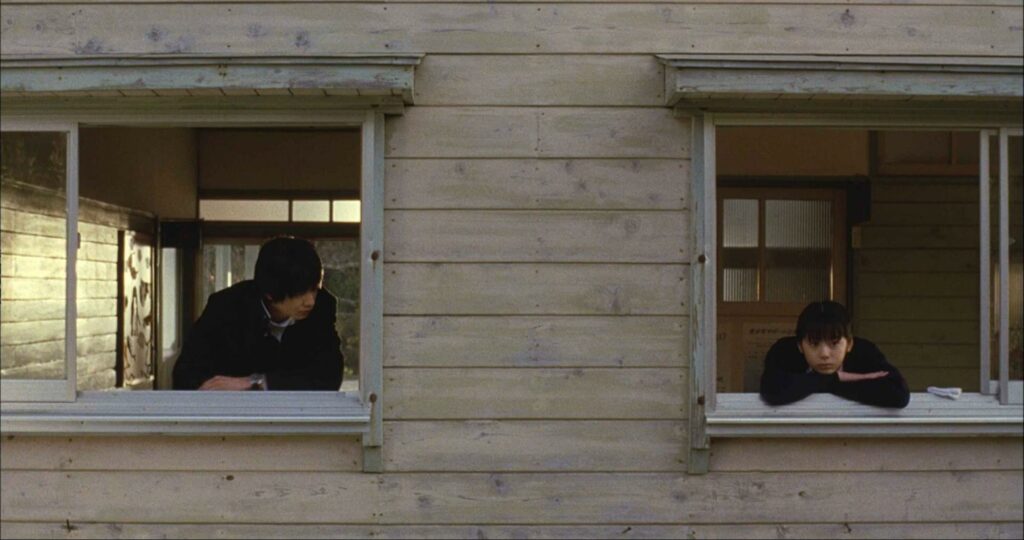 Image adapted from: Disc Imports
This countryside love story talks about the simplicity of rural life and is also a coming-of-age story that sees Soyo mature, grow more confident, and figure out what she wants for her future. 
Length: 2 hours 1 minute
Available on: Netflix
---
23. Colours of the Wind (2018)
---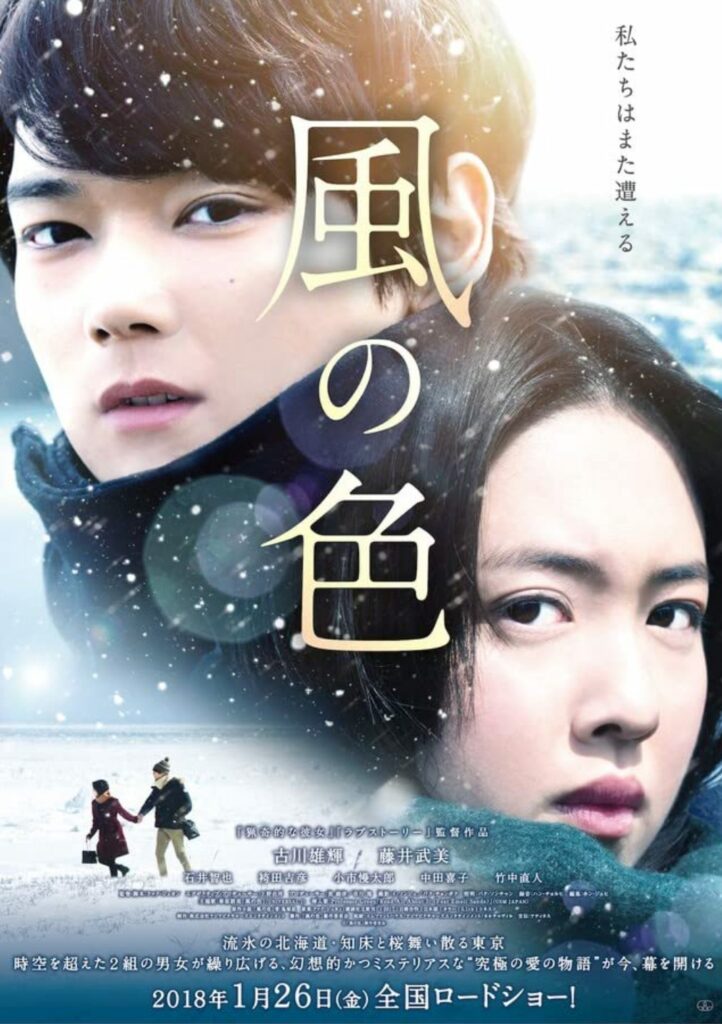 Image credit: IMDb 
Colours of the Wind is a mind-boggling romance that involves topics such as doppelgangers, mental health, and sacrificial love. Ryo and Yuri were happily attached until the latter suddenly decides to leave without any explanation. As Ryo is left lost and heartbroken, he finds himself at a bar that specialises in magic tricks. 
There, Ryo learns from the bar owner that he has a doppelganger named Ryu, who was a talented magician that had lived in Hokkaido until he vanished two years ago during a magic show. Ryo, sensing that he would get some answers by making a trip down to Hokkaido, travels to the island. There, he encounters a girl called Aya, who is Yuri's doppelganger.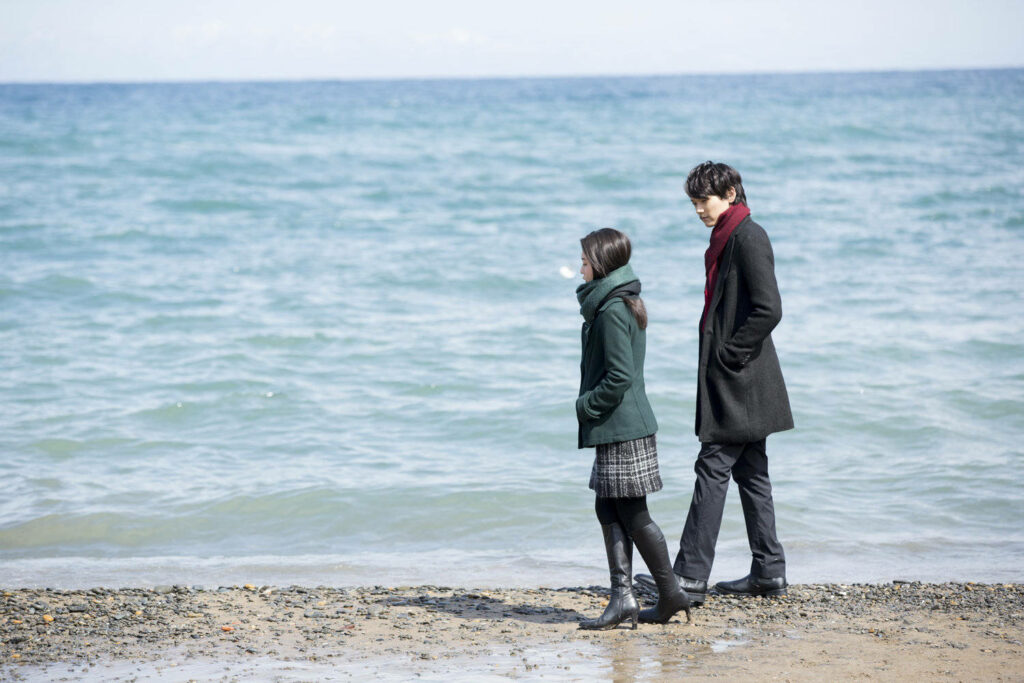 Image credit: Every Movie Has a Lesson 
Aya mistakes Ryo for Ryu and is delighted to see him again after he was presumed dead. It is revealed later that Yuri and Aya are one and the same, and she has been suffering from dissociative identity disorder after Ryu had disappeared. Ryo, being deeply in love with Yuri, decides to become "Ryu" for her and devotes his time to mastering magic tricks. 
Length: 1 hour 59 minutes
Available on: DVD
---
24. Mixed Doubles (2017)
---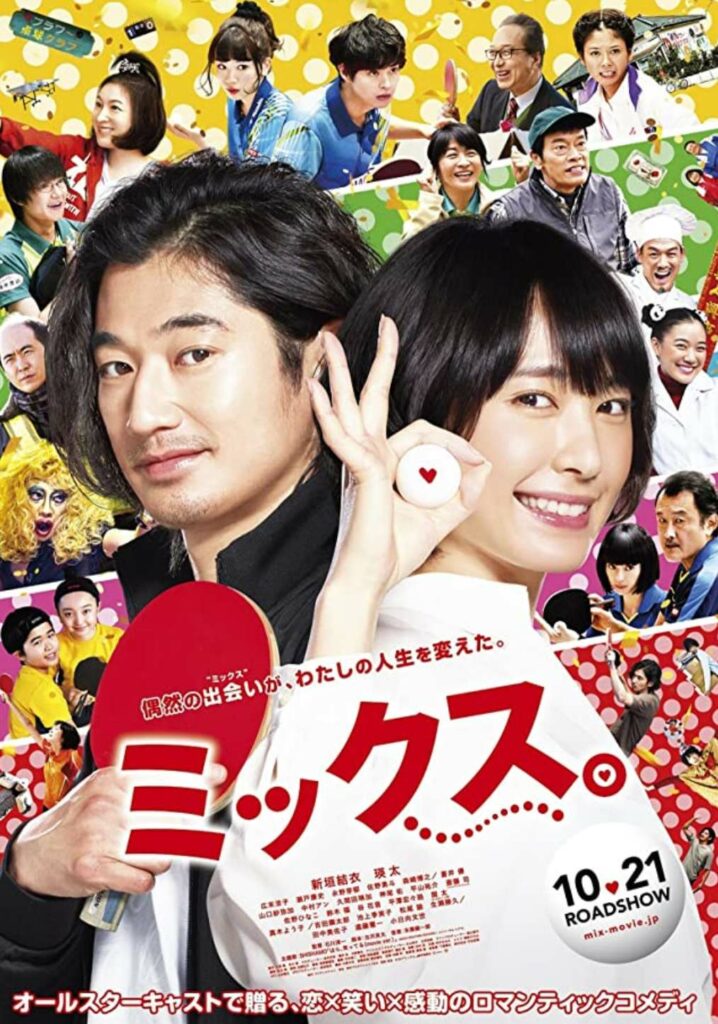 Image credit: IMDb 
Mixed Doubles follows the life of a former table tennis player, Tomita Tamako. Tomita thought she had it all and that her life was perfect – she was playing the sport she loved as her career and had a sweet boyfriend who also shared her passion. 
However, her life gets turned upside down when said boyfriend, Ejima Akihiko, cheats on her with another table tennis player. Tomita quits table tennis out of rage and returned to her hometown.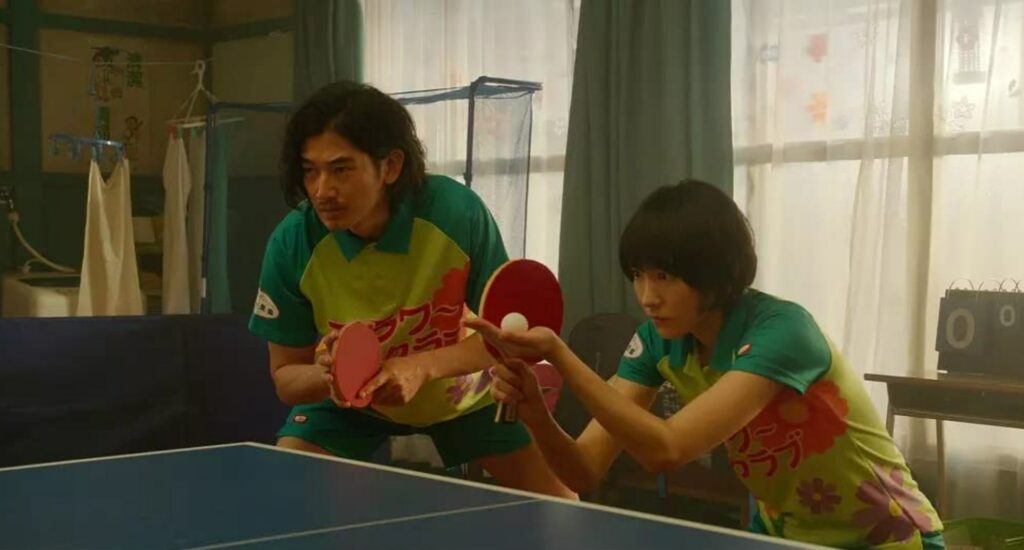 Image credit: IMDb
However, she is soon forced to return to table tennis when she takes over the club from her family. There, she meets Hagiwara Hisashi, whose wife has cheated on him. Hisashi and Tomita are paired up to play in a doubles competition so that the club could gain recognition, but Hisashi is a greenhorn in the sport.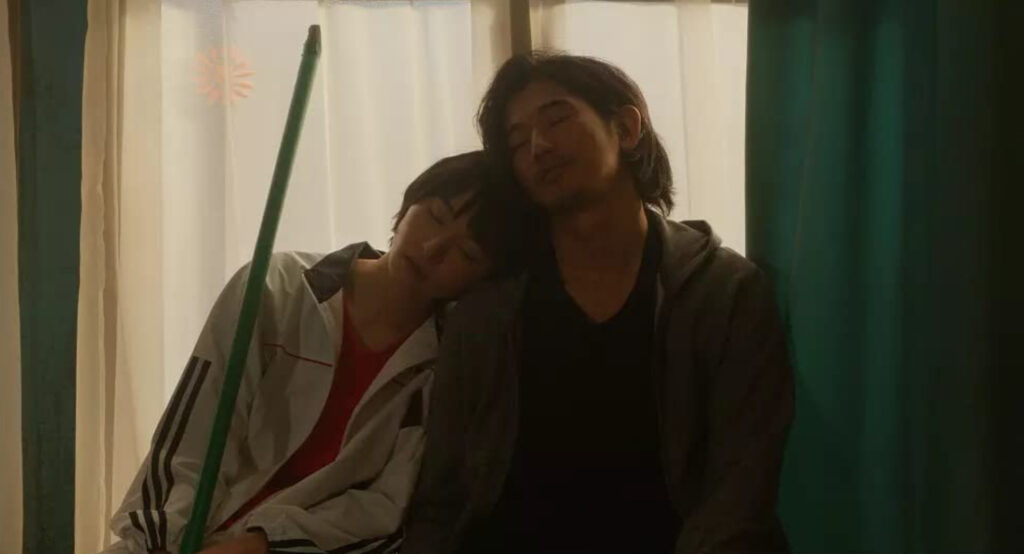 Image credit: IMDb
The pair goes through all sorts of struggles, mockery, defeats, and indignation as they work hard to prove their might to the world, and especially to their past lovers who did them wrong.
Length: 1 hour 59 minutes
Available on: Netflix
---
25. We Love (2018)
---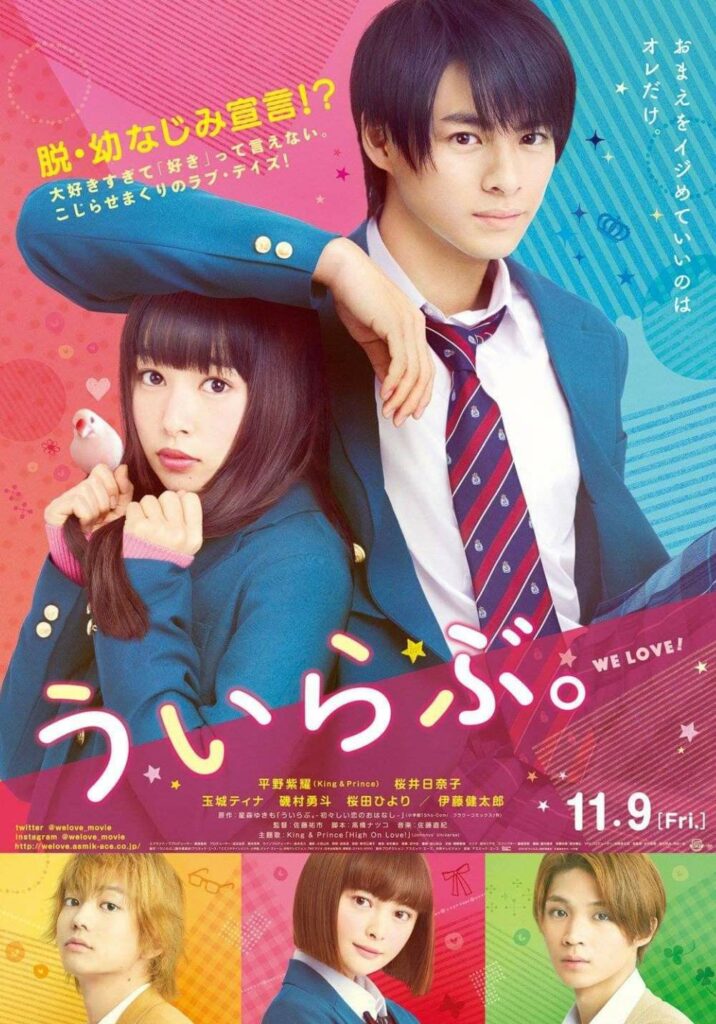 Image credit: IMDb 
We Love is a romantic comedy revolving around the lives of four friends: Rin, Yuu, Koyomi, and Keita. 
Rin and Yuu are in love, but they are both too oblivious to realise that their feelings are mutual. Rin is a tsundere who treats Yuu harshly in front of her but is a lovesick boy whenever Yuu isn't around. On the other hand, Yuu is meek and insecure about herself, believing that Rin can't possibly be interested in her.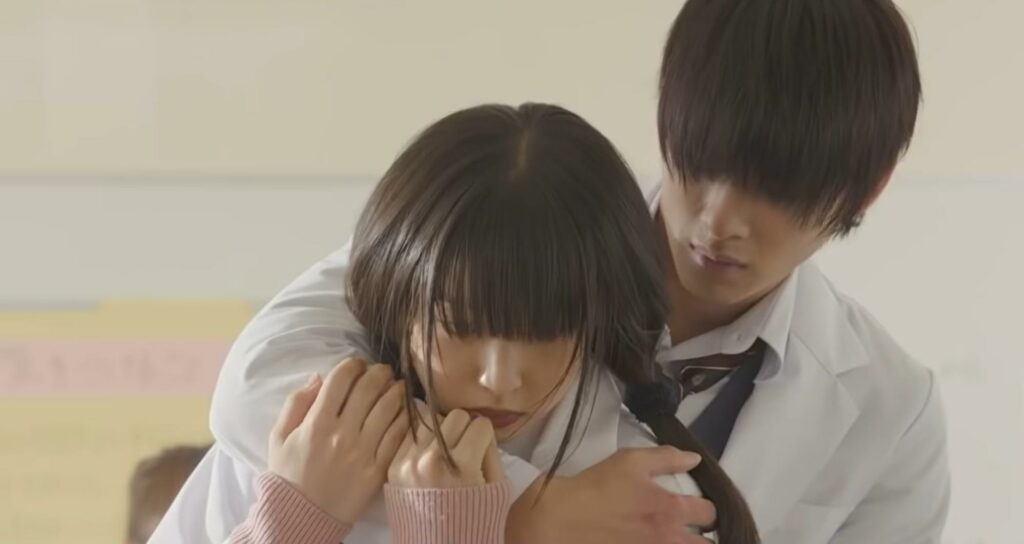 Image adapted from: michiisubs
Their status quo is broken when love rivals appear. Feeling threatened, Rin becomes more straightforward in his approach towards Yuu, and he makes his feelings known. This is a hilarious and cute love story where we will get to see two starkly different individuals learn how to handle love in all of its good and bad.  
Length: 1 hour 40 minutes
Available on: Netflix
---
Japanese romance movies that will make you feel like falling in love
---
Despite being less popular than their Korean counterparts, Japanese romance movies have well-thought-out plots and great actors that are worth your time. Prepare a box of tissues for some movies as you will shed a tear or two.  
Check out other culture-related articles: 
---
Cover image adapted from: IMDb, IMDb and IMDb
The article was originally published on 3rd Jan 2022 by Shi Han Ong and updated on 7th December by Eunice Ng.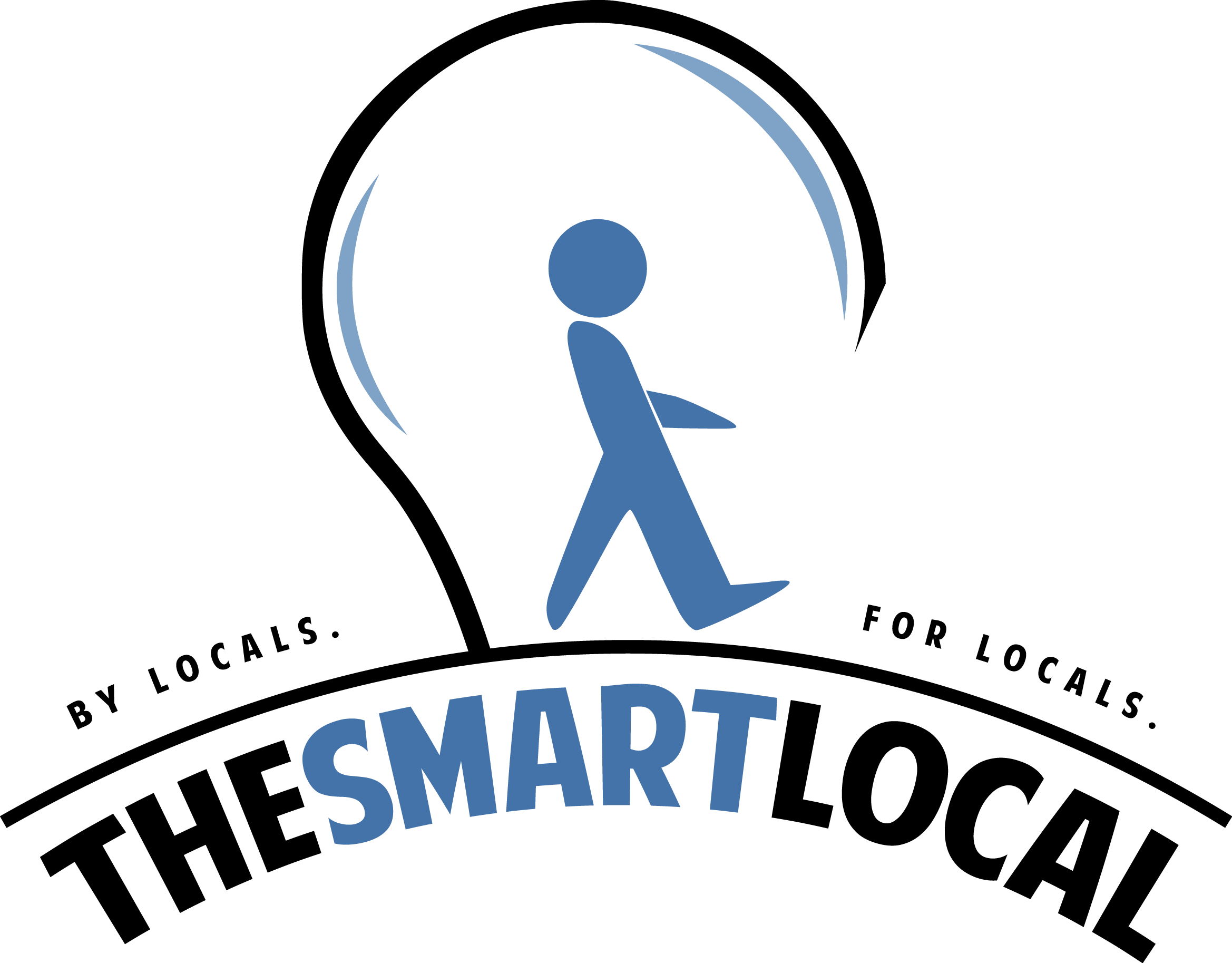 Drop us your email so you won't miss the latest news.