Gyokusen'inmaru Garden
---
Located in the inner grounds of Kanazawa Castle, Gyokusen'inmaru Garden was a private relaxation spot for generations of feudal lords. Constructed with the intention for visitors to admire it from all angles, the garden is home to a lake with three islets and patterned stone walls. 
---
Lake with three islets & 4-step staircase waterfall 
---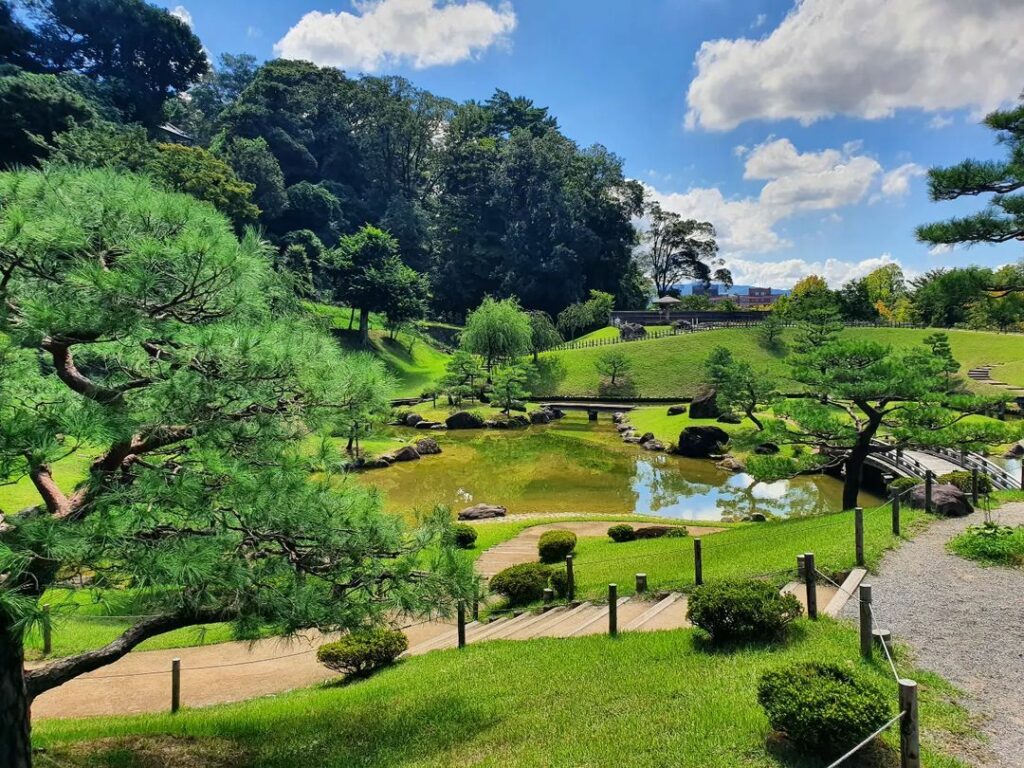 Image credit: @symbolicstorage
Gyokusen'inmaru is a strolling garden, which means that it is meant to be experienced by walking rather than simply sitting down at a spot. The view around the central lake changes as one strolls along the winding path.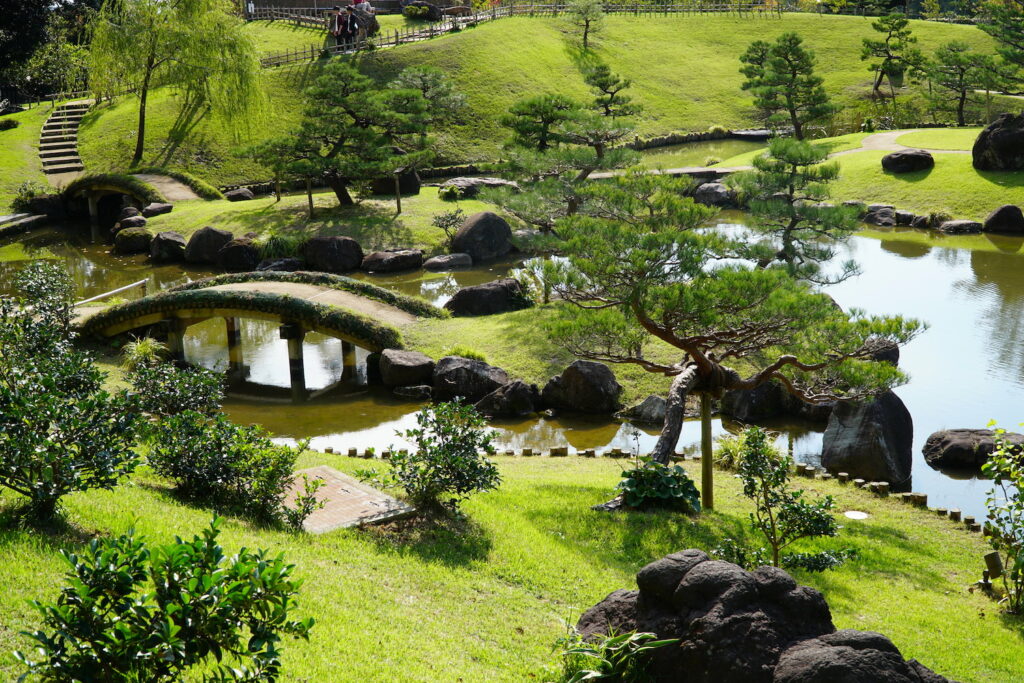 Image credit: Juite Wen
Sitting on the lake are 3 islets connected by quaint bridges. The arrangements of plants and rocks on each island is different too, so they are like mini-gardens of their own.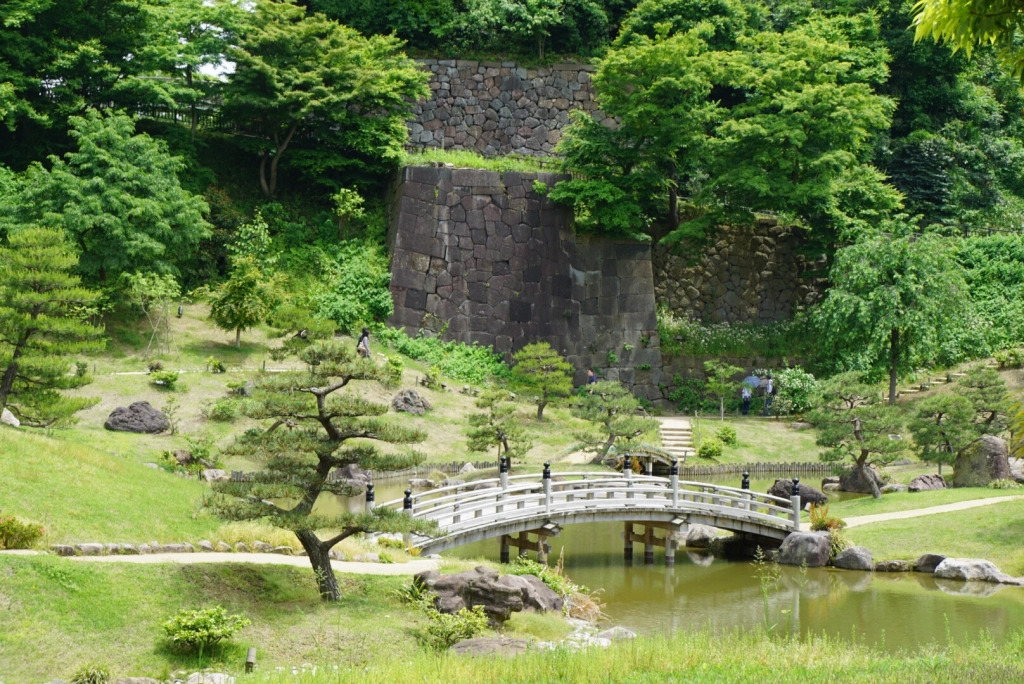 Image credit: sentio
Water cascades down a 22-metre, 4-step staircase waterfall etched out of the Shikishi Tanzaku-Zumi Stone Wall. 
Gyokusen'inmaru Garden is the first of its kind to use creatively patterned stone walls as decorations. It was constructed in 1634 under the order of Toshitsune Maeda, the Kaga Domain's third lord, and was continually landscaped by his successors until the abolition of the feudal system.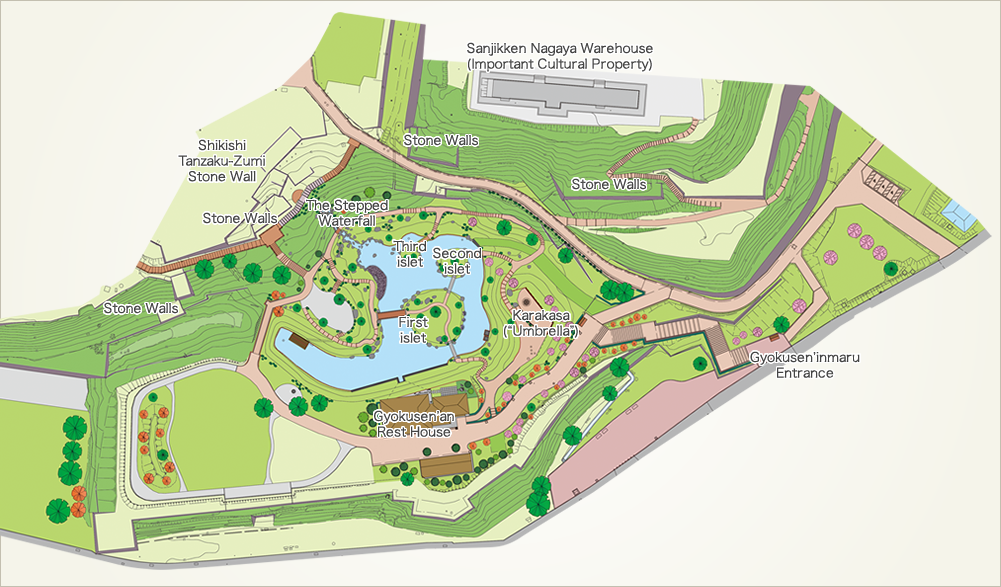 Image credit: Ishikawa Prefecture JAPAN
From 2009 to 2015, the Kanazawa Castle Gyokusen'inmaru Site Investigative Committee restored the abandoned garden to its former beauty.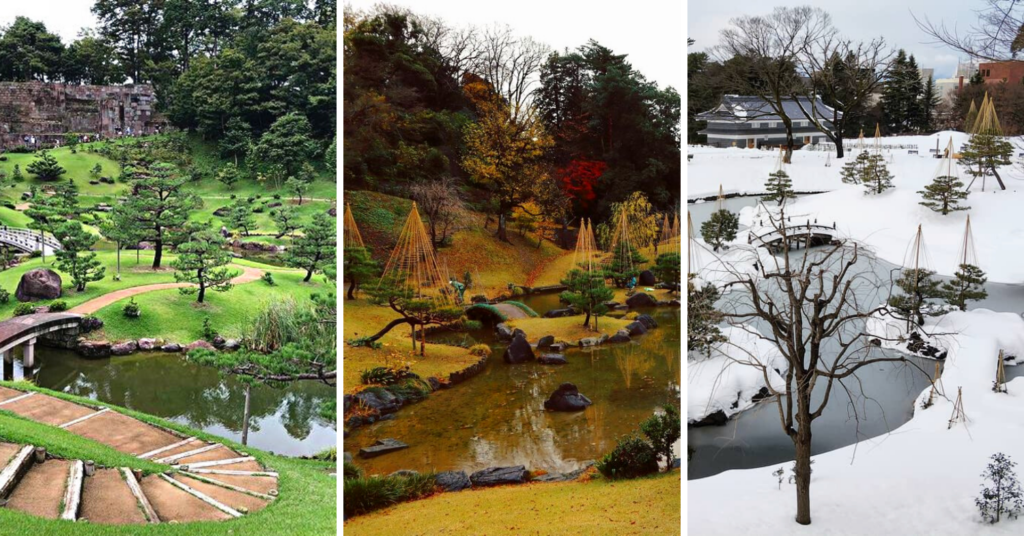 Image adapted from: @sunsun90__, @ayarossora, @berry_picking
Today, the stone walls stand as tall as the surrounding castle, inviting visitors to admire the enclosed garden through the seasons. 
---
Colour-changing musical light-ups from sunset to night time 
---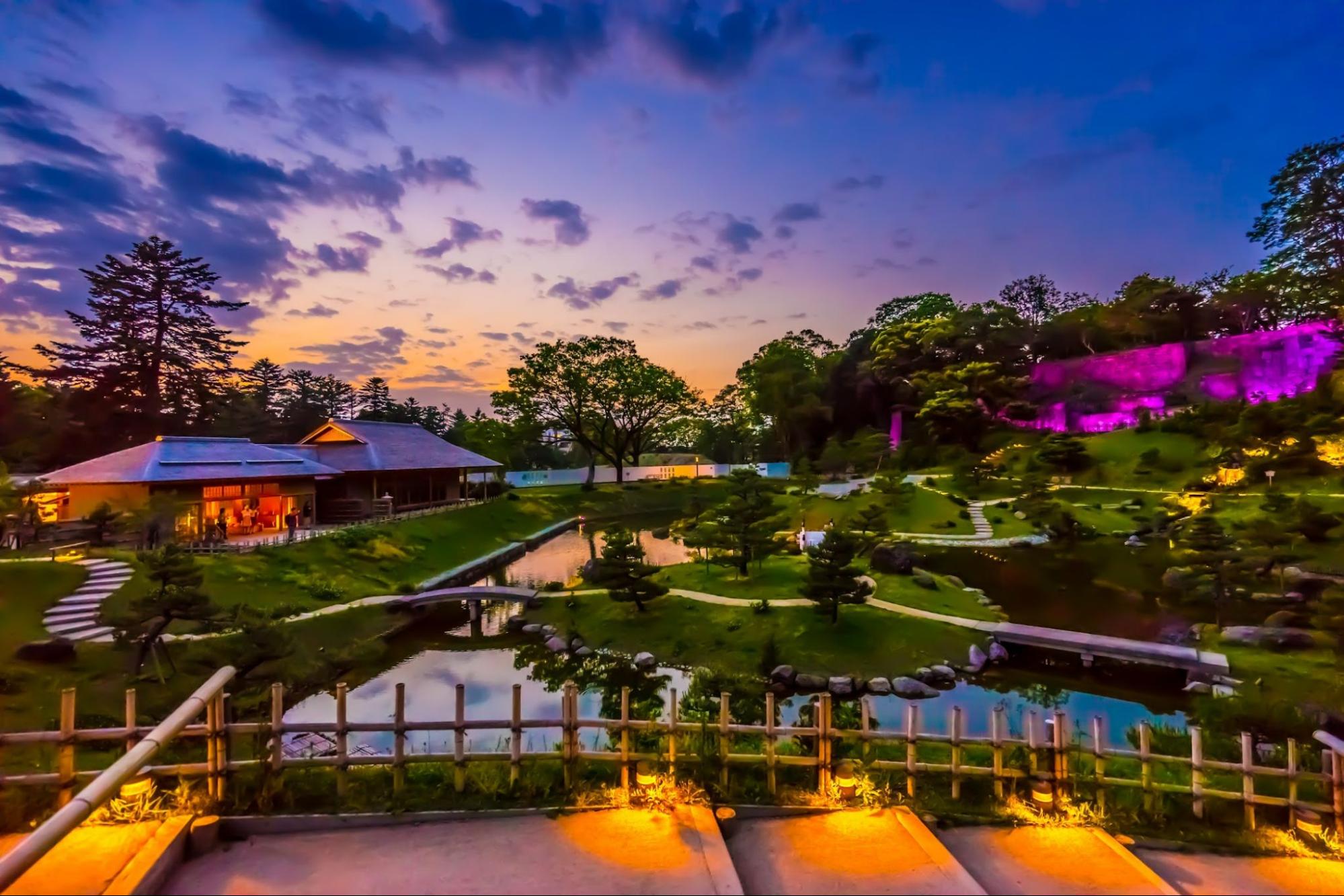 Image credit: kosu 
As the sun sets, Gyokusen'inmaru Garden slowly lights up to reveal yet another spectacle.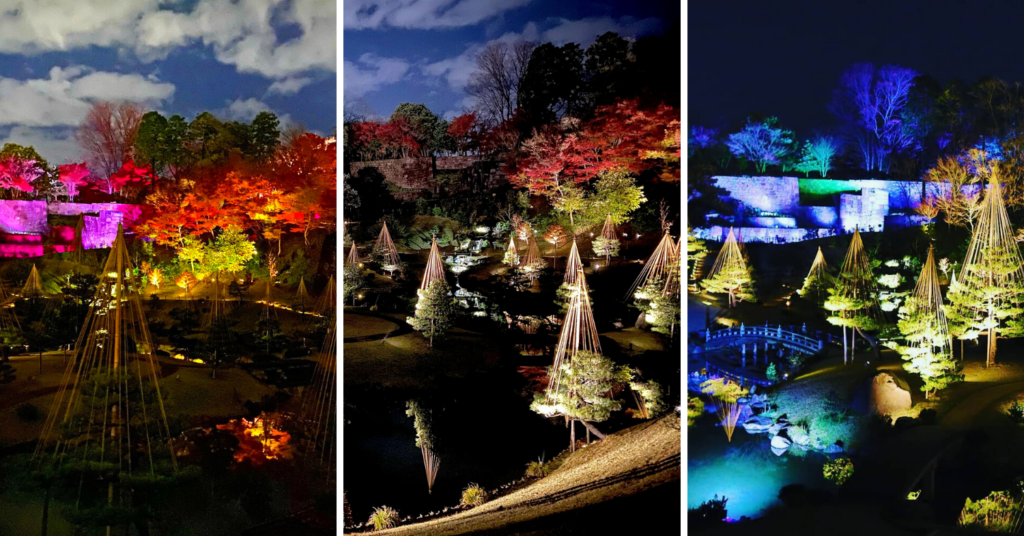 Image adapted from: @takami_j, @takami_j, @simon.tricha
The lights will morph through three temporal modes: Sunset Garden, Evening Garden, Moon Gazing Garden. The colour and pattern of the lights also change with the seasons.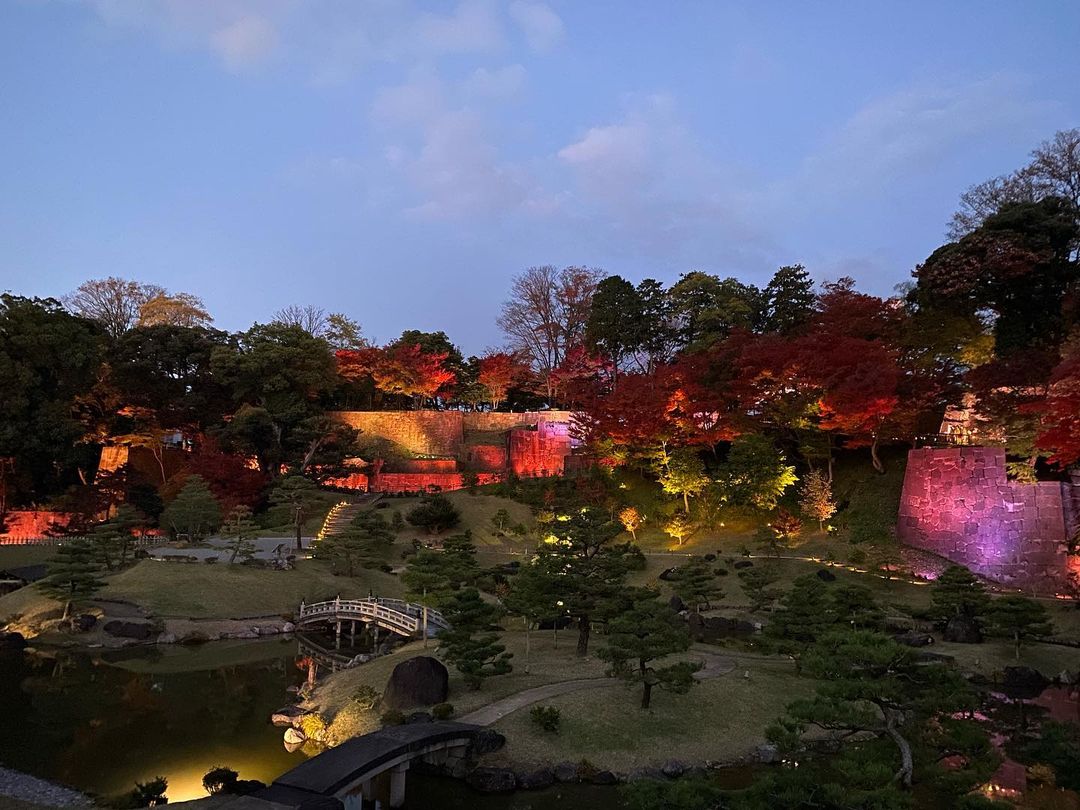 Image credit: @markuninstawow
The play of lights draws attention to the contours of the iconic Shikishi Tanzaku-Zumi Stone Wall, making it look like a patterned backdrop surrounding the garden.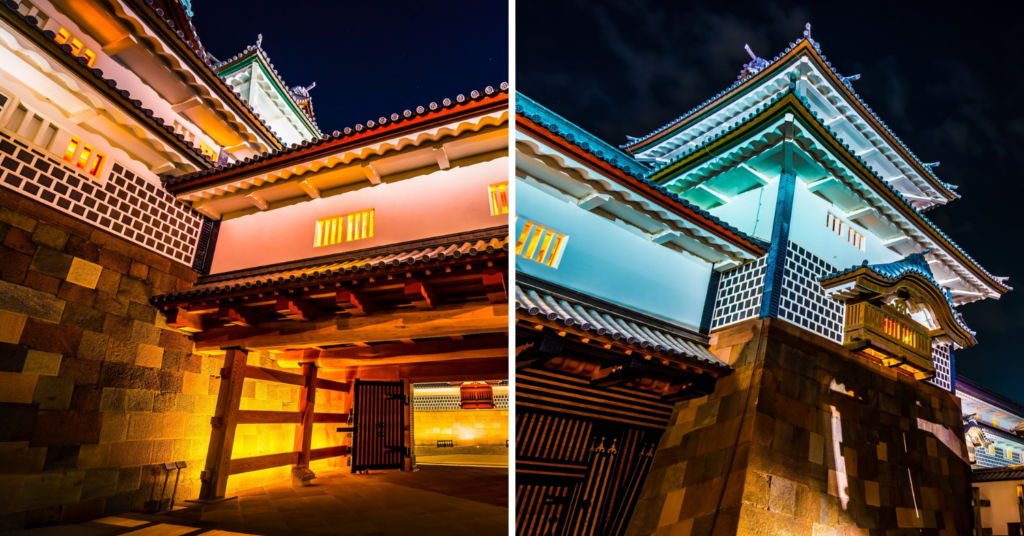 Image adapted from: kosu and kosu
Beyond the garden, castle walls are also lit up, rendering them almost mystical in the glow.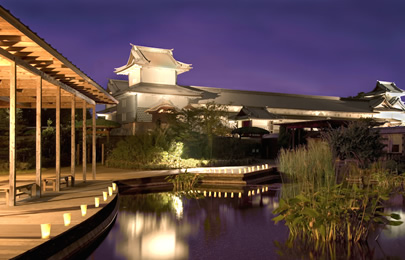 Image credit: Ishikawa Prefecture JAPAN
Accompanying these lights is traditional music played by the shakuhachi flute and the koto, the zither-like national instrument of Japan. These 7-minute light shows are free, and they're repeated from sunset till 9pm on Fridays, Saturdays, and the day before public holidays. 
---
Attend a traditional Japanese tea ceremony at Gyokusen'an
---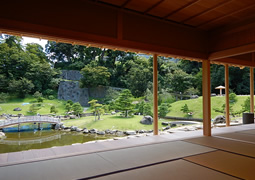 Image credit: Ishikawa Prefecture JAPAN
Offering a peaceful garden view across the lake from the stone walls, Gyokusen'an is a spacious rest house lined with traditional tatami mats. 
Visitors can attend a traditional tea ceremony to enjoy freshly made matcha green tea with wagashi (和菓子; traditional Japanese confections) for ¥720 (~USD5.03).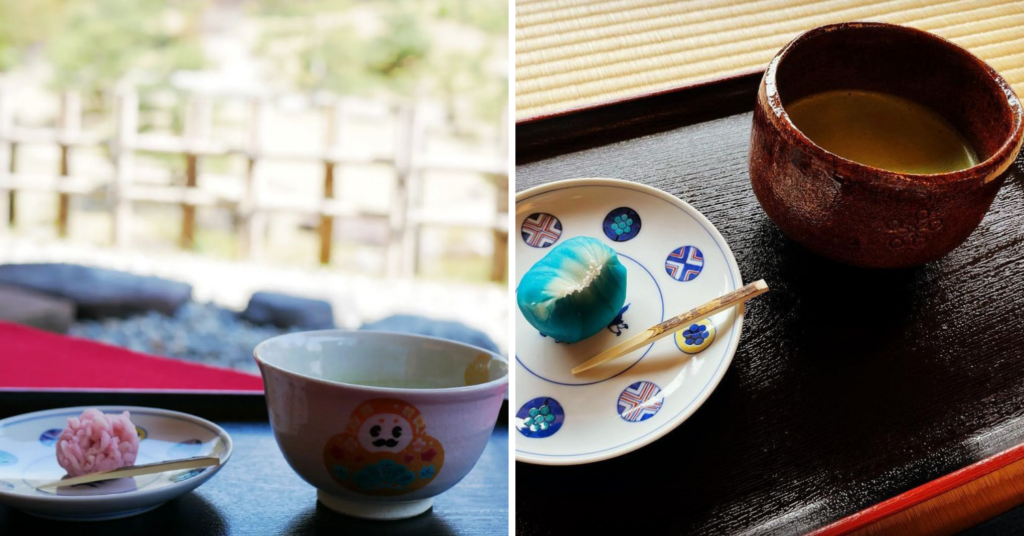 Image adapted from: @la_tour_eiffel.ki and @hebup25
Depending on the season, the menu is switched up to match the foliage. The spring wagashi is shaped like a little cherry blossom, while the summer wagashi looks like ocean waves crashing on boulders.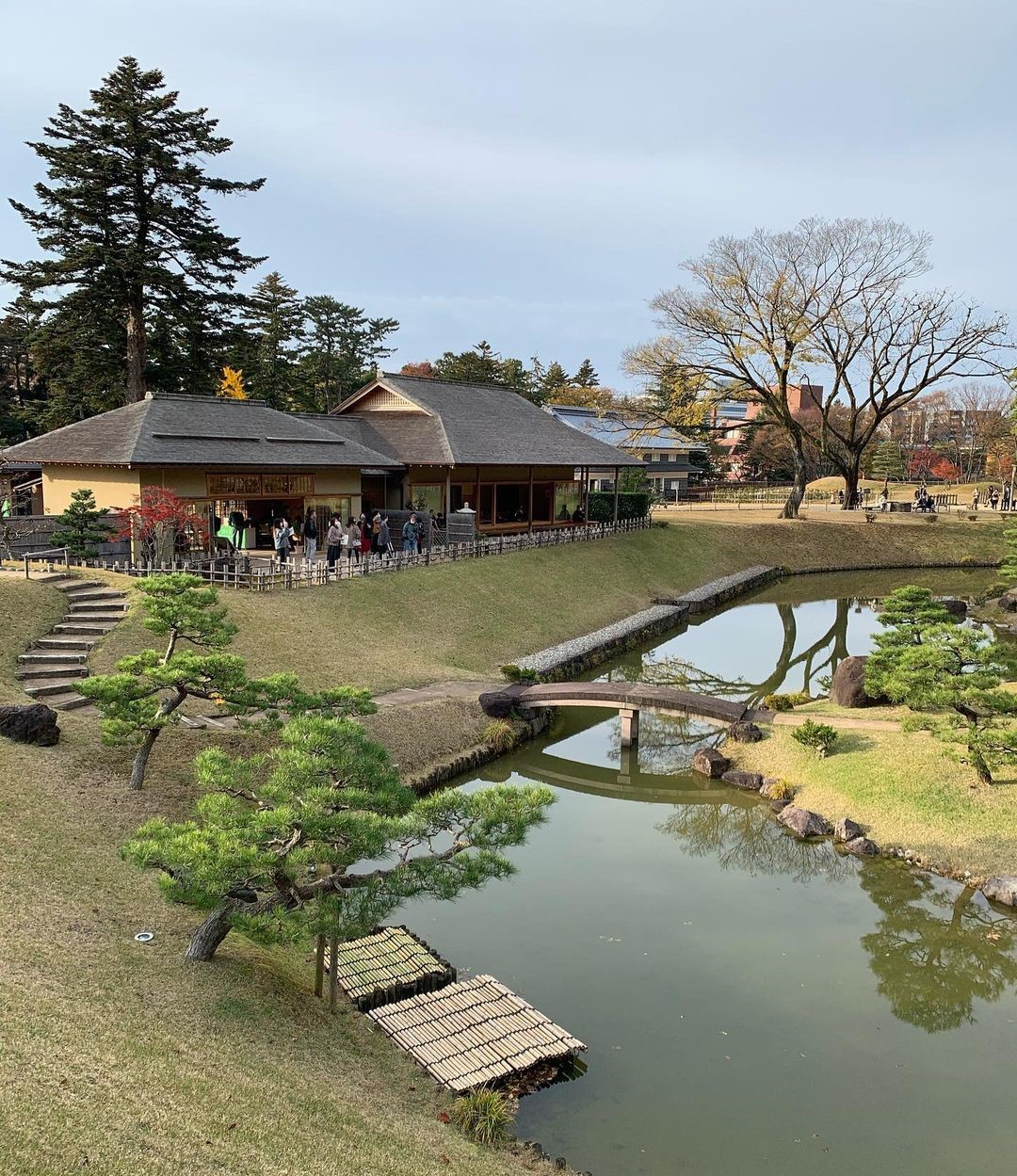 Image adapted from: @sksk72608
The tea ceremonies are held from 9am to 4.30pm, daily, except for 29th Dec to 3rd Jan. Make sure to call the Kanazawa Castle admin (at 0762-34-2800) ahead of time to check for available slots as Gyokusen'an might be rented out for private events. 
---
How to get to Gyokusen'inmaru Garden
---
If you're taking a day trip around Kanazawa Castle Park, we recommend a tour around the castle and Gyokusen'inmaru Garden's more famous counterpart, Kenroku-en. All three locations are within walking distance from each other for a historical scenic journey.
Getting there: 
JR bus:

take the Korinbo Line from Kanazawa Station and get off at Korinbo or 21st Century Museum (tip: this bus is free for JR pass-holders).

Shuttle bus:

take the dedicated shuttle bus from Kanazawa station and get off at stop S3, S4, S5, S9 or S10. 
Admission: Free
Address: 1-1, Marunouchi, Kanazawa 920-0937 Ishikawa
Opening hours: 7am-6pm (1st Mar-15th Oct) | 8am-5pm (16th Oct-28th Feb) | Open till 9pm on Fri, Sat and holidays
Contact: 0762-34-3800 | Gyokusen'inmaru Garden website
Also check out:
---
Cover image adapted from: @reikohama, kosu, @hebup25
Get more stories like this!
Drop us your email so you won't miss the latest news.