Food anime
---
For foodies, there's arguably nothing more mesmerising than watching a dish be meticulously prepared. If you've already binge-watched every cooking video there is to watch and are craving for more, satiate your hunger with these 10 food anime series. 
---
1. Yakitate!! Japan (2004 – 2006)
---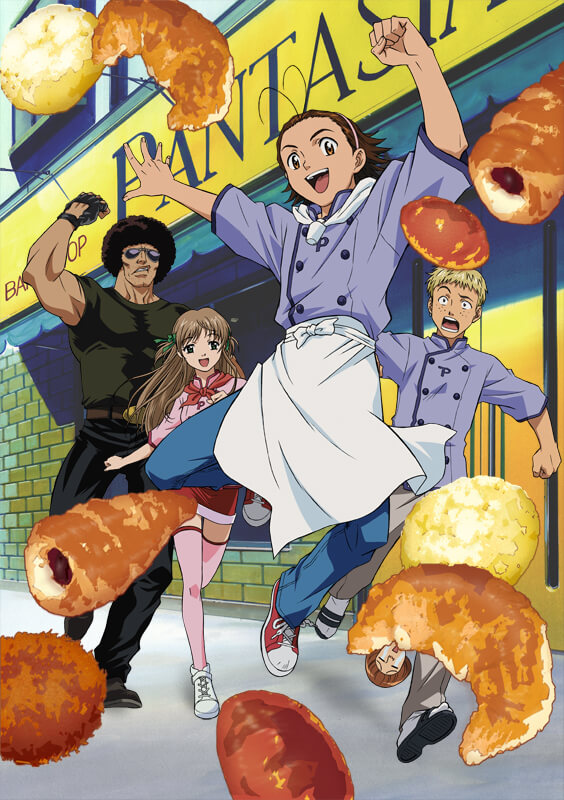 Image credit: Yakitate Japan 
Quarantine life during the pandemic may have had everyone turning to bread-making as a stress reliever, but Kazuma Azuma has been smitten with baking since he was 6 years old.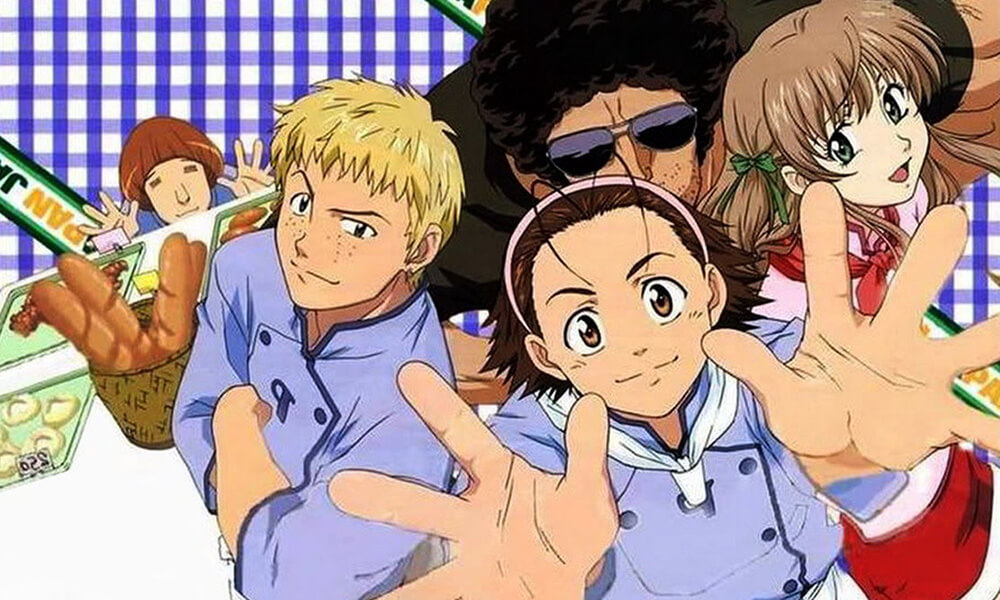 Image credit: Anime Hiroba
Upon discovering the wonderful world of baked goods, young Kazuma makes it his life goal to create the titular JaPan (ジャぱん) – a national bread that represents Japan. It is a word play on the word "Japan" and the Japanese for bread, "pan" (パン).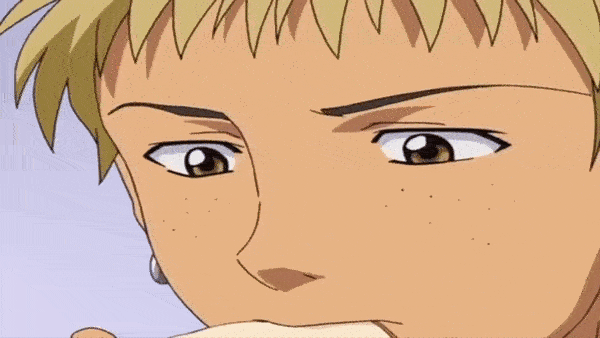 Image adapted from: TV Tokyo 
Kazuma also possesses the Hands of the Sun – unusually warm hands that can help speed up the fermentation process. Keen to make the most of his extraordinary trait, Kazuma moves from the countryside to Tokyo to pursue his bread-making dream.  
Apart from pockets of bread-making wisdom and science, a running gag in Yakitate!! Japan is the characters' humorous and often over-the-top reactions to bread creations in the show. 
Length: 3 arcs, 69 episodes
Available on: Crunchyroll, Funimation
---
2. Yumeiro Patissiere (2009 – 2010)
---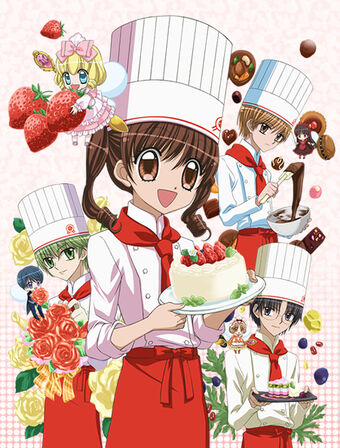 Image credit: Yumeiro Patissiere Wiki 
Yumeiro Patissiere is a sweet anime centred on the young protagonist and her aspirations to become a professional pastry chef. Unlike her sister, who is a talented pianist and has her life figured out, Ichigo Amano has nothing she wants to do with her life or passion she wants to pursue.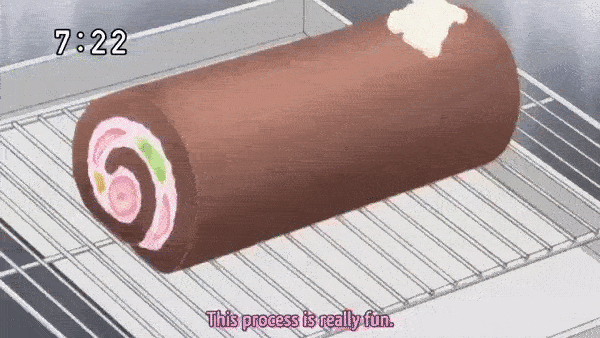 Ichigo making a chocolate roll
Image adapted from: NTV
That is, until she meets Henri-sensei, a famous patissier who recognises Ichigo's talent in sweets–making and encourages her to attend St. Marie Academy, a prestigious culinary school. 
Though she gets off to a rocky start in the new environment, Ichigo quickly adapts and excels with her exceptional sense of taste and skills. Together with 3 other friends and their adorable tiny companions called the "Sweets Spirits", Ichigo works hard to become a skilled pastry chef in the competitive culinary world.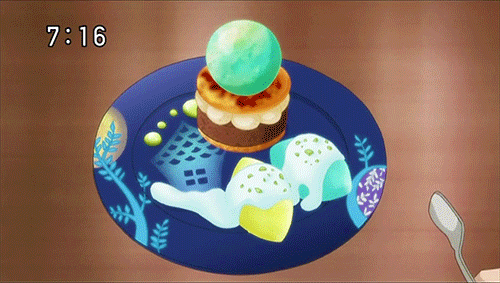 Image adapted from: NTV
Light-hearted and educational, the series dives deep into the world of baking and breaks down technical aspects of sweets–making. Aspiring bakers and seasoned pastry chefs alike will surely pick up bits and pieces of useful baking knowledge from the show.  
Length: 2 seasons, 63 episodes
Available on: Crunchyroll
---
3. Food Wars!: Shokugeki no Sōma (2015 – 2020)
---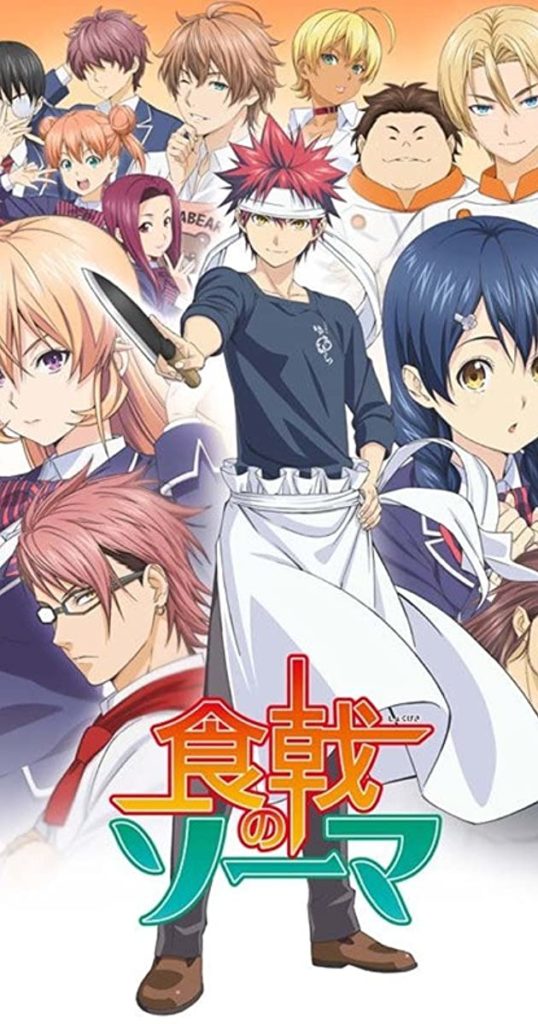 Image credit: IMDb
This list wouldn't be complete without the most popular food anime in recent years, Food Wars!: Shokugeki no Sōma, an anime that is all about delectable and mouth-watering food. The series follows a cooking prodigy, Sōma, as he enrols in a prestigious culinary school in Japan and battles it out with other talented chefs.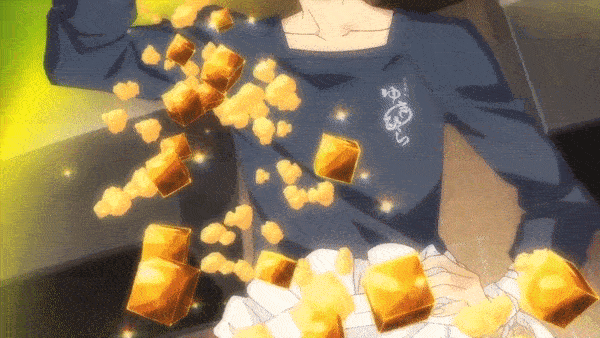 Image adapted from: Animax 
It is interesting to watch Sōma come up with new dishes as he is not afraid to think out of the box and break culinary rules, much to the chagrin of the other characters. Foodies can also look out for useful cooking techniques, as well as the history behind how some iconic dishes were created.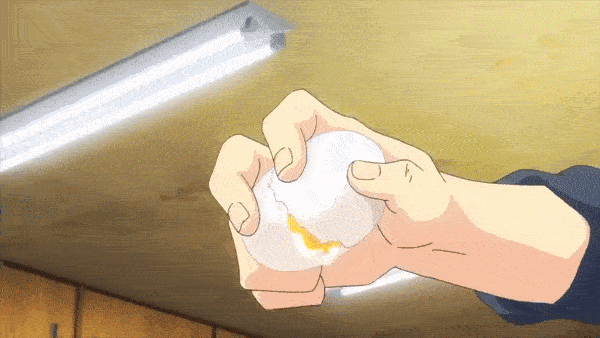 Image adapted from: Animax 
Be careful not to watch it at work or in public spaces as the series includes many scenes that are NSFW. The characters tend to have extreme – in fact, borderline orgasmic reactions – to many delicious dishes in the show, so put on your headphones to avoid potentially awkward situations. 
Length: 5 seasons, 86 episodes + 5 OVAs
Available on: Crunchyroll, Netflix (Season 1 – 4) 
---
4. Oishinbo (1988 – 1992)
---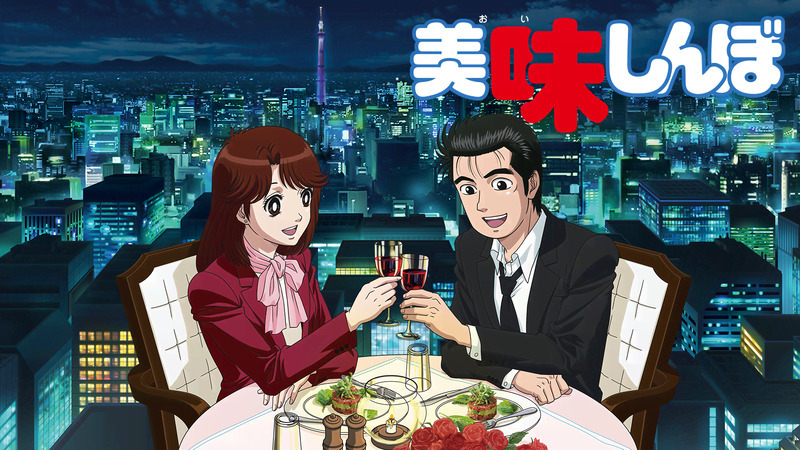 Image credit: Abema
Oishinbo is an underrated classic and a crucial part of the history of food anime. The long-running series aired from the late 1980s to early 1990s and has since become a household name in Japan. Yet, many international viewers don't know about this hidden gem.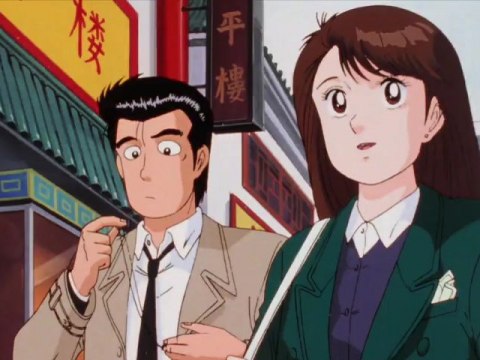 Image credit: VideoMarket
The story follows the gastronomic adventures of food journalist Shiro Yamaoka and his partner, Yuko Kurita. At the start of the series, the duo were tasked with creating a comprehensive list of recipes for their newspaper's food section.  
Each episode focuses on a specific ingredient or dish, mostly those found in Japanese cuisine, so it's a great culinary introduction for those who'd like to know more about Japanese food.  
Length: 1 season, 136 episodes
Available on: YouTube
---
5. Ms. Koizumi Loves Ramen Noodles (2018)
---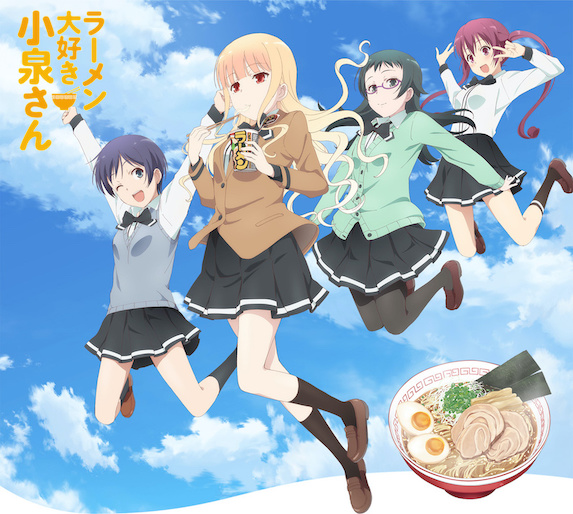 Image credit: Renote
Transfer student Koizumi is a tough nut to crack – her classmates don't know anything about her and she keeps to herself. However, her classmate Yuu accidentally discovers her secret hobby. As it turns out, Koizumi is a secret ramen connoisseur and she enjoys trying new ramen dishes from all around Japan.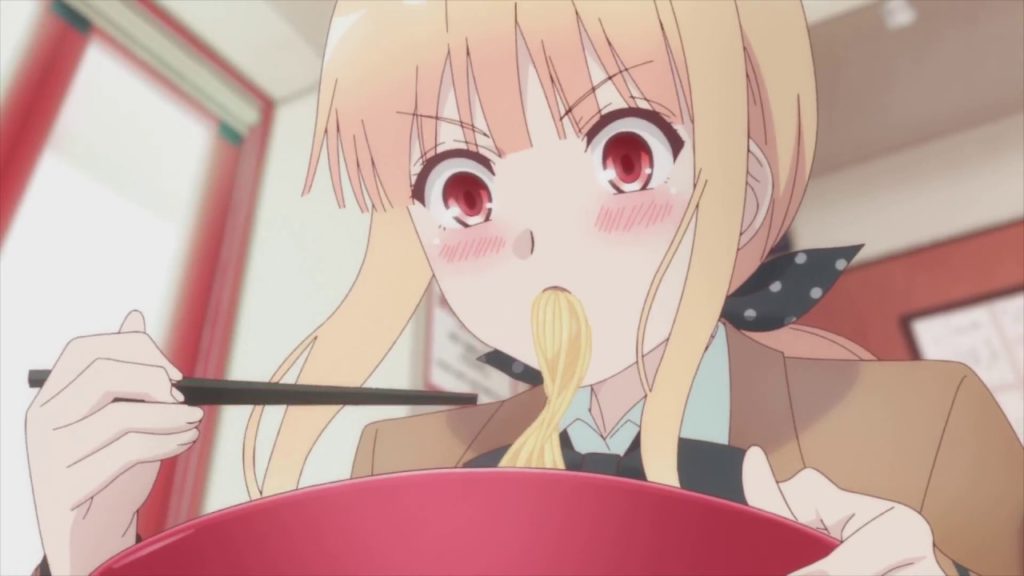 Image adapted from: Mainichi Broadcasting System 
Forget struggling with meandering food blogs – Ms. Koizumi Loves Ramen is a good starting point for people who want to delve into the world of ramen and learn all about the iconic noodle.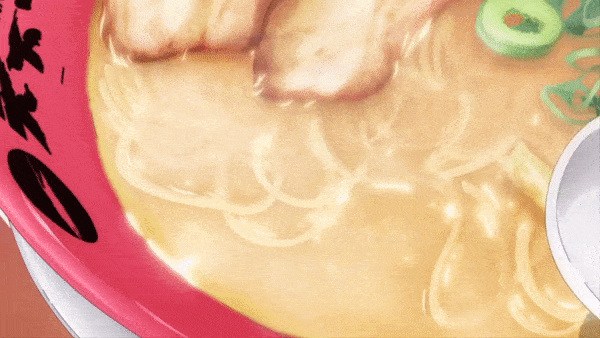 Image adapted from: Mainichi Broadcasting System 
All the restaurants featured in the series exist in real life, so take this anime as a friendly guide to the best ramen places in Japan and add them to your itinerary in the future. 
Fun fact: the voice actresses had to actually slurp on ramen to produce the slurping sound. 
Length: 1 season, 12 episodes
Available on: Crunchyroll
---
6. Isekai Izakaya: Japanese Food From Another World (2018)
---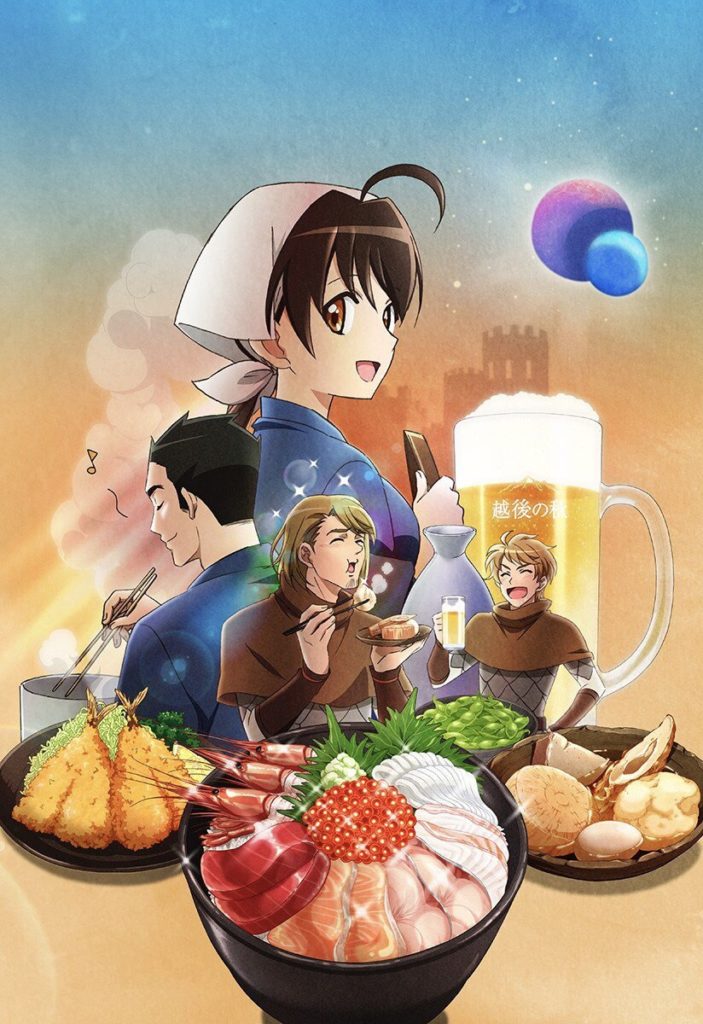 Image adapted from: Amazon Prime 
Kyoto may be saturated with tourists these days, but there are still a few hidden spots that only insiders and locals are privy to. Welcome to Nobu, an izakaya (Japanese gastropub) situated on a deserted street in the ancient capital.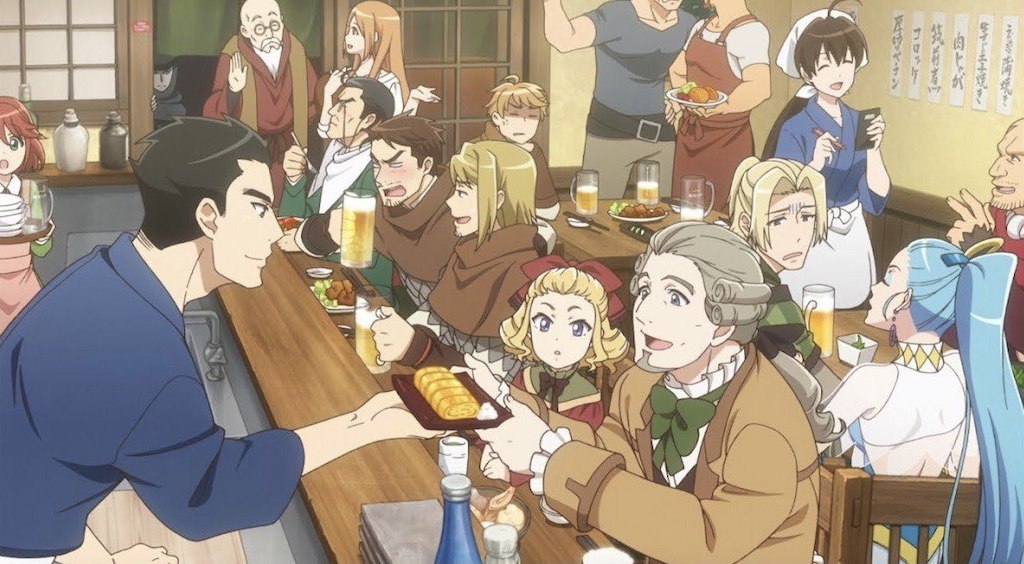 Image adapted from: SUNRISE Music
Besides serving refreshing pints of beer and scrumptious side dishes, the izakaya is also the gateway to another world – a mysterious land called "Aitheria". Isekai Izakaya: Japanese Food From Another World is a feel-good series with interesting character designs and delectable dishes. At the end of every episode, there are recipes for the dishes featured and recommendations for restaurants you can visit in Japan. 
Length: 1 season, 24 episodes
Available on: Crunchyroll
---
7. Gourmet Girl Graffiti (2015)
---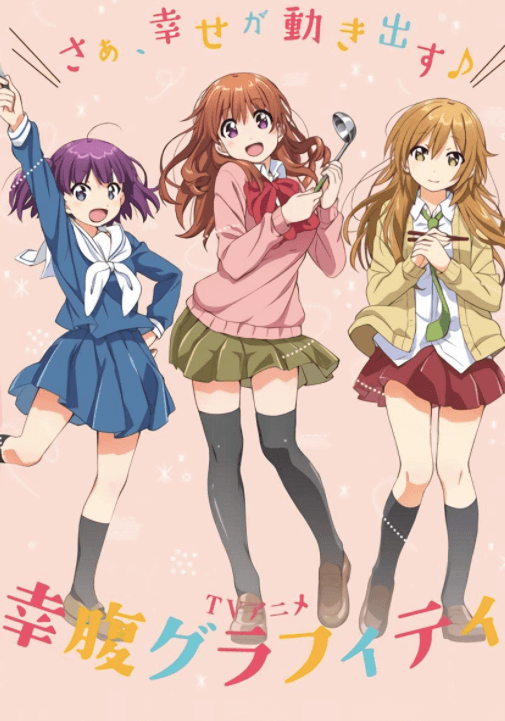 Image credit: IMDb
Gourmet Girl Graffiti focuses on Ryou, a middle schooler who happens to be an exceptional cook. This is thanks to her late grandmother, whom she learnt her cooking from, and who's always assured Ryou that her food is delicious. Despite her grandmother's encouragement, Ryou has always found her own cooking lacklustre in taste.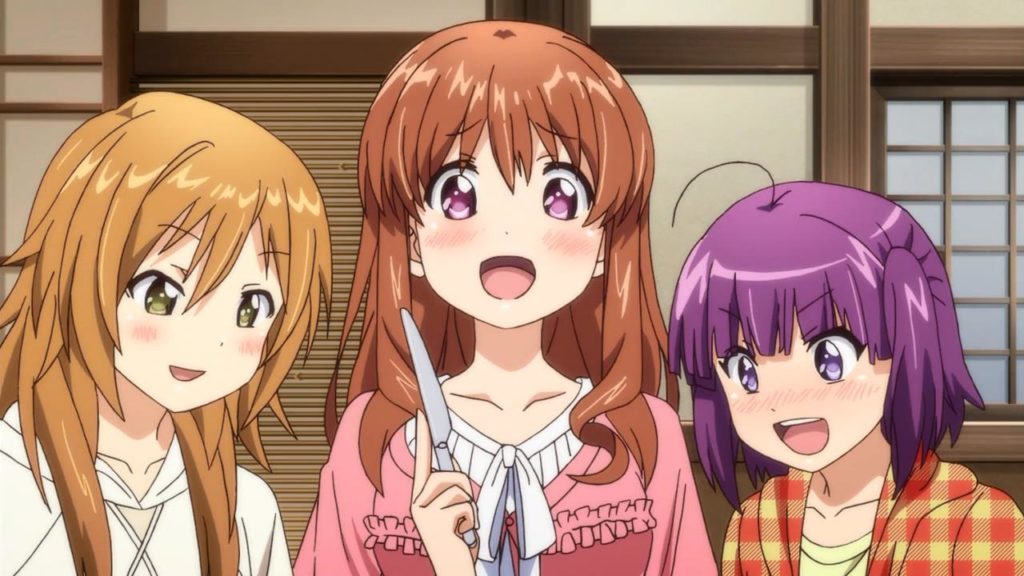 Image credit: IMDb
That changes when she starts living with her cousin. Ryou finds that cooking for her close friends makes her food taste better than before. If you're one for 3 girls developing wholesome, meaningful friendships over good food, this is the anime for you. 
Length: 1 season, 12 episodes
Available on: Crunchyroll
---
8. Today's Menu For The Emiya Family (2018 – 2019)
---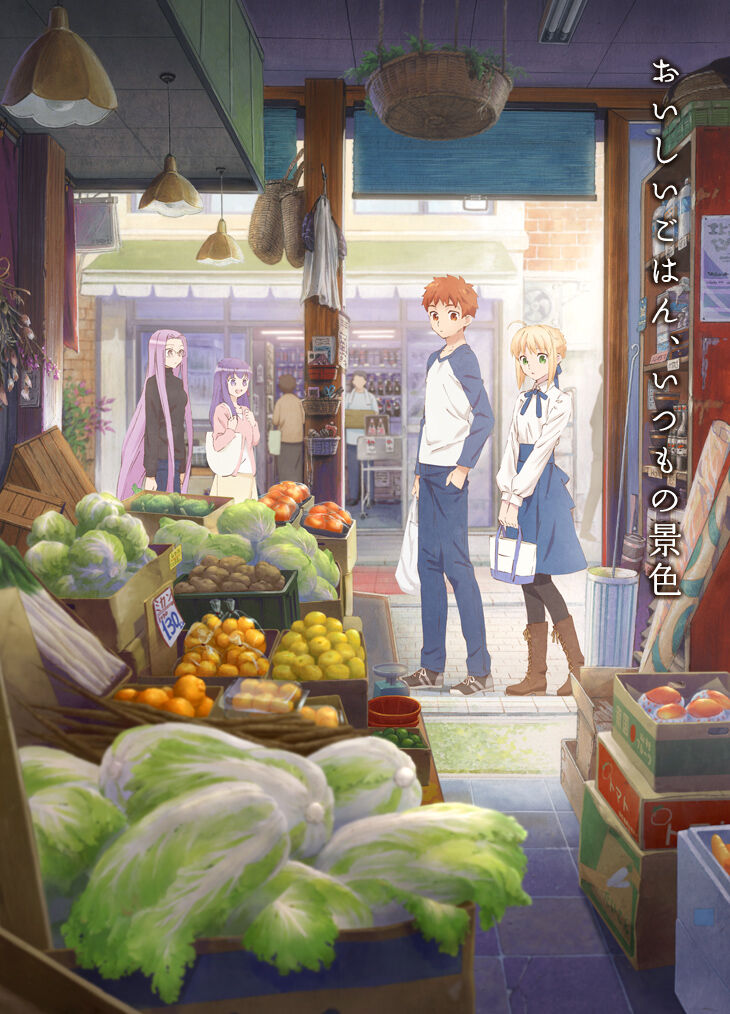 Image credit: Type-Moon Fandom
Set in the same world as Fate/stay night, Today's Menu For The Emiya Family features many characters that we know and love from the former. But, instead of fighting it out in this series, the characters have a fun time cooking, talking about food, and enjoying delightful meals.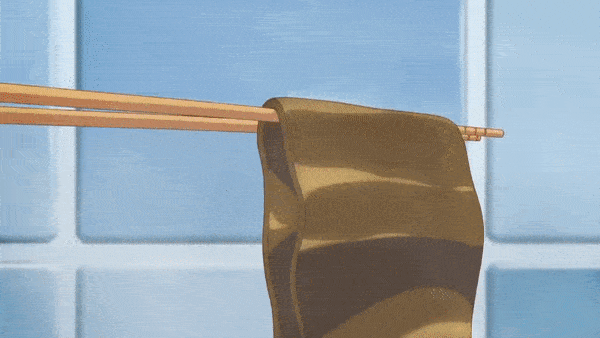 Image adapted from: Aniplex of America 
You don't have to be a fan of the original Fate/stay night series to enjoy this food anime spin-off as Today's Menu For The Emiya Family makes little to no reference to the previous anime.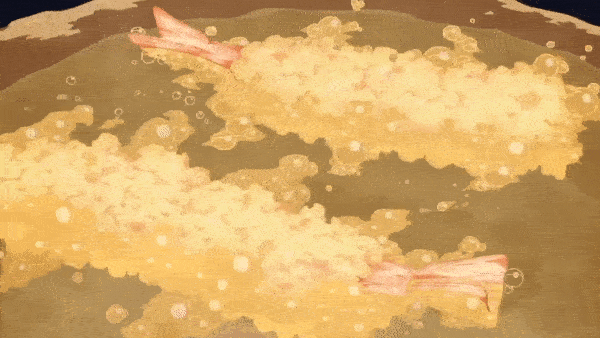 Image adapted from: Aniplex of America 
Everyday, the protagonist, Shirou, walks through the market to scour for fresh ingredients. Then, the episode takes you through a detailed process of food preparation. Finally, it ends off with a display of the mouth-watering food and the characters gathering for a good meal.  
Length: 1 season, 13 episodes
Available on: Crunchyroll, Funimation 
---
9. Silver Spoon (2013 – 2014)
---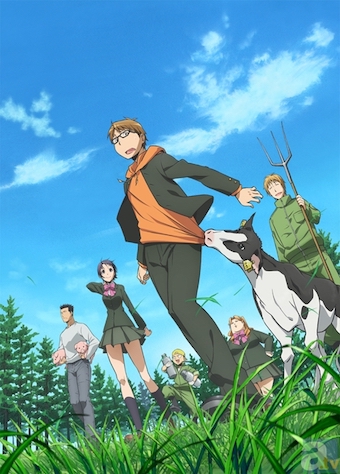 Image credit: animate Times 
When city life gets too much, many of us think of moving to the countryside to get some respite. But since that's unrealistic for most people, we recommend living vicariously through city boy Hachiken, who enrols in an agricultural school at the start of Silver Spoon.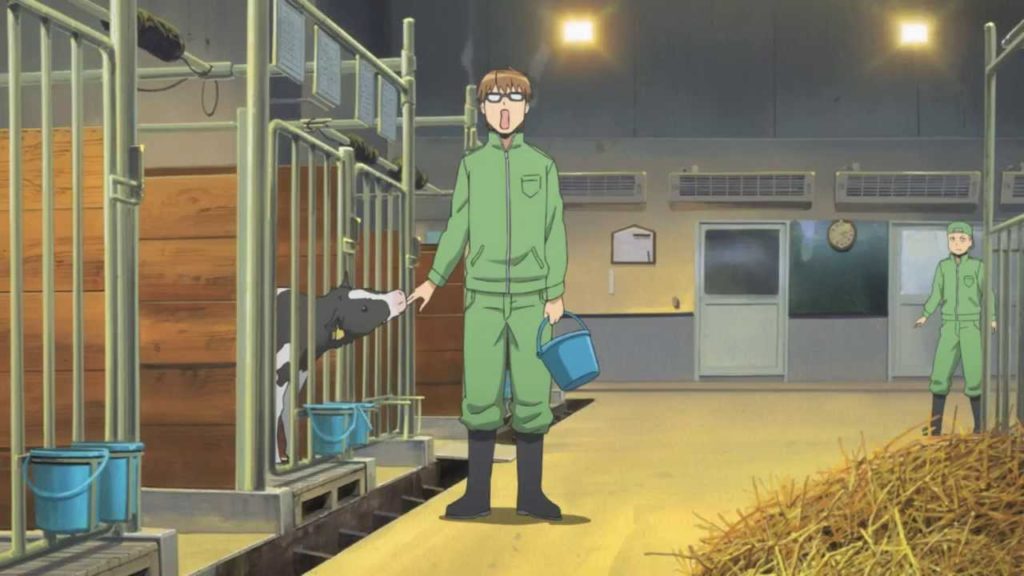 Image adapted from: Weekly Shōnen Sunday
Unlike many of his new vocational schoolmates, who are heirs to family farms or are studying to become veterinarians, Hachiken has no such ambition. He simply wanted to move away from his estranged family and thought that he'd be able to make up for his lack of agricultural knowledge by studying for it.  
Little did he know, farm life is harder than he had expected. From waking up in the wee hours of the morning to taking care of animals, farming is tough work.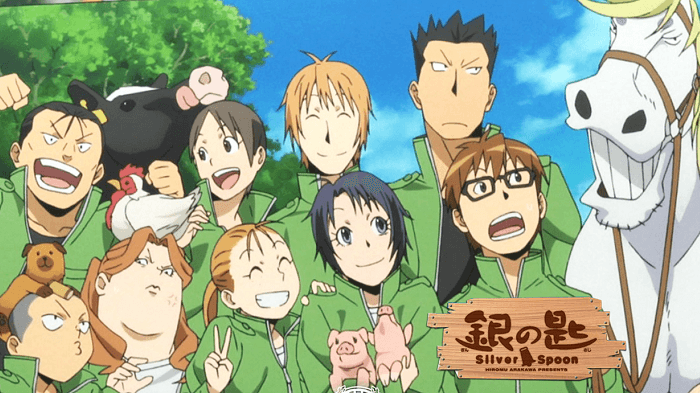 Image credit: MyAnimeList 
Silver Spoon has been touted as an anime that accurately depicts the behind-the-scenes of the agricultural industry in Japan. Though the series is mainly about farming, the show is interspersed with mouth-watering cooking scenes and focuses on where our food comes from. Deep questions on farming ethics, specifically the treatment of animals and livestocks, are also raised, giving the viewers some food for thought. 
Length: 2 seasons, 22 episodes
Available on: Crunchyroll 
---
10. Bartender (2006)
---

Image adapted from: Fuji TV
Drinking your problems away is never the solution, but having a little tipple while confiding in your bartender doesn't sound too shabby.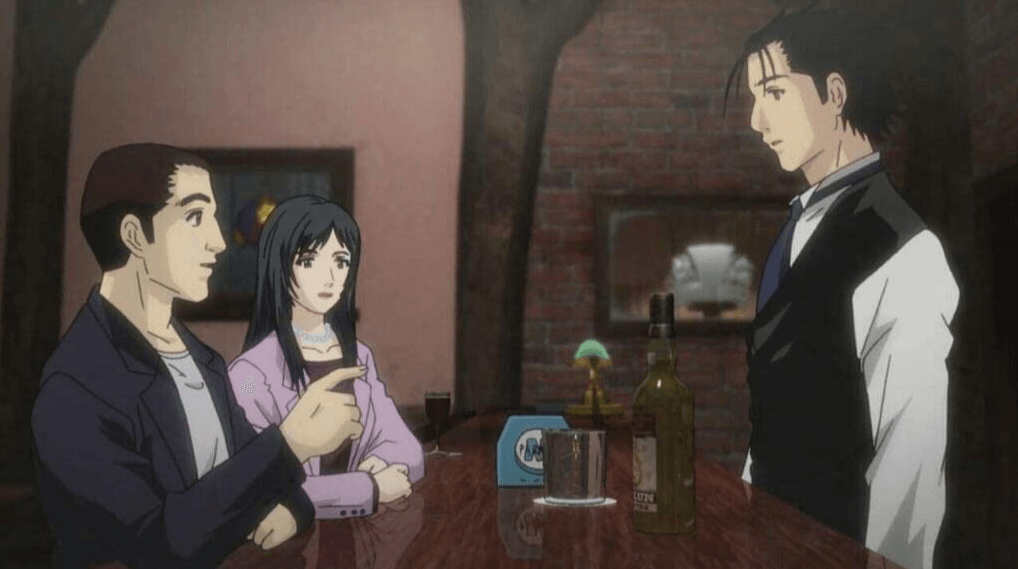 Image adapted from: Fuji TV
The series is about the titular bartender, Ryū Sasakura, who runs the mysterious bar, Eden Hall. A new customer is invited for a drink at the start of every episode. As the customers tell the bartender their problems, Ryū will concoct the perfect cocktail and offer a side of advice. 
Granted, cocktails are not exactly considered food, but the scenes where Ryū prepares alcoholic drinks are so therapeutic that it would be a shame not to include this series on our list. 
Length: 1 season, 11 episodes
Available on: DVD 
---
Food anime to binge on
---
Whether it's useful culinary knowledge, exhilarating high-stakes food battles, or simple everyday cooking, there is bound to be something in these food anime series that will suit your taste buds. So grab some snacks, sit back, relax, and bon appétit.
For more anime to watch, check out these articles: 
Cover image adapted from: Amazon Prime, Yakitate Japan, and Yumeiro Patissiere Wiki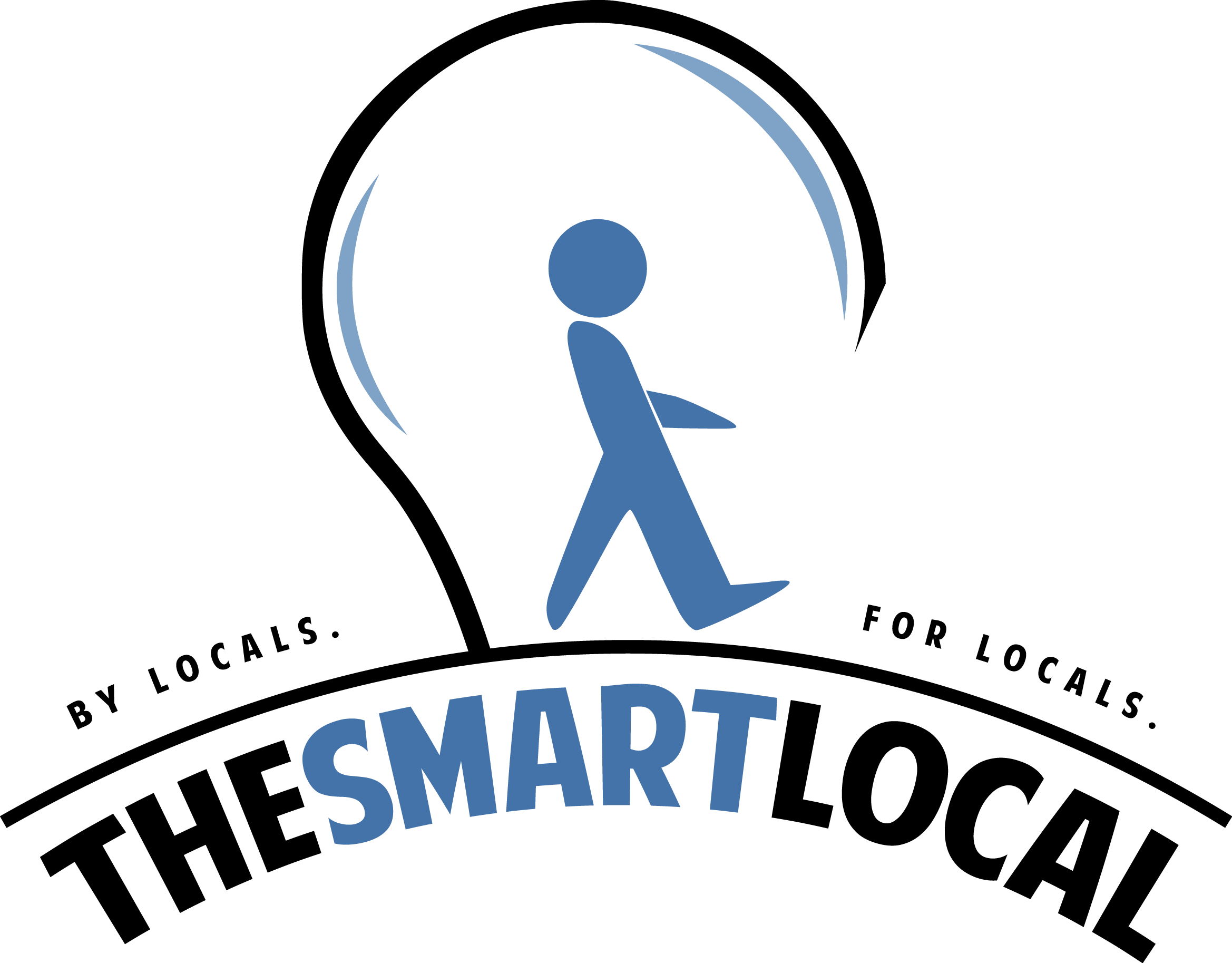 Drop us your email so you won't miss the latest news.