Eshima Ohashi Bridge
---
If you've been on the internet long enough, chances are you have seen a viral picture of a highway bridge that's so steep, it appears to be vertical. Known to resemble the ascent of a roller coaster, the Eshima Ōhashi Bridge has become a hotspot for tourists and photographers.
---
Resembles an ascending roller coaster  
---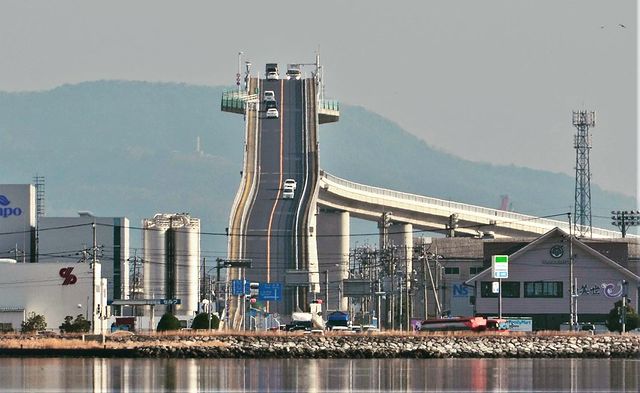 Image credit: @tabishitegomen
Connecting Matsue City in Shimane Prefecture to Sakaiminato in Tottori Prefecture, the 1.7km-long Eshima Ōhashi Bridge has become a popular sightseeing spot in its own right, after it was featured in a Daihatsu car commercial.
Video credit: Ad SDGs 
In the advertisement, 2 man seated in a Daihatsu car look on warily at the bridge's steep slope, with 1 of them revealing that the bridge is nicknamed "Betabumizaka" (ベタ踏み坂), which translates roughly to "the slope where you have to accelerate like mad".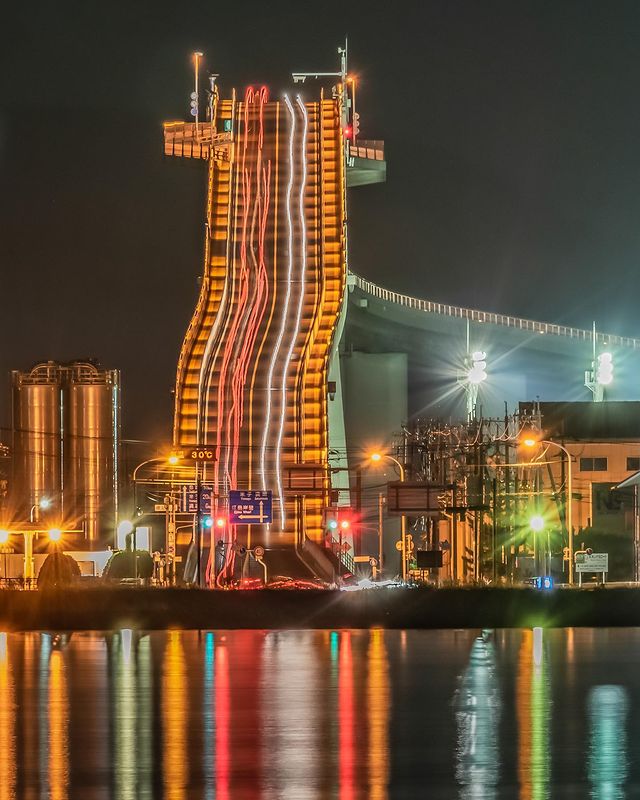 Image credit: @taichigram055
One look at the bridge and anyone can tell that the witty commercial hit the nail on the head as its insanely steep slope resembles the ascent of a fear-inducing roller coaster.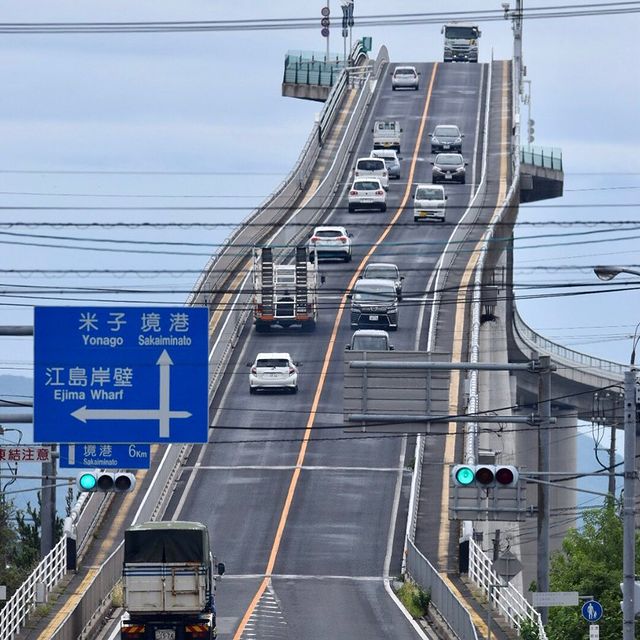 Image credit: @3636furifuri
After its appearance in the TV commercial, the bridge acquired newfound fame, with many flocking to the spot to catch sight of and snap a shot of the bridge. 
---
Not that steep in real life
---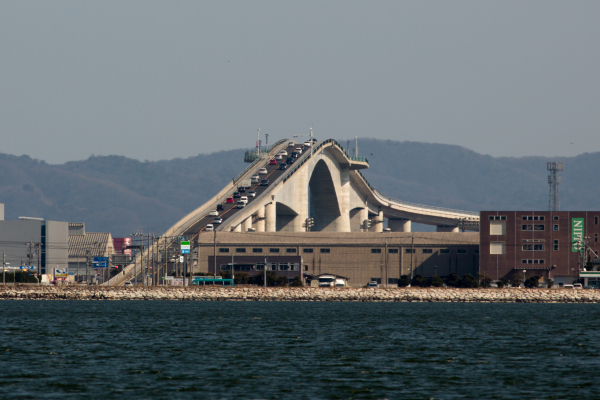 Image credit: Tottori Tabi
While it looks like it's nearly impossible to cross the bridge, in reality, the bridge is not as steep as what most photos suggest.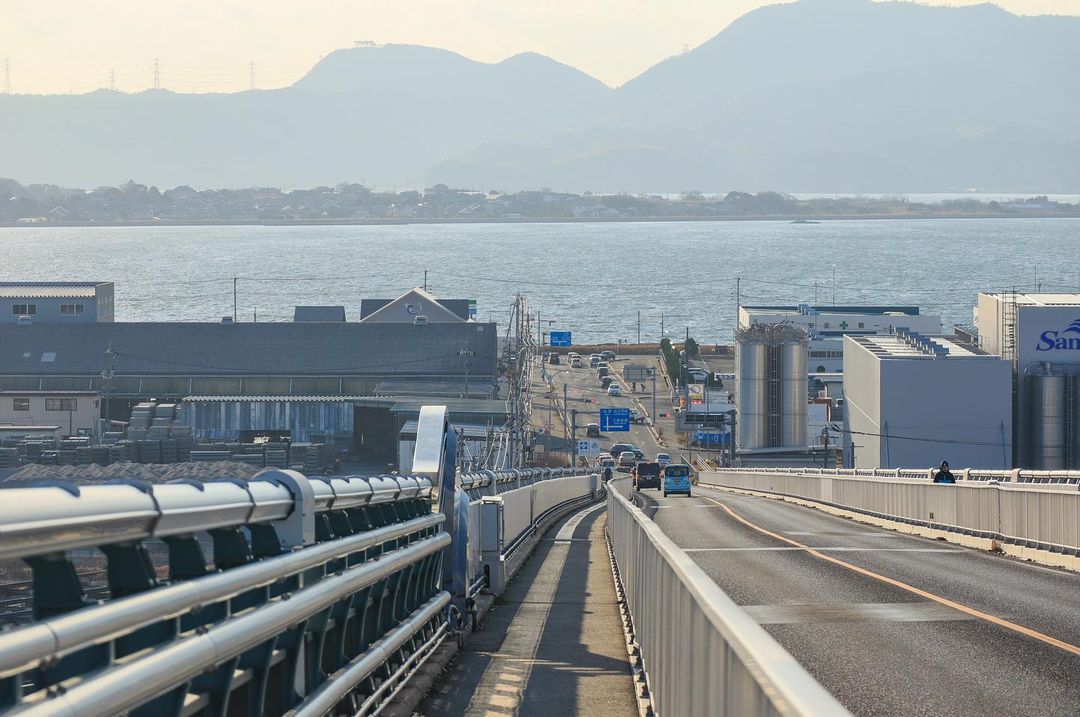 View from the highest point on the bridge.
Image credit: @hiropoyooo1031dayo
Built over Lake Nakaumi to allow huge vessels to pass through, Eshima Ōhashi Bridge measures 45m at its tallest point and is the largest concrete girder bridge in the country. 
In other words, it is pretty steep to say the least, but don't expect to see the highway road towering over you when you're there in person.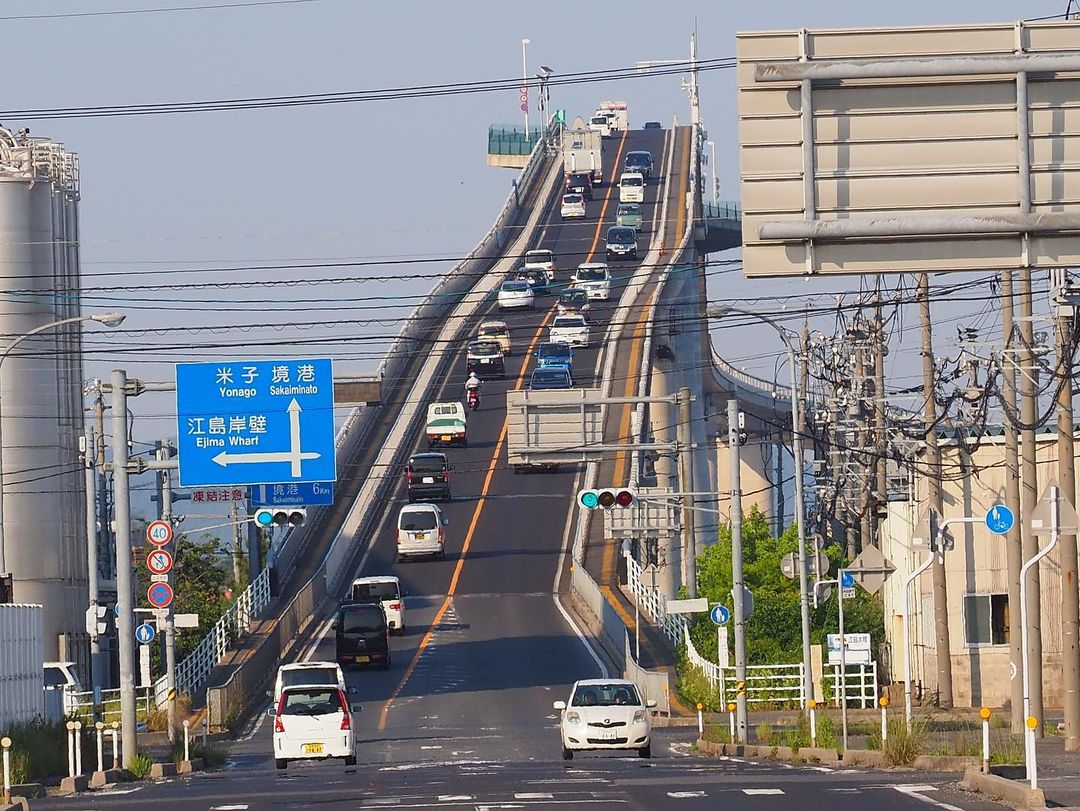 Image credit: @haru_cb400sf_2006
In order to enhance the bridge's incline, most photos you see online are taken with a telephoto lens from a distance. It is also common to see the photo taken from the Shimane side, where the gradient of the bridge hits 6.1% – 1% higher than the slope on the Tottori side.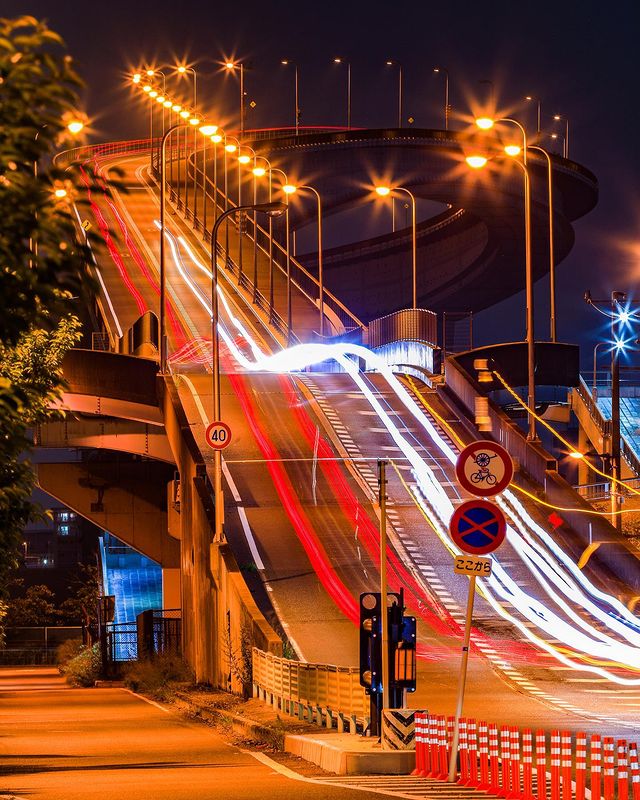 Image credit: @shigags
When viewed from the side, you'll find that the Eshima Ōhashi Bridge is a manageable height that doesn't require drivers to "accelerate like mad". Still, it is fun to imagine being on a thrilling roller coaster ride while driving on the road.  
---
Locating Eshima Ohashi Bridge
---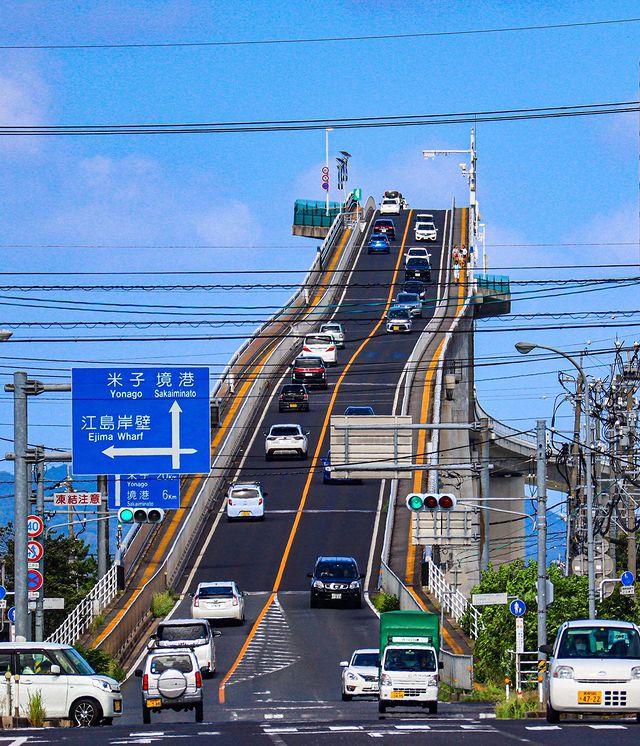 Image credit: @katochangmen
Eshima Ōhashi Bridge is a short 10-minute drive from the nearest Sakaiminato Station. There is no public transportation that will bring you straight to the spot, so you should consider hailing a taxi, riding a bicycle, or walking to get there.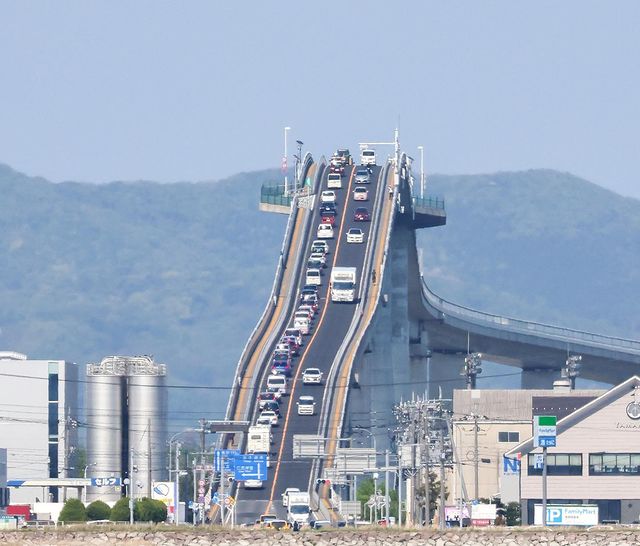 Image credit: @tantakuchan
Address: Nishikogyodanchi, Sakaiminato, 684-0075 Tottori
Also check out:
---
Cover image adapted from: @tabishitegomen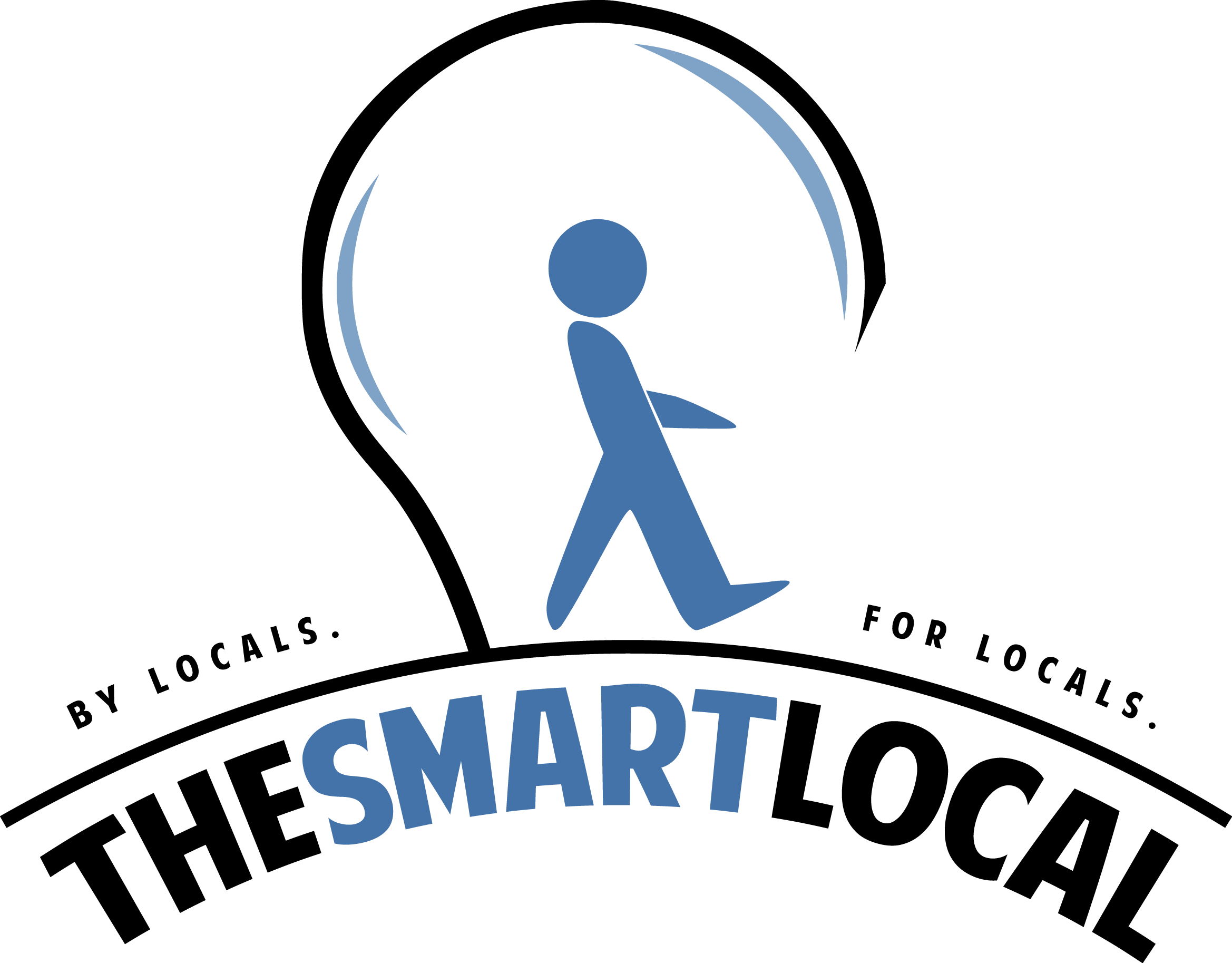 Drop us your email so you won't miss the latest news.