Colonel Sanders statue in Demon Slayer costume
---
Clad in his trademark pristine white suit and a black bow tie, Colonel Sanders has been serving crisp dapper looks and crispy fried chicken for as long as we can remember. So when a Japanese user on Twitter found the iconic statue donning a Demon Slayer costume, they understandably did a double take. 
---
Colonel Sanders statue dressed in Tanjiro's Demon Slayer uniform
---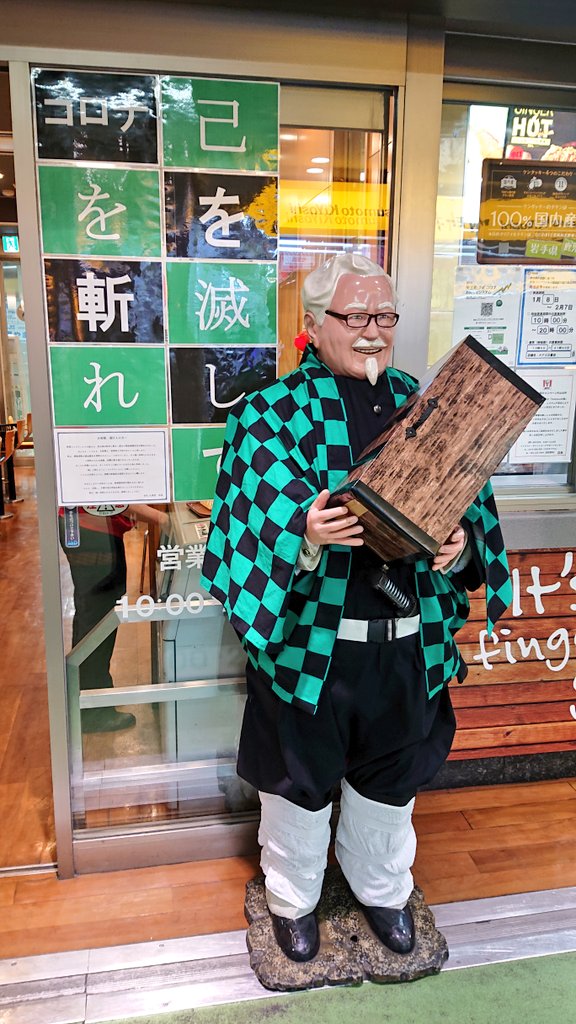 Image credit: @Izayoinu_wtgm
On 1st February, user @Izayoinu_wtgm took to Twitter to share an interesting sighting. A Colonel Sanders statue was spotted cosplaying Kamado Tanjiro from the hit series, Demon Slayer.
The statue of the KFC founder sported the uniform worn by members of the Demon Slayer Corps, complete with Tanjiro's signature checkered haori (羽織り; traditional overcoat typically worn over a kimono). 
Never without his sister, Nezuko, by his side, Tanjiro carries a wooden box everywhere he goes as that's where his sister hides in the day. Naturally, the statue was in possession of a similar wooden box.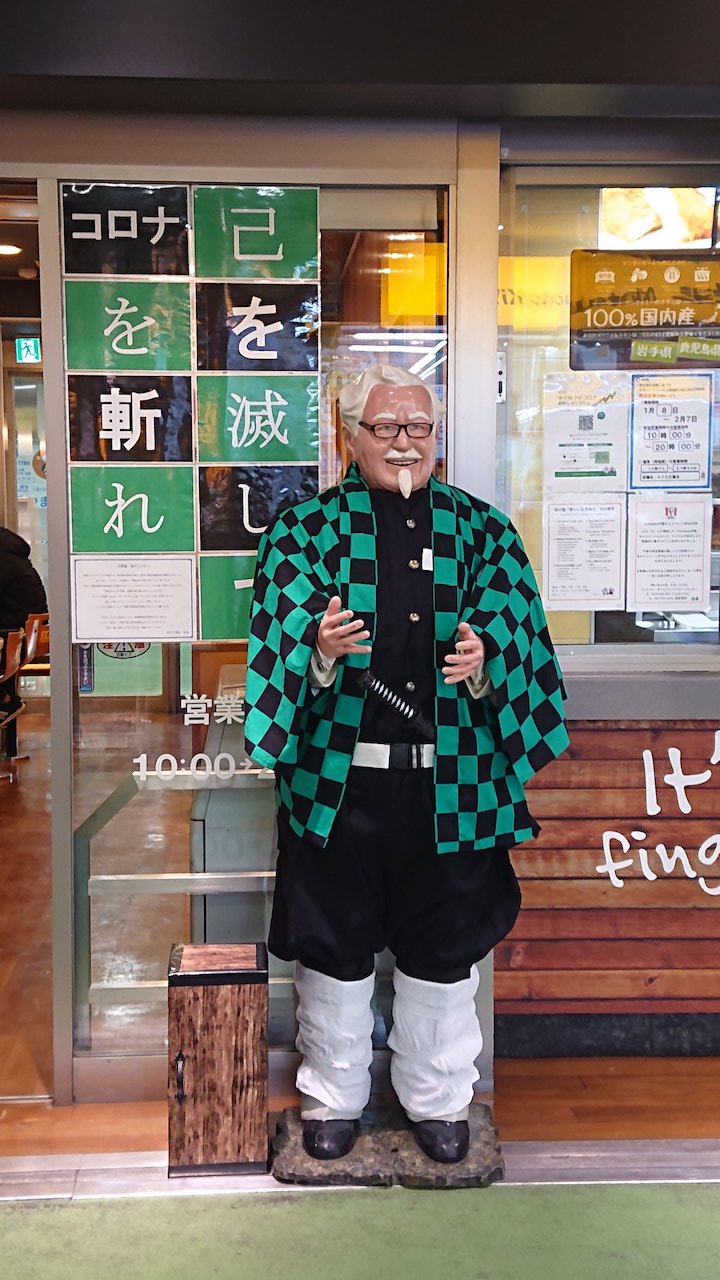 Image credit: @7353_ga
As part of the finishing touches, the staff even put up signs that read, "Destroy yourself. Slay the coronavirus," a play on the catchphrase of Demon Slayer. Amused, the user quipped, "Tanjiro looks like he's ready to deep-fry Nezuko anytime now." According to the replies, the KFC outlet in question is located at Kuki Station, Saitama. 
---
Different looks for different occasions
---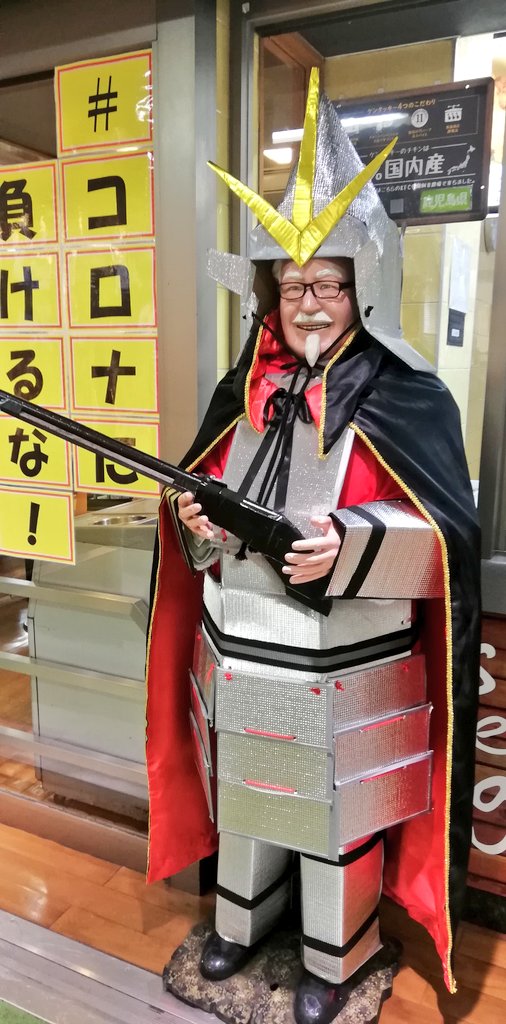 Image credit: @pan_P_taro
As it turns out, Colonel Sanders is not only an excellent cosplayer, but he's also capable of pulling off any and every look. A netizen, who visited the same outlet last year, responded with a picture of the statue dressed in traditional samurai armour. The user joked that Colonel Sanders has changed his career from a Sengoku warrior to a demon slayer.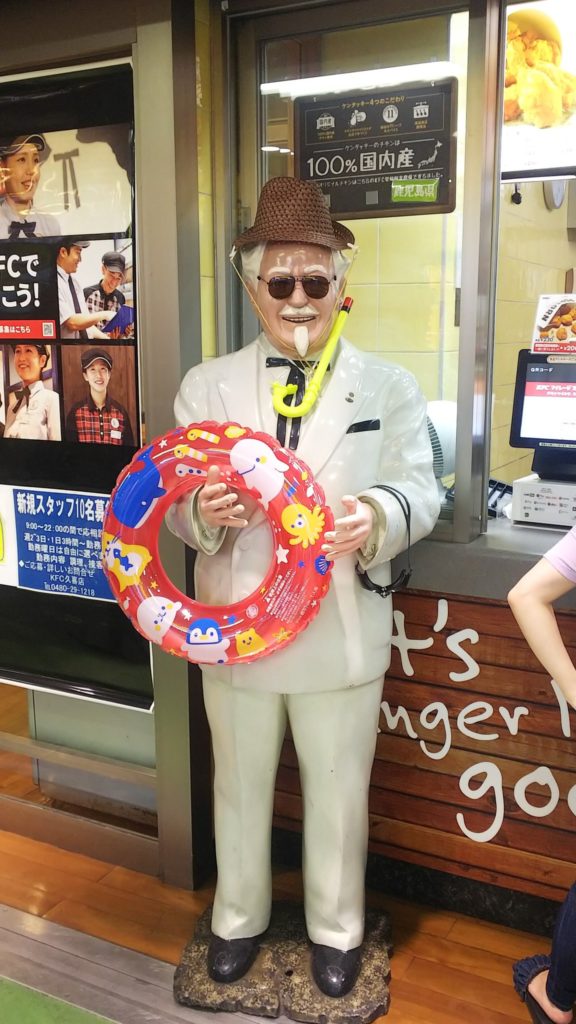 Image credit: @syouwanotetudou
Another user shared a series of pictures of the statue in seasonal get-ups. With a snorkel in his mouth and an adorable swim ring in hand, Colonel Sanders is ready to hit the beach.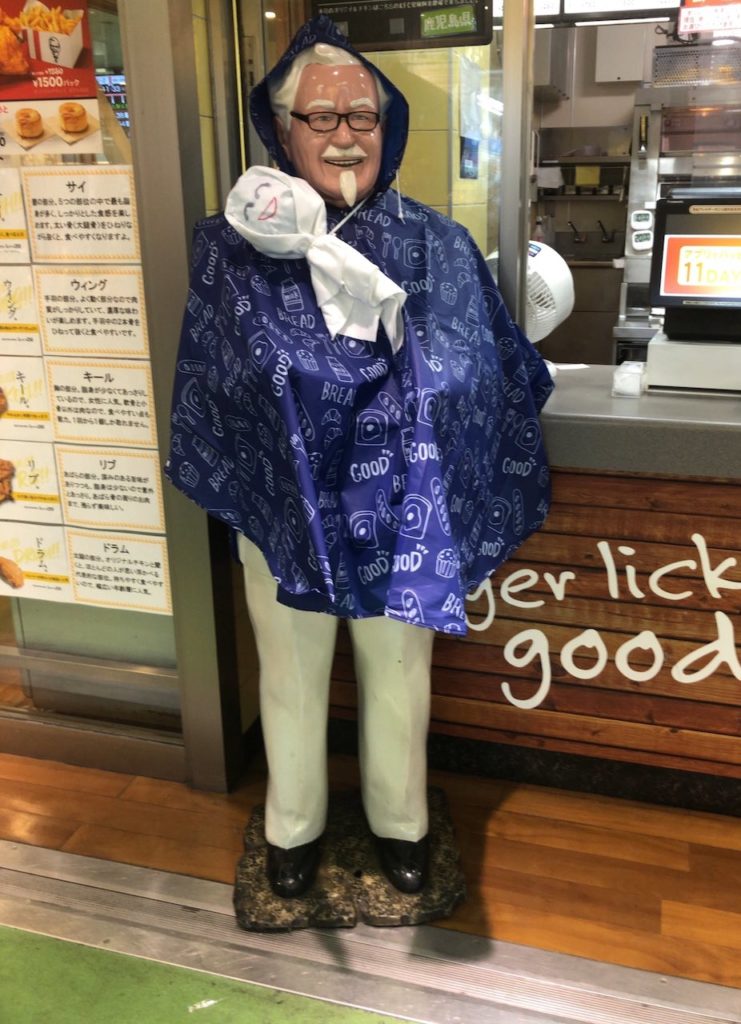 Image credit: @satomon1103
Here, the founder is seen wearing a raincoat and has a teru teru bōzu (てるてる坊主) hanging from his neck. In Japanese culture, teru teru bōzu refers to handmade dolls that are hung near the windows to pray for sunny days.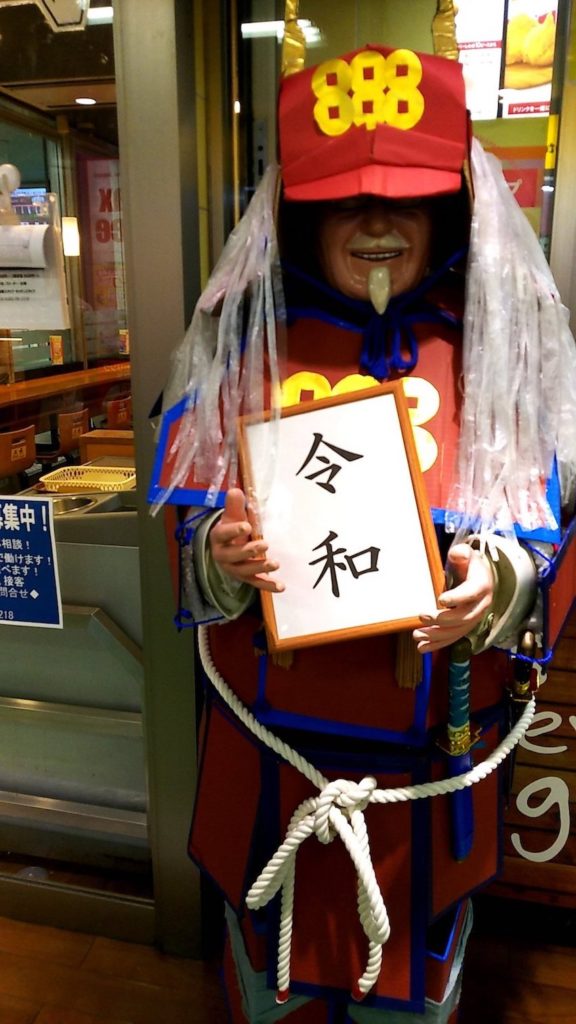 Image credit: @uronpoi
In 2019, the old man was dressed in festive garb and held a reiwa sign board to welcome the new era.  
---
Urban legend of Colonel Sanders
---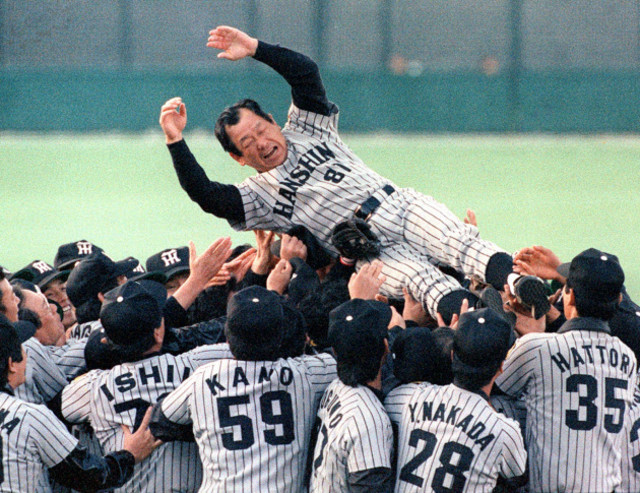 Hanshin Tigers's win in 1985.
Image credit: Spotify 
Besides the long-standing tradition of eating KFC fried chicken on Christmas, there's also a well-known urban legend in Japan that surrounds the statue of Colonel Sanders. 35 years ago, after Hanshin Tigers clinched their first victory in the national baseball championship, excited fans took to the streets of Dōtonbori to celebrate the win.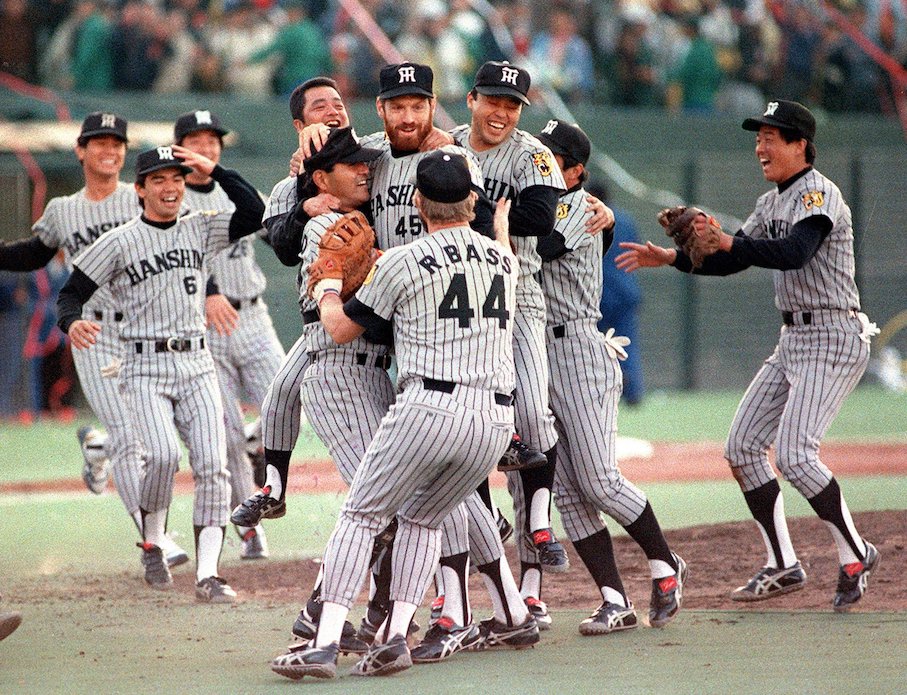 Image credit: @sn_baseball_jp 
As part of a celebratory ritual, fans had someone who resembled each player on the team jump into the river. The team's win was said to be largely attributed to Randy Bass, an American player on the team. So, fans grabbed the closest thing they had to the Caucasian player – a statue of Colonel Sanders from a KFC branch nearby – and tossed it into the canal.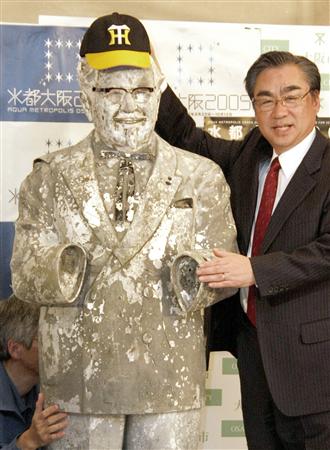 The recovered statue in 2009
Image credit: The Shikoku Shimbun 
Following this incident, the Hanshin Tigers haven't won a single title since 1985. Many suspect that the fans' treatment of the statue incurred the wrath of the founder and the team is said to be under the "Curse of the Colonel". In 2009, the statue of Colonel Sanders was recovered, but it's unclear when the team's slump will be over. 
---
Colonel Sanders statue in Japan dons Demon Slayer costume
---
It's actually common to see the statues of Colonel Sanders across Japan dolled up for festive occasions. This means that you don't have to travel all the way to Kuki Station to catch a glimpse of the statue in special outfits. Look out for Colonel Sanders's seasonal fashion the next time you're in Japan. 
For more hilarious news, check these out:
Cover image adapted from: KFC Holdings Japan and @7353_ga
Get more stories like this!
Drop us your email so you won't miss the latest news.