Buildings in Japan that look unreal
---
Japan is known for being home to creative inventions, from anime to weird candy flavours. But it doesn't just stop there – Japan also has many unique buildings that show how anything can be a work of art if you put enough thought into it. From a rocket-shaped building to a tube-like art museum, these 12 buildings in Japan deserve your appreciation and a feature on your Instagram.
---
1. Maishima Incineration Plant – Osaka
---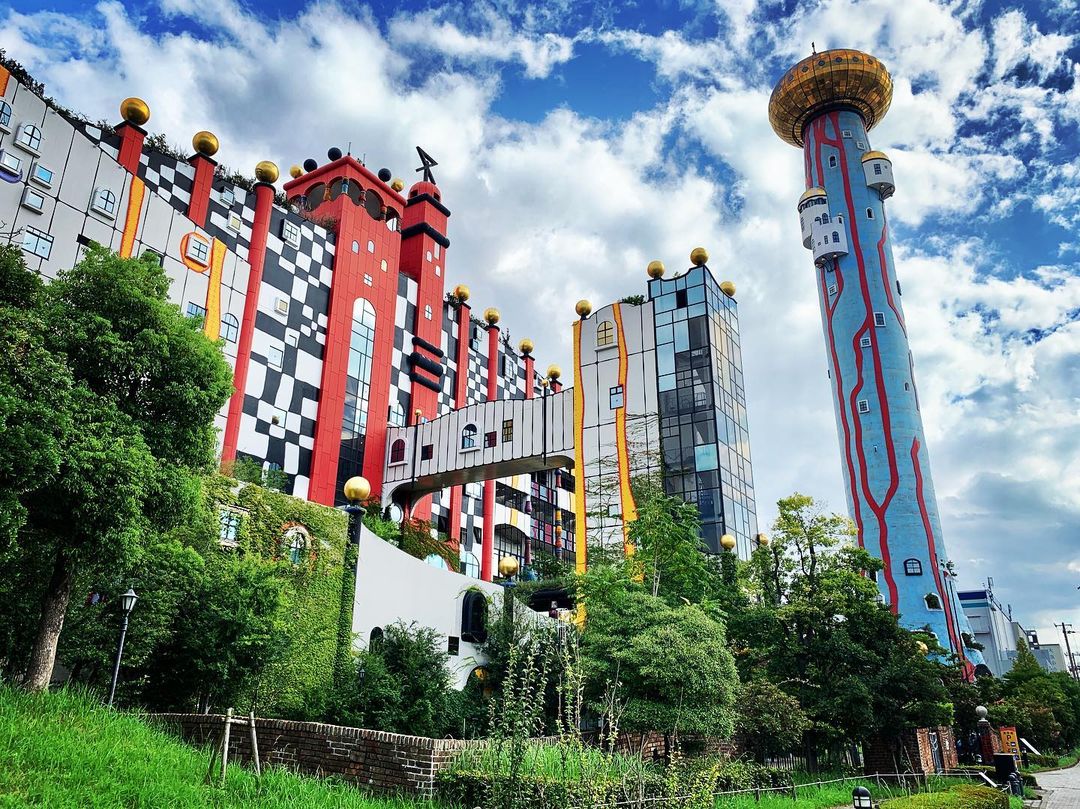 Image credit: @kanaf_travel
If going to Universal Studios Japan is too expensive, another "attraction" you can visit in Osaka is the Maishima Incineration Plant. The colourful, whimsical building may look like an amusement park at first, but the only things you'll find within are heaps of trash.
The building was designed by the late Vienna architect Friendensreich Hundertwasser. He loved the environment and often used art to advocate for the coexistence between mankind and nature. As the colourful incineration plant blends into the surrounding foliage, it's not a stretch to say that Hundertwasser has accomplished his vision.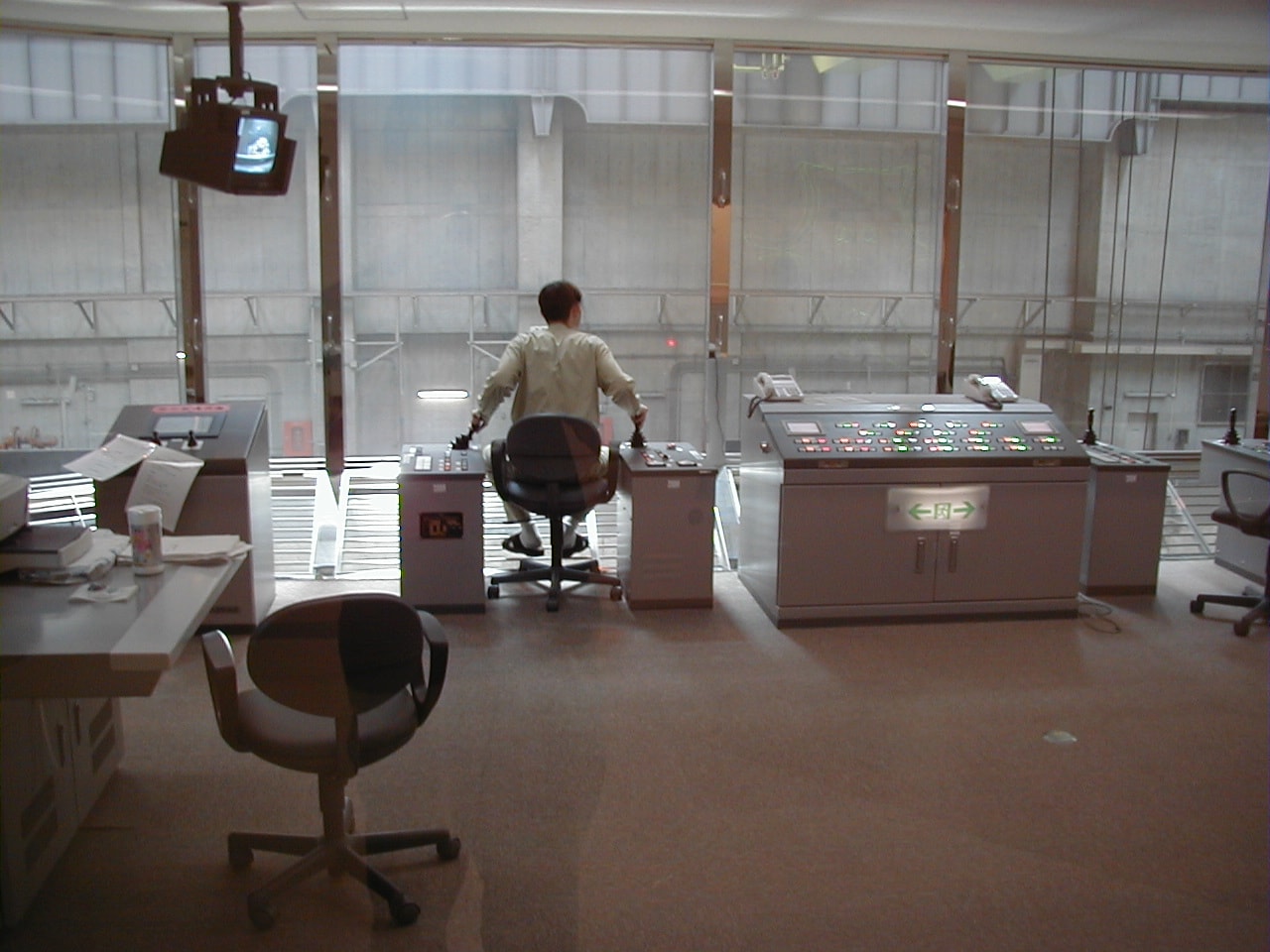 Image adapted from: Hiroaki Terashima
Besides simply admiring the building, you can also step into its premise and watch how 1/4 of Osaka's waste is turned to ashes here. There are also educational exhibits that remind visitors of the importance of reducing our waste generation.
To enter, you'll have to book a slot for a factory tour at least a week in advance, or visit during one of the incineration plant's open days. The tours and open days are currently suspended due to COVID-19. Do check the website for updates.
Address: 1 Chome-2-48 Hokkoshiratsu, Konohana Ward, 554-0041 Osaka
Opening hours: Mon – Fri 8.45AM-5.15PM (Closed on Sat & Sun)
Admission: Free
Telephone: 06-6463-4153
Website
---
2. Rocket Building – Saitama
---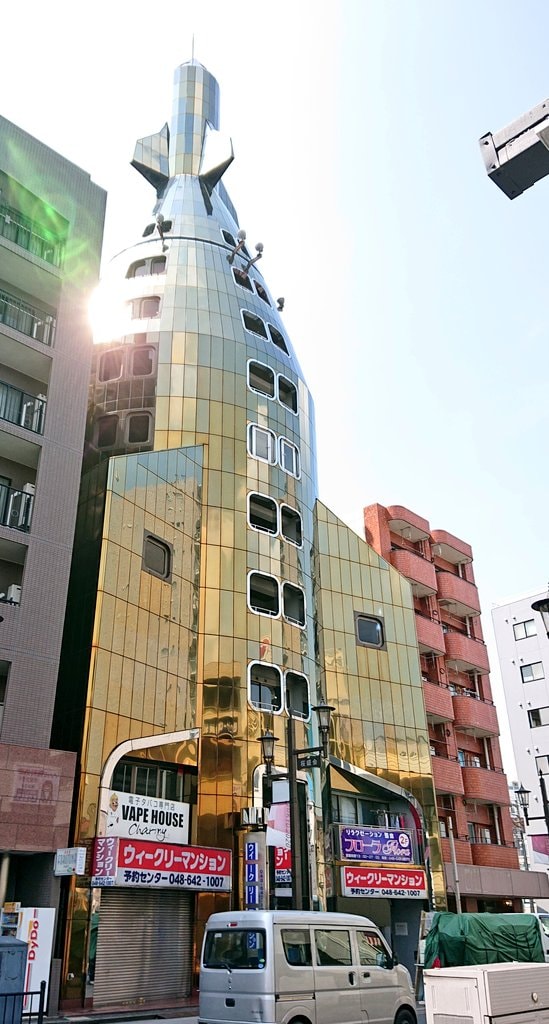 Image credit: @CB1300orenjiz33
You don't need to go to NASA to see a rocket. Right in the streets of Saitama, the golden Rocket Building towers over the surrounding buildings.
Completed in 1989, the 9-storey building once housed a personal museum for a collection of pottery. Years later, it has become a multi-tenant space.
Next time you pass by Saitama, be sure to catch a glimpse of this shiny building before it blasts off into space.
Address: 2 Chome-328-2 Sakuragicho, Omiya Ward, 330-0854 Saitama
---
3. Nago City Hall – Okinawa
---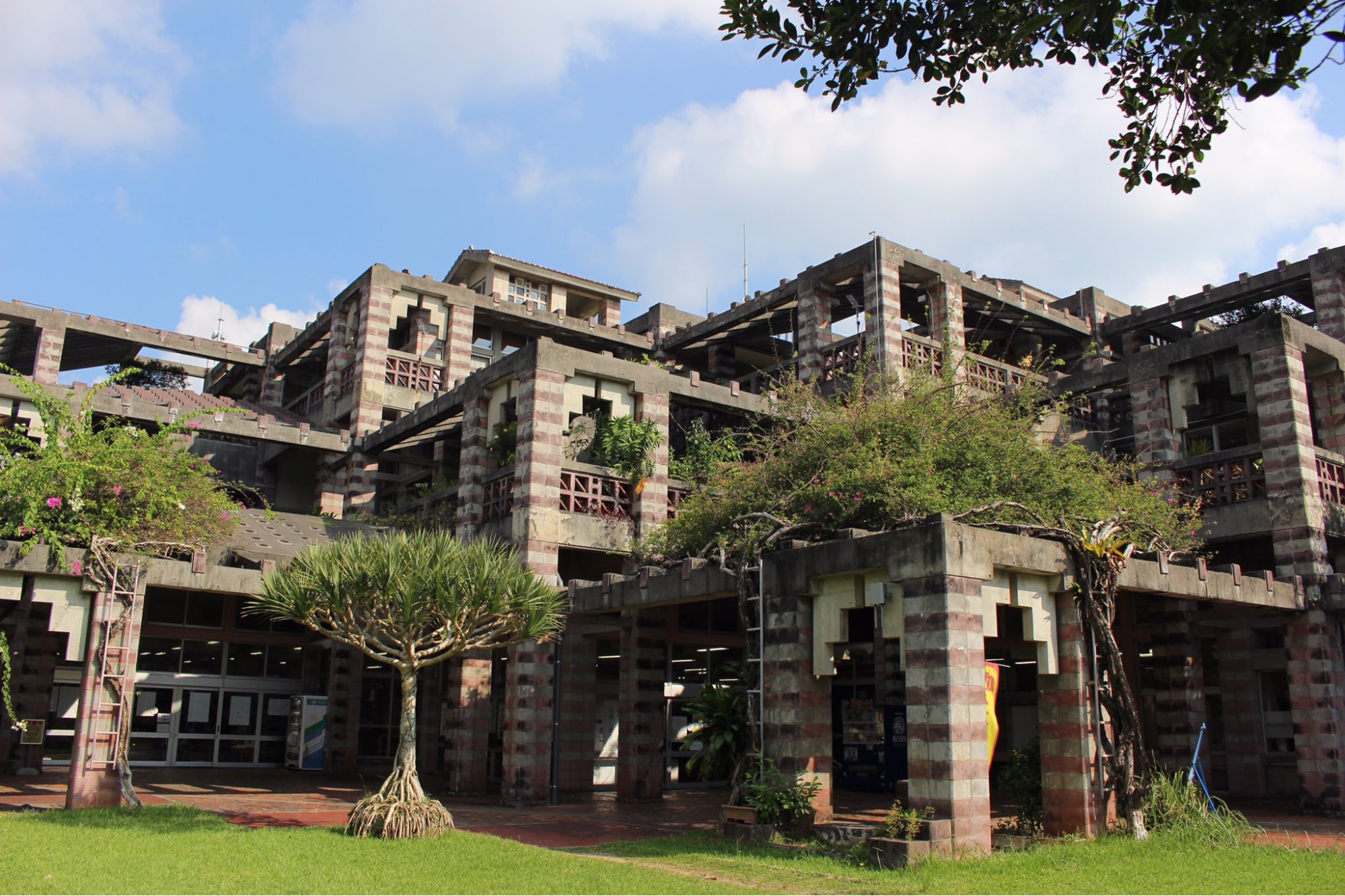 Image credit: @spitz_ka
It is easy to mistake this visually perplexing building for an ancient ruin if you don't stop for a closer look. The maze-like structure invites both mystery and wonderment.
But there's a simple identity behind this elaborate Minecraft-esque building – it is the Nago City Hall. Built in 1981, it won the Architectural Institute of Japan Prize – one of the highest honours an architectural design can receive – and remains highly regarded as a work of art amongst the architectural community in Japan.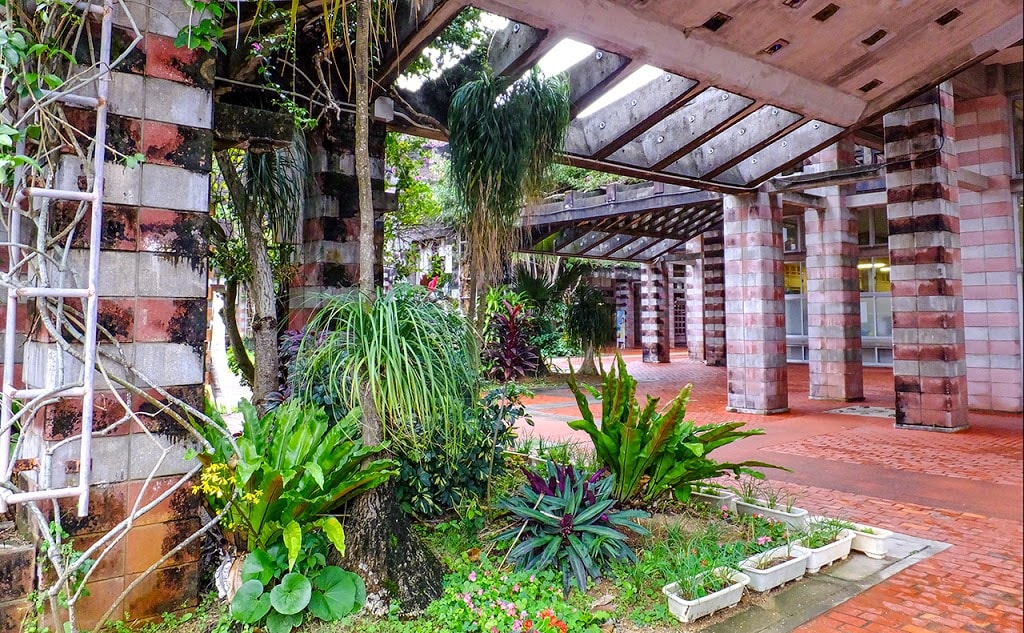 Image credit: 加藤暁彦 
If you're wondering why the building has so many gaps, as opposed to straight slabs of concrete, it is because of its "green building" concept. The open-air concept is intended to improve air ventilation and promote cooling, reducing the reliance on air conditioning. This helps to save energy and the environment in the long run.
Address: 1 Chome-1-1 Minato, Nago, 905-0014 Okinawa
Opening hours: Mon – Fri 8.45AM-5.15PM (Closed on Sat & Sun)
Admission: Free
Telephone: 0980-53-1212
---
4. Kichijoji Petit Mura – Tokyo
---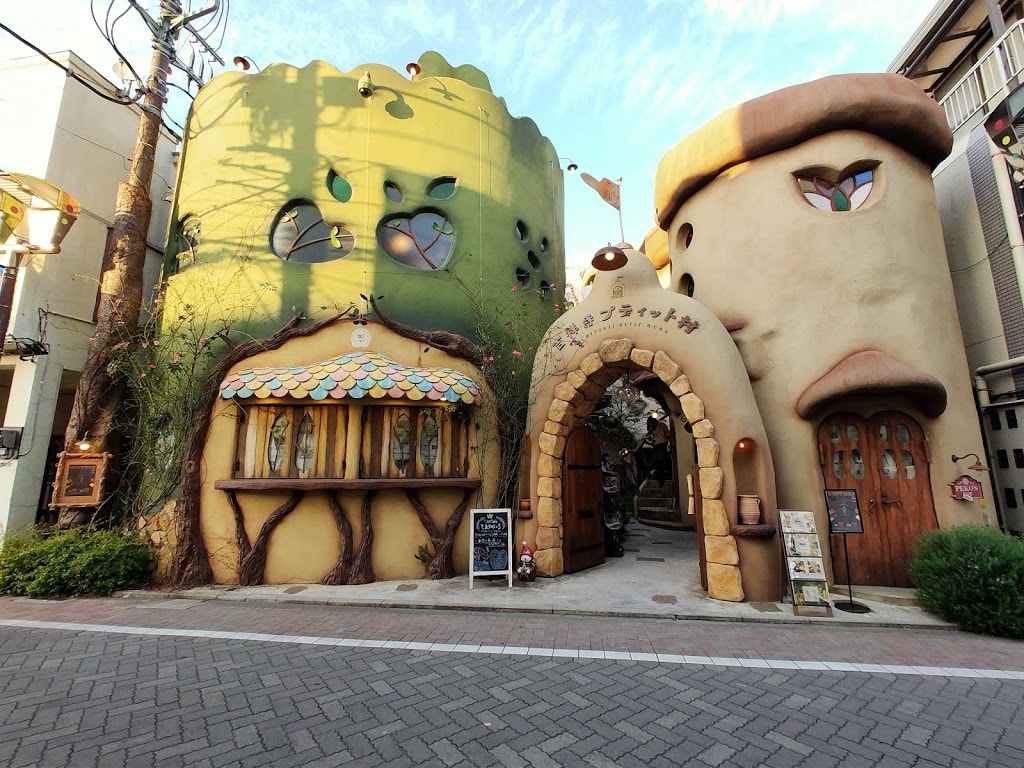 Image credit: CYNTHIA CHENG
Consisting of 7 whimsical buildings, Kichijoji Petit Mura is a theme park dedicated to felines.
The buildings follow a fairytale concept, with a pastel colour scheme and wavy silhouettes to create a surreal atmosphere. You can begin your journey by stepping into the arch, signifying your symbolic crossing into a magical world.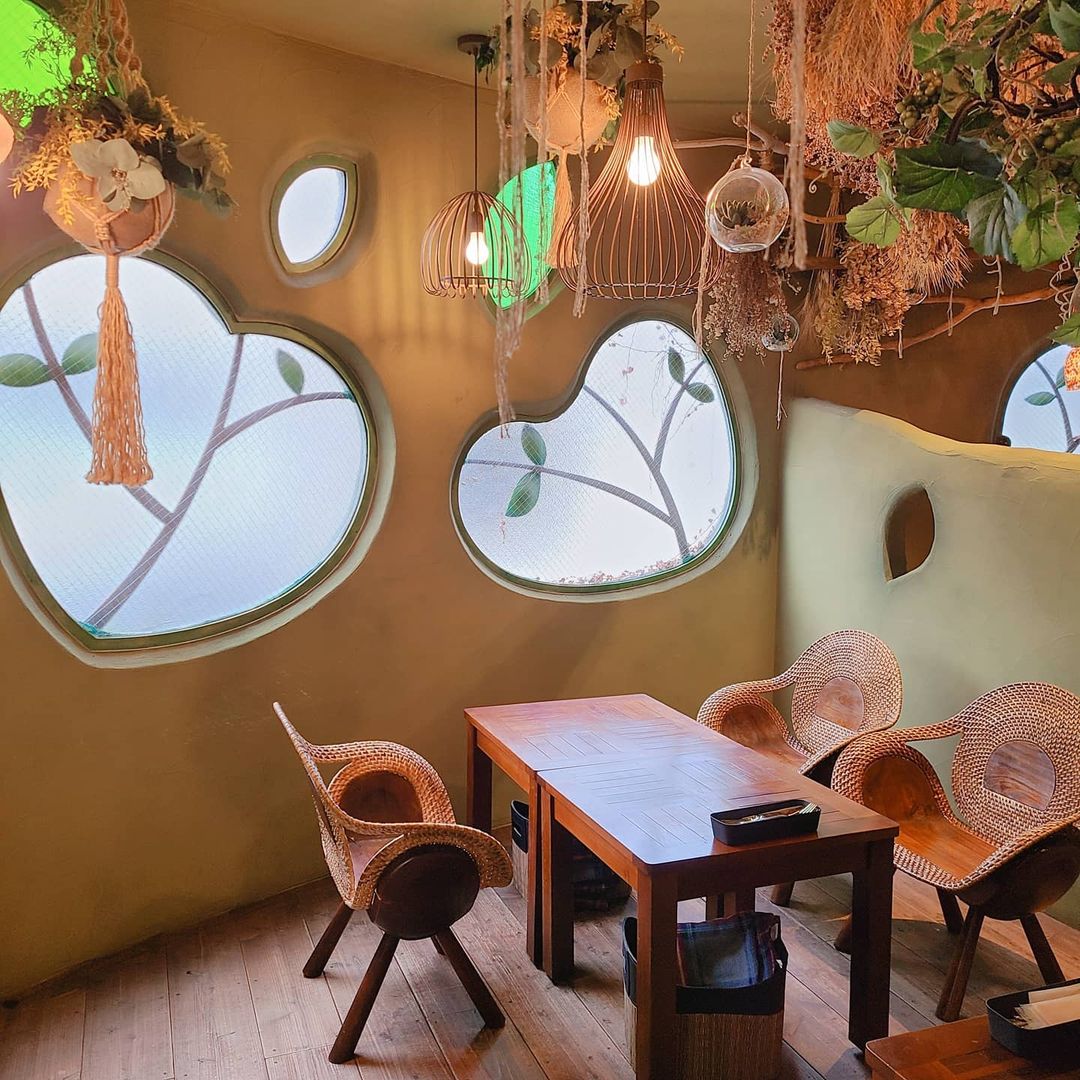 Image credit: @kisiko__94
Once you're in the premises, you'll find equally beautiful interior designs that complement the fairytale theme.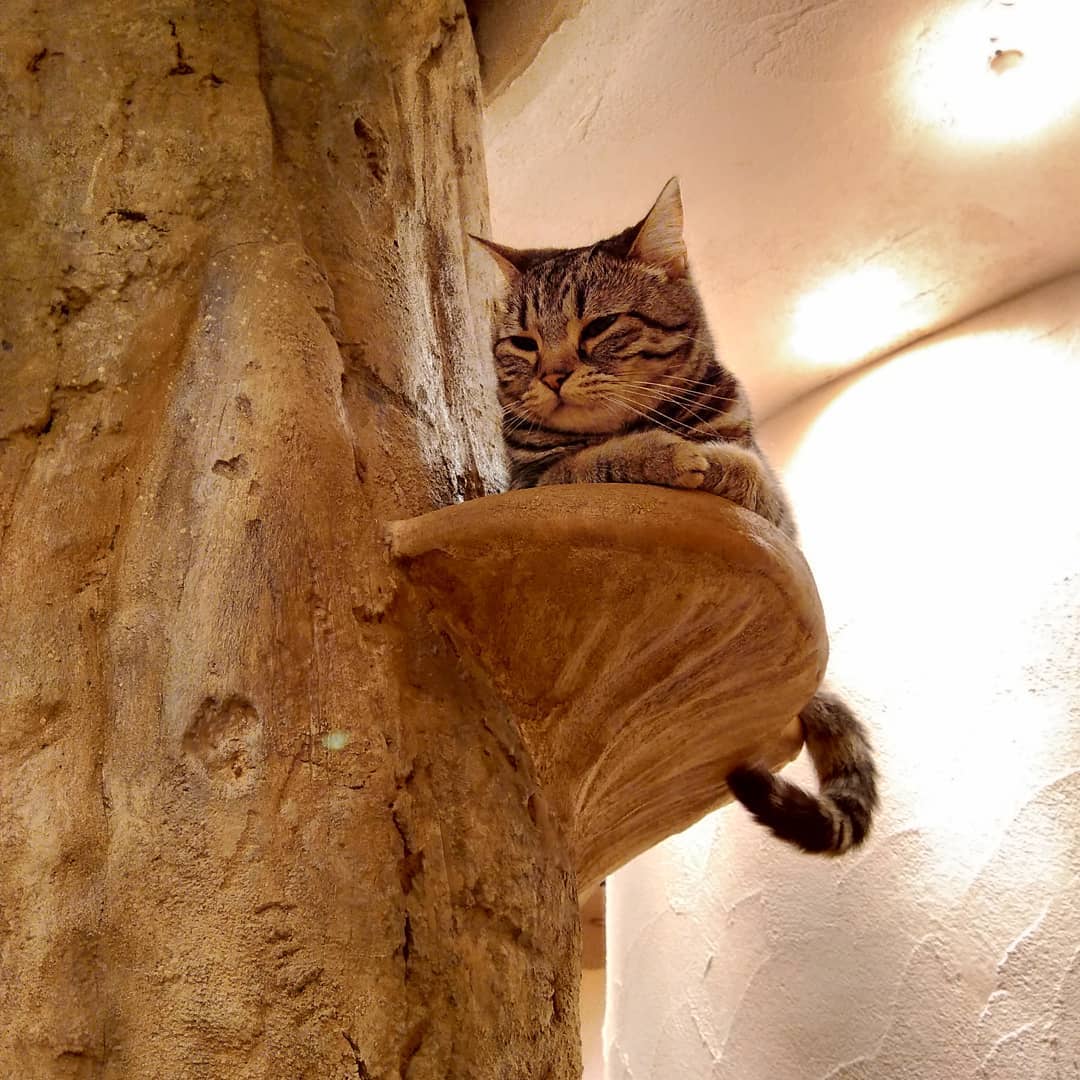 Image credit: @ako_debusyodesu
We highly recommend stopping by Temari's Castle while you're exploring the theme park. It is a cafe with freely roaming cats, and you can spend a chill afternoon stroking their fur while sipping on drinks.
Address: 2 Chome-33-2 Kichijoji Honcho, Musashino, 180-0004 Tokyo
Opening hours: 10AM-9PM, Daily
Admission: Entrance to Temari's Castle priced at ¥1,200 (~USD11.20) on weekdays, ¥1,600 (~USD14.94) on weekends, and ¥700 (~USD6.54) after 7PM. Children under 10 enter for free.
Telephone: 0422-29-1223
Website
---
5. Ribbon Chapel – Hiroshima
---

Image credit: @sonrisa1518
Resembling a roll of ribbon being blown into the air and unravelling in the process, the Ribbon Chapel stands within BellaVista Spa & Marina Onomichi, a garden resort hotel near the Seto Inland Sea. The design came from the hands of Hiroshi Nakamura & NAP Architects.
The building, which functions as a wedding chapel, adopts a design that represents the symbolic unification between 2 individuals. There are 2 separate stairways, which the bride and groom will each take, and the pair will eventually meet at the top of the chapel where the stairways merge.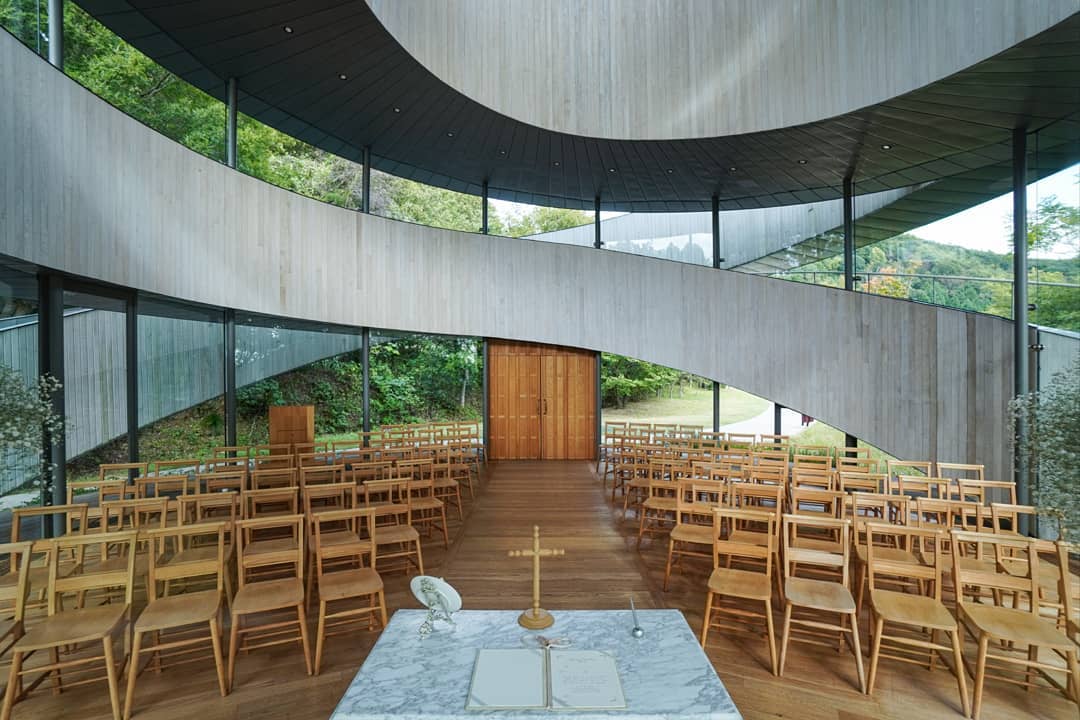 Image credit: @ta_art_walker
The walls of the chapel are see-through, making you feel as though you're standing in a vortex of spirals. It thus makes for a fantastical atmosphere that will make any wedding day even more unforgettable.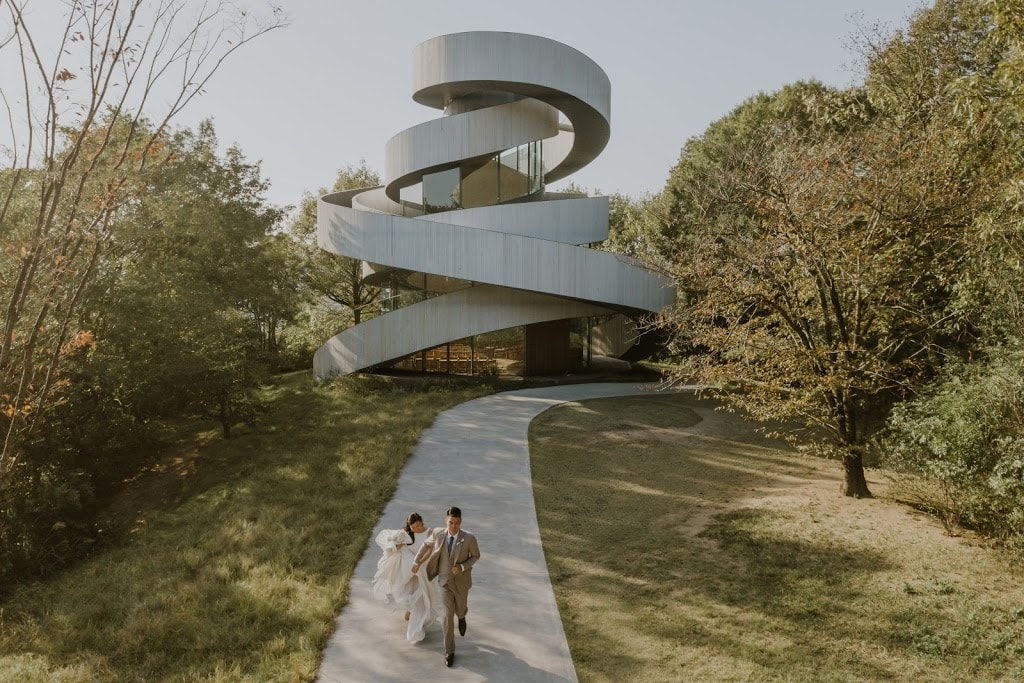 Image credit: emmeline calma go
The Ribbon Chapel is also an ideal location for romantic photoshoots. And if photoshoots aren't your thing, you and your partner can also take a slow walk up the building to enjoy the sunset glow at the rooftop.
Address: 1376 Urasakicho, Onomichi, 720-0551 Hiroshima
Opening hours: 9AM-8PM, Daily
Telephone: 084-987-1192
---
6. Ebisu East Gallery – Tokyo
---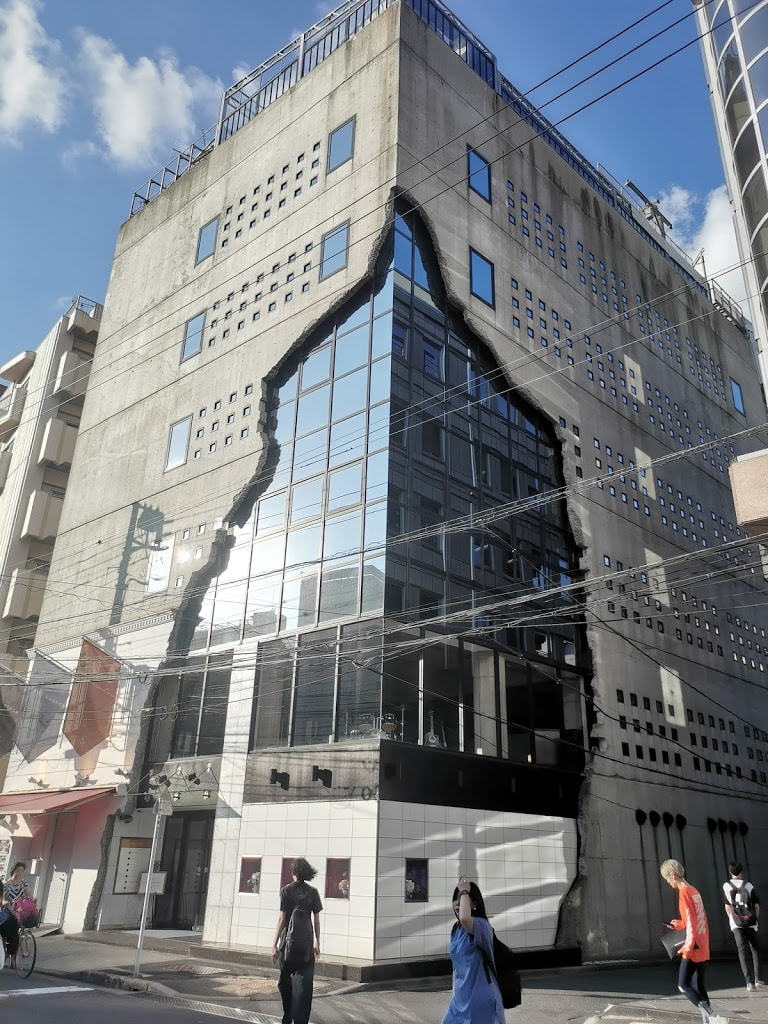 Image credit: Matthew Dyer
Buildings usually look complete and polished. But situated along the busy streets of Tokyo, the Ebisu East Gallery looks deliberately imperfect with a cracked outer layer that reveals a modern-looking inner layer. It looks almost as if the building is undergoing metamorphosis.
In architectural terms, the building's exterior is indicative of the Brutalist style that was popular during the 1950s. Brutalism is iconic for its plain simplicity and heavy-looking appearance. Meanwhile, the inner layer represents the Contemporary style with its sleekness and clean edges. 
While the exact significance behind the design is unclear, a possible interpretation of the building design is that it intends to capture a transition from the old to the new – from Brutalism to Contemporary.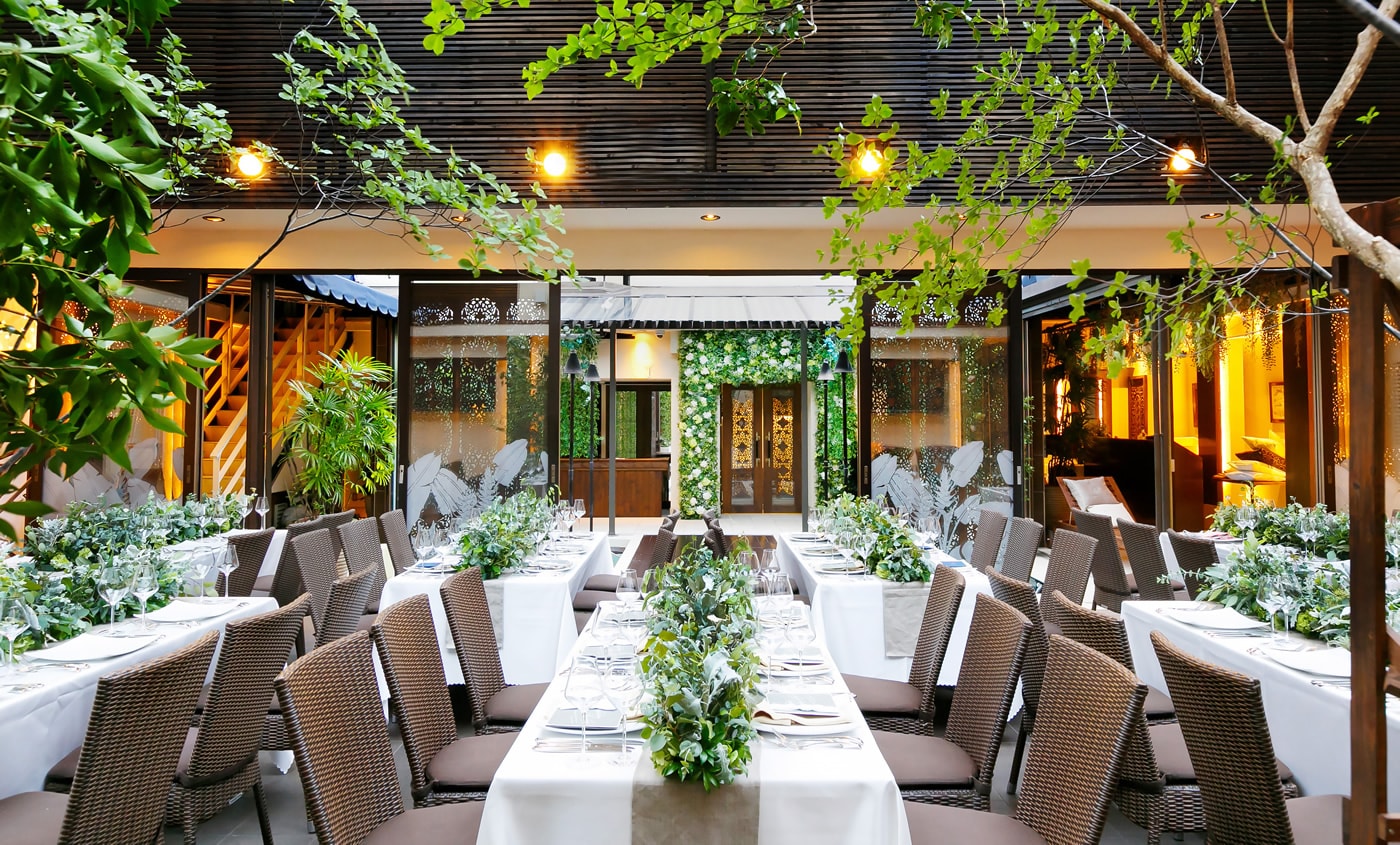 Image credit: East Gallery
Don't be fooled by the glass-and-steel exterior – Ebisu East Gallery isn't an office building. Instead, it is a collection of 6 themed spaces that are rented out for all kinds of events.
For example, the tropical-themed Tommy Garden on the 6th floor can accommodate up to 150 people and has an outdoor pool to relax in. If you're looking to host a large-scale party or an extended family gathering, consider renting a venue here.
Address: 3 Chome-24-7 Higashi, Shibuya City, 150-0011 Tokyo
Opening hours: 9AM-11PM, Daily
Telephone: 03-5466-1140
Website
---
7. Hoki Museum – Chiba
---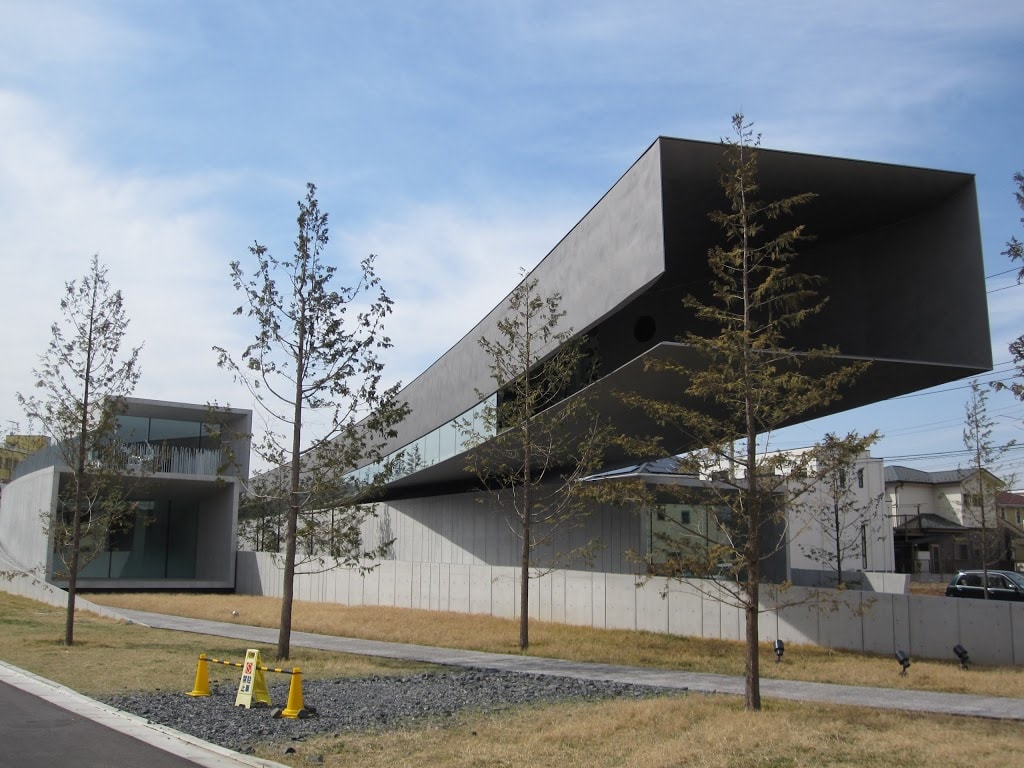 Image credit: tool8441
The Hoki Museum holds the title for being Japan's first art museum dedicated to Realism, an art movement known for faithfully depicting real life subjects without embellishments. Ironically, its peculiar architecture is nothing like the art movement it houses.
Featuring longitudinal structures that curve, jut out, and stack upon each other, the design of the museum stemmed from the museum director's wish to have a building so special that visitors will be attracted to it immediately.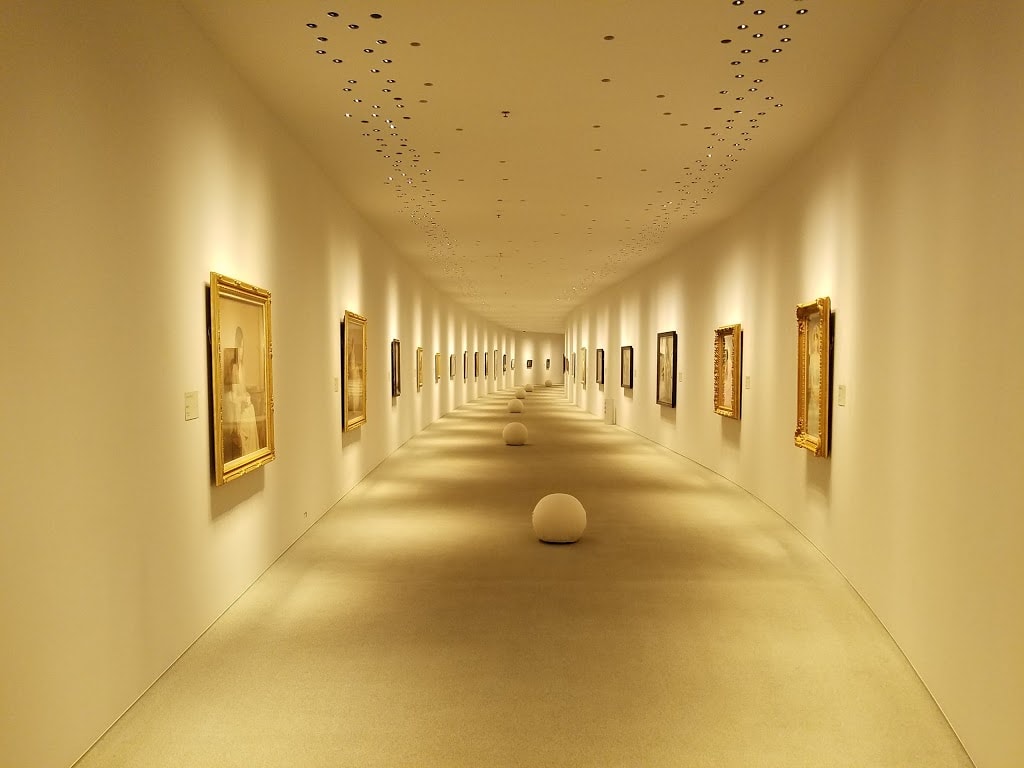 Image credit: 藤原晴男
One of the perks of the tube-like design of the museum is the creation of a seamless art viewing experience. Visitors are led through the different galleries in a linear path, transitioning between themes without unnecessary backtracks or disorientation.
The structure also allows natural light to fall differently on the paintings over the day. This results in a unique art viewing experience for every visitor, depending on the time of visit.
Address: 3-15 Asumigaokahigashi, Midori Ward, Chiba City, 267-0067 Chiba
Opening hours: Wed – Mon 10AM-5.30PM (Last admission at 5PM) (Closed on Tuesdays & Public Holidays)
Admission: ¥1,830 (~USD17.08) for adults; ¥1,320 (~USD12.32) for ages above 65, high school students, and university students; ¥910 (~USD8.49) for junior high school students. Free otherwise, but only a maximum of 2 elementary students per adult can be admitted.
Telephone: 043-205-1500
Website
---
8. Kushiro City Museum – Hokkaido
---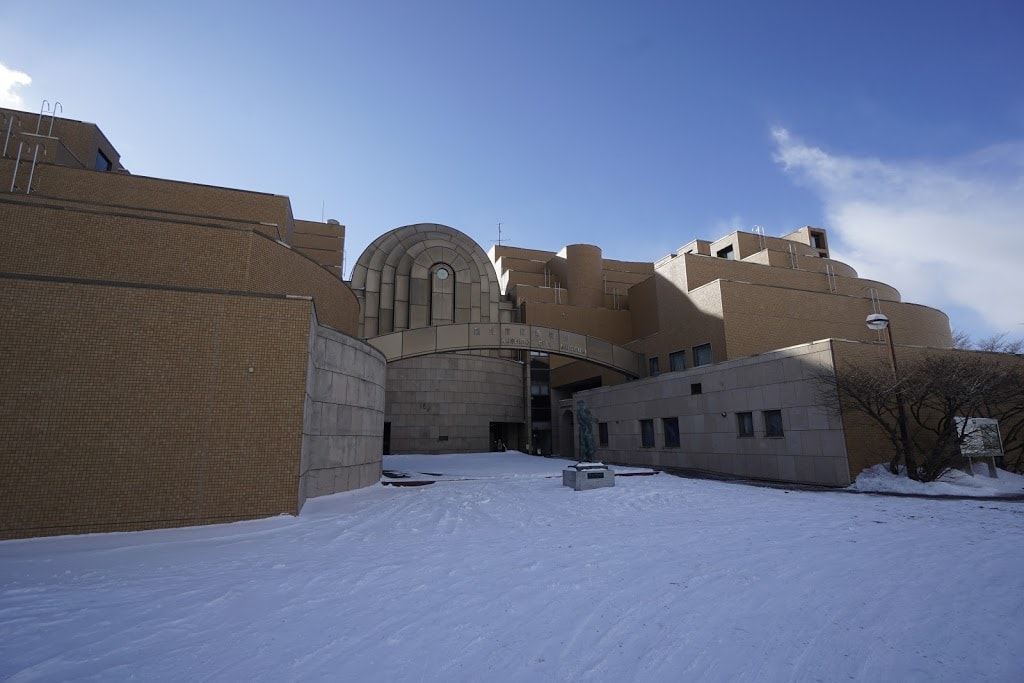 Image adapted from: OR O
Completed in 1983, the design of the Kushiro City Museum was inspired by the image of a Japanese crane spreading its wings, and the building eventually soared its way to winning the Architectural Institute of Japan Award.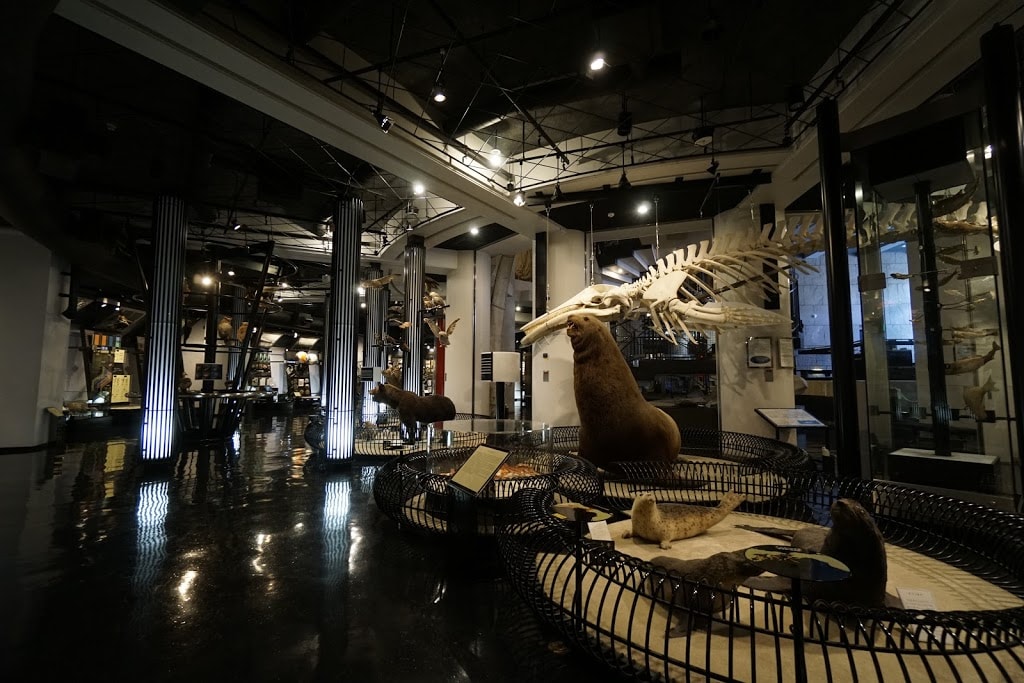 Image credit: OR O
Within the museum, you'll find 3 main exhibitions. On the 1st floor, you'll delve into Kushiro's geological history and its biological makeup. The 2nd floor features an overview of Kushiro's socio-economic development, while the 4th floor showcases the culture of the Ainu people, along with beautiful Japanese crane models. There are no exhibitions on the 3rd floor.
Address: 1-7 Shunkodai, Kushiro, 085-0822 Hokkaido
Opening hours: Tue – Sun 9.30AM-5PM (Closed on Mondays & 29th Dec-3rd Jan)
Admission: ¥480 (~USD4.48) for adults; ¥250 (~USD2.33) for high school students, and ¥110 (~USD1.03) for middle and elementary school students. Free otherwise.
Telephone: 0154-41-5809
Website
---
9. Fuji Television Building – Tokyo
---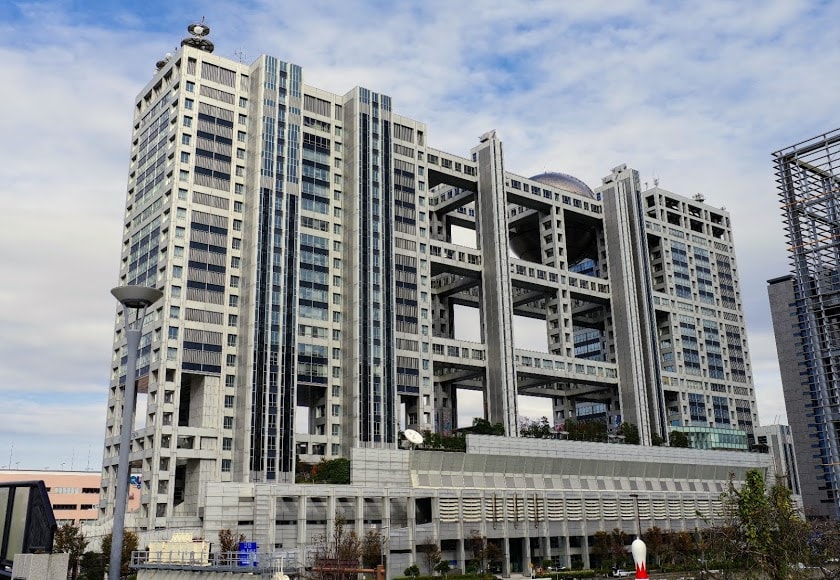 Image credit: chen in
In 1997, the futuristic Fuji Television Building, designed by Kenzo Tange, was erected. The Neo-Metabolist structure serves as Fuji TV's headquarters. It comes furnished with soundproof studios, where popular Japanese shows are recorded.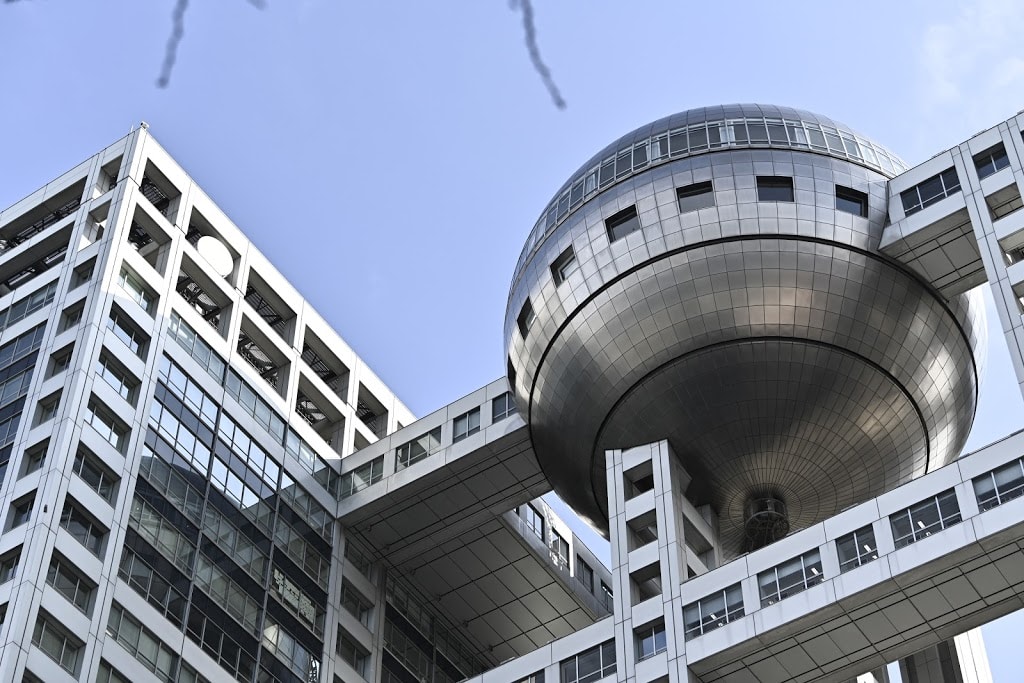 Image credit: 菊正宗
The most eye-catching feature of the building is the huge sphere that rests upon interlocking pillars. It took several gruelling hours for the huge sphere to be transported from ground level to its current height in order to create the iconic look it has today.
But more than mere decoration, the sphere is actually an observation platform where the public can enjoy a gravity-defying experience while getting a bird's eye view of the city. If you're interested, you can purchase tickets to enter the observatory.
Address: 2 Chome-4-8 Daiba, Minato City, 137-8088 Tokyo
Opening hours: Tue – Sun 10AM-6PM (Last admission at 5.30PM) (Closed on Mondays)
Admission: Observatory tickets cost ¥700 (~USD6.54) for adults, ¥560 (~USD5.23) for high school students with proper school identification on weekdays, and ¥450 (~USD4.20) for elementary and middle school students. Children under elementary school age enter for free.
Telephone: 03-5500-8888
Website
---
10. Mosaic Tile Museum, Tajimi – Gifu
---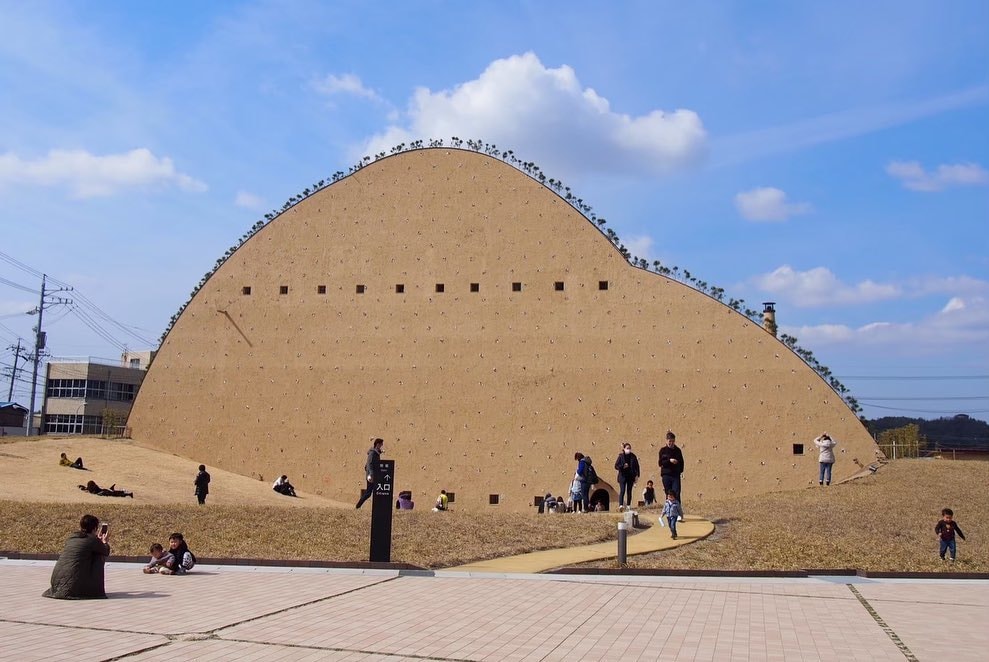 Image credit: @nnq1oo6
The Mosaic Tile Museum focuses on the preservation of mosaic tiles, which are mini tiles used for decorative purposes in construction projects. It has a surrealistic building design with flat colours and an odd bumpy shape that references a clay pit.
The building was the brainchild of architect Terunobu Fujimori, who feels that earth, as a raw material, has been underappreciated all this while. By designing the museum to represent this material, he hopes that more people will become interested in it.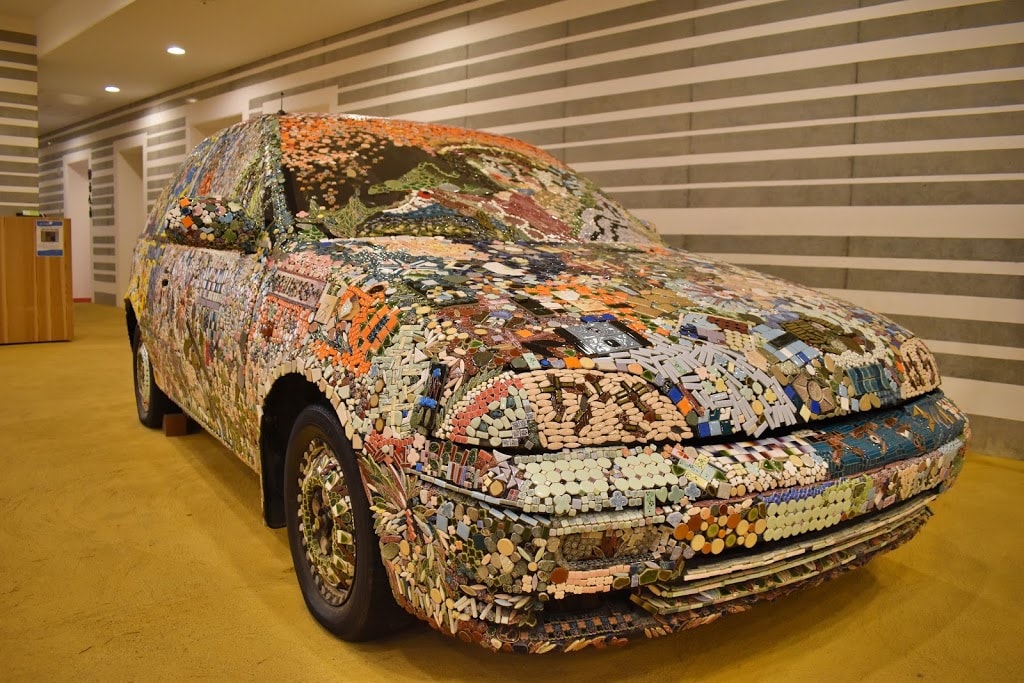 Image credit: Brian G
The artistry continues within the museum. For instance, you can find art pieces created out of mosaic tiles, as well as a stunning display of suspended mosaic tiles in the middle of the exhibition space.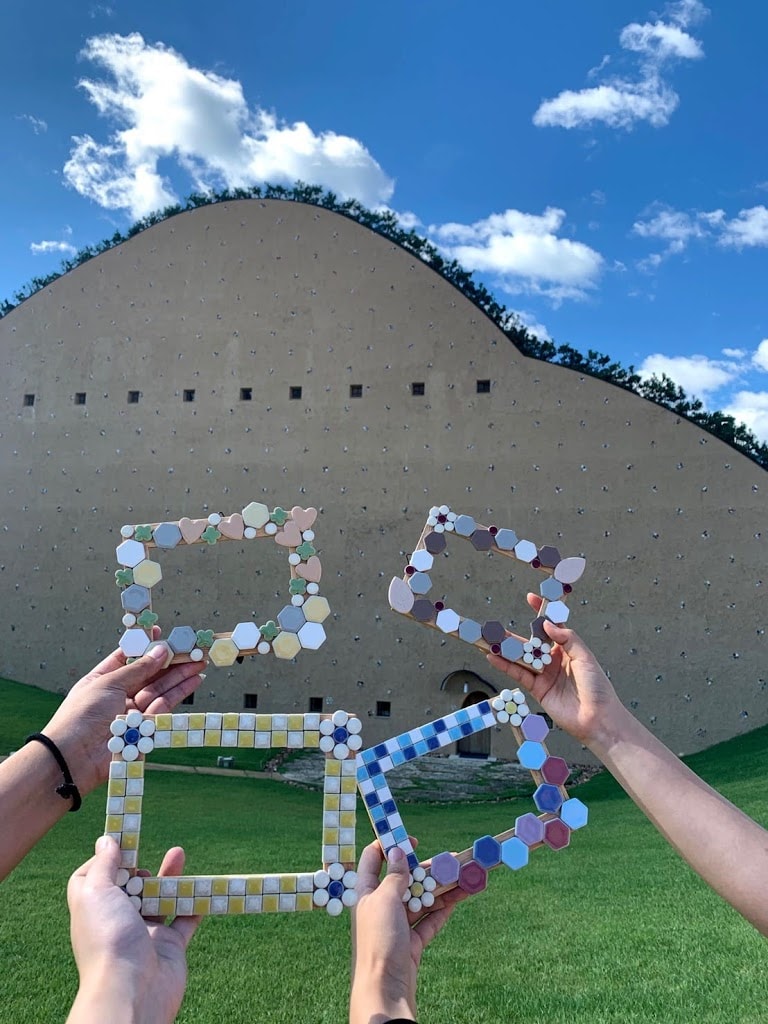 Image credit: すーちー
Those who would love a commemorative token should visit the DIY workshop on the 1st floor, where you can decorate souvenirs with mosaic tiles of your choice.
Address: 2082-5 Kasaharacho, Tajimi, 507-0901 Gifu
Opening hours: Tue – Sun 9AM-5PM (Last admission at 4.30PM) (Closed on Mondays & from 29th Dec-3rd Jan)
Admission: ¥300 (~USD2.80); free for high school students and under.
Telephone: 0572-43-5101
Website
---
11. Organic Building – Osaka
---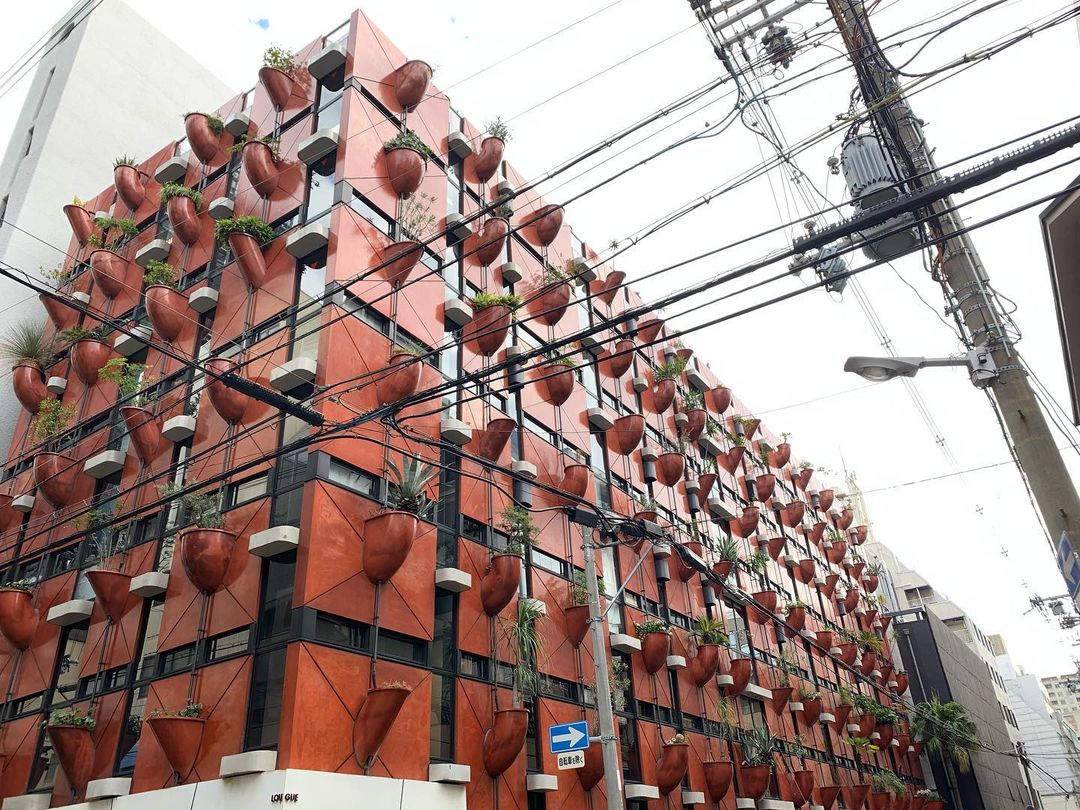 Image credit: @aiyaiwata0610
Italian architect Gaetano Pesce referenced the image of a bamboo plant when he designed the overall look of the Organic Building, explaining that the building's evenly-spaced red panels are meant to look like the internodes of a bamboo stem. Wearing a coat of red, the building has stood prominently along the busy streets of Osaka since its completion in 1993.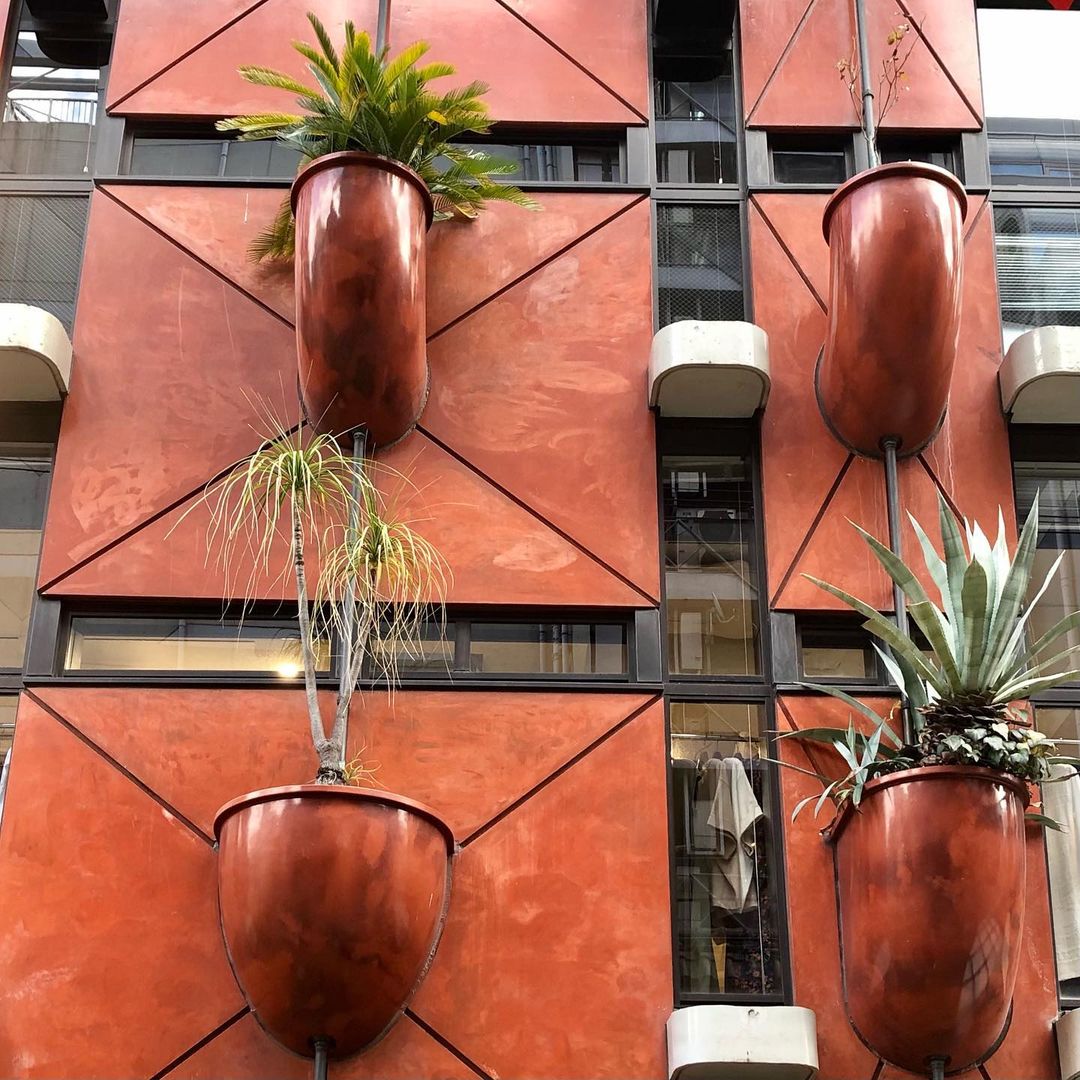 Image credit: @osakanekohachi
The Organic Building lives up to its name by adopting a vertical gardening concept. Home to over 80 different types of plants, the building maintains the vertical plant wall through a computer-controlled irrigation system. This has allowed the building to thrive till today.
Address: 4 Chome-7-21 Minamisemba, Chuo Ward, 542-0081 Osaka
---
12. Reversible Destiny Lofts – Tokyo
---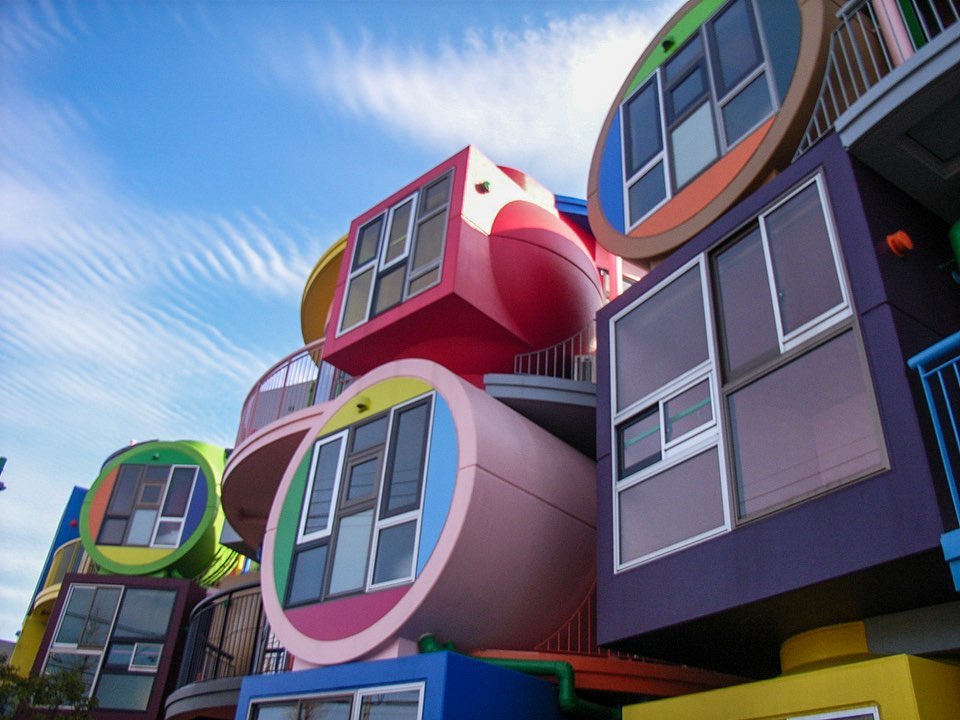 Image credit: @cajyuo
It's not every day that you find funky tube-shaped, spherical, and cubical buildings along the streets. Designed by Shusaku Arakawa and Madeline Gills, Reversible Destiny Lofts is a residential complex completed in 2005. It features 9 apartments that are decorated in a mixture of 14 bright colours.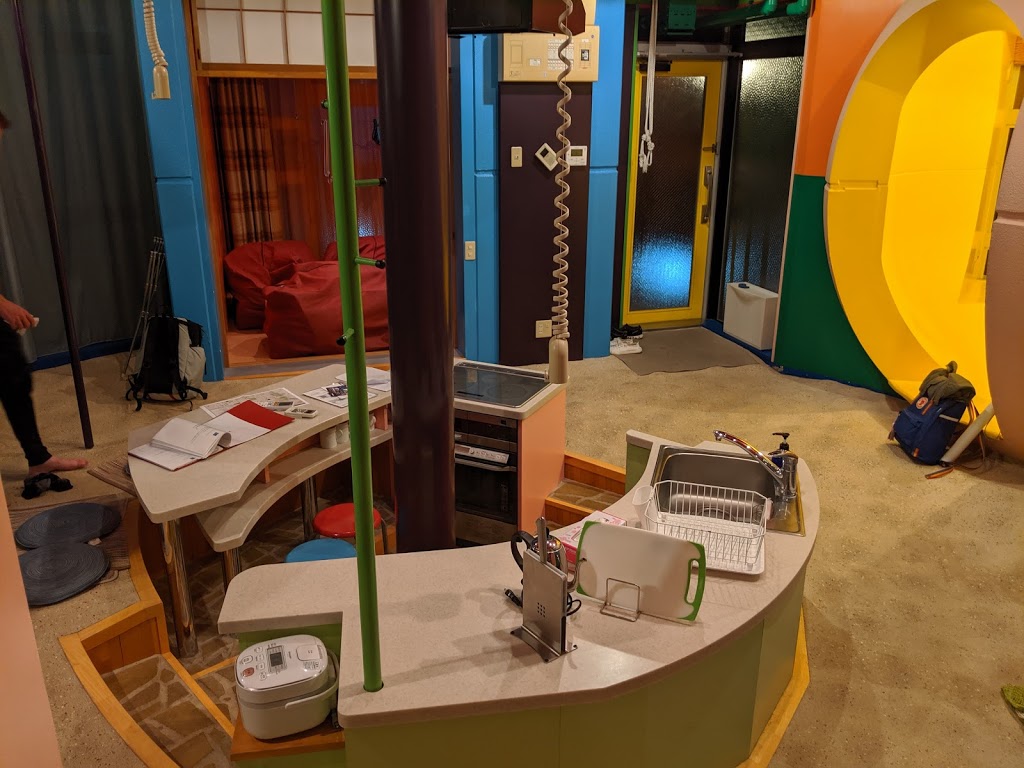 Image adapted from: Jennifer Zamora
The visual stimulation doesn't end at the exterior. Inside the building, you'll have to confront slanted ceilings, uneven floors, and oddly shaped furniture that will make you feel as if you're in the 4th dimension.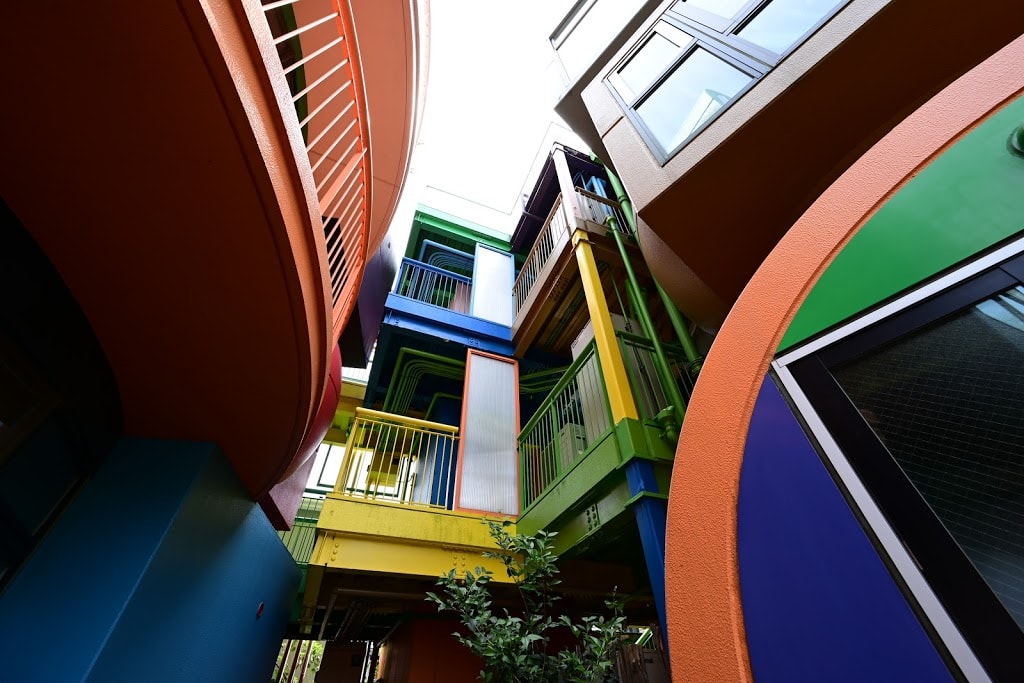 Image credit: Owanasame EvaNataw
The concept behind this unorthodox building design revolves around the idea of defying death. It is believed that bright colours and unorthodox interior layouts can lengthen one's mortality because they force the occupants' senses to always remain stimulated.
The life story of Helen Keller was a source of motivation for the designers. In particular, the designers identified with Keller's determination to overcome her fate of being born blind and deaf, and believed that one can overwrite the impossible.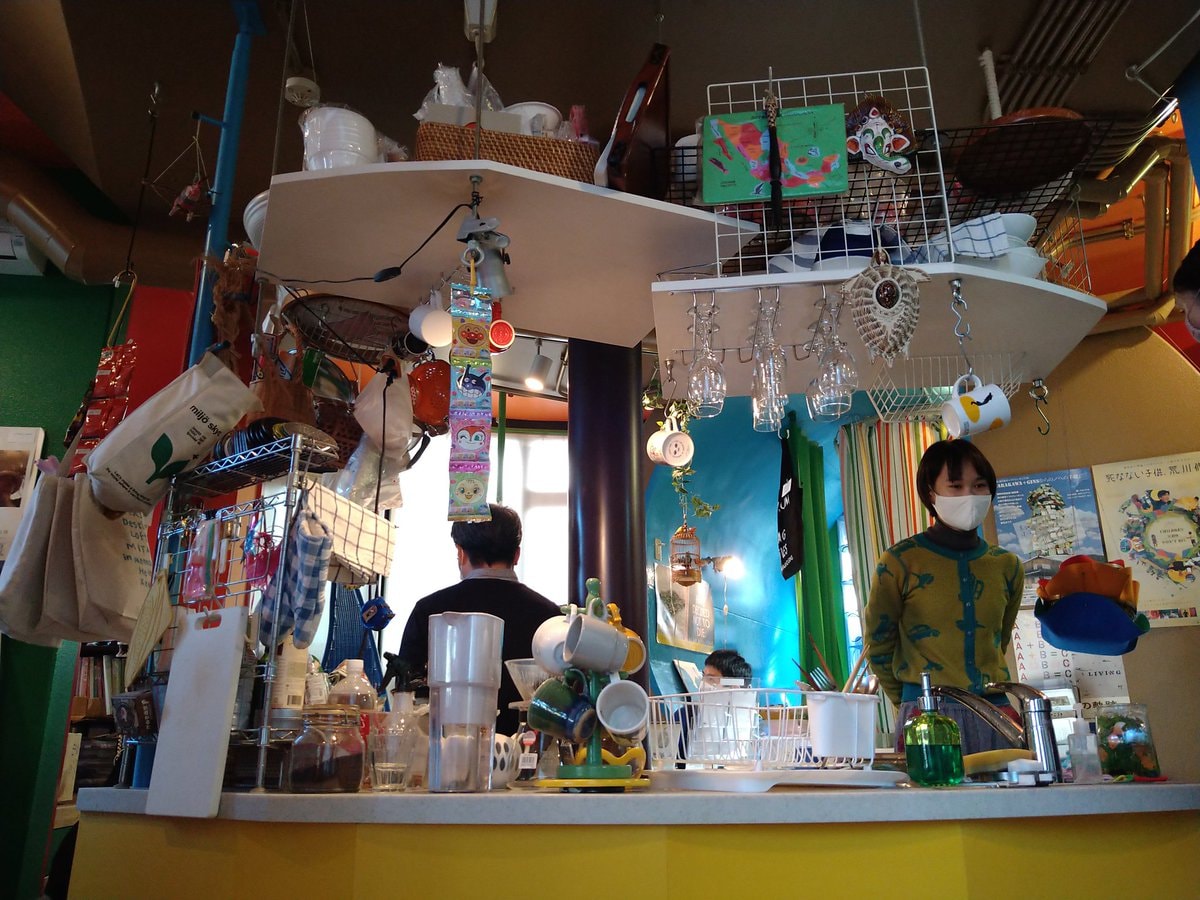 Image credit: @linacana
As this is a residential area, access to Reversible Destiny Lofts is only allowed through personal appointments or through open tours. The 1.5 hour open tours are conducted only in Japanese, so you will need to engage a private tour if you require an English-speaking guide.
There is also a 4-day Short Term Stay programme for the Kehai-Coordinating Unit Apartment and Critical Resemblance Unit Apartment,. Look into it if you wish for a unique staycation experience.
Address: 2 Chome-2-8, Osawa, Mitaka-shi, 181-0015 Tokyo
Admission: Tours are priced at ¥2,800 (~USD26.14) for adults, ¥1,000 (~USD9.34) for elementary to high school students; free otherwise.
Telephone: 0422-26-4966
Website
---
Check out these cool other-worldly buildings in Japan
---
Creativity is Japan's hallmark, and it is clearly reflected in many aspects – including their buildings. These buildings in Japan show us how physical structures need not always be boring. With creativity and boldness, buildings can be artworks too.
For more articles, check out:
---
Cover image adapted from (left to right): Google Maps, Koichi Masuda and 恵比寿EastGallery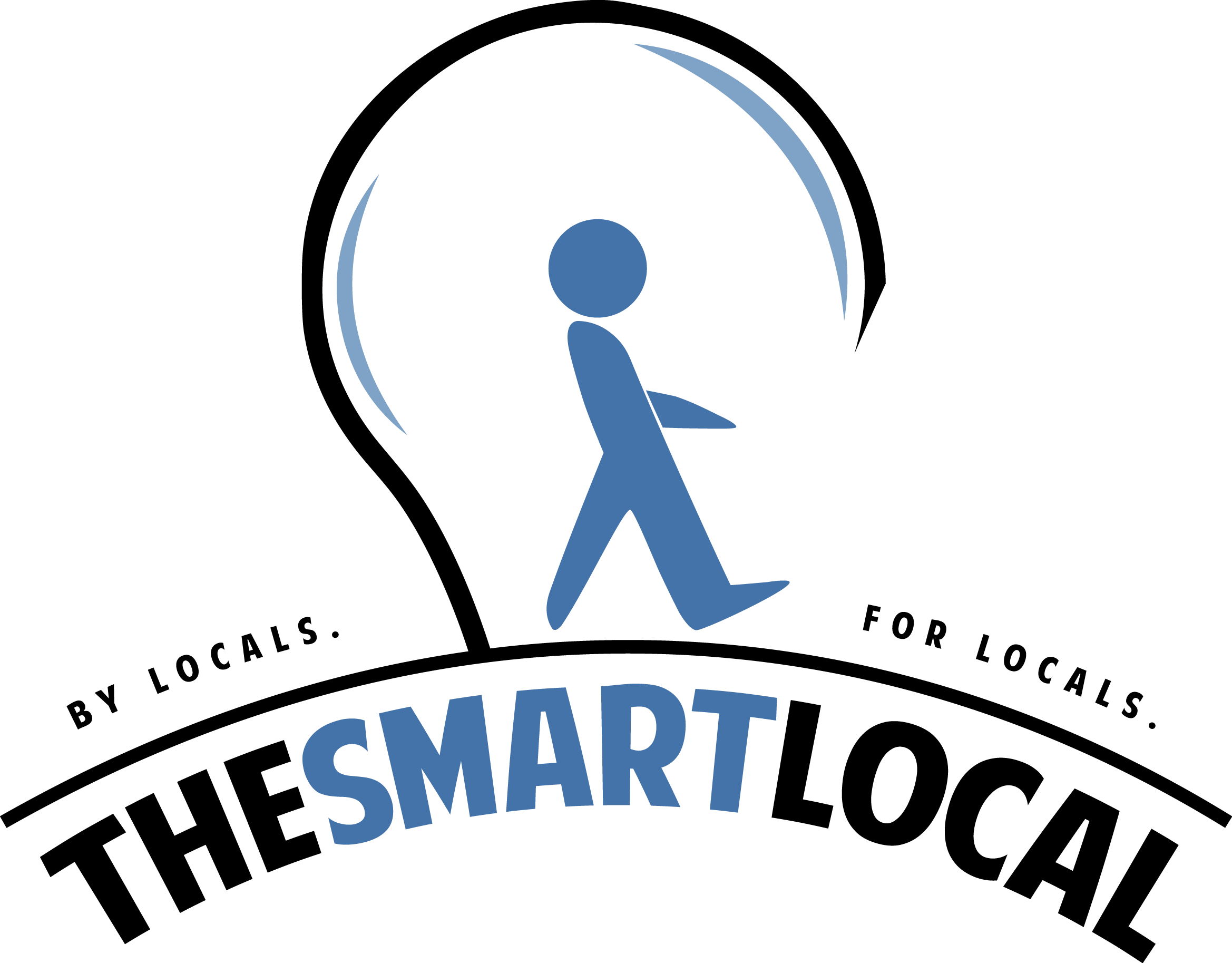 Drop us your email so you won't miss the latest news.