3D cat near Shinjuku Station
---
Japan's iconic giant monster, Godzilla, has attracted a slew of devout fans over the years. However, a new contender is seeking to dethrone its status as Japan's favourite kaiju – meet the new titan 3D cat near Shinjuku Station.
---
3D cat appears on new ad space near Shinjuku Station
---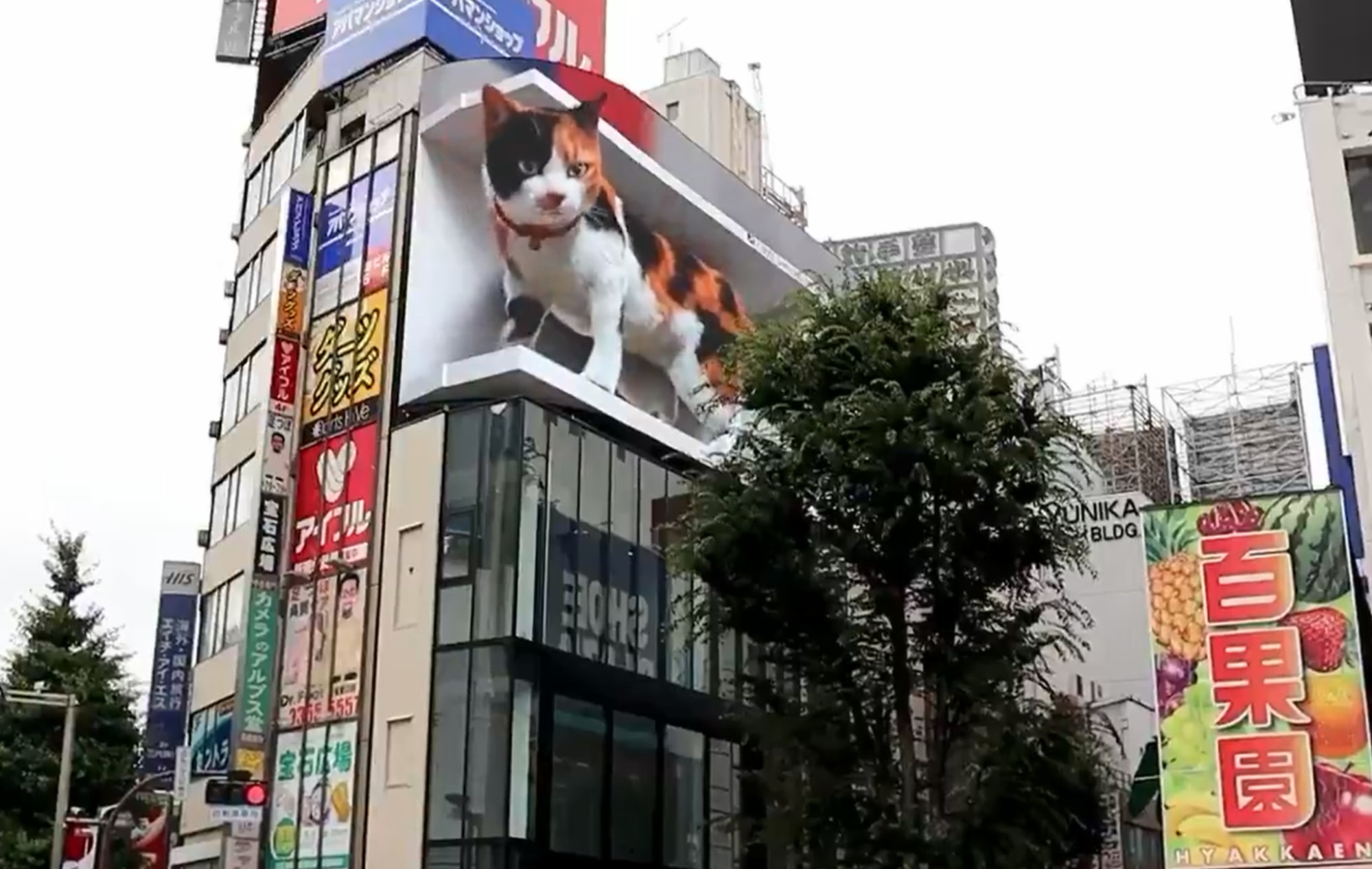 Image adapted from: @cross_s_vision
On 5th July 2021, Twitter account @cross_s_vision posted a 17-second long clip that quickly went viral, garnering over 42,300 retweets and 111,100 likes in less than a day.
In the video, a giant calico cat can be seen standing in the recess of a building, looking curiously at the onlookers.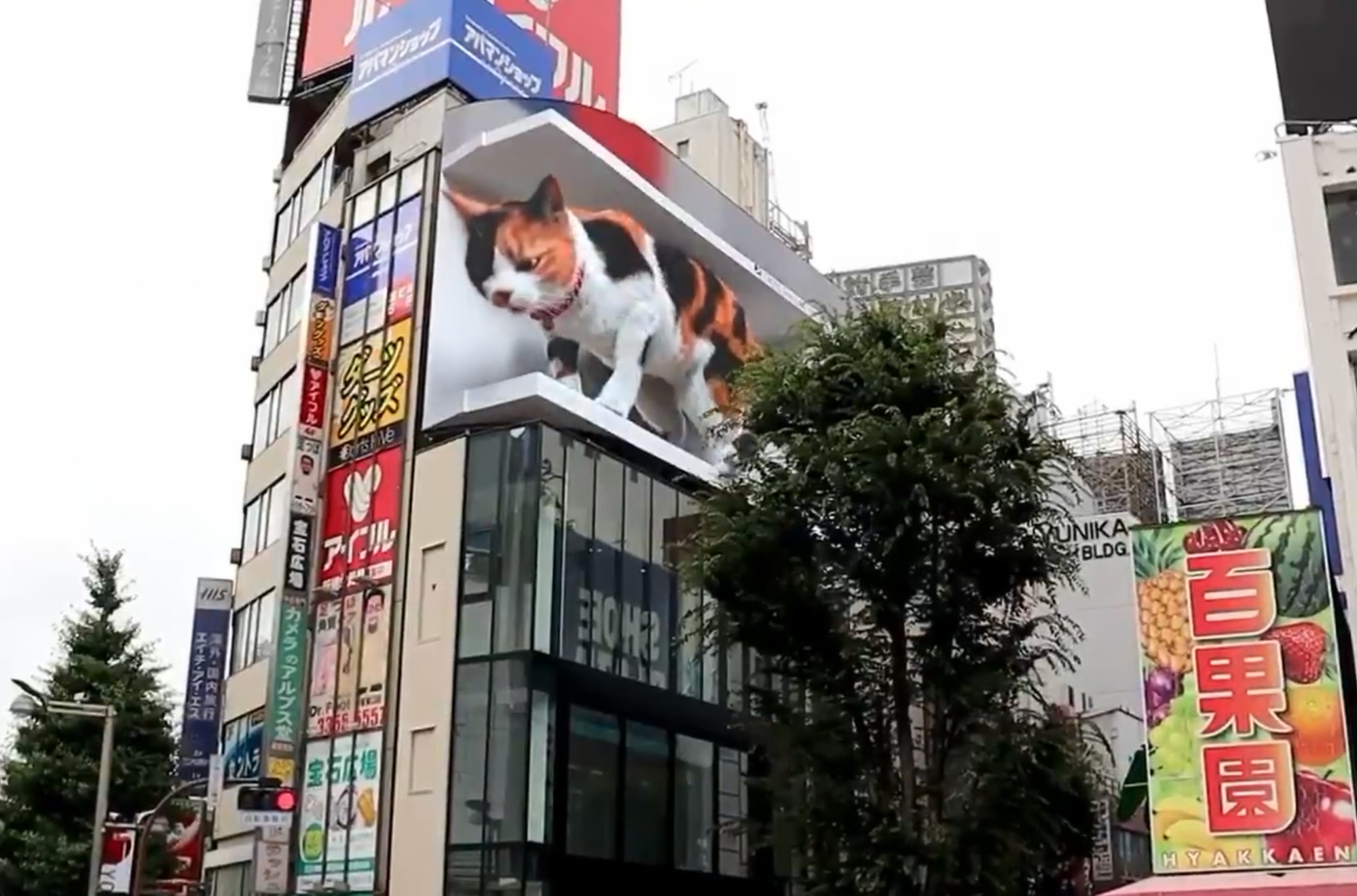 Image adapted from: @cross_s_vision
Most would think that this 3D cat was created with hyper-realistic CGI work. However, the adorable feline is actually a digital projection from the curved LED screen mounted on a building near the east exit of Shinjuku Station. 
Due to its shape, curved screens are able to yield a 3D effect when viewed from certain angles.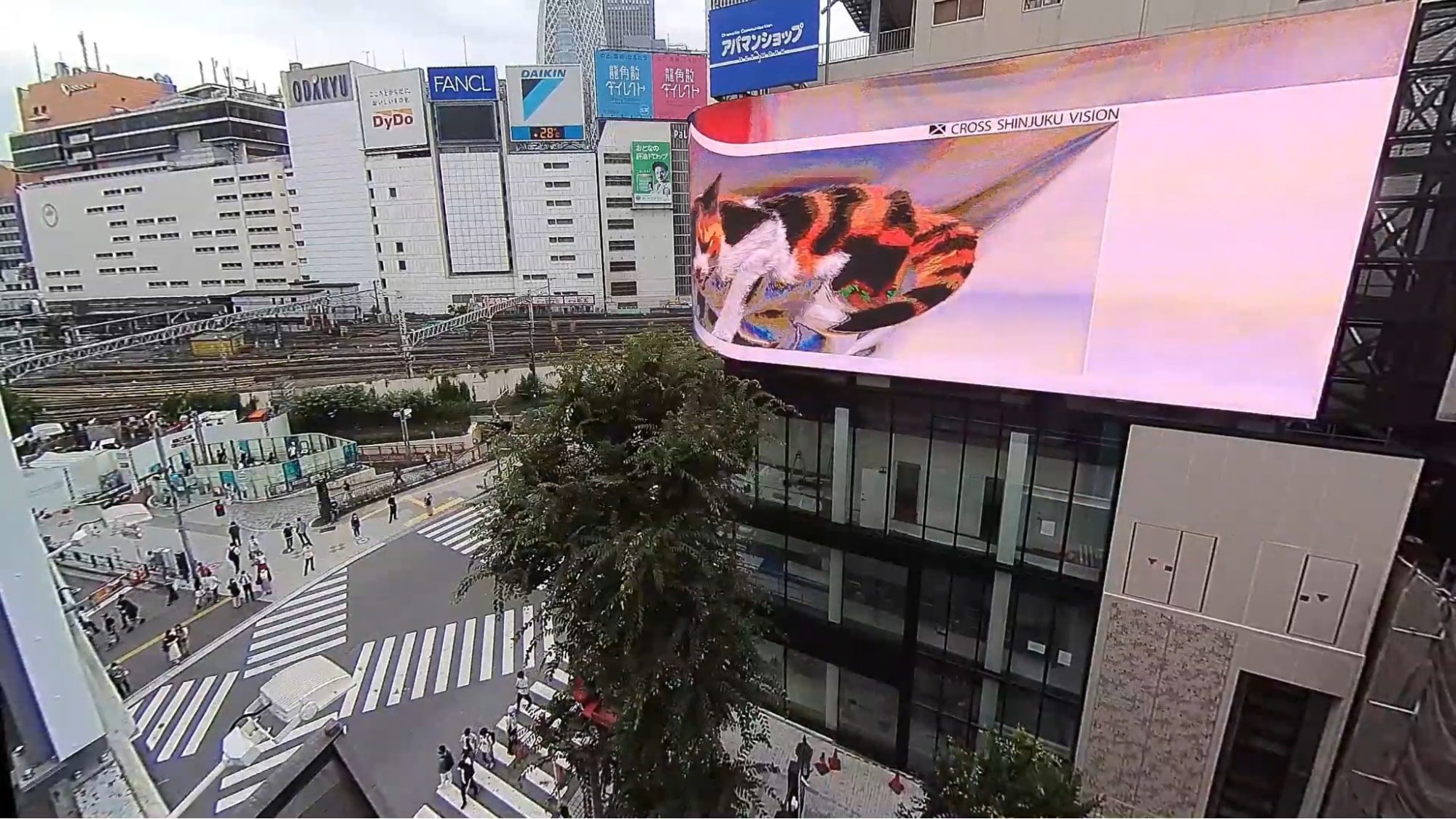 Image adapted from: CROSS SPACE
The screen also projects images at 4K resolution, while having an excellent audio quality. All these help to bring the giant calico cat to life.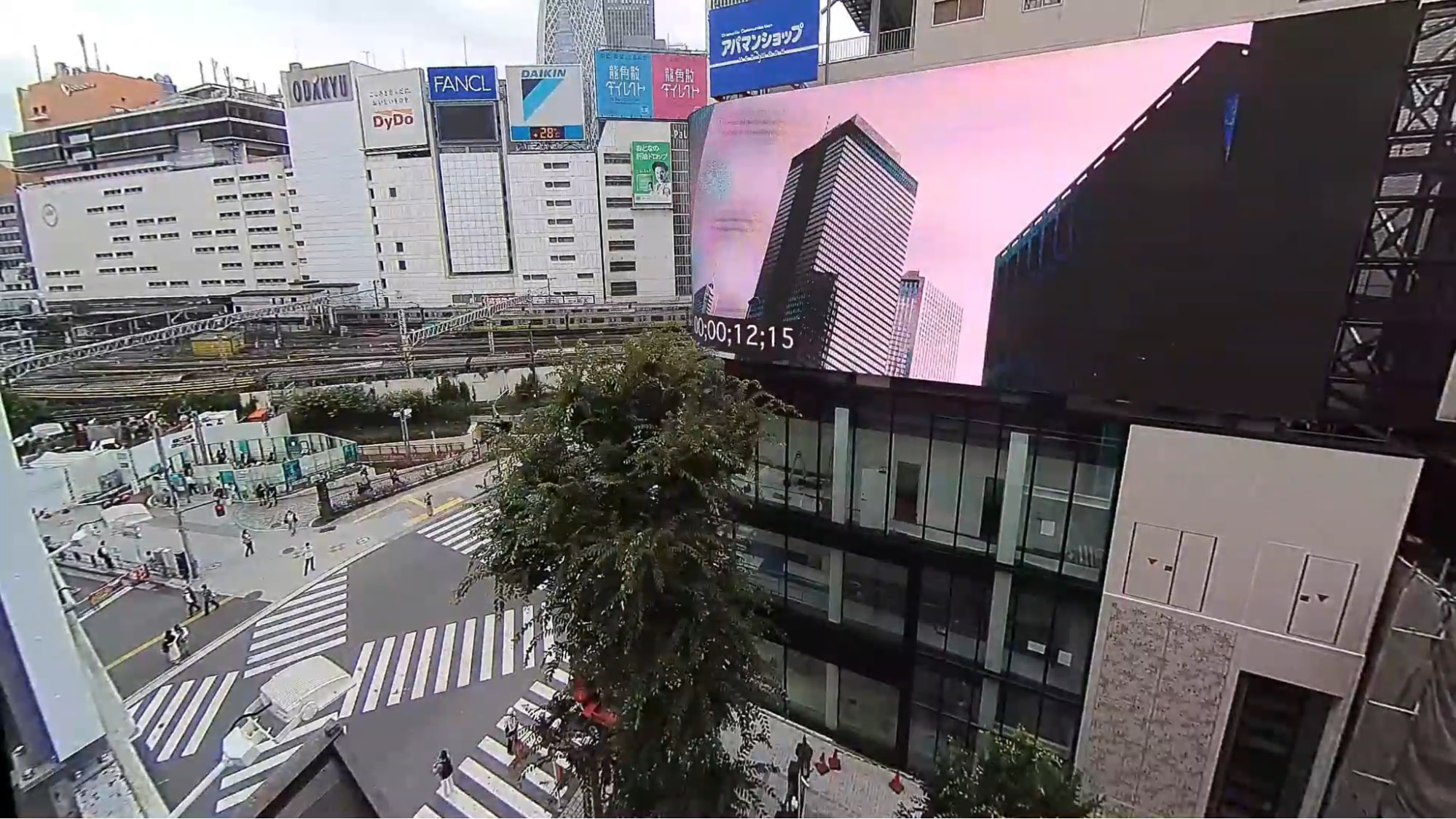 Image adapted from: CROSS SPACE
This screen was co-developed by MicroAd Digital Signage and Yunika – companies known for creating multimedia displays – under the supervision of Cross Space. It will serve as a new advertisement signage in Shinjuku, and we can expect even more unusual ads in the coming months.
---
3D cat to appear regularly starting 12th July
---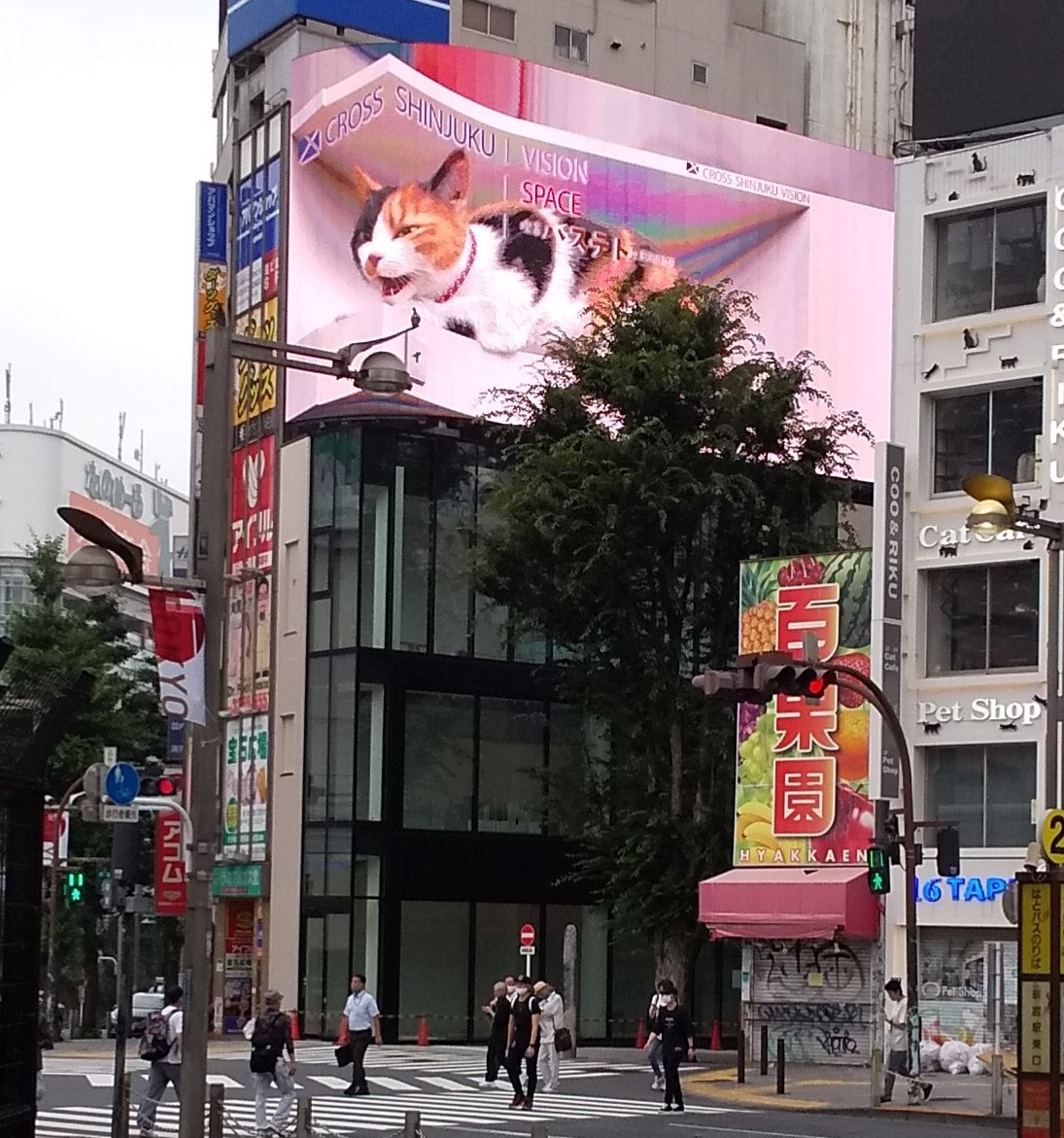 Image adapted from: @monakayoshihiro
The giant cat has been appearing on the display screen as a short teaser since 1st July 2021, and it will not be going away anytime soon. Starting 12th July 2021, the cat will be making periodic appearances from 7AM-1AM.
Just like how Osaka has its iconic Glico running man sign, the calico cat may just become Shinjuku's characteristic symbol.
---
Catch the 3D cat even if you're not in Shinjuku
---
Video credit: CROSS SPACE
For international viewers and those not living near Shinjuku, you can still catch the Shinjuku cat on Cross Space's official YouTube livestream. But if you're able to visit Shinjuku in the future, be sure to check out this adorable kaiju.
For more articles, check out:
---
Cover image adapted from: @cross_s_vision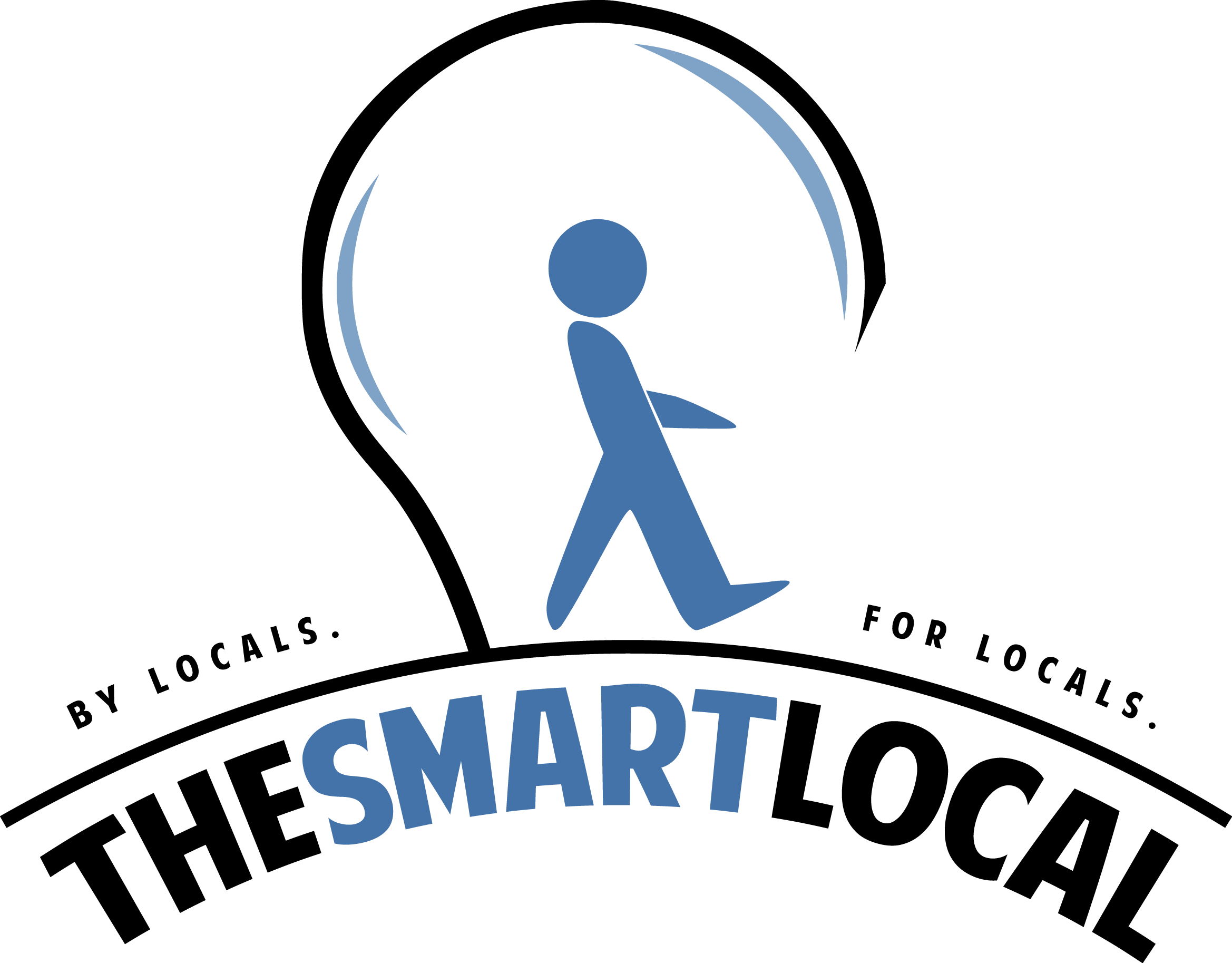 Drop us your email so you won't miss the latest news.