Weird Japanese drinks
---
As pioneers of wacky inventions, Japanese drink companies have been known to create drinks inspired from foods and come up with the most unusual concepts – such as using elephant dung in the manufacturing process of drinks. Here are 25 weird Japanese drinks if you want to challenge your tastebuds. Be forewarned, these are either hits or misses, but the bragging rights you get afterwards would be worth it.
---
1. Tombow Beverage Kanazawa Curry Cola
---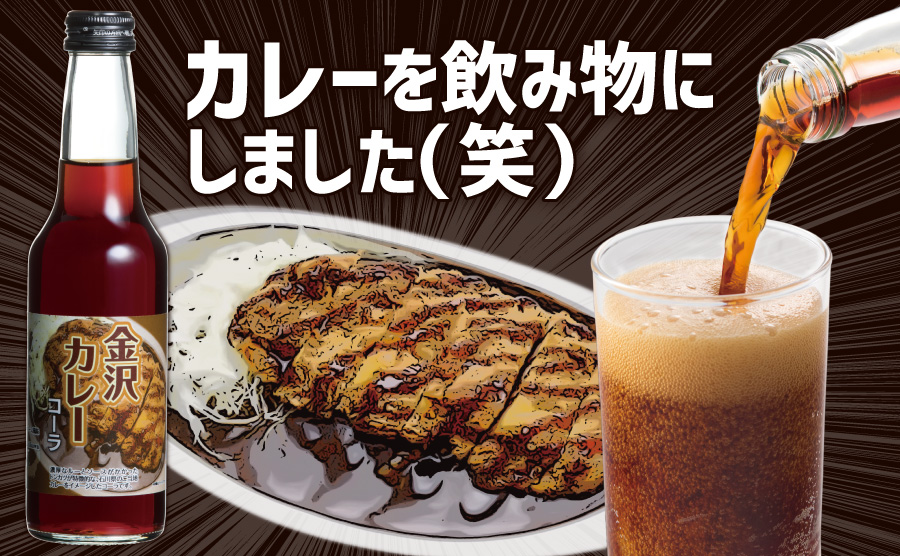 Image credit: IT media
Tombow Beverage Kanazawa Curry Cola mimics the savoury umami taste of a dish called Kanazawa Curry and infuses it into a carbonated cola base, retaining the latter's characteristic fizziness.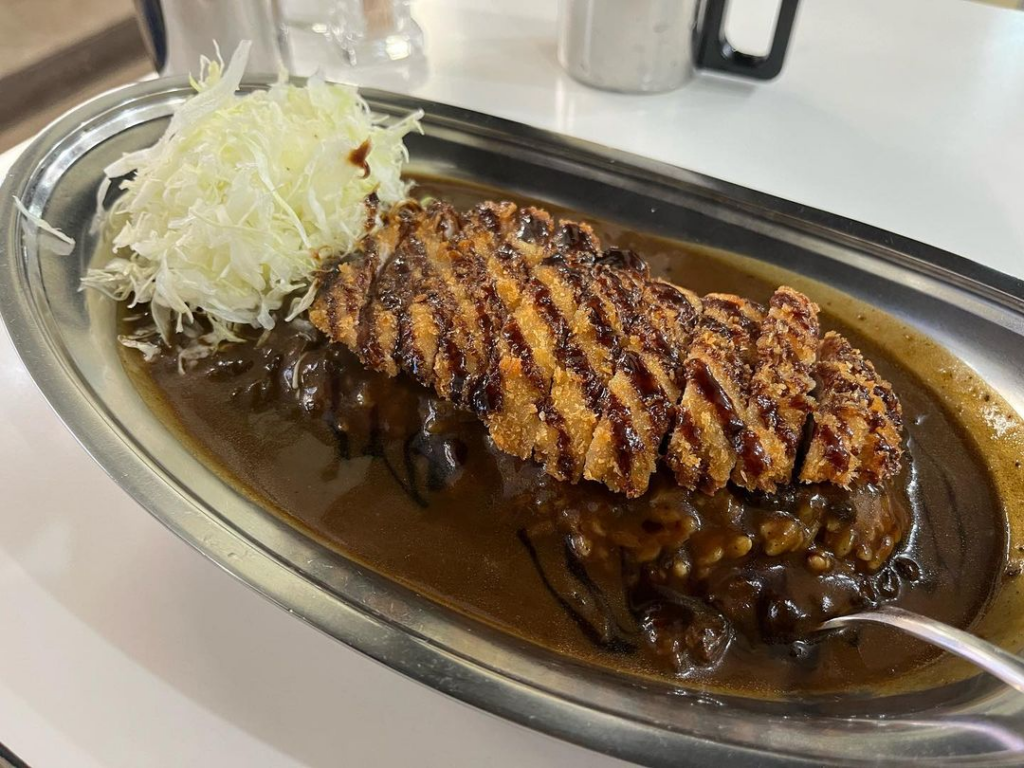 Image credit: @harapeko_fukuoka_tokyo_kanazaw
This drink's inspiration, Kanazawa Curry, is an Ishikawa Prefecture speciality dish. Crispy tonkatsu is served on a bed of curry rice, drizzled with tonkatsu sauce and served with shredded cabbage.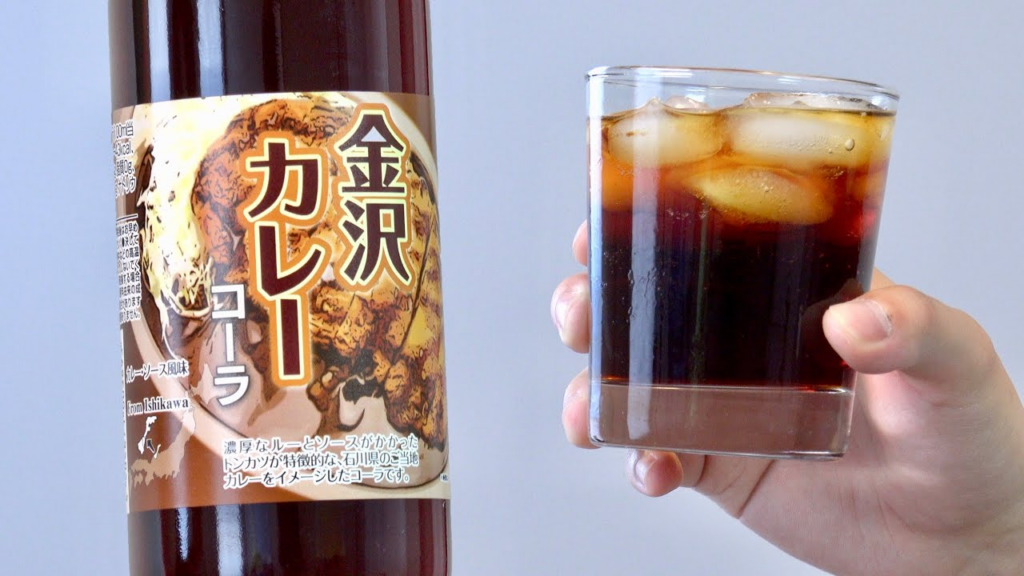 Image credit: Japan Trend Shop
The drink was released on 1st April 2016, but contrary to what you're thinking, it wasn't an April Fools' joke. The company produced 100,000 bottles and sold them for ¥216 (~USD1.62) each. 
If you would rather drink your food than chew it, this might be your cup of cola. 
---
2. Bilk
---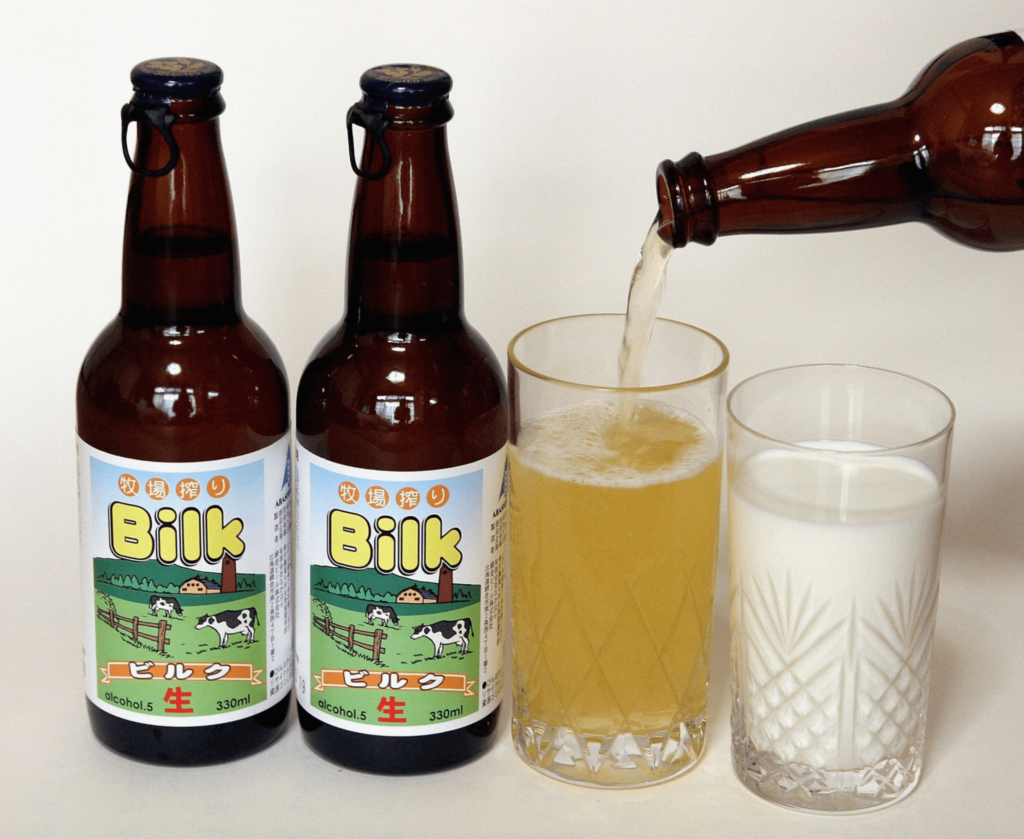 Image credit: Healthy Food Near Me
Bilk, which you may have guessed from its name, is a beer and milk drink combo, and was sold at ¥380 (~USD2.85) per bottle.
This weird Japanese drink contains 30% milk, but it reportedly looks and tastes just like normal beer, apart from having a milky aroma. Its initial target audience was women, but due to the huge media buzz, Bilk became a popular drink among all sexes.
---
3. Pepsi Ice Cucumber
---


Image credit: The Soda Wiki
Pepsi Ice Cucumber was a limited-edition soda released in 2007. With green stripes, blue gradation, and graphics of floating ice shards on its packaging, this product was marketed as a refreshing drink.
The drink was bright green in colour and said to have a light, fruity taste. However, many people commented that there was an aftertaste similar to cool mint toothpaste. It cost around ¥147 (~USD1.10) for a 500ml bottle.
---
4. Ramune
---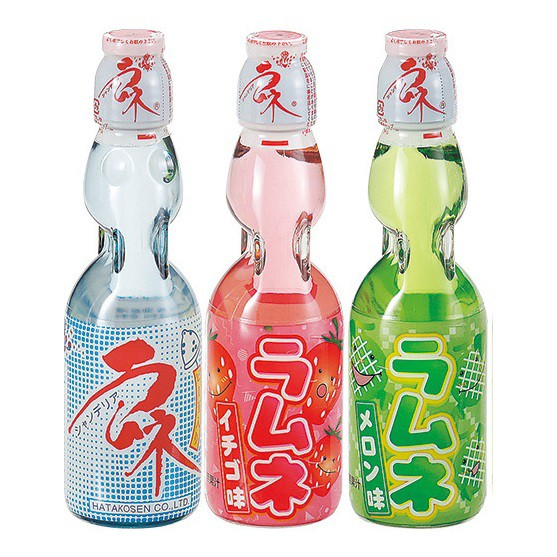 Image credit: Shopee
Ramune is a classic Japanese carbonated soft drink distinguished by its Codd-neck bottle and its opening is sealed by a marble.
Hata Kosen is the company that sells Ramune, and the beverage costs ¥141 (~USD1.06) per bottle. While there are normal flavours such as strawberry and melon, there are a few creative and peculiar ones on the market.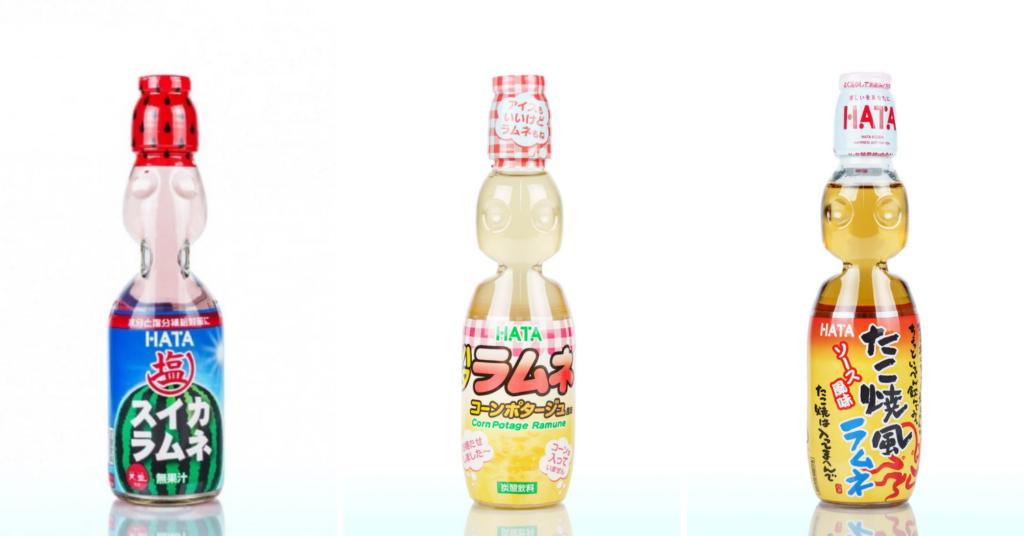 Image credit: Hata Kosen
Salty Watermelon Ramune is said to have a strong aroma and taste of watermelon, with a hint of salt. Corn Potage Ramune has a buttery scent, and many have commented that it tastes sweet and salty, but doesn't quite hit the mark like the other Ramune flavours. 
Other flavours include curry, eggplant water, cream stew, wasabi, and takoyaki. We'll leave it to your imagination how all of them taste.
---
5. Namco Potato Chips Cola
---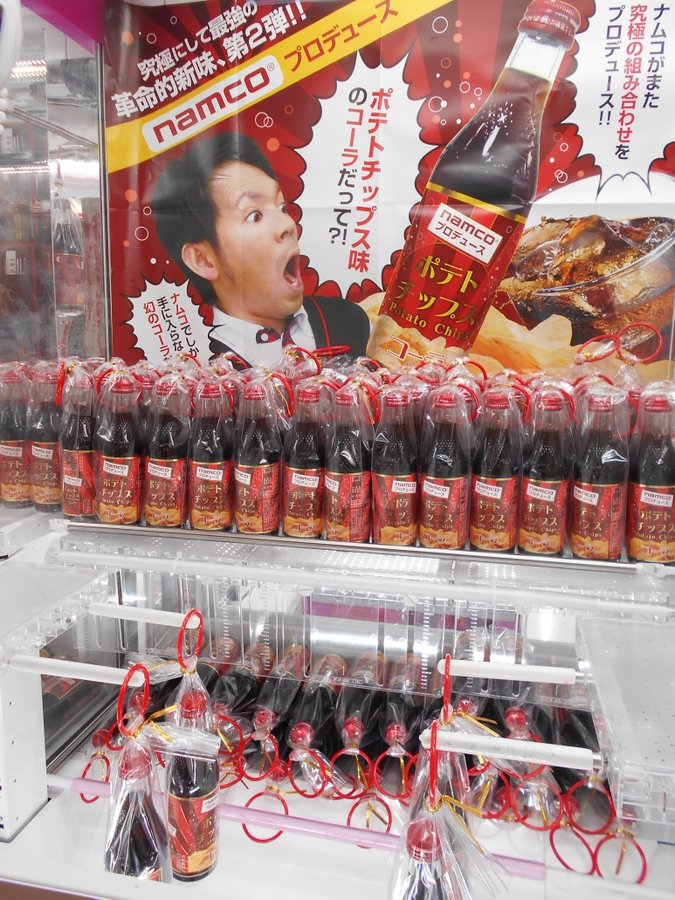 Image credit: @namco_kawasaki
Chips and cola is a combination that just can't go wrong. But if you're not a fan of getting your fingers greasy, skip the chips and get both flavours in one gulp of Namco Potato Chips Cola.
Before this, Calbee and Namco initially collaborated to make cola-flavoured chips. After its booming success, they decided to literally switch things around. The drink is available only as a prize at Namco game centres, so win a game to get a taste of this peculiar sweet and salty victory.
---
6. Pokka Sapporo Canned Curry Drink
---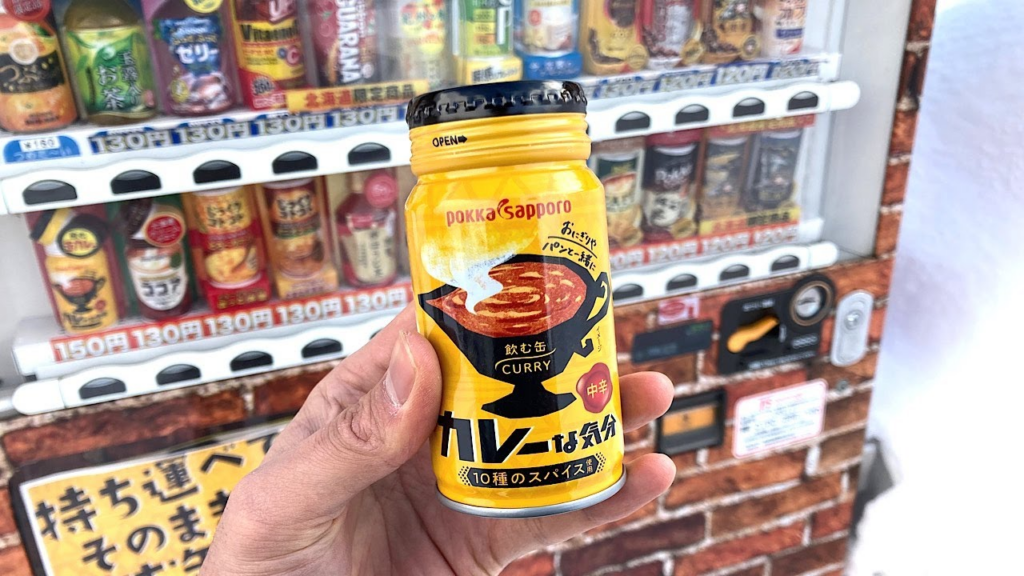 Image credit:  Journey to Discover Japan
Fit snugly in a coffee-style can, the viral drink Pokka Sapporo Canned Curry Drink is available for purchase at ¥140 (~USD1.05) each. It contains beef, pork, veggies, and 10 kinds of spices. Everything is blended to a smooth consistency, with a caramel hue.
You'll want to pick this drink up when you're craving curry but can't be bothered to go through the hassle of preparing it. It's made to complement staples such as plain bread or rice ball, to add some flavour to them. 
The cans are sold hot from vending machines and at room temperature in supermarkets. It is recommended to take this drink hot, preferably with other food. It's still on sale, so you can challenge your taste buds by getting it from a vending machine or a supermarket for a meal on the go.
---
7. Jats! Taccola (Garlic Cola)
---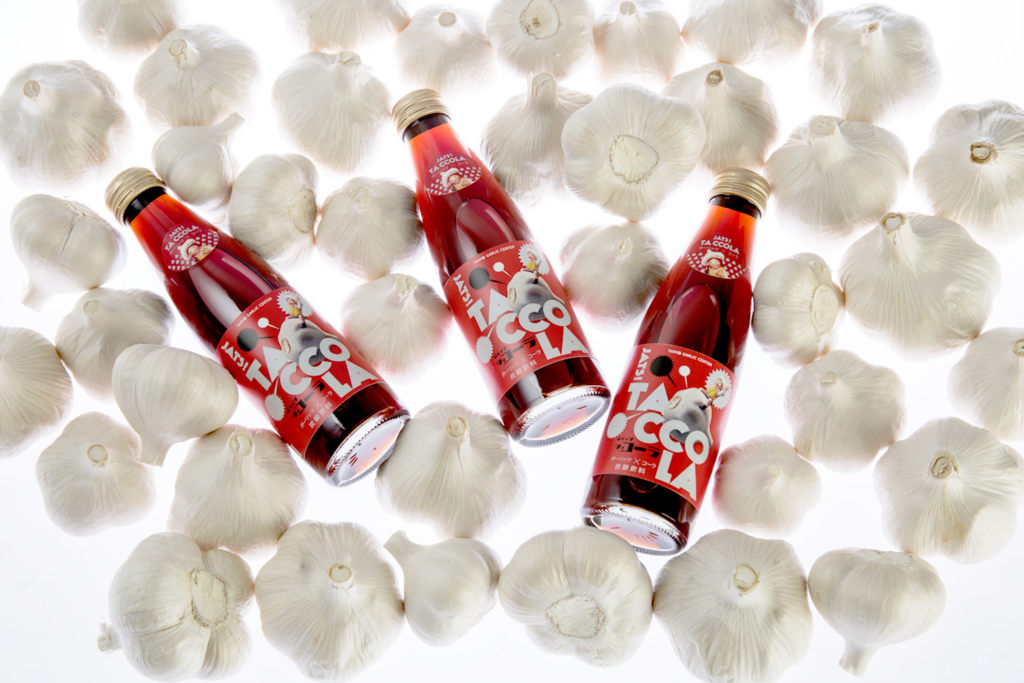 Image credit: takkogc
Garlic is not just for cooking; you can also drink it as a garlic-infused cola, called Jats! Taccola that sells for ¥300 (~USD2.25) per bottle. The garlic used in the beverage is from Takko, the southernmost town of Aomori Prefecture.
Takko is well known for being Japan's leading producer of garlic and the town even has the Takko Garlic Center, which sells garlic-infused dishes and products. The drink has since become a hit and sold more than 270,000 bottles.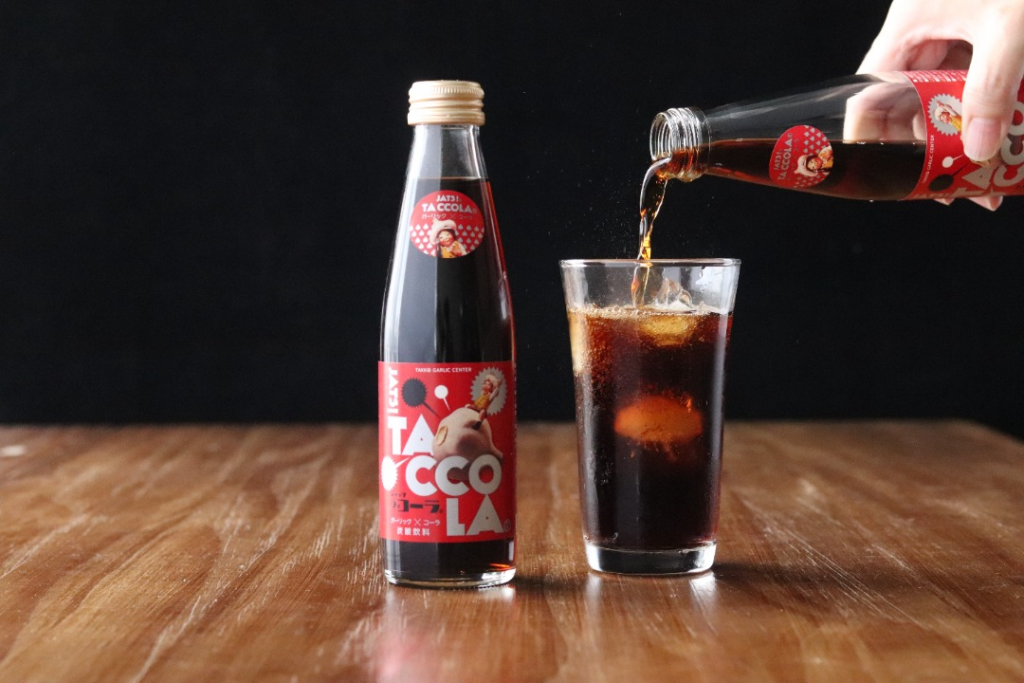 Image credit: Carousell
Its name is also incredibly witty. Taccola is a perfect blend of the 2 words "Takko" and "cola". "Jats" is an exclamation of surprise in the local Takko dialect.
With an aftertaste of real garlic, the creator of Jats! Taccola suggests that you pair the drink with rich or fatty foods. It is recommended that you try this unique drink for the experience – but perhaps not when you're on a date.
---
8. Morinaga Pancake Drink
---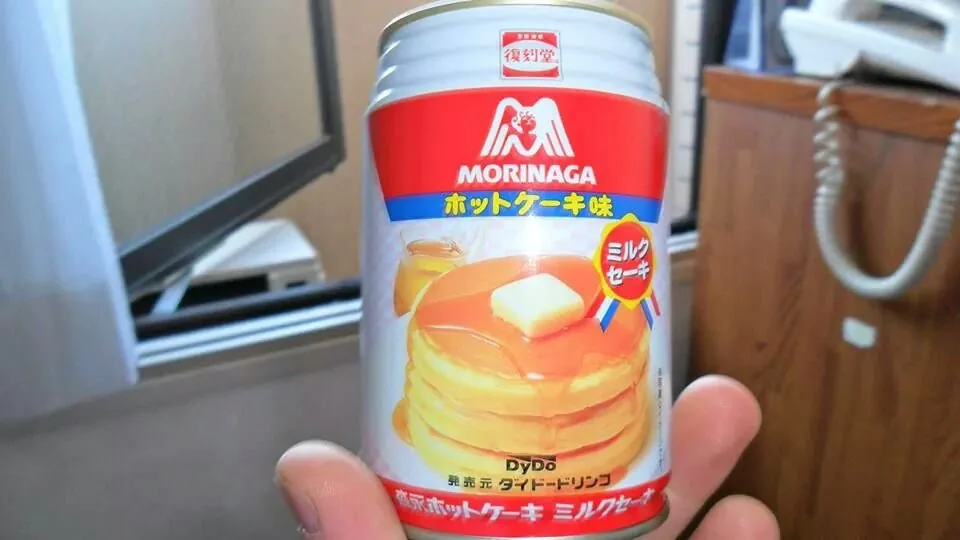 Image credit: tlebrad
Although now discontinued, Morinaga created a buzz with their creation of this bizarre drink – a pancake and milkshake combo. Best known for its instant pancake mix, the company decided the next greatest thing was to make it a drink for those who don't want to make a mess cooking pancakes.
The Morinaga Pancake Drink is light brown in colour and tastes like a sweet and creamy syrup. So if you ever get the urge, this is the closest you can get to drinking raw pancake batter. 
Following this, they have been working on turning some food into "drinkable" versions, such as drinkable ice cream, sweet potatoes, and even cheesecake.
---
9. Okkikunare
---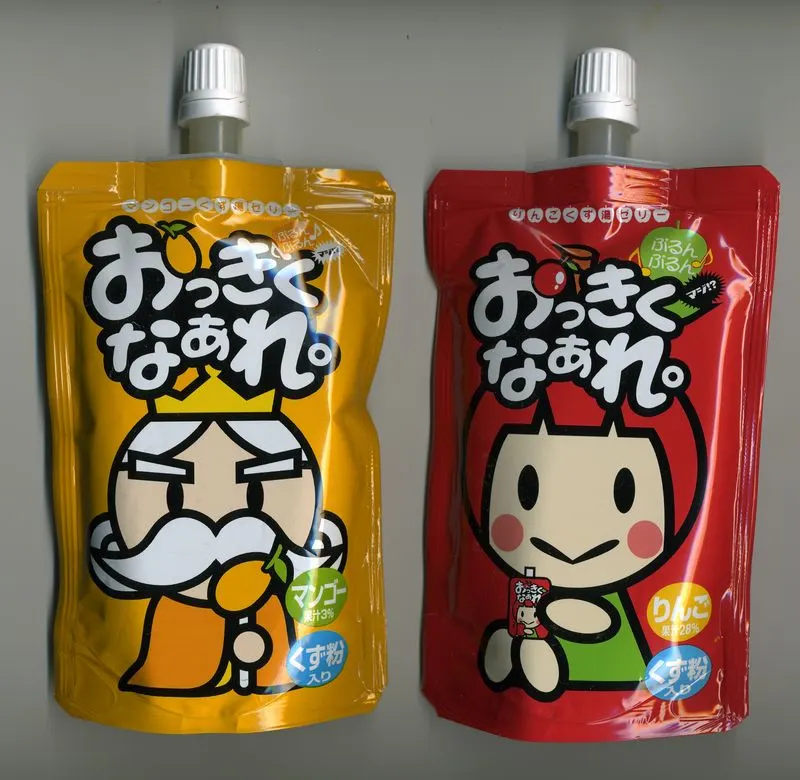 Image credit: しょく日記
To keep abreast with all the breast-enlarging products in the world, Welcia released its own version as a drink. The drink is called Okkikunare, which translates to "make them bigger" – "them" being breasts. 
Okkikunare contains isoflavones, found in soya beans, that the company claims can increase breast size. But no real results have been reported.
It is packaged in a plastic pouch and has a consistency between a jelly and liquid. The drink comes in many flavours, such as mango, peach, and apple.
---
10. Mizkan black vinegar drink
---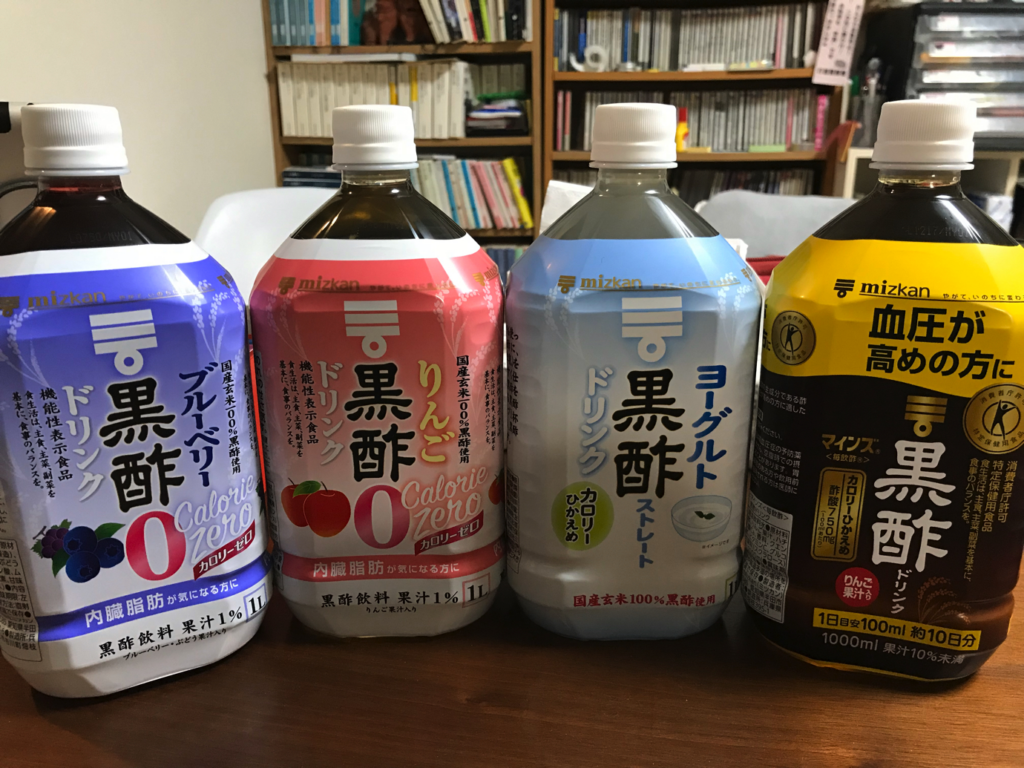 Image credit: qryheavy
Turns out, vinegar can be drunk – and not just used as a seasoning. Mizkan has introduced black vinegar drinks that contain kurozu, or Japanese black rice vinegar. Marketed as a health supplement, it's said to lower blood pressure, prevent the rapid increase of blood sugar levels, and get rid of fatigue. It's also said to be helpful for dieting.
There are different flavours available such as apple, blueberry, and yoghurt. A 1,000ml bottle costs ¥462 (~USD3.46).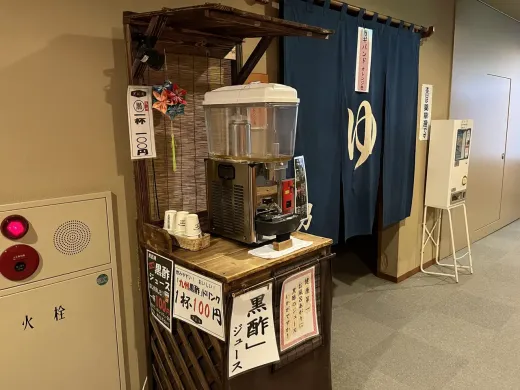 Image credit: Tomo
Fun fact: there are dispensers near onsens or booths near train stations selling kurozu. Due to its intense taste, many people pair kurozu with soya milk, orange juice, or even blueberry juice. 
---
11. Unagi Nobori
---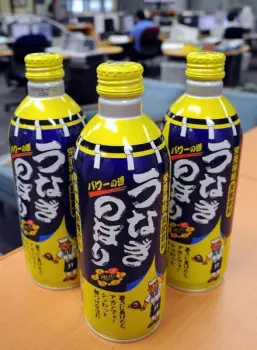 Image credit: The Denver Post
During the country's official eel-eating season of August in 2008, Japan Tobacco released a new drink called Unagi Nobori, which translates to "surging eel". The drink contains eel extract, and 5 vitamins (A, B1, B2, D, and E). The makers of the drink allege that it can increase the stamina of men who are suffering from heat exhaustion in the summer. 
Sold at around ¥140 (~USD1.05) per bottle, the beverage has a similar taste to broiled eel.
---
12. Spicy Mentaiko Cola
---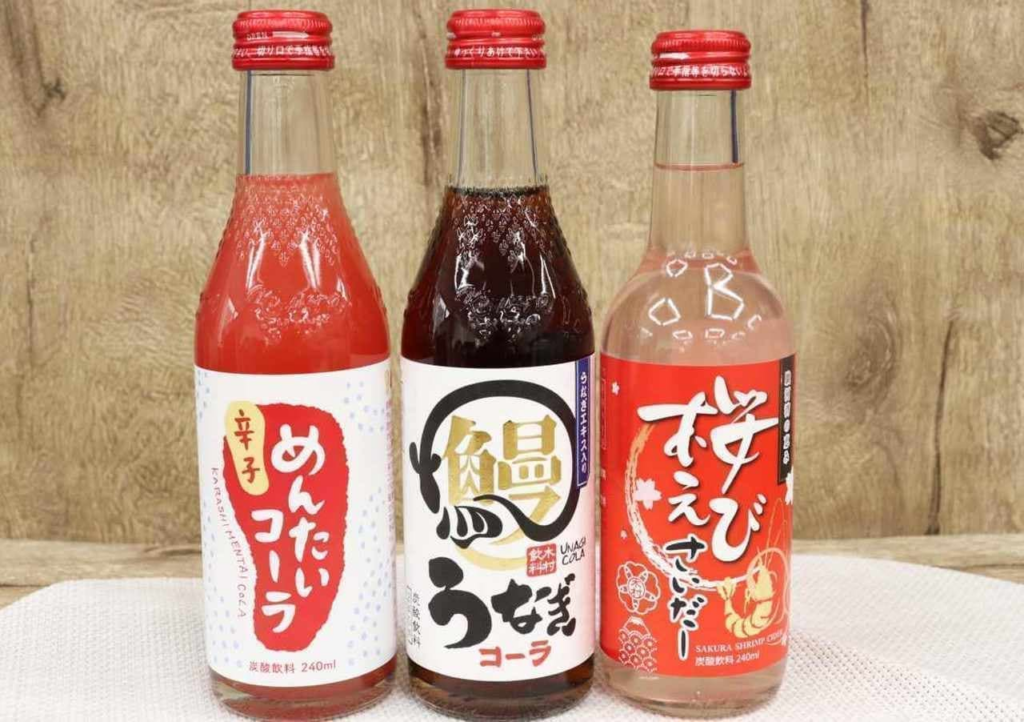 Image credit: Entabe
Kimura Drink is considered one of the pioneers in Japan when it comes to creating new and unpredictable soft drink flavours. Especially of note is the Spicy Mentaiko Cola, which is said to have a hint of seafood and mild spice, according to Entabe.
From pickled plum drinks to sakura shrimp drinks, Kimura Drink has created over 100 distinct drinks, many of which are sold in over 40 countries.
---
13. Gyoza Cider
---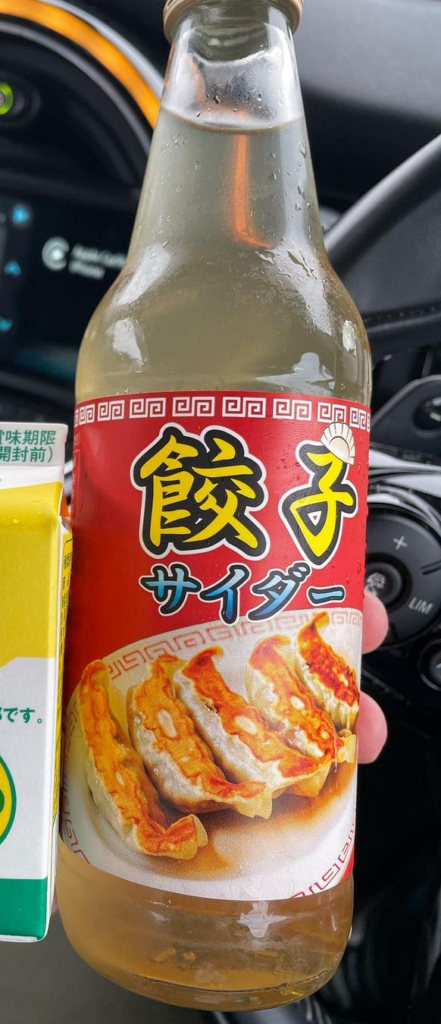 Image credit: @sakamotoakira_tia
If you've tasted gyoza, you'll probably remember the strong aroma and flavour profile of these Japanese pan-fried dumplings. Now think of them combined with cider, a carbonated soft drink. You get Gyoza Cider, which costs ¥300 (~USD2.25) per bottle.
Buyers have mixed reactions to the drink – some say it tastes sweet at first before the strong taste of garlic chives hits, and others say it tastes offensive. As a result, Gyoza Cider has become something bought and drank as a dare among friends – and is certainly not for the faint-hearted.
---
14. Kodomo no Nomimono
---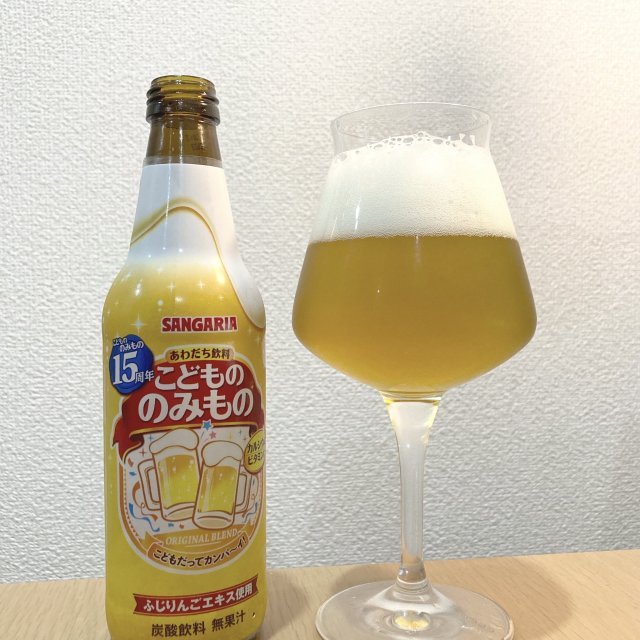 Image credit: Untappd
Sangaria's Kodomo no Nomimono – which literally means children's beverage – is for kids who want to join in the fun when adults are holding beer pints and toasting.
The drink is actually sparkling apple soda and non-alcoholic, and replicates the brown, long-neck bottle packaging of actual beer. It also comes complete with the beer head when poured out.
---
15. Un, Kono Kuro
---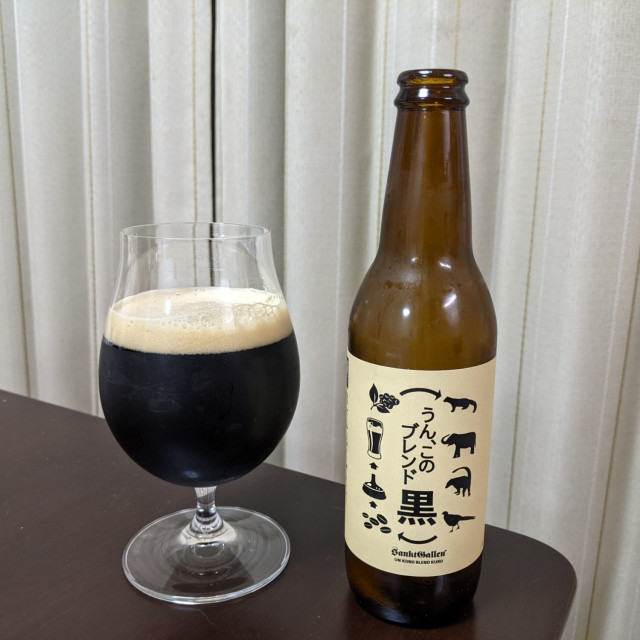 Image credit: Untappd
Kanagawa-based brewery Sankt Gallen produced a limited-edition coffee stout with the help of elephant dung, called Un, Kono Kuro.
Coffee beans are first passed through an elephant, then hand-picked out and infused into the stout. This is said to give the stout a smoother consistency, as the proteins of the coffee beans are broken down through the elephant's digestive process.
Un, Kono Kuro translates to "Yeah, this is black", and includes a pun on "unko", which is the Japanese word for "poop". 
---
16. Water salad
---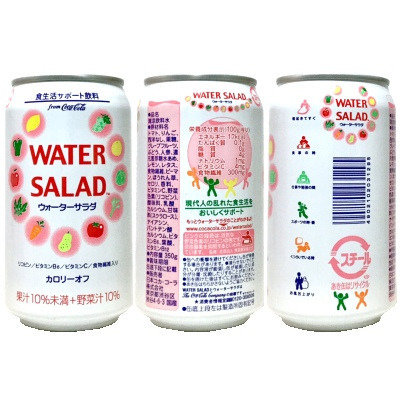 Image credit: Muuseo
Produced by Coca-Cola in Japan, Water Salad infuses the beverage with actual romaine lettuce.
Water Salad comes in 6 different flavours, and 2 sizes – a 350ml can (¥120, ~USD0.90) or a 500ml bottle (¥147, ~USD1.10). Whilst it's not a direct substitute for your vegetables, it does contain vitamin C, vitamin B6, and dietary fibre found in fruits and vegetables.
---
17. Placenta 10000
---


Image credit: The Mary Sue
Placenta 10000 is made by the Japanese company Nihon Sofuken and contains pig placenta. This drink is one of the many health and beauty products produced by the company under the Q-bit brand, and it is said to help the drinker look youthful. 
Placenta 10000 comes in a 10000mg pouch, thus the name. It also has a bigger counterpart – Placenta 40000, weighing 40000mg.
---
18. Nomu Onigiri
---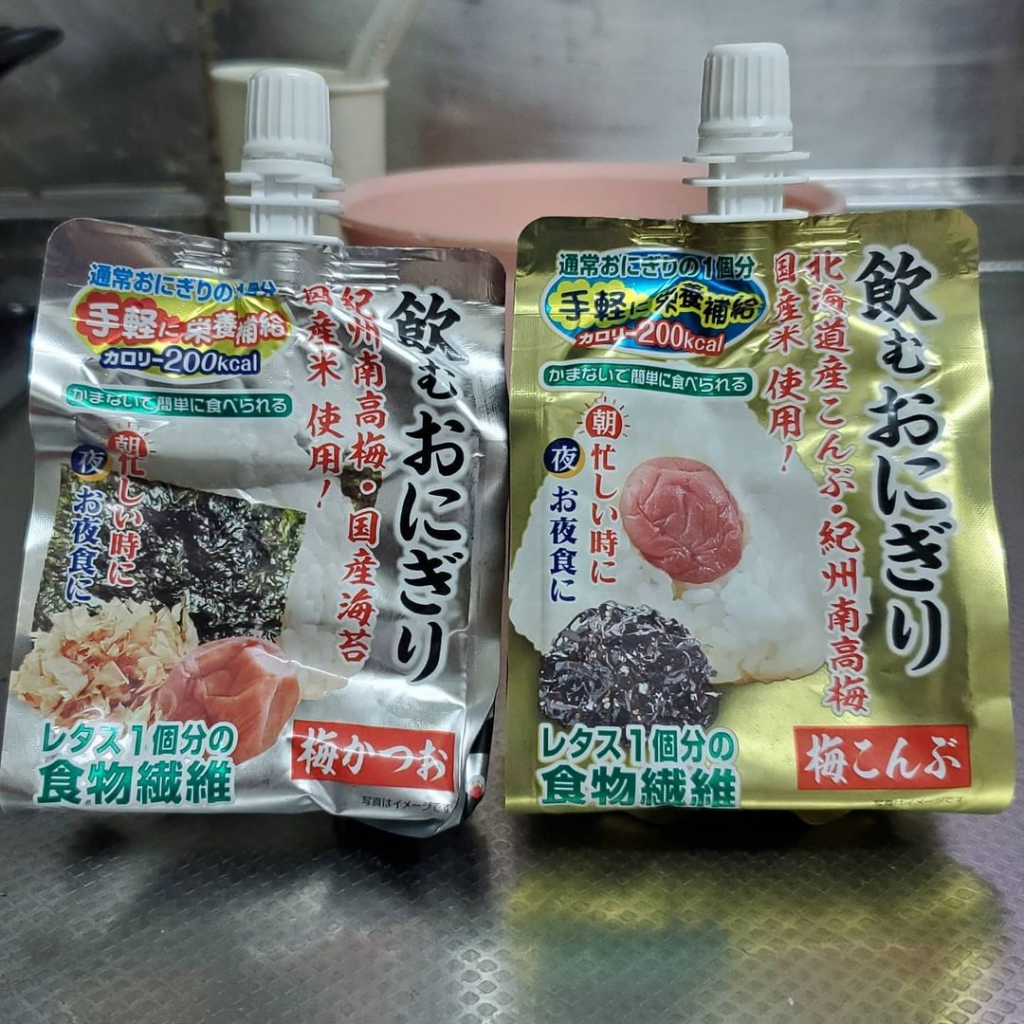 Image credit: @ake8327
If you've ever choked on a rice ball because you were eating too fast, Nomu Onigiri might just be your solution for a quick and smooth meal.
The 180g drink costs ¥160 (~USD1.20) per pack and comes in a disposable pouch, with different flavours such as ume kombu (pickled plum & kelp seaweed) and ume katsuo (pickled plum & bonito flakes).
Its consistency is similar to baby food and there are bits of plum pulp and a few grains of rice in the drink, so it is recommended that you chew a bit. This product also has a longer shelf life compared to actual onigiri.
---
19. Insect Sour
---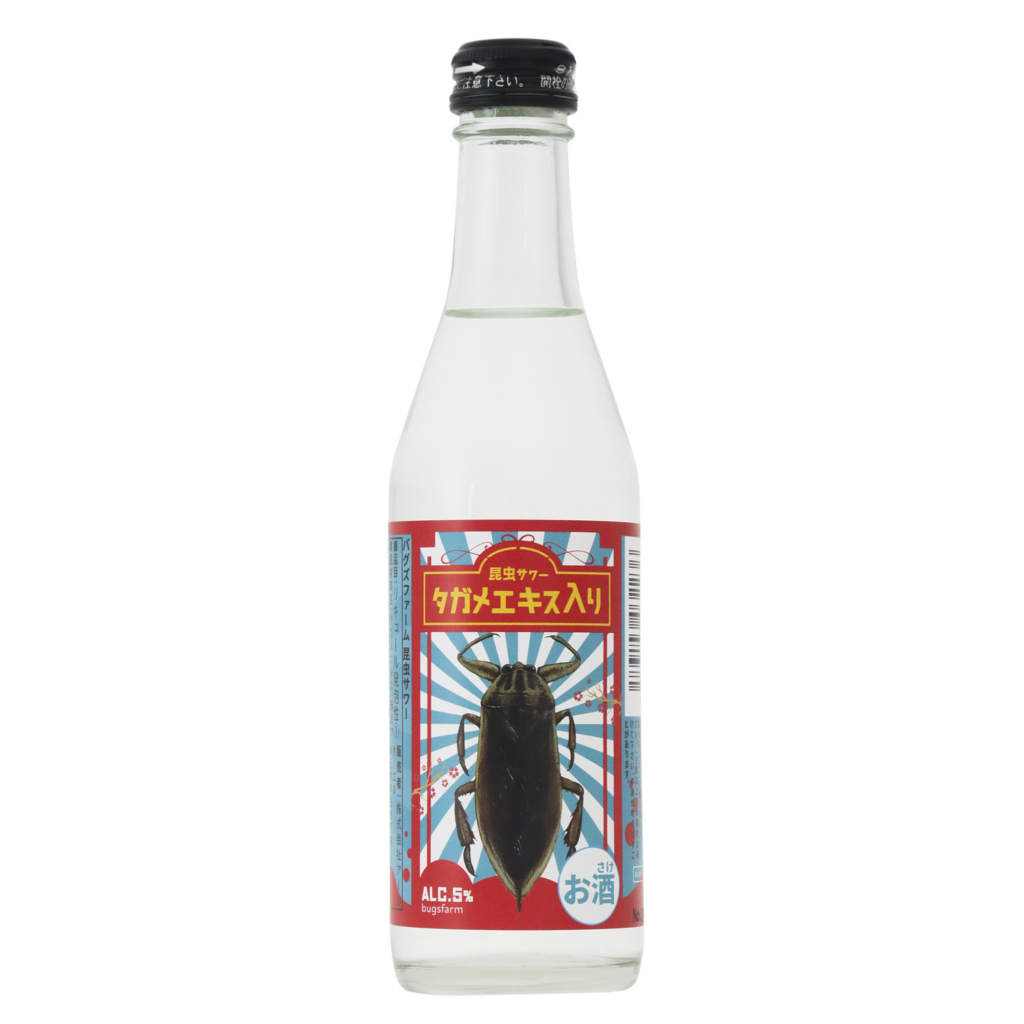 Image credit: Bugs Farm
Insect Sour is an alcoholic beverage and its main ingredient is giant water bug extract.
Whilst the insect looks like a cockroach, they are actually water bugs, said to have a sweet and fruity flavour.
The drink has 5% alcohol content, and its creators recommend enjoying Insect Sour with lots of ice, perhaps to bring out the refreshing taste. The 250ml drink costs ¥638 (~USD4.78) each.
---
19. Fresh Whipped Cream Is A Drink
---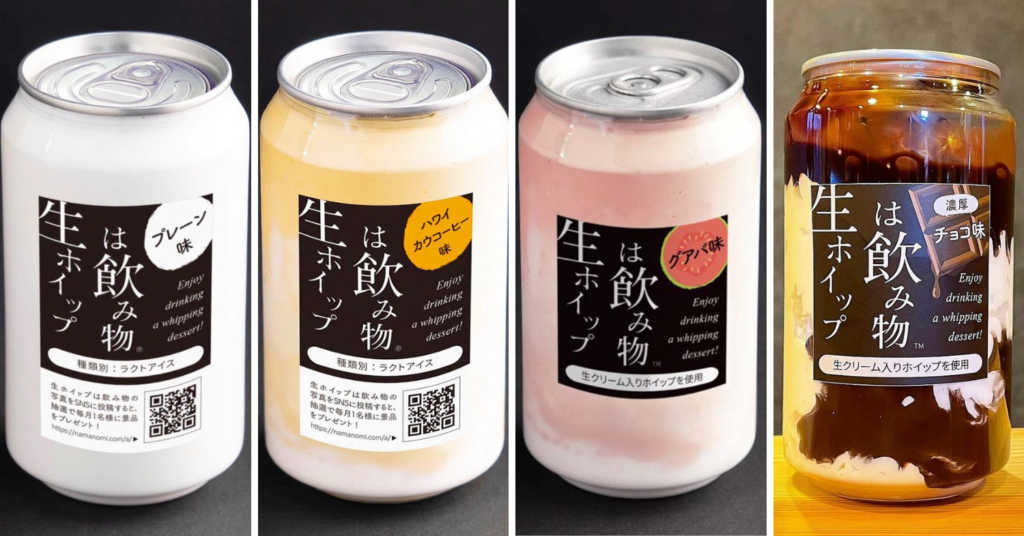 Image credit: @namanomi_official
By now, we have learned that sometimes the line between eating and drinking gets blurred in Japan, and that's okay. Similarly,  MGK Co. Ltd. released a line of drinks called Namanomi, whose Japanese name translates to "Fresh Whipped Cream Is A Drink".
Buyers can choose from 10 flavours such as plain, Hawaii Kau Coffee, guava, chocolate, and more.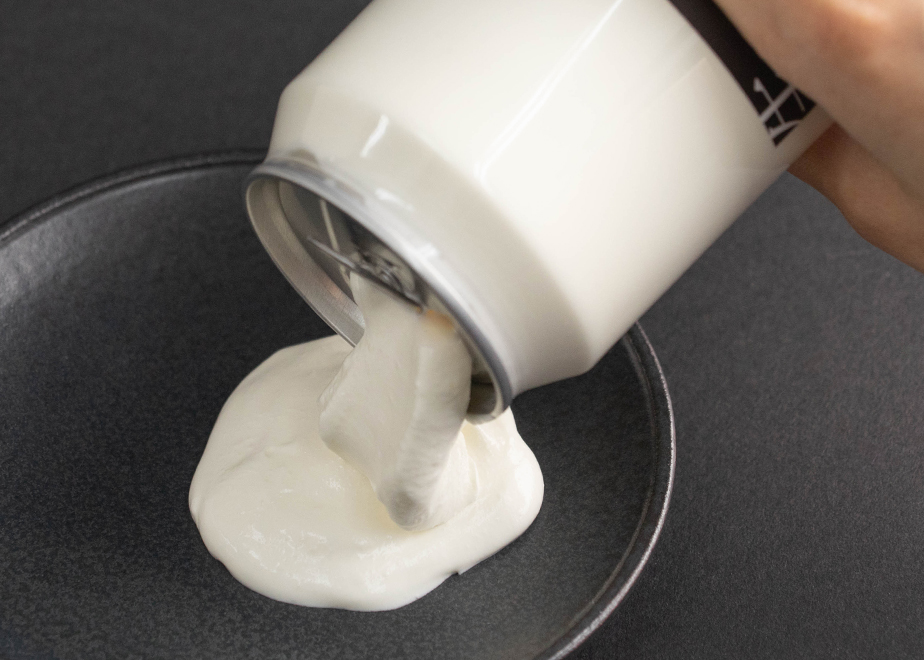 Image credit: ハワイカウコーヒー
With 14% milk fat cream, the drink is really straight-up diluted whipped cream, as the name suggests. You can also pair the drink with desserts, whether it is pancakes, pies, or fruits.
---
20. Kizakura Kyoto Matcha IPA
---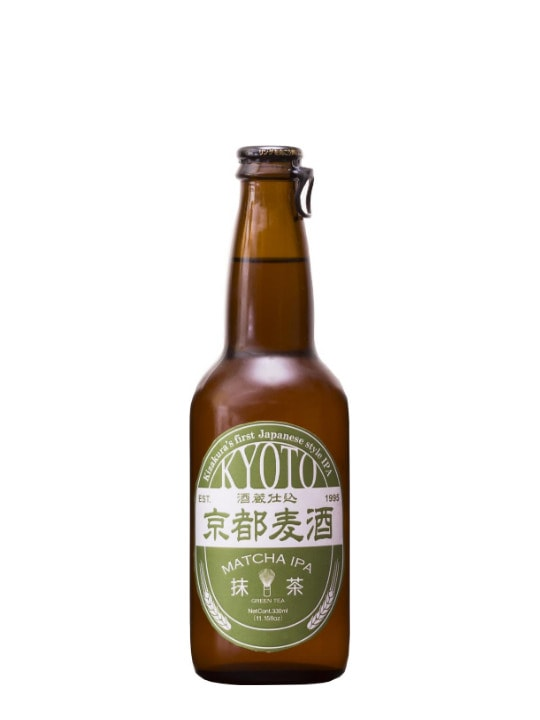 Image credit: Kizakura
For matcha lovers, matcha beer is a must-try and you can buy Kizakura Kyoto Matcha IPA for ¥462 (~USD3.46) per bottle off the shelves. The matcha in this drink offers a hint of bitterness that complements the beer, resulting in a refreshing beverage. Make your own version at home by blending a matcha concentrate with matcha powder and warm water, then adding it to a cup of beer.
---
21. Final Fantasy potion
---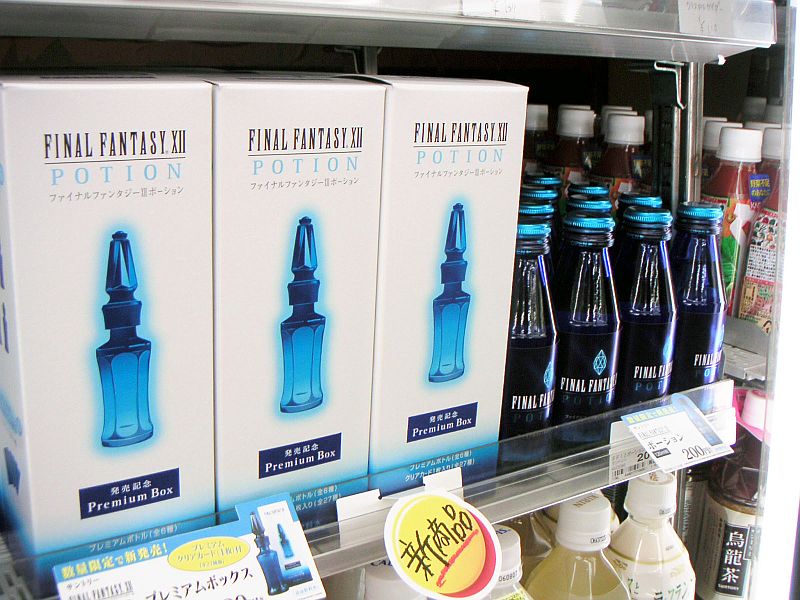 Image credit: @fujidai_s 
Square Enix and Suntory collaborated in 2006 to produce a drink called Final Fantasy Potion, based on the popular game series of the same name, to promote the new Final Fantasy XII. 
The herbal drink is made by combining royal jelly, propolis extract, elderberry, chamomile, sage, thyme, hyssop, fennel, marjoram, rosemary, basil, Melissa, carbonated water, caffeine, and artificial colouring. The Potion had a light blue colour and its unique taste was described as sweet with a bitter aftertaste. 
These drinks became commercially available in 2006 and were sold in 120ml bottles. Besides purchasing the bottles individually, Suntory also released a Premium Set which included a specially shaped bottle with a unique bottle cap, and a collectible Final Fantasy art card. 
Japanese commercial of the Final Fantasy XII Potion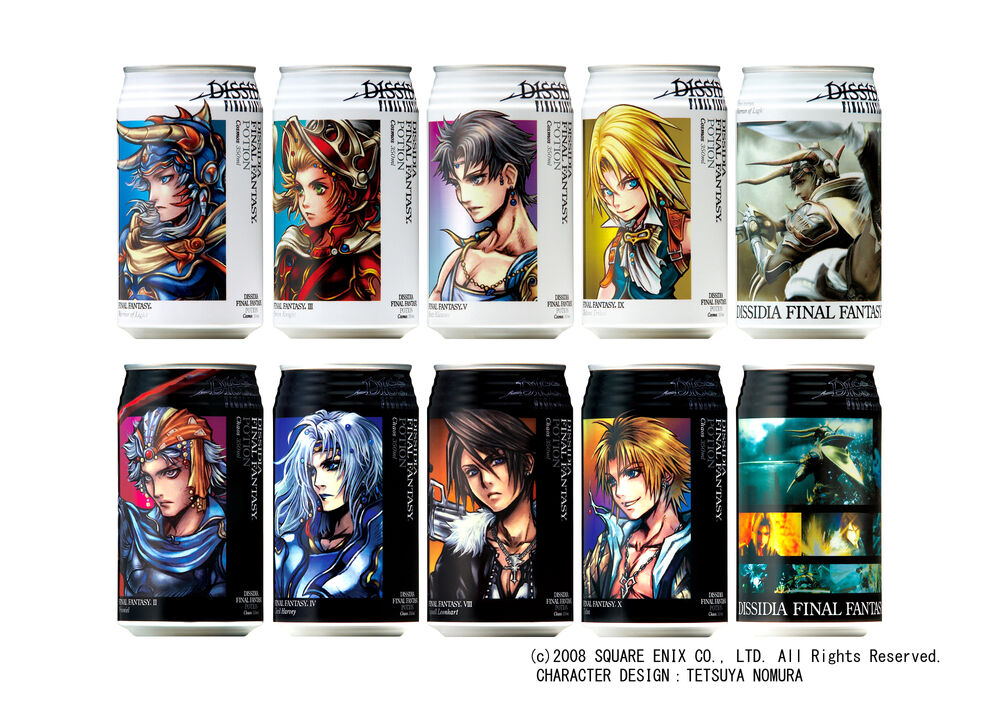 Dissidia-themed canned drinks
Image credit: Final Fantasy Wiki
Besides the aforementioned blue potions, Suntory and Square Enix also released a new line of Dissidia-themed potions to commemorate the release of the game Dissidia in 2008. The canned drinks, which could be bought from various local convenience stores for ¥191 (~USD1.81) each, came in 2 flavours, with 16 different character designs on the can. 
Representing the Cosmos series, the white cans contained a grapefruit-flavoured drink which had a light yellow-green colour. Meanwhile, the black cans represented the Chaos series and hold a bittersweet muscat-flavoured drink which is purple in colour. 
What's amazing is the fact that although the 2 drinks have different colours, when combined together, the liquid becomes clear – reflecting the dual theme of order and discord in the game Dissidia.
---
22. Pepsi Pink Cola
---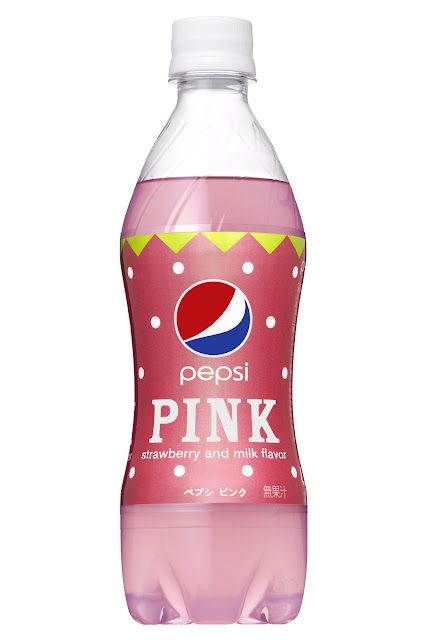 Image credit: From Japan With Love 
Pepsi Pink Cola is a strawberry milk-flavoured carbonated drink that is light pink in colour, hence the name. This drink, which was exclusively sold in Japan, has an overwhelmingly sweet strawberry aroma. Due to its limited production, international buyers could only obtain it through online sellers. 
It tastes just like strawberry milk. The milky taste of the drink is sweet and slightly creamy, making it one of the weird Pepsi flavours well-loved by the Japanese. 
Just like most seasonal drinks, Pepsi Pink Cola was only sold for a limited period of time after it was released in 2011. However, unlike other seasonal Pepsi drinks, it has sold for one of the longest periods of time because it has frequently come back to stores between 2011 to 2015 – proving just how much the locals appreciated Pepsi Pink Cola. 
---
23. Pepsi Mont Blanc
---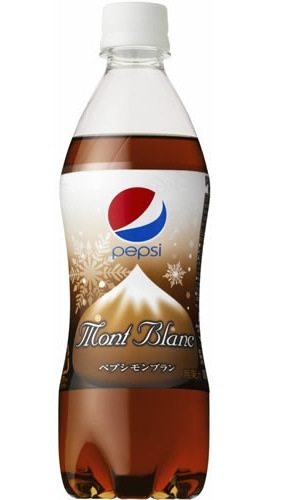 Image credit: TechCrunch 
Mont Blanc is an Italian chestnut dessert that is well-loved internationally. In 2010, Pepsi Japan, wanting to capitalise on the dessert's popularity, decided to produce said dessert into a soda.  
Pepsi Mont Blanc smells like roasted chestnut and tastes like a cream soda with hints of chestnut, vanilla, and liquor combined into one. It certainly doesn't taste like the usual Pepsi we are used to but it has a unique, novel, and enjoyable taste that's surprisingly not gag-worthy.  
Pepsi Mont Blanc, unlike Pepsi Azuki, was a major hit with the masses after its launch into the market in 2010. It was so popular that Pepsi Japan subsequently produced it again in 2012. For just ¥147 (~USD1.39), Pepsi Mont Blanc is a seasonal drink sold at stores located nationwide in Japan. 
---
24. Kinako mochi drink
---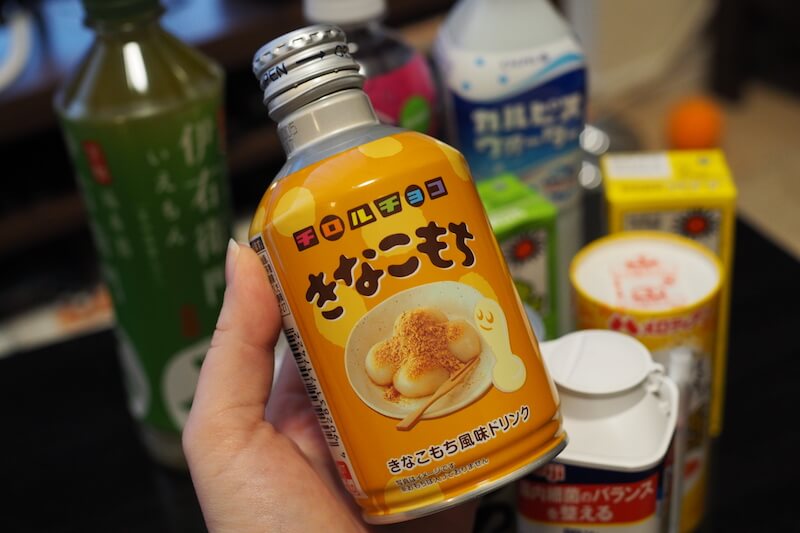 Image credit: Nagoya Foodie 
MINISTOP joined hands with Tirol, a popular chocolatier, to produce a drink called Tirol Chocolate Kinako Mochi Drink in 2017. The drink came in both hot and cold options, and were served in 260ml bottles. The beverage had a strong kinako mochi fragrance – smelling just like the actual mochi dessert itself. The drink also had a light brown colour, reminiscent of milk tea. 
The kinako mochi drink had an incredibly sweet and creamy taste. You could even taste the distinctive sweetened kinako flavour. For mochi lovers and sweet tooths, this drink would be easy on the taste buds and a drink you would fancy.  
This limited-edition drink could be found in MINISTOP stores in Japan during a short period of time in 2017 and it cost only ¥168 (~USD1.59).
---
25. Pepsi Azuki
---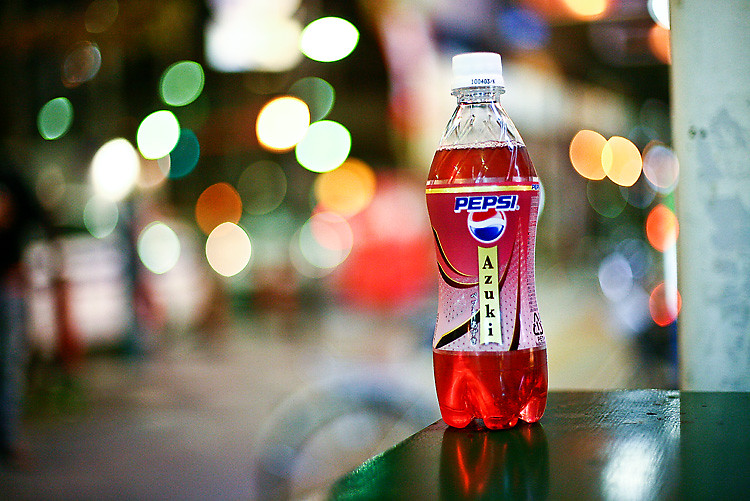 Image credit: Yuri 
In the autumn of 2009, Pepsi Japan launched the very first sweet red bean soda to have been produced in the country – Pepsi Azuki. With a clear red colour, the cherry-coloured drink was sold in local supermarkets and convenience stores.
True to its name, Pepsi Azuki had a strong and distinct red bean smell and flavour. Unfortunately, Pepsi Azuki was short-lived.  It was not as well-received as Pepsi Japan had expected it to be when they introduced it in Japan, the country that has produced many well-loved azuki dishes such as taiyaki – a fish-shaped waffle with sweet red bean paste.
---
Weird Japanese Drinks
---
At first sight, these weird Japanese drinks may raise a few eyebrows. But remember not to yuck on someone else's yum, as some of these drinks are highly sought-after, nice-tasting, and even healthy. 
Also check out:
---
Cover image adapted from: RocketNews24, Carousell, Motsukedaon
Additional reporting by Ong Shi Han.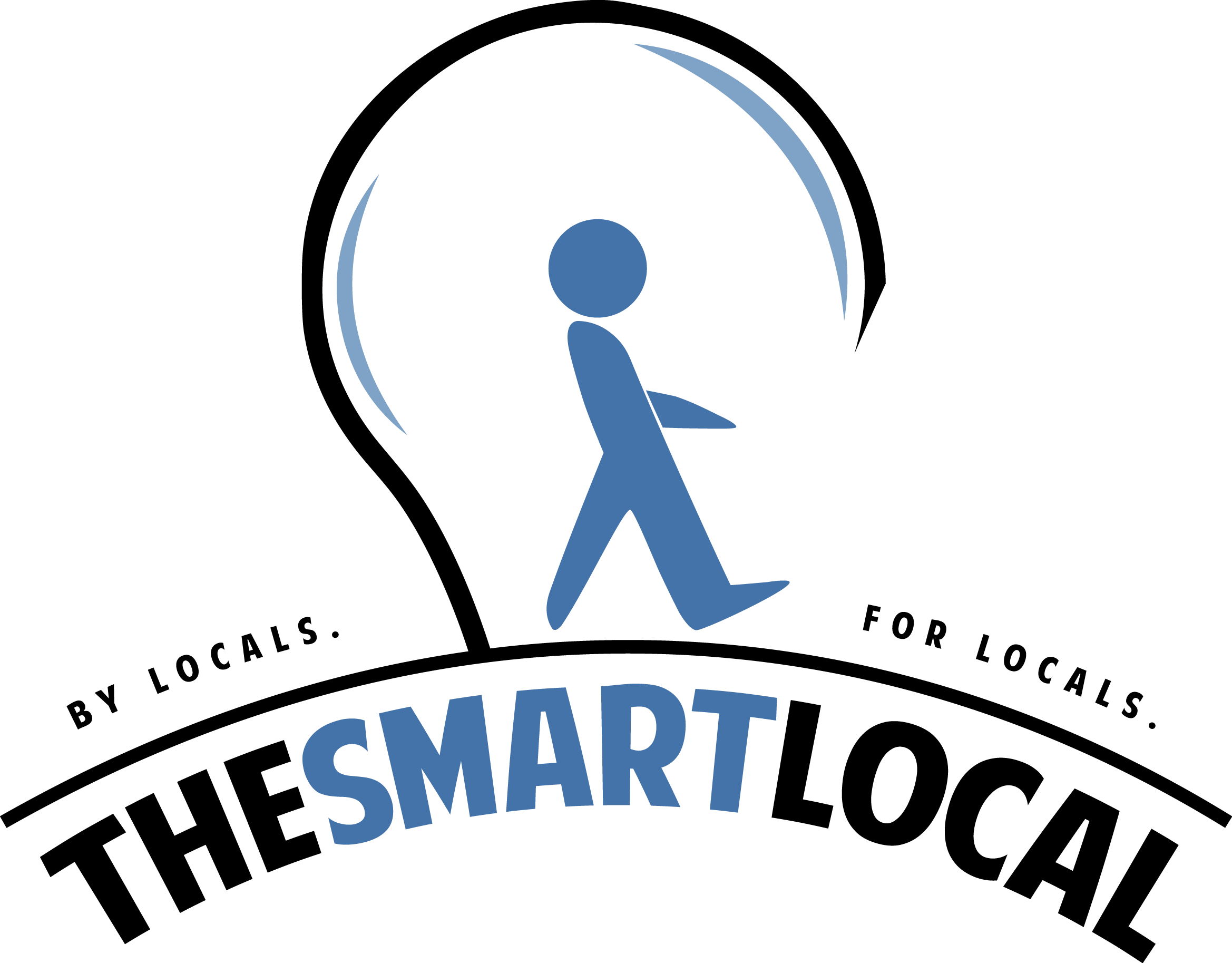 Drop us your email so you won't miss the latest news.