Gorgeous beaches in Japan
---
If you're visiting Japan in the summer, you're in for a treat. The archipelago has no shortage of beaches that are incredibly scenic and offer everything from peaceful oceanfront solitude to a lively atmosphere fit for adventure-seekers and families. 
Here are 10 beaches in Japan that will leave you in awe at the country's coastal beauty.
---
1. Shirahama Beach: visit a red torii and Shirahama Shrine 
---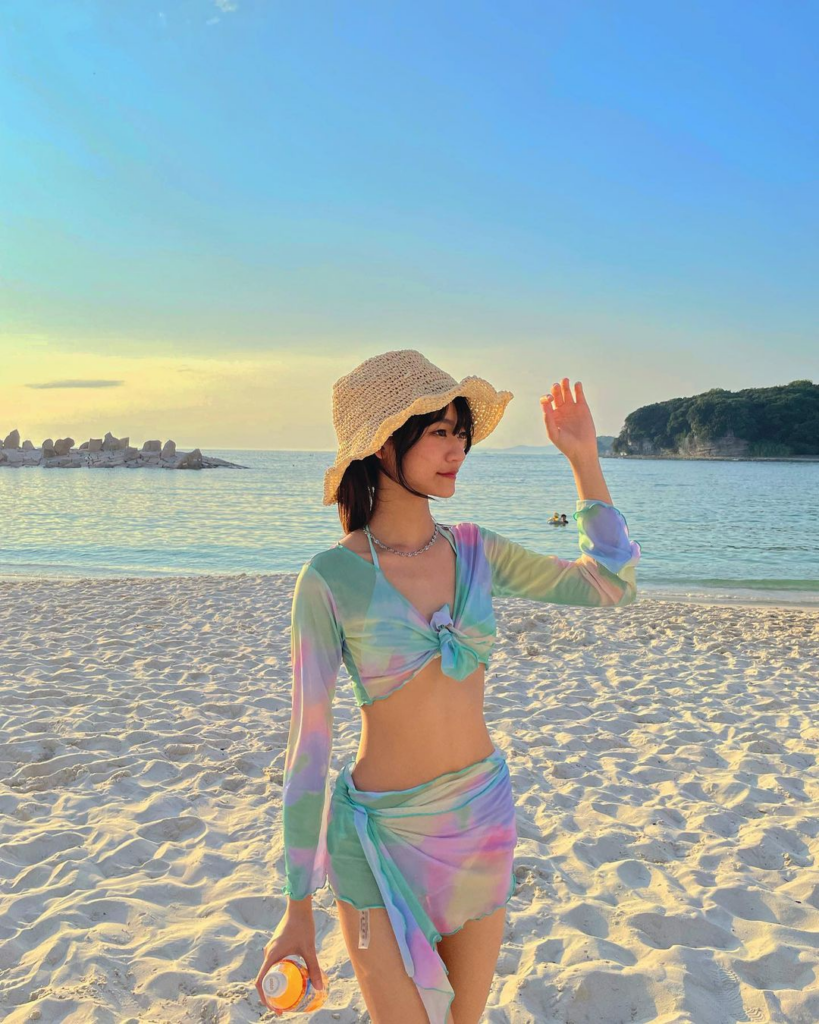 Image credit: @quoclap203
Shirahama Beach is one of the most famous attractions of the Izu Peninsula in Shizuoka Prefecture. The beach is visitor-friendly, with convenience stores, food options, showers, and even an onsen nearby. But the main reason why people visit is tied to Japanese culture and history.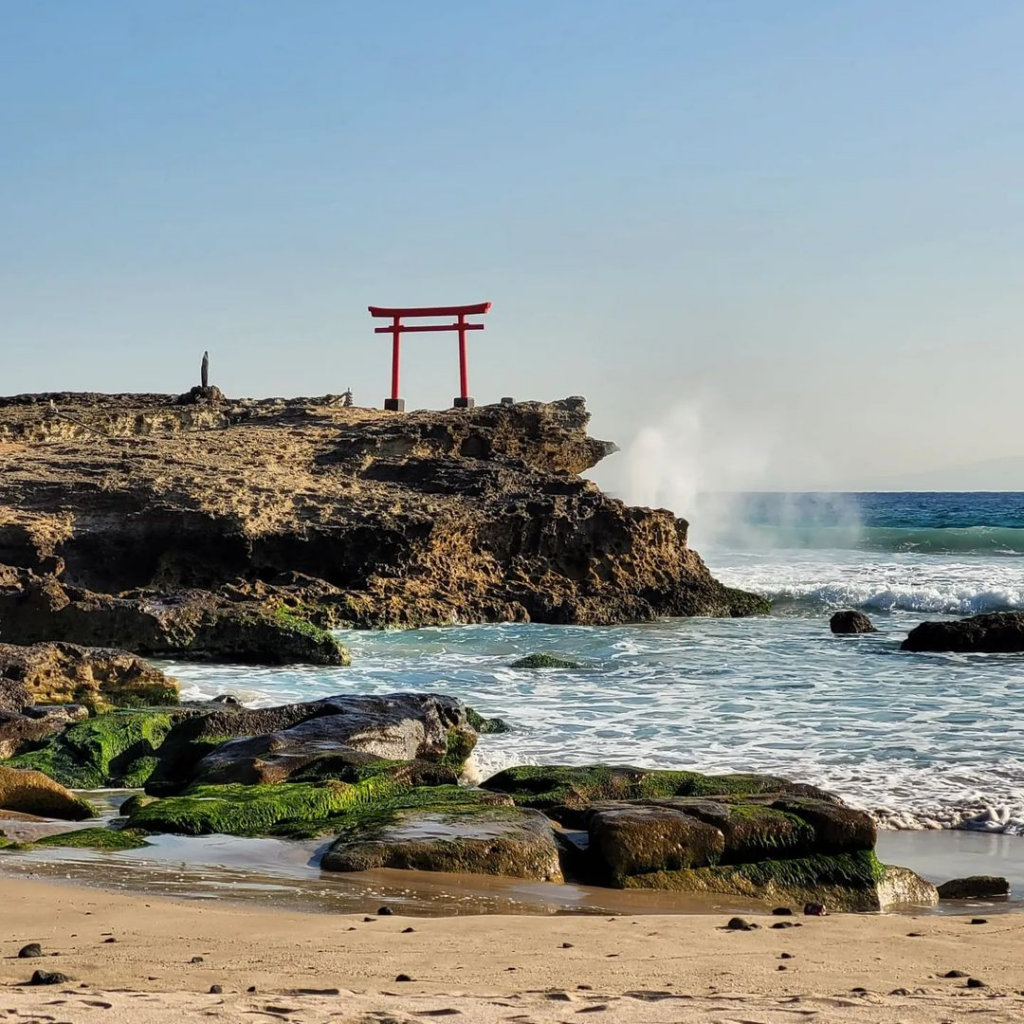 Image credit: @drea_blu
Spot the striking red torii on a sea cliff, which complements the blue waters and golden sand – it's a beautiful sight for visitors.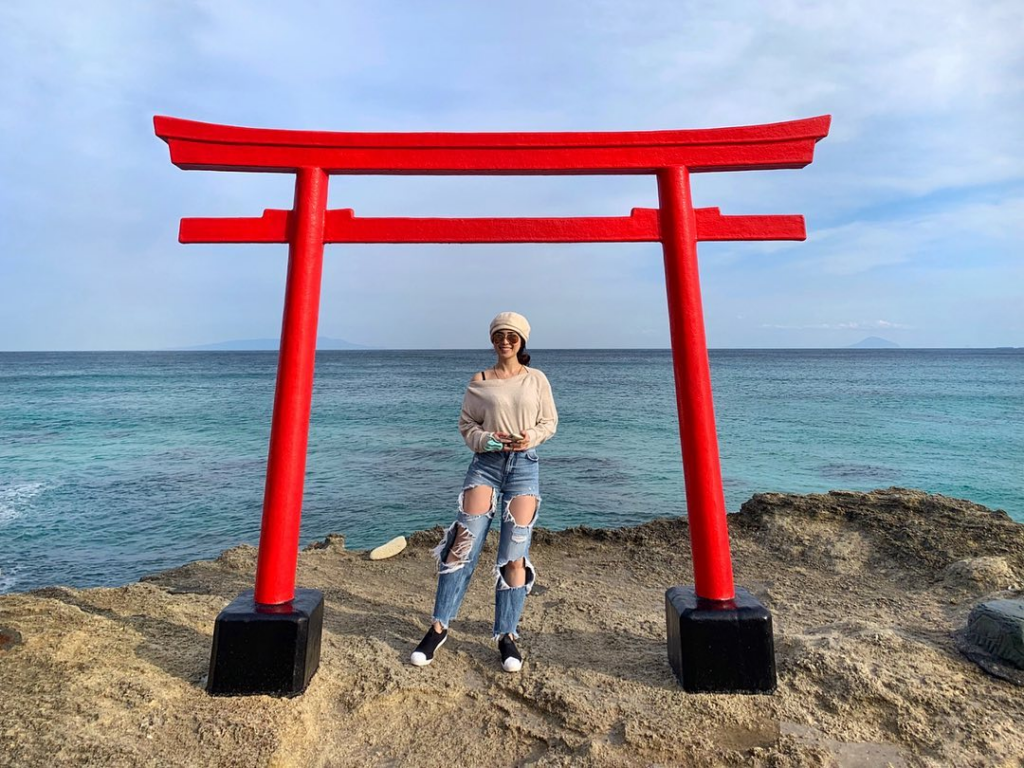 Image credit: @renatamiasato
Climb the cliff to get a photo with the torii, with a gorgeous view of the sea as the backdrop.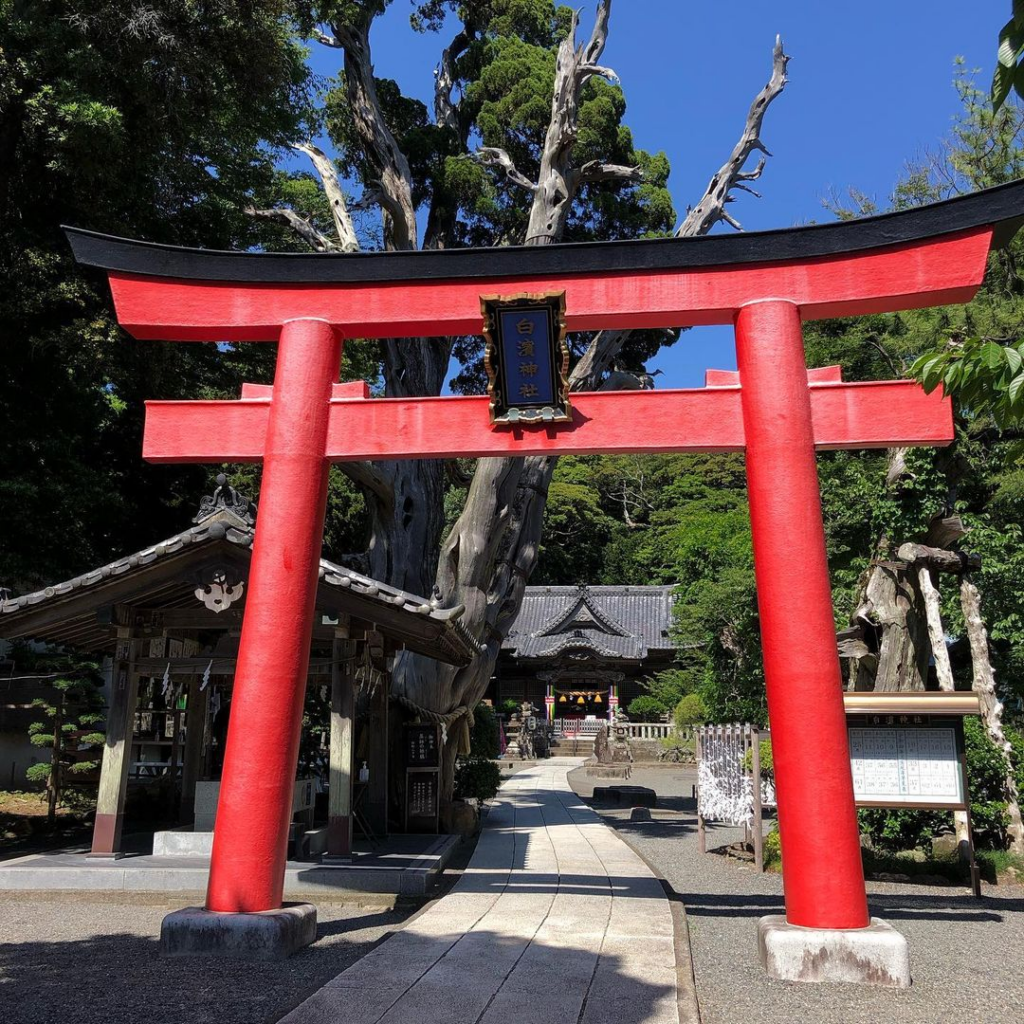 Image credit: @mimi_harmoniousmind
Walk northward up the beach to spot another torii that will lead you to Shirahama Shrine.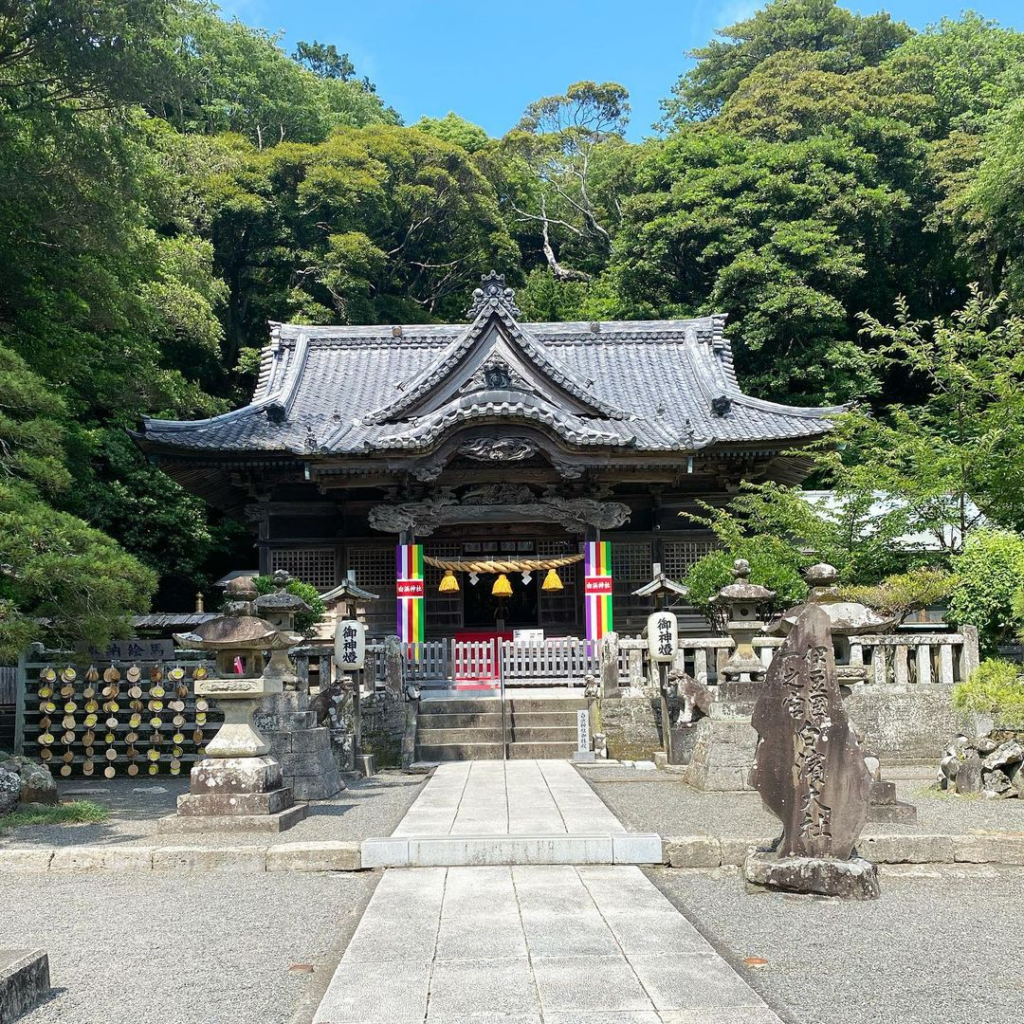 Image credit: @organic_hemp_nana
The shrine has a history spanning over 2,400 years and houses statues of 5 gods whom locals pray to for happiness, health, success, and more.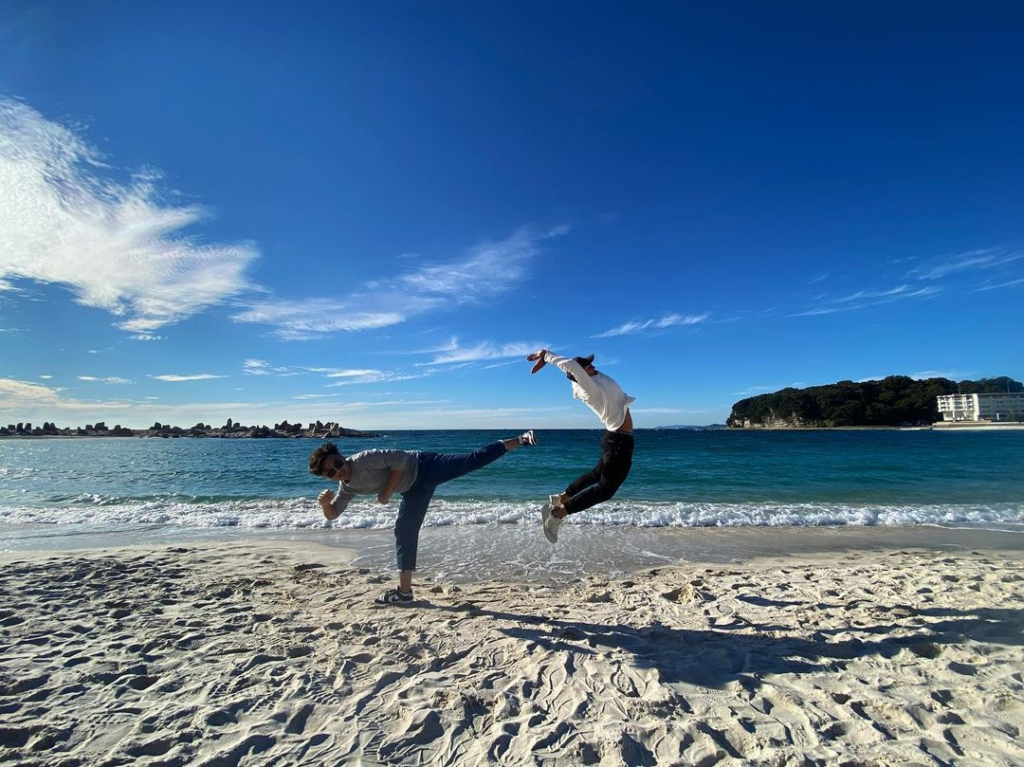 Image credit: @ryantin0516
This shrine makes Shirahama Beach great for people who want to surf, snorkel, chill, and also discover history. It's a popular beach, so make sure to get there early to avoid the crowds.

GPS coordinates: 34° 41′ 23.351'N" 138° 58′ 19.787"E
---
2. Jodogahama Beach: become an expert explorer
---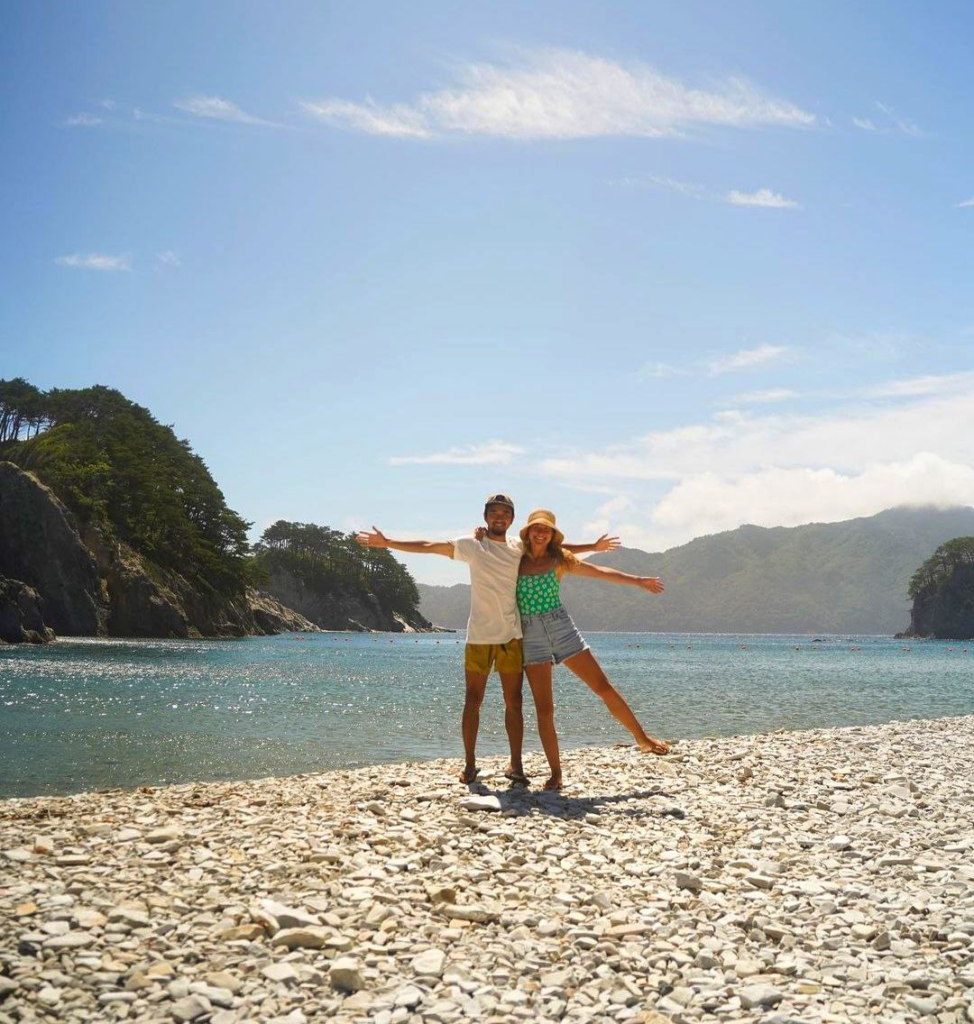 Image credit: @outdoor___journal
If you're adventurous, Jodogahama Beach awaits with lots of hidden wonders ready to be discovered by visitors. Known for its white pebble shoreline, deep blue sea, and neighbouring green pines, Jodogahama Beach lives up to its name that means "Pure Land", a Buddhist concept of paradise.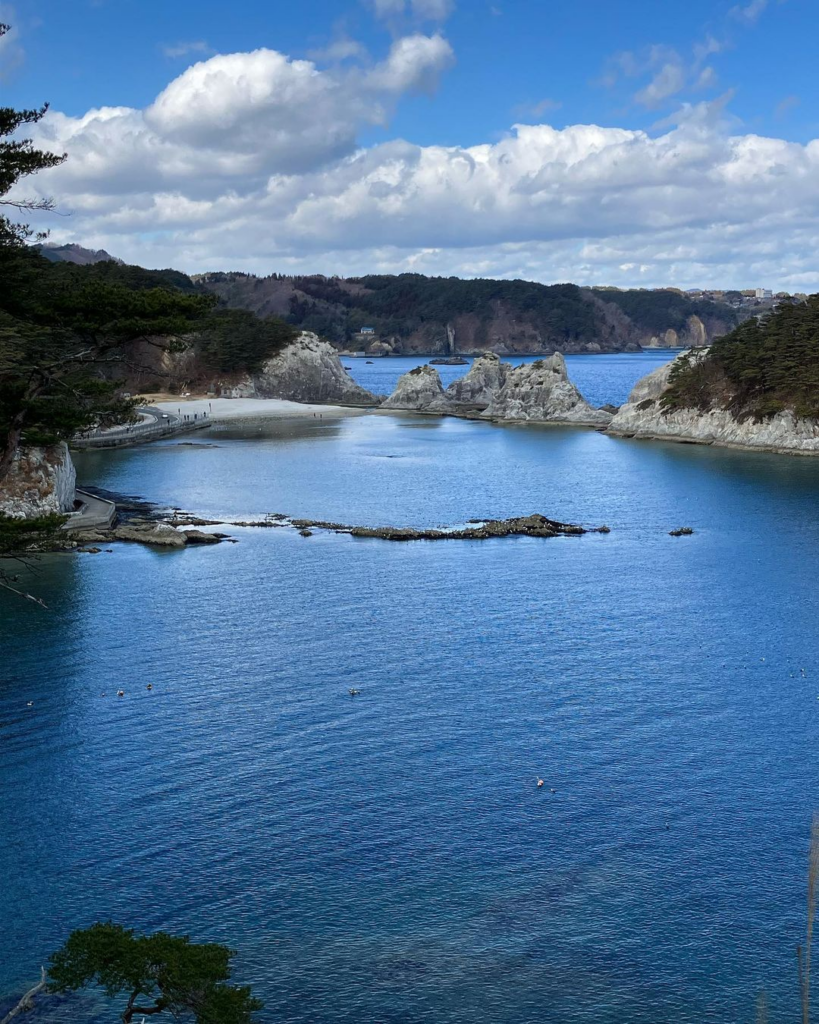 Image credit: @kobuta_chan_000
Explore the area surrounding Jodogahama Beach, and take one of the many walking trails here to find a visitor centre, boat piers, viewpoints, and even a fishery museum.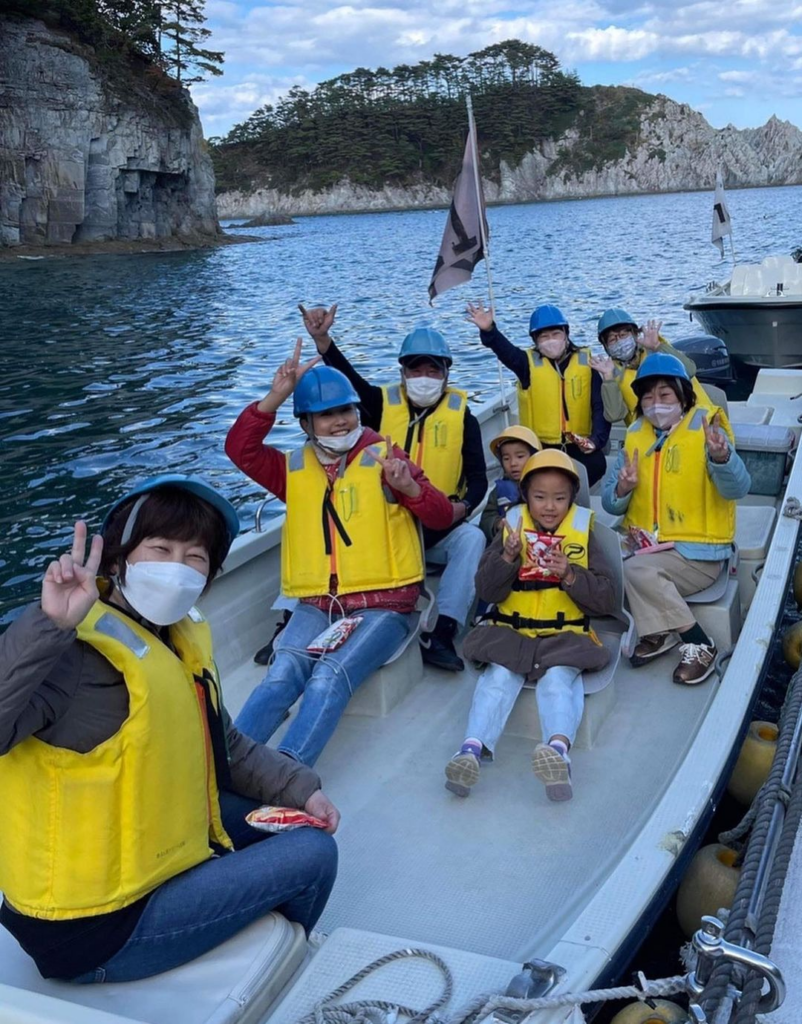 Image credit: @ritsuko_anpan
There are even boat tours available to get you around the jagged, rocky islands off the coast of Jodogahama.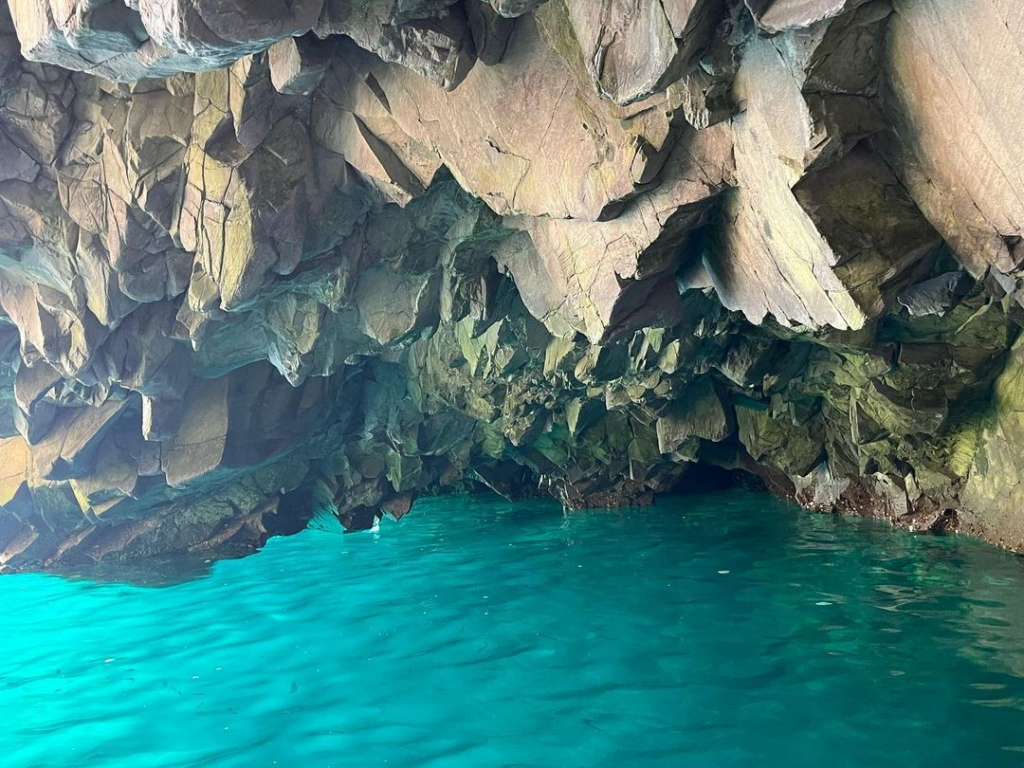 Image credit: @yuratsuki25
The tour takes you to the famous Hachinoheana, also known as Blue Cave. See the rock formations of the cave up close, and check out the blow-hole in the cave – it's said to bring you good luck if you see it erupt.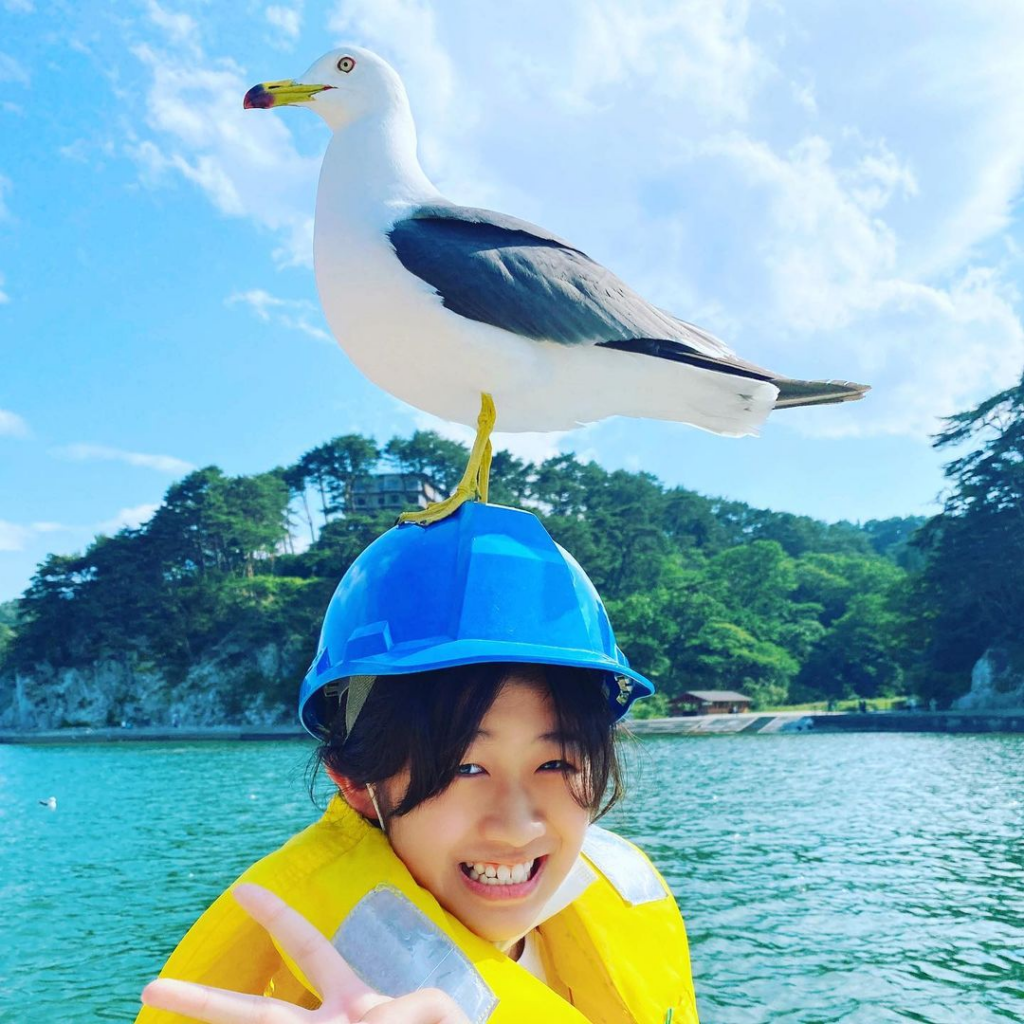 Image credit: @natsuko_okada
You will also be able to meet seagulls and even feed them here. There's a chance they'll land on your head too!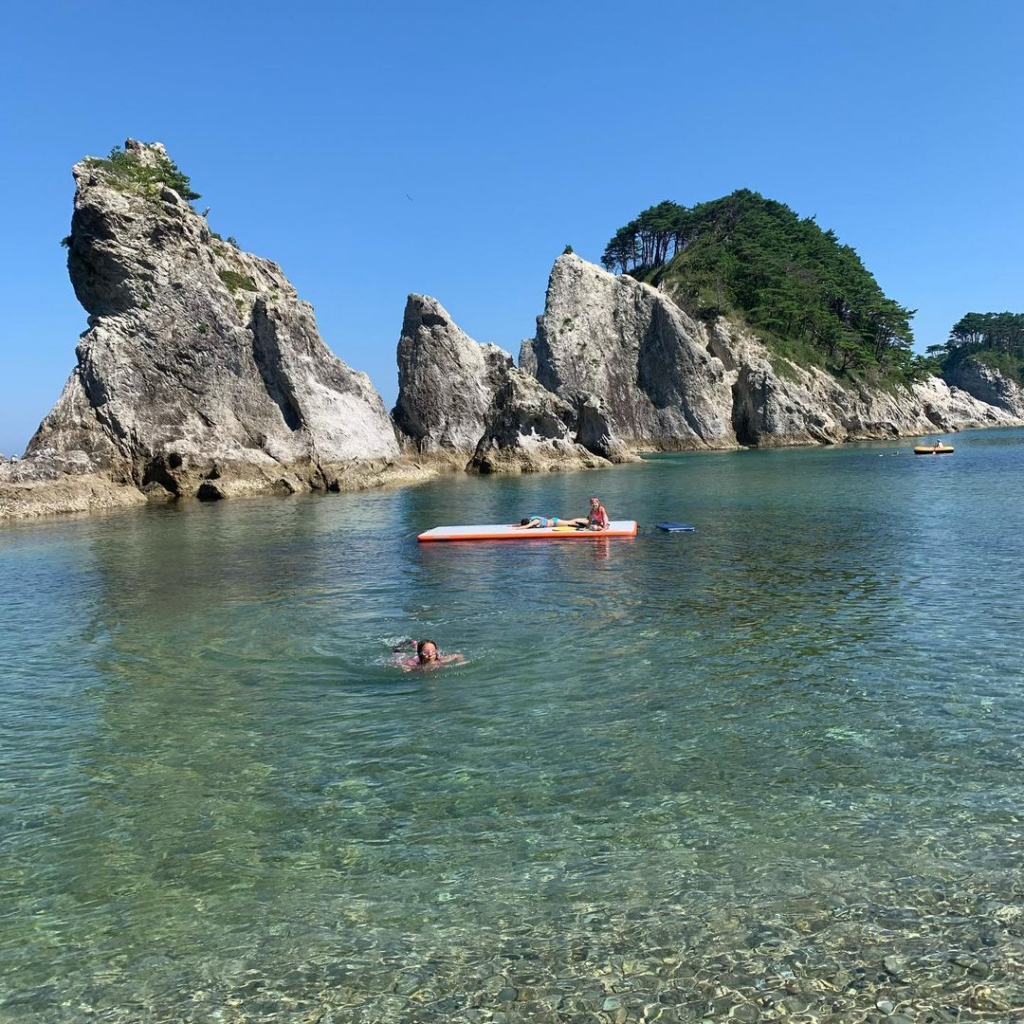 Image credit: @nate0eight
Otherwise, rent canoes or boats to explore the water at your own pace and you may spot crabs and small fishes in tide pools near the beach.
GPS coordinates: 39° 39′ 8.6142″N 141° 58′ 43.608″E
---
3. Sunayama Beach: aesthetic sights for your OOTD
---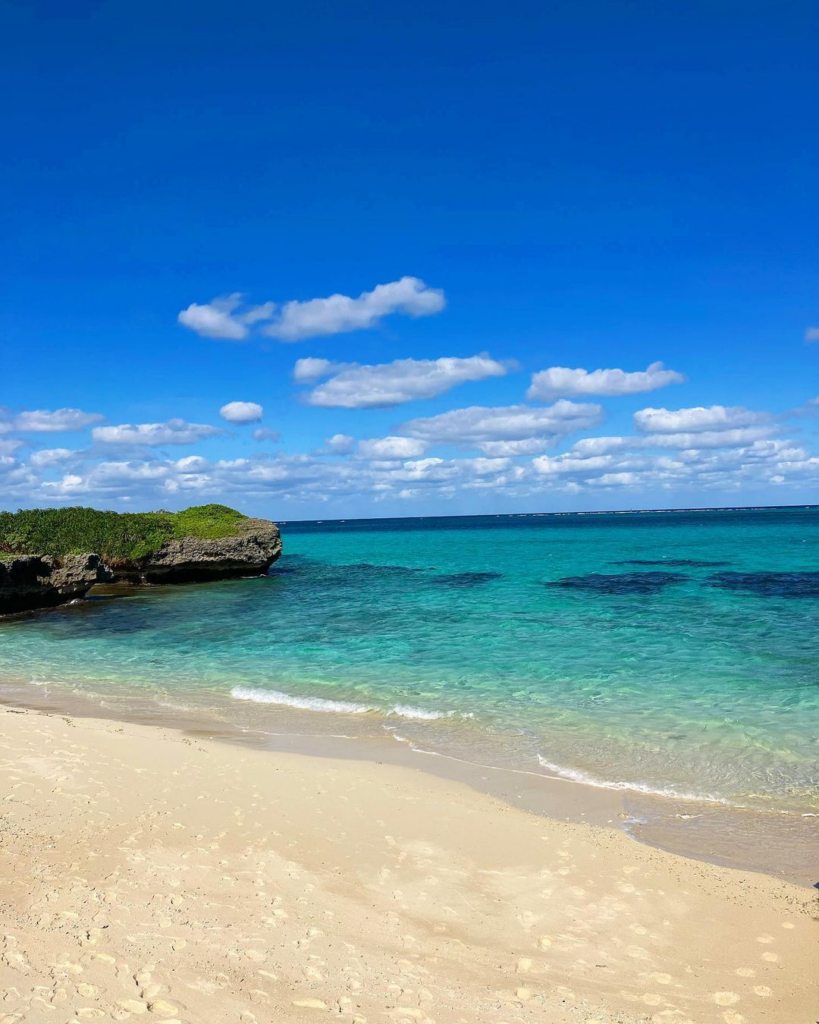 Image credit: @crystalvilla_sunayamabeach
In the north of Miyako Island lies Sunayama Beach, a popular beach loved by both locals and tourists. It boasts amazing photo ops, so be sure to check this out when you're in Okinawa.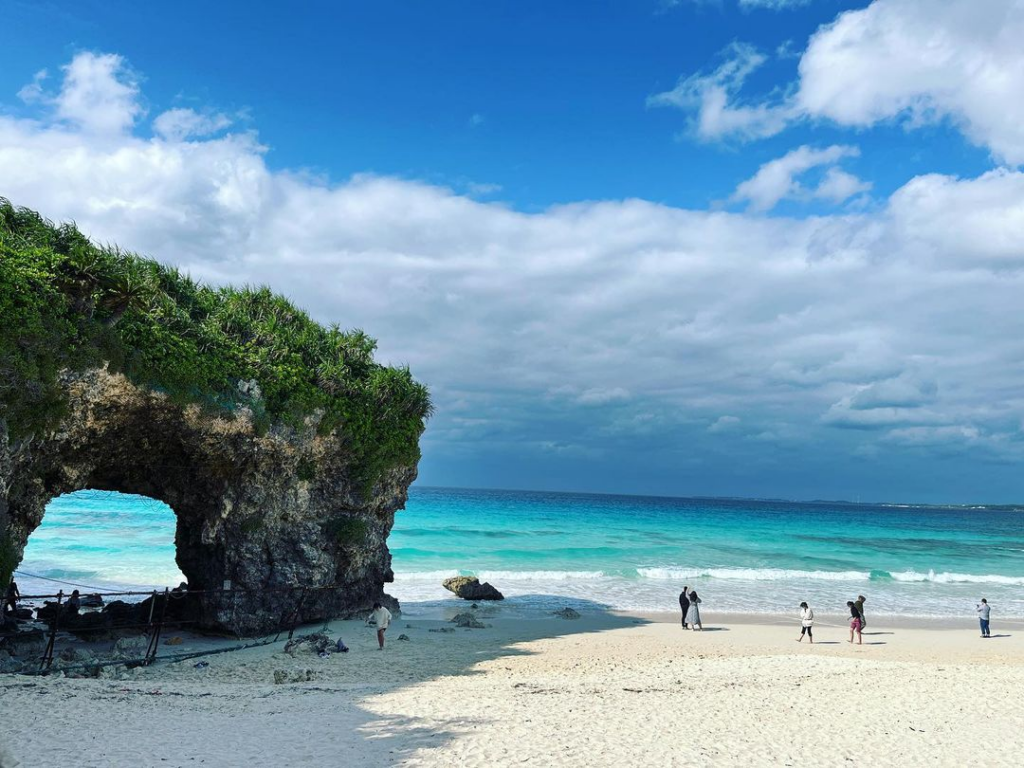 Image credit: @makky17
The most distinct feature of the beach is a rock arch on the sand. Over the years, the erosion of exposed coral reefs has created the magnificent structure.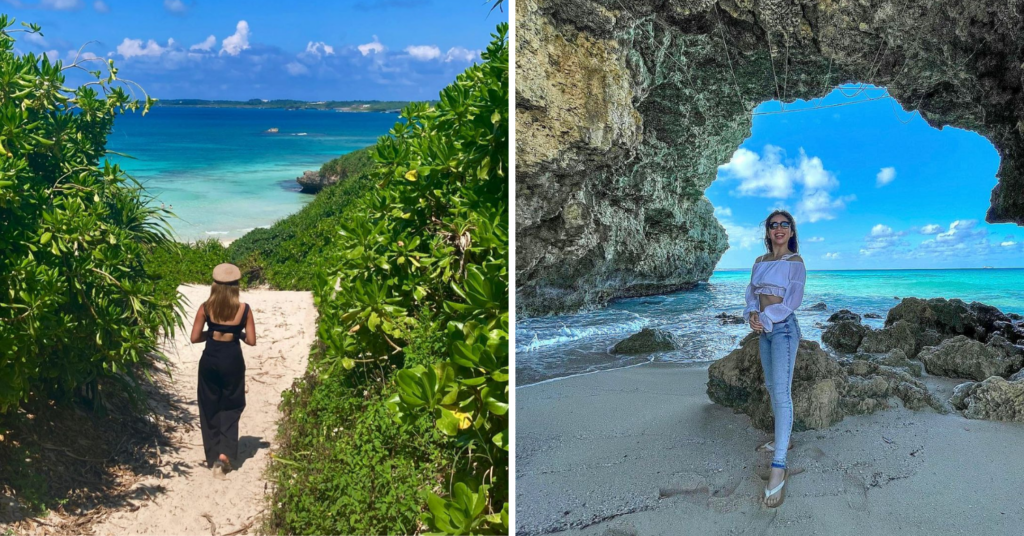 Image credit: @lulururah, @kyamoshita 
Before making your way to the beach, walk through a white, sandy pathway lined with plant life on the sides. The view of the sea beyond the path makes it seem like a scene right out of a drama. You can use the rock arch to frame your shot as well.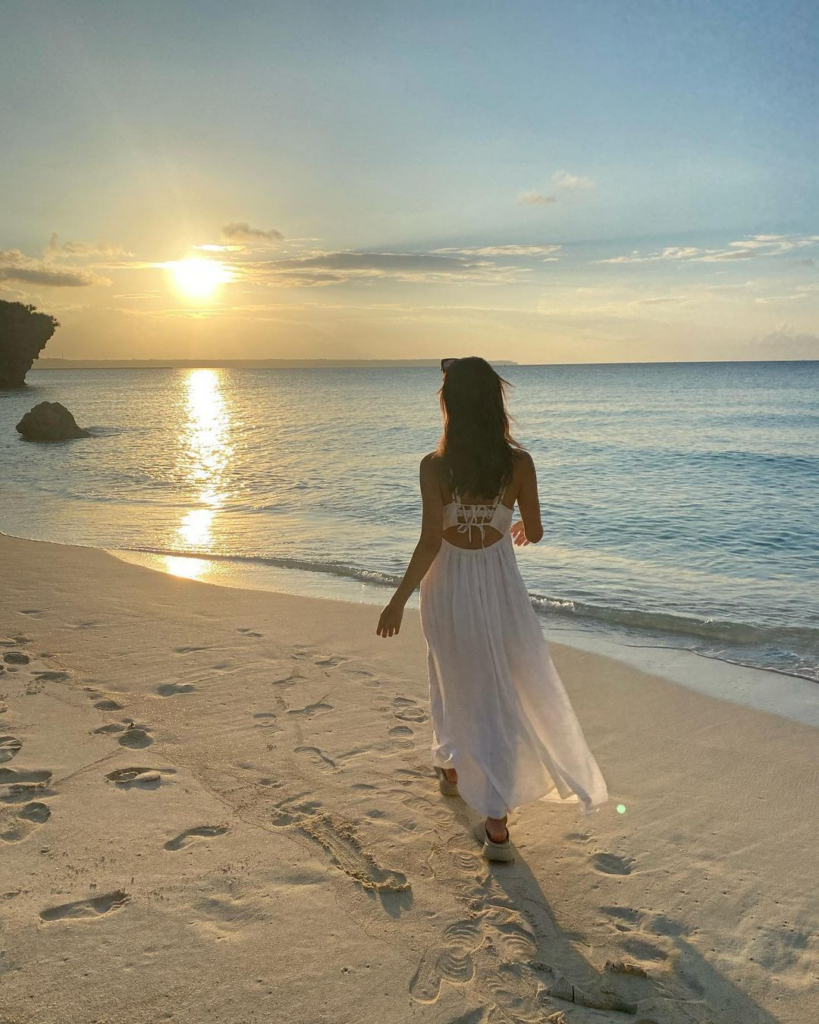 Image credit: @ekalxem
Sunayama Beach also offers amazing sunsets, perfect for couples who want a little romantic vibe.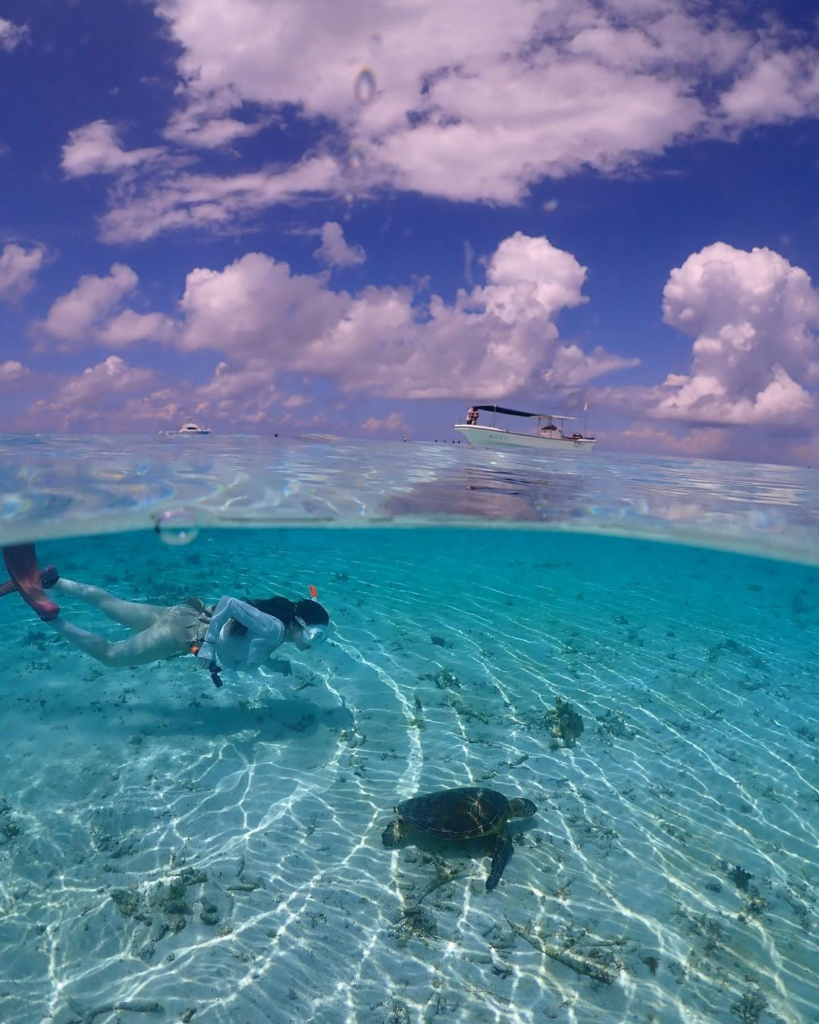 Image credit: @guesthousekoa
This is regarded as a good diving and snorkelling destination as divers here have spotted sea turtles, whale sharks, manta rays, and various fishes in the water.
GPS coordinates: 24° 50′ 22.8402″N 125° 16′ 50.2314″E
---
4. Furuzamami Beach: for beginner-friendly snorkelling experiences
---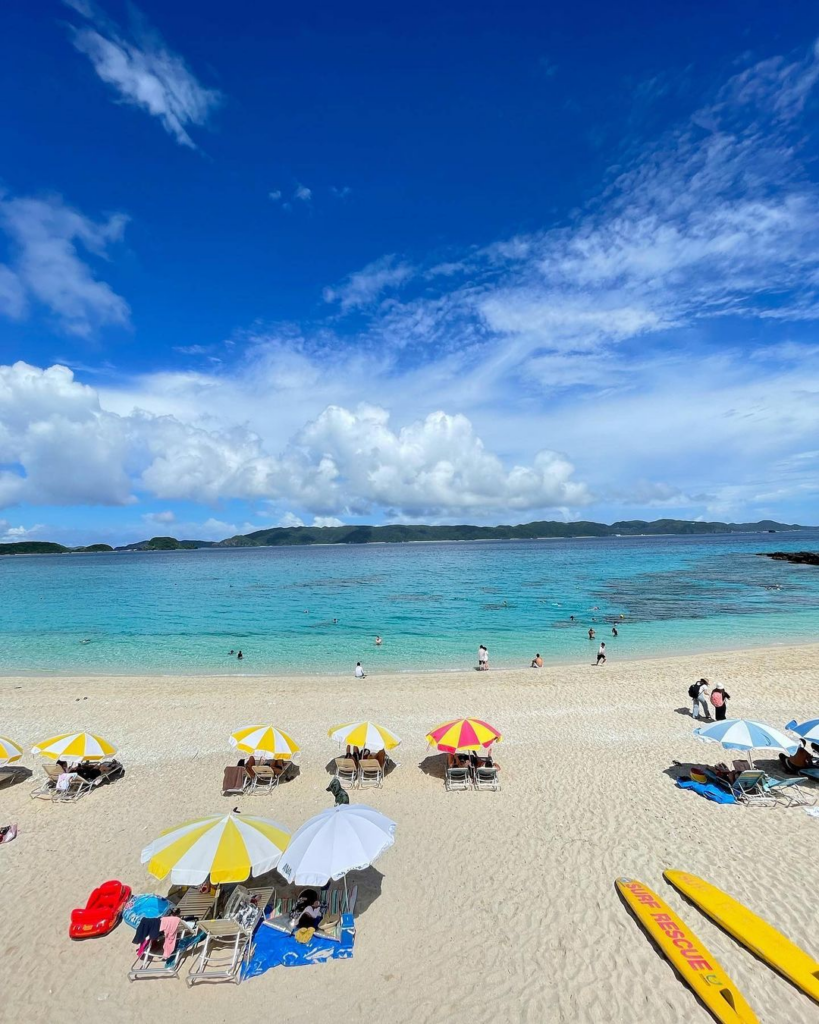 Image credit: @racerx268
Located on Zamami Island, Furuzamami Beach is a wide beach with tall, lush green hills that surround it.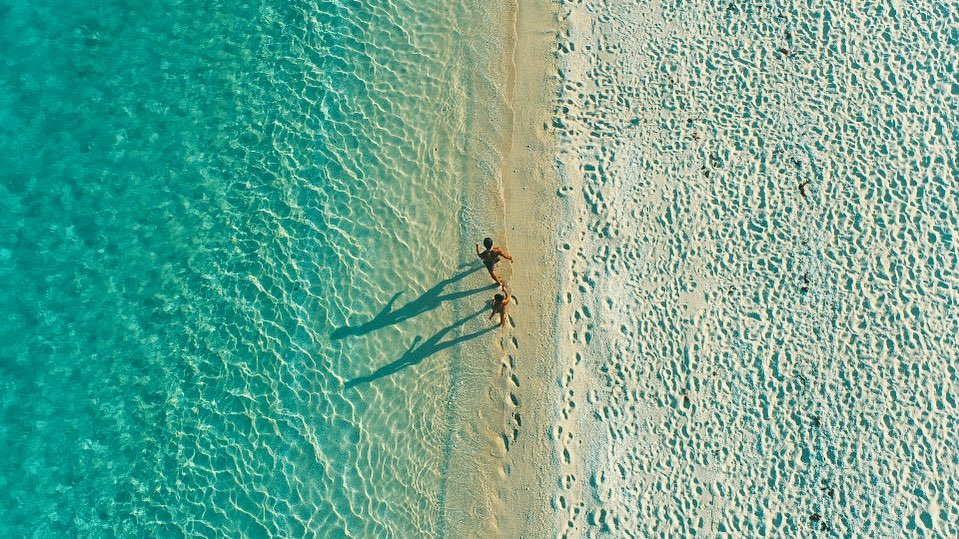 Image credit: @izuzuuuu
This beach was awarded 2 stars by Michelin Green Guide Japan as one of the most beautiful and cleanest beaches in Japan. As a result, many people flock to Furuzamami Beach during summer. But not to worry, the beach is 3km long, so there's enough space for everyone.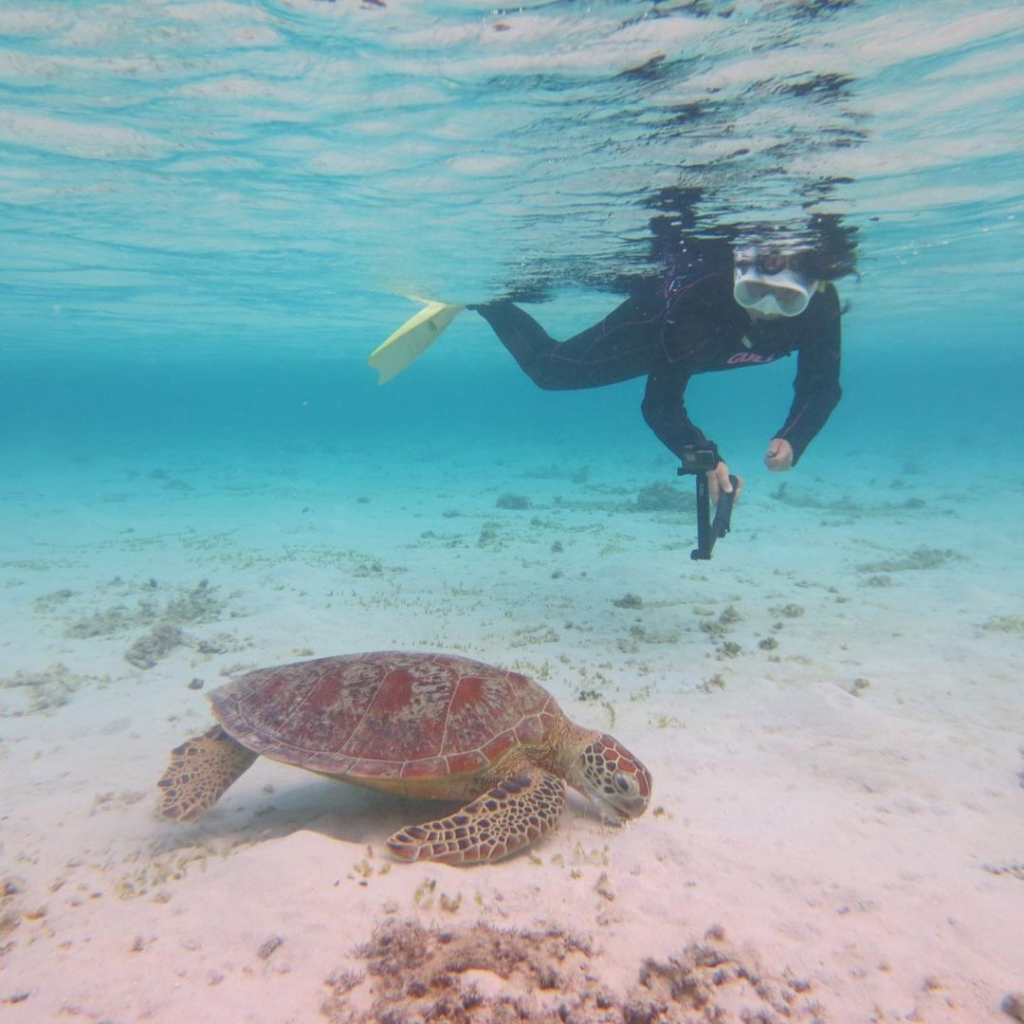 Image credit: @tomoko1122
Furuzamami Beach is a good place for beginners to snorkel, as you may be able to spot tropical fishes and other sea life that live in waters as shallow as 1m deep.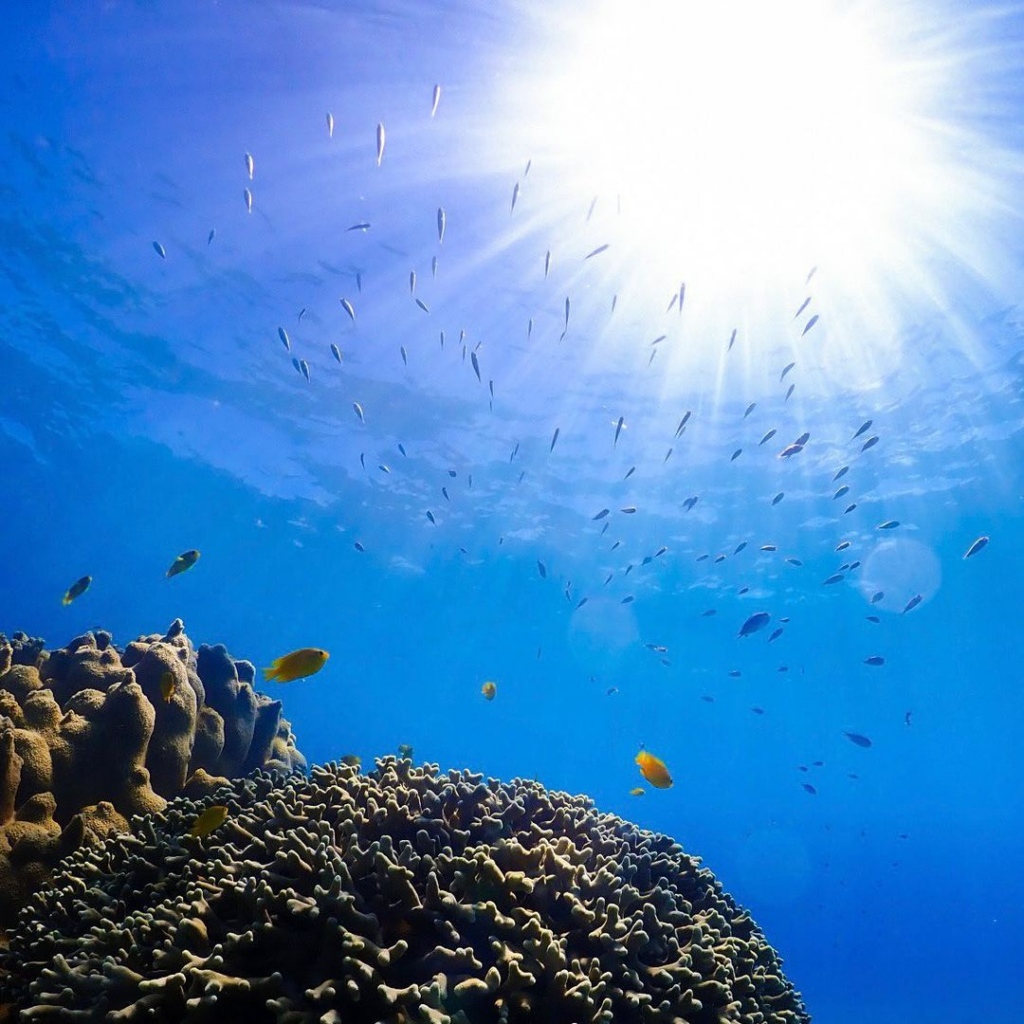 Image credit: @tmmx324
You will be greeted with tons of colourful coral reefs and sea creatures, so explore to your heart's content.
GPS coordinates: 26° 13′ 23.7678″N 127° 18′ 29.1954″E
---
5. Tokashiku Beach: get up close and personal with sea turtles
---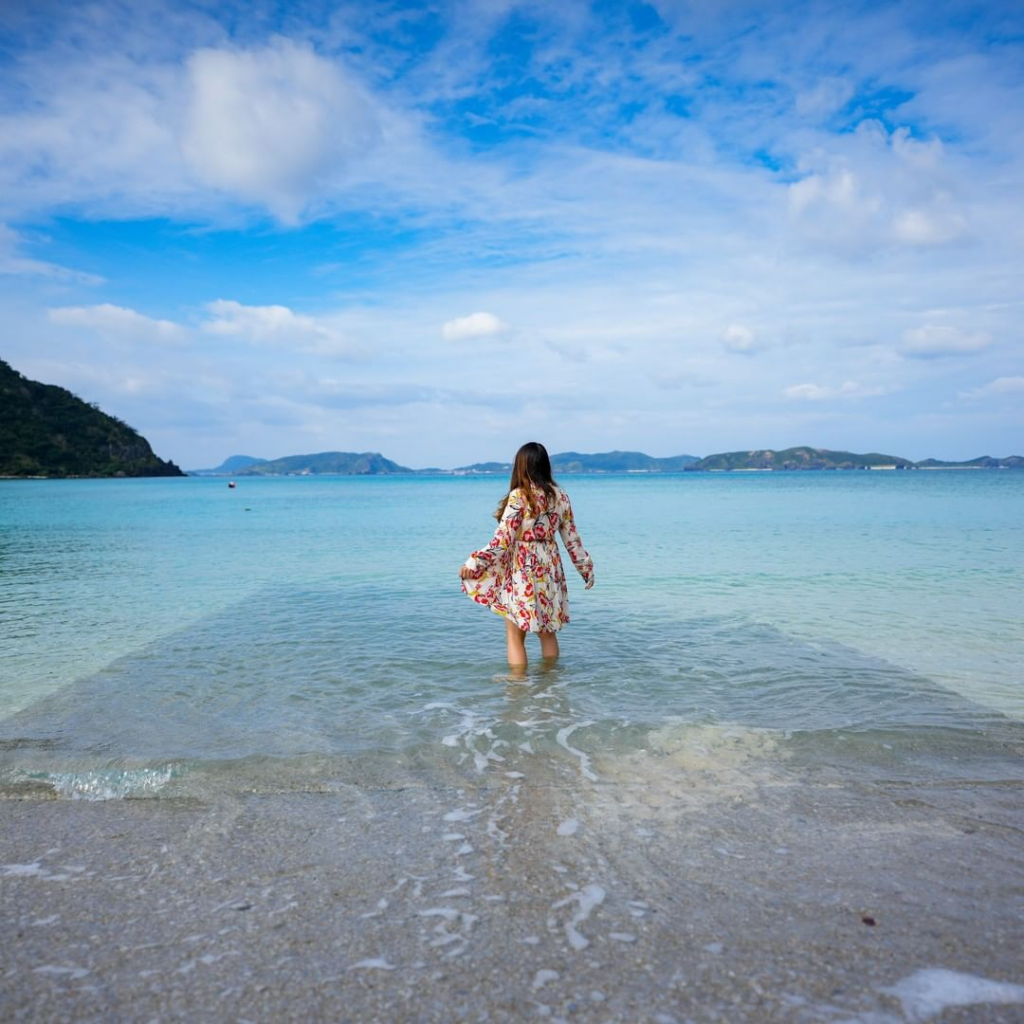 Image credit: @okinawa.365
Over on the Tokashiki Islands, there are two main beaches – Tokashiku Beach and Aharen Beach. Compared to the neighbouring Aharen Beach that is more frequented, Tokashiku Beach is quieter but equally worth a visit.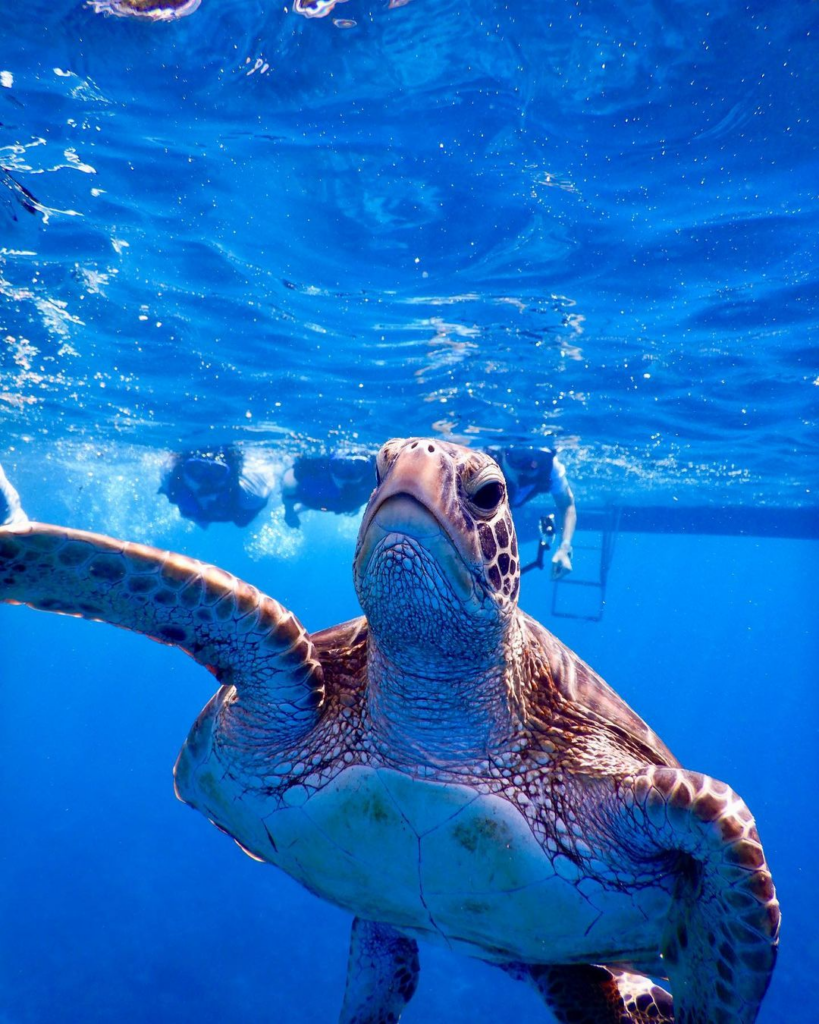 Image credit: @uchibaby17
Because of low human traffic, sea turtles come out to its shore more often, so there's a higher chance of visitors getting to see them.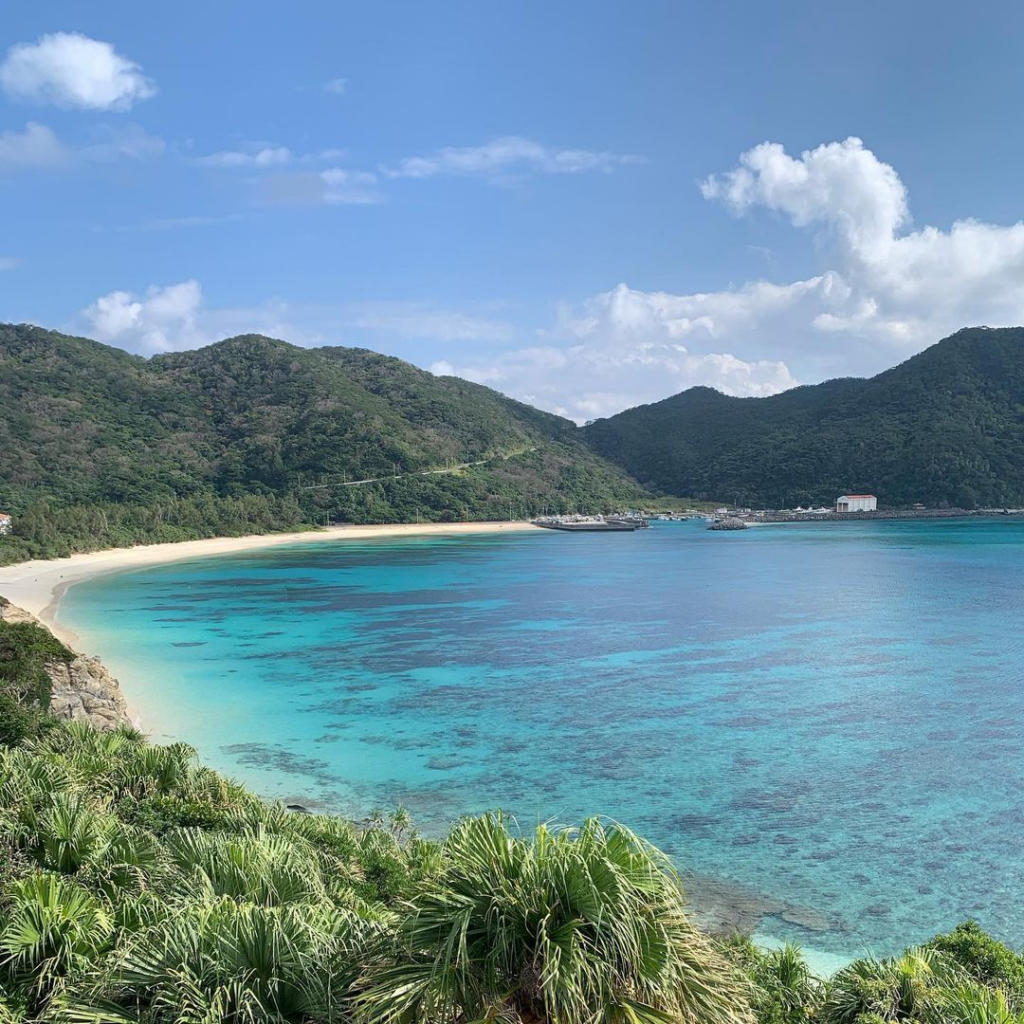 Image credit: @makio_0087
Here's a historical fact about Tokashiku Beach: it's where the US army landed when they invaded Tokashiki Island in World War II.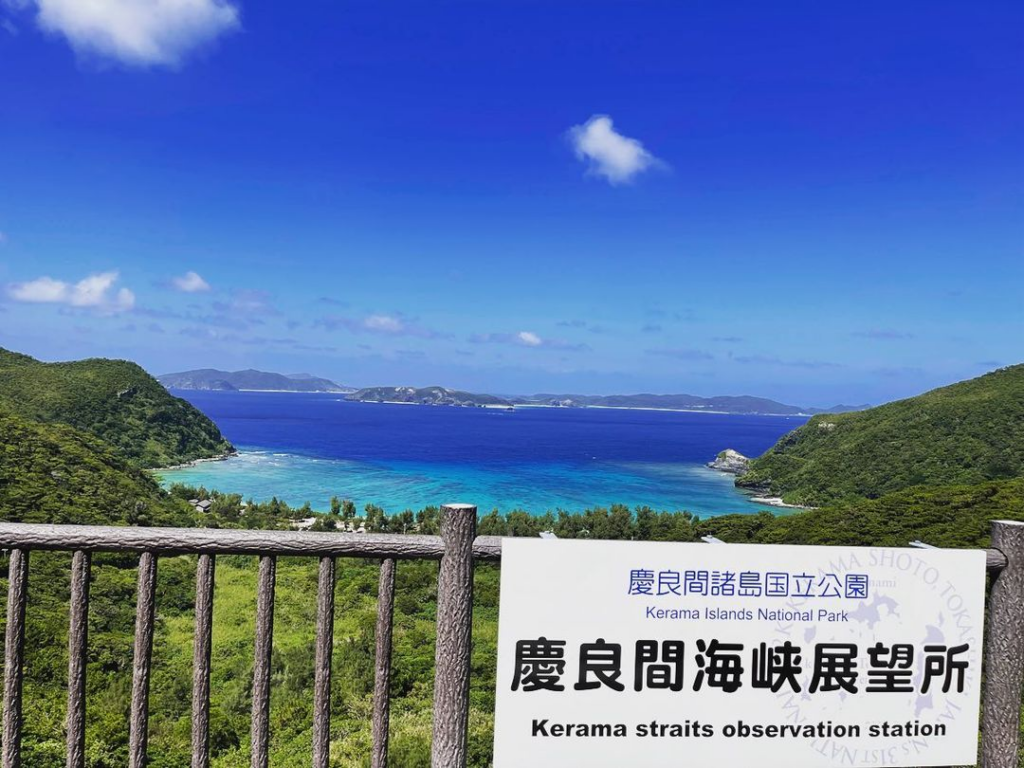 Image credit: @breakthrough_2023
If you have time to spare and a little more stamina after a day's worth of play, hike to a lookout point near the beach for a remarkable view to cap off your visit. Kerama Straits Observation Station is located between Aharen Beach and Tokashiku Beach, and here, you'll be able to clearly see the gradation of the water's colour turning from turquoise to cobalt blue.
GPS coordinates: 26° 11′ 10.788″N 127° 20′ 52.9434″E
---
6. Yonaha Maehama Beach: enjoy water sports
---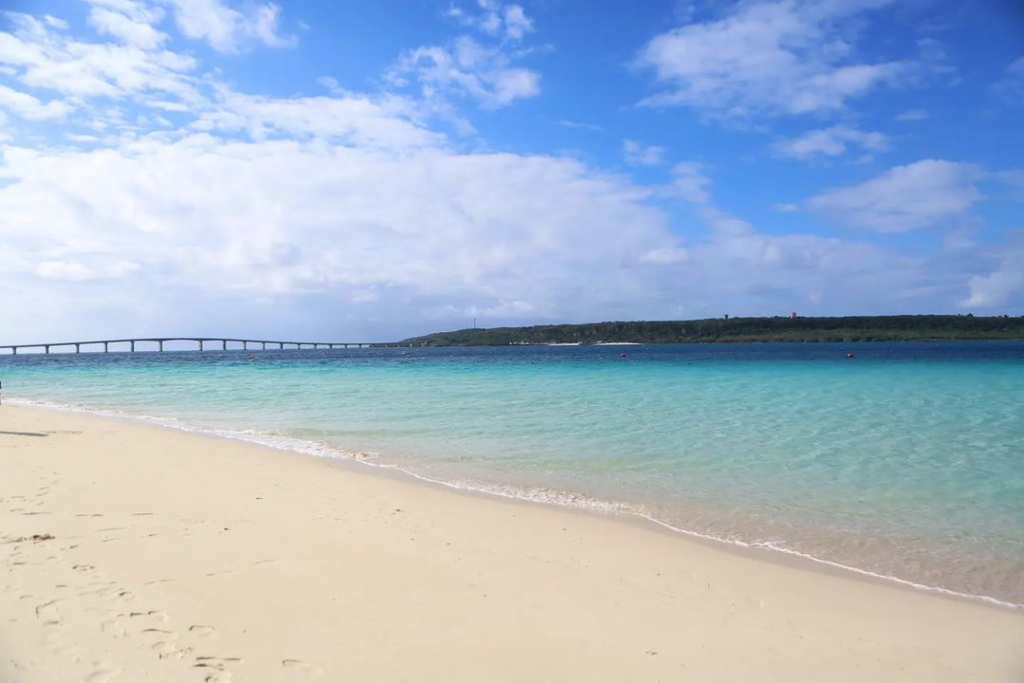 Image credit: @azzurrino_yy
Boasting a 7km shoreline, Yonaha Maehama Beach is a trendy and popular location for beach-goers. It is located on the southwest edge of Miyako Island and a great place to swim due to its low tides.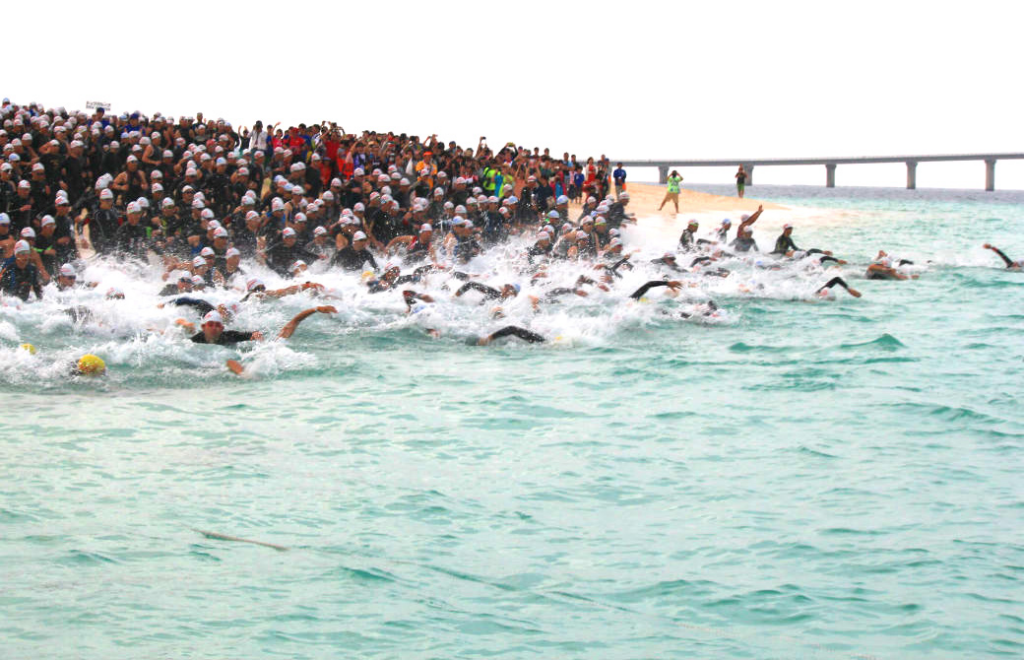 Image credit: Visit Okinawa Japan 
If you're a big fan of sports, Yonaha Maehama Beach is the place to be. The annual "Strongman" triathlon starts here, with triathletes all swimming on the beach before their cycling leg. So head here at the end of April to witness the amazing start to the triathlon.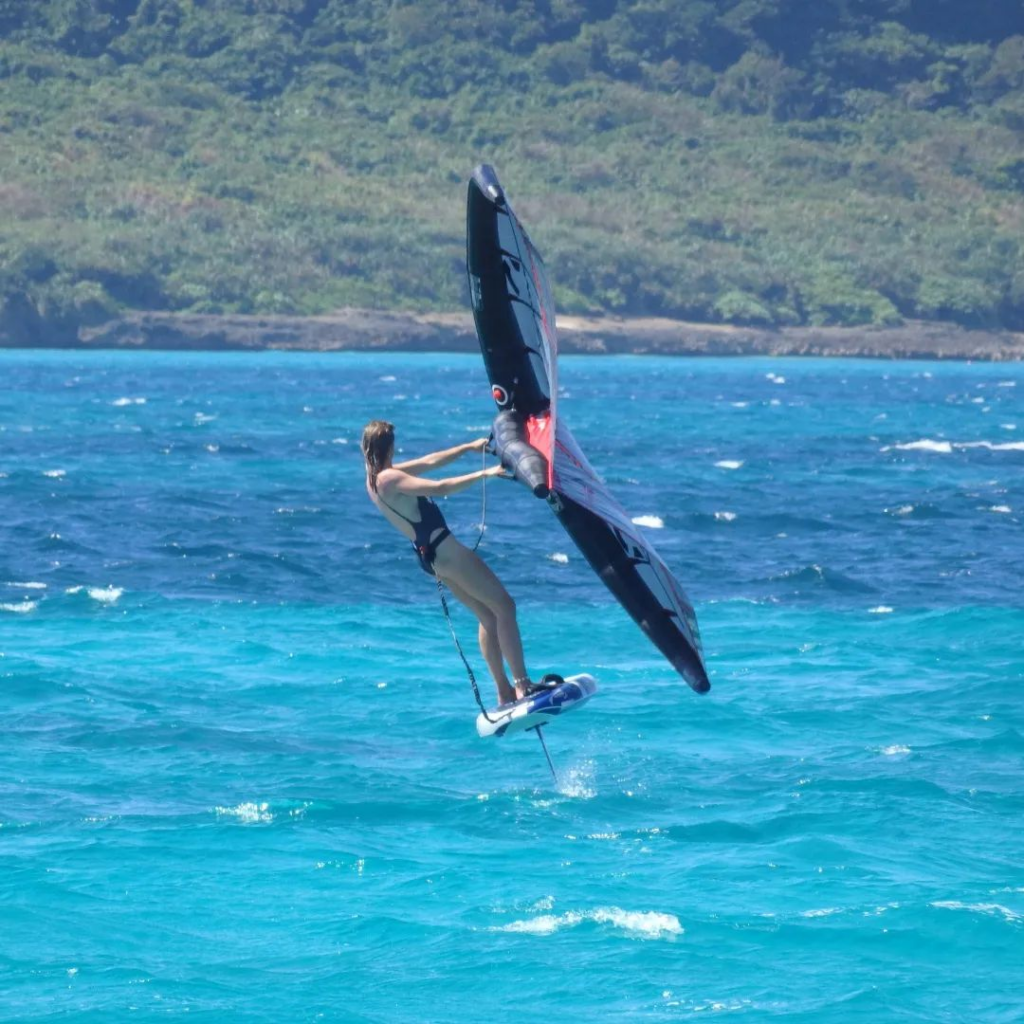 Image credit: @wind64y
Let the wind whip through your hair by attempting one of the many thrilling water sports available here – jet skis, banana boats, and more. Besides getting exhilarated, you'll be treated to a gorgeous view of the ocean too.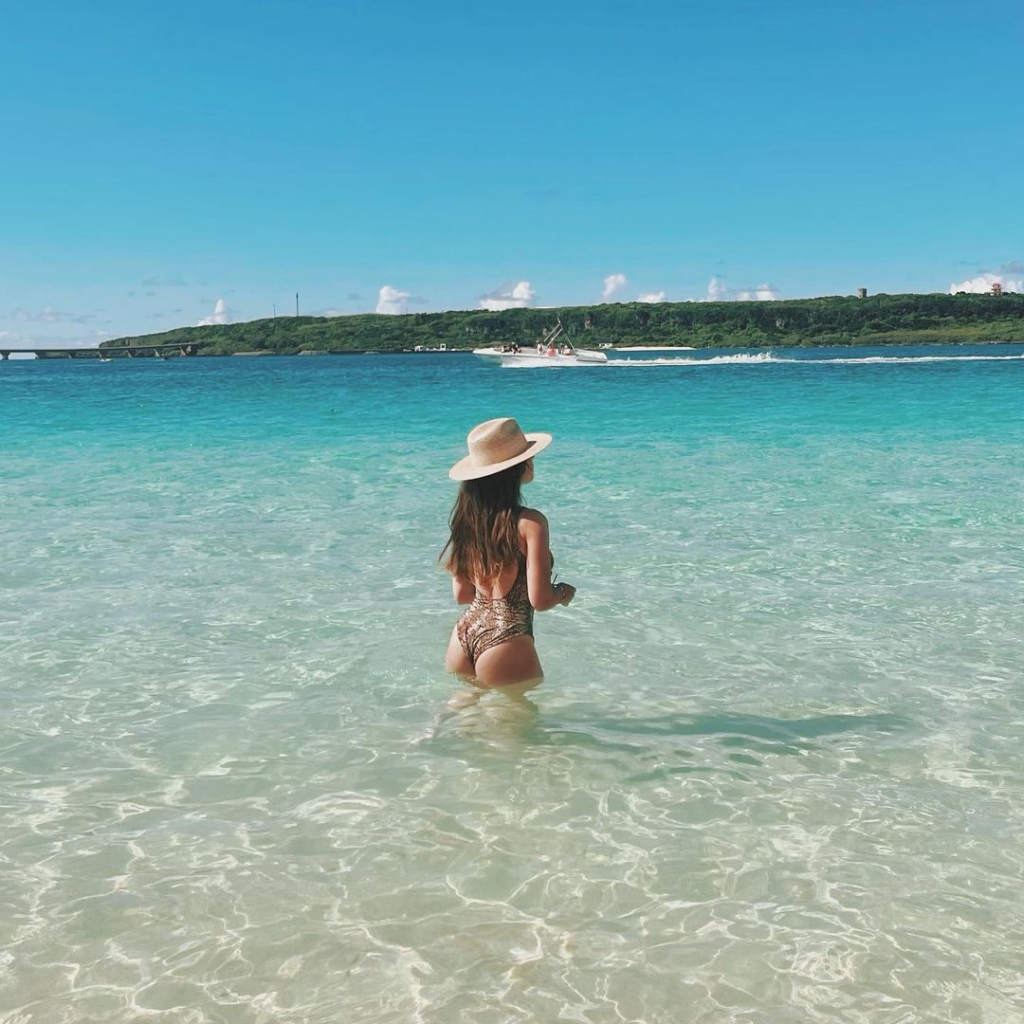 Image credit: @margointokyo
The beach has a view of Kurima Island, which is accessible by a 1,690m-long bridge connecting Miyako Island and Kurima Island.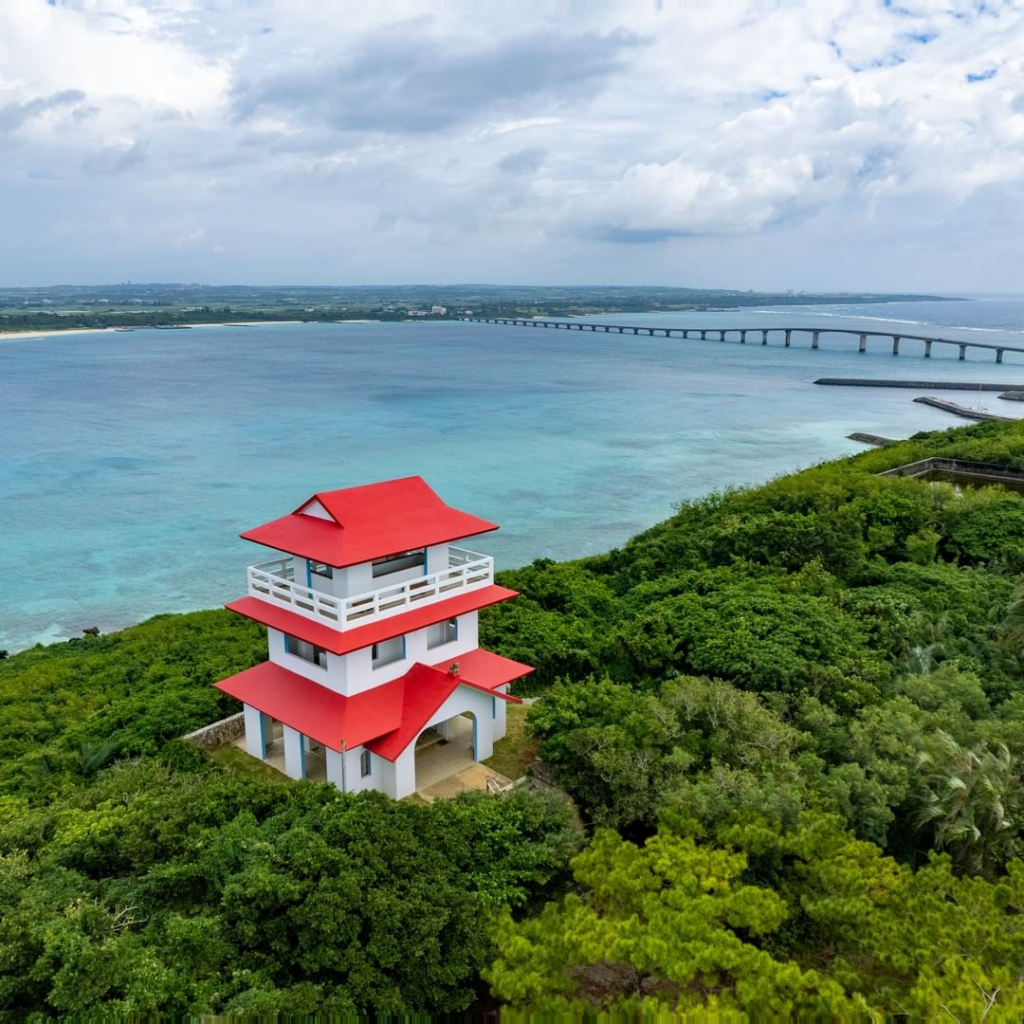 Image credit: @okinawa.365
If you have time, stop over at Kurima Island as it has many stylish cafes and the Ryugu Castle Observatory, from which you can see breathtaking views of the ocean.
GPS coordinates: 24° 44′ 8.7072″N 125° 15′ 47.0154″E
---
7. Tsunoshima Island: see the iconic Tsunoshima Bridge
---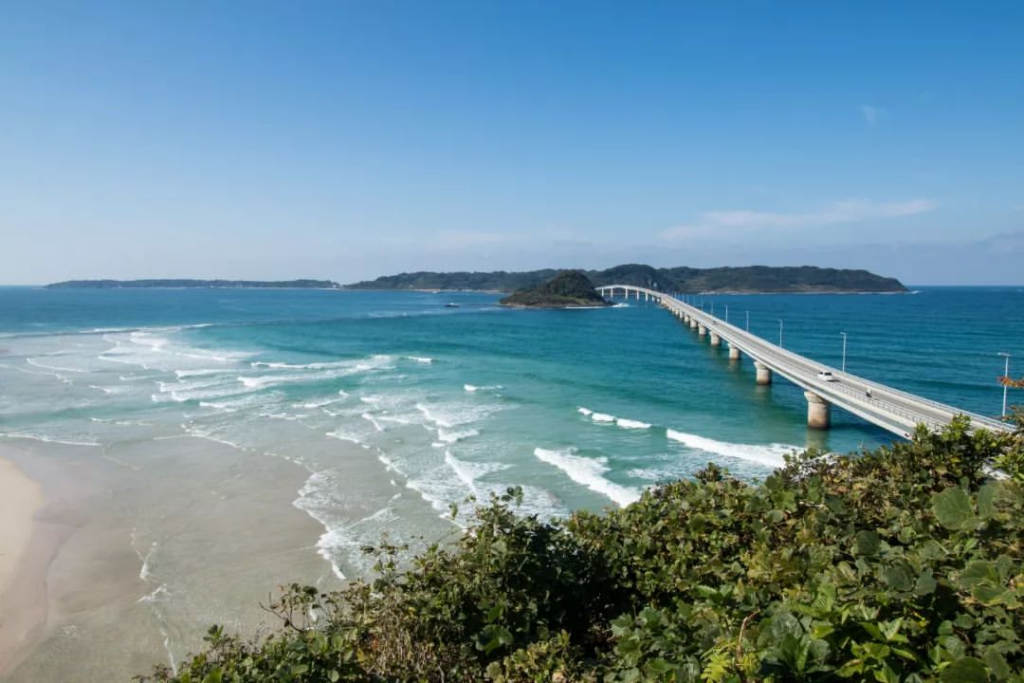 Image credit: @nihonnotamashii
Tsunoshima Island is connected to mainland Japan by the second-longest bridge in the country, which is 1,780m long. It is called Tsunoshima Bridge and there is no shortage of posts of this iconic bridge on Instagram.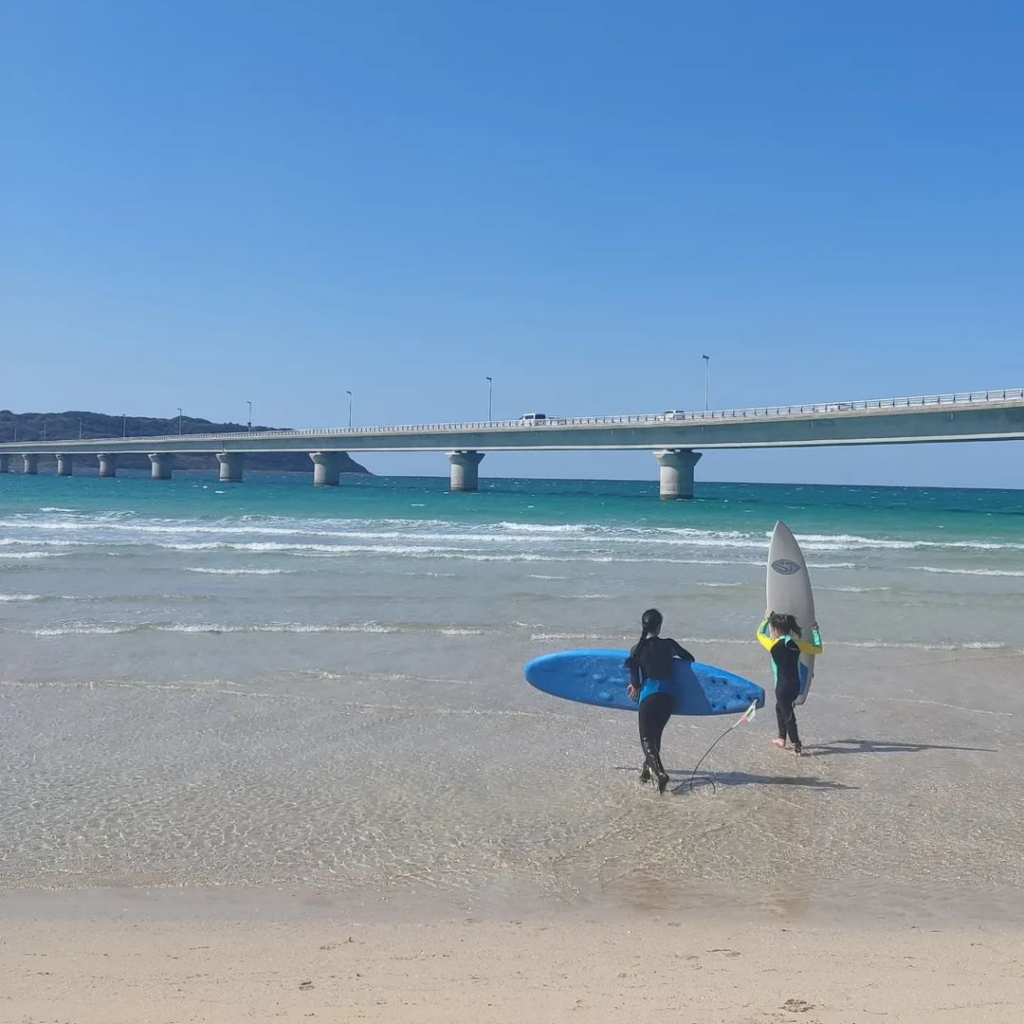 Image credit: @ito_yamamoto
The main beach of the island is clean, calm, and usually not crowded, making it a popular filming location for TV dramas and commercials.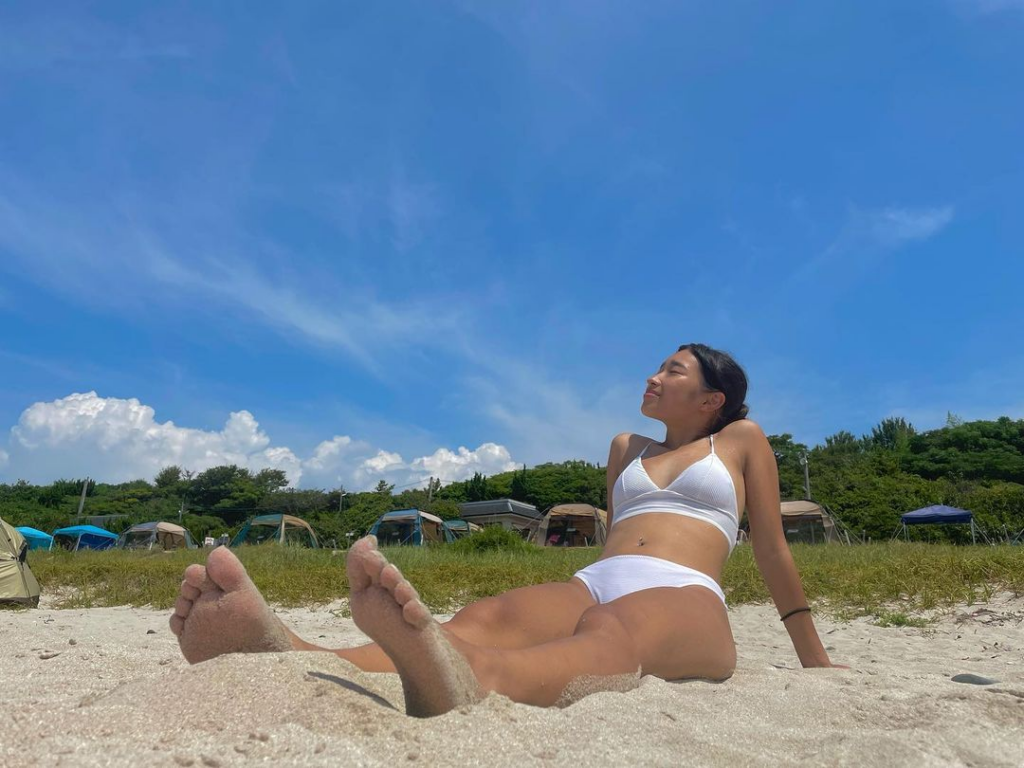 Image credit: @yuna_is_everything
Here's your chance to be the main character of your own video against the beautiful backdrop of the beach and the iconic bridge.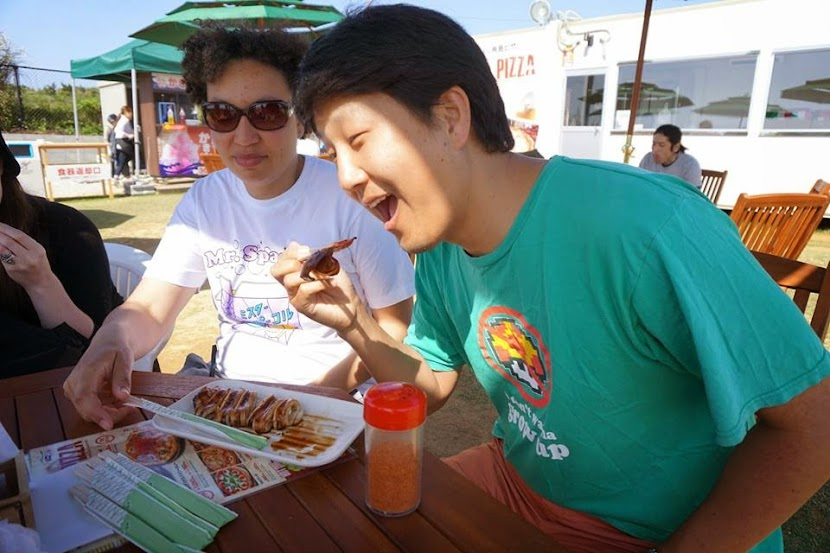 Image credit: With Backpack
After visiting the beach, enjoy freshly caught grilled squid – a local speciality – at restaurants nearby.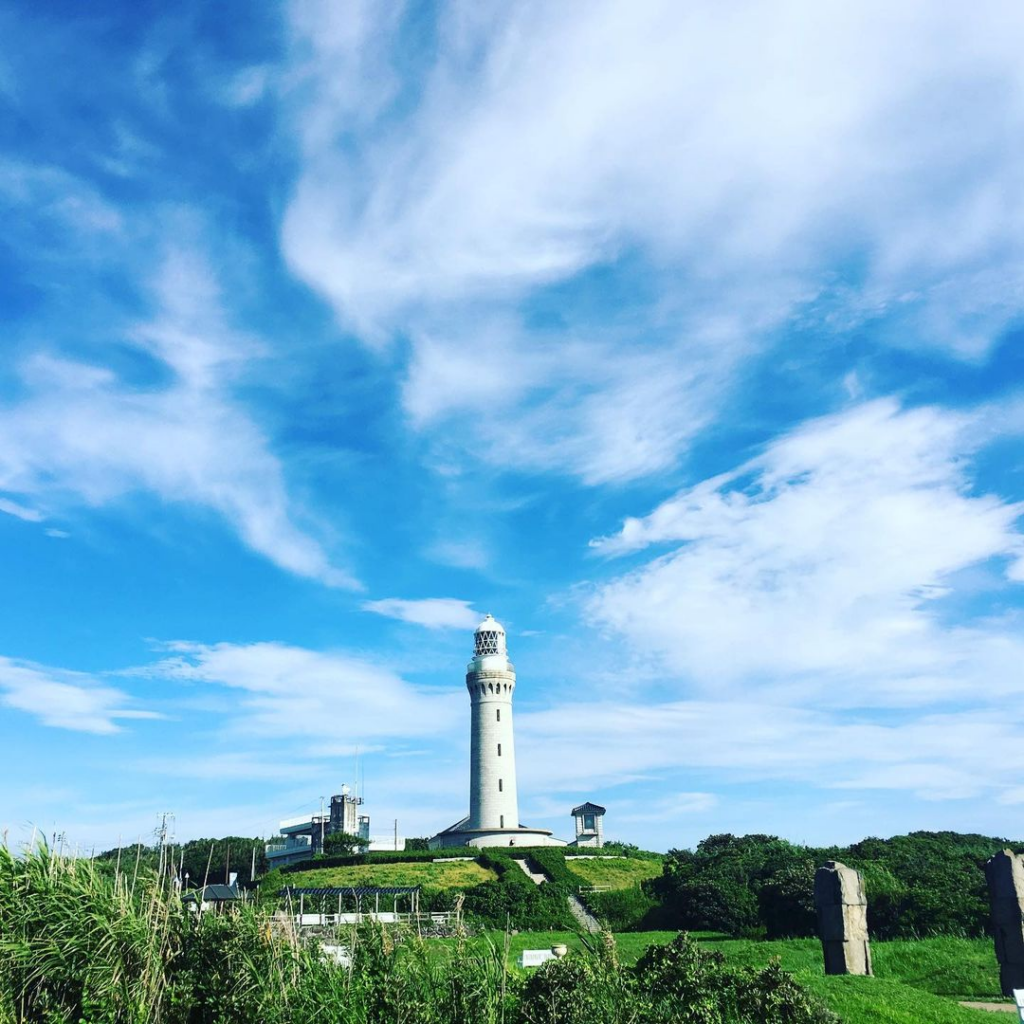 Image credit: @itookashi.garyutabi
There is also a western-style lighthouse called Tsunoshima Lighthouse on Tsunoshima Island that you can visit. After scaling the 105-step spiral staircase, you will be treated to a magnificent, calming panoramic view of the island and sea.
GPS coordinates: 34° 21′ 27.0354″N 130° 51′ 54.612″E
---
8. Yuigahama Beach: just 1 hour away from Tokyo
---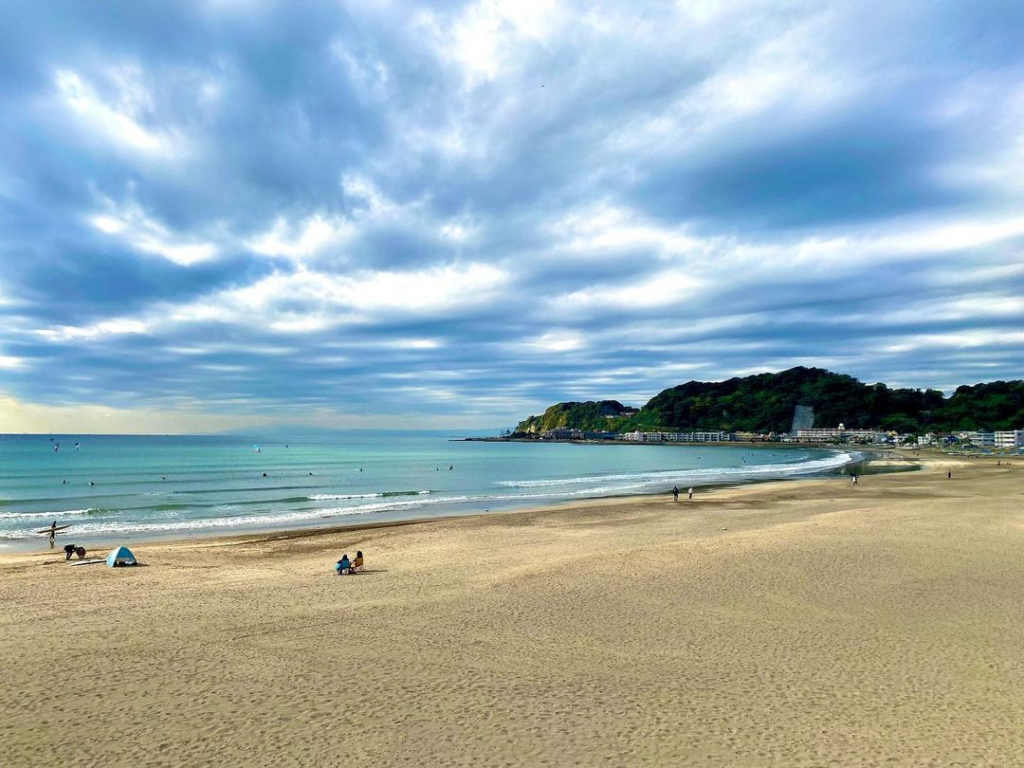 Image credit: @chanseaworld
Despite the short beach visiting season from July to August, the beaches of Kamakura remain a popular attraction. Yuigahama Beach is only 1 hour away from Tokyo, so it is a great getaway from the bustling city.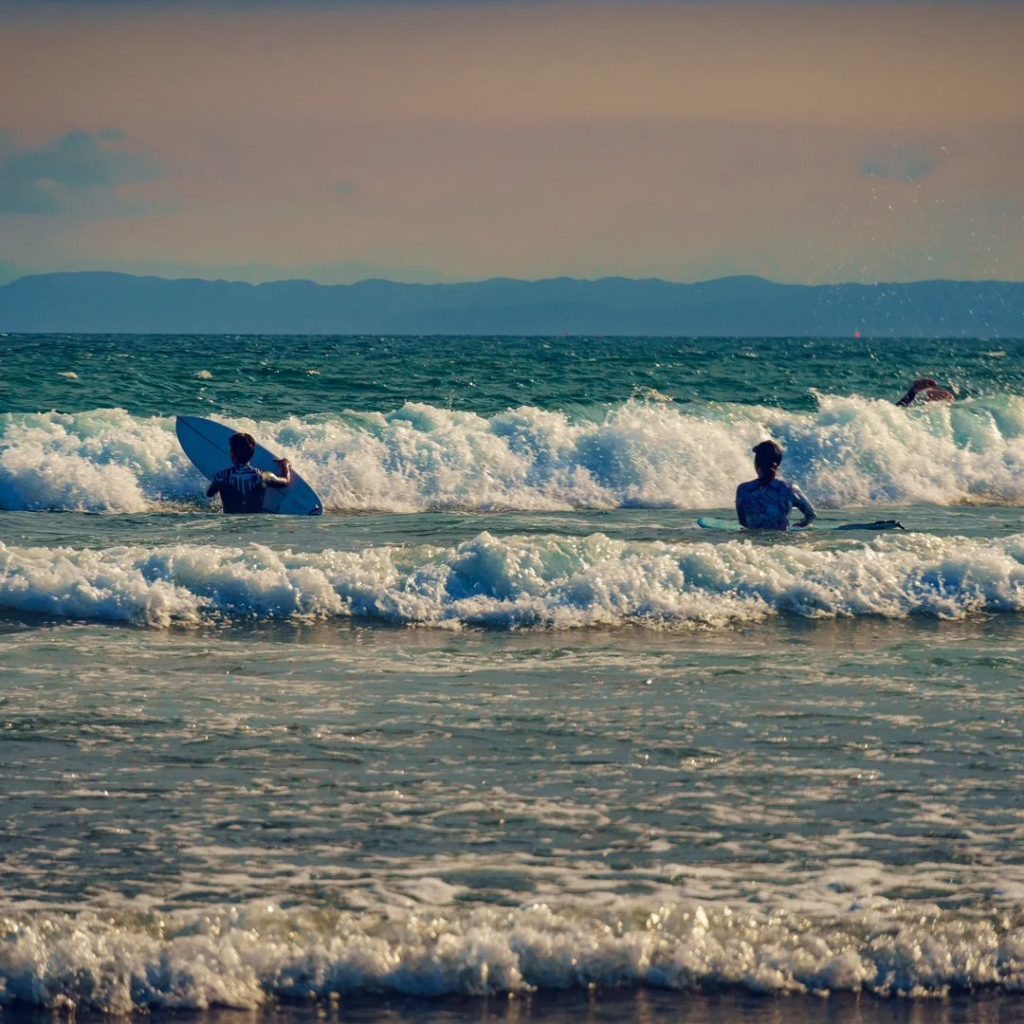 Image credit: @andylifeinvideo
Thrill-seekers will be excited because there is no shortage of water sports here, from surfing to flyboarding and wakeboarding. Yuigahama Beach's shallow waters also make them child-friendly.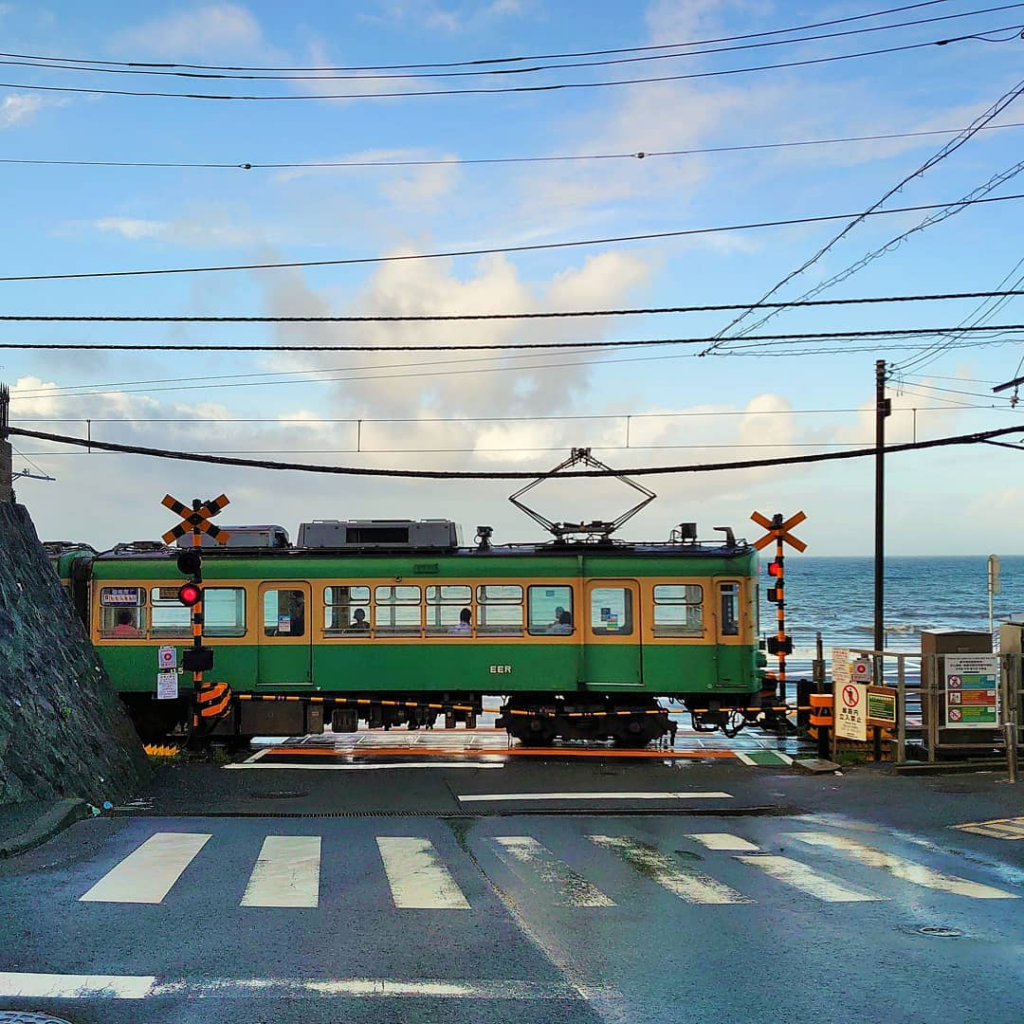 Image credit: @gamichans
Yuigahama Beach is also near Kamakura Kokomae Station, which is featured in Slam Dunk, a popular anime series. So stop by Yuigahama Beach for a break before you continue on with your day.
GPS coordinates: 35° 18′ 34.938″N 139° 32′ 32.28″E
---
9. Tomori Beach: for quiet, serene days
---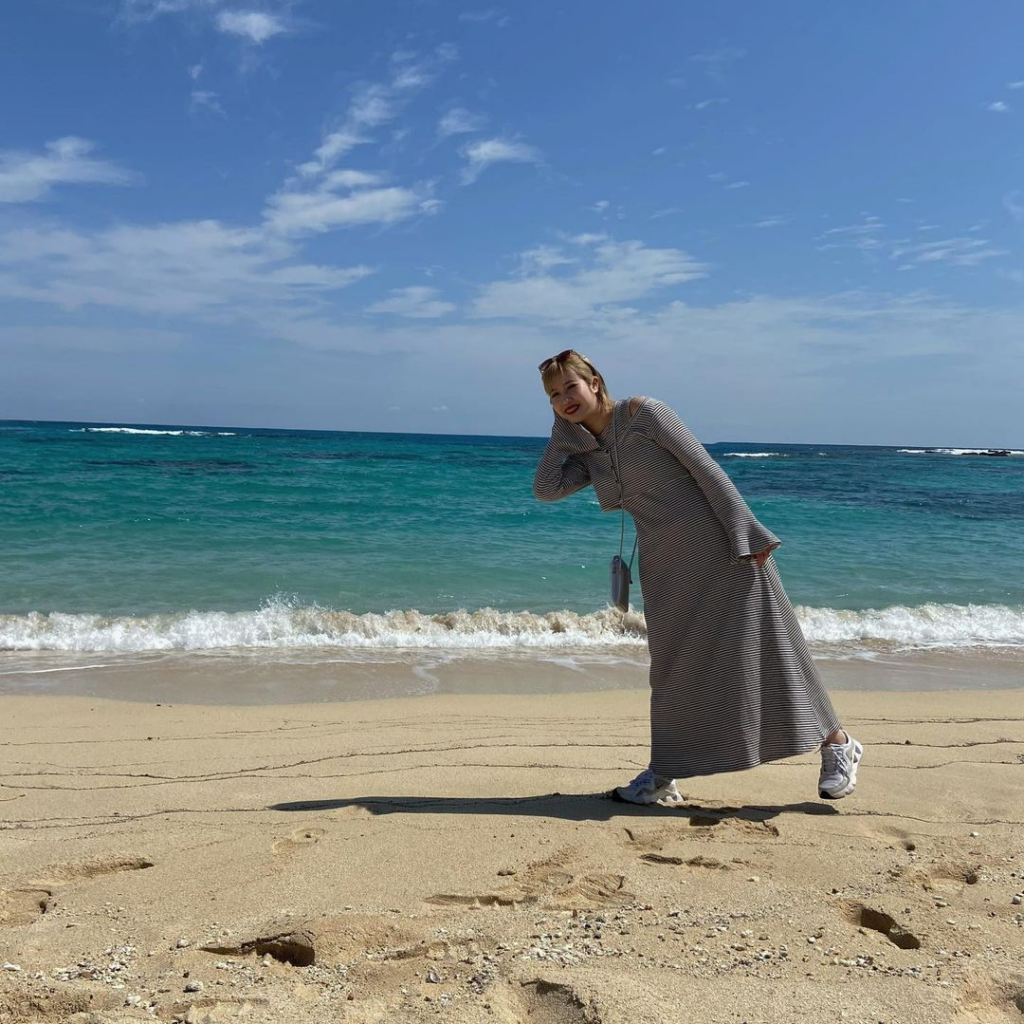 Image credit: @yuisuzuki0825
Tomori Beach is largely secluded and quiet, so it is the spot to visit for those who want to enjoy a tranquil day. But be sure to prepare your own shade – umbrellas, hats and more – water, and food as there are no facilities here except toilets.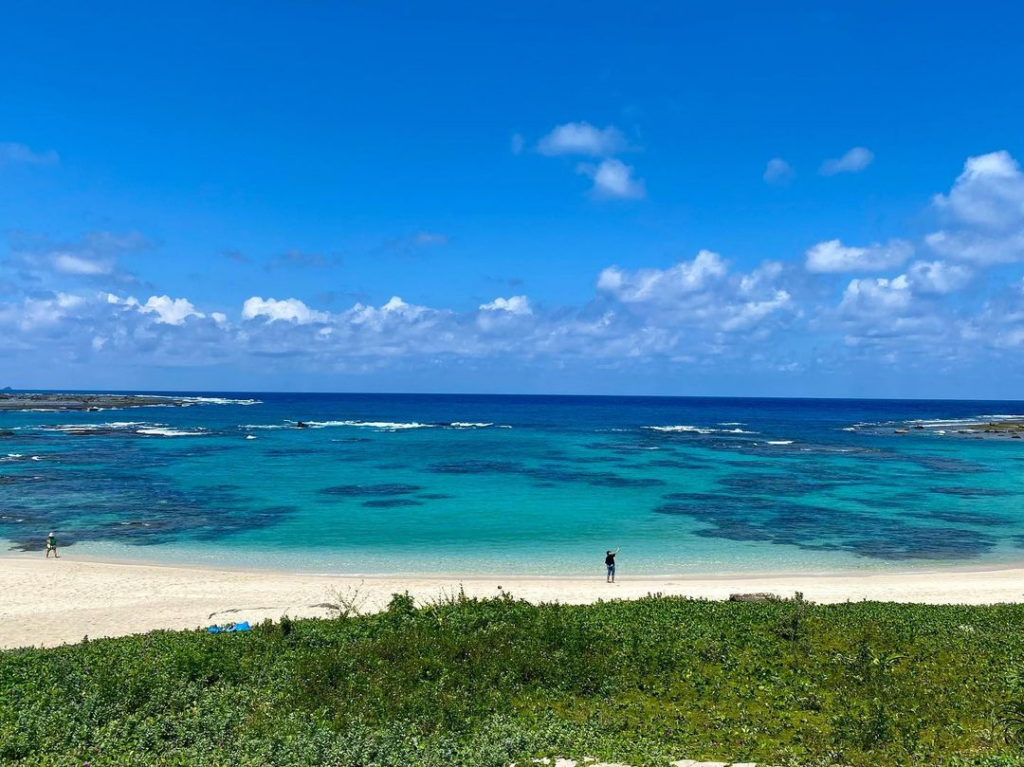 Image credit: @zippy.7
Tomori Beach has pale white sand and an emerald-green ocean lined with rocky patches and coral reefs. The beach is called Blue Angel because of its beauty and it's a popular attraction in Amami.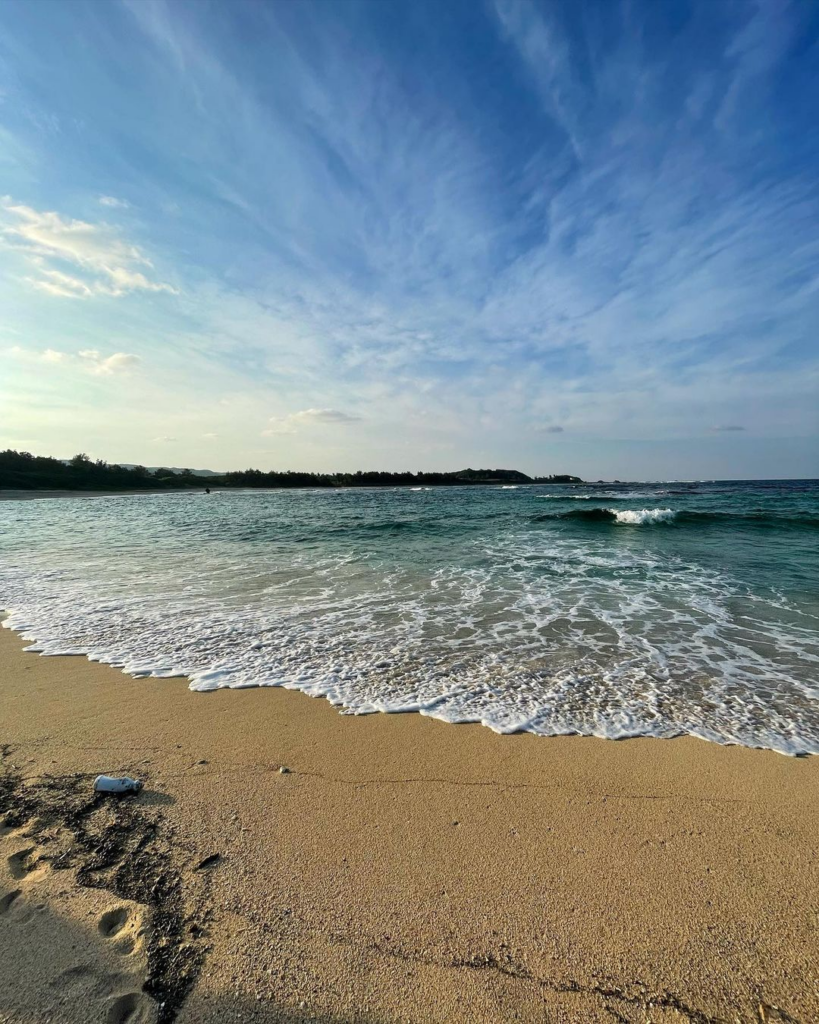 Image credit: @smdsnb
Due to the presence of reefs near the beach, there are few to no waves, making this beach child-friendly too. 
GPS coordinates: 28° 27′ 41.3496″N 129° 43′ 6.7434″E
---
10. Ogasawara Islands

:

visit a UNESCO World Heritage Site
---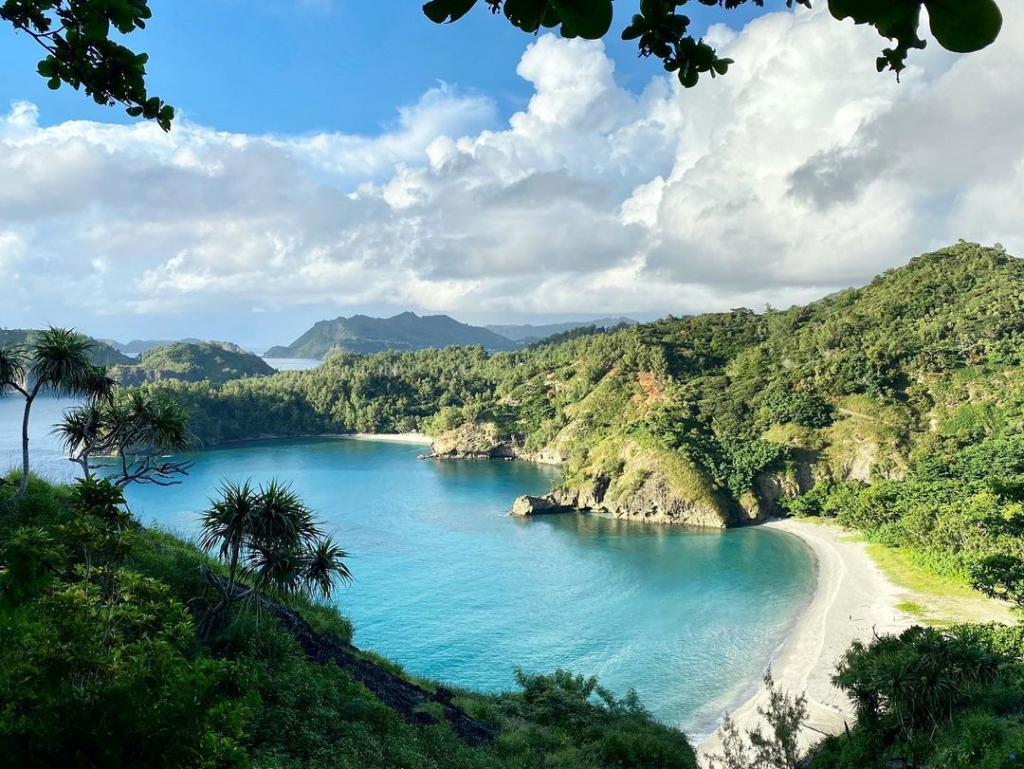 Kopepe Beach and Kominato Beach.
Image credit: @audrey.juraite
Known for unspoiled beaches and ecotourism, the Ogasawara Islands have been declared a UNESCO World Heritage site. You'll be able to visit the islands via a 24-hour ferry ride from Tokyo to Chichijima Island. Whilst the trip may be long, the beach is worth the visit.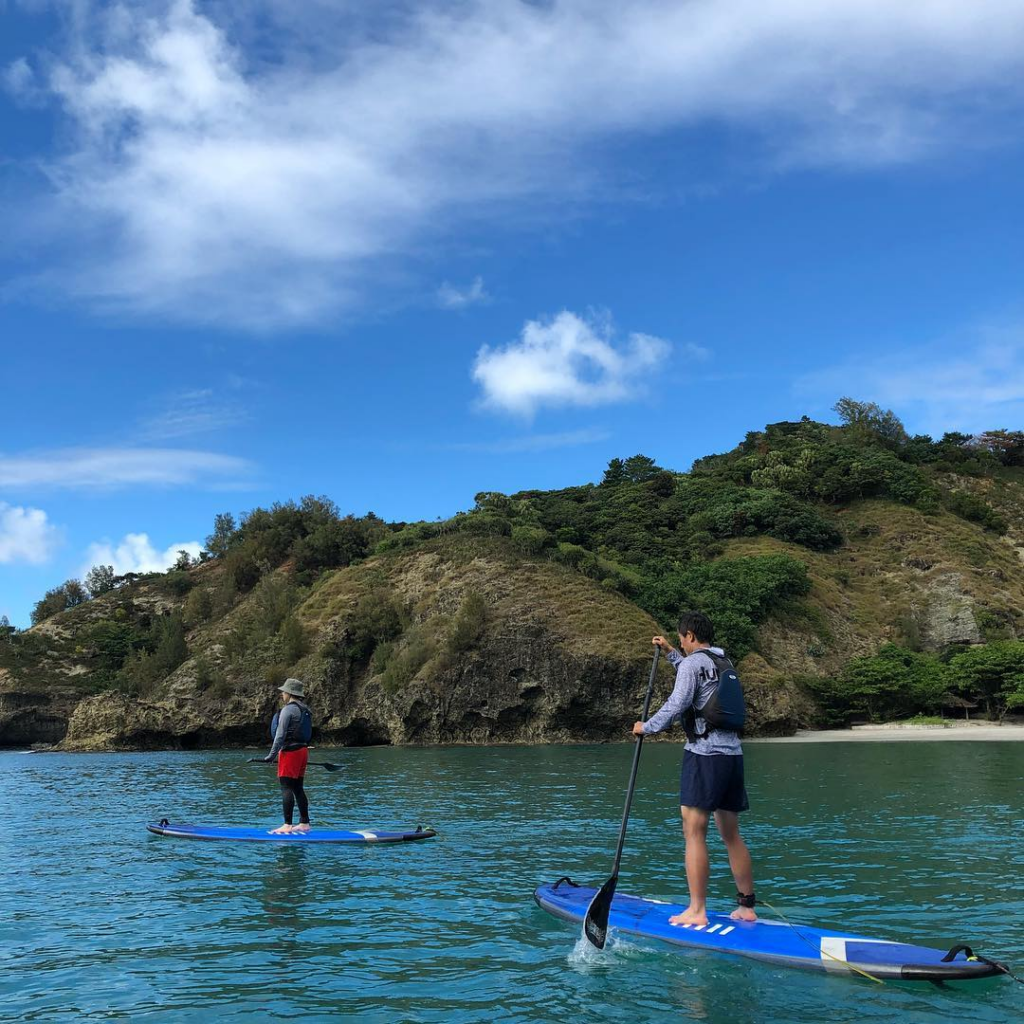 Image adapted from: @hane15
Kopepe Beach and Kominato Beach are the easiest to reach, and are the next best thing to having your very own private beach if you want a secluded spot. Here, you might be able to spot sea turtles laying eggs and also hermit crabs. There are plenty of activities to do, such as surfing, diving, and paddleboarding.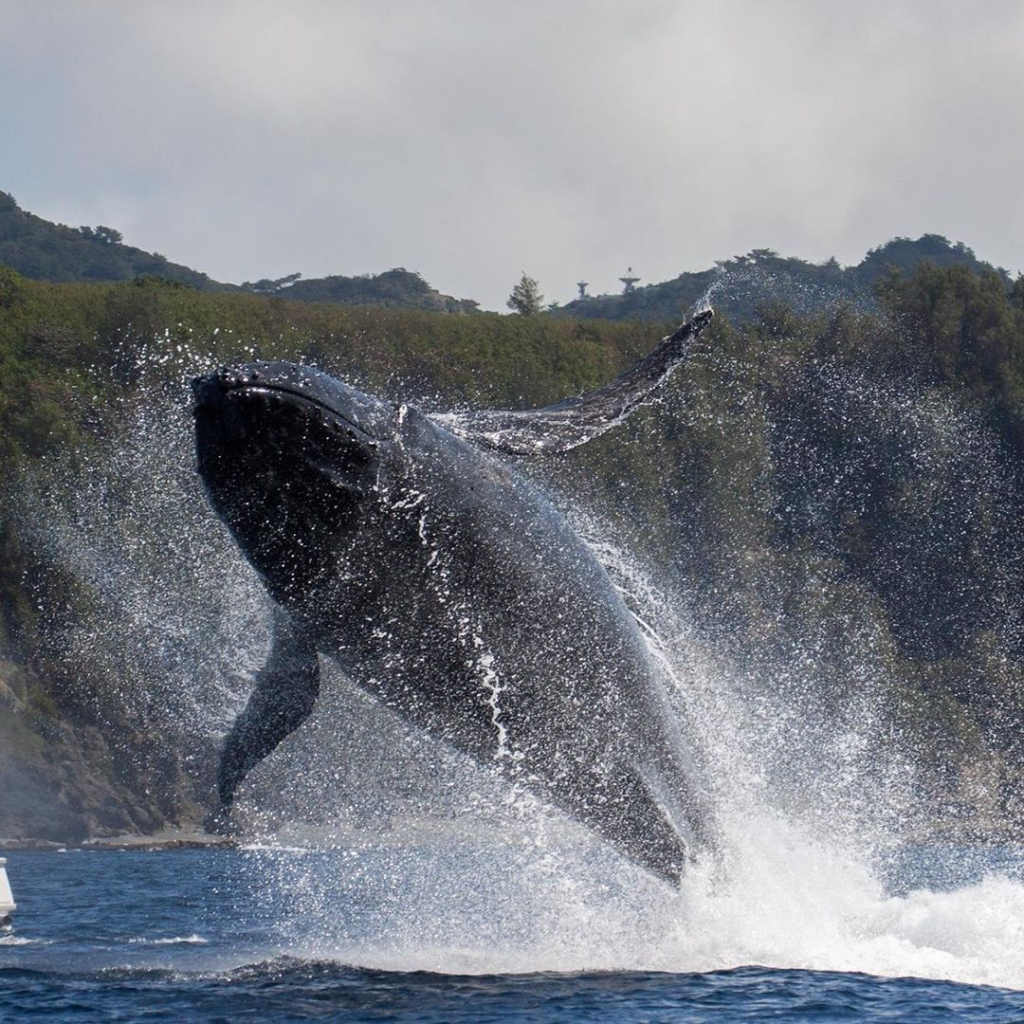 Image credit: @tamashima.tokyo.en 
North of Chichijima Island lies Miyanohama Beach, where you can snorkel to your heart's content. Whale- and dolphin-watching here is also a favourite pastime for visitors.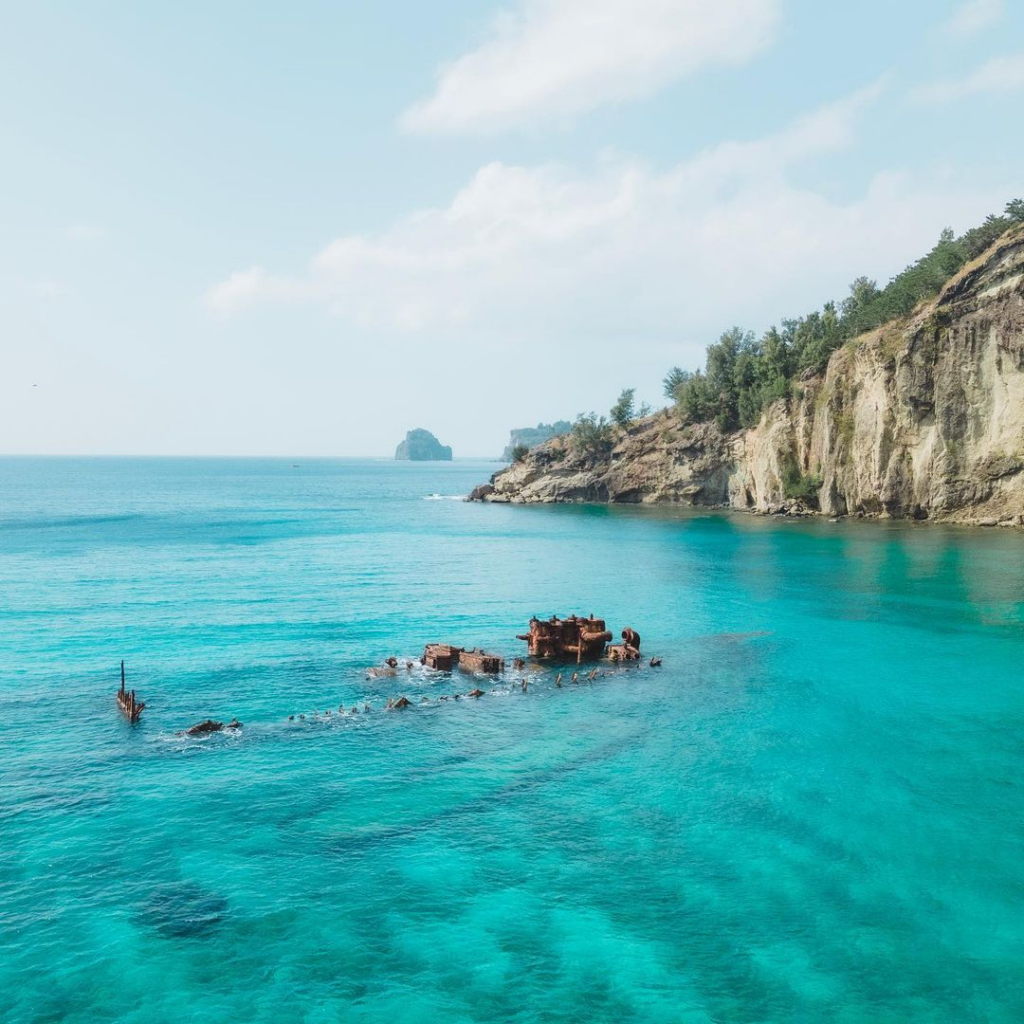 Sakaiura Beach.
Image credit: @nagiko 
Sakaiura Beach features a coral-covered shipwreck that snorkelers can explore.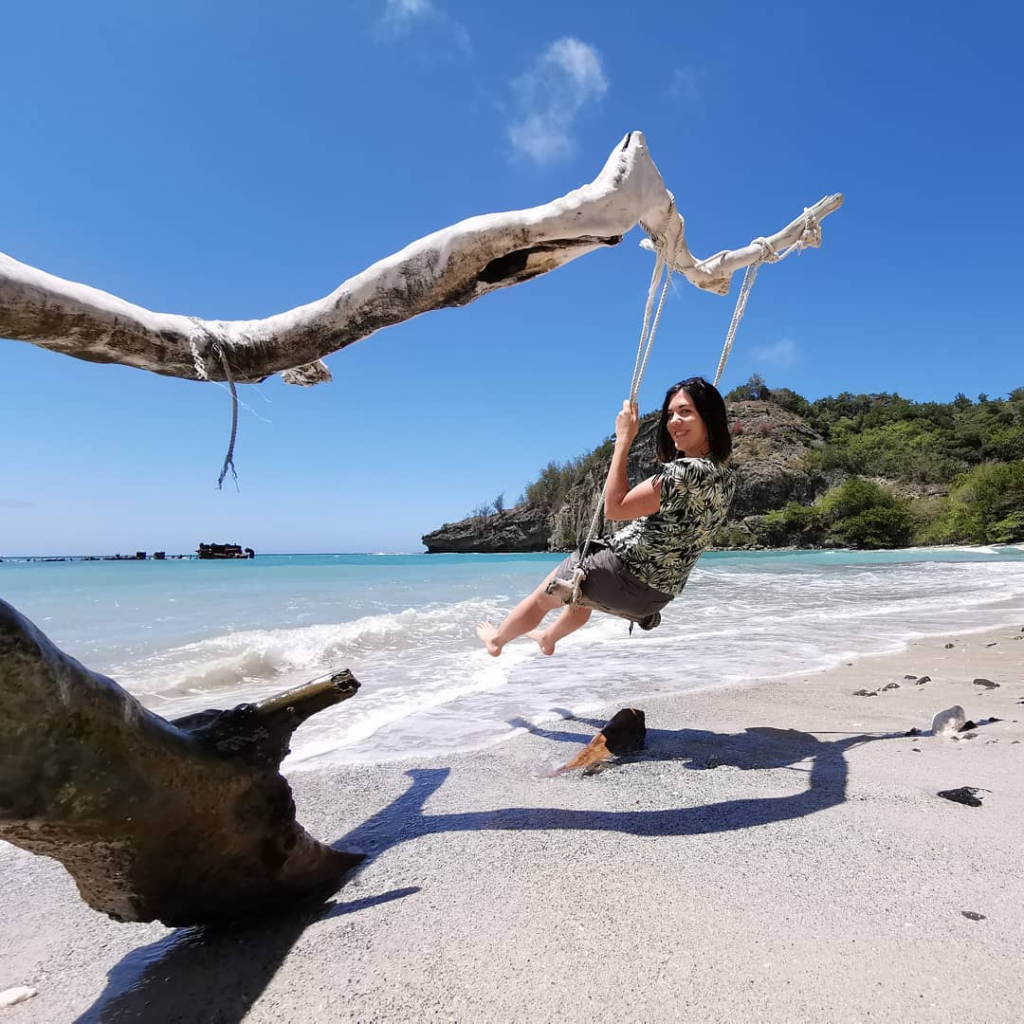 Image credit: @frenchfroggie 
On the beach, white, weathered driftwood can be found and some of them have been crafted into swings – making the beach a picturesque spot.
GPS coordinates: 26° 58′ 9.9552″N 142° 6′ 13.032″E
---
Stunning beaches in Japan
---
Beaches in Japan offer unique monuments and places to discover that are different than your usual tourist spots in the country. So if you're looking to get a perfect summer tan while in Japan, look no further than these 10 most breathtaking beaches where you can spend a day playing water sports or looking for sea turtles.
Also check out: 
---
Cover image adapted from: @ekalxem, @audrey.juraite, @eupho_ria_n, @k.zuuu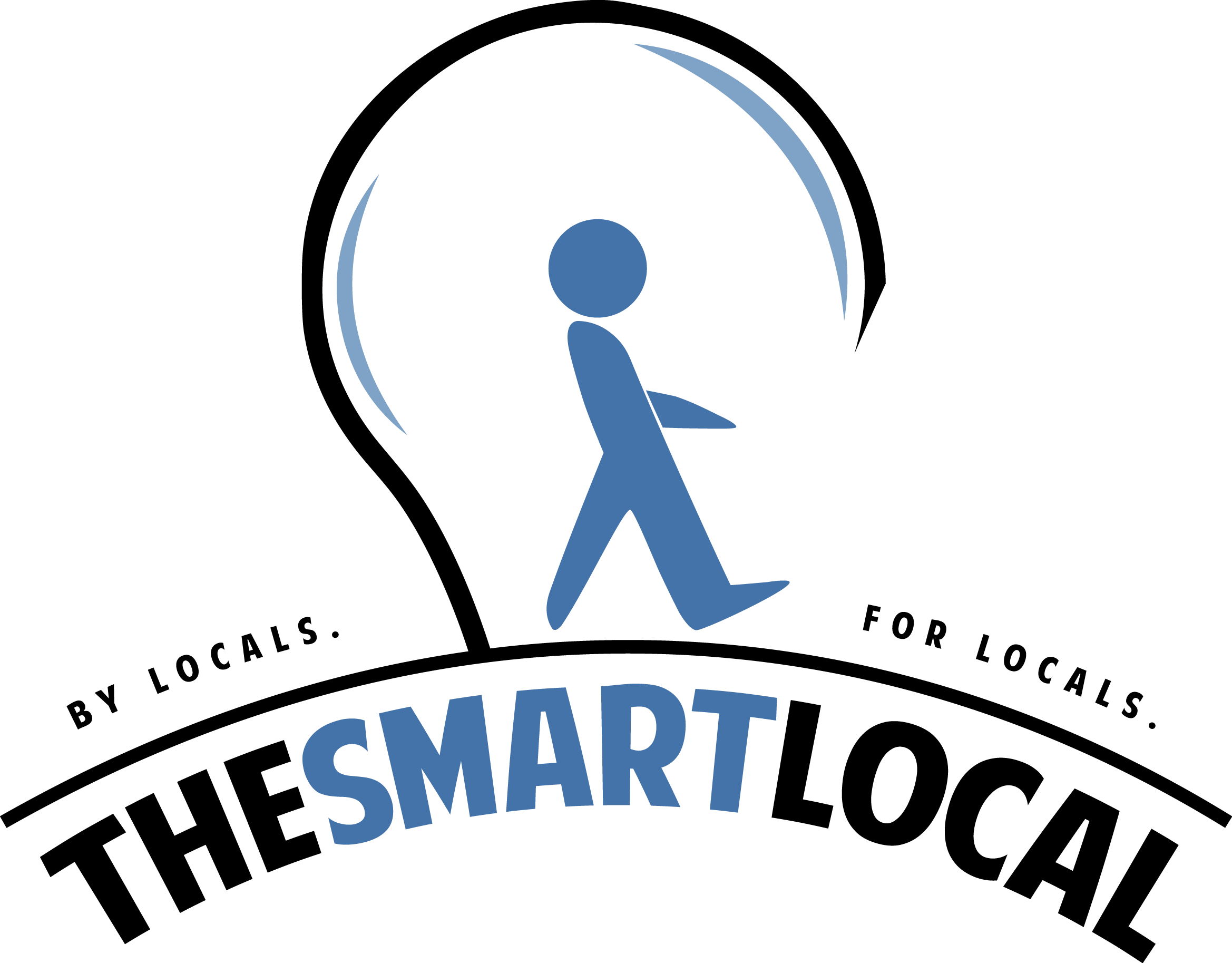 Drop us your email so you won't miss the latest news.