Muscle Girls Bar
---
Prepare to be impressed and entertained by a group of young, muscular girls who will beat you at pull-ups. They have angelic faces and bodies built like The Hulk. At Muscle Girls, you can drink till you drop whilst enjoying performances from these amazing women. 
---
Gym-turned-bar
---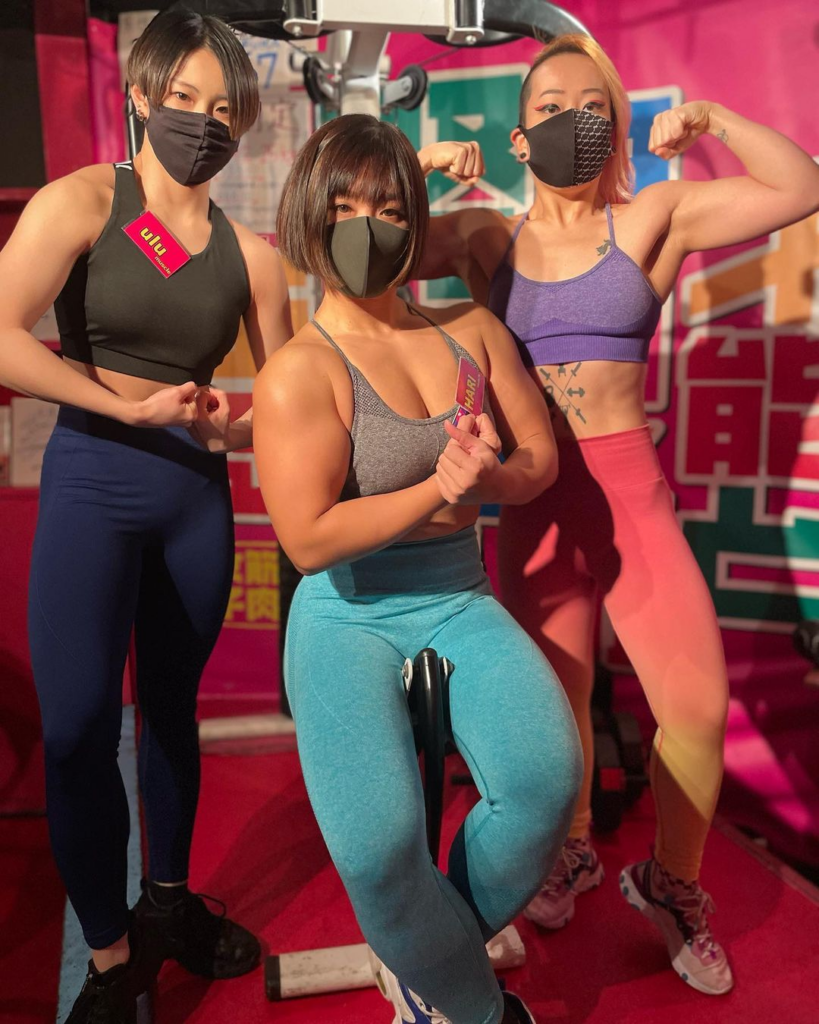 Image credit: @muscle.girls666 
Located near Ikebukuro Station in Tokyo, Muscle Girls is Japan's only fitness-themed bar. It originally opened as a women's gym but has since broken into the bar industry and gone viral. Muscle Girls even started a YouTube channel dedicated to entertaining viewers and spreading their love for fitness.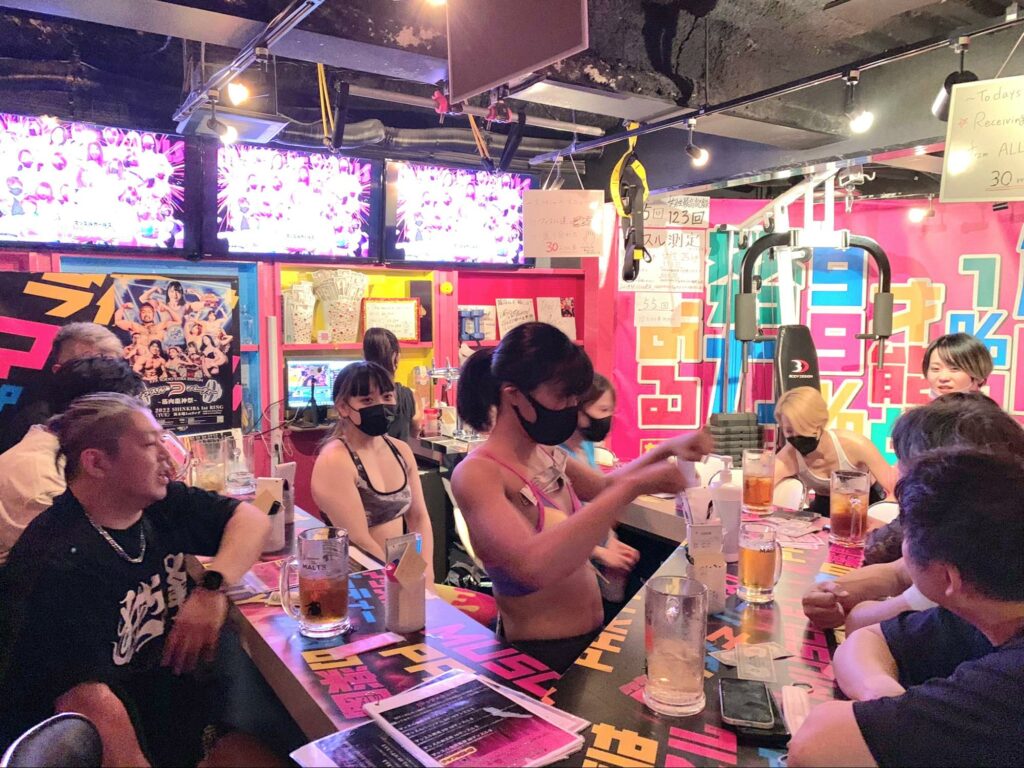 Image adapted from: @gyalubaby 
The bar is vibrantly decorated with bright colours, flashing lights, and gym equipment. Despite a slightly cramped venue, Muscle Girls makes up for it with their enthusiastic staff, who are young women who love gymming.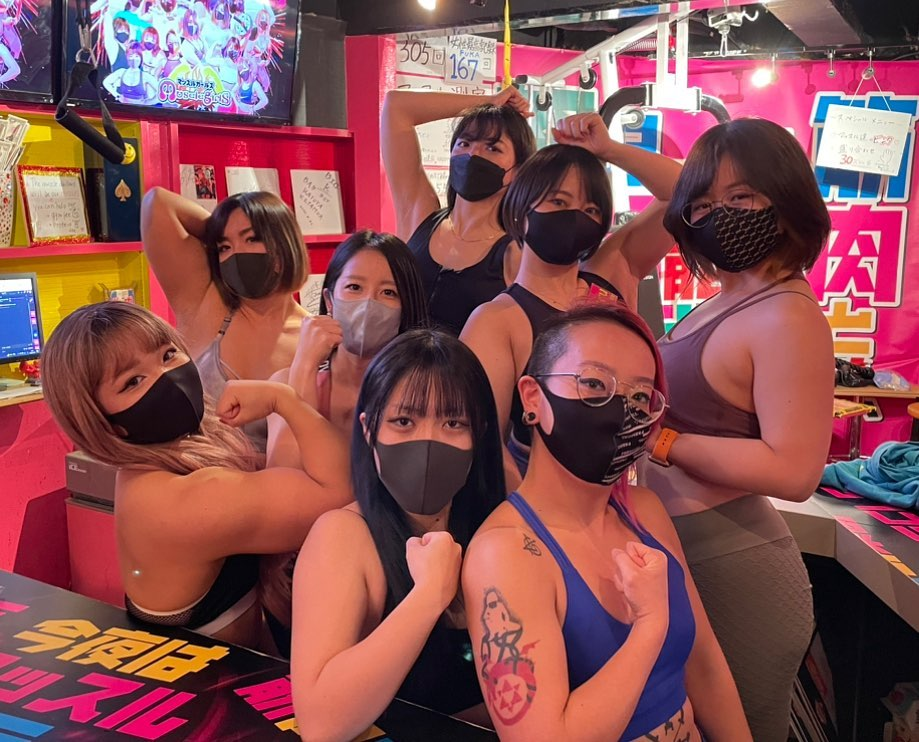 Image credit: @muscle.girls666
If you were to ask, what is Muscle Girls? The staff will answer that Muscle Girls is a place for girls who love fitness and want to achieve their ideal figure.
Every staff name ends with "-muscle" and they even work in the word into the way they speak to the customers. Instead of saying "arigatou gozaimasu" to say thanks, the staff say "arigato gozai-muscle". A delightful and very on-brand pun.
---
All-you-can-drink package
---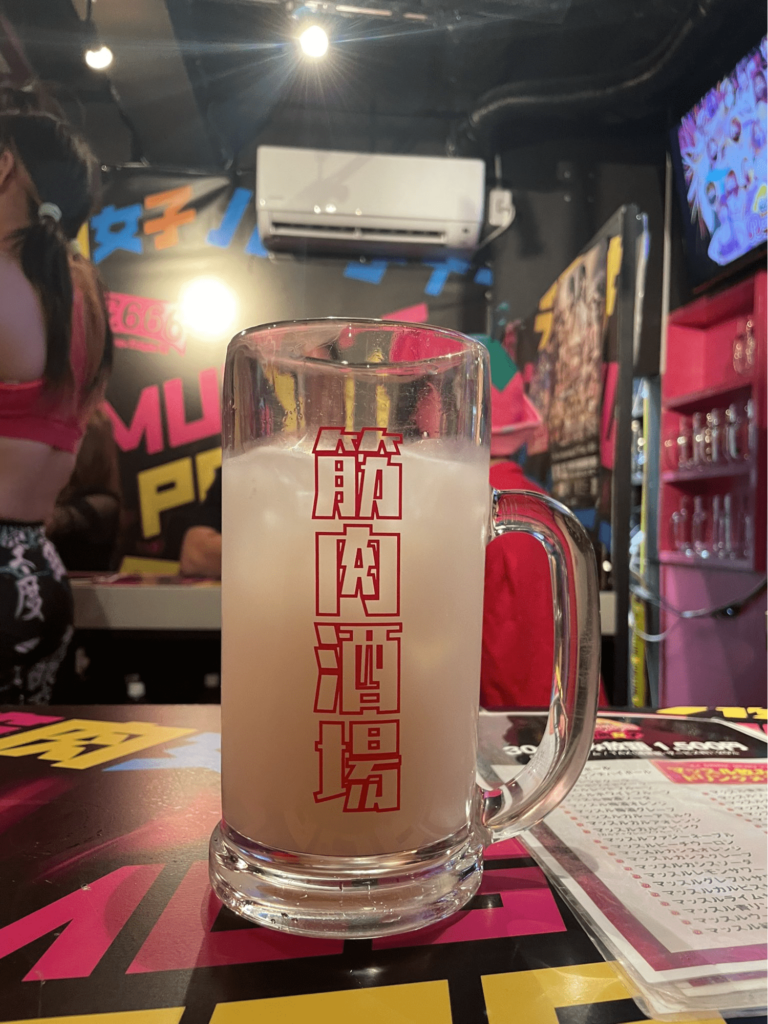 Image credit: @KiannaShore
Get a 30-minute all-you-can-drink package for ¥1,500 (~USD11.14) per person, or an all-you-can-drink beer option for ¥2,000 (~USD14.85) per person. Reservation is recommended and can be done via LINE, Instagram, or Messenger.
They have a wide range of drinks, from alcoholic ones such as Muscle Whiskey and Muscle Red Wine to soft drinks, juices and green tea.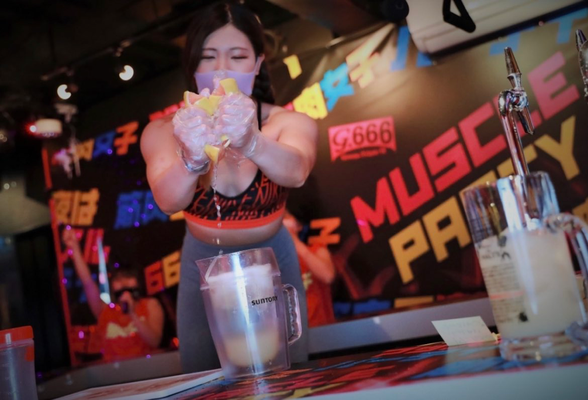 Image credit: Muscle Girls
Their most popular drinks are alcohols combined with juices such as Muscle White-wine & Orange-juice or Muscle Cassis & Grapefruit-juice, because these drinks come with a performance. These muscle girls will squeeze these fruits dry with their bare hands right in front of you, so be prepared to get some juice sprayed on you as they crush the fruit!
---
Get to know the muscle girls
---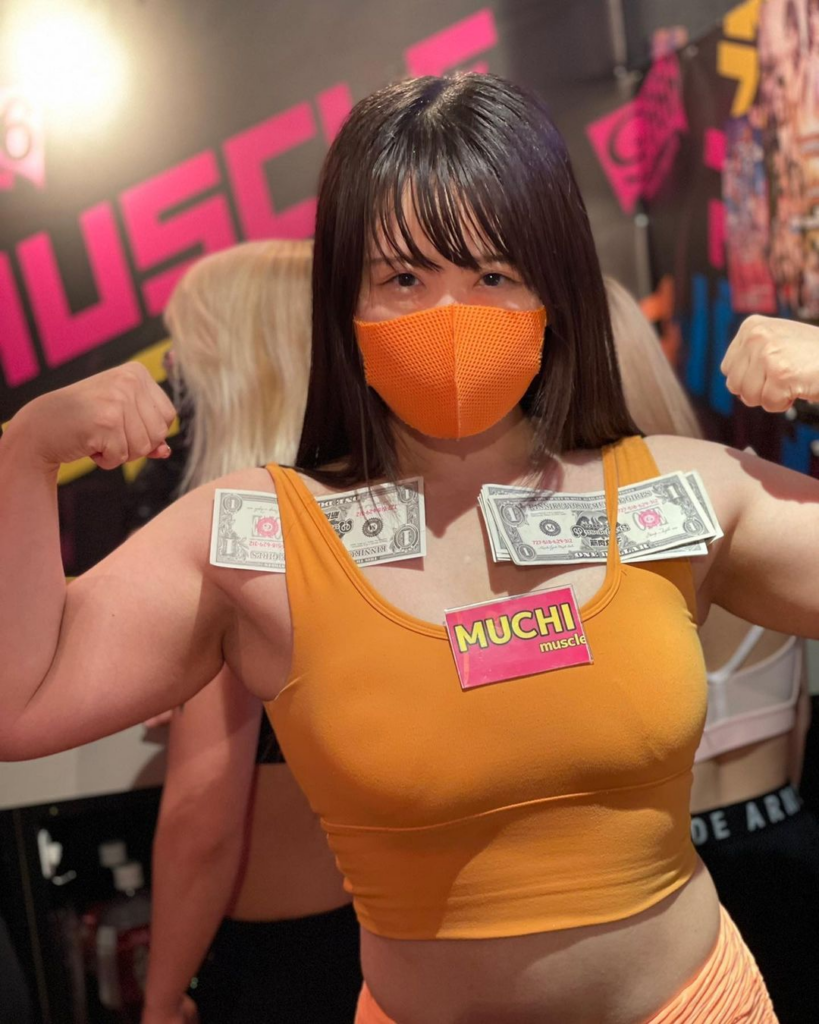 Image credit: @muscle.girls666
Foreign tourists get a special rate of ¥5,000 (~USD37.13) for a 1-hour all-you-can-drink package with a fruit performance, muscle show time, and 10 "muscle dollars" which can be used to purchase extra services from the muscle girls.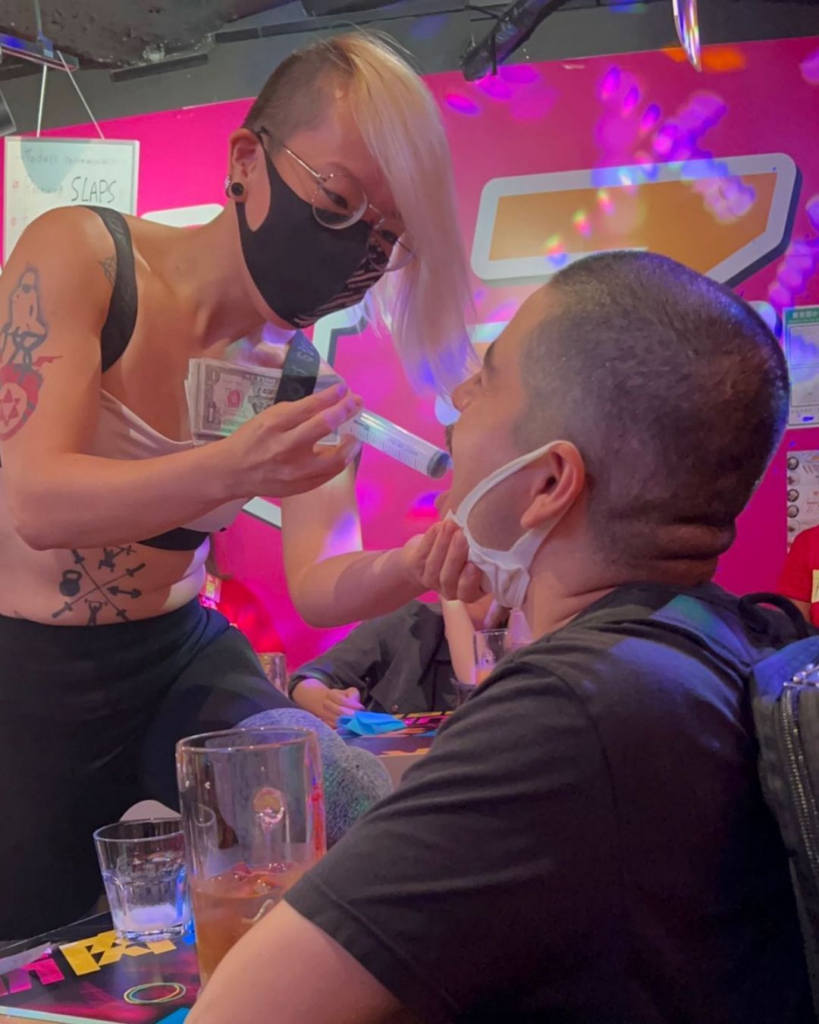 Image credit: @muscle.girls666
Get the muscle girls to feed you protein shake with a syringe or even to carry you bridal-style. These extra services are paid using "muscle dollars", which you can get at the exchange rate of ¥1,000 (~USD7.43) for 10 "muscle dollars". 
Video credit: @thesmartlocalsg
For 20 muscle dollars, you can get a piggyback squat or even a group photo with all the muscle girls. The more adventurous customers can even get them to slap or kick you. Female customers can get a muscle hug and muscle sandwich that has 2 muscle girls squeezing the customer between them, which costs 10 muscle dollars and 20 muscle dollars respectively.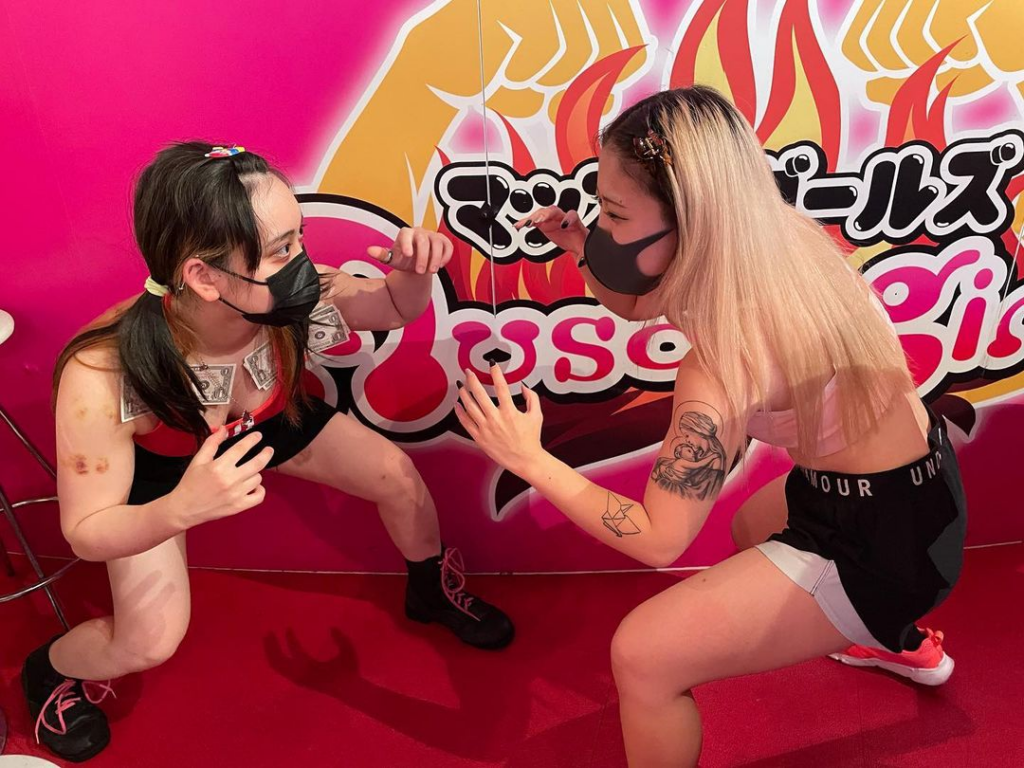 Image credit: @muscle.girls666
These girls love entertaining their patrons with dances, by flexing their muscles, and working out with the gym equipment in the bar.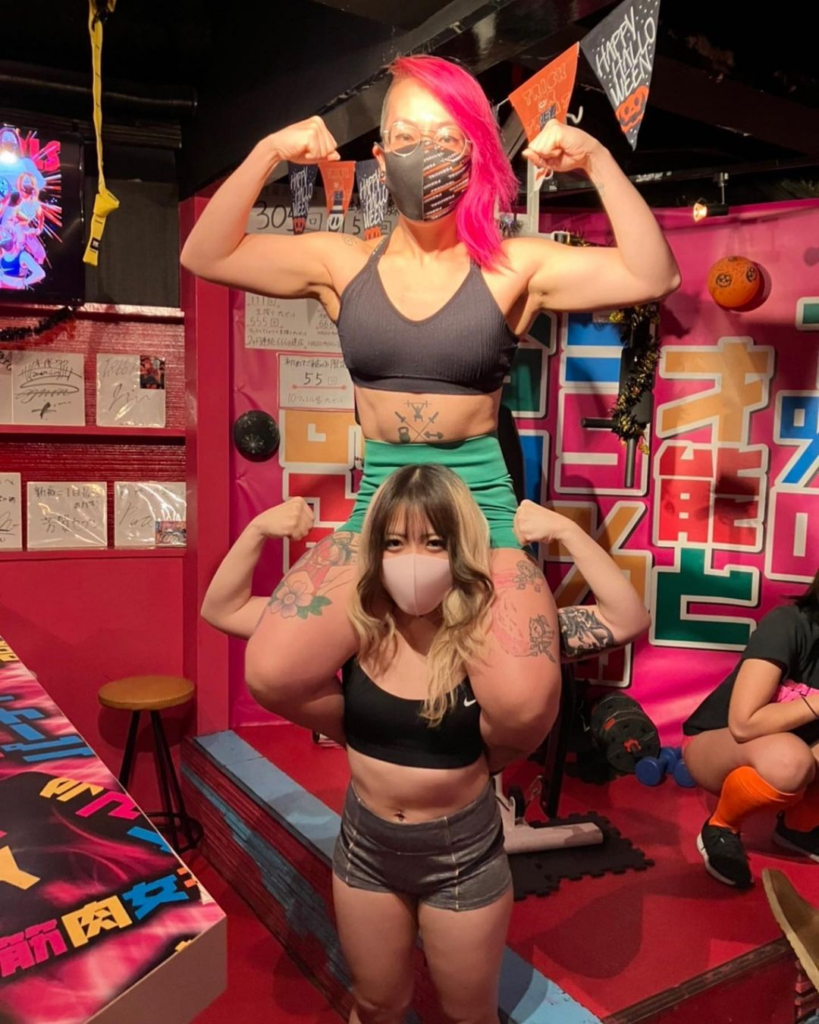 Image credit: @muscle.girls666
Each staff member has different quirks and personalities and you can get to know them during your visit. One muscle girl once walked from Shinjuku to Hakone as exercise – that's a whopping distance of  82.7km.
The muscle girls love compliments and also accept tips, which will go to their gym memberships and protein shakes. 
---
Private gym coaching & Muscle Snacks
---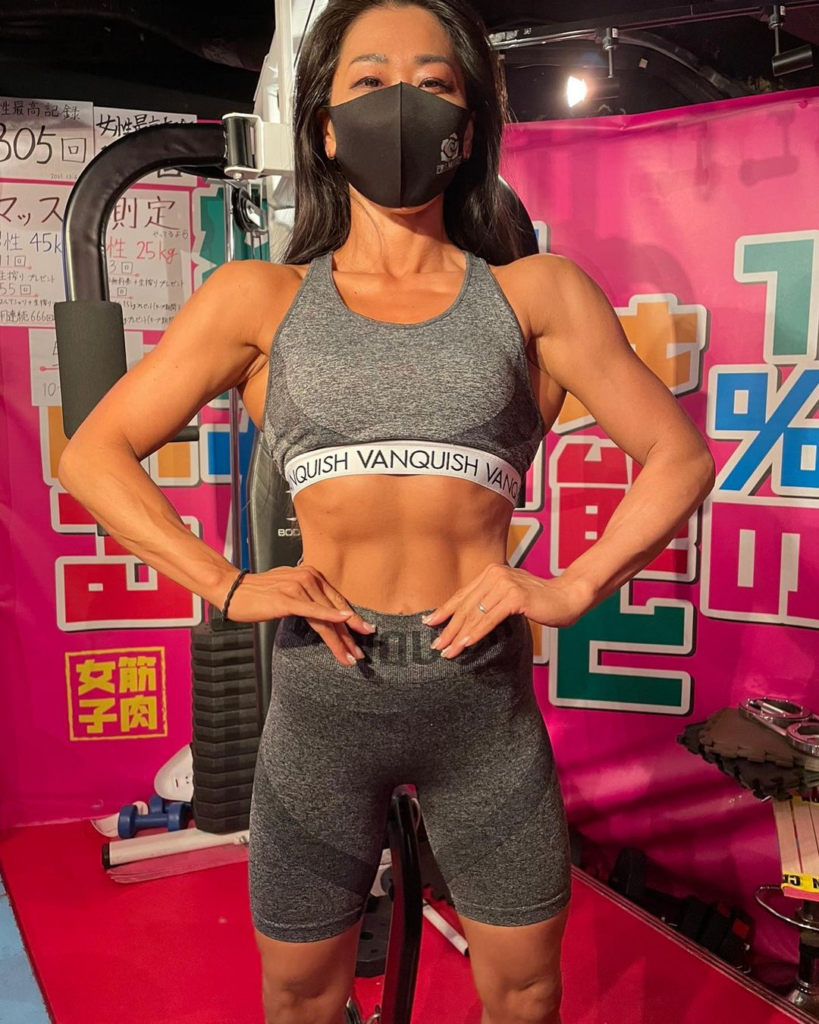 Image credit: @muscle.girls666
Muscle Girls also offers private gym coaching for those who would like to stay fit. You'll be coached exclusively by the muscle girls and get tips on using gym equipment, eating healthily, and building good exercise habits. An hour-long session costs ¥10,000 (~USD74.27). Find out more at their website.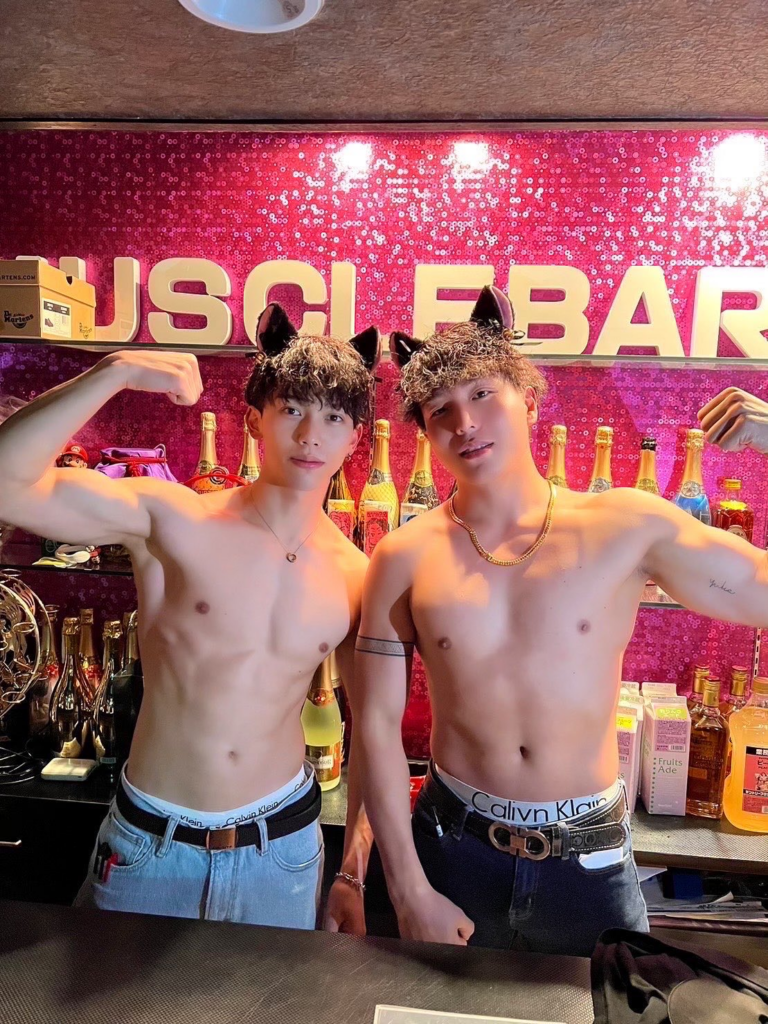 Image credit: @yokohamuscle
Muscle Girls also has a male counterpart, Muscle Snacks, which has a similar concept. They are located in a separate building in Nakano-ku, Tokyo.
---
Getting to Muscle Girls
---
For a night full of fun, muscles, and free-flow drinks at Muscle Girls, head to the 6th floor of Hayama Building, which is a 2-minute walk from Ikebukuro Station West Exit.
Address: Hayama Building 6F, 2-41-2 Ikebukuro, Toshima City, 171-0014 Tokyo
Opening hours: Mon & Wed-Fri 6pm-11.30pm | Sat & Sun 5pm-11.30pm (Closed on Tuesdays)
Contact: 080-7090-9683 | Muscle Girls Website 
Also check out:
---
Cover image adapted from: @muscle.girls666, @muscle.girls666, @muscle.girls666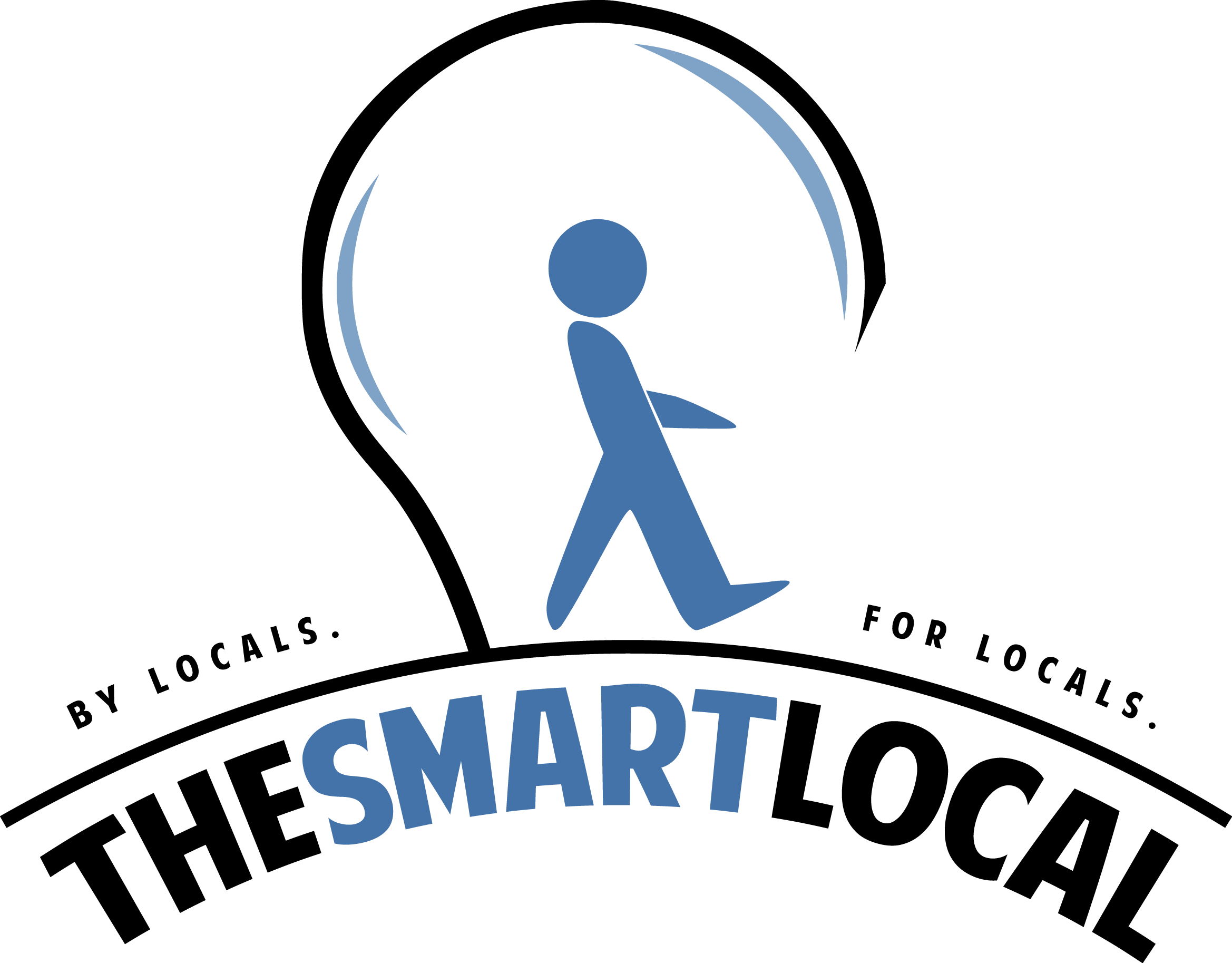 Drop us your email so you won't miss the latest news.