Japanese vending machines 
---
There are 5 million vending machines dotted all across Japan – that's about 1 for every 23 people. Sadly, there's simply no time to explore every single Japanese vending machine just for the novelty of it if you're on a short getaway. 
To help you along, we've collated 15 unique Japanese vending machines, with items that range from interesting to bizarre, so you can check them out on your next trip to Japan.
---
1. Handmade rings
---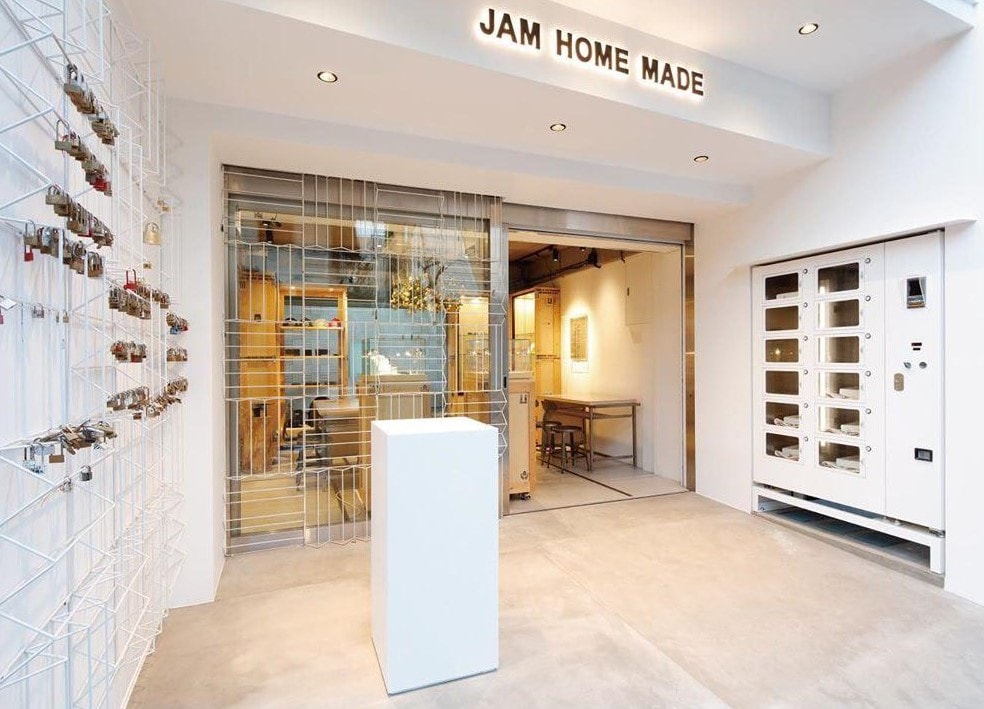 Image adapted from: @jamhomemade_shop
Mention buying engagement rings and the last place that comes to mind is probably a vending machine. The authenticity of the rings is questionable, and if you're hoping to impress bae, such a slipshod gesture simply won't cut it.
But hold that thought – Jam Home Made, an accessories shop, has proved that the impossible is possible with a 24-hour DIY ring kit dispensing machine. And yes, the rings are legit.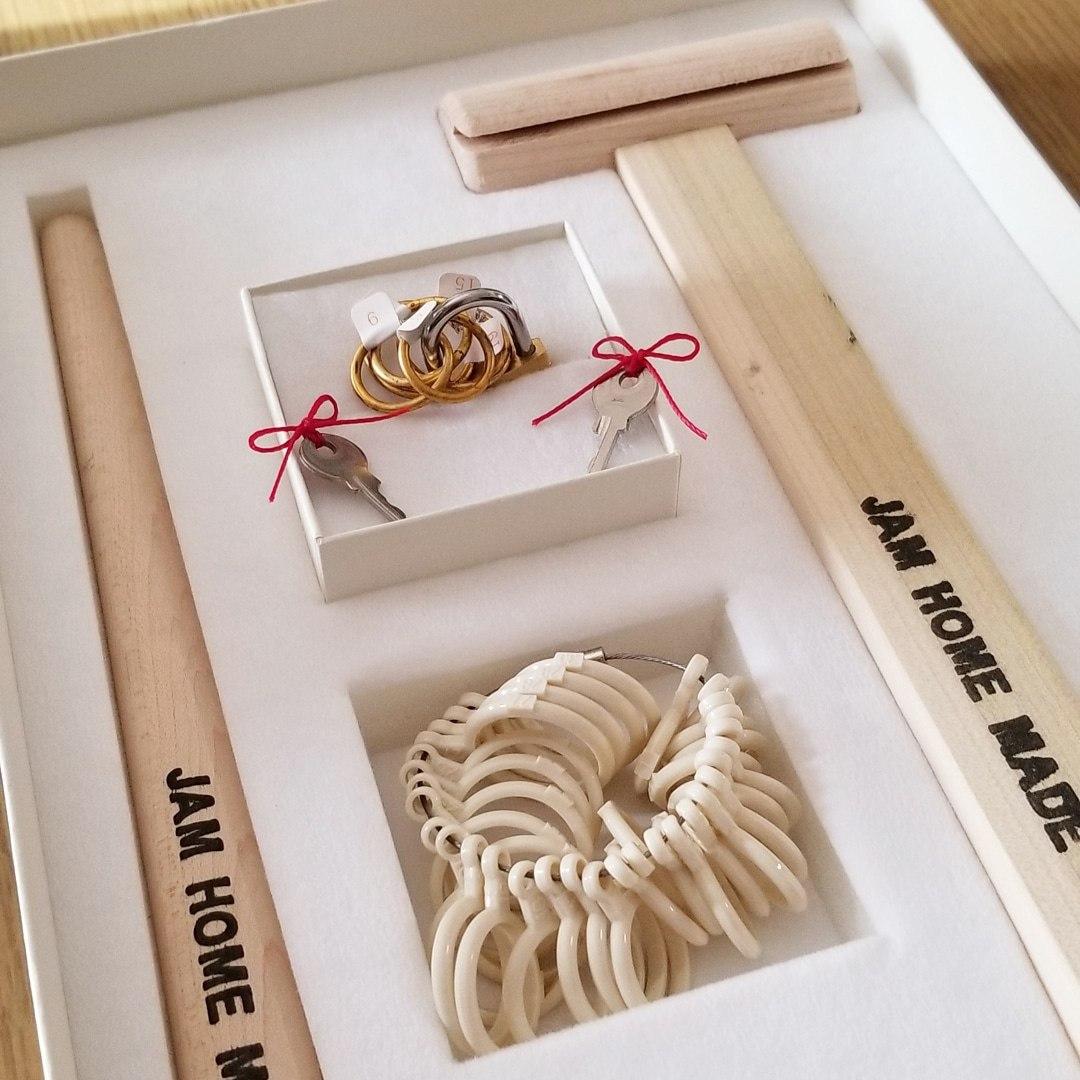 Image credit: @mameko.53
Priced from ¥9,000 (~USD83.84) onwards, the ring kits consist of a ring size gauge, a hammer and core rod to mould the rings into the correct size, and metal bands made of brass or 925 silver. You get to create the rings from scratch, giving it a personal touch your S/O will surely appreciate.
Tip: If you want something with bling, head into the shop and customise your DIY ring with a diamond.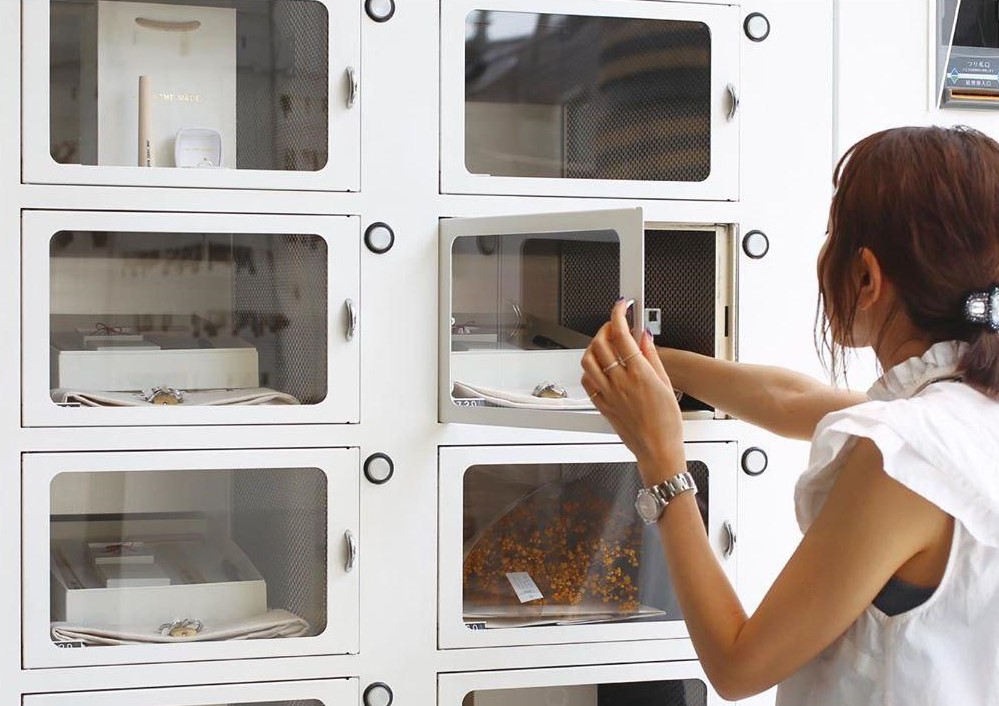 Image adapted from: @jamhomemade_shop

Check out how the ring kit works here:

Video credit: JAM HOME MADE
Address: 2-Chome-38-2 Sendagaya, Shibuya City, 151-0051 Tokyo
Opening hours: 12PM-7.30PM, Daily
Telephone: 03-3478-7113 
---
2. Sake
---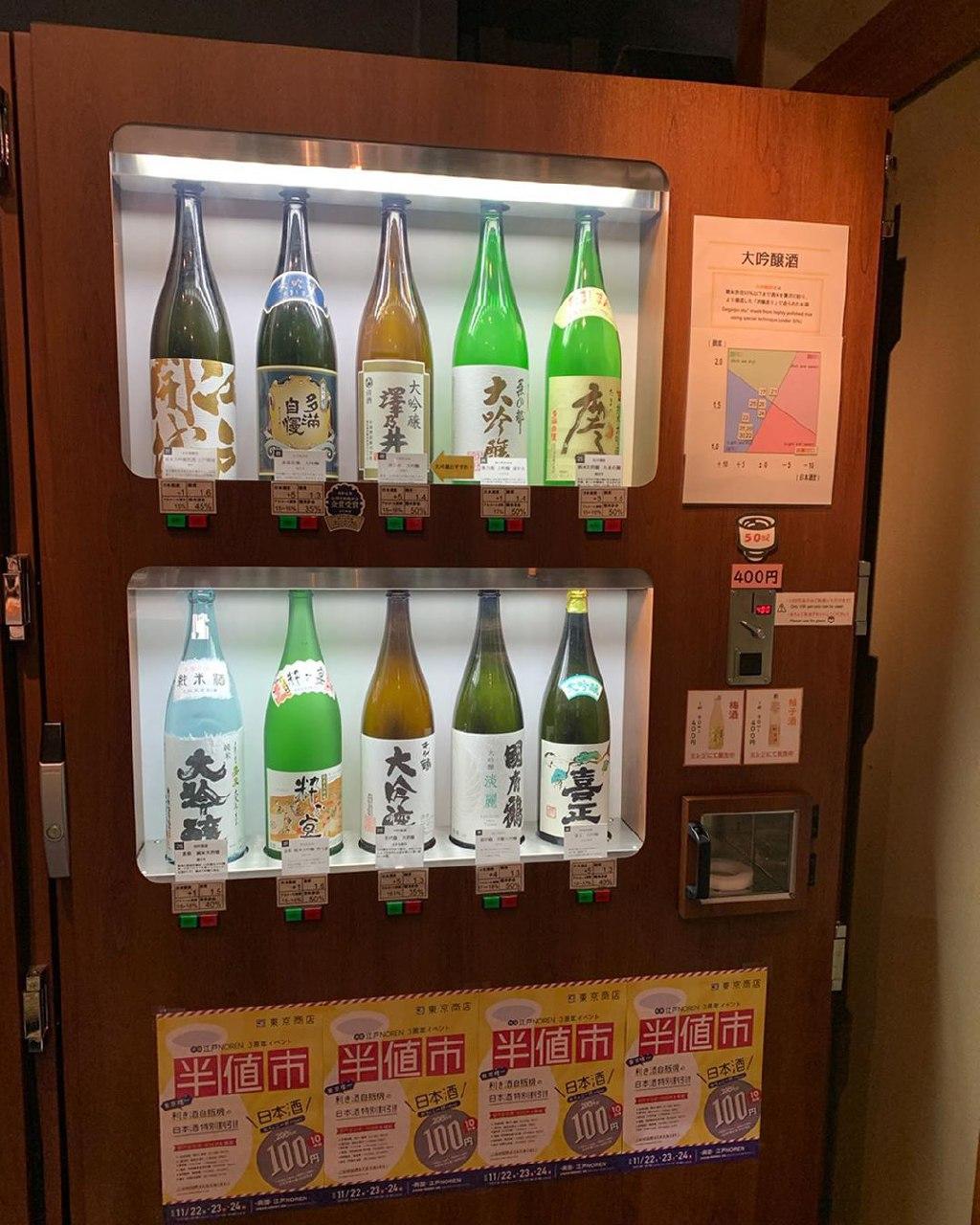 Image credit: @harry_sendai
With so many types of Japanese sake to try, the most economical way to taste test as many as you can is via a vending machine. Tokyo Shoten, a Japanese speciality store, offers over 30 kinds of sake for patrons to binge on.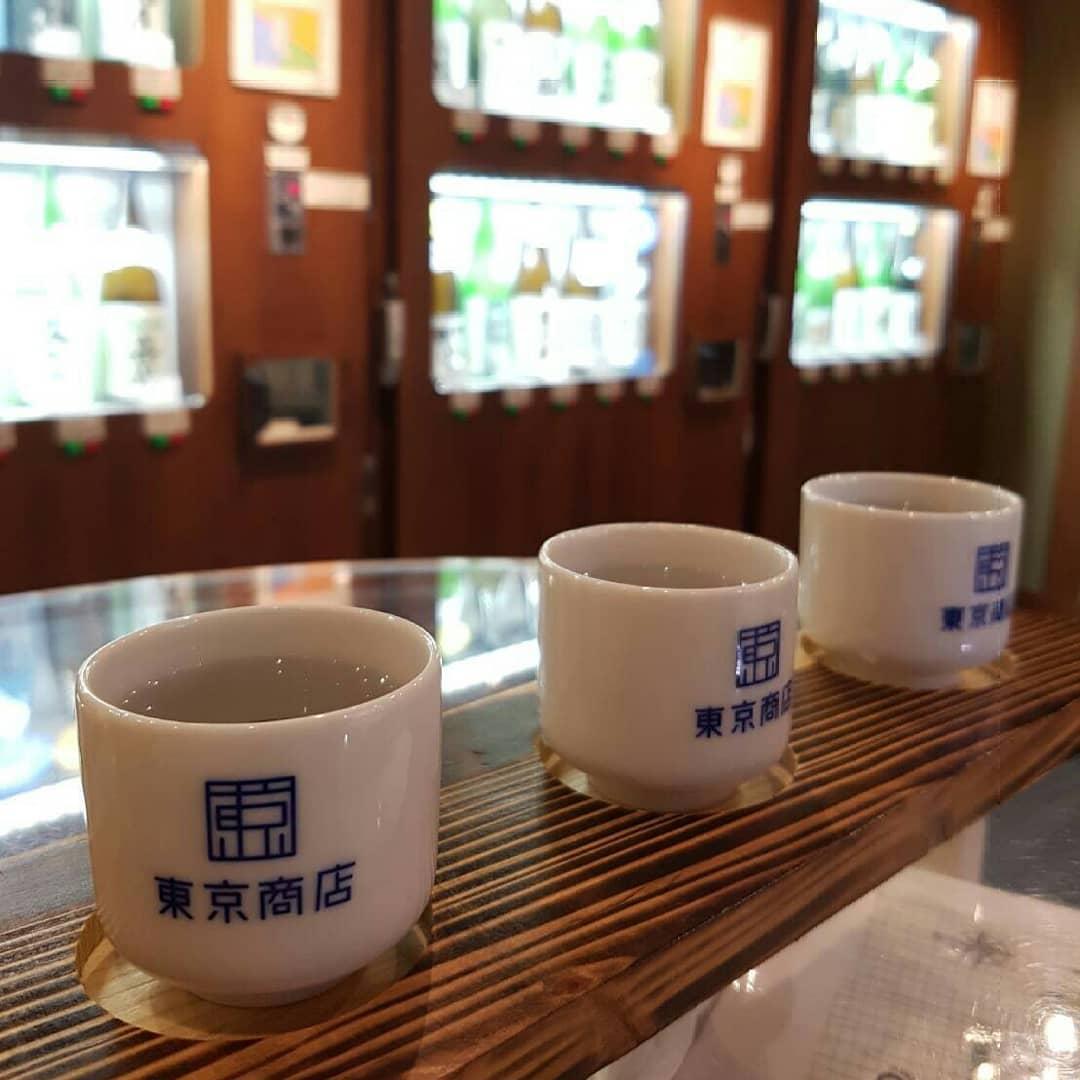 Image credit: @wasyu.jungin
Pick a cup and refill it as many times as you want for ¥300 (~USD2.77) per cup. Top up another ¥300 and you'll get to enhance your drinking sesh with 3 side dishes. The sides comprise soya egg yolk, pickles, and Japanese tofu.
Address: 1 Chome-3-20 Yokoami, Sumida City, 130-0015 Tokyo
Opening hours: Tue – Sat 11AM-10PM | Sun 11AM-9PM (Closed on Mon)
Directions: 1-minute walk from Ryōgoku Station
---
3. Pokémon merch
---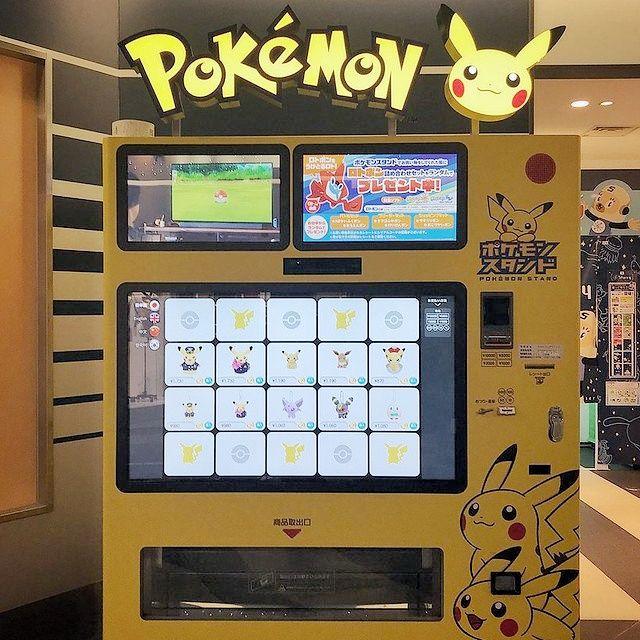 Image adapted from: Marceline Smith
You don't have to go the extra mile to visit a Pokémon Centre to catch 'em all. If you ever find yourself at Haneda Airport, keep your eyes peeled for Pokémon Stands – bright, yellow vending machines with tons of plushies and keychains from ¥540 (~USD4.98) onwards.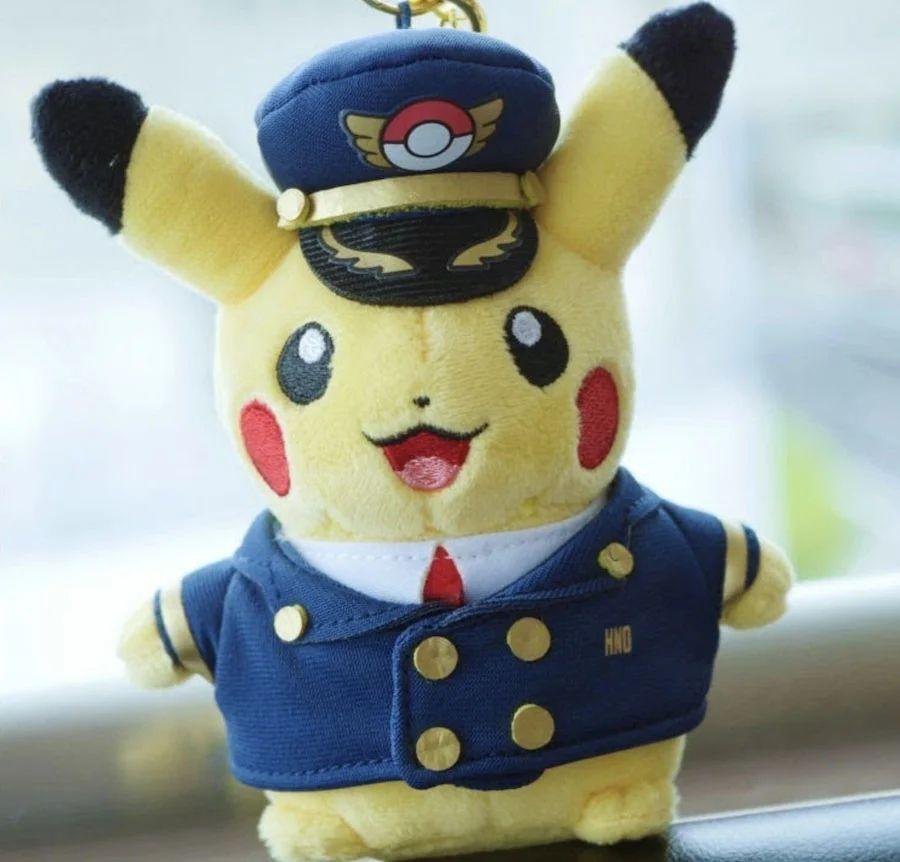 Image credit: Mustsharenews
The vending machine menu comes in 4 languages – Japanese, Chinese, Korean, and English. You don't have to lament your poor Japanese language ability and worry about making the wrong purchase.
Haneda Airport
Address: Hanedakuko, Ota City, 144-0041 Tokyo 
---
4. Mystery gifts
---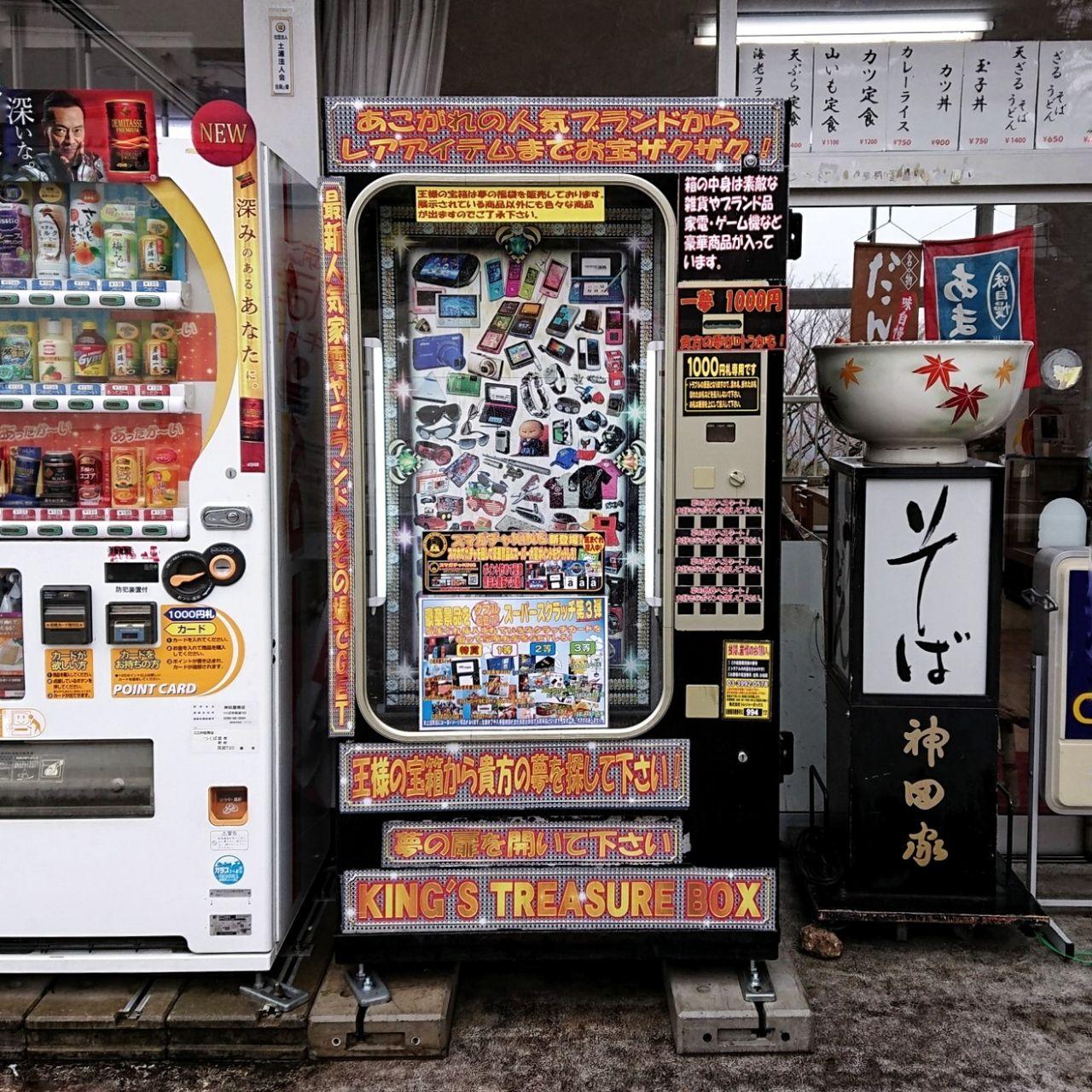 Image adapted from: @tsukuba_kandaya
King's Treasure Box is the perfect solution for last-minute gift-givers. If you find yourself in a pinch, head to any of the 650 King's Treasure Box vending machines across Tokyo to stockpile souvenirs and gifts. But there is a catch – what you get is a mystery. 
Items in these vending machines include selfie lenses, portable chargers, and even a game console that's worth ¥20,000 (~USD184.39). Simply insert a ¥1,000 (~USD9.22) bill and let Lady Luck work her magic. Rest assured as every item is worth at least ¥1,000, so you can get your money's worth.
---
5. Discounted transportation tickets
---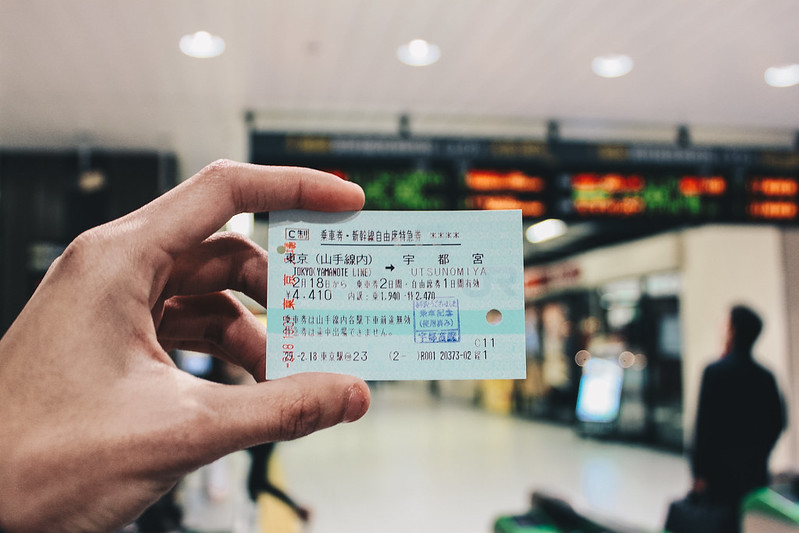 Image credit: waychen_c
Inspired by discount ticket shops, otherwise known as kinken shops, the vending machine outside of Akasaka Station sells unwanted or resale tickets at a discounted price. The savings are minimal, but it is a handy alternative for last-minute travellers. 
Besides shinkansen and Tokyo Metro tickets, the vending machine also carries stuff such as Tokyo Skytree tickets, sports games tickets, and concert tickets. Do take note that the vending machine menu is in Japanese – there are no translations available.
---
6. Hanko personal stamp
---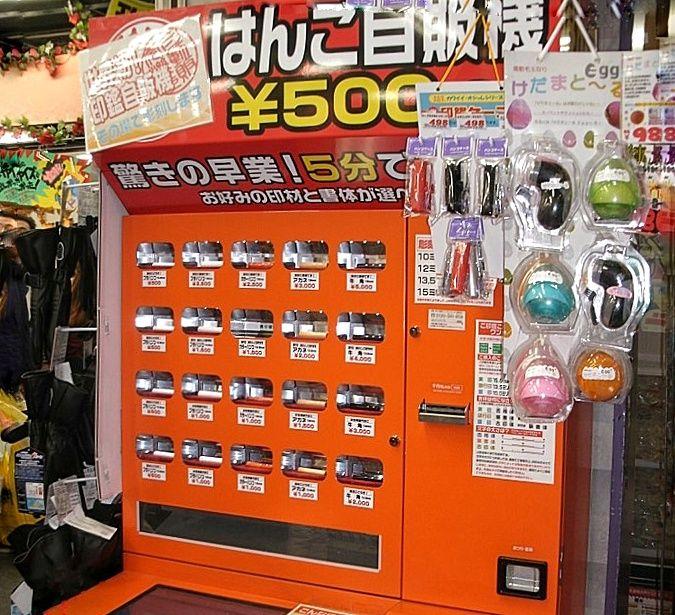 Image adapted from: Wikimedia Commons 
If you've looking for a souvenir that truly embodies Japan, the hanko is one nifty option to consider. The red seal is a traditional substitute for handwritten signatures, and you can get this at any hanko vending machine from ¥500 (~USD4.66) onwards.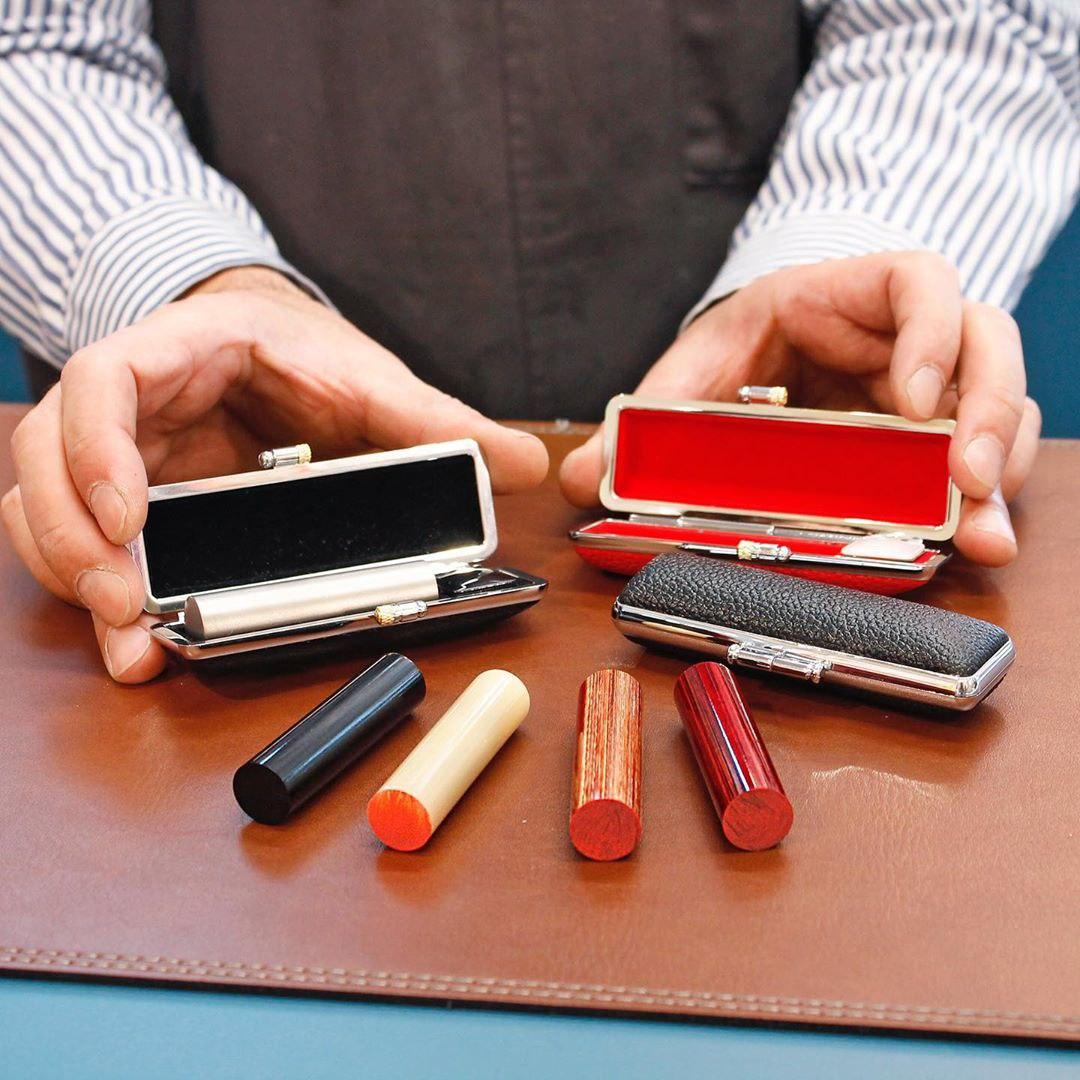 Image credit: @tennojimio_official
These vending machines can be found near Don Quijote outlets, and the shopping experience takes less than 10 minutes, depending on the kind of font, size of hanko, material, and design of the stamps you prefer. The final product is a slim, stylish tube that resembles a chapstick. Complete the purchase with an ink pad from Don Quijote.
---
7. Umbrellas for unexpected wet weather
---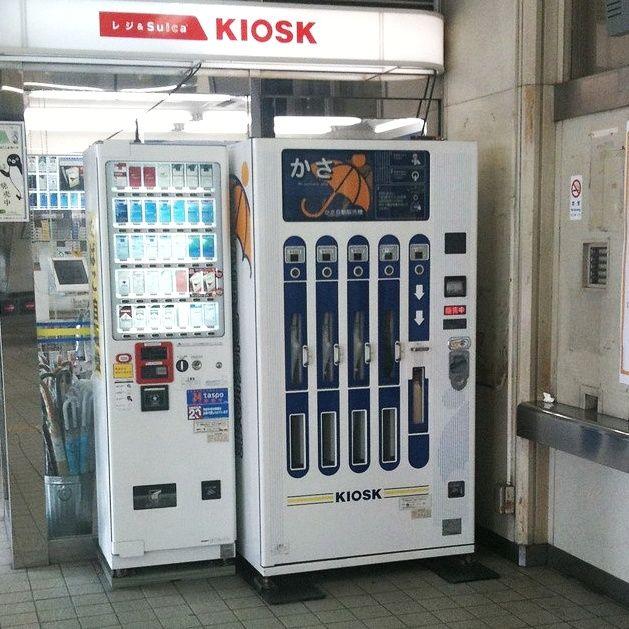 Image adapted from: mdxdt
A lot of things can ruin a trip – a missing passport, a late flight, or an unexpected downpour. But the last one is easily preventable, thanks to handy umbrella-dispensing vending machines in Japan. These machines are typically found in train stations, and an umbrella costs upwards of ¥450 (~USD4.11), though you can sometimes find machines that loan out umbrellas for free.
---
8. Sushi socks
---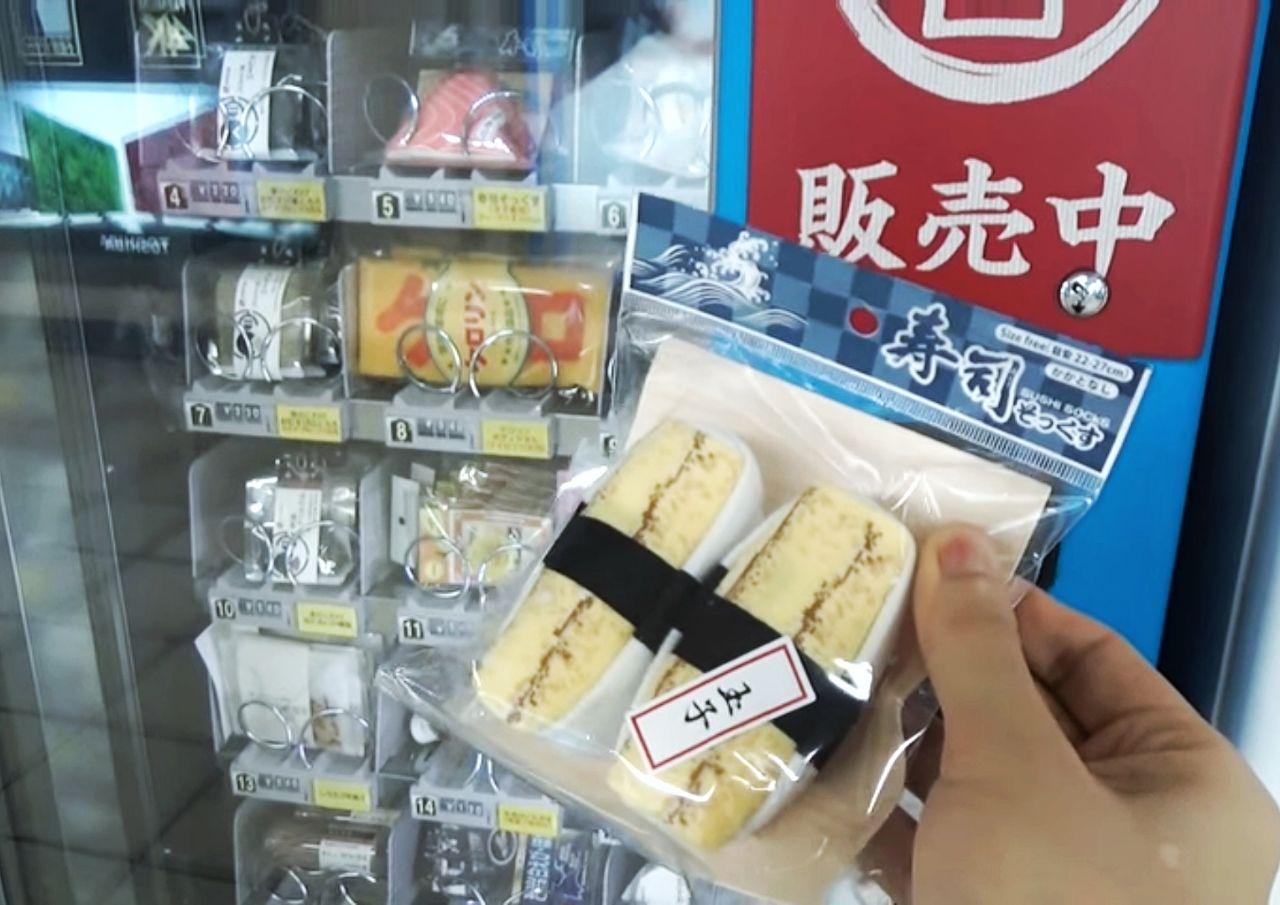 Image adapted from: japanesestuffchannel
Sighted just outside Tokyo Station, this sock vending machine dispenses the cutest sushi socks for just ¥540 (~USD4.98). The vending machine sells other palm-sized souvenirs as well, but if you're searching for something unique, a pair of sashimi or tamago socks will fit the bill. 
---
9. Canned bread
---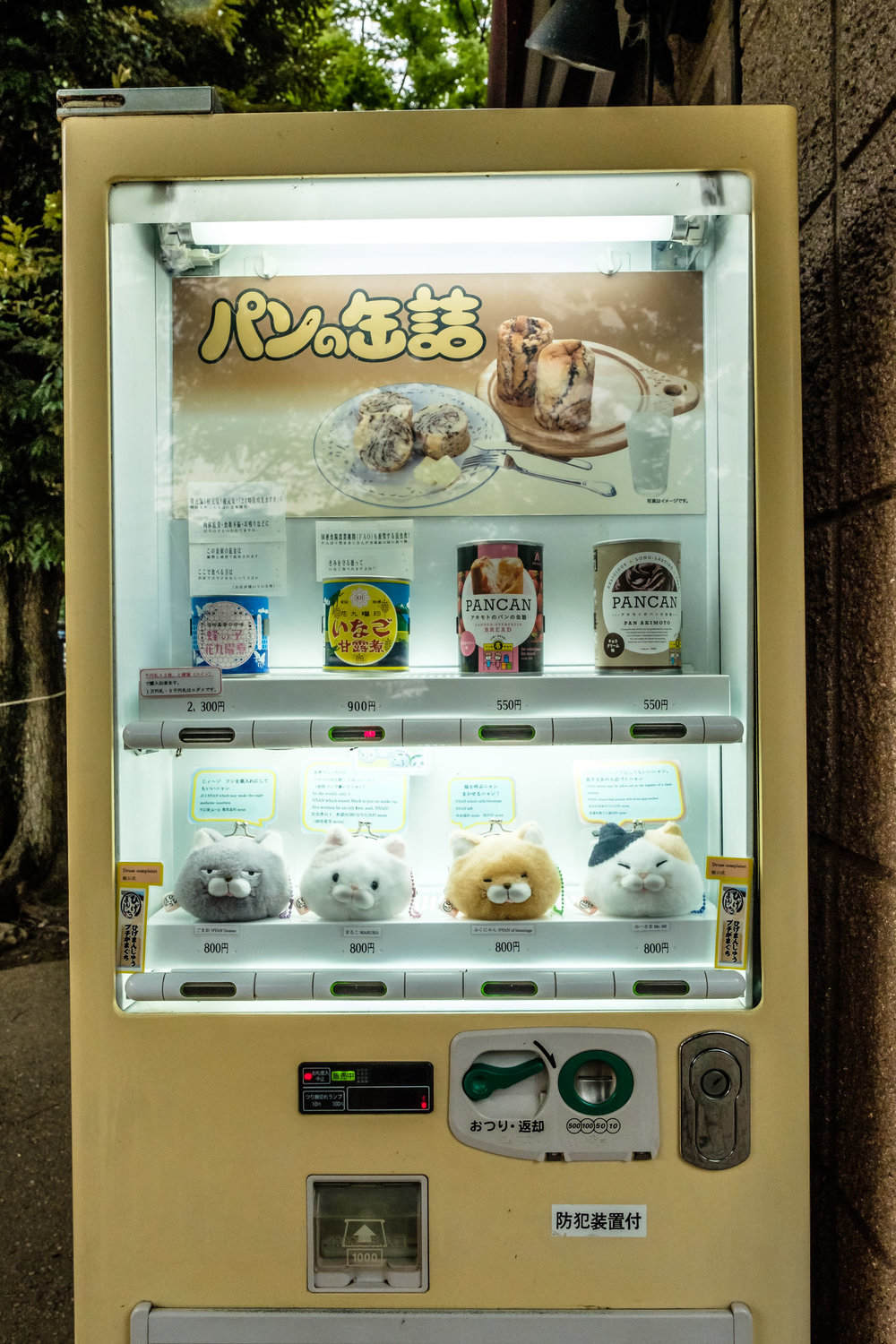 Image credit: Tokyo in Pics
Canned bread – also known as pancan, since pan means bread in Japanese – is sold for ¥550 (~USD5.19) at a vending machine in Inokashira Park. But that's not the only pancan vending machine in Japan. In fact, they're pretty common. Depending on which vending machine you visit, you can find canned bread in flavours such as chocolate, strawberry, and coffee.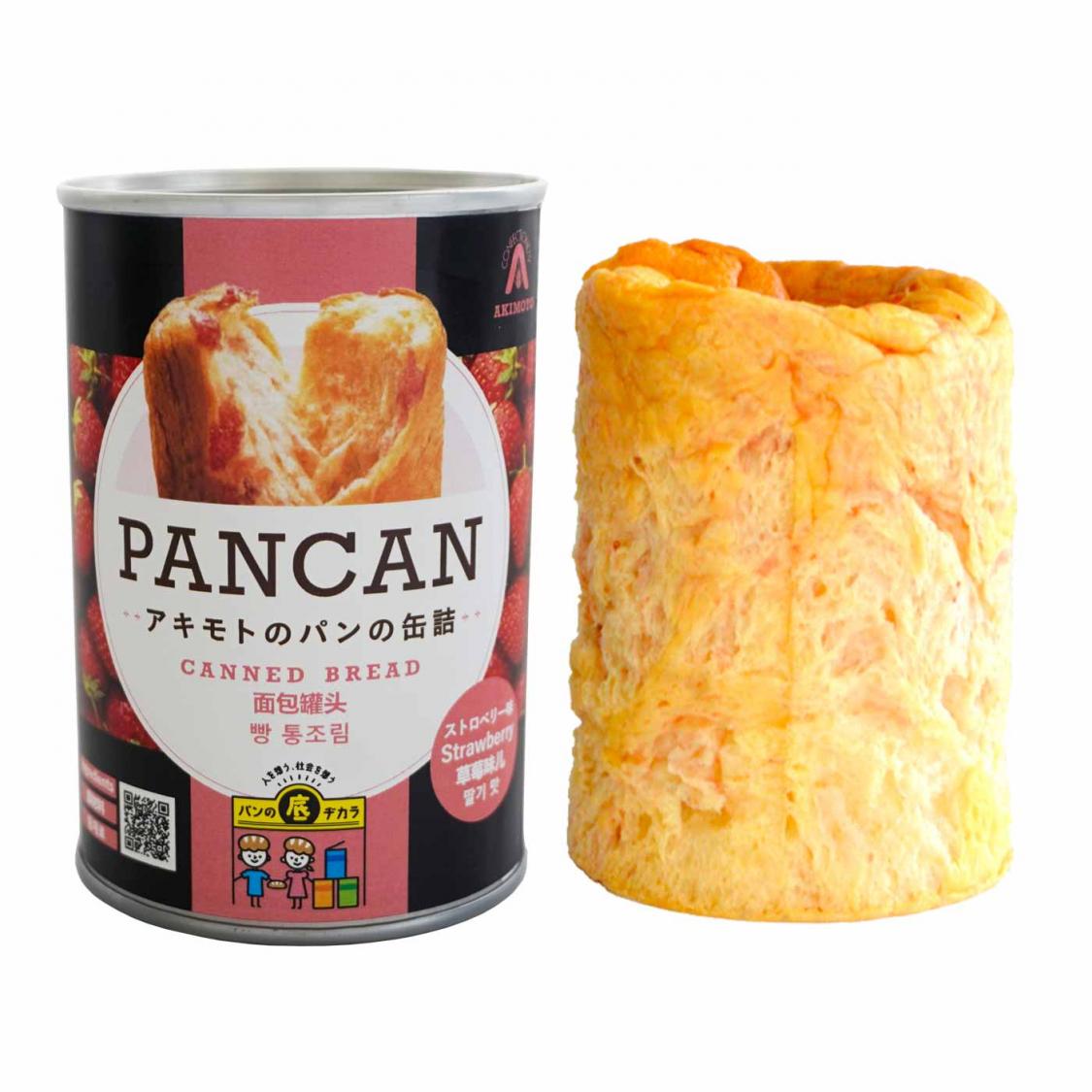 Image credit: EVERYTHING FROM.JP
Its primary selling point is its sheer convenience. Busy workers rushing for work without time for a proper breakfast can just buy canned bread from the vending machines for a quick meal later. That said, we make no promises about the taste.      
Address: 1-18-31 Gotenyama, Musashino City, Tokyo
Directions: Enter Inokashira Park via the entrance closest to Kichijoji Station. The vending machine will be just ahead on the left.
---
10. Hot oden in a can
---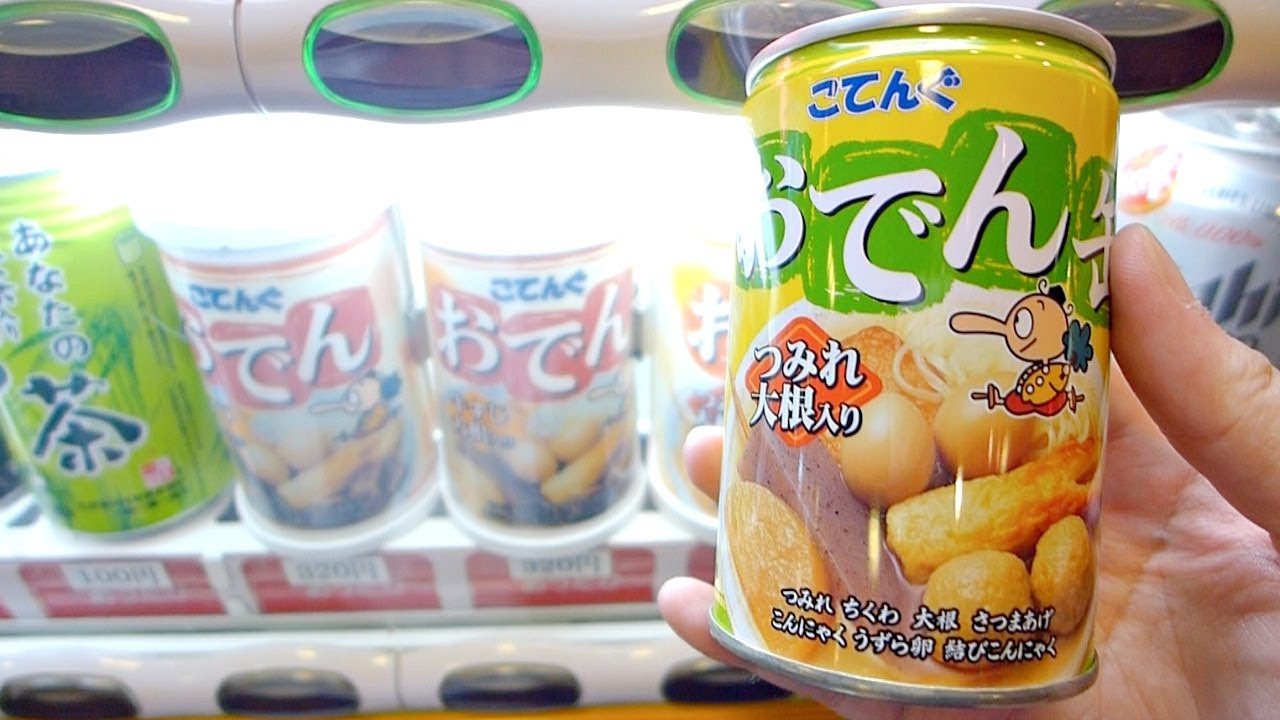 Image adapted from: SuesKawaiiCollection
Oden is a type of soy sauce-based soup that contains ingredients such as boiled eggs, daikon, konjac. The canned hot oden, which can be found in some vending machines in Japan, comes in 2 types – one contains fish balls while the other contains beef tendon.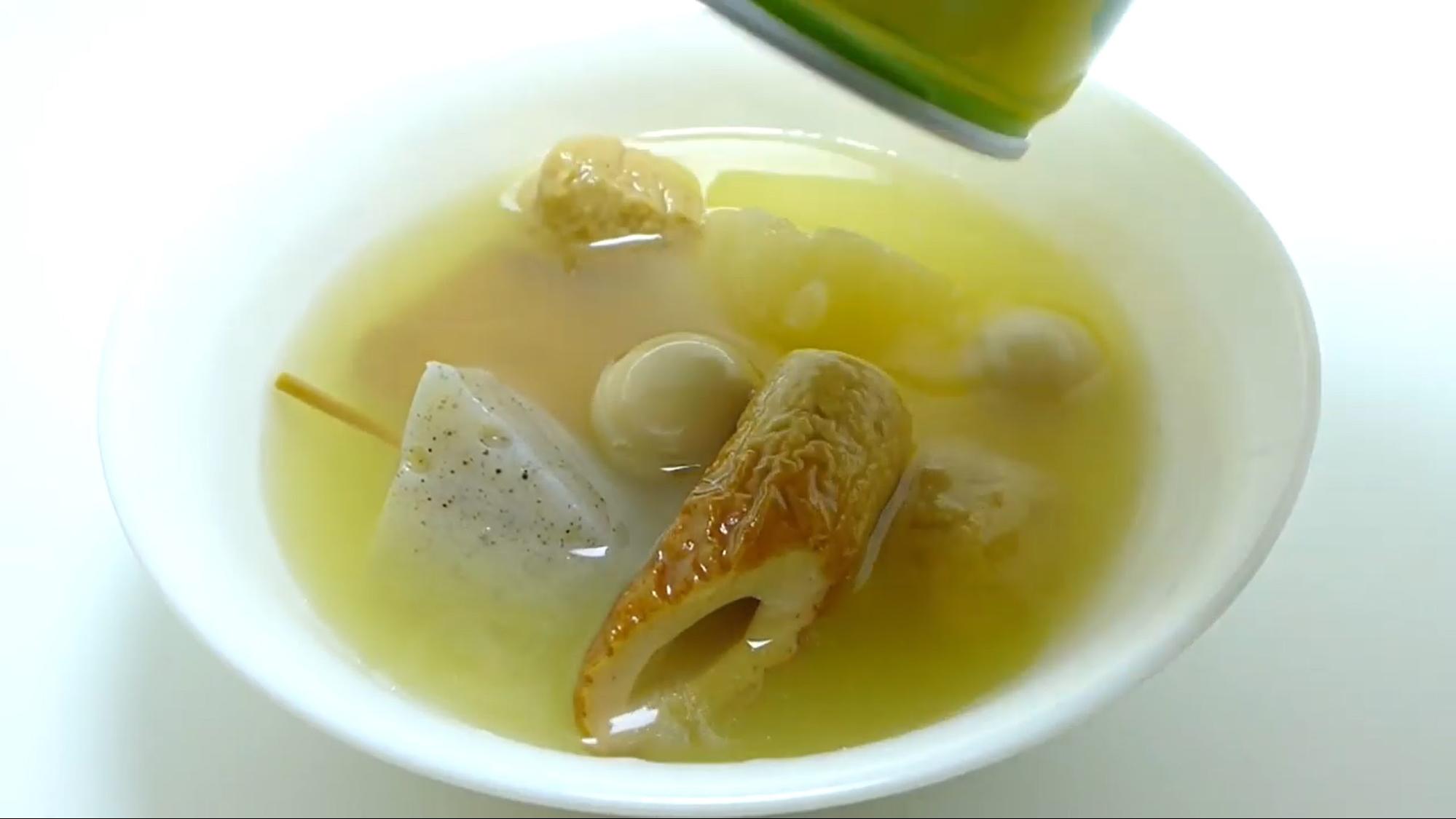 Contents of the oden can
Image adapted from: SuesKawaiiCollection
Akihabara is the birthplace of canned oden. Canned oden was borne out of the shoppers' desire to visit as many electronic and anime stores as they could without wasting time on other things, such as eating. 
Here's what to expect when you open a can of oden:
Video credit: SuesKawaiiCollection
The canned oden only costs ¥320 (~USD3.02) and it is an Akihabara speciality that's worth trying out if you are in the vicinity. 
Address: 3-12-15 Sotokanda, Chiyoda-ku, 101-0021 Tokyo
Directions: Look for the AKIBA Cultures ZONE building, which is at the corner of a lane that runs parallel with Chuo-doori main street. When AKIHABARA Crane Labo is in sight, you will be able to see the canned oden vending machine just around the corner.  
---
11. Bug snacks
---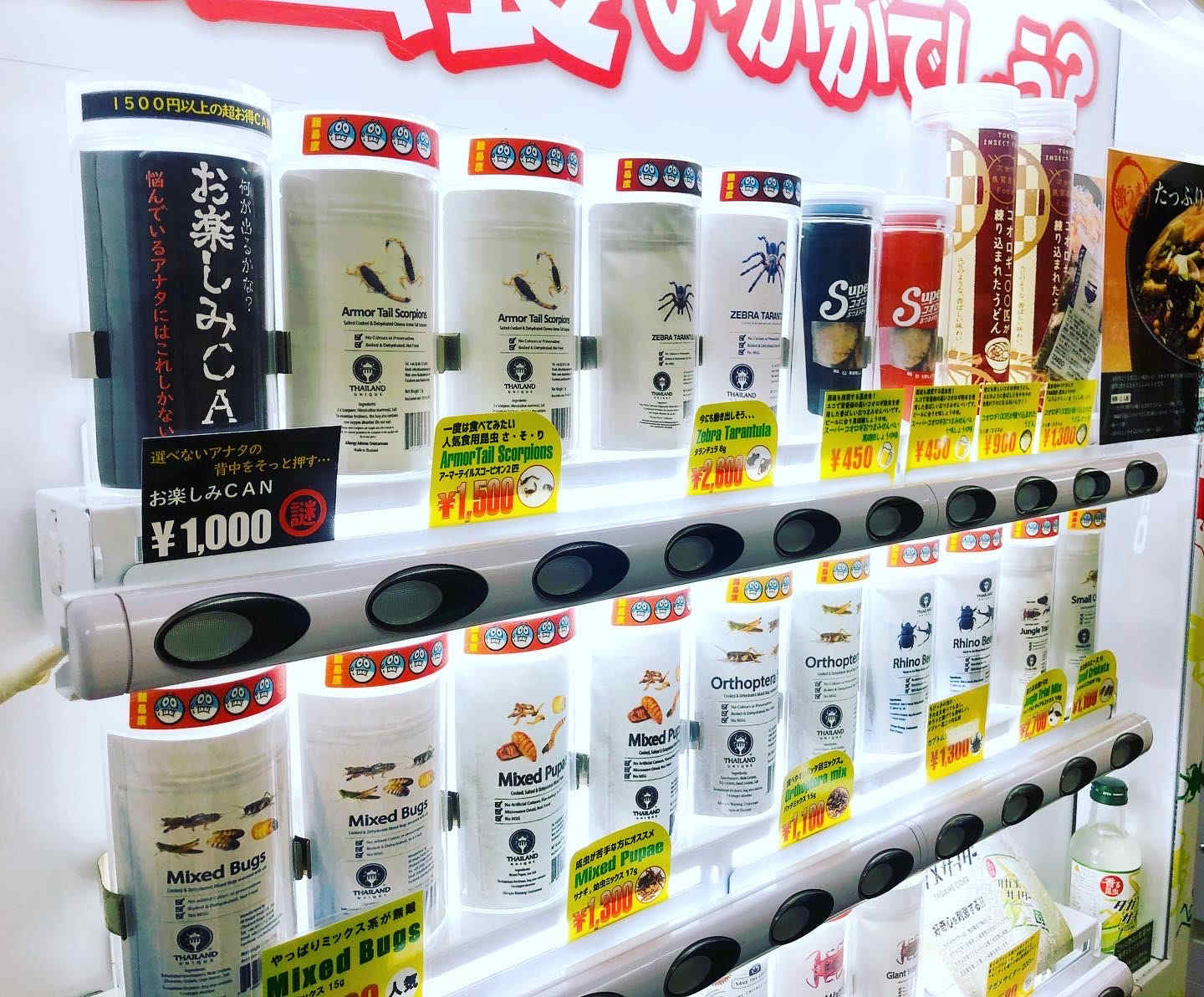 Image credit: Tokyo Dreamlife
Near the Namco Arcade in Nakano Broadway, there is a vending machine that dispenses insect goods, including chocolate-covered silkworms and grasshoppers, dried scorpions and tarantulas, as well as insect udon. The cost of the bug snacks ranges from ¥450 (~USD4.25) to ¥2,000 (~USD18.89). 
There is also a "mystery can" option at the top left hand of the machine. You won't know what you'll get until you actually open the can. This "mystery can" is installed for consumers who are indecisive, but it can also double up as a nasty penalty during game forfeits.  
Directions: Nakano Broadway is located a 3-minute walk from Nakano Station on the JR Chūō Line and the Tozai Subway Line.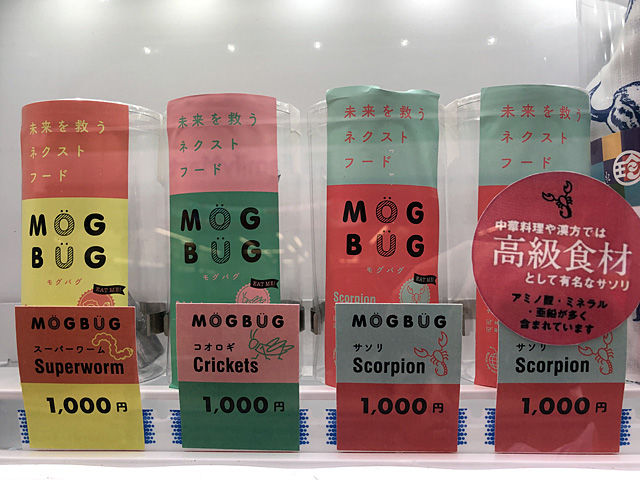 Image credit: livedoor Blog
But Nakano Broadway isn't the only place where you can find bug tidbits. MOGBUG, a Japanese brand that aims to promote food products made with insects, operates a vending machine selling bug-related snacks.
Some MOGBUG snacks include crunchy scorpions, cricket energy bars, and dried rhino beetles. This MOGBUG insect snack vending machine can be found in Takadanobaba, in front of an izakaya (traditional Japanese pub) called Kome to Circus.
Address: 2 Chome-19-8 Takadanobaba, Shinjuku City, 169-0075 Tokyo
---
12. Business cards
---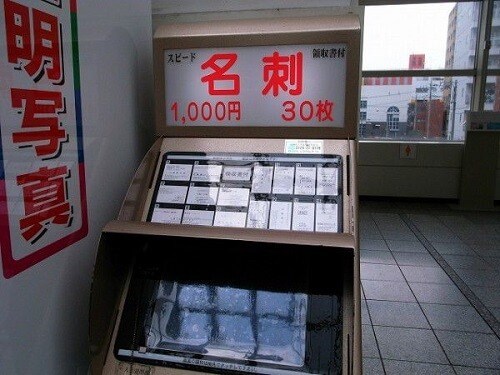 Image credit: Vanyu-Fuji Vending Machine
Business cards are widely used in Japan – it's so ubiquitous that even Japanese mothers print their own business cards.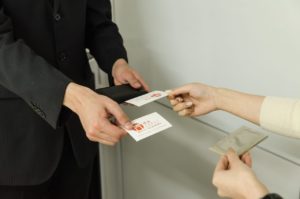 Image credit: Meiji Internships
When meeting for the first time, business cards are exchanged in a tradition known as meishi koukan. The act of exchanging business cards is a sign of respect for the other party and your intention of continuing this relationship. Failure to have your own business cards ready for exchange can be seen as a slight towards the other party.
As such, vending machines that help you print out business cards can be a lifesaver for people who find themselves suddenly in need of some. A typical business card vending machine, such as the one at Tokyo Station, charges ¥1,000 (~USD9.47) for 30 pieces. 
Here's how the business card vending machine works:
Video credit: Ericsurf6
---
13. Paper fortunes
---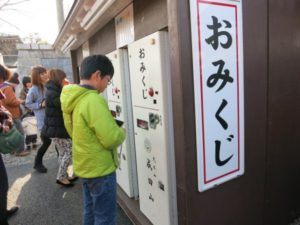 Image credit: Yoshie Nakano
Paper fortunes, also known as omikuji in Japan, can be found at Shinto shrines and Buddhist temples. Omikuji are typically obtained by giving a small offering and picking one from a wooden box at random. 
There's also a "hi-tech" option: omikuji vending machines. You can find such machines in places such as Naritasan Shinshoji Temple in Narita, and Yokohama's Chinatown.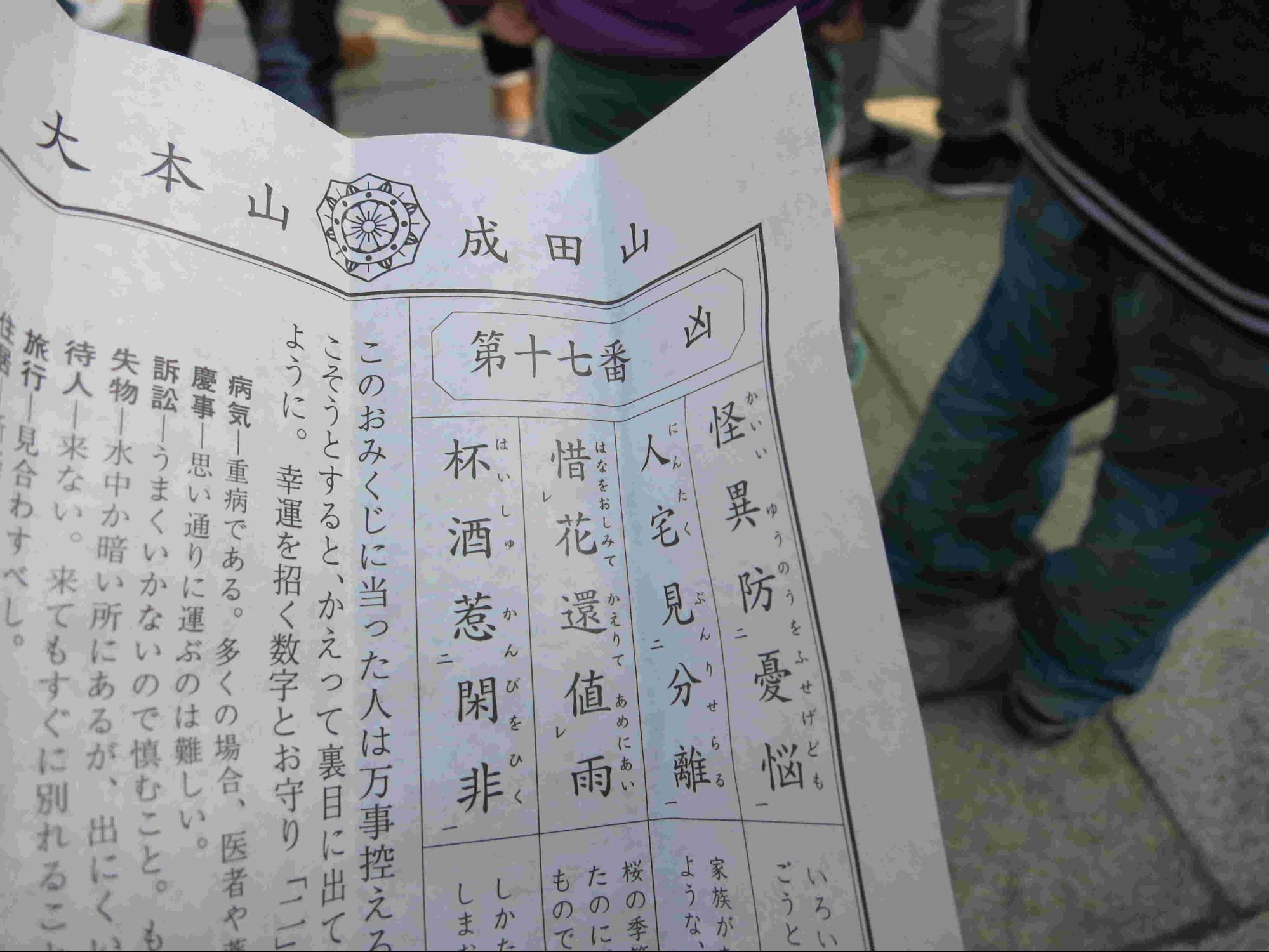 An example of the omikuji which is dispensed from the machine
Image credit: Yoshie Nakano
These machines make it easier and faster to get a paper fortune as it is immediately dispensed after a coin has been inserted – you no longer have to ponder and choose one of the papers from a box. Whatever fortune you get is truly based on luck.   
Head over to the Naritasan Shinshoji Temple in Chiba Prefecture to check this paper fortune vending machine out and get yourself an omikuji just for the experience. 
Address: 1 Narita, 286-0023 Chiba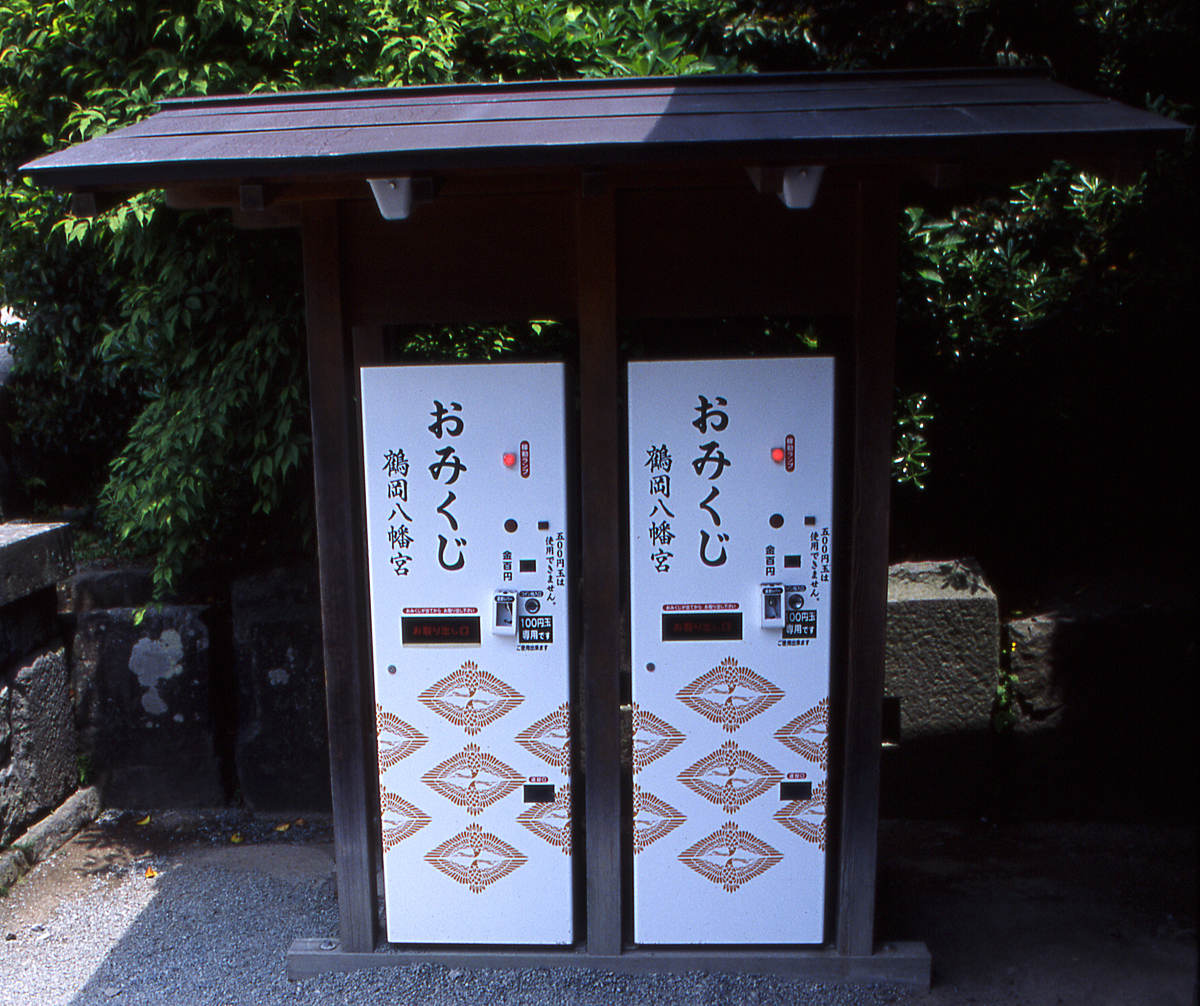 Image credit: Wikimedia Commons
You can also find omikuji vending machines at the Tsurugaoka Hachiman Shrine. 
Address: 2 Chome-1-31 Yukinoshita, Kamakura, 248-8588 Kanagawa
---
14. Omamori amulets
---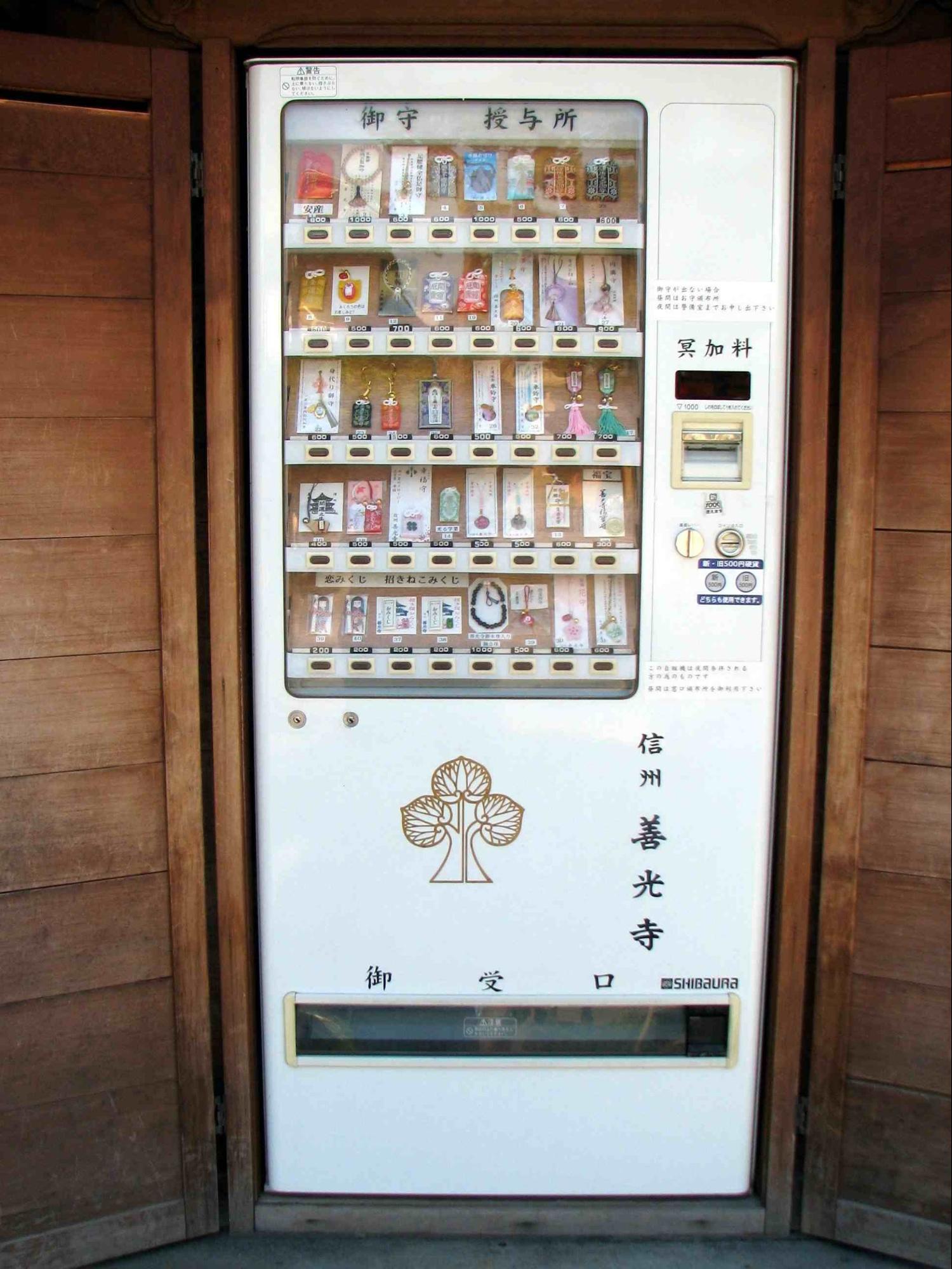 Image credit: Wikimedia Commons
Japanese amulets, also known as omamori in Japan, are lucky charms that provide various forms of luck or protection. Its divine prowess usually depends on the Shinto deity or Buddhist figure worshipped there. 
Omamori are commonly sold at shrines and temples, and visitors will usually purchase one for themselves or for their families as a souvenir. 
At Zenkoji Temple in Nagano Prefecture, there is an omamori vending machine that sells a variety of amulets ranging from ¥200-¥1,000 (~USD1.89-USD9.47).
Address: 491 Naganomotoyoshichō, 380-0851 Nagano
---
15. Handmade origami
---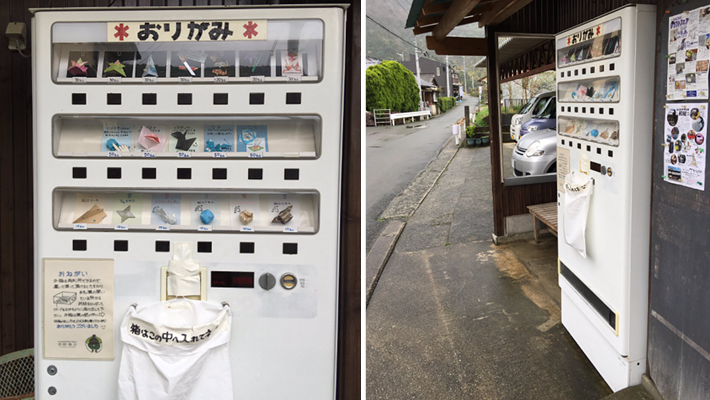 Image credit: Niindo
A vending machine in Uchiko sells handcrafted origami. It has garnered a lot of attention in Japan because this vending machine pays homage to the town's culture, which is closely linked to paper production.
Based on news reports back in 2017, the origami found in this vending machine is handmade by an elderly woman. She also runs the sundry shop where the vending machine is located. 
The lady refurbished the machine to sell origami, which she enjoys crafting. The price of the origami pieces range from ¥10-¥50 (~USD0.10-USD0.47), designs include everything from a cute rabbit to a shuriken (Japanese throwing star).
Address: 1555-3 Hiraoka-Ko, Kita-gun, Uchiko-cho, Ehime Prefecture
Directions: Look for Okano Shoten. The vending machine is located right outside the shop.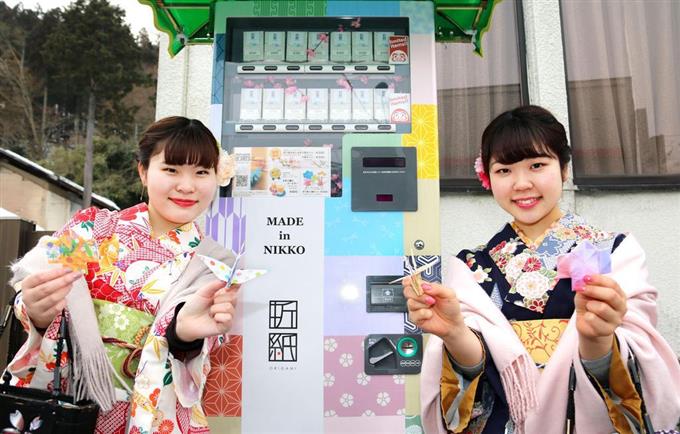 Image credit: goo.blogspot
Besides the one in Uchiko, there is also an origami vending machine near the Toshogu Shrine in Tochigi Prefecture. Axis Inc, an IT firm, turned an old cigarette vending machine to one that sells origami pieces. 
The origami in the machine are made by 3 women with mental disabilities, as part of a project called Wings of the Crane. This project was born by Axis Inc.'s desire to remove the social stigma surrounding people with disabilities by letting the public see their works of art. 
You can purchase a box of 5 designs for just ¥200 (~USD1.89). Each origami set also includes a QR code that links to a site containing the artist's information. It also has more information about the Wings of the Crane project.
---
Unique vending machines in Japan 
---
Japan is well known for its incredible number of vending machines located across the country and it is literally impossible to not see one when you are there. With so many vending machines, you can pretty much find anything you are looking for being sold in one of them. 
Besides the usual food and drinks, the vending machines in Japan also sell strange items you'd never think to find in them. To have a unique experience, check out these vending machines we've listed on your next holiday.
Check out these articles about Tokyo:
---
Cover image adapted from: @hanko_de_hanko, Grubbits, and @qtesy.online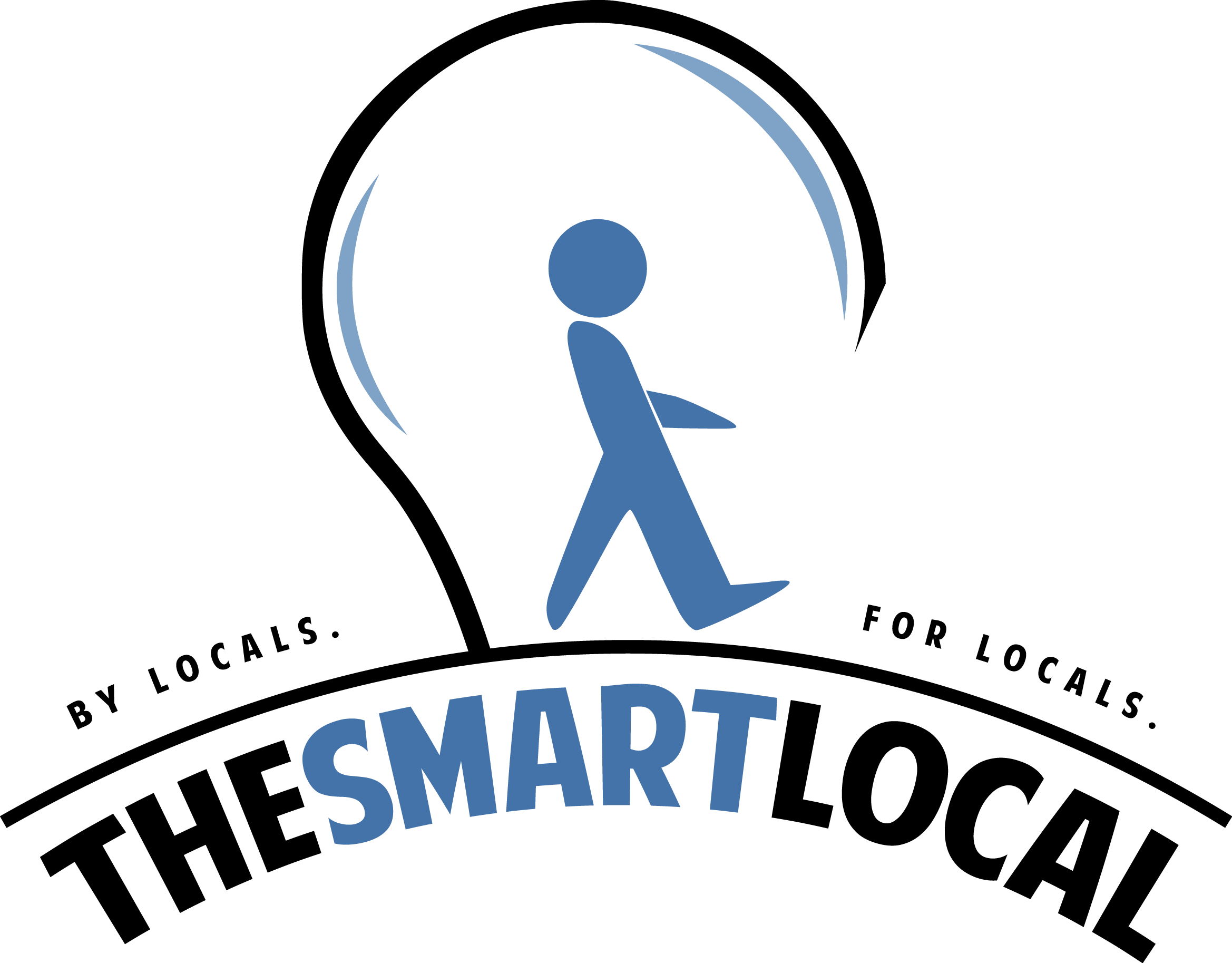 Drop us your email so you won't miss the latest news.