Japanese horror movies 
---
Thai horror movies are in a class of their own, but Japanese horror movies are no slouch either. In time for the spooky season, we bring you a list of bone-chilling Japanese horror movies, ranging from gruesome murders to unsolvable psychological terrors.
---
1. The Ju-On franchise (2000-2009)
---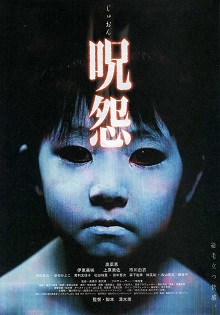 Image credit: Wikimedia Commons
This particular entry is a bit of a cheat as Ju-On spans whole film series. The popularity of the 1st movie, Ju-On: The Curse resulted in many spin-offs, remakes, as well as sequels. 
Ju-On: The Curse tells the tale of the bloody trail left behind after an enraged husband discovers his wife's adulterous affair.
Takeo Saeki murders his wife Kayako, his son Toshio, and his cat Mar in a fit of jealous rage. The bloodbath unleashes a curse so deadly that it incites a chain of events that follows anyone who is unfortunate enough to come into contact with it.
A cult classic, Ju-On: The Curse is a must-watch for all horror buffs. 
Films in the Ju-On franchise: 
Ju-On: The Curse 2 (2000)
Ju-On: The Grudge 2 (2003)
Ju-On: White Ghost (2009)
Ju-On: Black Ghost (2009)
Ju-On: The Beginning Of The End (2014)
Ju-On: The Final Curse (2015)
---
2. Ring (1998)
---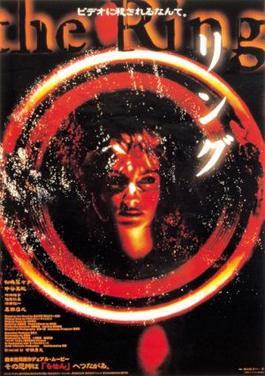 Image credit: Wikimedia Commons
In the 1998 film Ring, high schoolers Tomko and Masami are having a sleepover, There, they start discussing an urban legend of a videotape that curses its viewers to death within 7 days after a foreboding phone call.
Tomoko confesses to Masami that she did indeed watch a strange videotape with 3 of her friends the previous week. The phone then rings, but it is merely Tomoko's mother.
Masami leaves to use the toilet, and Tomoko is killed by an unknown force.
Tomoko's aunt Reiko starts to investigate her niece's mysterious death. She watches the videotape and even enlists the help of her psychic ex-husband to help her.
The couple discover the story behind the curse, desperately trying to find a way to break it before it's too late. Eventually, a solution is found, but the consequences are more complicated than they think.
Featuring Japan's most famous well-dwelling ghost, Ring spawned a film series that you can't miss out on. The franchise became so popular that there's even a crossover movie with the Ju-On series – Sadako vs Kayako. 
---
3. One Missed Call (2003)
---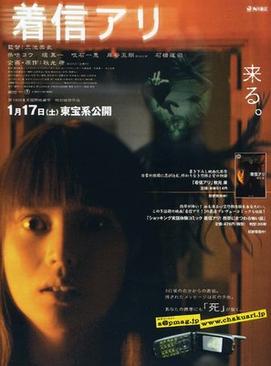 Image credit: WikimediaCommons
One Missed Call revolves around psychology student Yumi Nakamura, whose friend Yoko receives a phone call on her cellphone. Oddly enough, the caller ID says that the call is from herself.
They listen to the voicemail left by "herself", dated 2 days in the future, and hear "Yoko" say that it's beginning to rain. The call is cut off shortly after a horrendous scream is heard.
2 days later, Yumi receives a call from Yoko and hears the contents of the voicemail, only it's now happening in real-time. Then, Yoko screams as she is thrown off an overpass onto the path of a speeding train.
Though it's assumed that Yoko committed suicide, her friends recall previous deaths that were similarly preceded by voicemails. Kenji, Yoko's boyfriend, dies soon after receiving a mysterious voicemail from "himself". As they learn more about the curse, and the duo finds themselves falling deeper into the clutches of evil forces.
---
4. Infection (2004)
---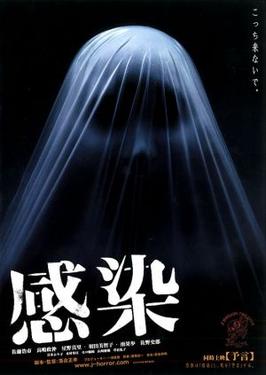 Image credit: WikimediaCommons
Infection is set in a run-down hospital that is severely understaffed. The staff are plagued by a strange black rash that first appears on a prospective patient who is denied admittance by Dr. Akiba.
The staff are further beset by the death of a burn victim in Room 3, who was given the wrong drugs. They decide to cover up the cause of death by moving the victim's body to another room.
Things go wrong when Dr. Akiba discovers that another doctor, Dr. Akai, has admitted the patient with the black rash in order to study his symptoms. The patient is still alive, but his body is liquefying into a pile of green goo.
With the events of Room 3 complicating things, the discovery that the green goo is in fact infectious and hallucinogenic causes the staff to fall into chaos. 
When the truth of the situation is unveiled, Dr. Akiba finds that things are worse than it seems. Infection takes the audience along with Dr. Akiba on a psychological adventure through the horrors of the mysterious plague.
---
5. Premonition (2004)
---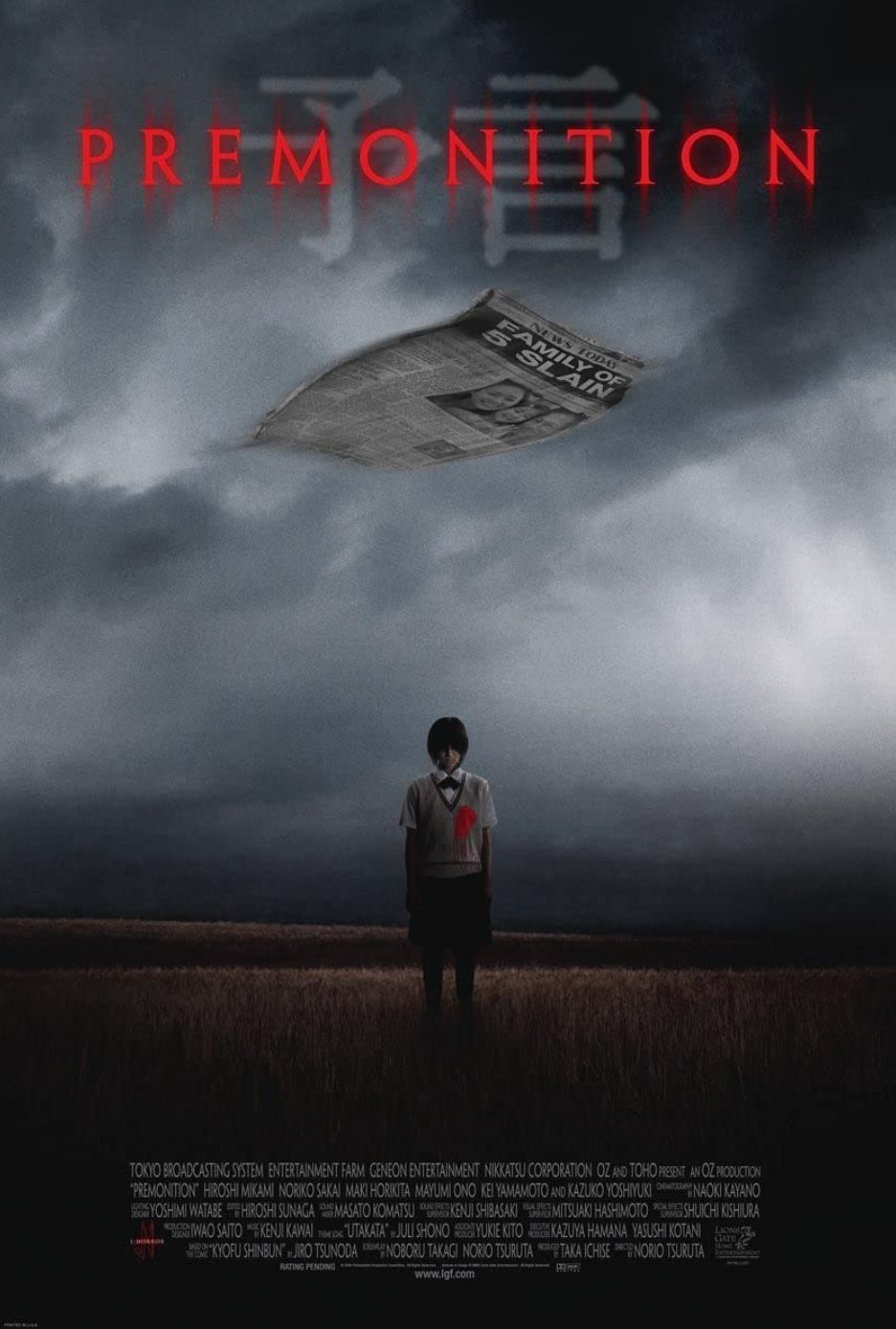 Image credit: IMDb
Premonition begins with high school teacher Hideki Satomi and psychology teacher Ayaka taking their 5-year-old daughter Nana back home to Tokyo after a vacation.
On the way home, they stop at a phone booth so that Hideki could upload a file. Inside the phone booth, Hideki sees a newspaper scrap showing Nana in a car crash, dated just a minute later at 8:00 PM.
In present time, Ayaka is stepping out of the car to get Hideki's help with Nana's jammed seatbelt when a truck suddenly crashes into their car, instantly killing Nana. When reporters show up on the scene, Hideki tries to find and show them the newspaper scrap, to no avail.
"The Newspaper of Terror" continues to plague Hideki and Ayaka, with their investigations leading them deeper into its clutches. A story with a twist, this movie will leave you with more questions than you started with.
---
6. Tomie (1998)
---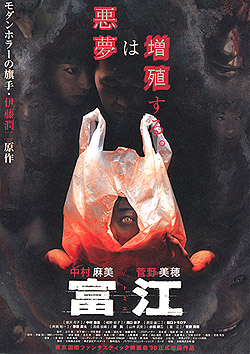 Image credit: WikimediaCommons
A famous film series based on the work of acclaimed manga artist Junji Ito, Tomie (1998) is the 1st film in the titular series. The tale begins with an investigation into the death of high schooler Tomie Kawakami, who seems to enchant her peers with her otherworldly beauty.
Since Tomie's death, 9 students and a teacher have either committed suicide or gone insane. Detective Harada is assigned to the case and discovers that this isn't the 1st Tomie Kawakami who's been murdered. In fact, there have been multiple Tomie murders since the 1860s.
One of Tomie's classmates, Tsukiko Izumisawa, is being treated for amnesia. Tsukiko continues on with life as per normal, even though there's a doubt at the back of her mind.
Tomie teaches us not to be fooled by good looks, but also that sometimes, we just can't help ourselves.
---
7. Tomio (2011)
---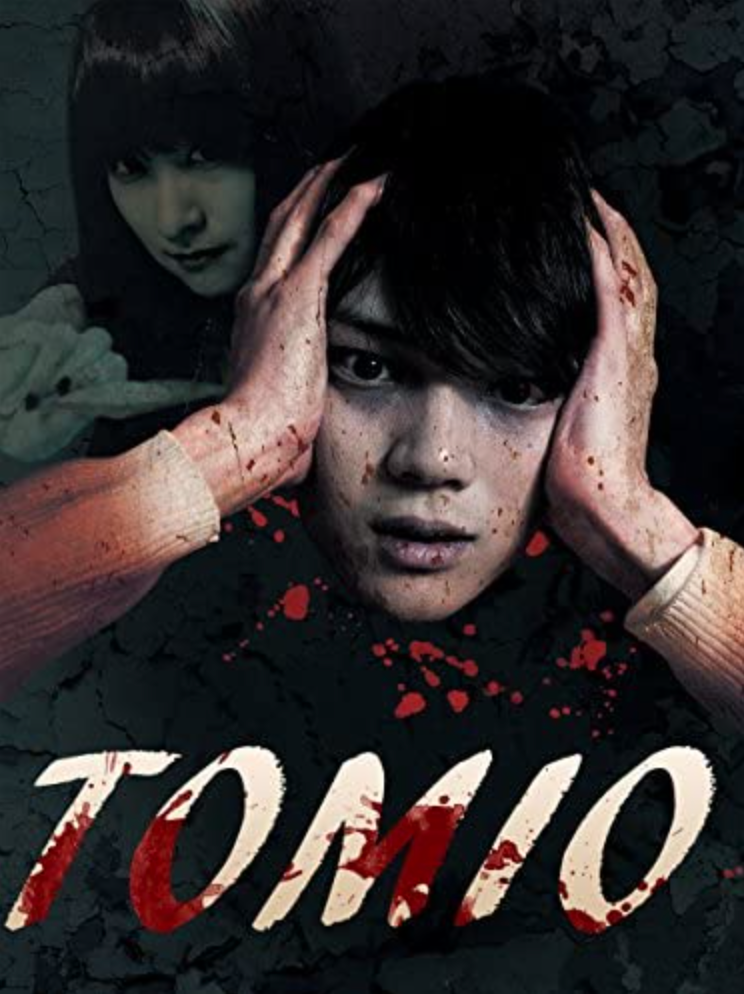 Image credit: IMDb
Adapted from a chapter of Ma no Kakera by Junji Ito, Tomio begins with the marriage of the titular character Tomio and his girlfriend Madoka.
After getting married, Madoka convinces Tomio to visit a psychic fortune teller to have their futures told. Tomio is instantly attracted to the seductive fortune teller, and unbeknownst to Madoka, he returns to the fortune teller late one night.
At some point, he comes to his senses and tries to distance himself from the fortune teller. In retaliation, she places a curse on him. Tomio finds that he is literally no longer able to keep his head on and has to hold onto it with his hands.
As with all his other works, this Junji Ito adaptation will have you suitably creeped out but intrigued at the same time.
---
8. Uzumaki (2000)
---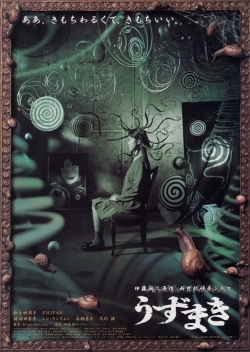 Image credit: WikimediaCommons
Based on the Junji Ito manga of the same name, Uzumaki begins with high schooler Kirie Goshima noticing her boyfriend's father get increasingly obsessed with spirals, going so far as to make a video log of images of spiral-related things. He eventually crawls into a washing machine and dies.
Soon, the entire town starts being affected by the spiral craze, with some starting to act like and turn into snails and girls styling their hair in exaggerated curls.
Kirie is left as the only unaffected person in the town, but for how long? As always, Junji Ito creates a world where things seem normal but are gradually revealed to be anything but. 
---
9. Suicide Circle
---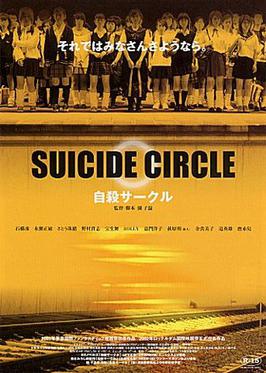 Image credit: WikimediaCommons
Suicide Circle is based on the novel of the same name and takes place over 6 days.
Following pop group Dessert's concert, 54 teenage school girls in Tokyo commit mass suicide by launching themselves in front of an oncoming train. On the same day, 2 nurses commit suicide by jumping out of a window. The police find the same thing at both locations – rolls of skin from the deceased.
Detectives Kuroda, Shibusawa, and Murata are assigned to the case and receive a tip that there is a link between the suicides and a website. They hurry to investigate but are led on a wild goose chase.
Touching on topics that are uncommonly in Japanese media, this movie explores the reasons behind suicides in Japan.
---
10. Cold Fish (2010)
---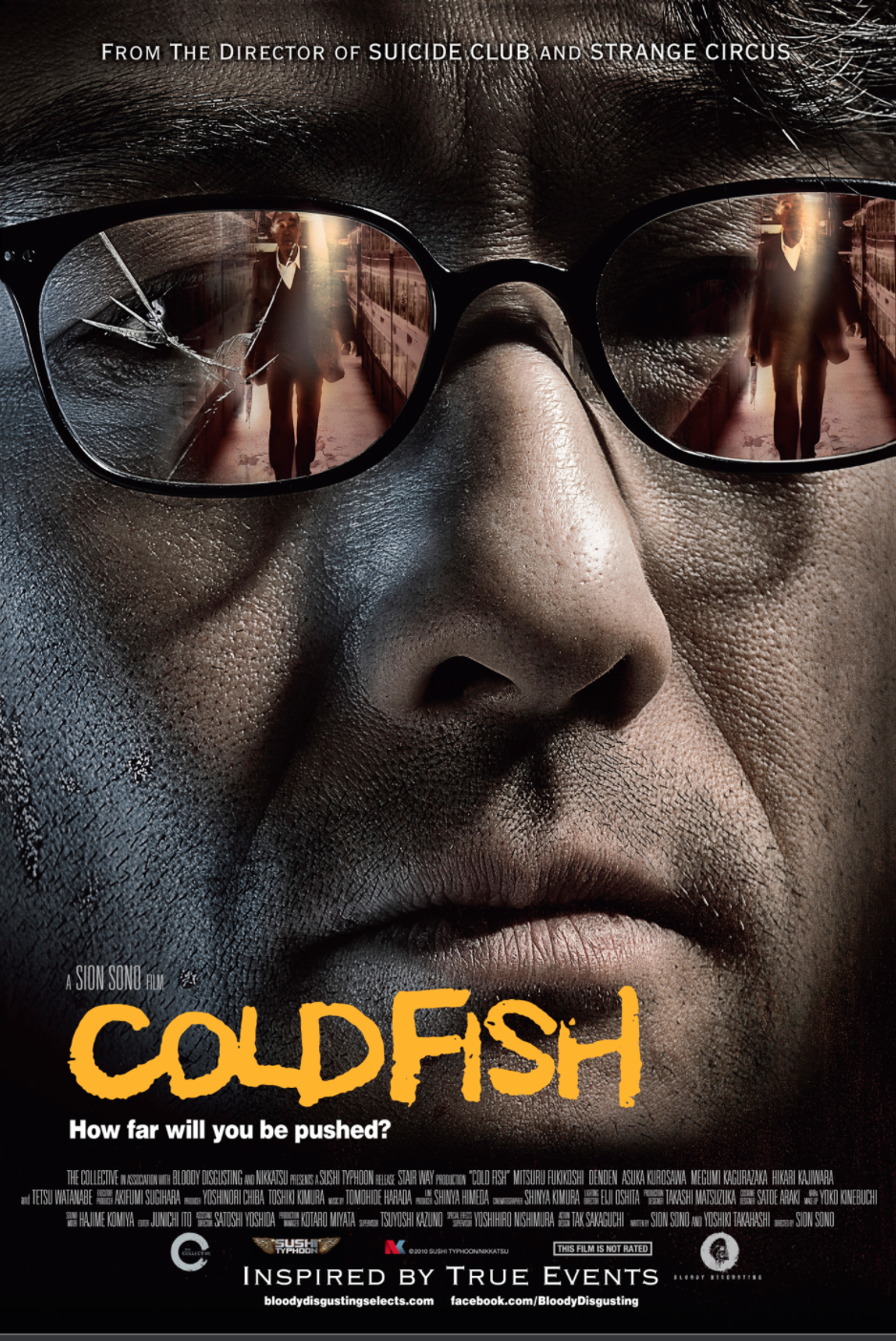 Image credit: IMDb
Directed by the same genius behind Suicide Circle, Cold Fish features the Shamoto family. 
The Shamotos are a simple middle-class family with typical troubles. Fish shop owner Nobuyuki frets over his daughter Mitsuko's strained relationship with his 2nd wife, Taeko. Mitsuko's rebellious nature leads to Nobuyuki being called down to a department store when she is caught shoplifting. 
There, the father-daughter duo meet a friendly man named Yukio Murata, who helps them settle the dispute; he even invites them over to his own fish shop.
Yukio and Nobuyuki form a strong bond, with Yukio hiring Mitsuko as a part-time worker. But good times have to come to an end. Nobuyuki soon finds himself discovering the darker side of Yukio's sunshine-y disposition. With his family and life on the line, Nobuyuki faces an intense struggle and an unpredictable foe. 
Cold Fish shows audiences that looks can be deceiving – a cheerful face can hide a dark past.
---
Japanese horror movies that are too iconic to miss
---
This Halloween, may this collection of Japanese horror movies satisfy all your creepy cravings and shave a few dollars off your air-conditioning bills.
Also check out: 
---
Cover image adapted from: Wikimedia Commons, Wikimedia Commons and WikimediaCommons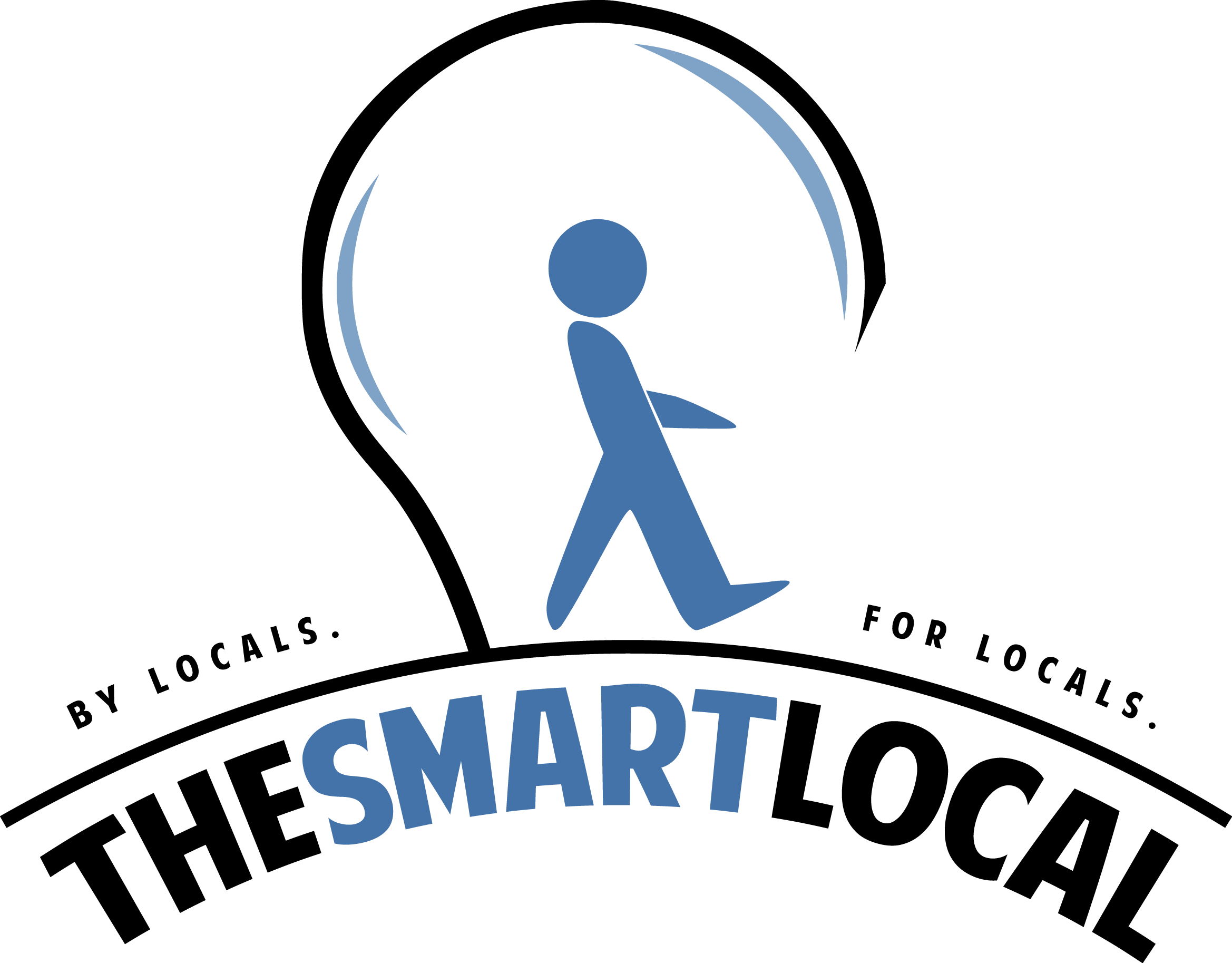 Drop us your email so you won't miss the latest news.