Japanese autumn leaves viewing spots
---
Spring in Japan is famed for its breathtaking cherry blossom views. Tourists flood popular locations like Ueno Park and Himeji Castle to capture that perfect shot of the world-famous blooms. But if you're not a fan of the crowds, or have already seen cherry blossoms, fall is the next best time to visit for gorgeous views of Japanese autumn leaves. 
Generally, autumn in Japan occurs between October and December. While these dates vary from year to year and depend on location, the best time to visit Tokyo, Kyoto, and Osaka in the autumn in 2020 is between mid-November to mid-December. 
Momijigari (autumn leaf viewing) season is now upon us, so here's a list of 13 Japanese autumn leaves viewing spots in Tokyo, Kyoto, and Osaka.
---
– Tokyo –
---
1. Mizumoto Park (水元公園)
---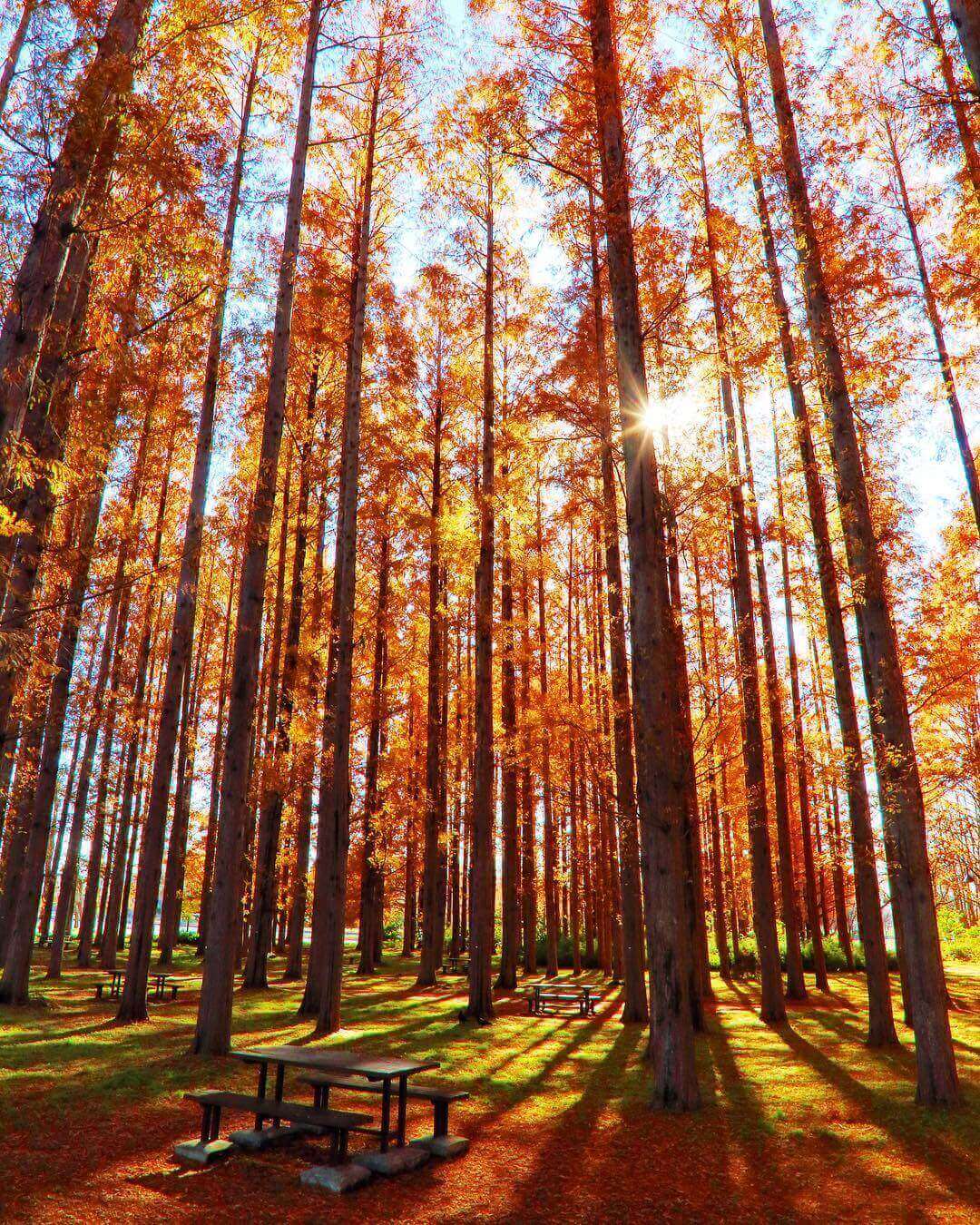 Image credit: @shiratori_toru
Mizumoto Park is the biggest park in Tokyo, with an area of more than 90 hectares – around the size of 110 football fields. It is a family-friendly park that locals enjoy, with fields for barbecues and picnics, an aquatic plant garden, an iris garden, and the most iconic Metasequoia forest. Bird-watching is also popular as more than 100 species of birds have been spotted within the park.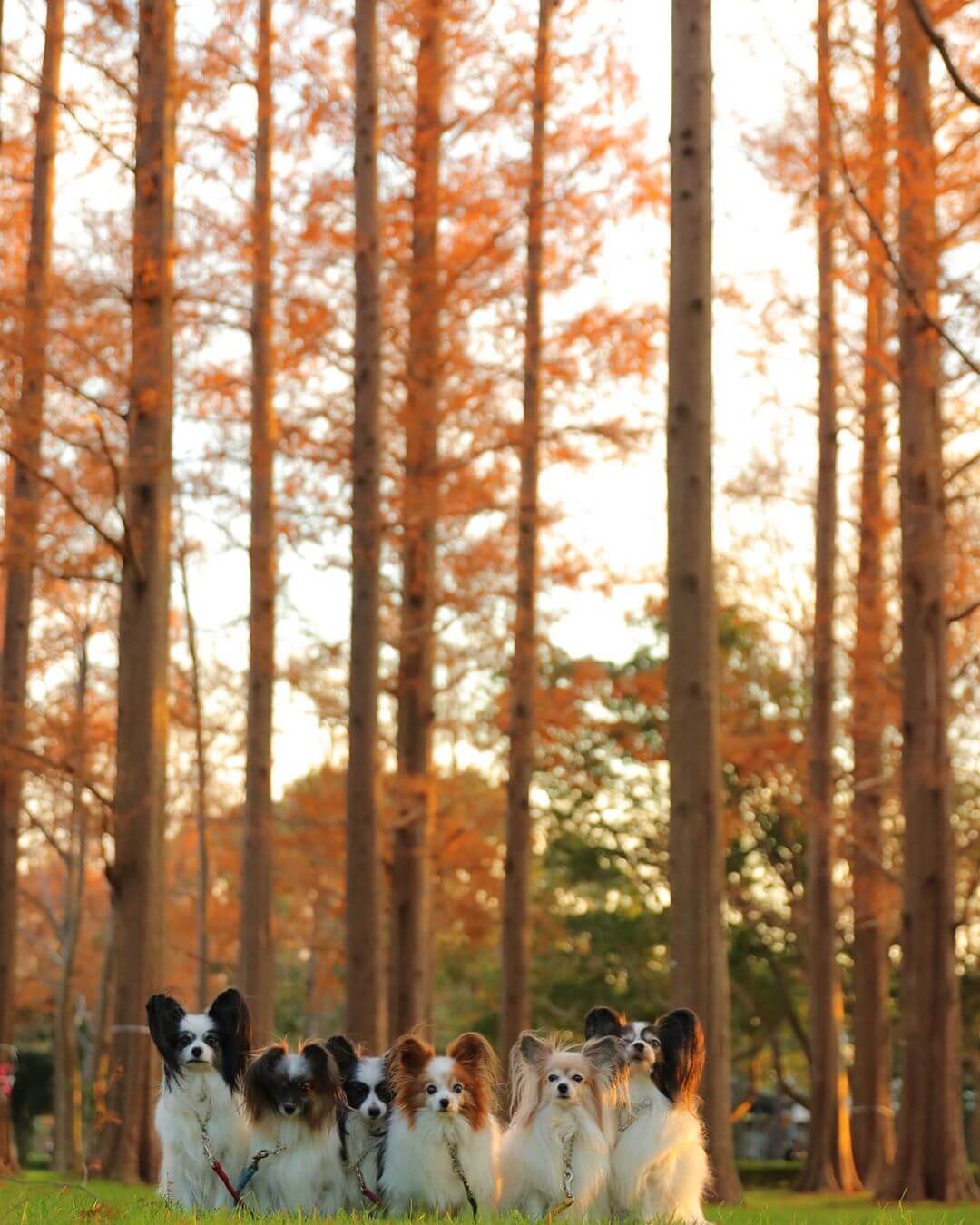 Image credit: @shinobu4714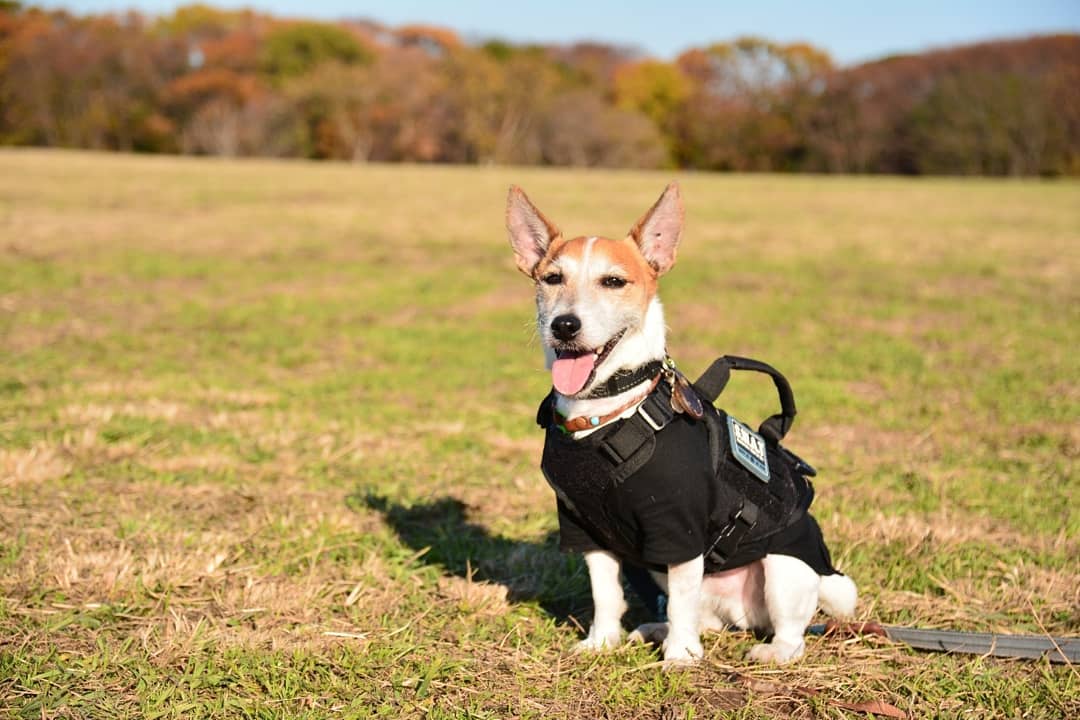 Image credit: @kotetsu_jackrussell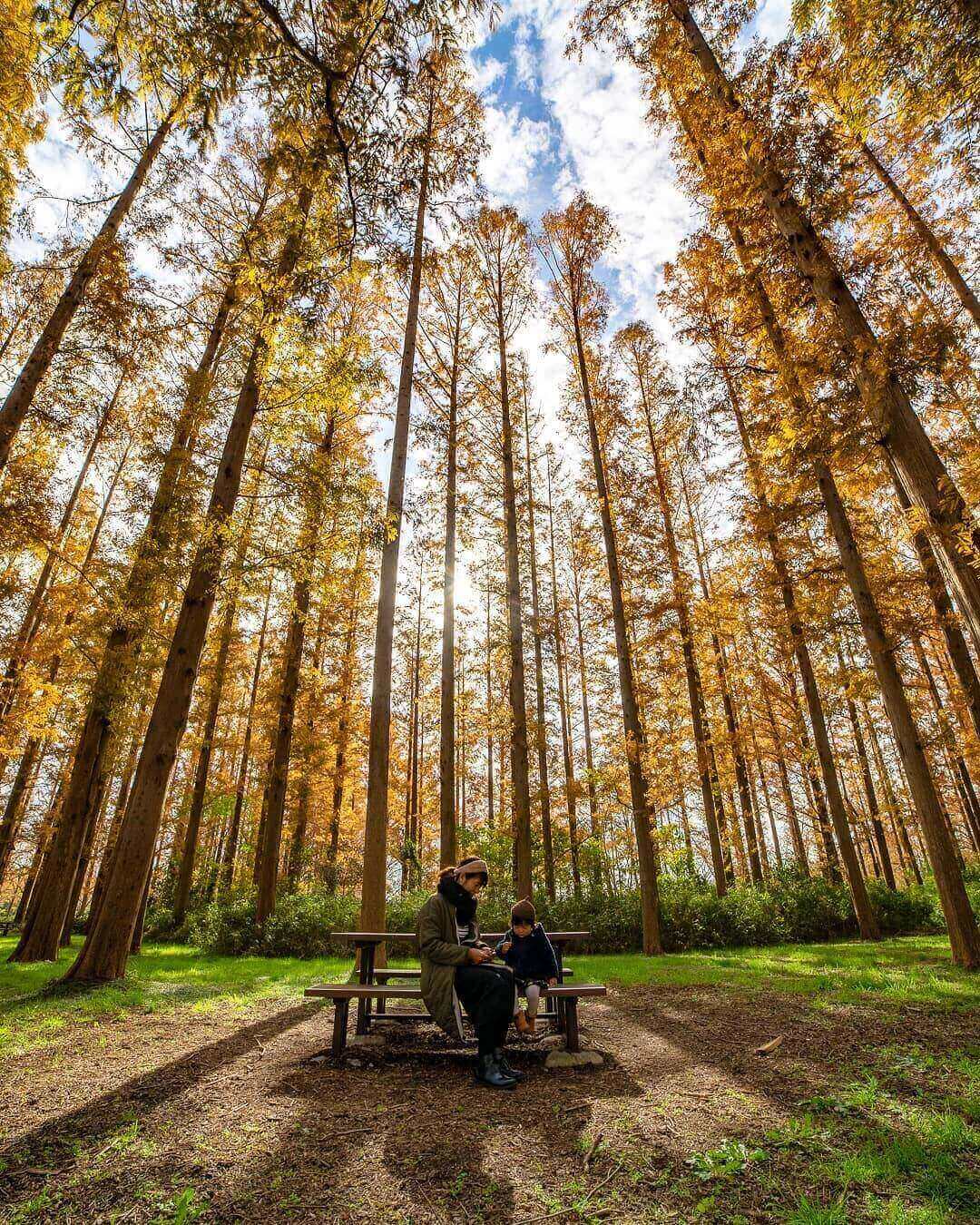 Image credit: @104life
The Metasequoia forest is a sight to behold in autumn as over 1,500 Metasequoia trees turn shades of red, orange, and yellow. In summer, the leaves are a luscious green, while in winter, the trees are covered with a blanket of snow. The Mizumoto Park is a park with great views no matter the season.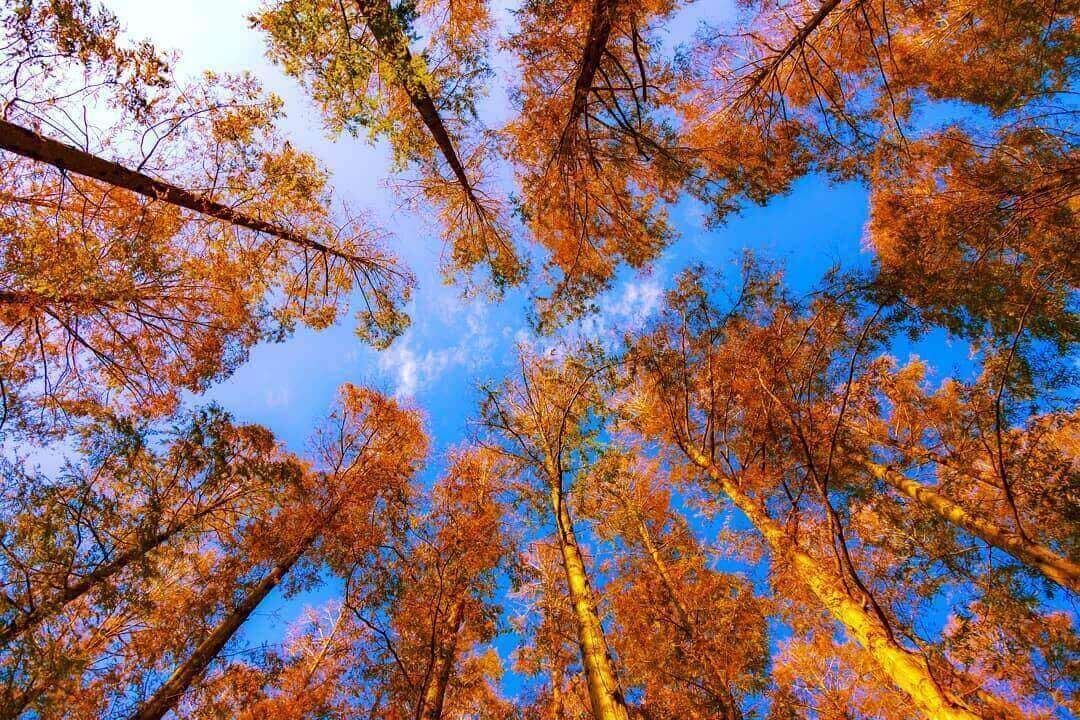 Image credit: @hirokingraph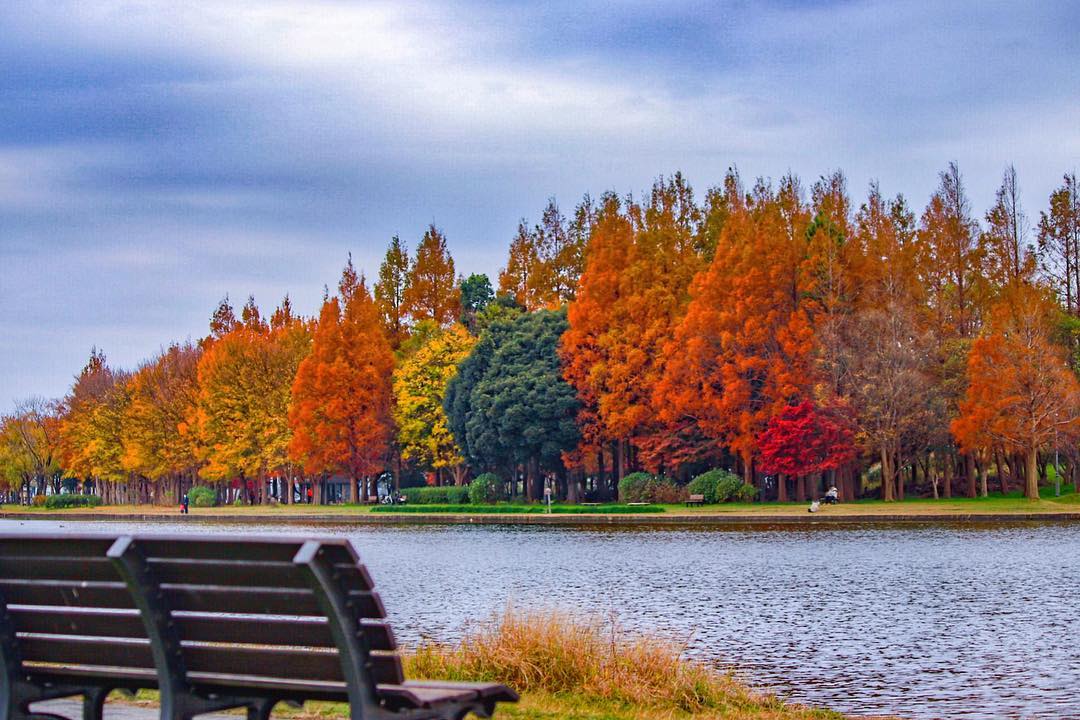 Image credit: @sakaki0325
Once you're done immersing yourself in the forest, cross the river and admire the view from the opposite bank. There is also an adventure area with playgrounds and swings for the kids.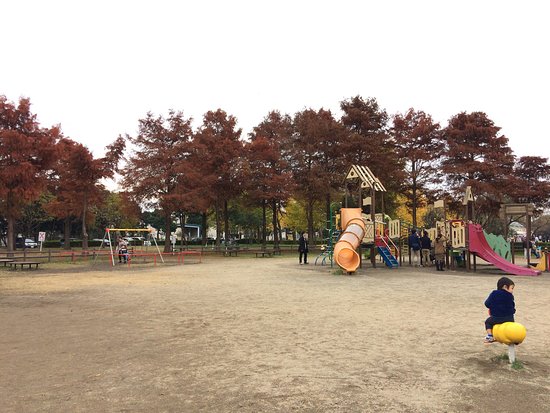 Image credit: 夏の海
Opening hours: 24 hours, Daily
Address: 3-2 Mizumoto-Koen Katsushika-ku, 125-0034 Tokyo
Nearest station: Kanamachi Station
Telephone: 03-3607-8321
Website
---
2. Gotokuji Temple (豪徳寺) 
---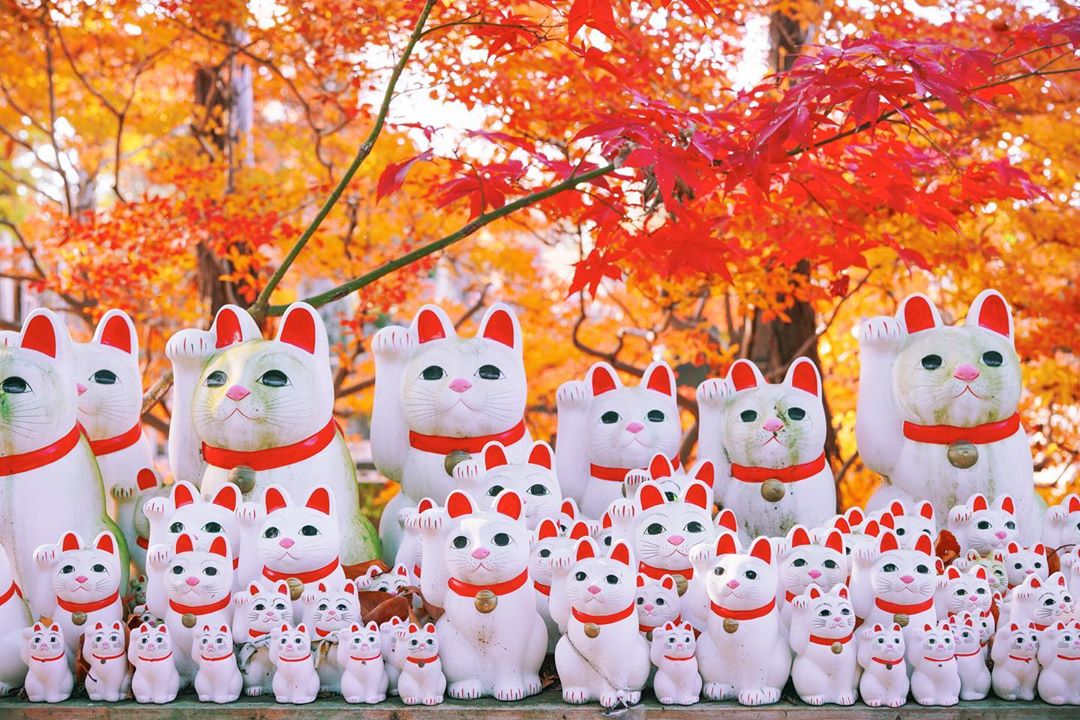 Image credit: @trico303
Gotokuji Temple in Setagaya is said to be the birthplace of maneki neko – the lucky cats that have a beckoning paw. This temple specialises in the right-pawed version of the maneki neko, which is said to bring wealth and good luck.
There are over 1,000 maneki neko here, ranging from sizes as small as 3cm to as large as 30cm. The number of lucky cats is constantly increasing as visitors leave the figurines at the temple after making a wish or prayer.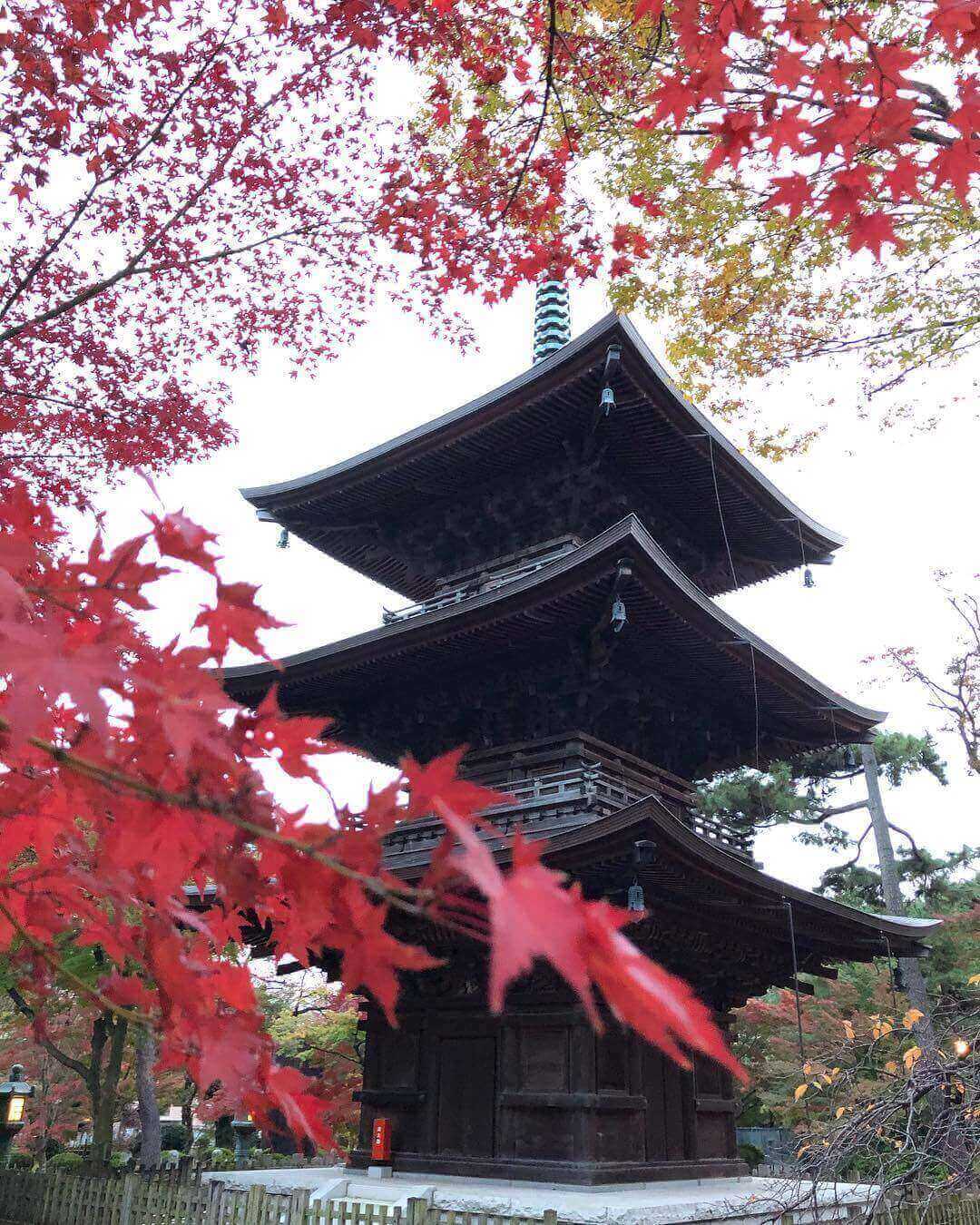 Image credit: @hiroyukikashiwagi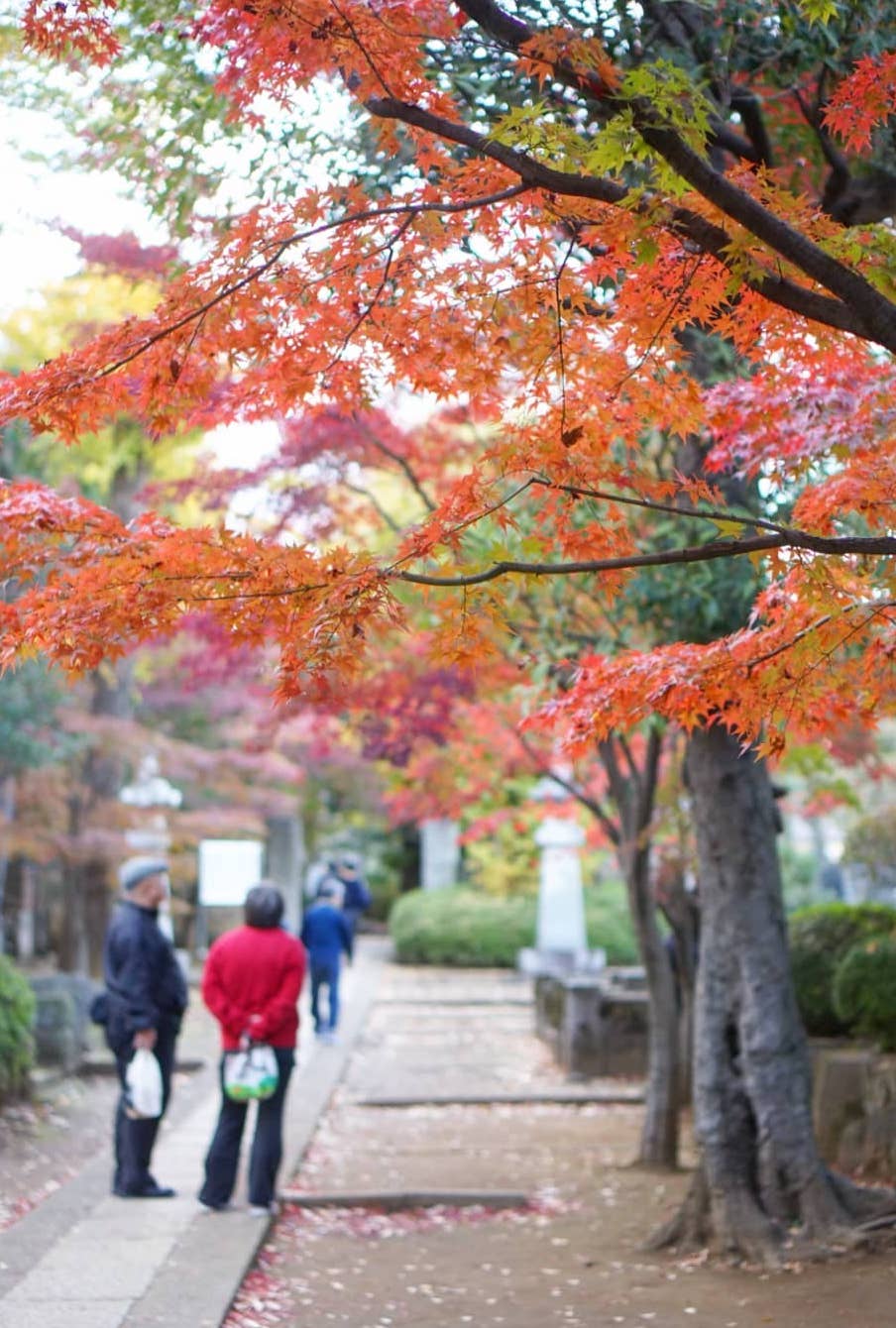 Image credit: @zebra_hat
Besides coming here for the maneki neko, Gotokuji Temple is also a great spot to enjoy the bright red leaves of the maple trees in autumn. The temple houses a main hall for prayers, as well as a 3-storey pagoda within the garden premises. Visitors are free to explore the grounds and admire the autumn leaves.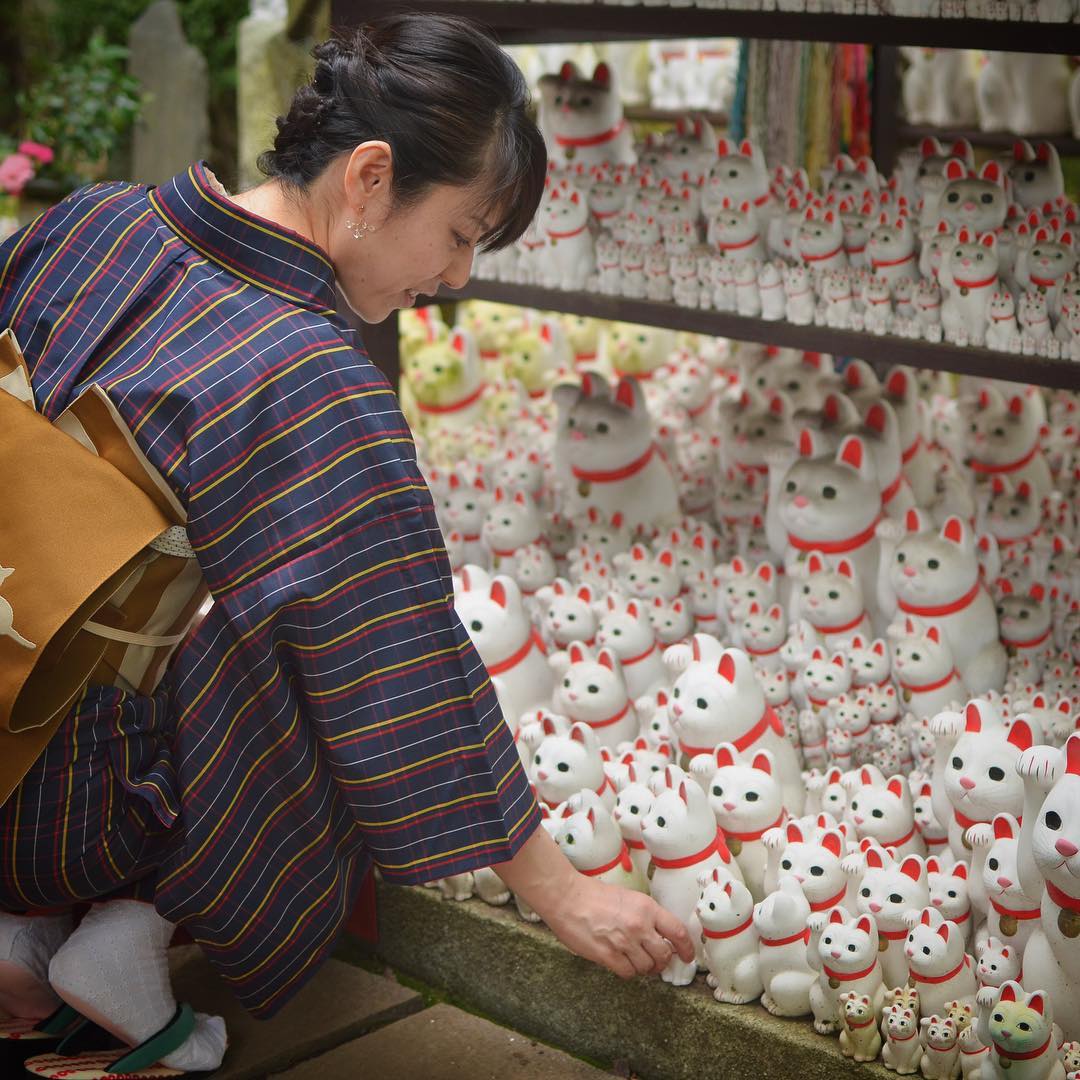 Image credit: @seico.and
At the reception, you can purchase a cat figurine and leave it at the temple after you make your wish or prayer. Alternatively, keep it as a souvenir until your wish or prayer has been fulfilled. Once your wish has come true, remember to return to the temple to show your appreciation.
There are also ema boards (Japanese wishing plaques) and omikuji (Japanese fortunes) available for purchase.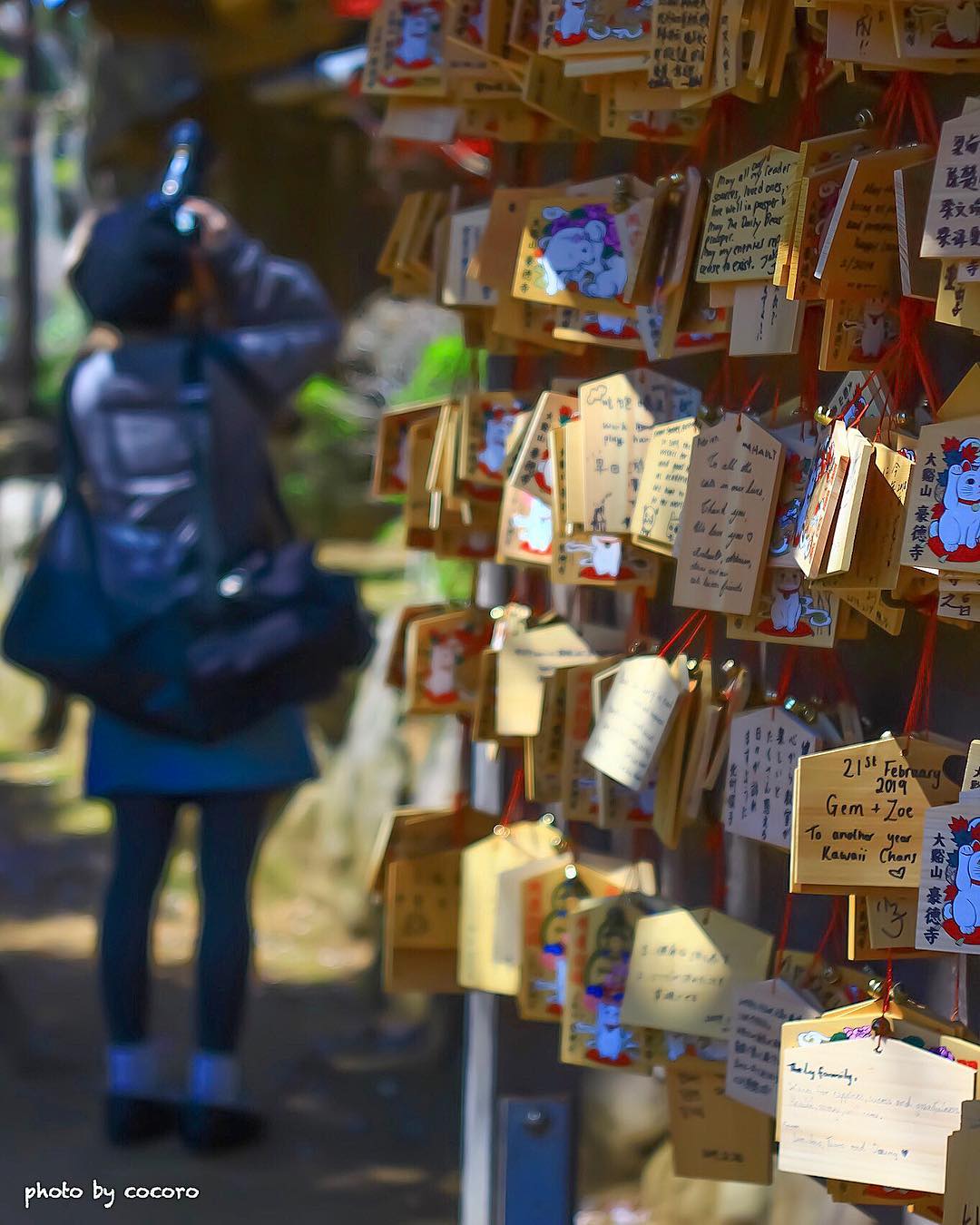 Image credit: @cocoro.m.526
Opening hours: 6AM-6PM, Daily (Temple Reception operates from 9AM-4.30PM)
Address: 2-24-7 Gotokuji, Setagaya-ku, 154-0021 Tokyo
Nearest stations: Miyanosaka Station, Gotokuji Station
Telephone: 03-3426-1437
---
3. Zoshigaya Kishibojin-do Temple (雑司ヶ谷鬼子母神堂)
---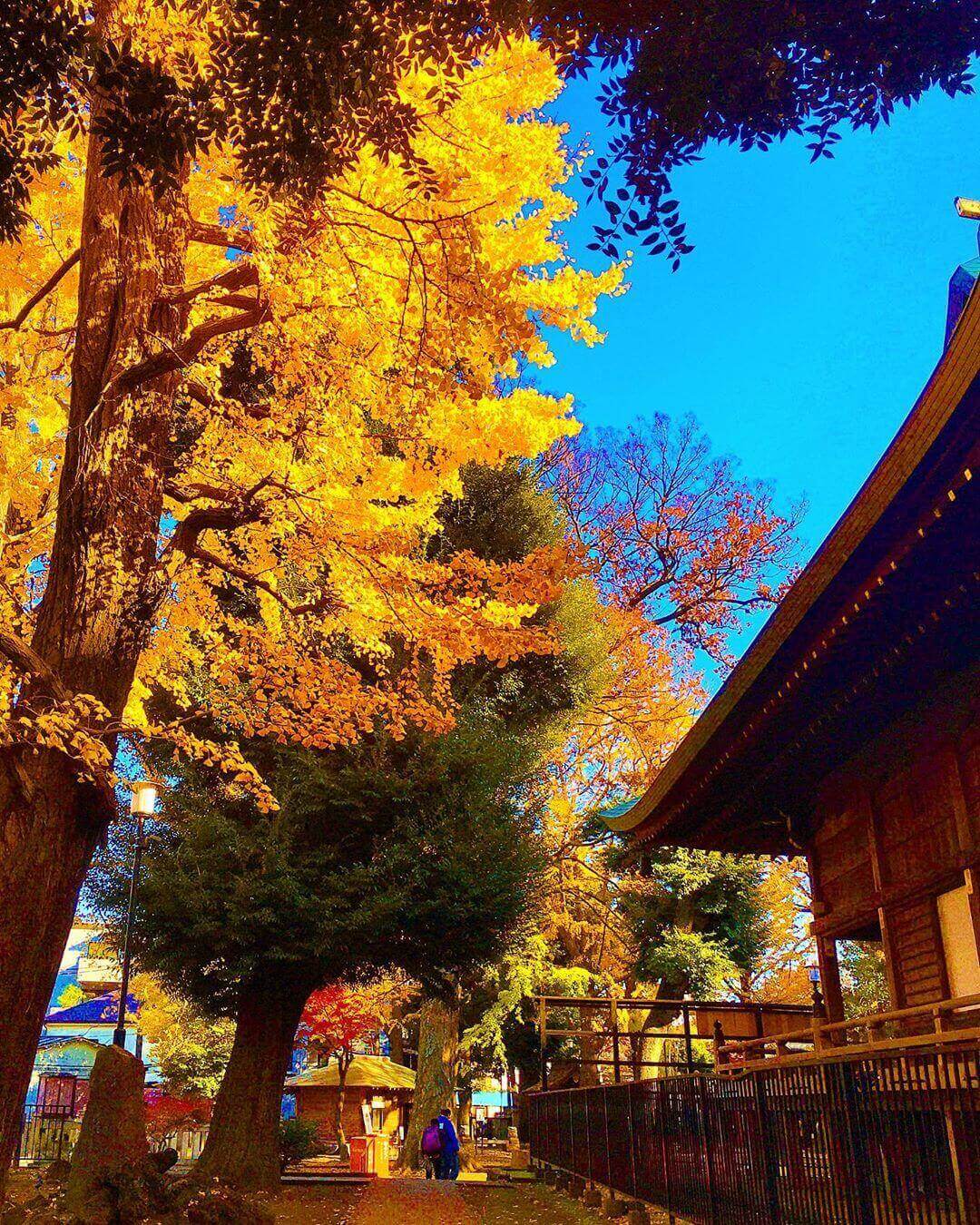 Image credit: @maki9909
Kishibojin-do Temple is a Buddhist temple located within walking distance of Ikebukuro Station. The goddess of this temple is Kishibojin, also known as the goddess of childbirth and child-rearing. Many locals visit this temple to seek Kishibojin's blessings for the safe delivery of their baby, their family's safety, and their child's academic achievements.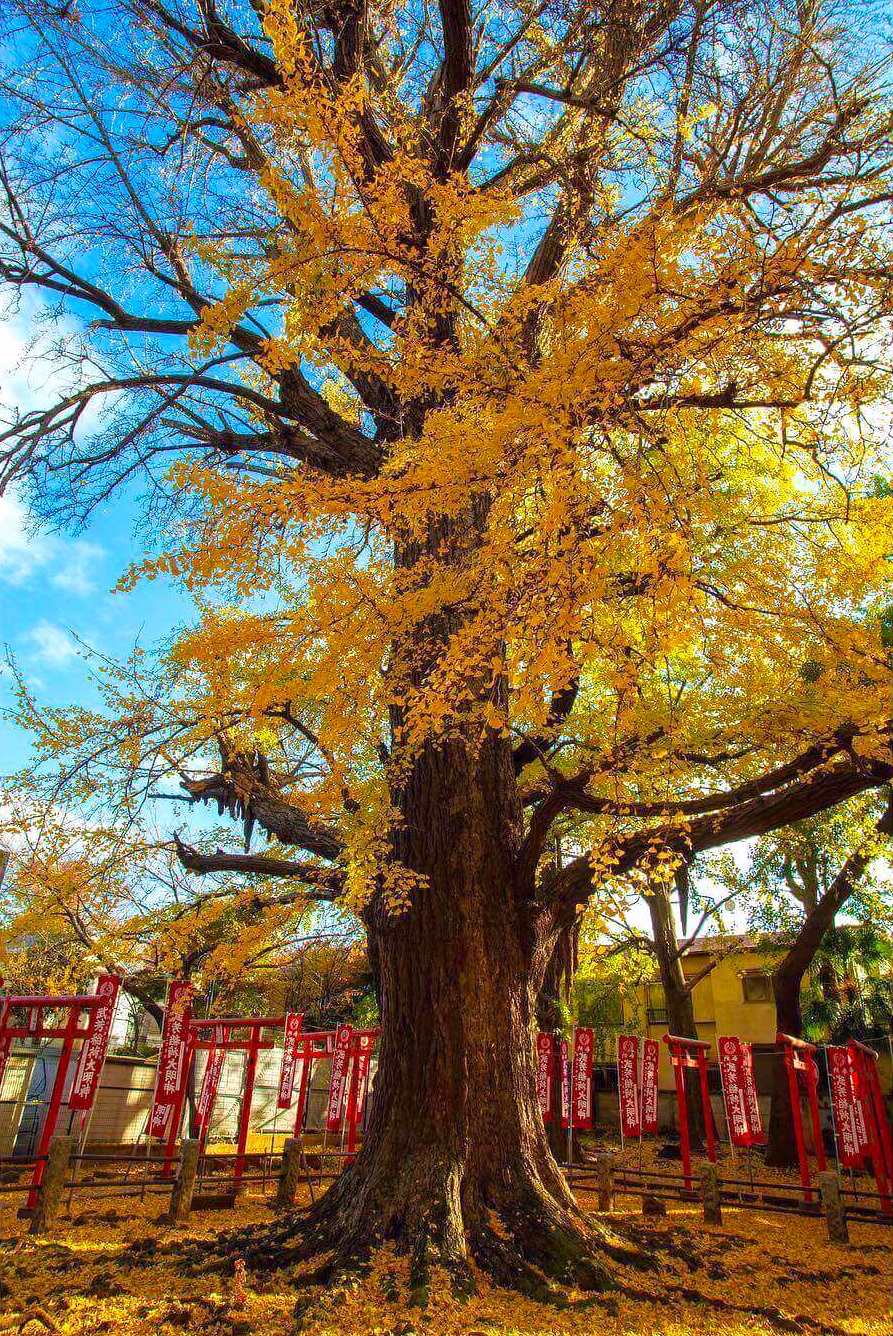 Image adapted from: @romio171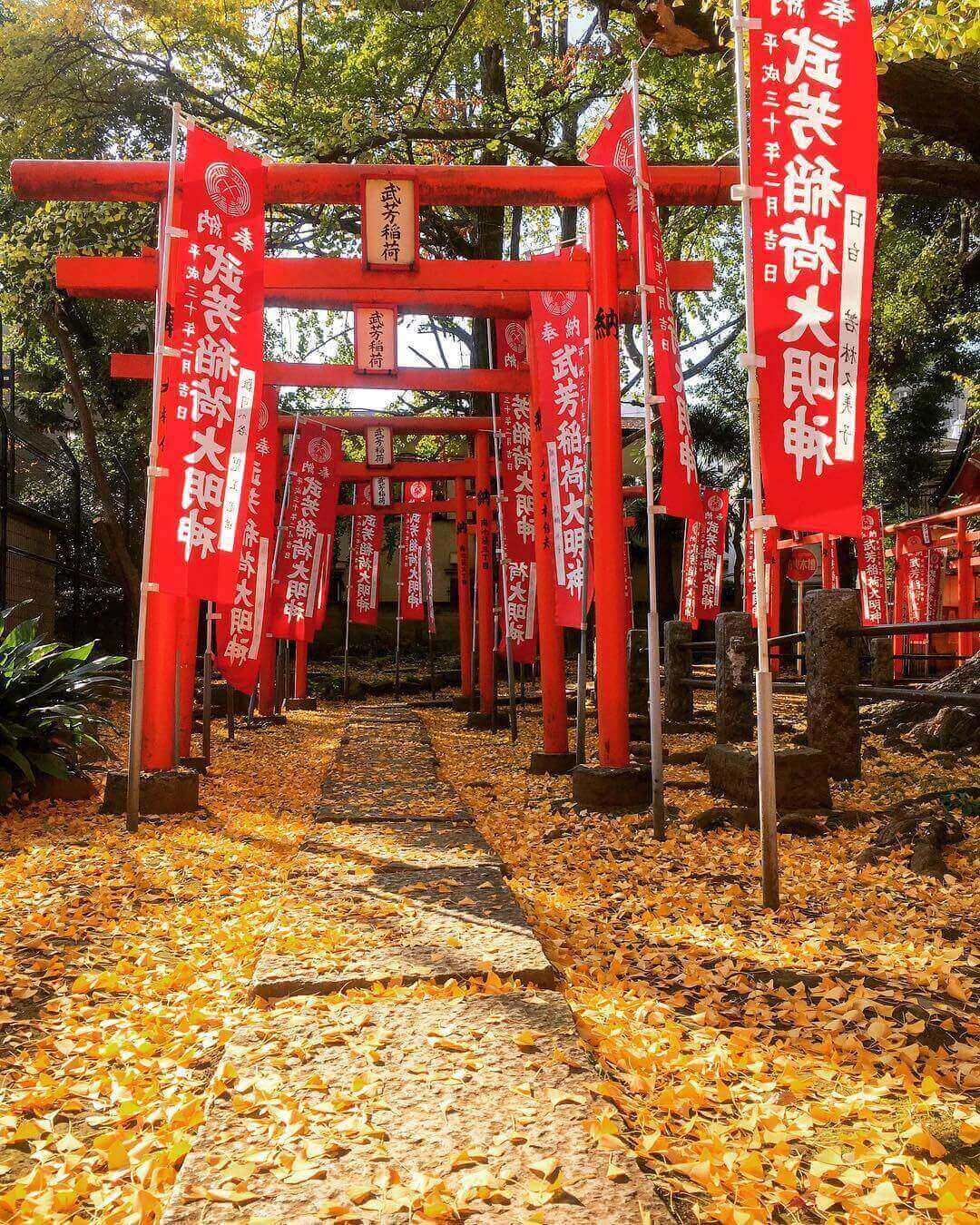 Image credit: @yossan555
Ginkgo trees decorate the temple grounds with their yellow leaves, and if you venture further, you'll find a tree dubbed the "Kosazuke Konsouju" – "the gingko that gives children". The sacred ginkgo tree is about 700 years old, 33m tall, and the trunk has a circumference of ~11m. It is also called "the ginkgo that raises children" (Kosodate Icyou). This sacred ginkgo tree is surrounded by red torii gates belonging to the Takeyori Inari Shrine.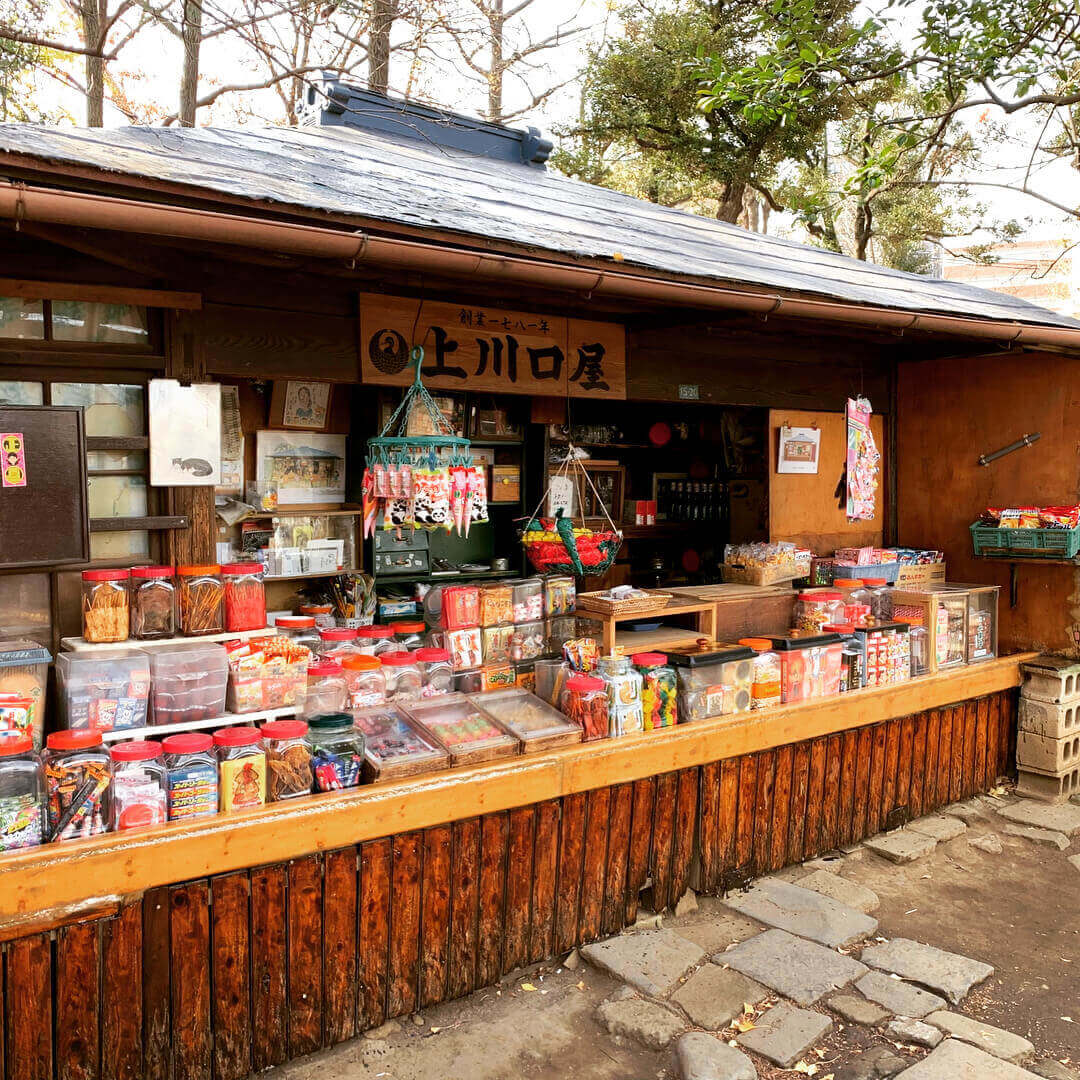 Image credit: @angelh922
On the temple grounds, there is also a candy shop called Kamikawaguchi-ya. It has been in operation since 1781, making it 239 years old in 2020.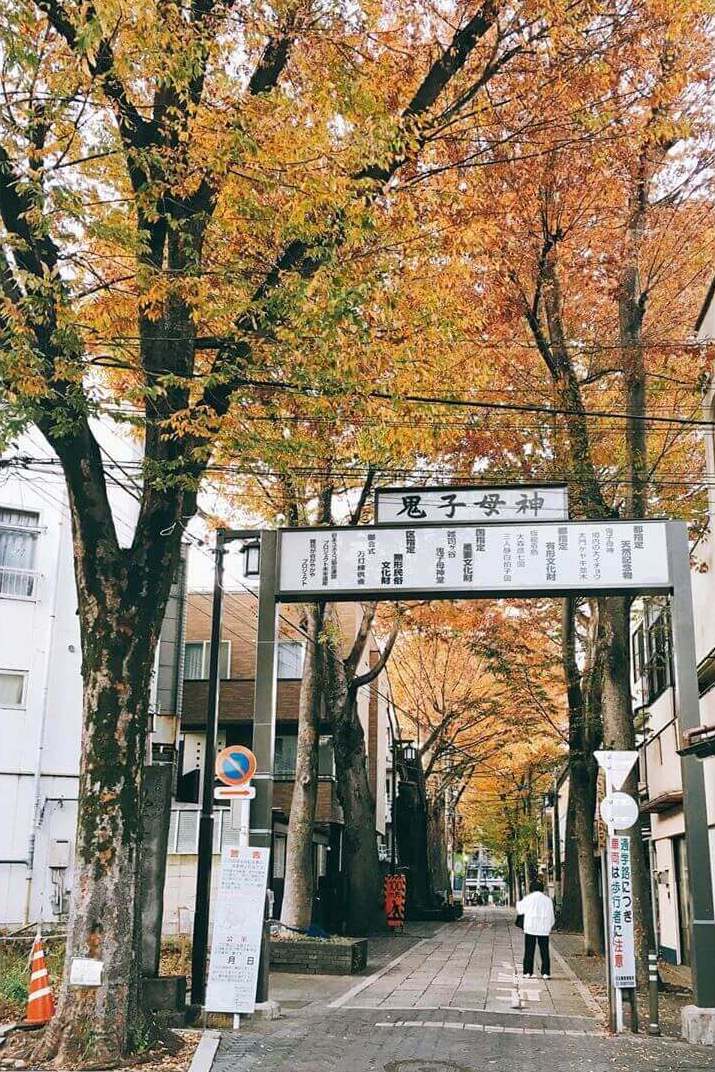 Image adapted from: @tokyolife1920
Instead of walking to Kishibojin-do Temple from Ikebukuro station, take a leisurely stroll from Zoshigaya station instead and admire the zelkova trees that line the quaint street leading to the temple.
Do note that photography within the temple itself is prohibited.
Opening hours: 9AM-5PM, Daily
Address: 3-15-20 Zoshigaya, Toshima-ku, 171-0032 Tokyo
Nearest stations: Zoshigaya Station, Kishibojin-mae Station, Ikebukuro Station
Telephone: 03-3982-8347
Website
---
4. Todoroki Valley (等々力渓谷公園)
---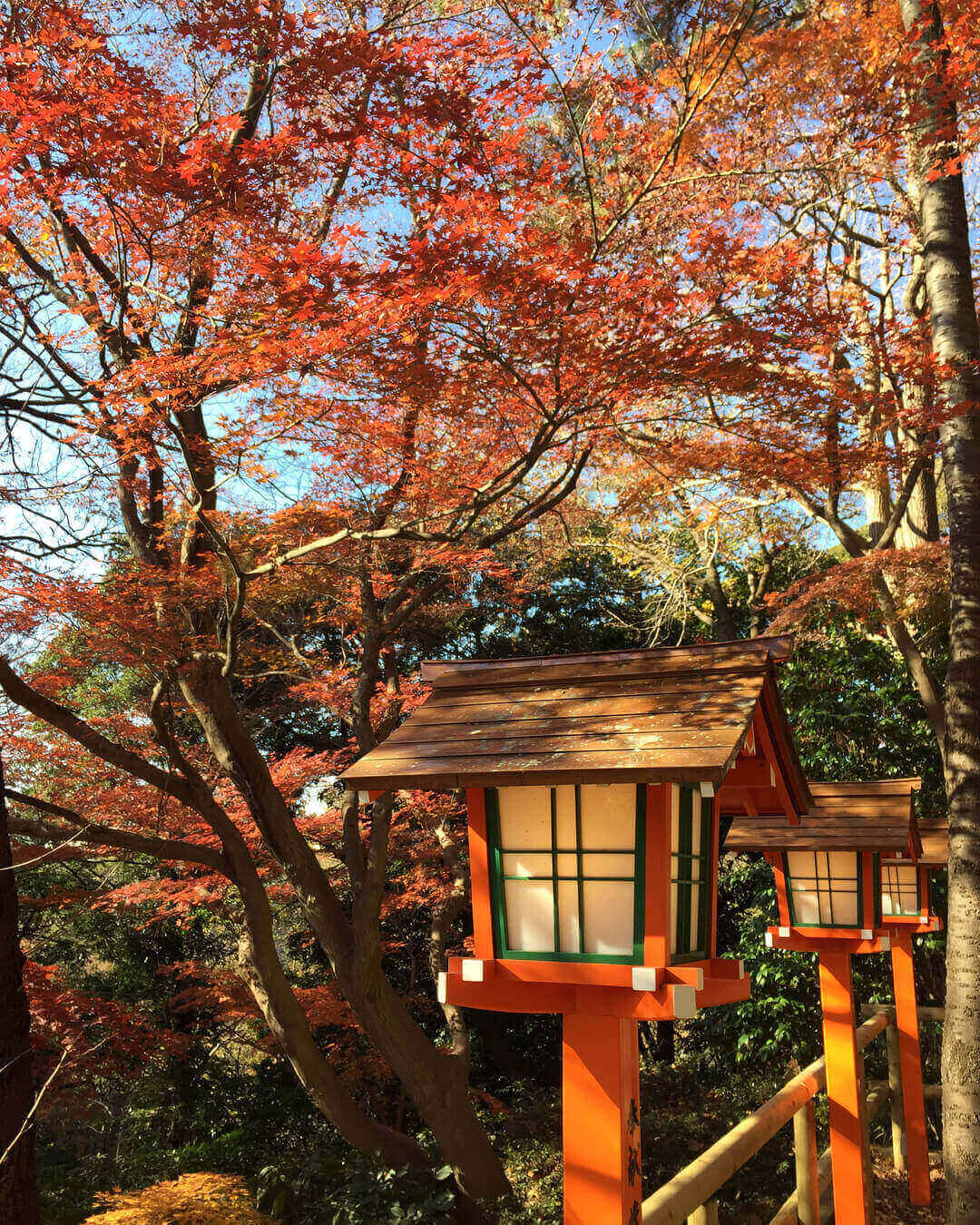 Image credit: @hiroyukikashiwagi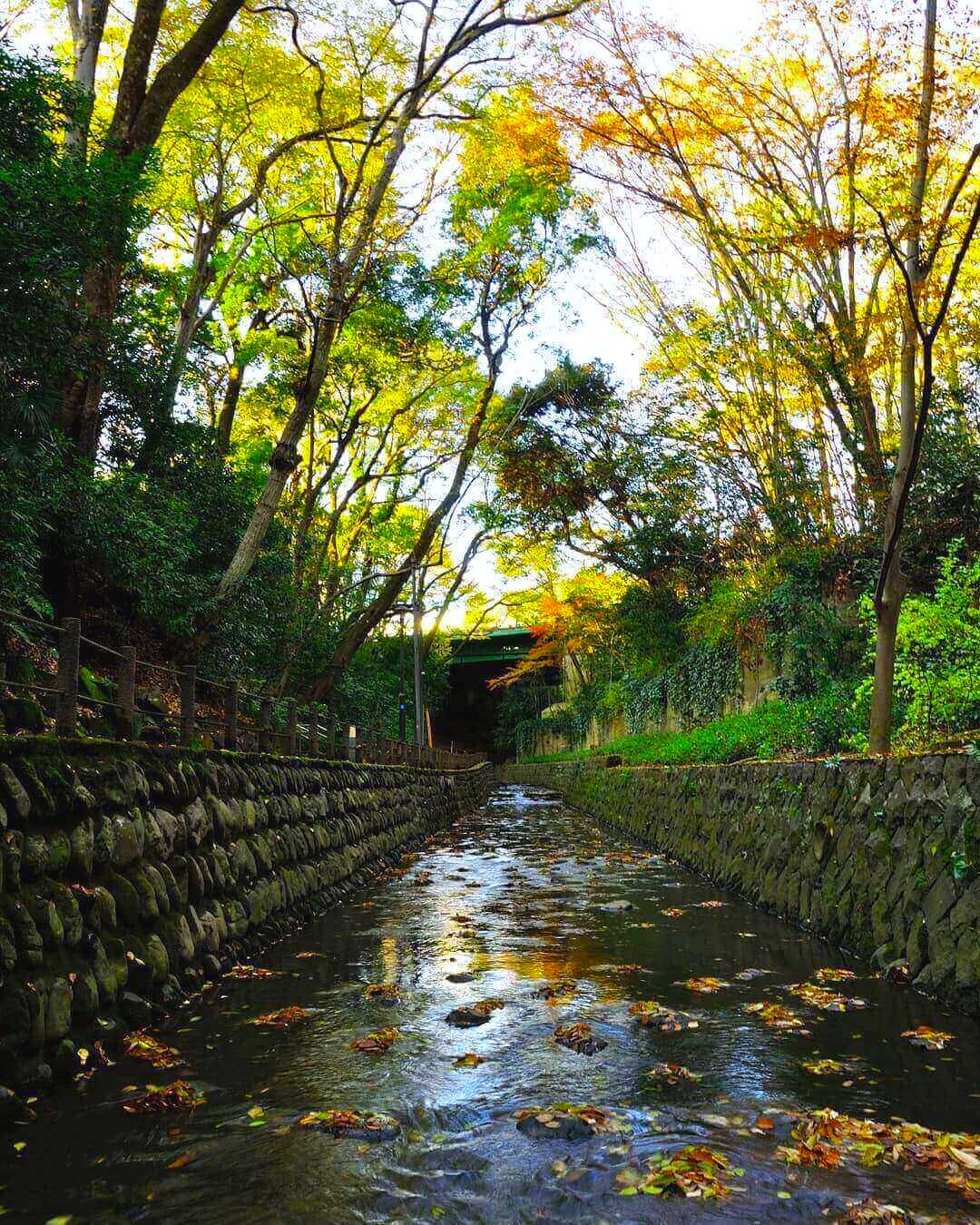 Image credit: @bse_mesa
Todoroki Valley is the only valley in Tokyo and it is just a 20-minute train ride from central Tokyo. Within the valley, there is a 1.2km walking trail, waterfalls, shrines, a temple, and a garden. There are different species of trees here, including Japanese zelkova, Japanese mountain cherry trees, oak, maple, and ginkgo. The lush canopy of green turns into a combination of red, yellow, orange, and brown in autumn.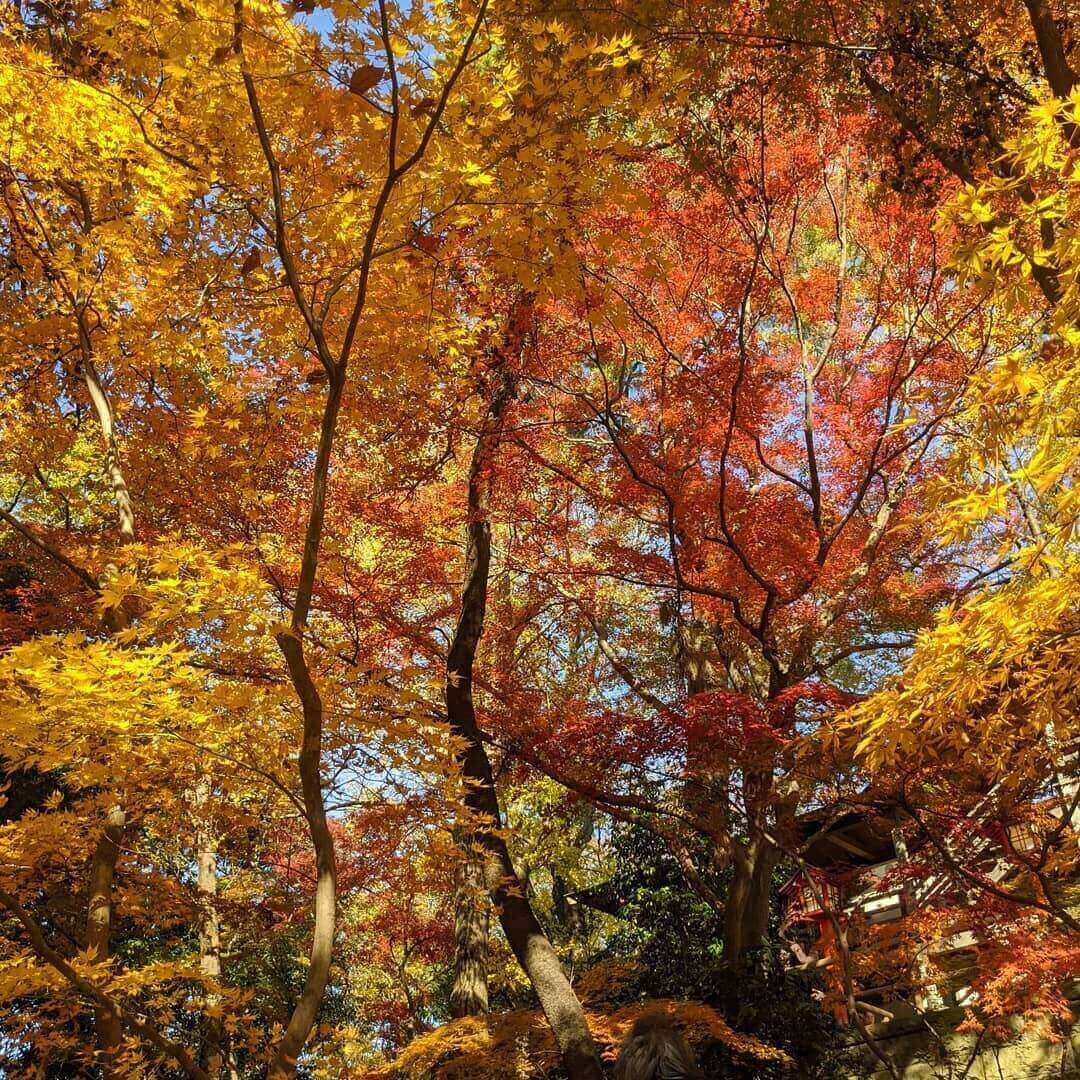 Image credit: @etsu246
This valley is a go-to location near the city for a short hike, whatever the season. It is especially popular in summer because the temperature within the valley is cooler and provides a brief respite from the intense heat of the city.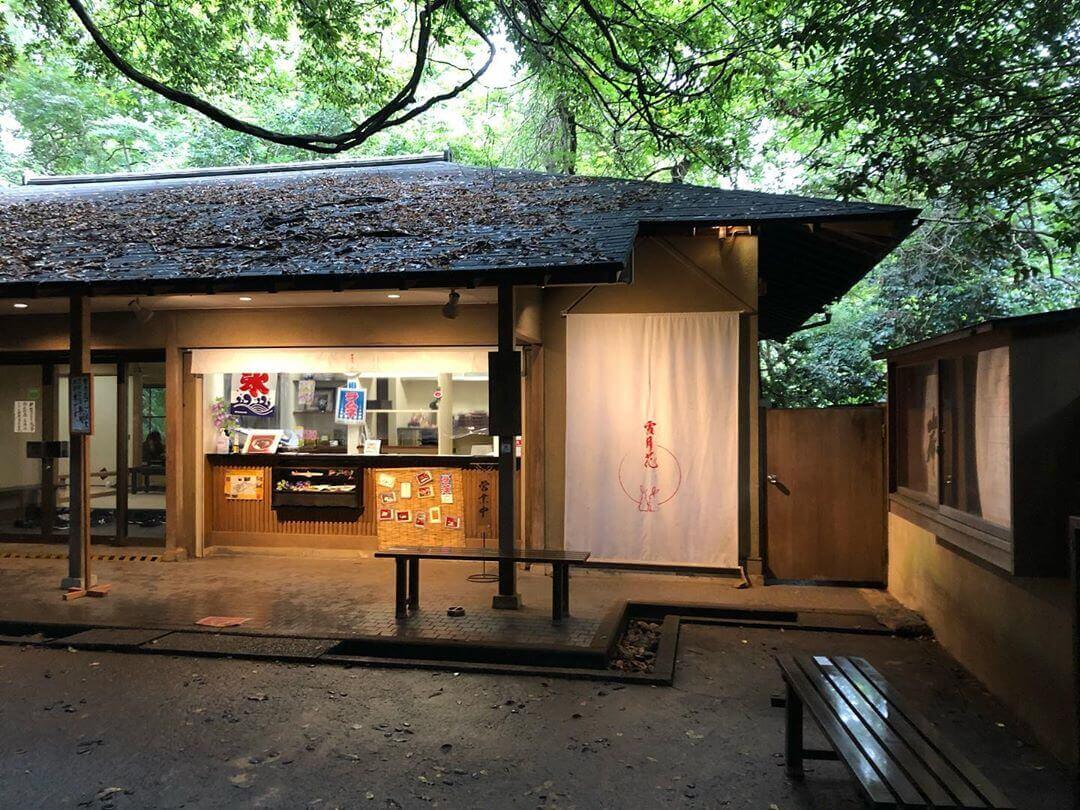 Image credit: @hazuki__89
You can even enjoy some mochi and green tea at an old sweets shop called Setsugekka, located within the valley. They are open daily from 11AM-4PM.
Opening hours: 24 hours, Daily
Address: 1-22, 2-37~38 Todoroki, Setagaya, 158-0082 Tokyo
Nearest station: Todoroki Station
Website
---
5. Tokyo National Museum (東京国立博物館)
---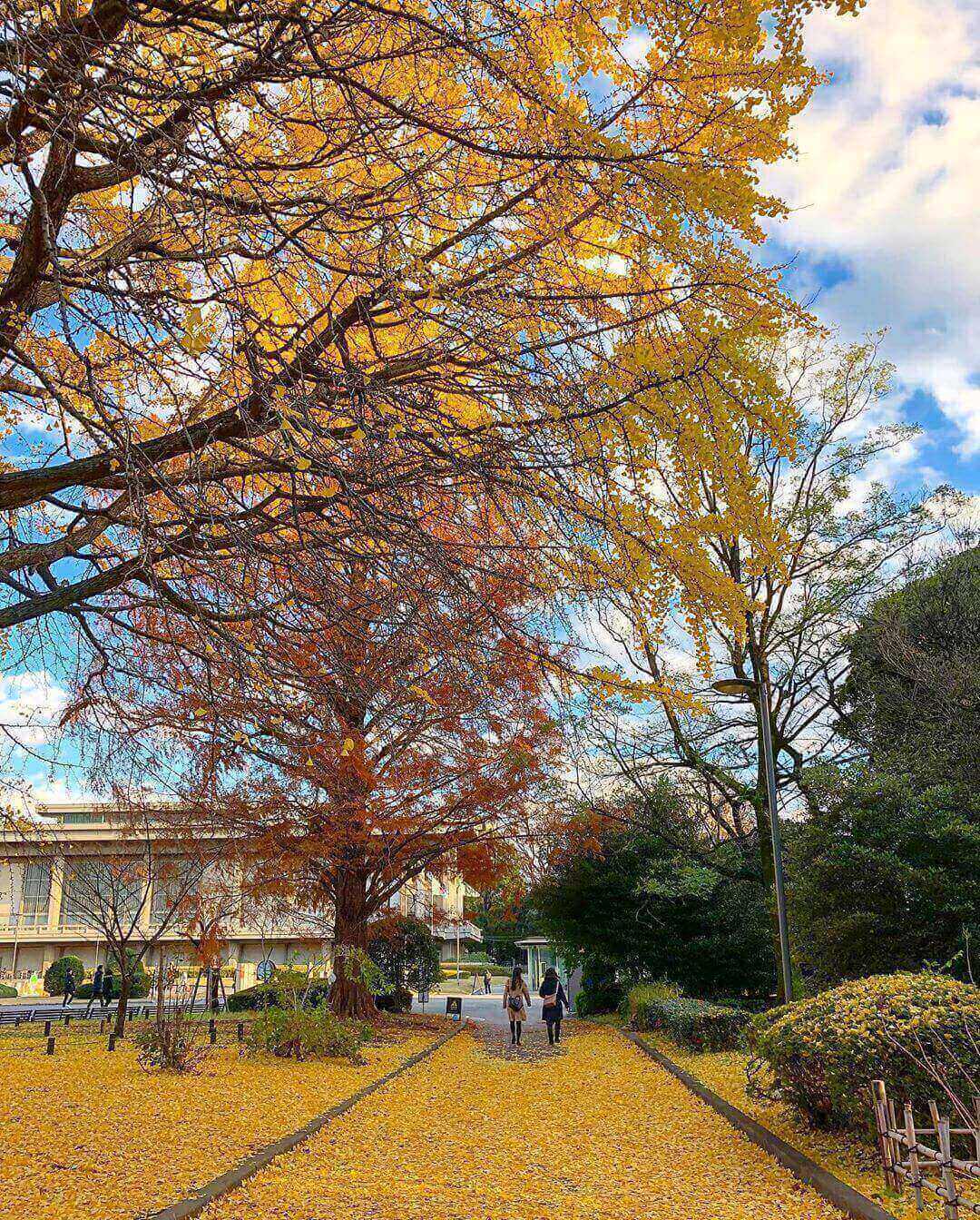 Image credit: @obasan_oa_1012
Tokyo National Museum is one of Japan's oldest museums, housing collections of art and archaeological artefacts. They have both permanent and temporary exhibitions. What most people don't know is that the Tokyo National Museum has a museum garden behind the main Honkan building, and it is only open to the public in spring and autumn.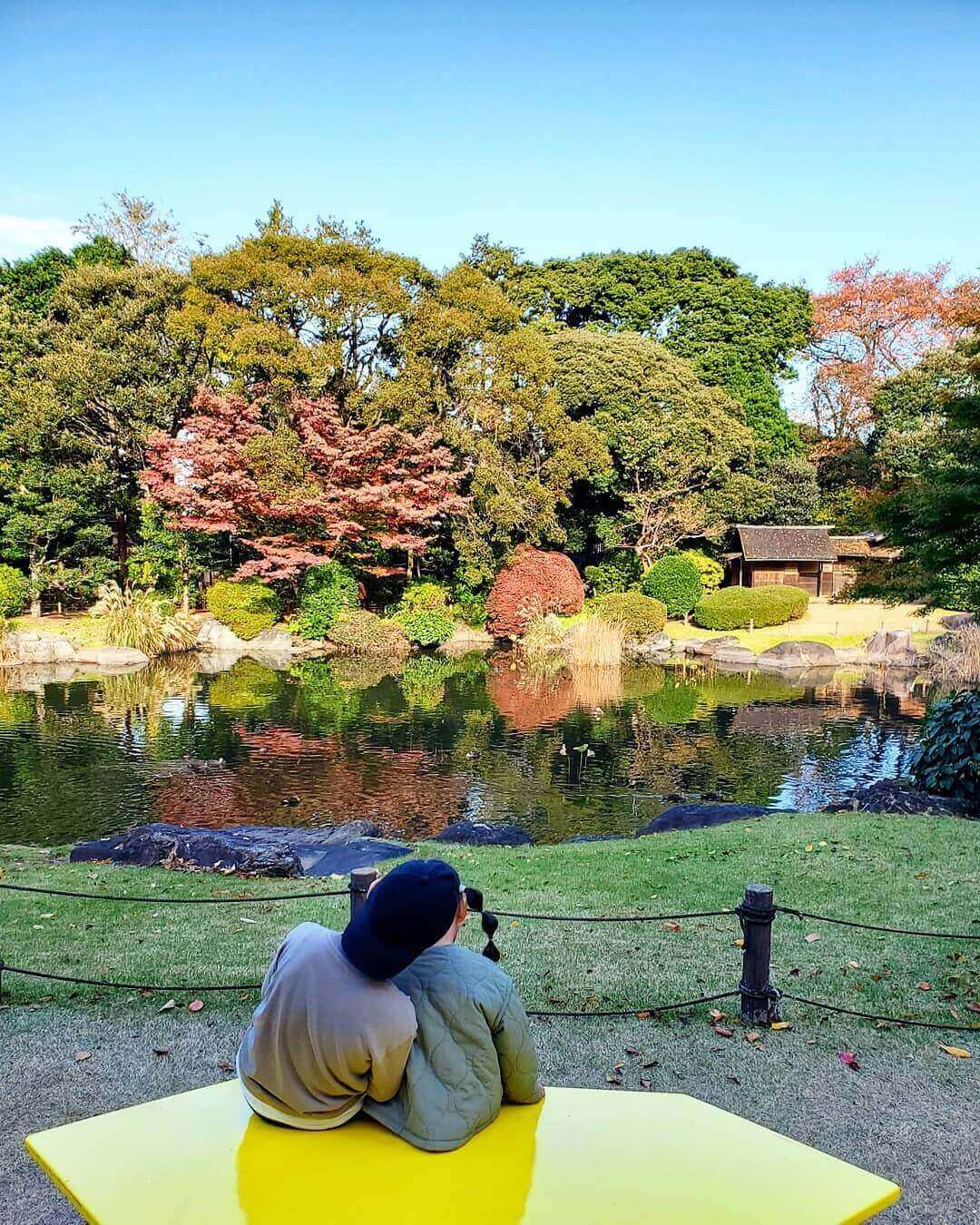 Image credit: @iiyyssii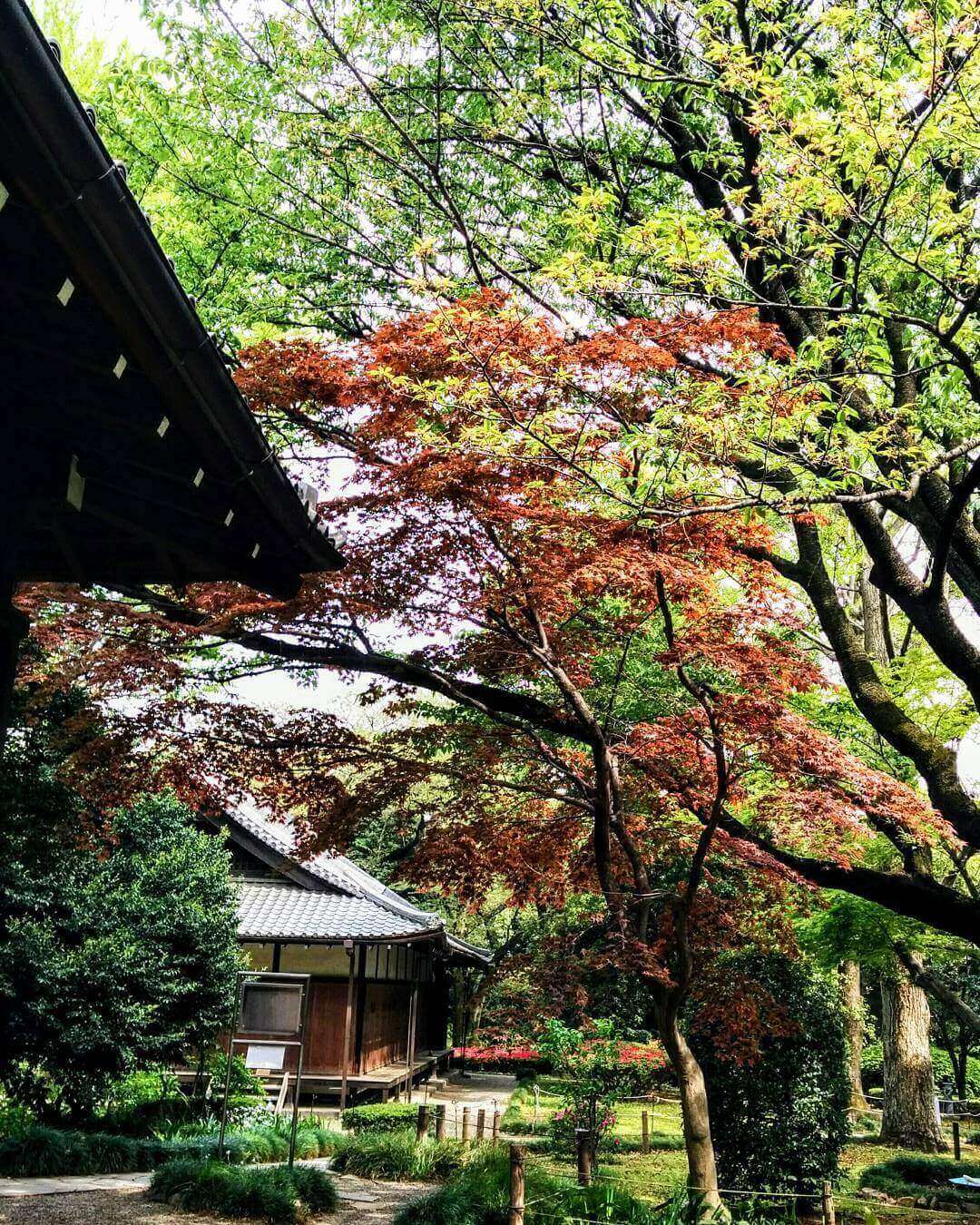 Image credit: @kei_tuyu
Instead of staying in Ueno Park to view the autumn leaves together with hoards of other people, visit the Tokyo National Museum and the museum garden for a less crowded view of the fall foliage.
Note: Due to COVID-19, tickets must be reserved online before visiting the museum.
Museum opening hours: Tue – Thu & Sun 9.30AM-5PM | Fri & Sat 9AM-9PM (Admissions end 30 minutes before closing)
Museum garden: Open from 27th October 2020 – 6th December 2020 10AM-4PM
Admission: ¥1,000 (~USD9.50) for adults, ¥500 (~USD4.75) for University students (Regular exhibitions)
Address: 13-9 Ueno Park, Taito-ku, 110-8712 Tokyo
Telephone: 050-5541-8600 (Domestic) | +81-50-5541-8600 (International)
Nearest station: Ueno Station
Website
---
– Kyoto –
---
6. Umekoji Park (梅小路公園)
---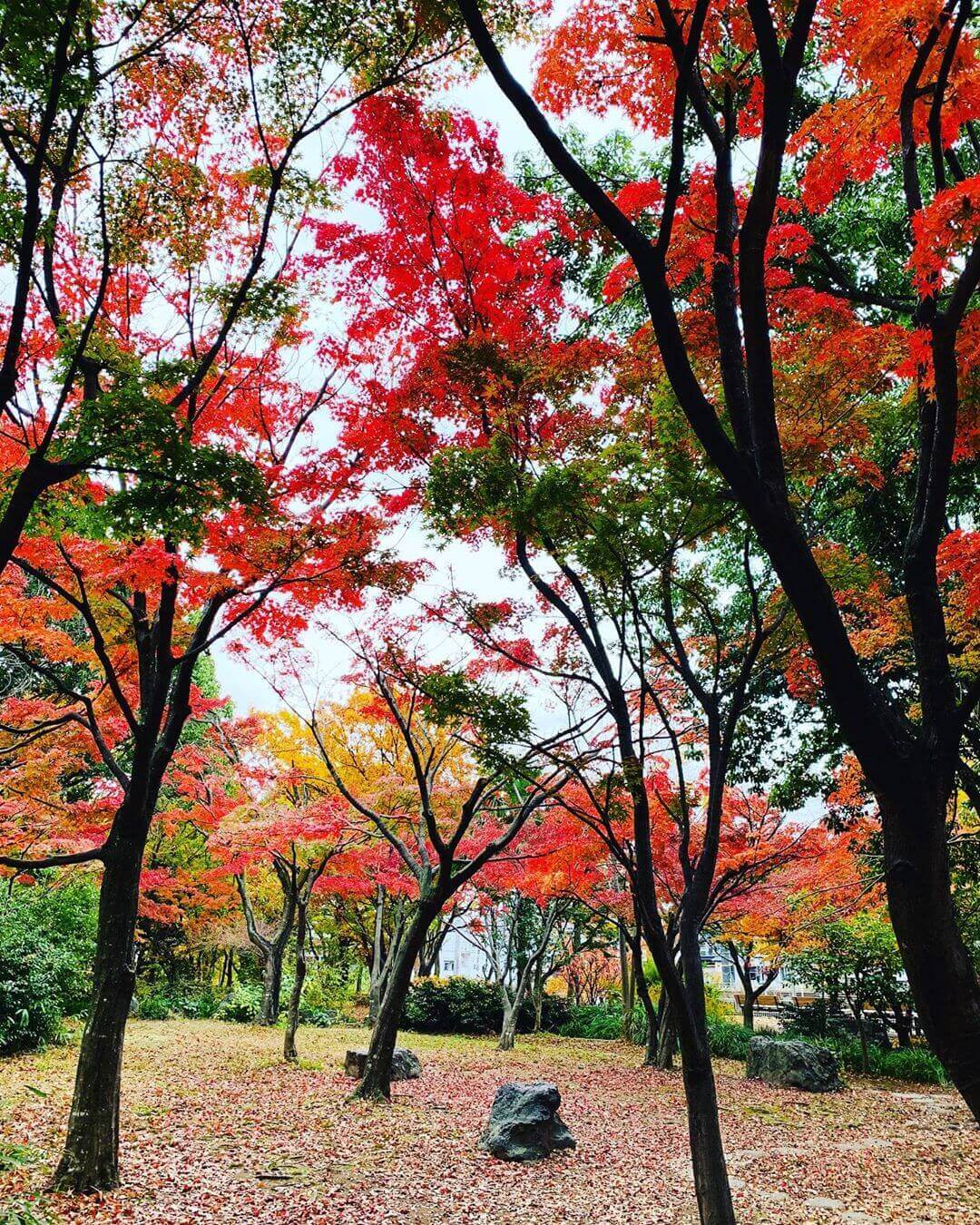 Image credit: @tetsuya.hanano
Located in the vicinity of Kyoto Station, Umekoji Park is not on most tourists' itineraries when visiting Kyoto. But it has a lot to offer, with the Kyoto Aquarium, the Kyoto Railway Museum, and Suzaku No Niwa all located within the park.
It is a popular location among locals for a picnic or a day out, especially for those with kids. In autumn, the highlight of Umekoji Park is Suzaku No Niwa – a garden with bright red maple leaves and a 6m-tall waterfall. Suzaku No Niwa is normally only open from 9AM-5PM, from Tuesdays to Sundays. But for a limited period in autumn, Suzaku No Niwa is open till 9PM, with the last admission at 8.30PM.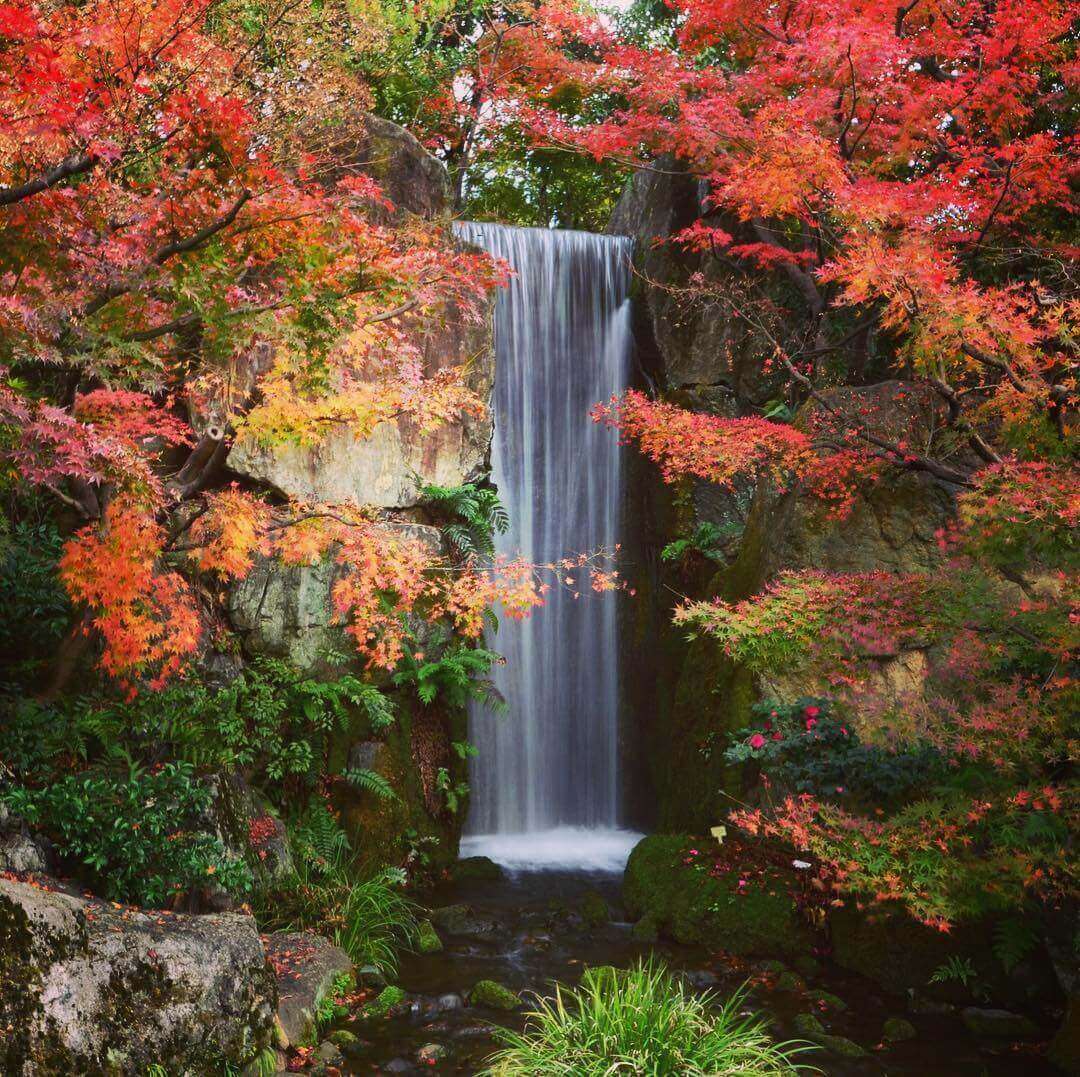 Image credit: @white_fang_7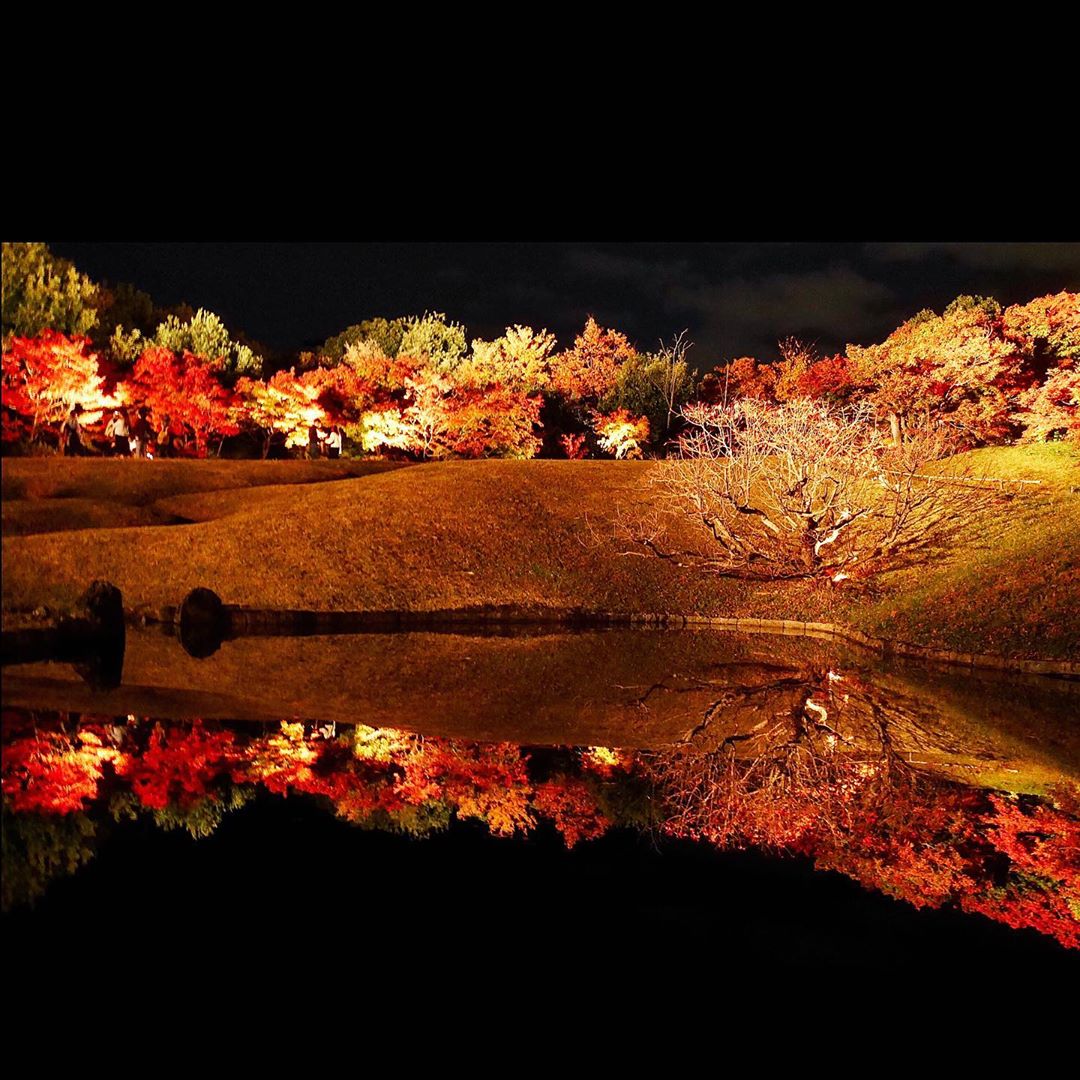 Image credit: @puffy0526
At night, pretty lights illuminate the garden, transforming the grounds into something magical. This illumination isn't as well known as its counterparts in more popular gardens and parks, so you won't have to fight for space when trying to take a perfect shot. 
Tickets are priced at ¥400 (~USD3.80) for adults and ¥200 (~USD1.90) for elementary school students. If you're visiting the Kyoto Aquarium or Kyoto Railway Museum on the same day, present your ticket for a ¥100 (~USD0.94) discount.
Note: The night illumination is scheduled to happen from 13th November 2020 to 29th November 2020 (closed on 16th November 2020 and 24th November 2020). However, it may be cancelled due to COVID-19. Please refer to Umekoji Park official website for updates.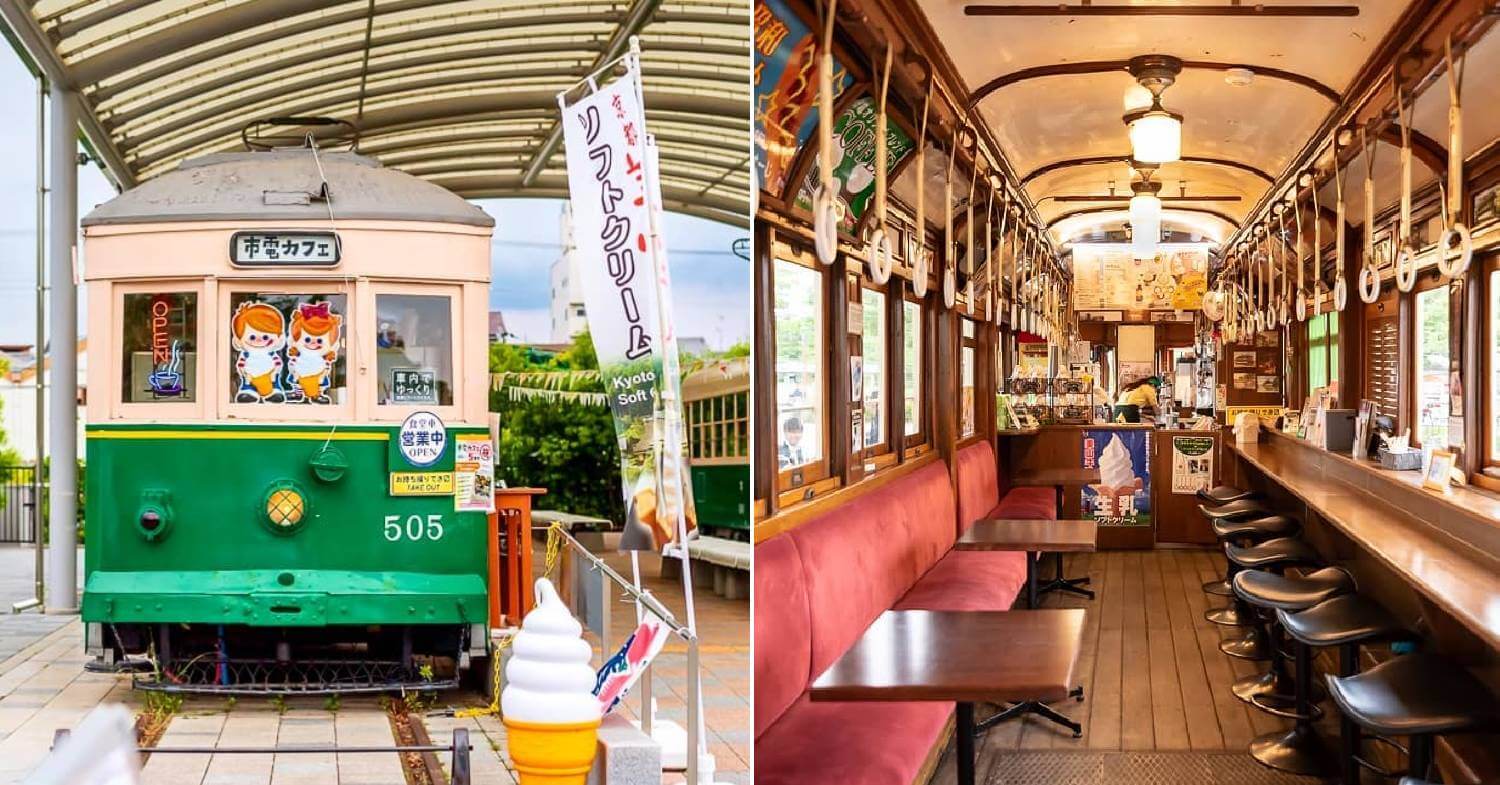 Image adapted from: @kyukyu.2424 and @kyukyu.2424
There are also defunct trains on display in the park. 2 of these trains have been transformed into a souvenir shop and a cafe, while 2 others have been refurbished and double as rest areas.
If you're intending to visit the Kyoto Aquarium or the Kyoto Railway Museum, hang around Umekoji Park until the sky turns dark and witness the autumn leaves light up at Suzaku No Niwa. If you're lucky, you might even get to catch a nice sunset before the night illumination.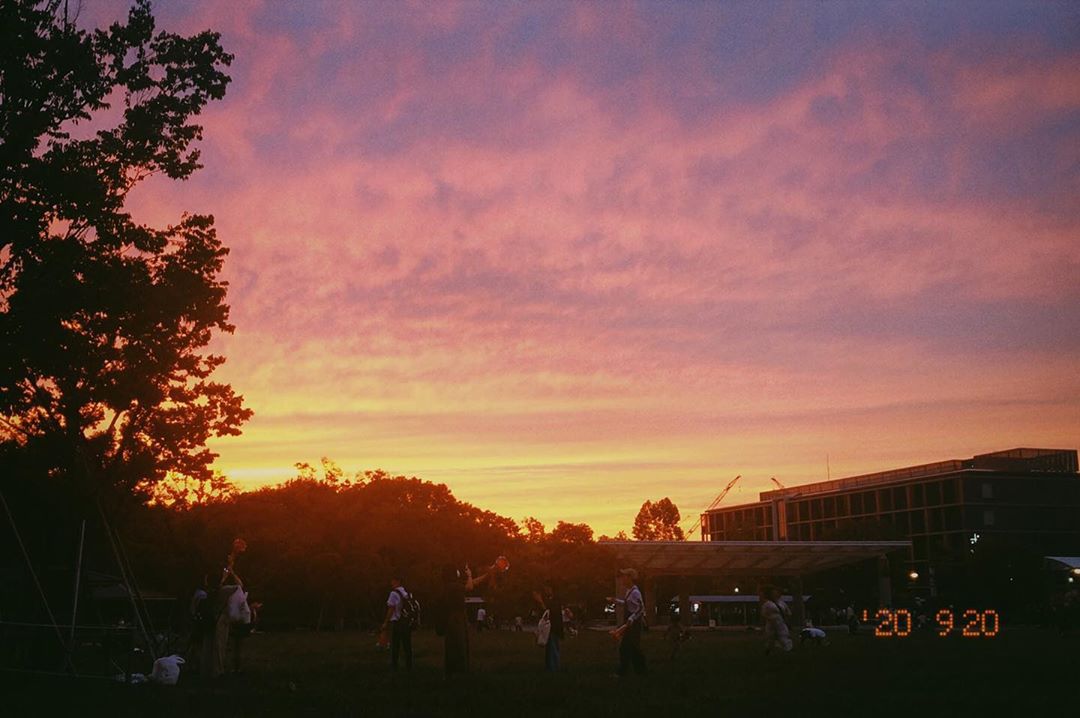 Image credit: @shotaalwaysgetupearly
Park opening hours: 24 hours, Daily
Address: 56-3 Kankiji-cho, Shimogyo-ku, 600-8835 Kyoto
Nearest station: Umekoji-Kyotonishi Station
Telephone: 075-352-2500
Website
---
7. Sennyu-ji Temple (泉涌寺)
---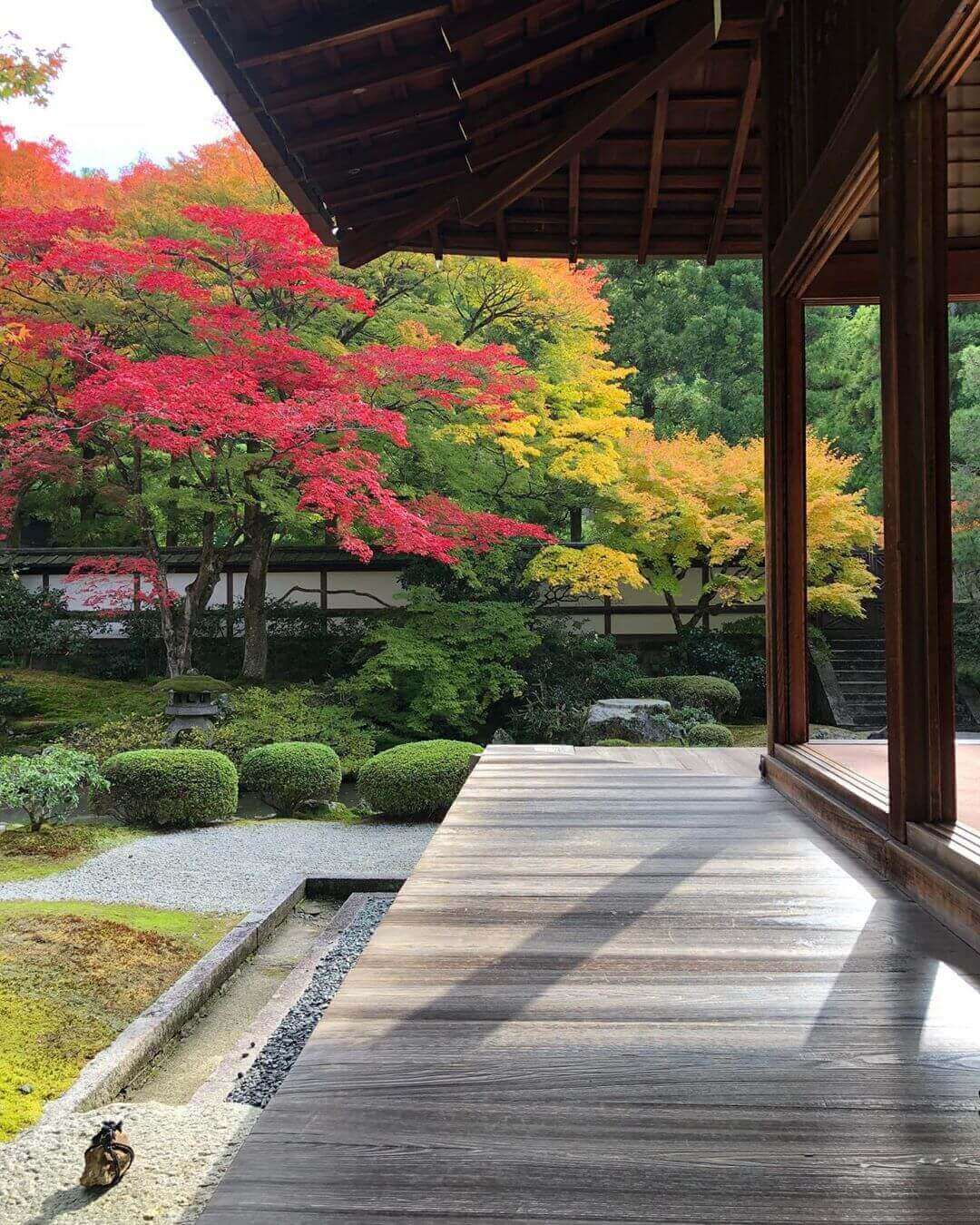 Image credit: @aekashin
Perched atop a hill, Sennyu-ji Temple is a Buddhist temple that few tourists know of as it is hidden among the trees at the foot of Mount Tsukinowa. This temple is also known as the Imperial Temple because Emperor Shijo was buried here in 1242. The tombs of other emperors, such as Emperor Go-Horikawa and Emperor Komei, were also erected on this land.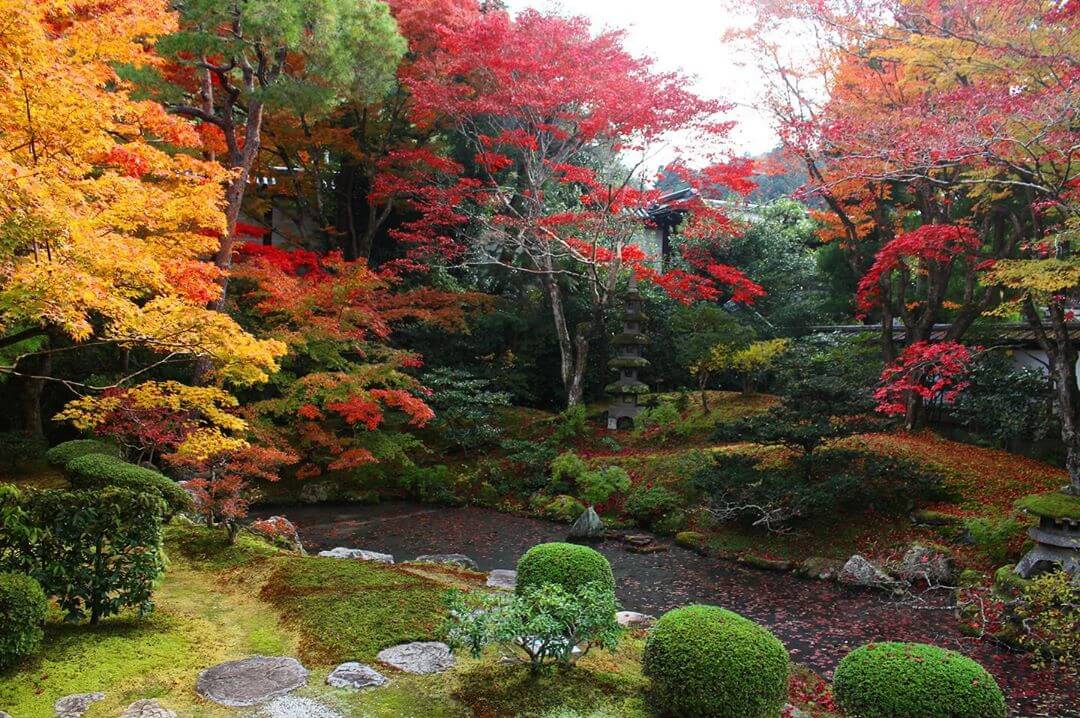 Image credit: @ochamars3
The large temple grounds are home to several sub-temples, including a small temple dedicated to the Chinese consort Yang Gui Fei (杨贵妃). There is a building named Gozasho (御座所), where you can find fall foliage overlooking a small pond. An additional admission fee of ¥300 (~USD2.85) is required for entrance into Gozasho.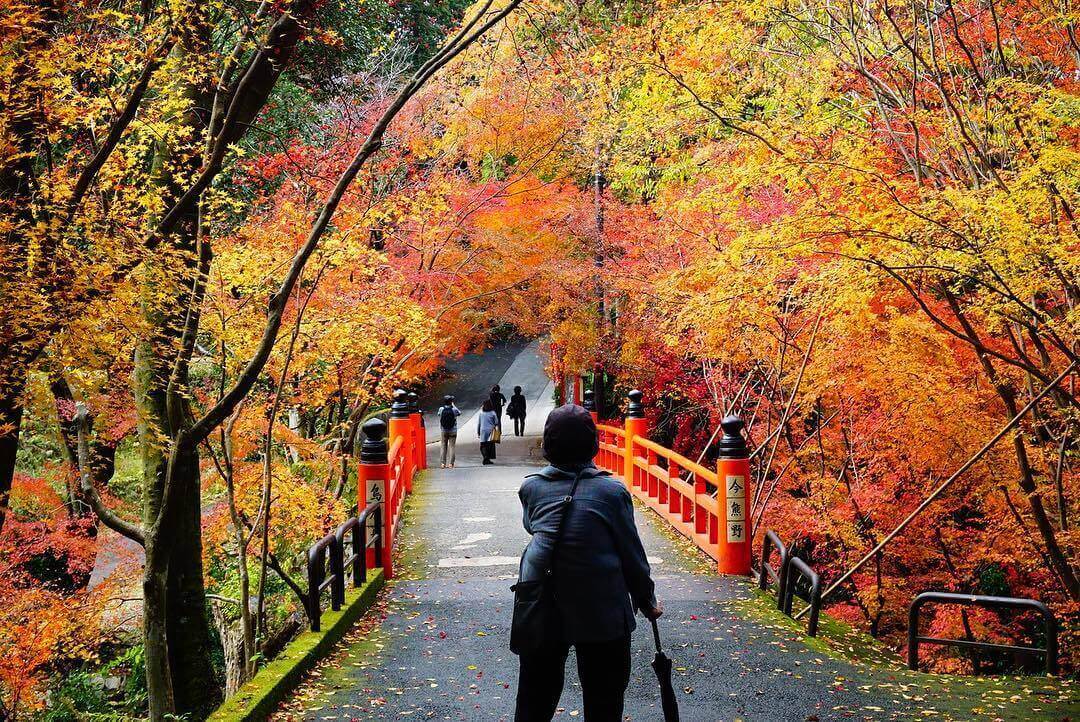 Image credit: @yuuukaho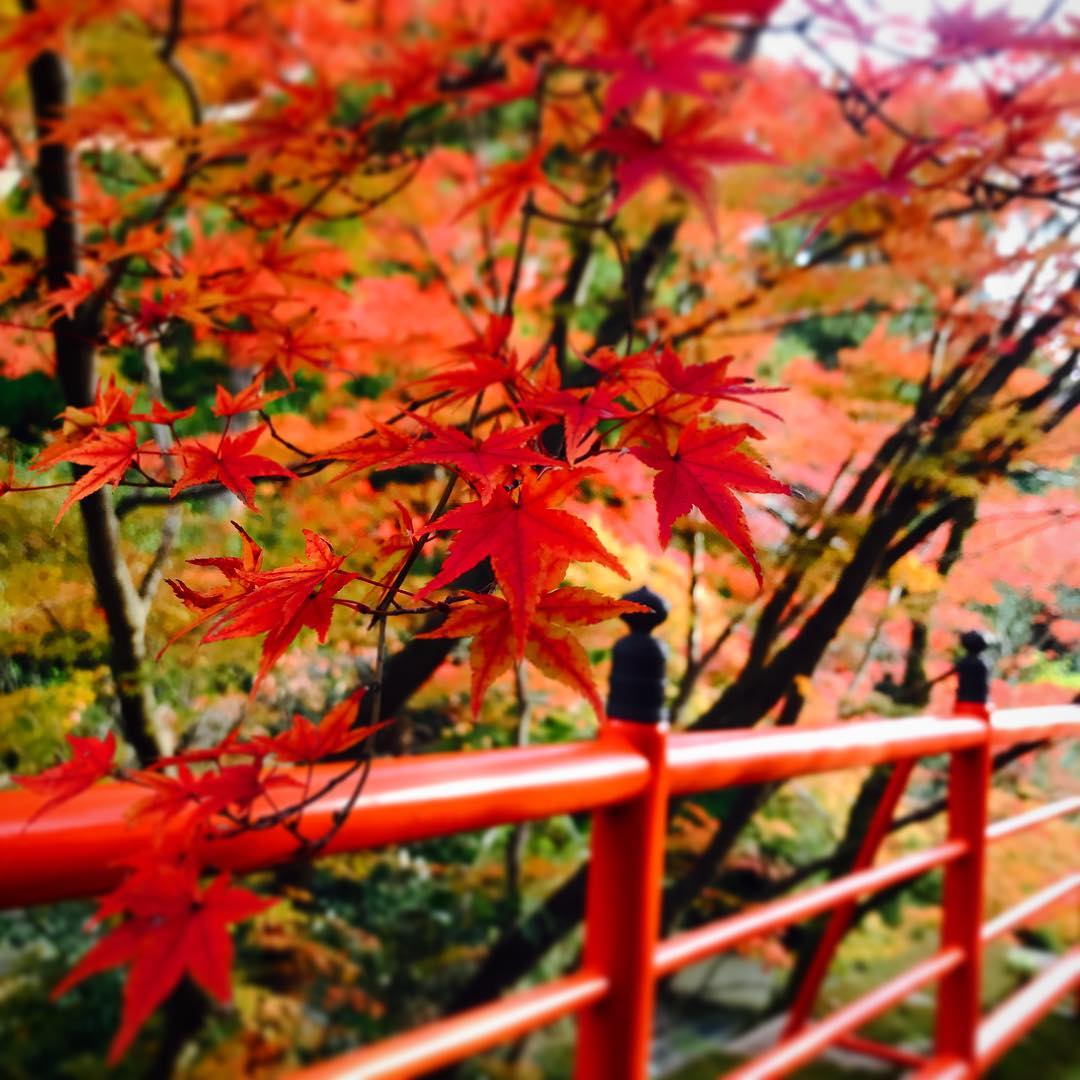 Image credit: @skmt_rtr
If you're looking for a quiet place to view the autumn foliage, pay a visit to Sennyu-ji Temple. Getting to Sennyu-ji Temple is quite a climb, so if you're not comfortable with a steep ascent, hop on a taxi from Kyoto Station.
Do note that photography is not allowed in the individual temples.
Opening hours: March – November 9AM-5PM, Daily (Last admission at 4.30PM) | December – February 9AM-4.30PM, Daily (Last admission at 4PM)
Admission: ¥500 (~USD4.75) for adults, ¥300 (~USD2.85) for children
Address: 27 Sennyuji Yamanouchicho, Higashiyama Ward, 605-0977 Kyoto
Nearest station: Tofuku-ji Station
Telephone: 075-561-1551
Website
---
8. Takaragaike Park (宝ヶ池公園)
---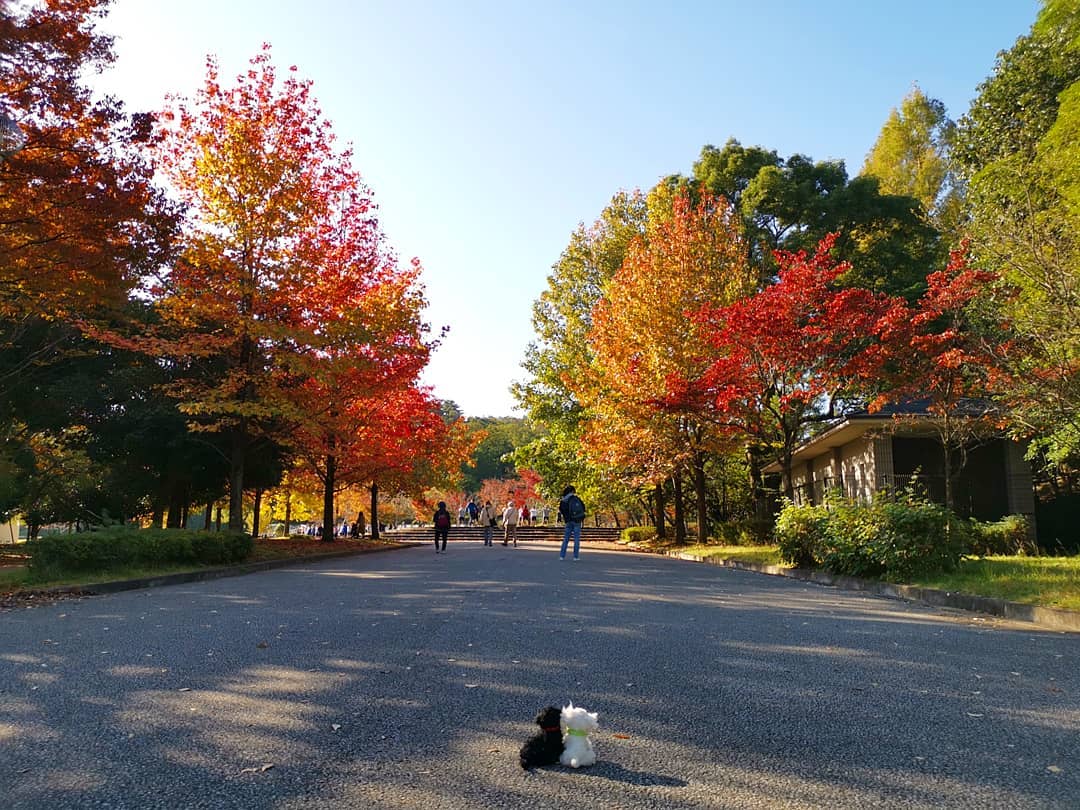 Image credit: @lemonlime0828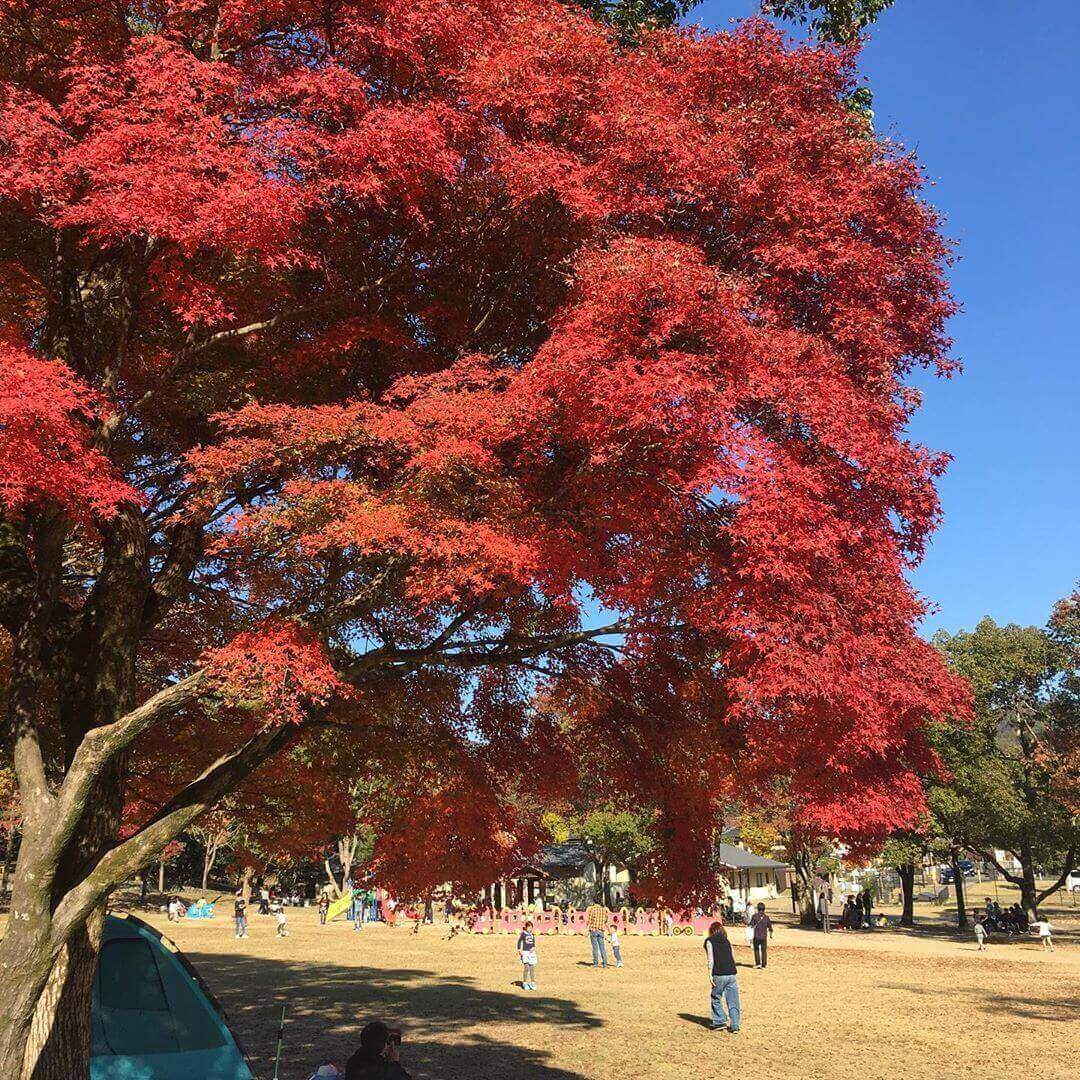 Image credit: @y_tera_yan
Takaragaike Park surrounds the man-made Takaragaike Lake, previously built to provide a ready supply of water for the rice fields around the area. Now, the lake draws in visitors who can row boats for leisure, jog around a 1.5km track, or admire the views of Mount Hiei and nature within the park.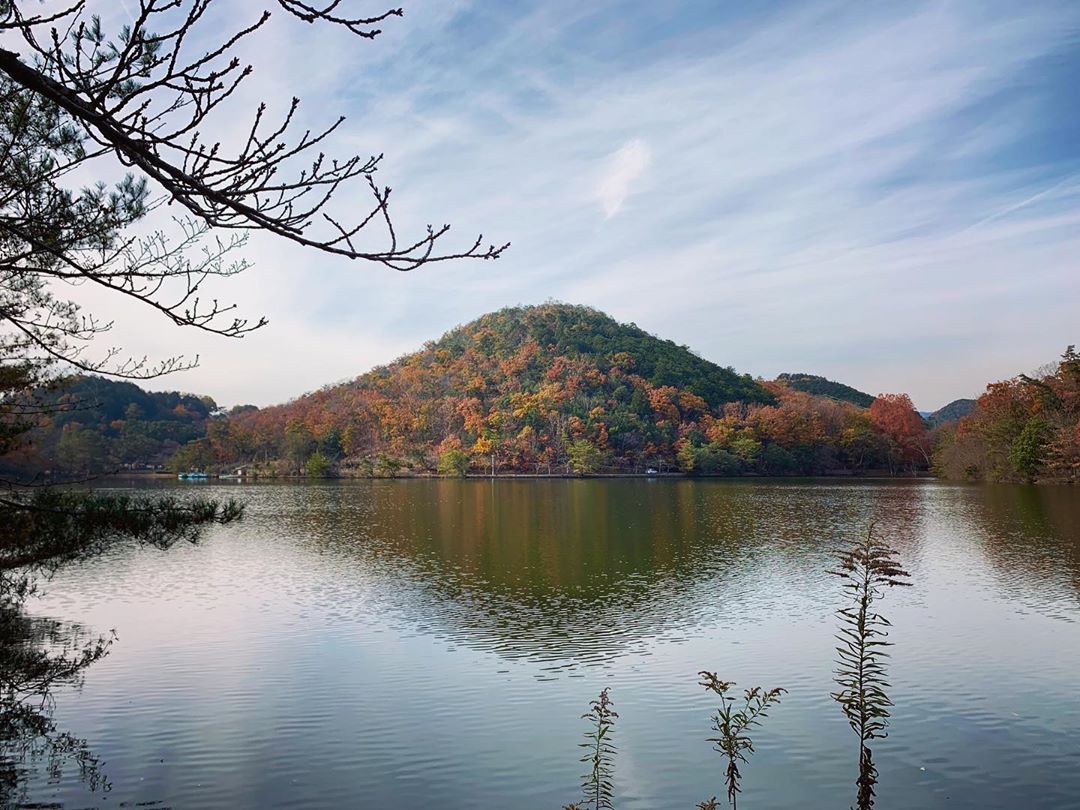 Image credit: @kanariia
The park is 128 hectares, around the size of 150 football fields. There is a playground for children – Children's Paradise (子どもの楽園) – which is open from 9AM-4.30PM daily. Pine and oak trees, as well as azalea shrubs, surround the playground. 
The park is usually populated only with locals doing day-to-day activities like jogging or walking their dogs, so you don't have to worry about it being overly crowded.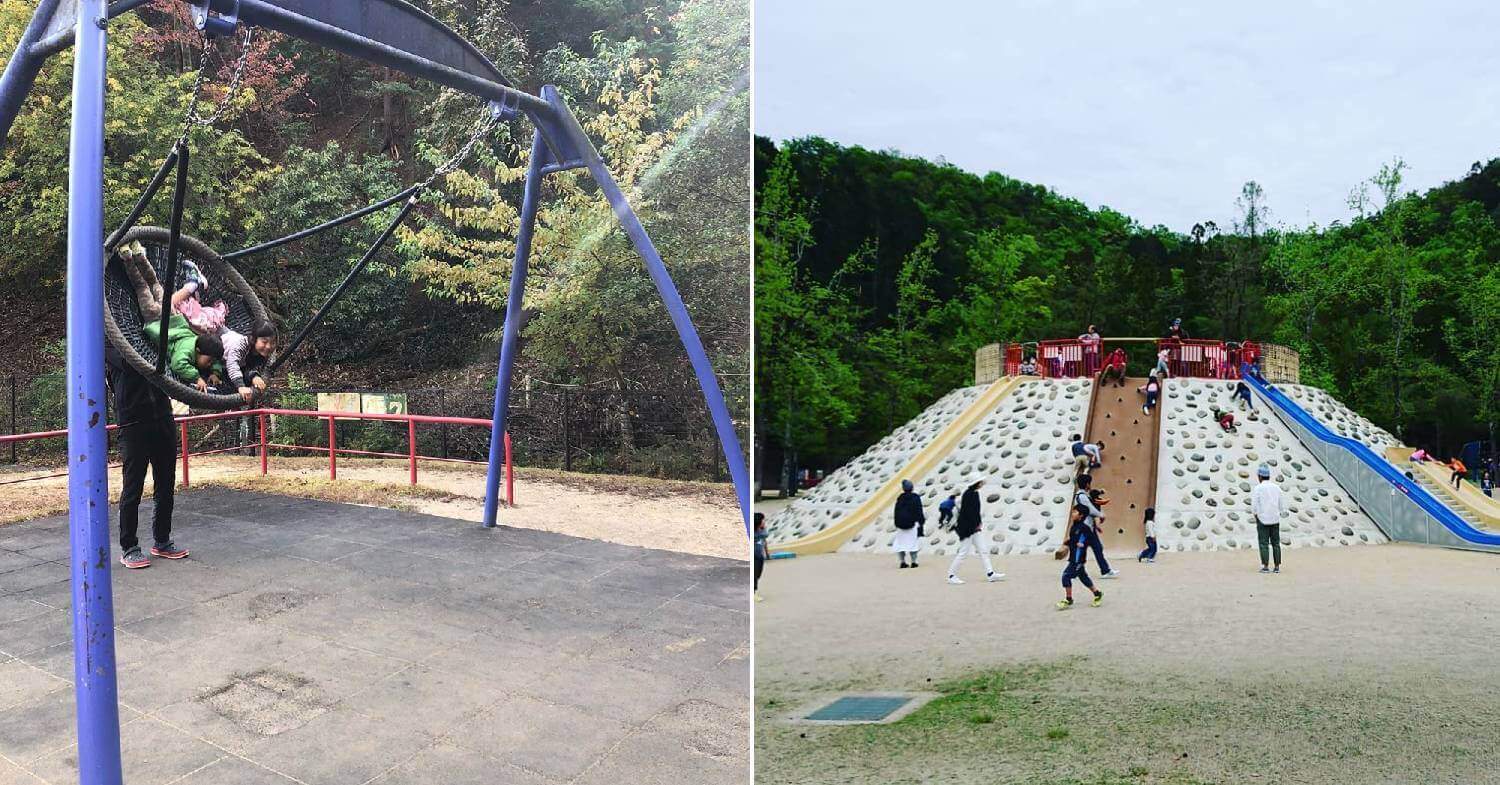 Image adapted from: @kyoko.yasuda.52 and @kohei_japan7
Takaragaike Park is a family-friendly location. While your kids play at the playground, you can admire the fall foliage. Plus, admission into the park and the playground is free, meaning your whole family can enjoy an afternoon of fun at little to no cost. Do note that adults above junior high school age are not allowed in the children's playground, unless they are parents accompanying their child.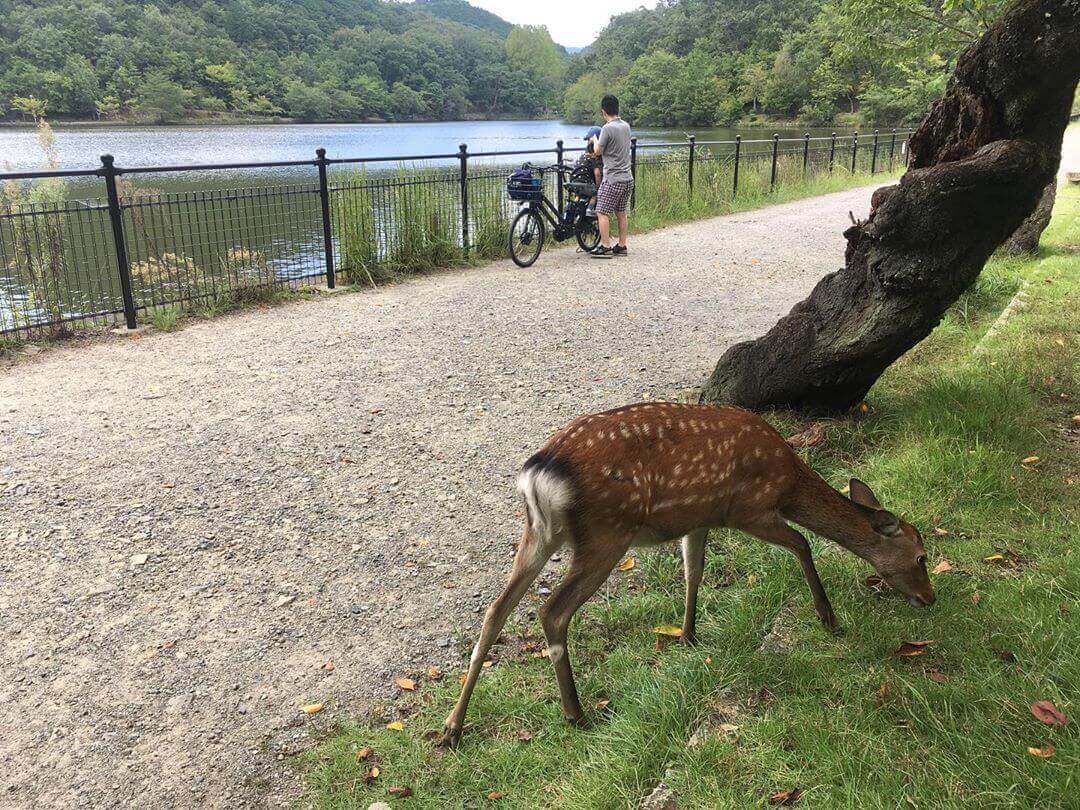 Image credit: @kazu2700
Keep a lookout for the resident deers lurking around freely in the park. Don't worry, they're not as aggressive as those in Nara and won't ask you for treats, so just keep your distance and you'll be safe. 
Park opening hours: 24 hours, Daily
Address: 8 Kamitakano Nagaredacho, Sakyo-ku, 606-0037 Kyoto
Nearest station: Kokusaikaikan Station
Telephone: 075-882-7019 (Kyoto City Northern Green Management Office)
Website
---
9. Oharano Shrine (大原野神社)
---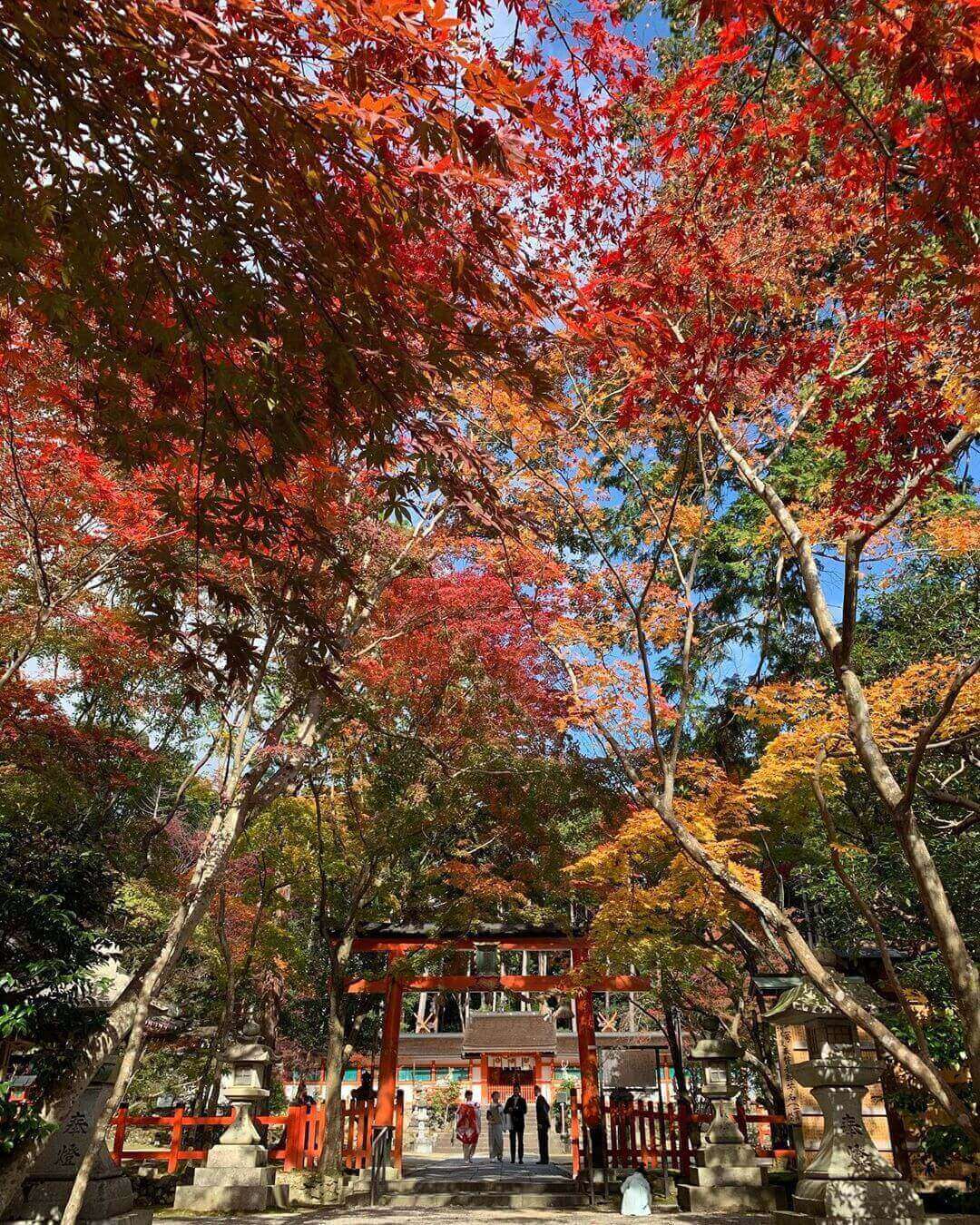 Image credit: @atsuna1226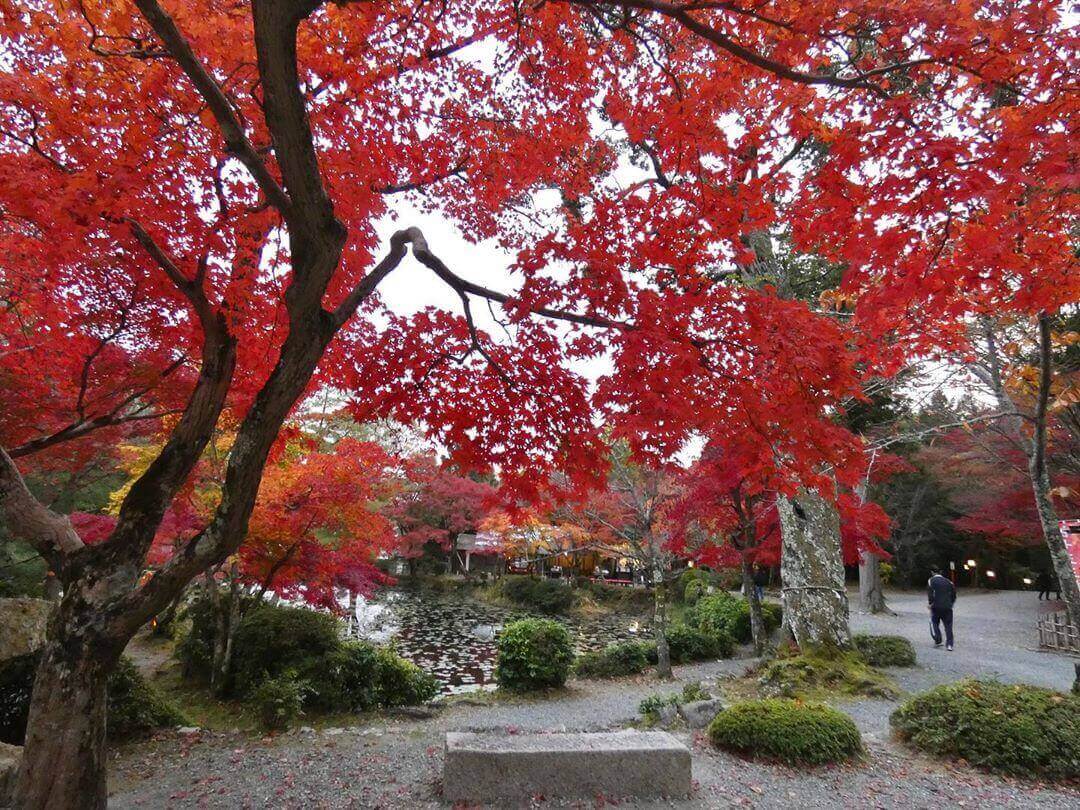 Image credit: @oharanojinja.official
Oharano Shrine is located in Kyoto's south-western region and easily accessed by the JR line. It is a branch shrine of the famous Kasuga Taisha Shrine in Nara. In this little known shrine measuring 8.3 hectares – about the size of 10 football fields – there is a main hall, a prayer hall, the Koizawa pond, and a few stores selling food. Locals hold wedding ceremonies here and you'll sometimes see couples having wedding photoshoots too.

Image credit: @oharanojinja.official
The shrine premises are filled with cherry red maple leaves in autumn, and every spot has the potential to make for a great photo. Check out the entrance path between the shrine's 2 torii gates – it's a popular photo spot for many.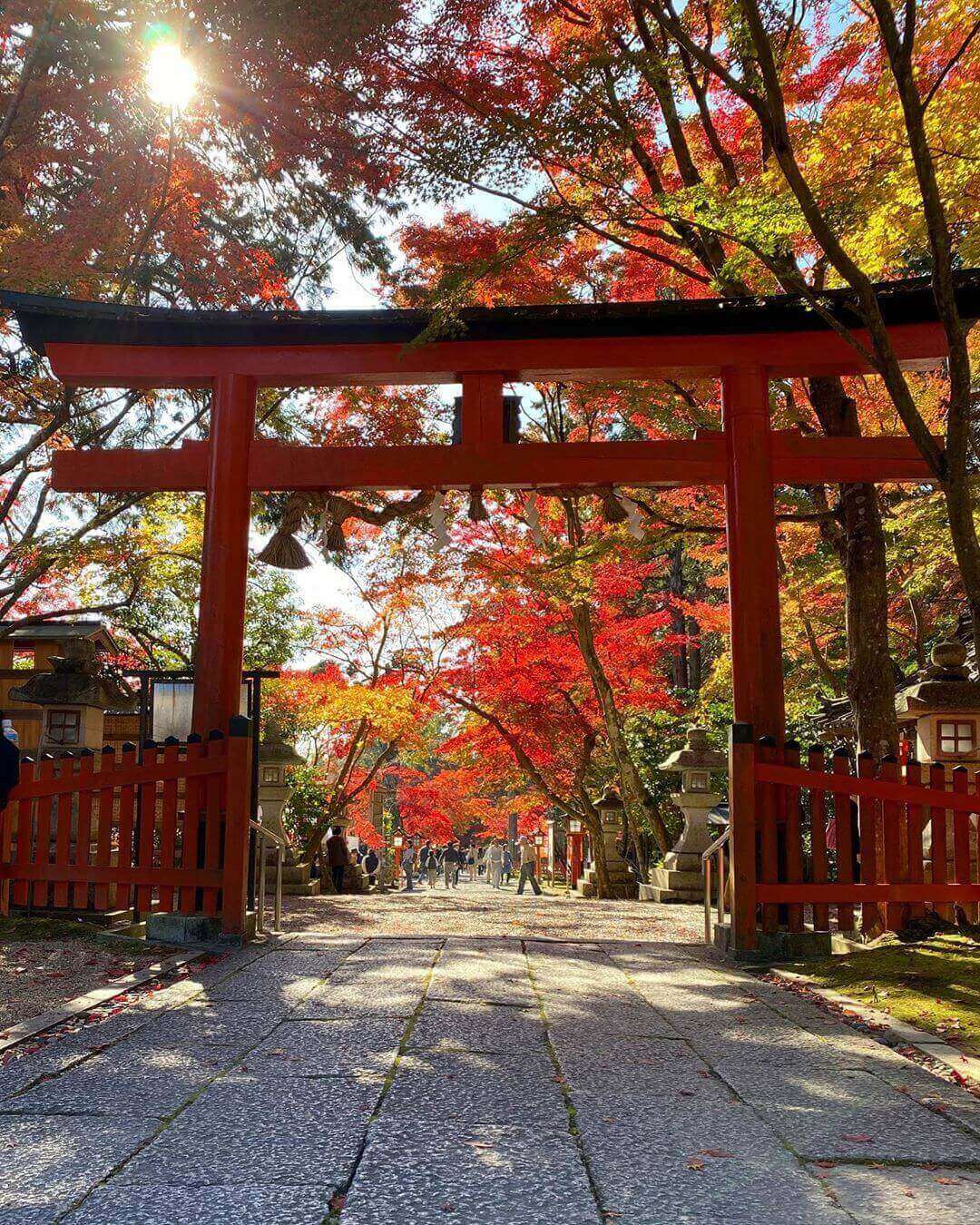 Image credit: @chiristagram_1107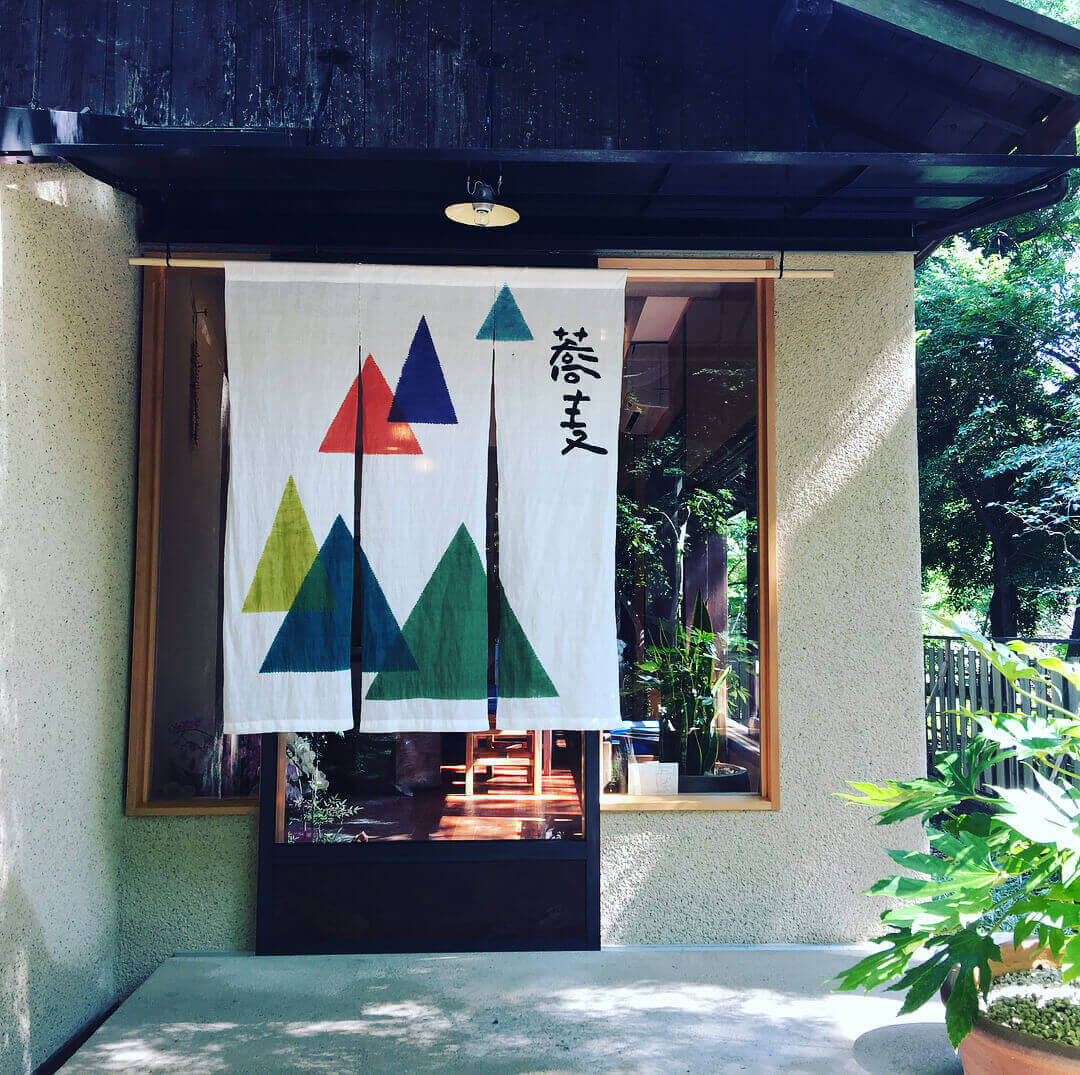 Image credit: @oharanojinja.official
There is a small soba shop located within the shrine premises. The springy soba sold here is freshly made by hand every morning. The shop closes once they're out of soba, so it is best to make a reservation before going. You can also enjoy some green mugwort (yomogi) dumplings and tea at a teahouse next door.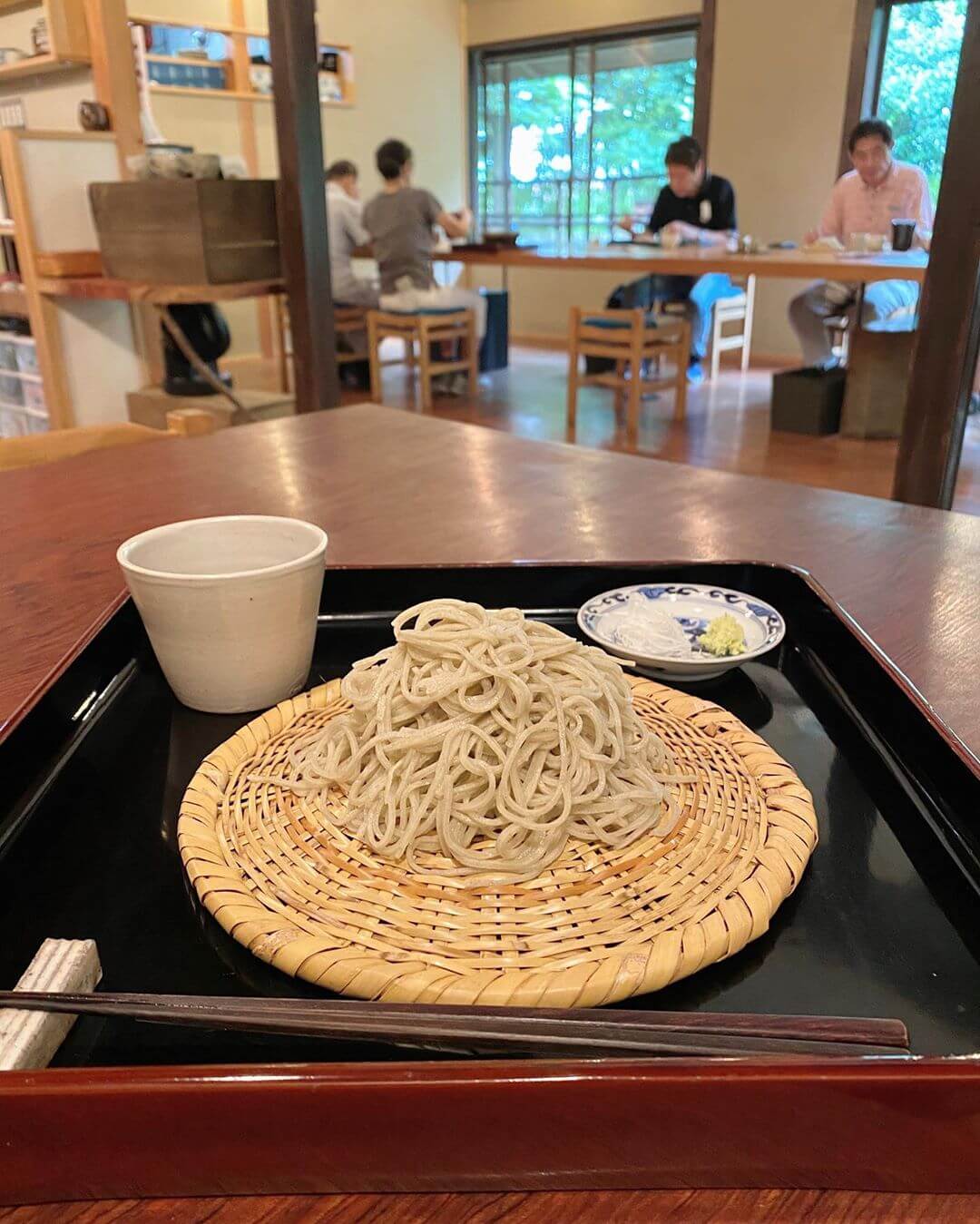 Image credit: @_kirara81
Opening hours: 9AM-5PM, Daily
Address: 1152 Oharano Minamikasugacho, Nishikyo-ku, 610-1153 Kyoto
Nearest stations: Mukomachi Station, Higashimuko Station
Telephone: 075-331-0014
Website
---
– Osaka –
---
10. Utsubo Park (靭公園)
---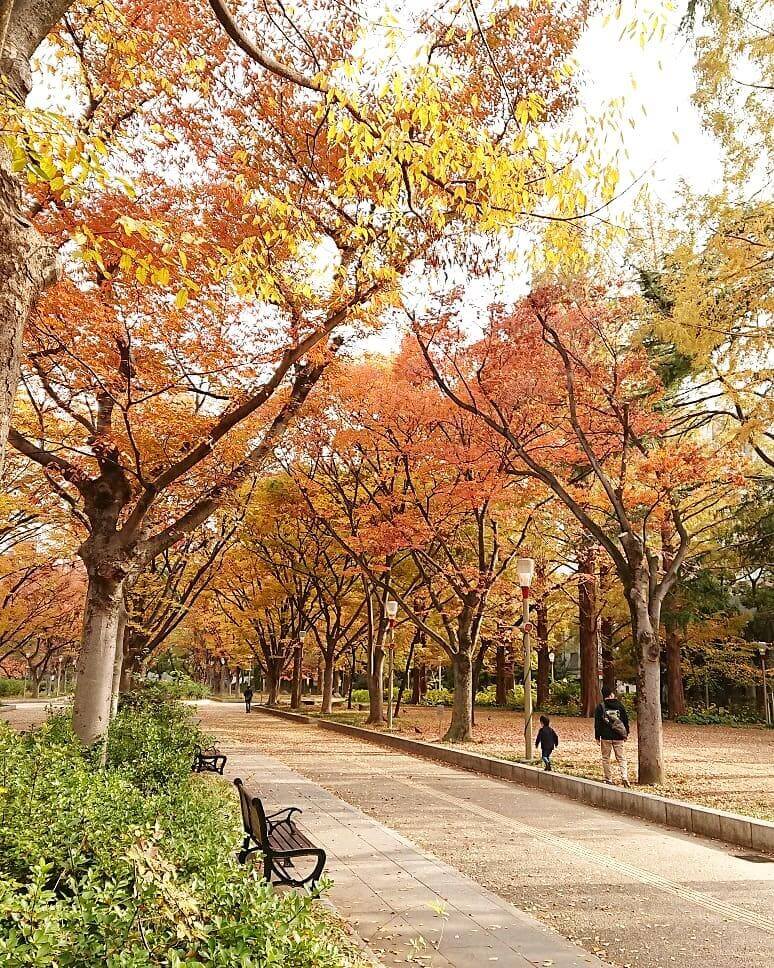 Image credit: @wk._photography
Utsubo Park is located in the Utsubo-Hommachi business district. It is a long narrow park about 9 hectares – the size of 10 football fields. On weekdays during lunchtime, the zelkova-lined path provides a brief respite for busy office workers as they take a walk and soak in nature.
On weekends, you'll find locals walking their dogs, families having a picnic, kids learning how to cycle, and even people doing yoga.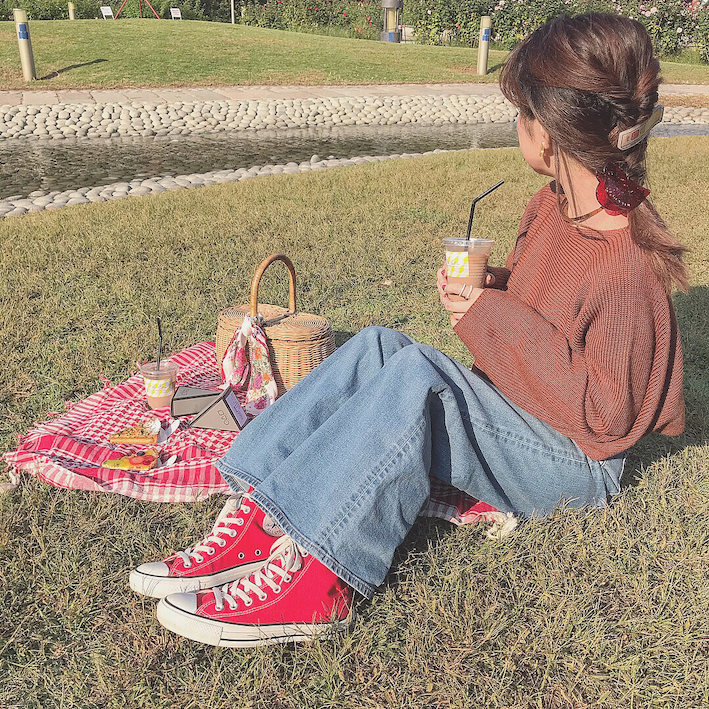 Image credit: @___k.a.r.i.n___
Besides the zelkova trees that turn yellow and orange in autumn, you'll also spot over 160 varieties of roses bloom in late October as Utsubo Park is home to one of Osaka's oldest rose gardens.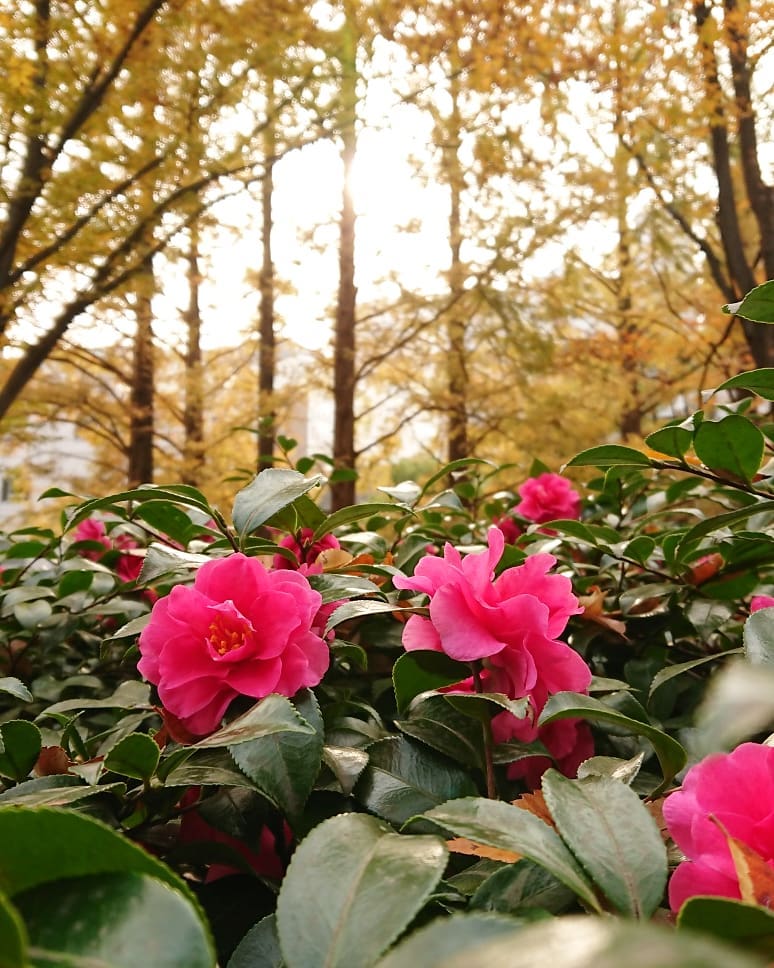 Image credit: @wk._photography
It is rare to find a park like this nestled within the business district of a city like Osaka, so this is a hidden gem you shouldn't miss. After enjoying the fall foliage and colourful roses, head to the nearby Kyomachibori neighbourhood to find trendy cafes and restaurants.
Opening hours: 24 hours, Daily
Address: 2-1-4 Utsubohommachi, Nishi-Ku, 550-0004 Osaka
Nearest station: Hommachi Station
Telephone: 06-6941-1144 (Osaka Castle Park Office)
Website
---
11. Kanshin-ji Temple
---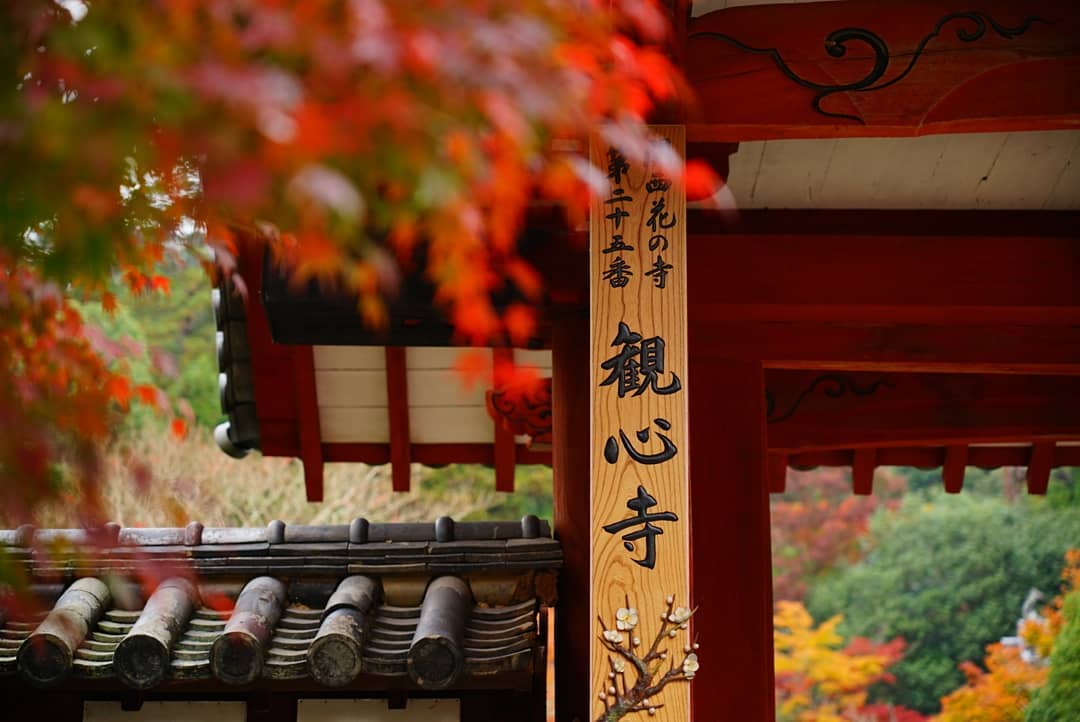 Image credit: @kanshin_ji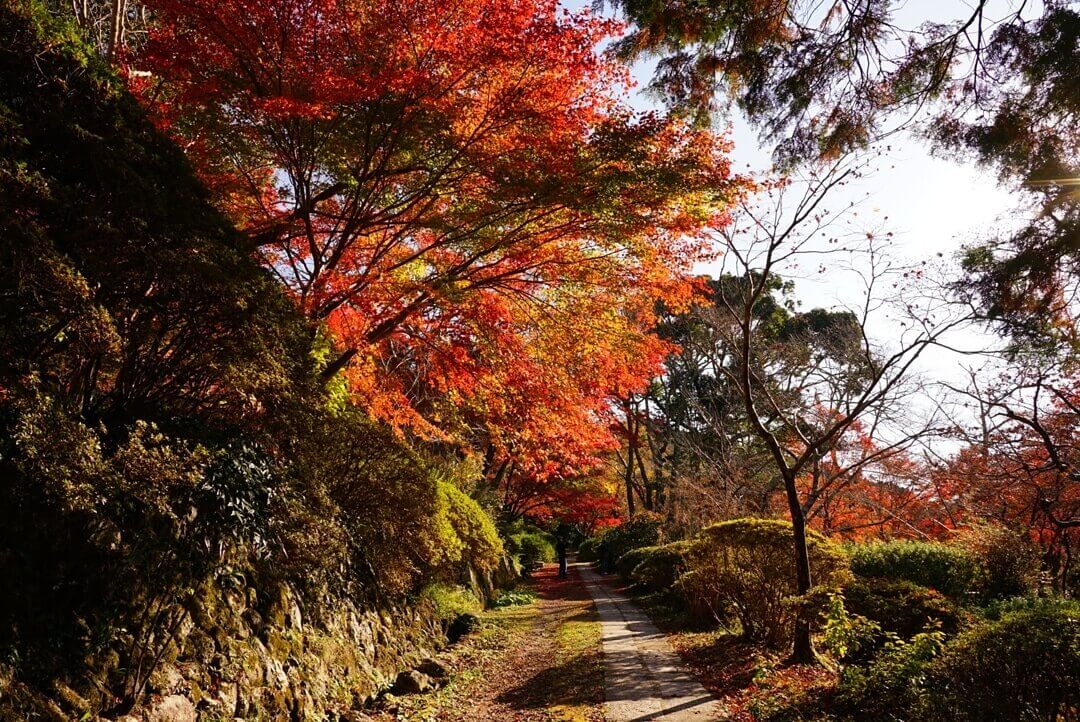 Image credit: @kanshin_ji
Kanshin-ji Temple has an abundance of maple trees (momiji), which make it a coveted destination for momijigari. It is a popular location among locals during the cherry blossom, plum blossom, and autumn foliage seasons.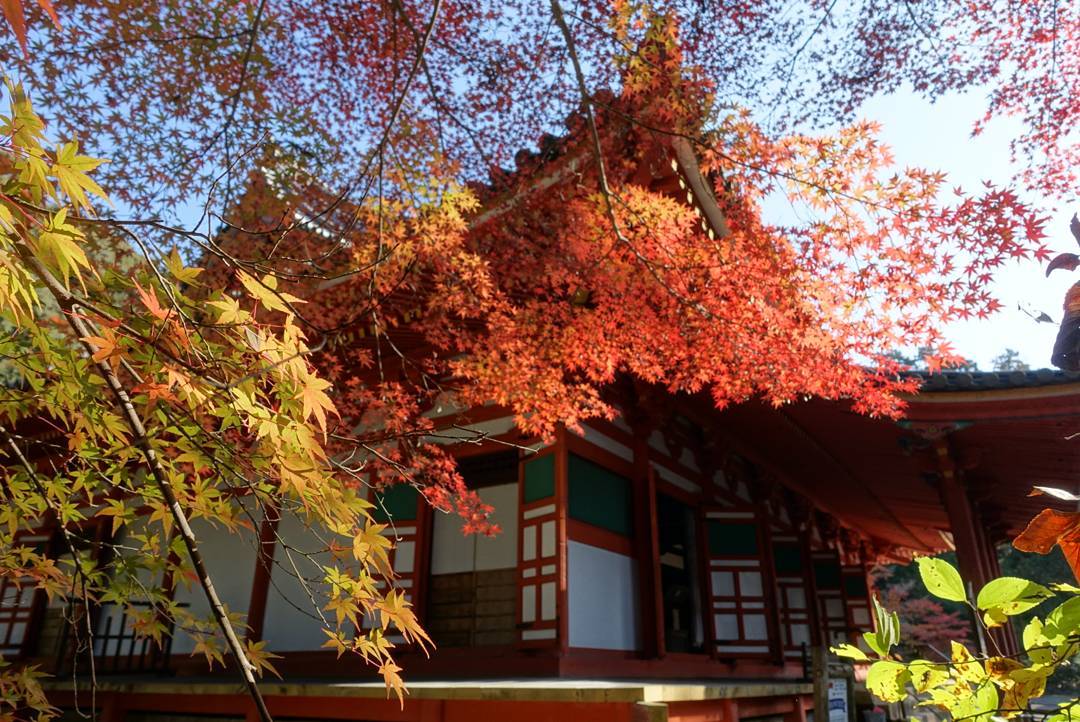 The Kondo
Image credit: @kanshin_ji
One of Japan's oldest national treasures, the Kondo is built in a unique combination of Japanese, Chinese, and Indian Buddhist architecture styles. If you like nature and history, you'll enjoy this place as you get to roam around the premises freely and explore the many other national treasures in the area.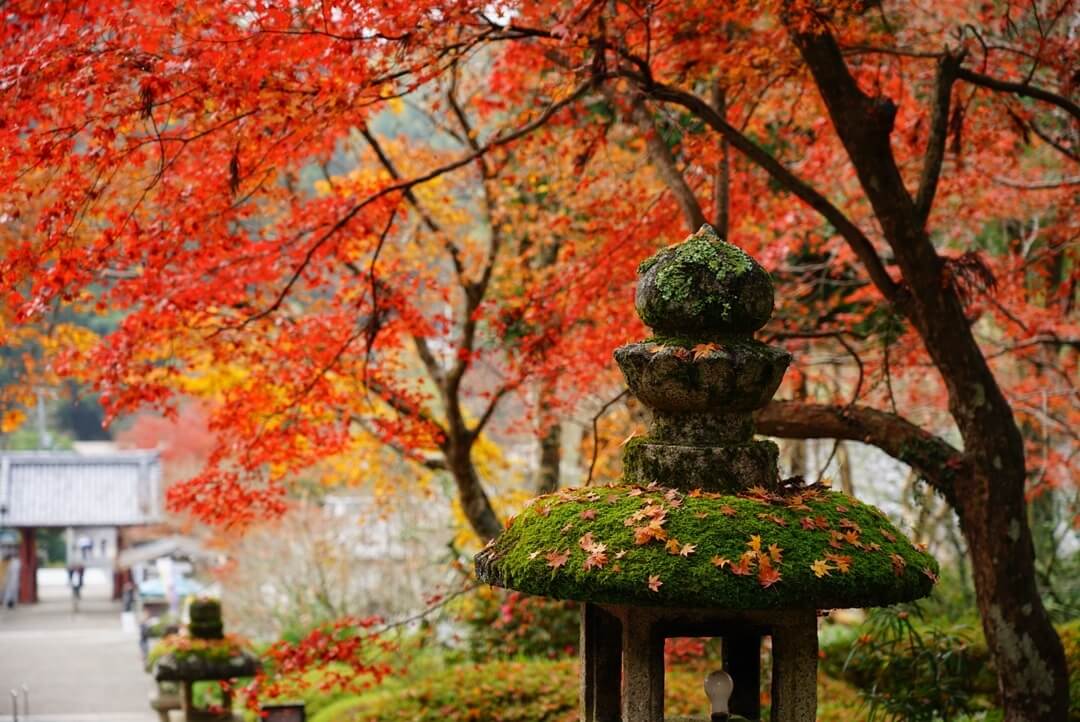 Image credit: @kanshin_ji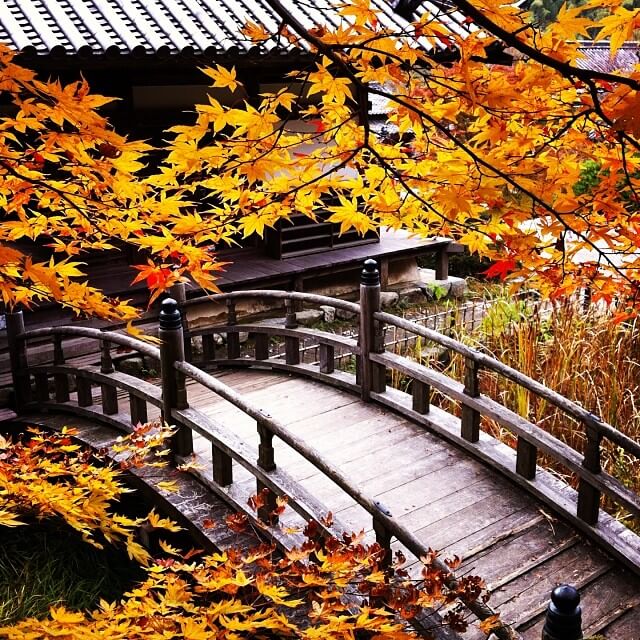 Image credit: @paranoia_star
There is even a shojin-ryori (Buddhist temple-style cuisine) restaurant, called KU-RI, in the temple. Their signature dish is the azuki (red bean) tea porridge, a modern adaptation of the dish eaten on Setsubun (the day before the beginning of spring) to ward off evil. The vegan-friendly restaurant uses locally-grown vegetables. Their dishes don't contain meat, fish, garlic, leeks, scallions, or onions. They do use eggs, however.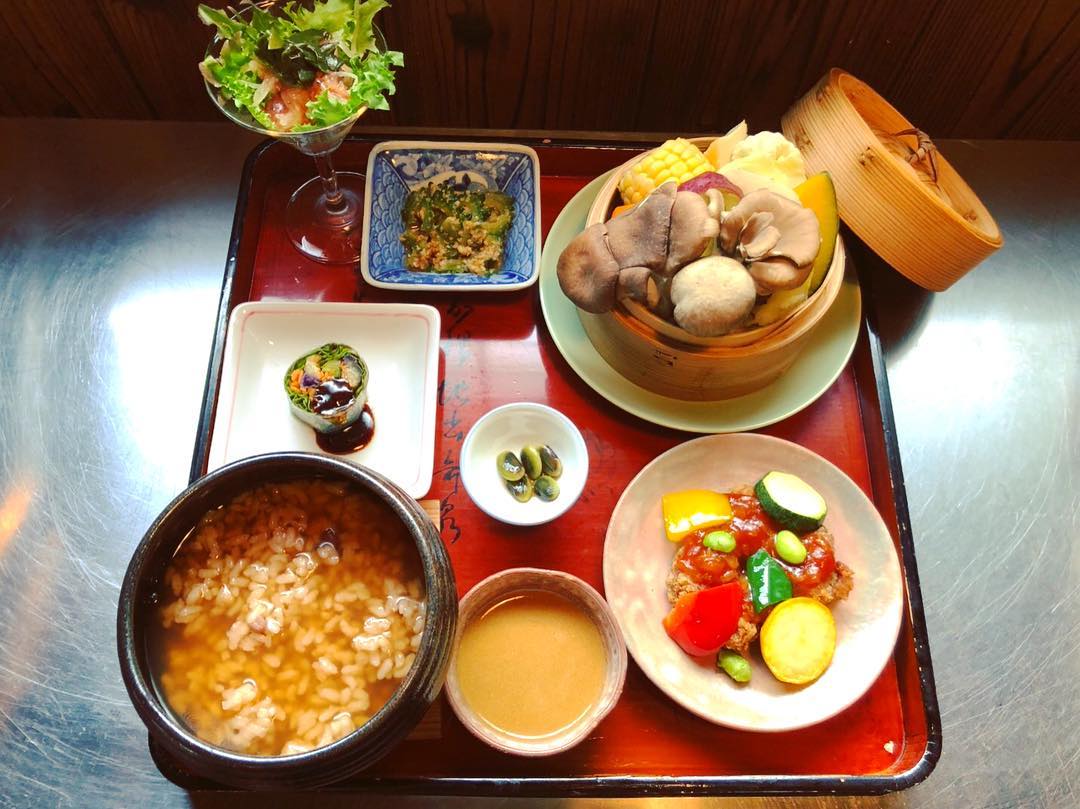 Image credit: @kanshinjikuri
Opening hours: 9AM-5PM, Daily (Last admission at 4.30PM)
Admission: ¥300 (~USD2.85) for adults, ¥100 (~USD0.95) for elementary and junior high school students
Address: 475 Teramoto, Kawachinagano City, 586-0053 Osaka
Nearest station: Kawachinagano Station
Telephone: 0721-62-2134
Website
---
12. Shipporyuji Temple (七宝瀧寺)
---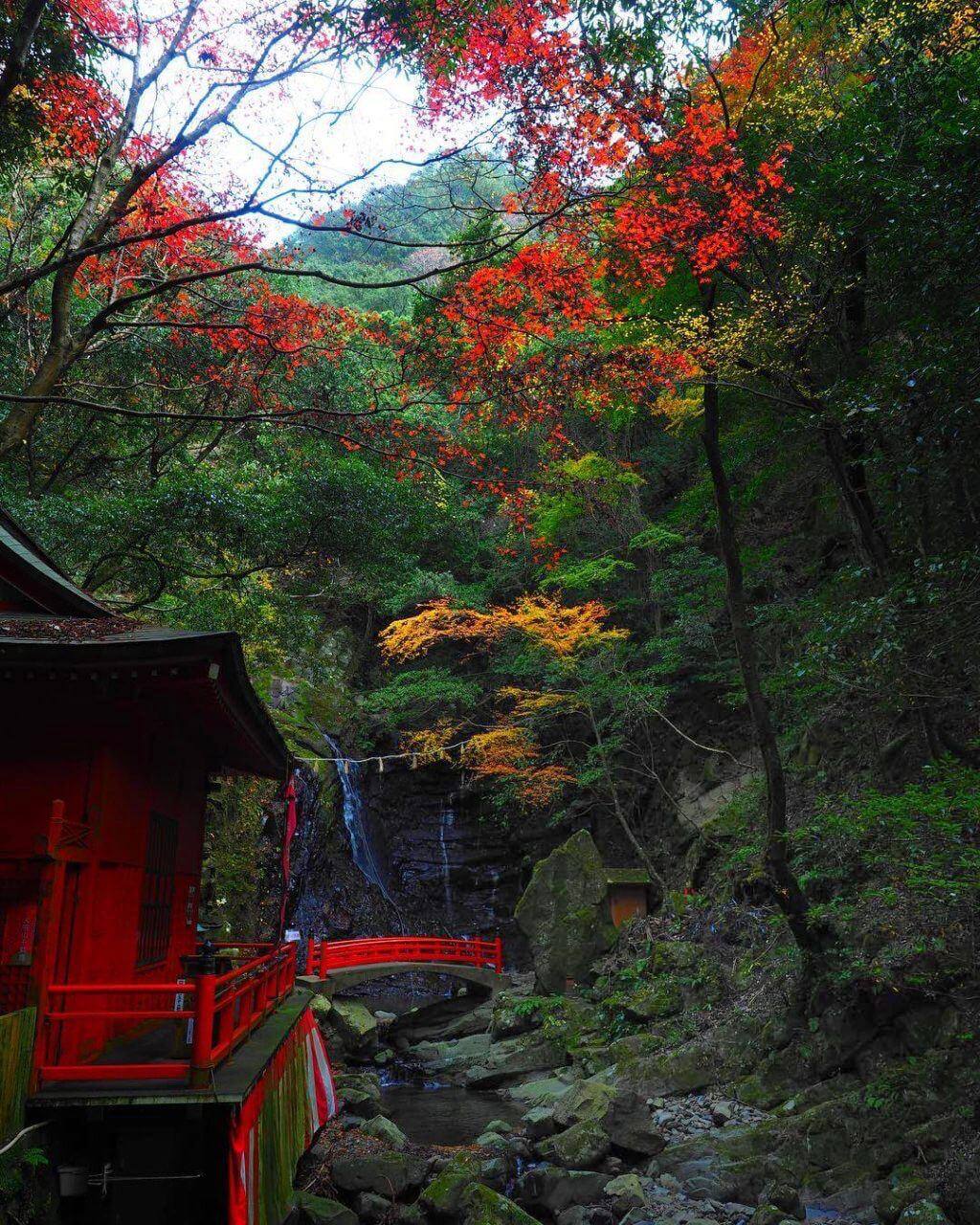 Image adapted from: @kanrenja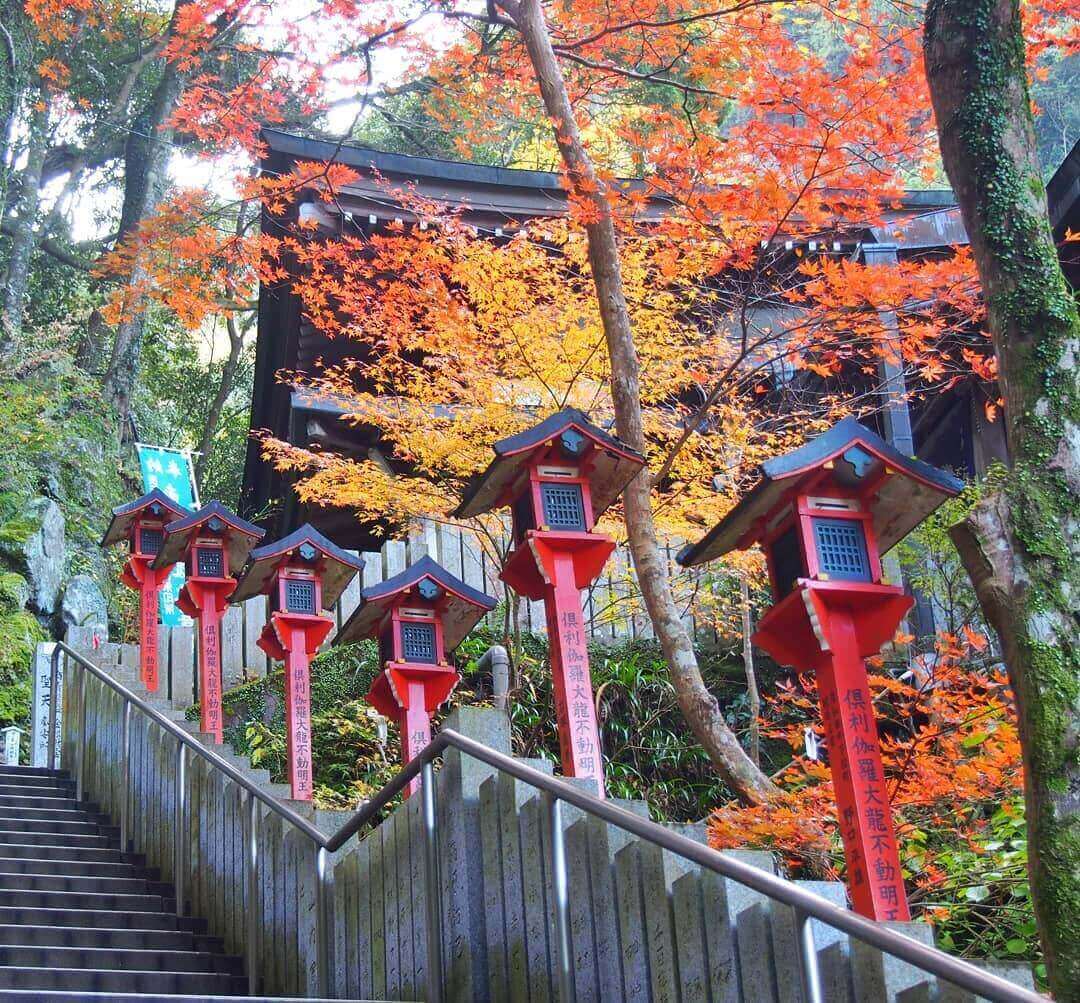 Image credit: @kuro_927
If you've got time and are willing to travel out of central Osaka, Shipporyuji Temple at Mount Inunaki is a good spot for fall foliage viewing. There is a bit of hiking involved but it is a manageable path for most.
Shipporyuji Temple is the headquarters of the Inunaki school of Shugendo, a religion that is studied in the mountains and worships the mountains. You can spend a whole day exploring the area around Shipporyuji Temple and Mount Inunaki.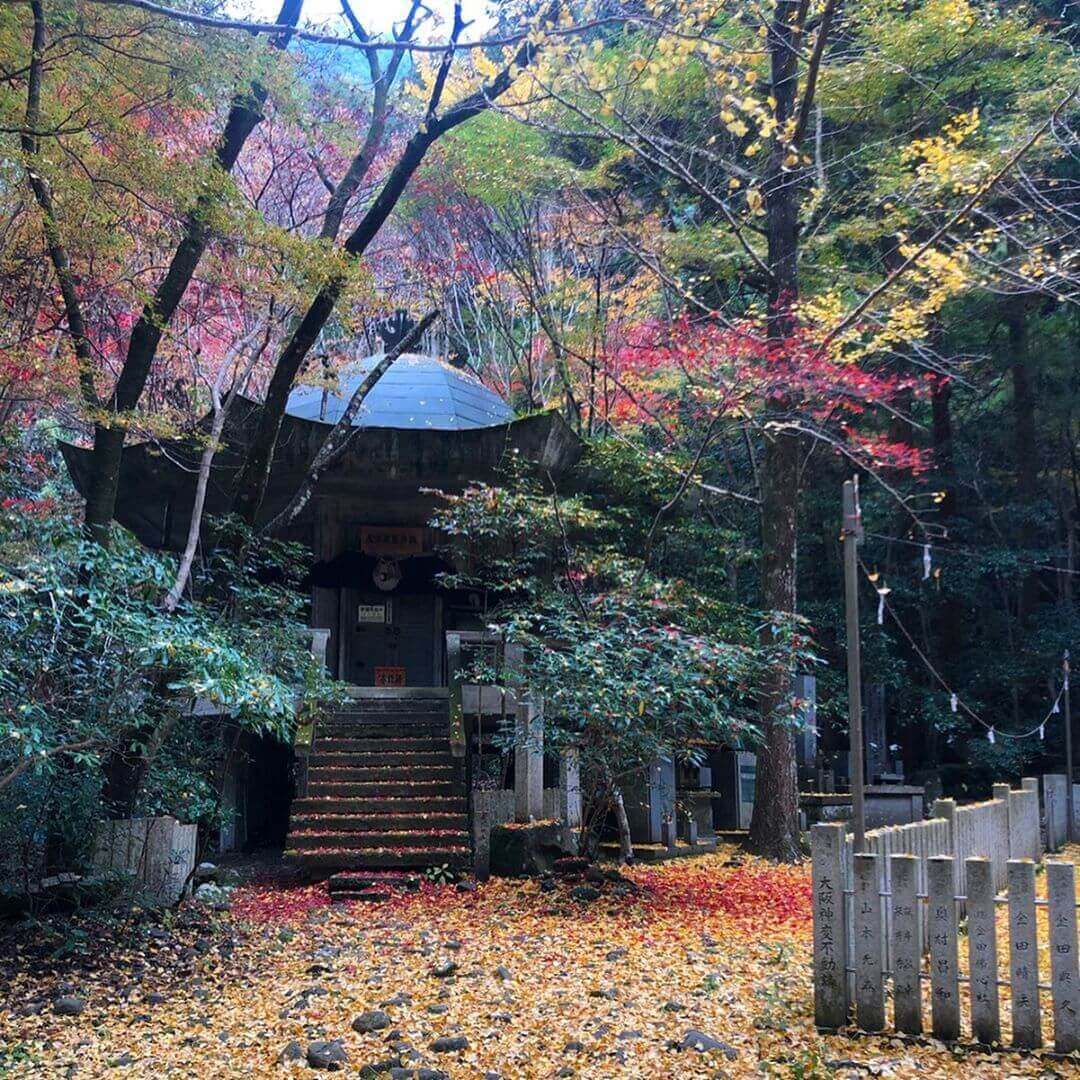 Image credit: @yukapyu3
There are several buildings within the temple precincts, including a Shugendo museum. Maple and ginkgo trees can be spotted all around the temple.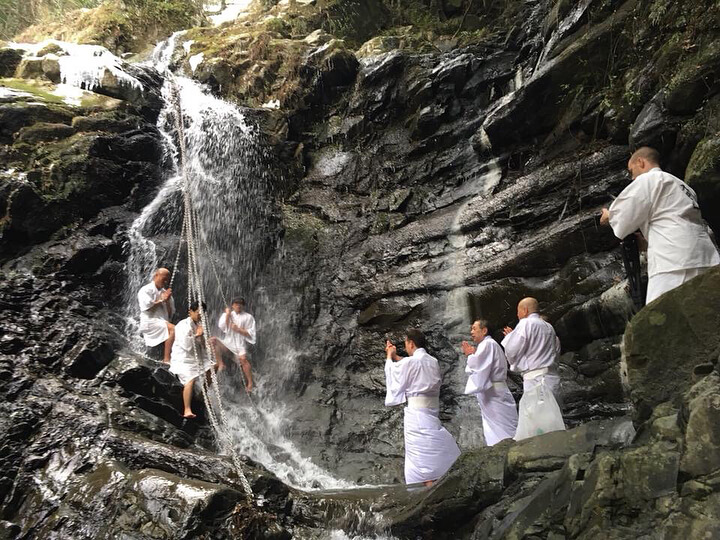 Image credit: @takahiro.barbell_358
The sacred waterfall, located deep in the temple grounds, is considered part of the main hall of the temple. If you're lucky, you might see Shugendo practitioners standing under the strong waterfall as part of their training.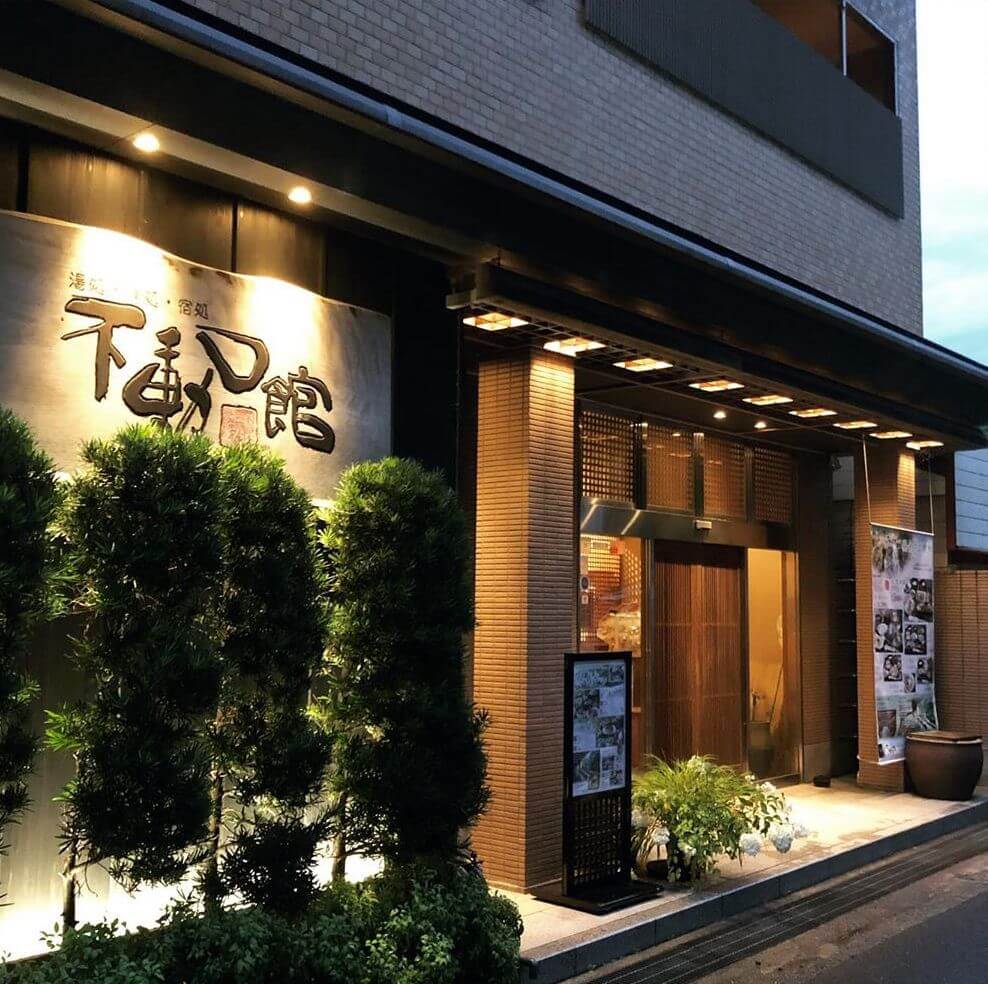 Image adapted from: @takashi_1218_
Mount Inunaki is not only famous for Shipporyuji Temple, but also for its onsen (hot spring). Before you leave Mount Inunaki, visit the FUDOUGUCHIKAN onsen to refresh yourself and your sore muscles after an entire day of hiking. You can also have a meal there.
They have a day pass for visitors who come to Mount Inunaki for a day trip. The pass costs ¥800 (~USD7.58) for adults and ¥400 (~USD3.79) for children. If you're not rushing back to central Osaka, you can consider enjoying a night's stay at the FUDOUGUCHIKAN onsen.
Opening hours: 7.30AM-4.30PM, Daily
Address: 8 Ogi, Izumisano-shi, 598-0023 Osaka
Nearest stations: Izumisano Station, Hineno Station
Telephone: 072-459-7101
Website
---
13. Hoshida Park (ほしだ園地)
---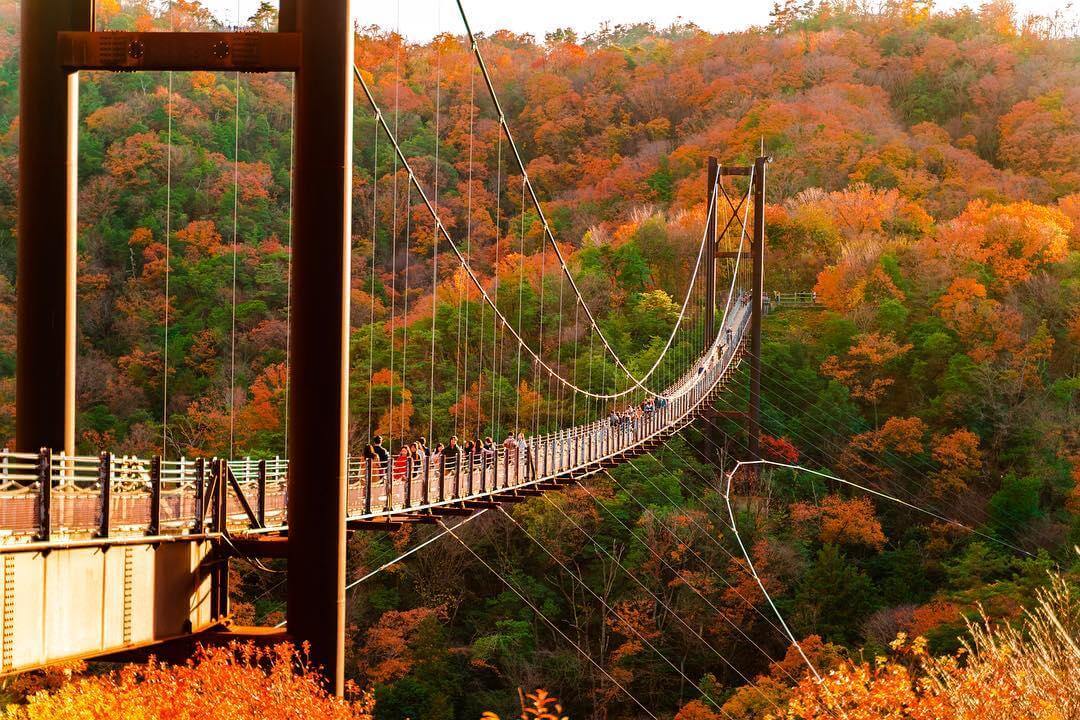 Image credit: @urara_photo_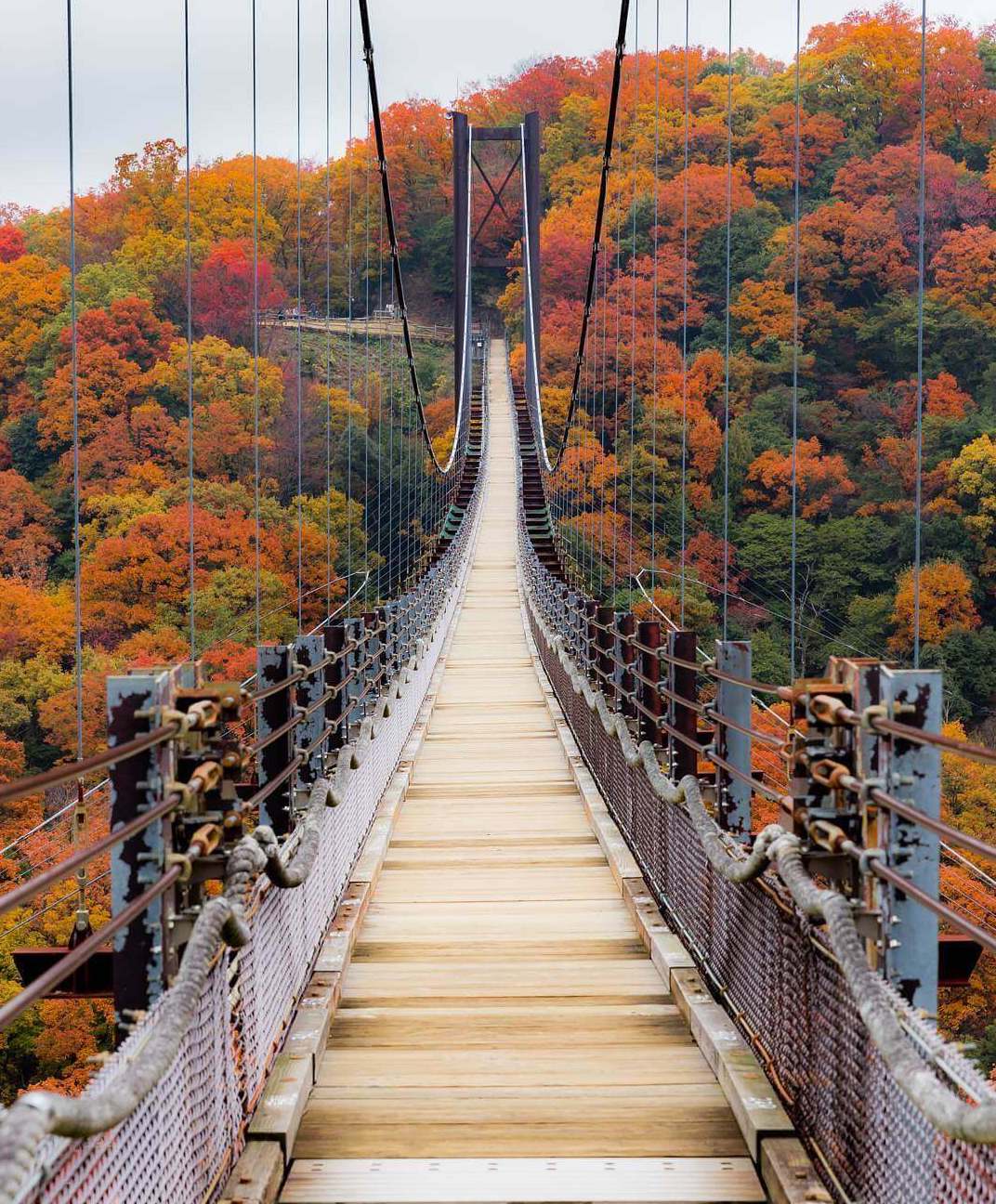 Image adapted from: @m_shibuya
The Hoshida Park is often called a hidden gem spot for fall foliage viewing and it isn't hard to see why. Hoshida Park is home to the Hoshi-no-Buranko Bridge, one of Japan's largest wooden-floor suspension bridges. The bridge is a whopping 280m long and 50m high.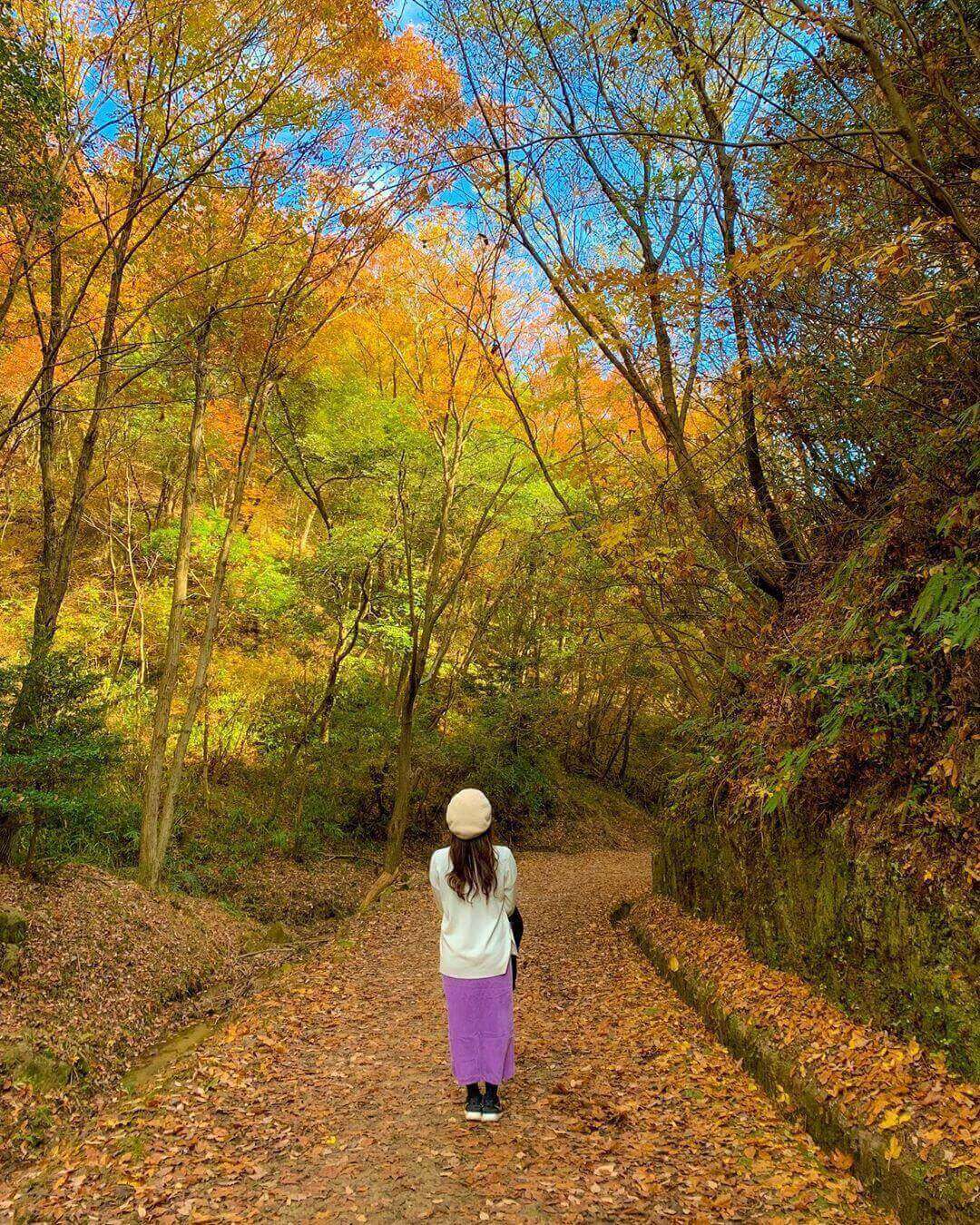 Image credit: @nk0220_trip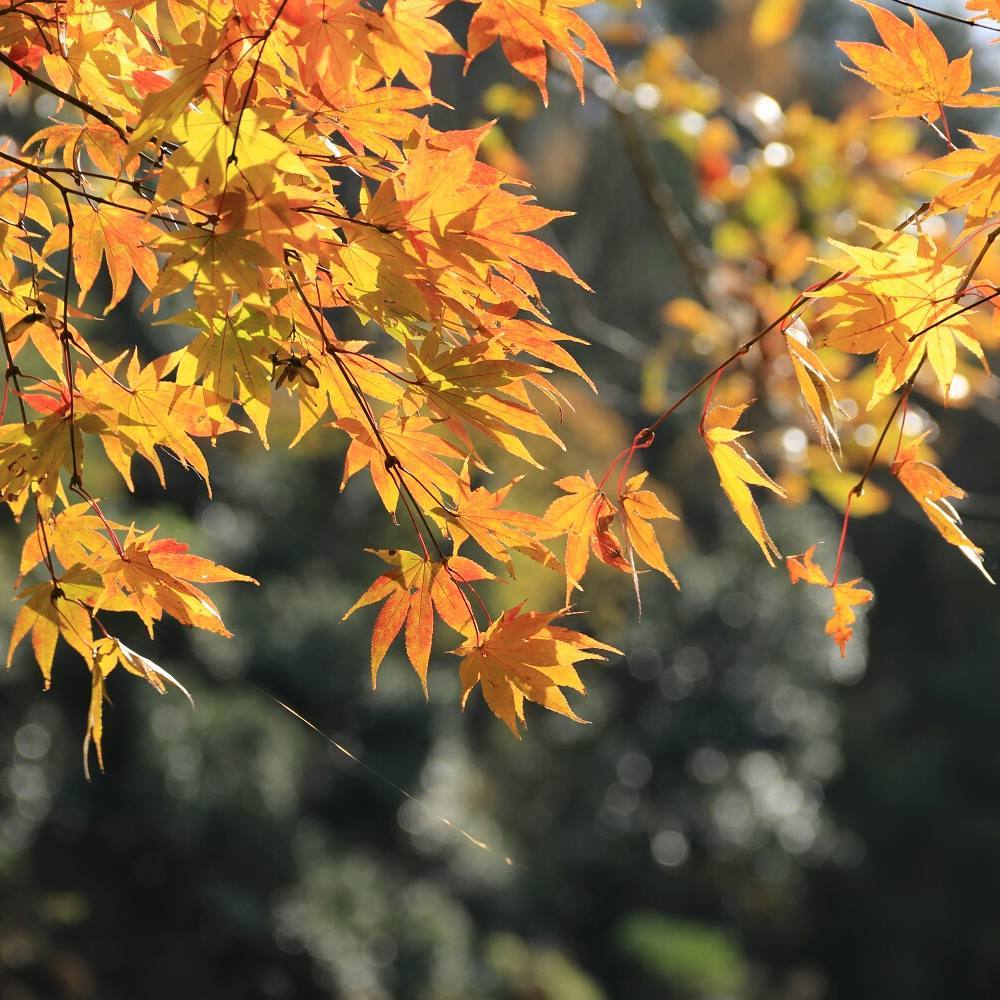 Image credit: @ayahonomoe
To get to the Hoshi-no-Buranko Bridge, you'll have to hike 40 minutes from the nearest station. It is a relatively easy hike with clear footpaths and routes. There are also maps along the way to make sure that you're on the right track.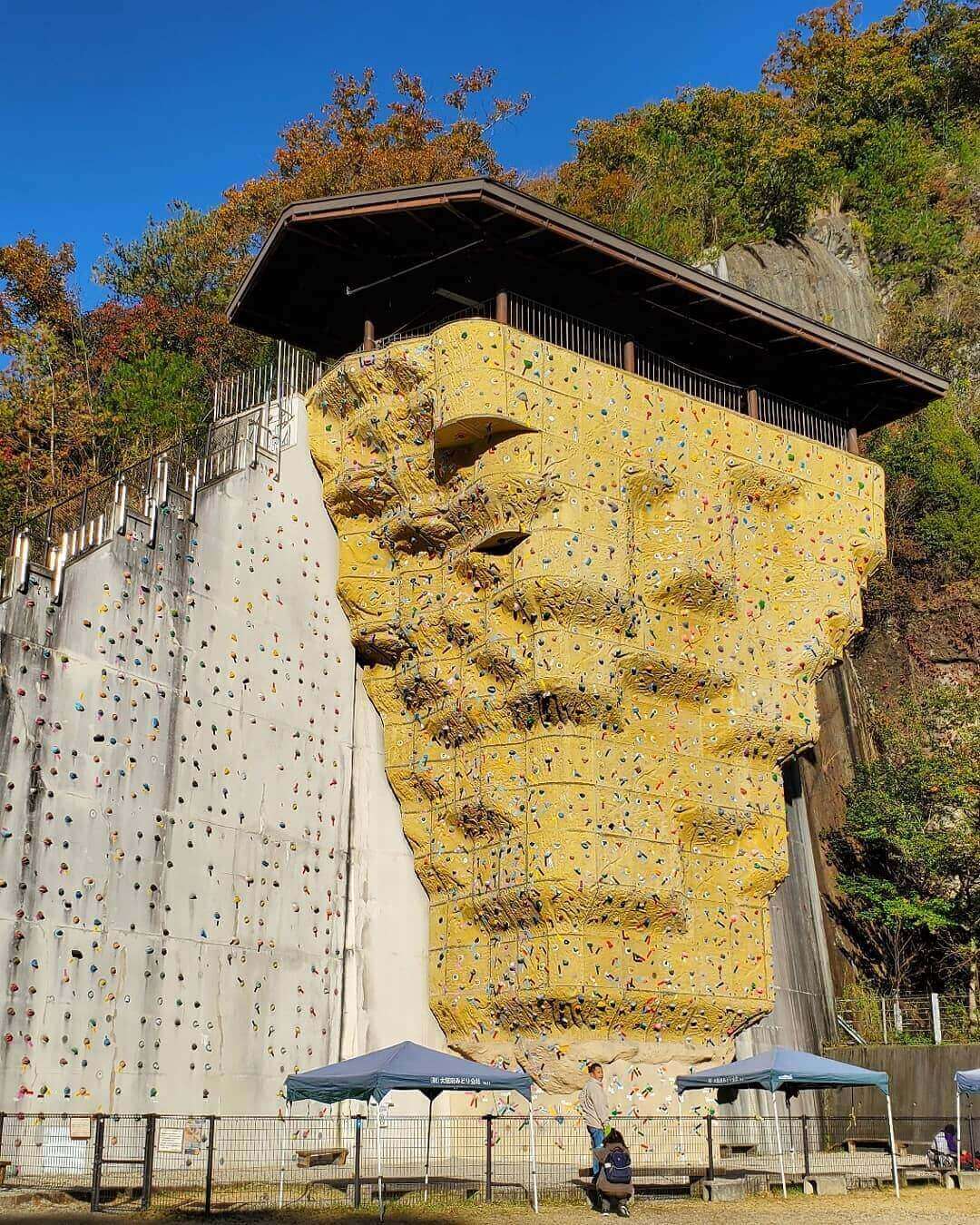 Image credit: @olive.since1996
There is even a 16.5m-high rock climbing wall. Once you see this wall, you'll know that the bridge is not too far away.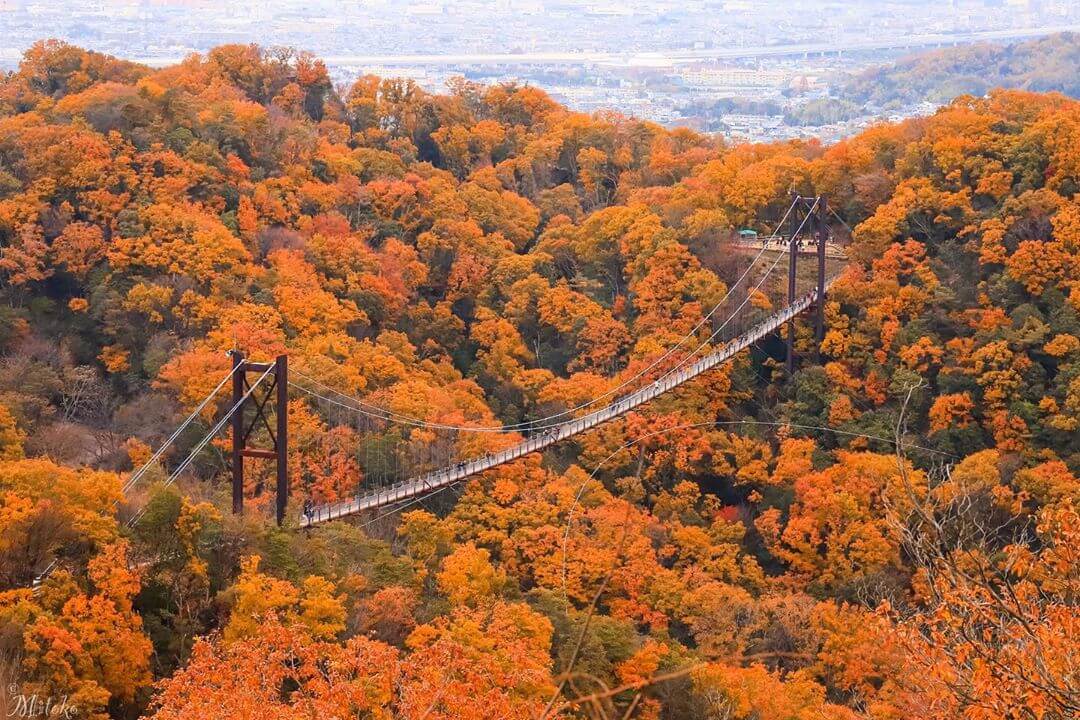 Image credit: @mito_stagram29
After you cross the bridge, walk a bit further and you'll arrive at Yamabiko Plaza, a rest stop with restrooms. There, you can enjoy panoramic views of the bridge that you've just crossed, and even see parts of Kyoto and Osaka City.
Opening hours: Wed – Mon 9AM-5PM (Closed on Tuesdays)
Bridge opening hours: Wed – Mon 9.30AM-4.30PM (Closed on Tuesdays)
Address: 5019-1 Hoshida, Katano, 576-0011 Osaka
Nearest station: Kisaichi Station
Telephone: 072-891-0110 (Osaka Prefectural Forest Hoshida Garden Information Center)
Website
---
Viewing spots for Japanese autumn leaves
---
Instead of heading to popular tourist-y Japanese autumn leaves photo spots, consider checking out the places on our list. These spots are well-known among locals and will grant you ample space to capture that perfect fall foliage photo.
Check out these articles for more:
Cover image adapted from: @urara_photo_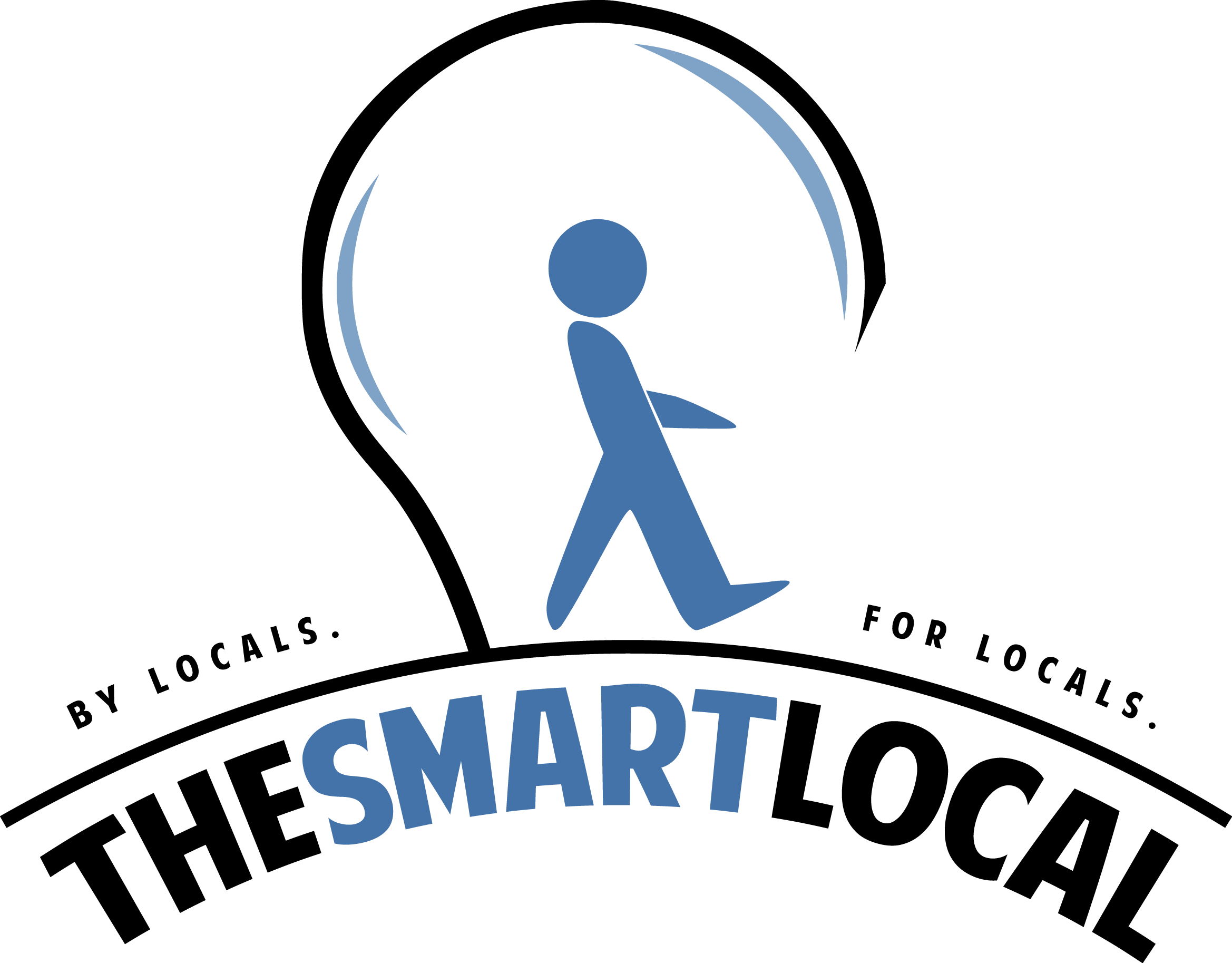 Drop us your email so you won't miss the latest news.