Cheap sushi in Osaka
---
Imagine yourself strolling along a street in Osaka. You've just finished shopping and your stomach starts to rumble. You're craving for some sushi but your wallet's feeling a little light. Although you can't get Michelin-star sushi on a budget, there are options where you can satisfy your cravings with high-quality but cheap sushi in Osaka.
Here's a list of 9 cheap sushi restaurants in Osaka that serve good sushi, starting at just ¥98 (~USD1.91).
---
1. Toki Sushi
---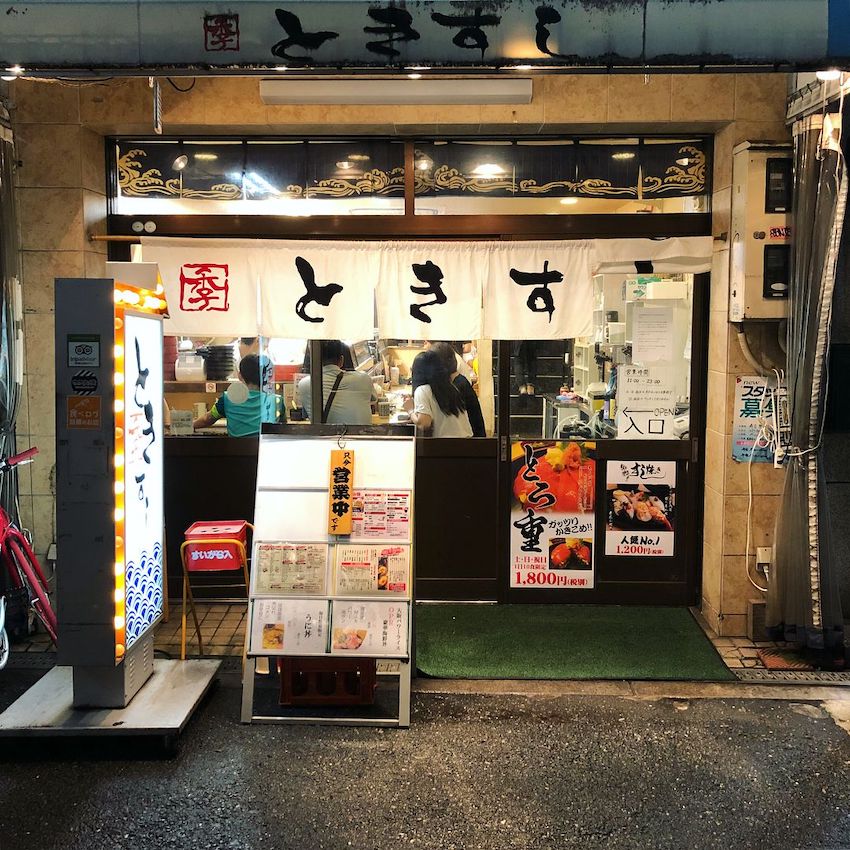 Image credit: @limkohpi
Toki Sushi operates 4 stores in Osaka, with its main store located a 3-minute walk from Namba Station. If you're staying in the area, this is a good option for affordable and good sushi. It's popular among the locals as well. There are counter seats where you can sit and watch the sushi chefs prepare your food, as well as tatami seats on the 2nd floor.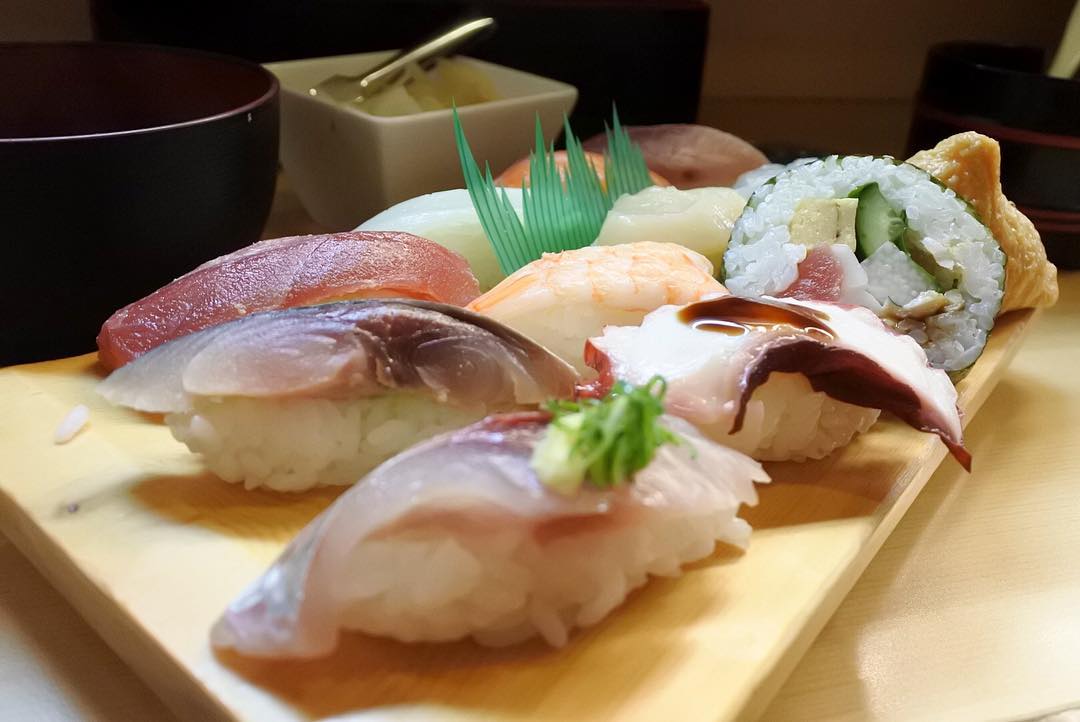 Image credit: @teoteo2011
Toki Sushi gets their fish directly from the Izumisano fishing port. They offer assorted sushi plates in pairs, 5s, 8s, and 12s. We recommend that you get the assorted plate with 12 different types of sushi (¥1,350, ~USD13.04) if you're someone who wants to try almost everything on the menu. 
The à la carte sushi are also affordably priced at ¥220 (~USD2.13) per pair. Premium sushi cost ¥220 (~USD2.13) per piece.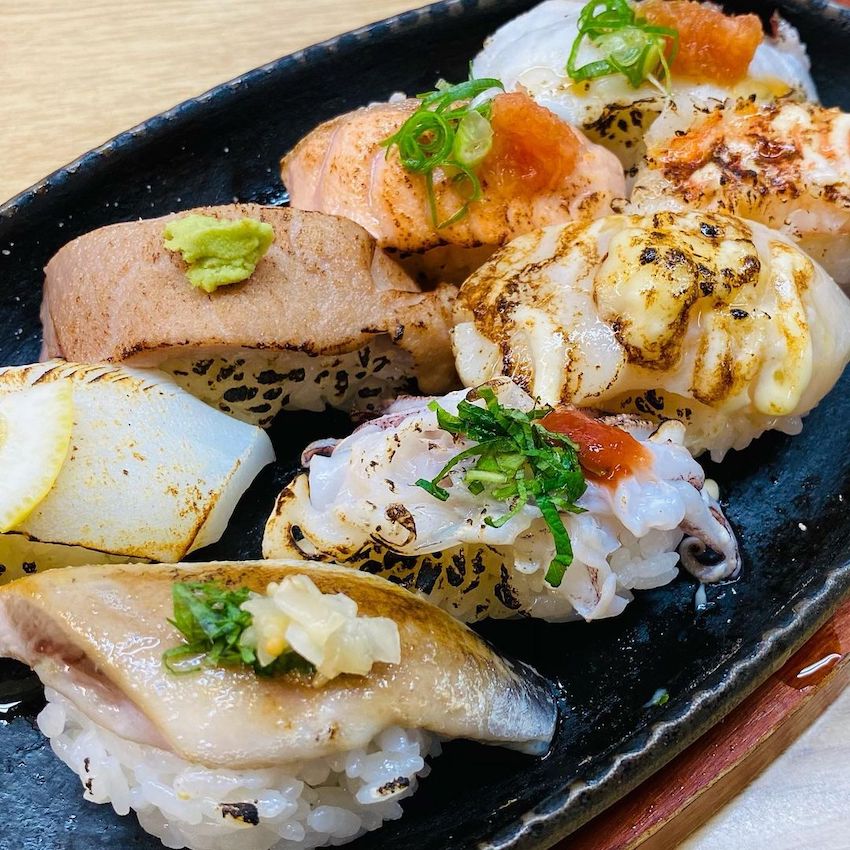 Image credit: @oishiiimon
For those who prefer something cooked, get the grilled assorted plate (¥1,400, ~USD13.53). It includes shrimp, salmon, abalone, and crab.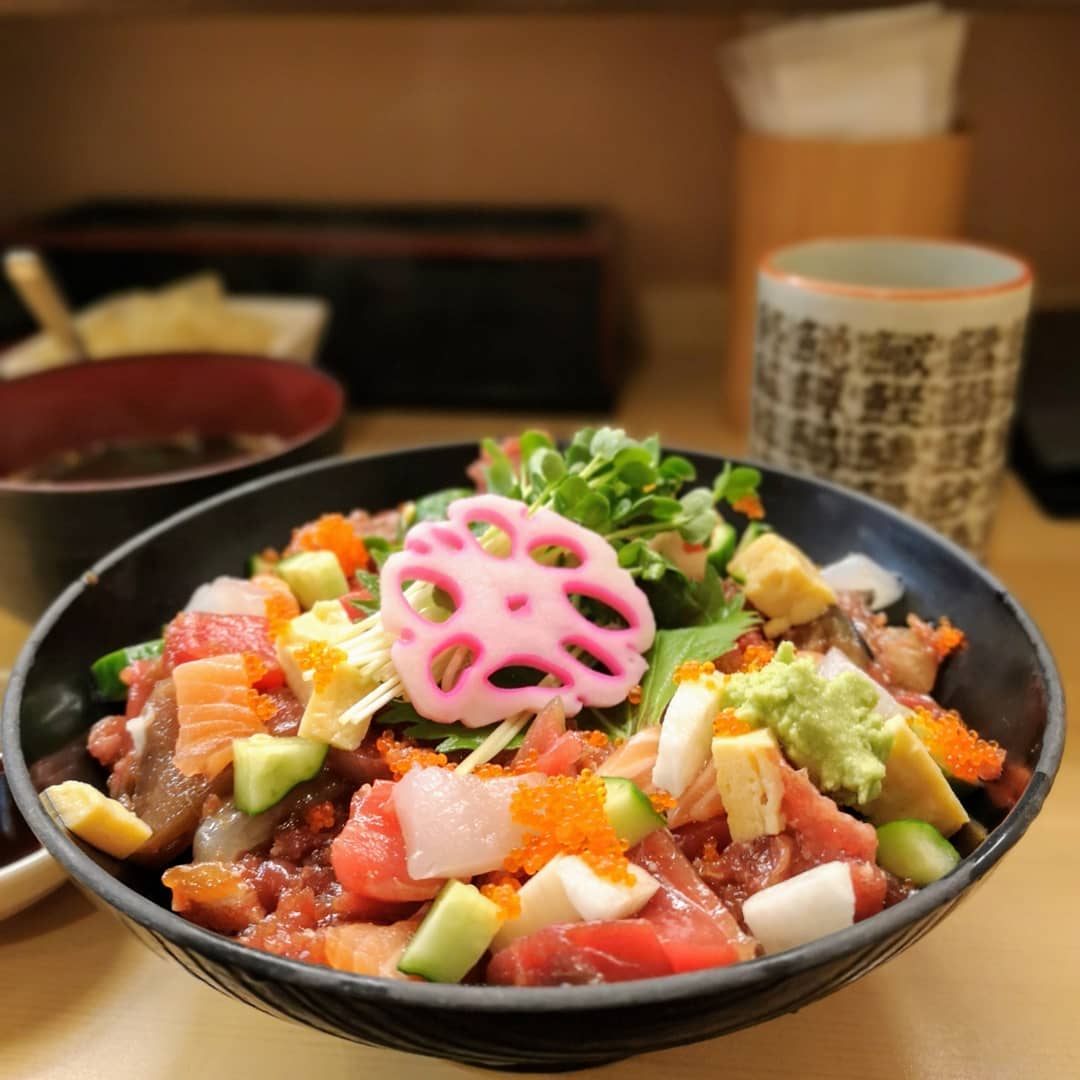 Image credit: @kitakuni_tomokazu
Toki Sushi also serves rice bowls such as chirashi-don (ちらし丼; rice bowl with diced sashimi) and a premium sea urchin don. The rice bowls are priced between ¥1,000- ¥2,200 (~USD9.66-USD21.26) each. To get the most bang for your buck, visit during lunchtime as Toki Sushi offers lunch sets at cheaper prices.
Toki Sushi main store
Address: 4-21 Nanbasennichimae, Chuo-ku, 542-0075 Osaka
Opening hours: 11AM-11PM, Daily (Closed when sold out)
Telephone: 06-6632-0366
Website
Toki Sushi Hanare store
Address: 2-7-28 Nipponbashi, Chuo-ku, 542-0073 Osaka
Opening hours: 12PM-11PM, Daily (Last order at 10.30PM)
Telephone: 06-7713-1379
Website
Toki Sushi Shinsaibashi store
Address: 1F Land Building, 1-6-1 Higashishinsaibashi, Chuo-ku, 542-0083 Osaka
Opening hours: Tue – Sun 11.30AM-3PM (Last order at 2.30PM) & 5.30PM-11PM (Last order at 10PM) (Closed on Mondays)
Telephone: 06-4708-4707
Website
Toki Sushi Namba Parks store
Address: Namba Parks 6F, 2-10-70 Nanbanaka, Naniwa-ku, 556-0011 Osaka
Opening hours: 11AM-11PM, Daily (Last order at 10.30PM)
Telephone: 06-4394-8851
Website
---
2. Sushimasa Nakaten
---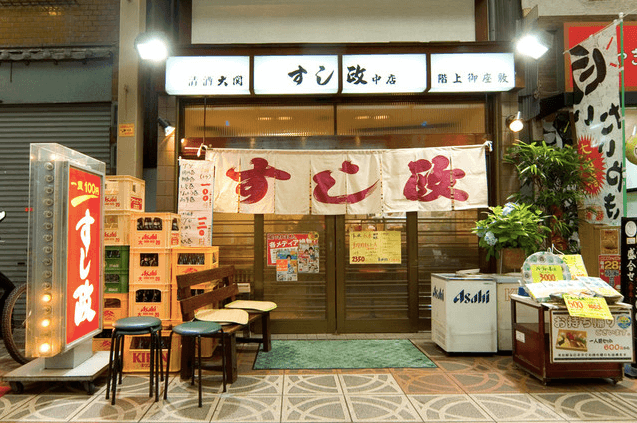 Image credit: すし政 中店
The neighbourhood of Tenma is a battlefield of affordable sushi restaurants. Once you step into Tenjinbashisuji Shopping Street, the longest shopping street in Japan, you'll be spoilt for choice with the sheer number of sushi restaurants here. 
Sushimasa Nakaten often has a queue of people waiting to enter, especially during meal times. Head there during off-peak hours for a shorter wait. If the queue is too long, try your luck at Harukoma Sushi, which is located nearby, or visit one of the many sushi restaurants along this street.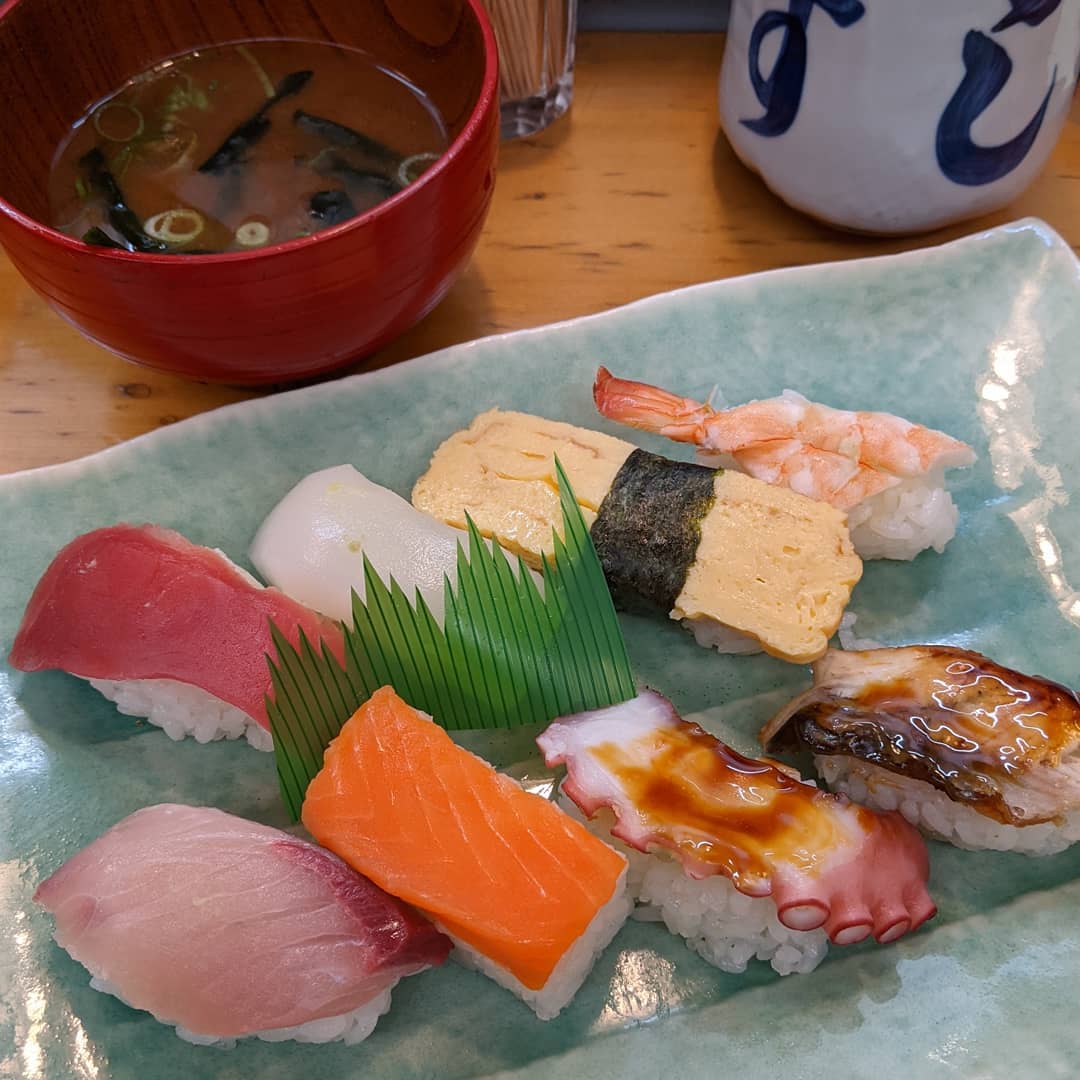 Image credit: @onsenyoroshi
Sushimasa Nakaten is especially popular during lunchtime on weekdays because they offer an affordable weekday lunch set that includes 8 pieces of sushi and a bowl of miso soup. This assorted plate will only set you back ¥500 (~USD4.83). 
Despite the price, the sushi are made with ingredients sourced from the Tenman, Kuromon, and Chuo markets, which are known to provide the freshest fish. They also have more premium options for their lunch sets, priced between ¥1,000- ¥1,500 (~USD9.66-USD14.49).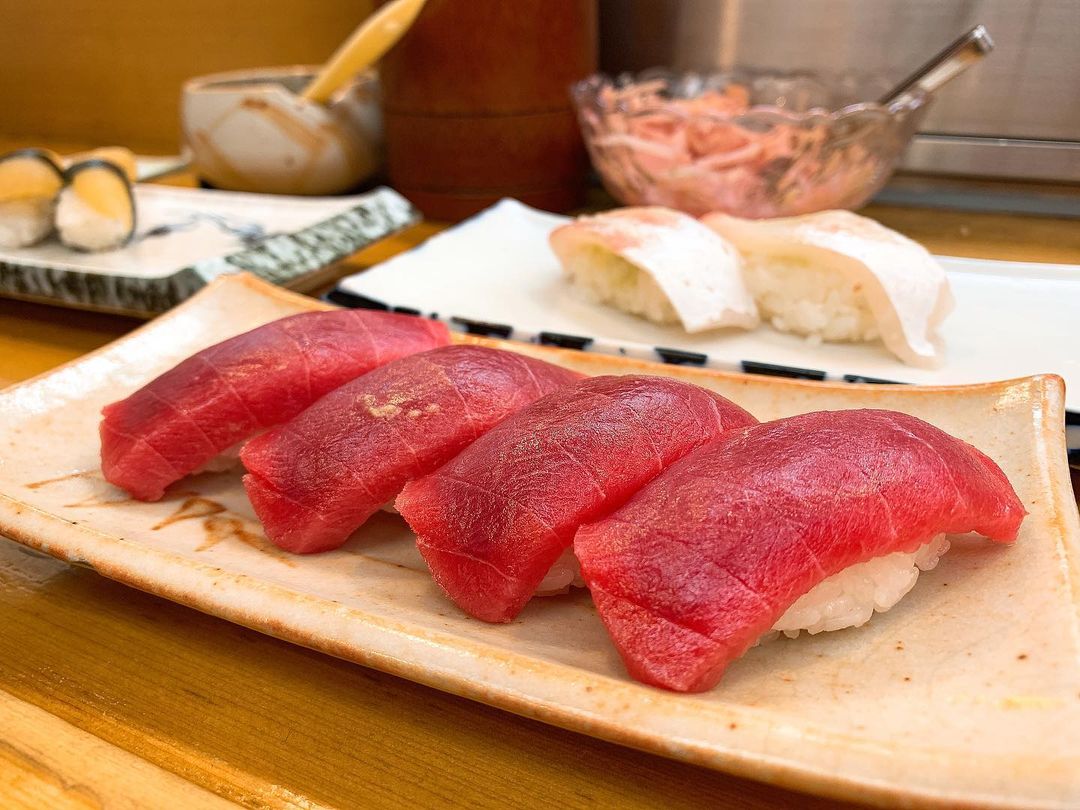 Image credit: @___onotok.n___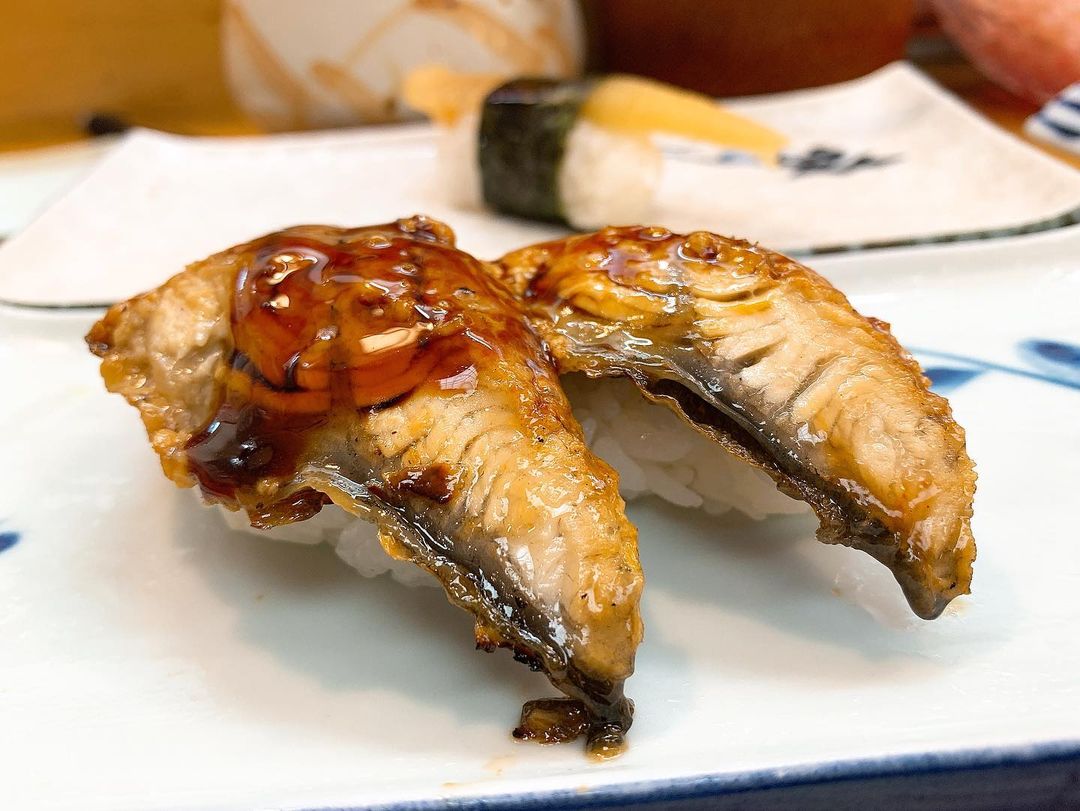 Image credit: @___onotok.n___
For à la carte orders, you can get 2 pieces of sushi for as little as ¥100 (~USD0.97). Even for premium ingredients such as sea urchin and fatty tuna, the price for 2 pieces of sushi is only ¥400 (~USD3.86). 
Instead of the lunch set, many people order à la carte portions of their favourite sushi as it's affordable and worth it. Popular items include toro (とろ; fatty tuna) and anago (穴子; conger eel).
Address: 5-6-19 Tenjinbashi, Kita Ward, 530-0041 Osaka
Opening hours: Tue – Sun 11.10AM-11PM (Last order at 10.30PM) (Closed on Mondays)
Telephone: 06-6358-2558
---
3. Fujiya Seconds
---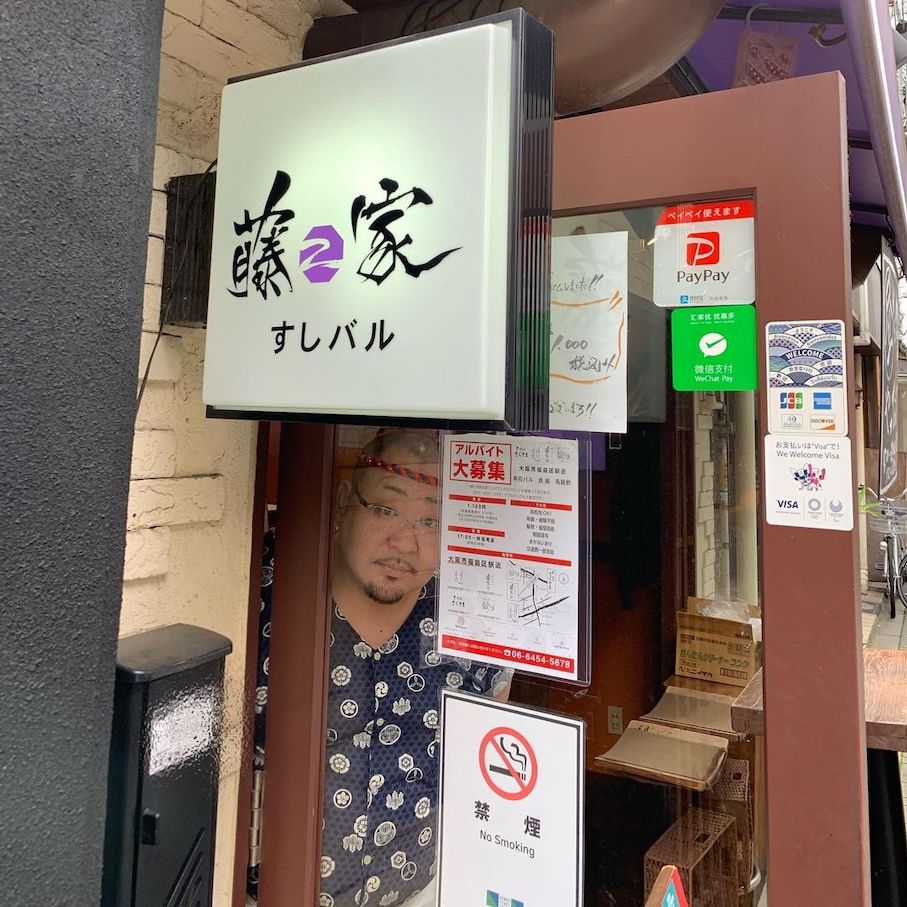 Image credit: @fujiya_z
Located near Fukushima Station, Fujiya Seconds is a popular restaurant with a stylish bar-like atmosphere. There are counter seats on the 1st floor, where the friendly chefs will prepare your sushi in front of you, and table seats on the 2nd floor.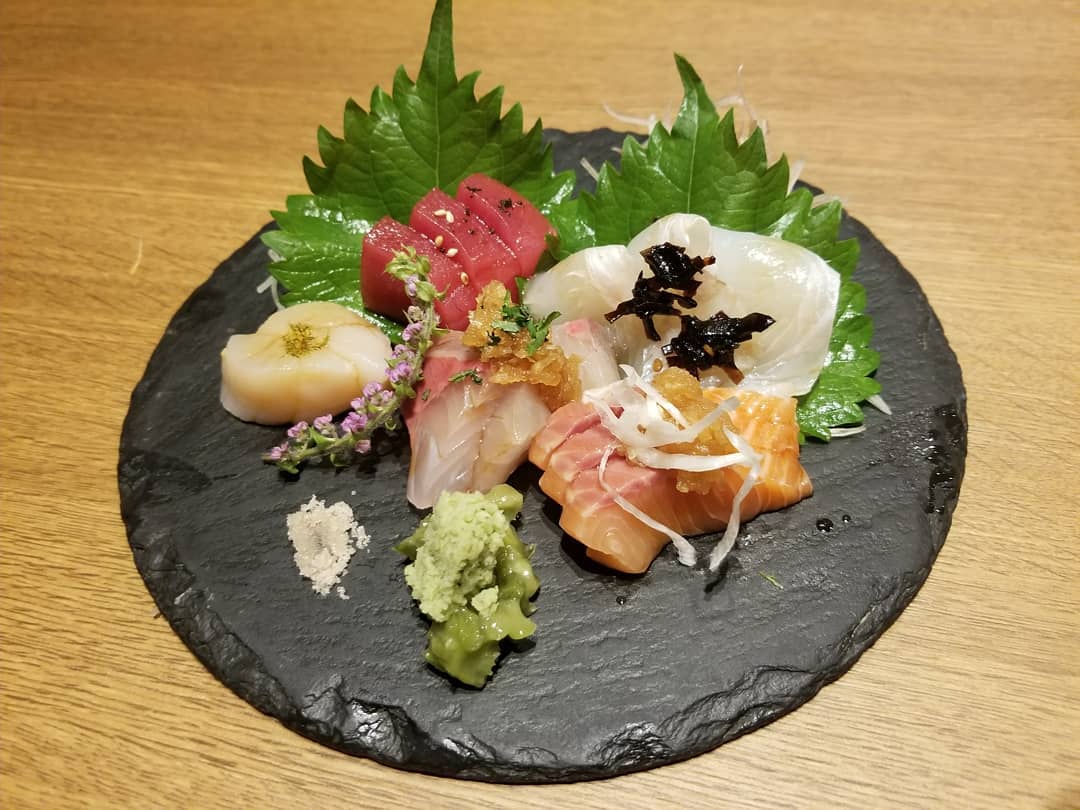 Image credit: @yuma.torang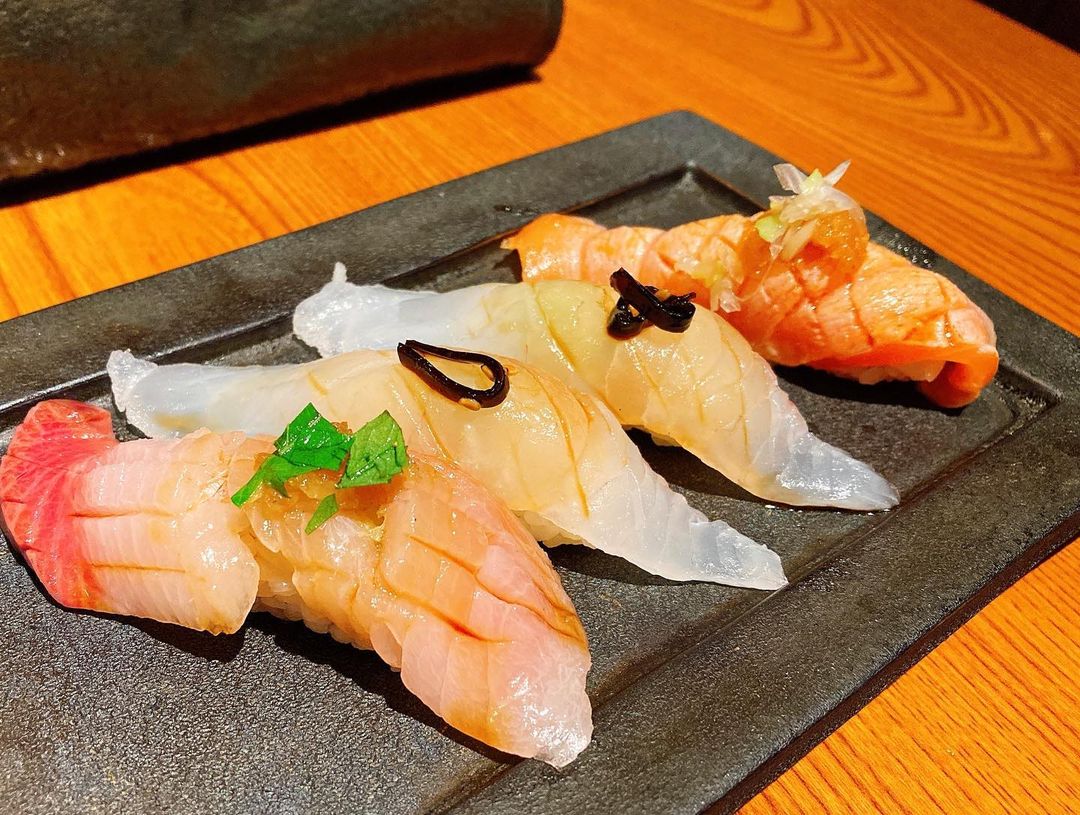 Image credit: @tabehono_gram
Besides standard items such as salmon and tuna, Fujiya Seconds also offers special items every day, depending on what fresh ingredients they manage to secure. Here, sushi is served with a special soya sauce that is already brushed onto the fish. You do not need to dip the sushi in additional soya sauce – doing so would be a faux pas.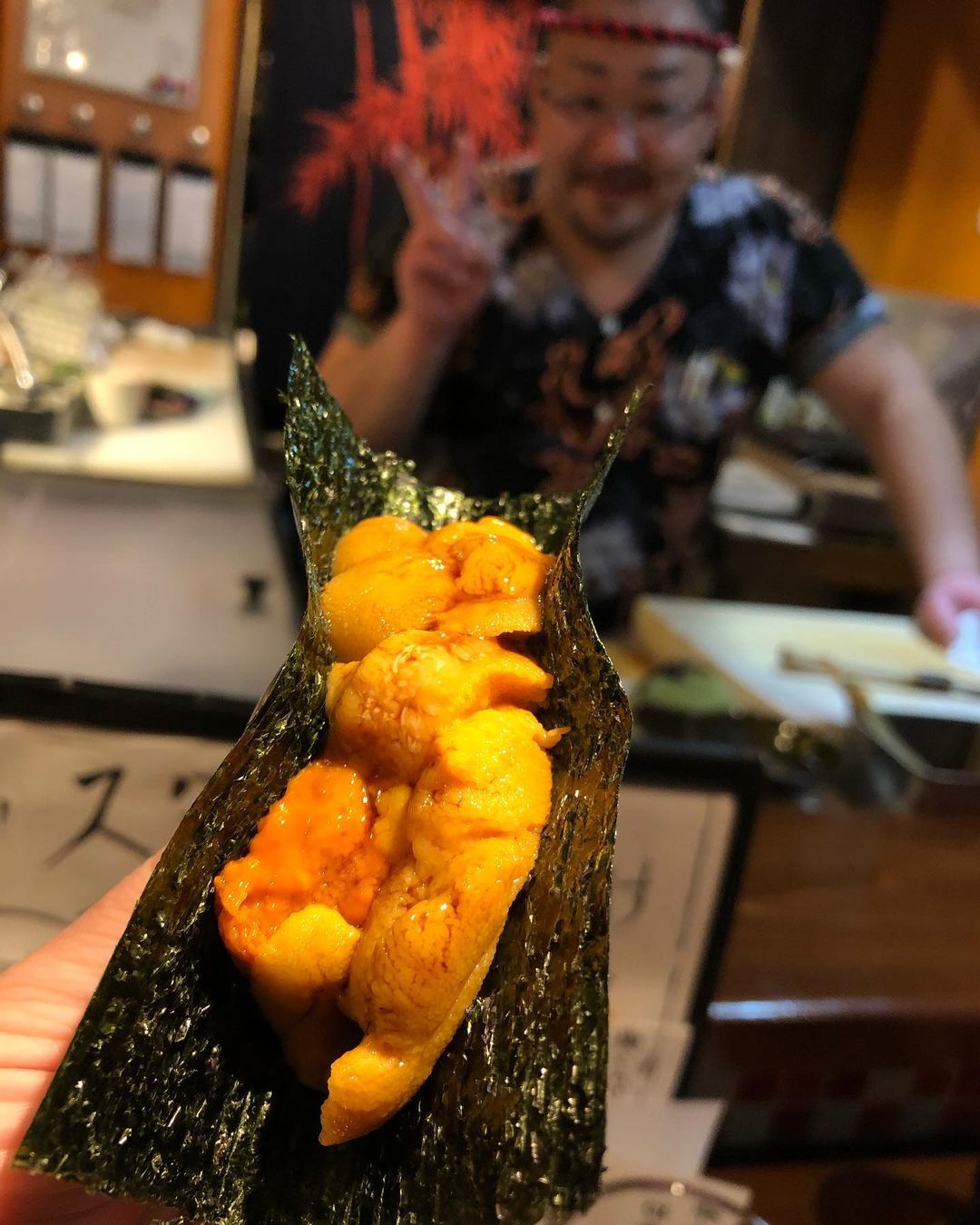 Image credit: @maipumaipu
At Fujiya Seconds, you can get an assorted plate of 8 pieces of sushi and a drink for just ¥1,000 (~USD9.66). But the must-try item is the sea urchin sushi (¥500, ~USD4.83). It is served with a piece of seaweed wrapped around a small ball of rice and generously topped with raw sea urchin.
Besides sushi, they also serve other Japanese dishes such as tempura and grilled fish. A variety of wine, sake, and shōchū are available to pair with the food.
Address: 5-12-14 Corp Fukushima, Fukushima Ward, 553-0003 Osaka
Opening hours: 6PM-11PM, Daily
Telephone: 06-6454-5678
Facebook
---
4. Endo Sushi
---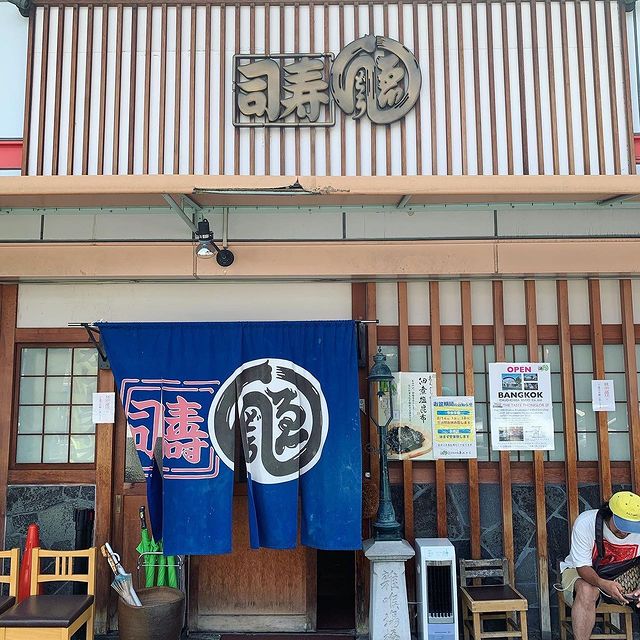 Image credit: @noshiroya124
Highly rated by the Japanese on Tabelog and equally popular among discerning tourists, Endo Sushi is a name that you'll come across when googling for cheap and good sushi in Osaka. There are 2 outlets, with the more famous one located at Osaka Central Fish Market and the quieter one at Kyobashi. 
The Kyobashi branch has a similar menu to its more popular sibling, and the food is said to be of good quality as well. Its location and operating hours make it more accessible than the one in the market. The Kyobashi outlet is a good option if you don't want to travel all the way to a fish market at the crack of dawn.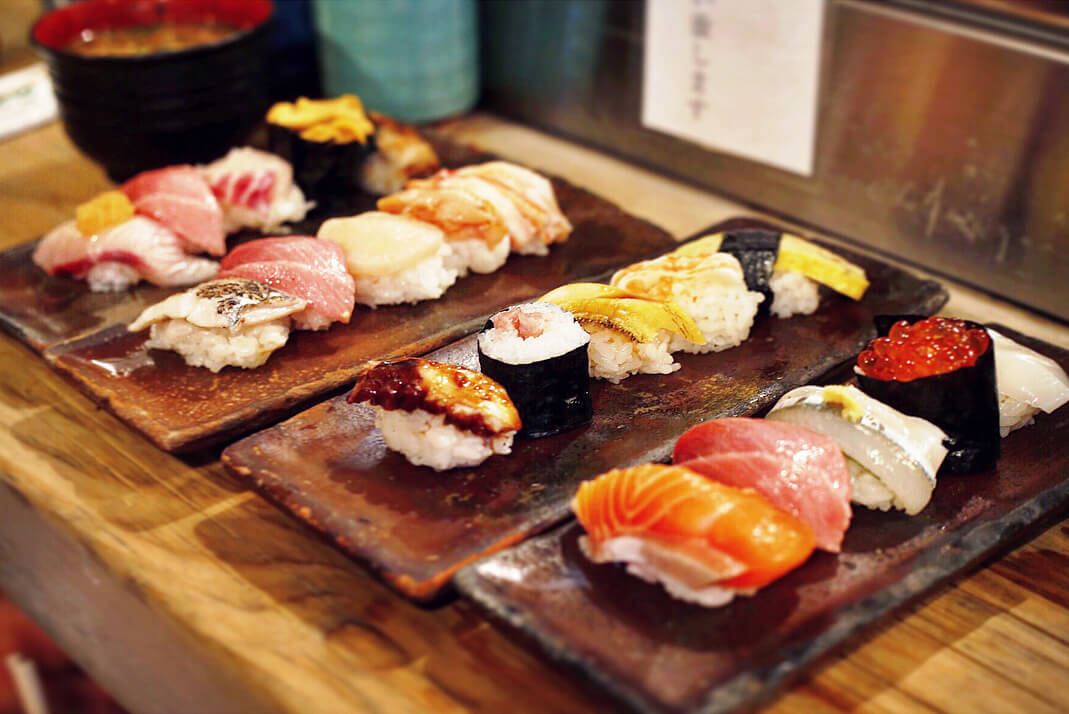 Image adapted from: @momomonstr
Thanks to its location in the market, Endo Sushi gets the freshest seafood. It opens as early as 6AM after the tuna auction concludes. The menu is simple – you can choose from 4 combinations, and each plate contains 5 pieces of sushi. 3 out of 4 plates contain toro, which is one of the highlights of dining at Endo Sushi.
They do have an English menu, but it doesn't have the prices listed. On average, the assorted sushi plates cost between ¥1,200- ¥2,160 (~USD11.59-USD20.87).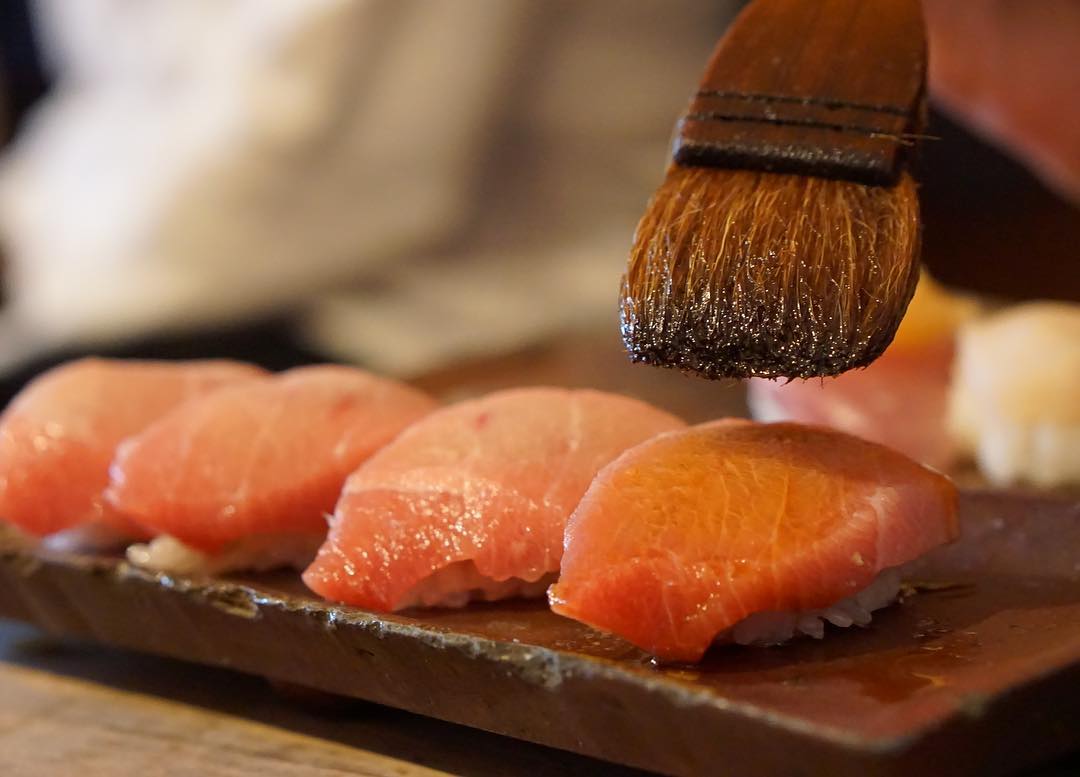 Image credit: @chengto
If you love a particular type of sushi, you can order a plate with 5 of the same thing. Of course, the price will differ based on what you order. At Endo Sushi, the sushi is served with communal ginger and soya sauce. Use the brush provided to lightly dab your preferred amount of soya sauce onto your piece of sushi.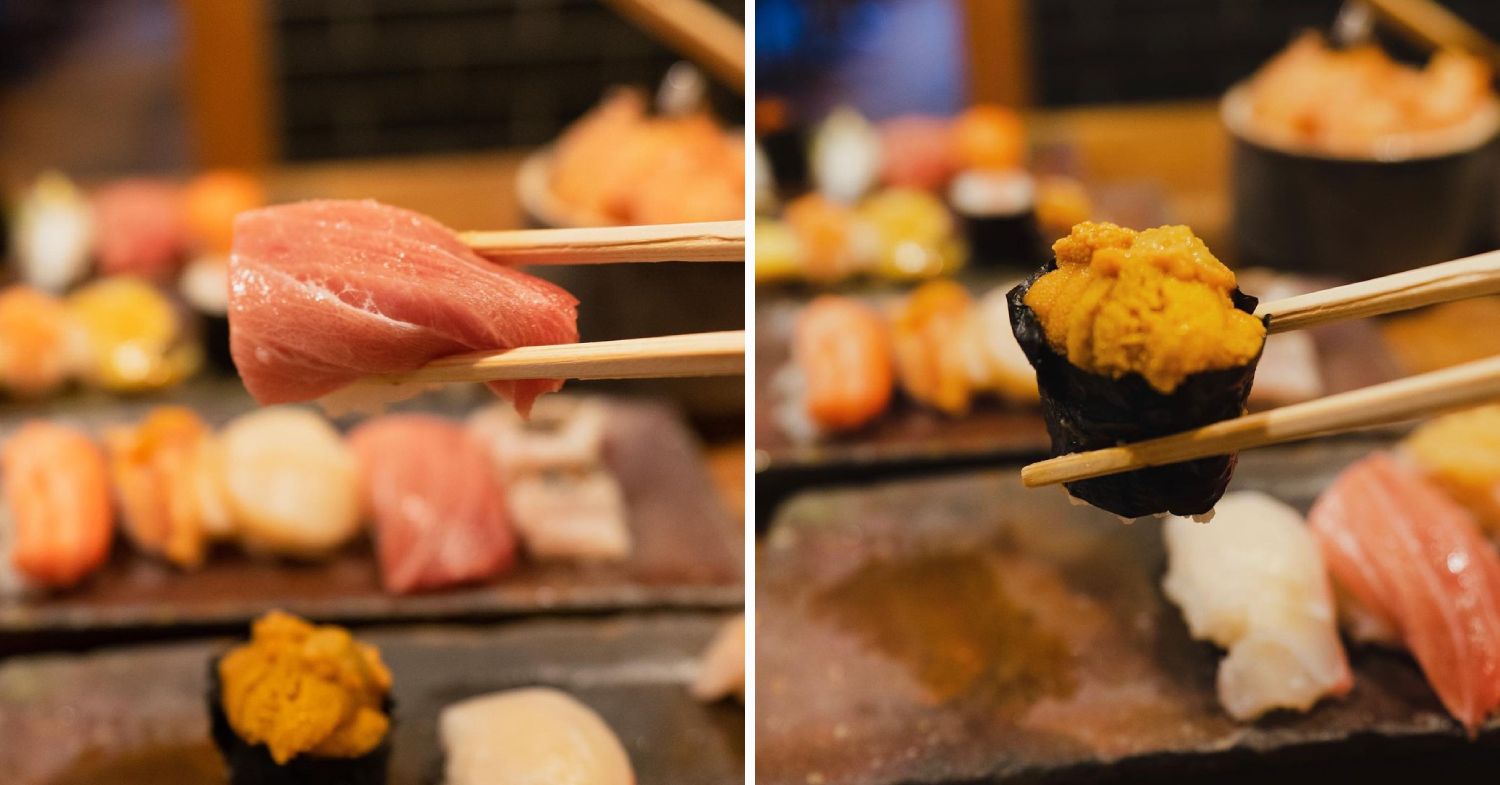 Image adapted from: @junnyoo and @junnyoo
Top picks at Endo Sushi include fatty tuna and sea urchin, which are included in the assorted plates. Since Endo Sushi serves assorted sushi plates, you get to try a variety of items and don't have to worry about not knowing what to order. 
They also have sushi rolls and miso soup. The miso soup is a popular side dish as it's filled with mini clams and made with a few different types of miso.
Osaka Central Fish Market outlet
Address: 1-1-86 Noda, Fukushima-ku, 553-0005 Osaka
Opening hours: Mon – Sat 6AM-2PM (Closed on Sundays and public holidays)
Telephone: 06-6469-7108
Website
Kyobashi outlet
Address: Keihan Mall 5F, 2-1-38 Higashinodamachi, Miyakojima-ku, 534-0024 Osaka
Opening hours: 11AM-10PM, Daily (Last order at 9.30PM)
Telephone: 06-6352-5564
---
5. Harukoma Sushi
---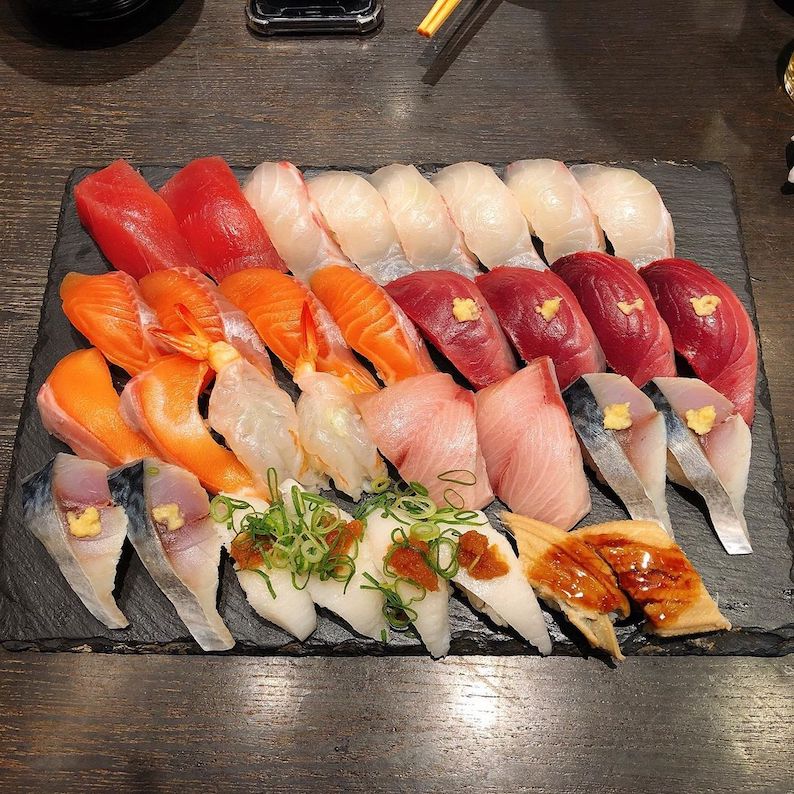 Image credit: @msk.0921
The main draw of Harukoma Sushi is their large and generous portions. Huge overfilled plates of sushi are a common sight at Harukoma. At the end of your meal, you'll come out of the restaurant feeling full without burning a hole in your wallet. 
Harukoma Sushi is located in the Tenjinbashisuji Shopping Street, like Sushimasa Nakaten. Even though there'll probably be a queue outside the store at meal times, the line moves quickly. You'll be given a menu so that you can place your order while queueing. Once you sit down, your sushi will be served to you in minutes.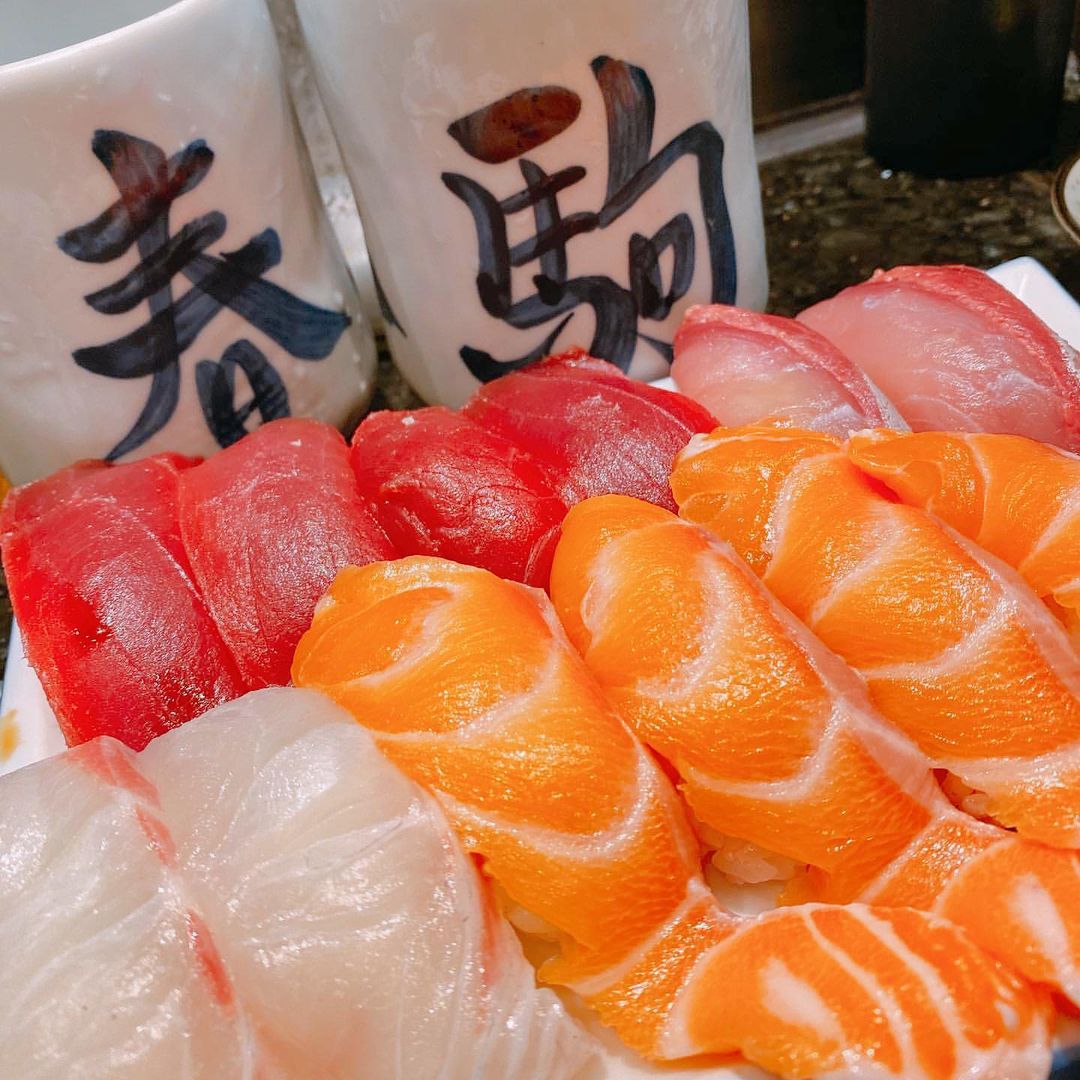 Image credit: @yk_ohna

Image credit: @sayuri.k.sayuri
Once you get your order, you'll know what we mean when we say that Harukoma Sushi is generous. They don't scrimp on their ingredients – you can barely see the rice underneath the long and thick cuts of sashimi. Even their miso soup looks more like a clam soup with the overflowing portion of clams.
All the sushi – which are sold in pairs – and rolls are priced at less than ¥550 (~USD5.31) each. If there's something you've been dying to try but haven't got the chance to because of its price, order it at Harukoma Sushi.
Address: 5-5-2 Tenjinbashi, Kita-ku, 530-0041 Osaka
Opening hours: Wed – Mon 11AM-10.30PM (Closed on Tuesdays)
Telephone: 06-6351-4319
---
6. Kame Sushi Sohonten
---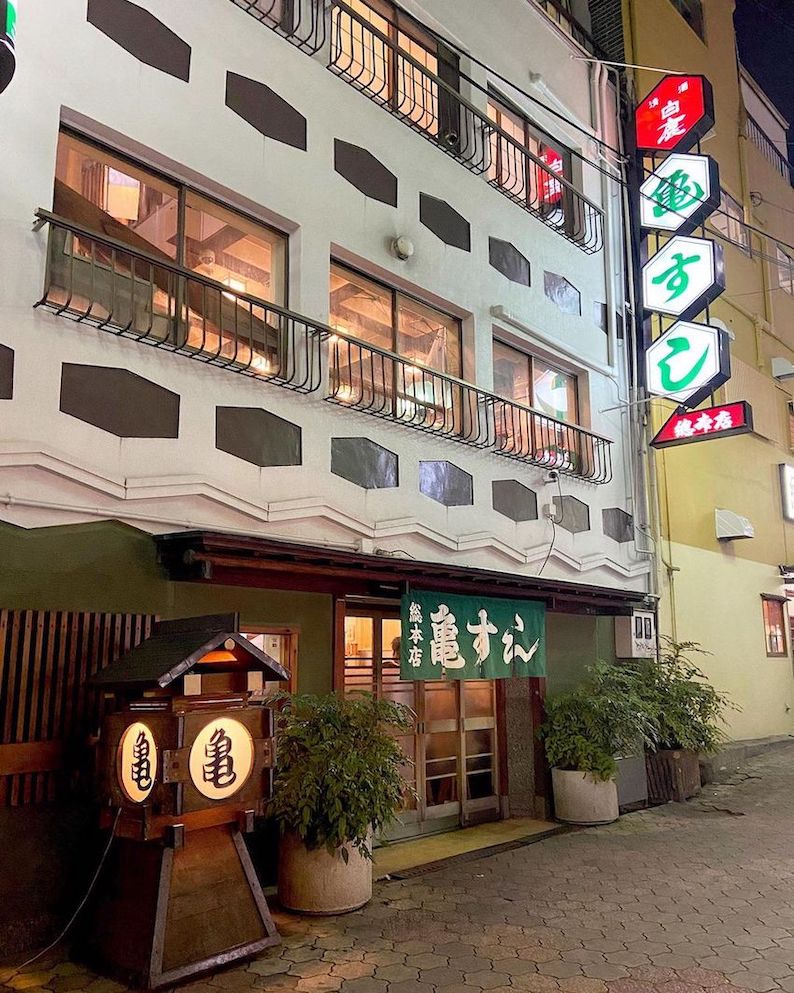 Image credit: @inshokagram
Kame Sushi Sohonten is 1 of Kame Sushi's 2 outlets. Both outlets are located opposite each other along the same street.
The restaurant was established in 1954 and they pride themselves on their tuna, which is sourced from the Osaka Central market and the Kuromon market every day.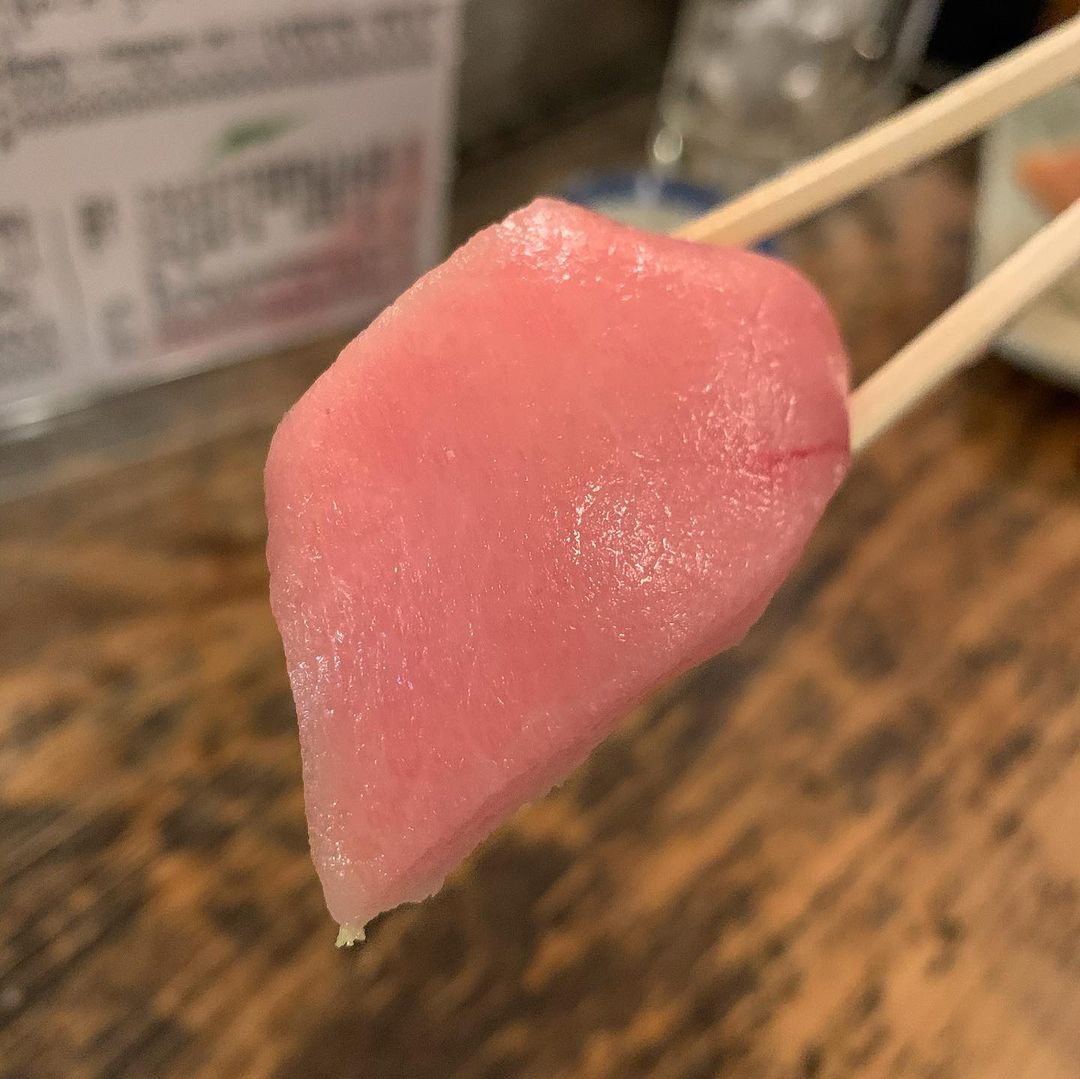 Image credit: @goburnadine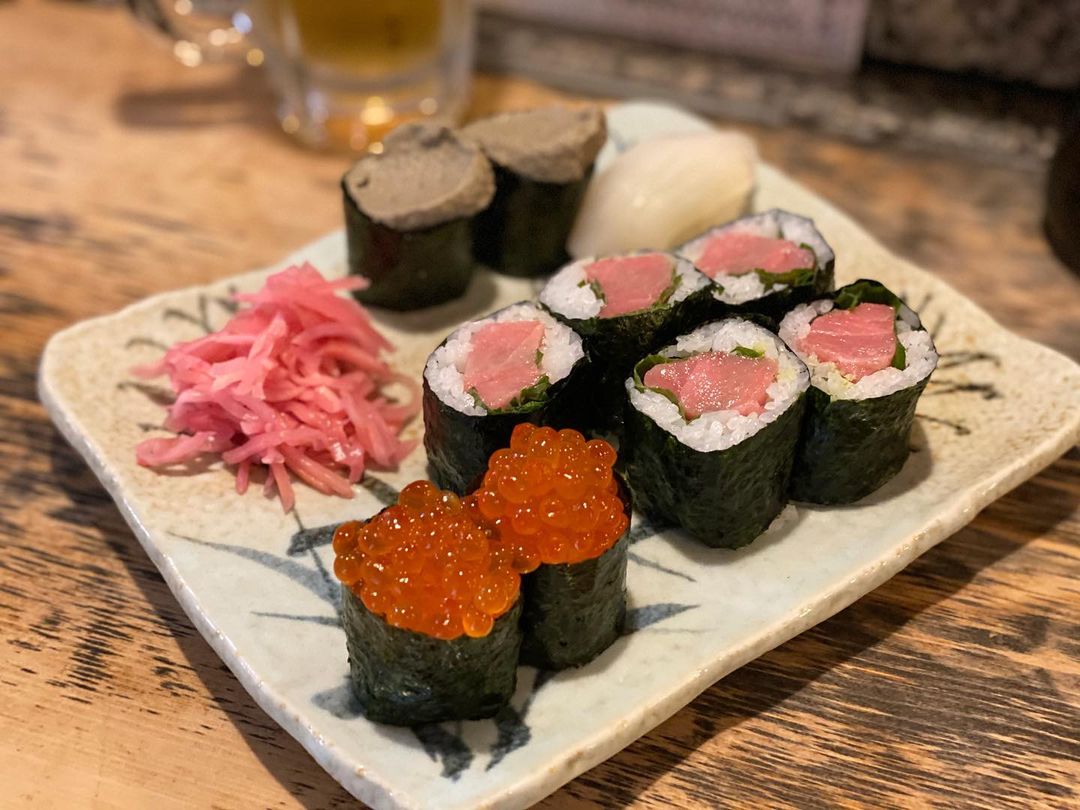 Image credit: @chiika_log
Besides the toro sushi, which tastes as smooth and succulent, as it looks, the toro roll (¥410, ~USD3.96) is also a popular item. Although it looks unassuming and ordinary, the toro roll has more tuna than rice and melts in your mouth. 
With prices starting from ¥310 (~USD3.00) for a plate of 2 pieces of sushi, Kame Sushi is slightly more expensive than other options on this list. That said, it is still considered affordable, considering the quality. The most expensive plate of sushi costs ¥690 (~USD6.67).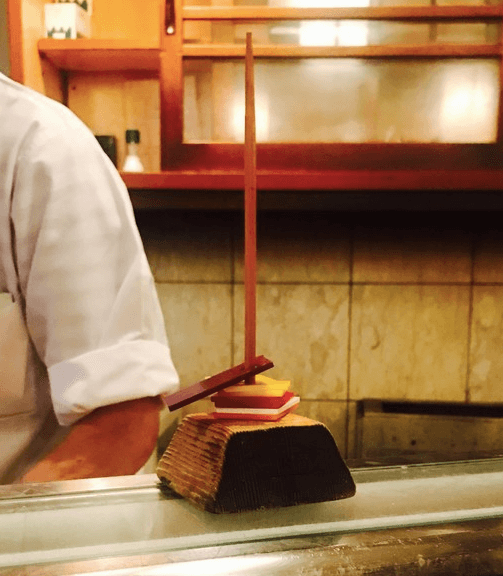 Image credit: Akio I
Kame Sushi uses a unique system to tally your bill. After you order and receive the food, a coloured tag will be added to a holder on your table. Different coloured tags correspond to the prices of the items on the menu. This can help you track how much you've eaten and makes things easier when tallying your bill at the end of your meal.
Kame Sushi Sohonten
Address: 2-14-2 Sonezaki, Kita-ku, 530-0057 Osaka
Opening hours: Tue – Sat 11.30AM-10.30PM (Last order at 10PM) | Sun 11.30AM-9.30PM (Last order at 9PM) (Closed on Mondays)
Telephone: 06-6312-3862
Website
Kame Sushi Honten
Address: 2-10-26 Sonezaki, Kita-ku, 530-0057 Osaka
Opening hours: Tue – Fri 11.30AM-10.30PM (Last order at 10PM) | Sat 4.30PM-10.30PM (Last order at 10PM) | Sun 4.30PM-9.30PM (Last order at 9PM) (Closed on Mondays)
Telephone: 06-6311-2528
---
7. Nawa Sushi
---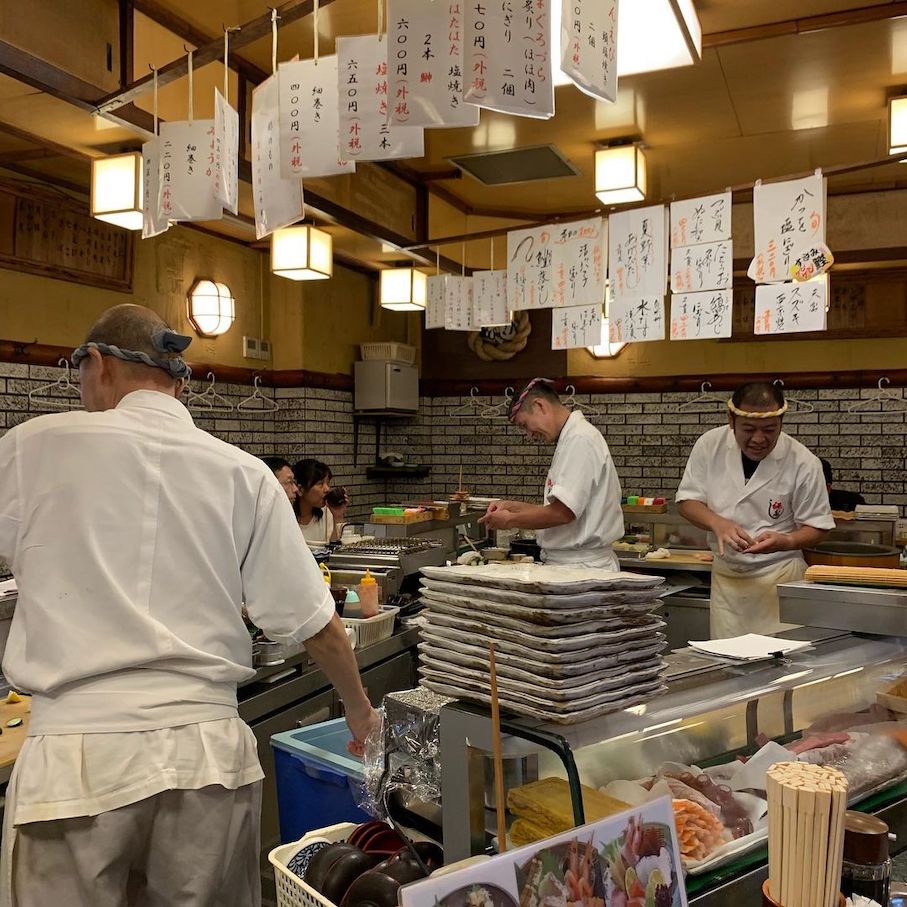 Image credit: @terachan830
Operating from the same location since 1953, Nawa Sushi has stood the test of time in Sonezaki, an area that has several sushi restaurants. The counter is designed such that it's in the centre, so all the seats on the 1st floor are counter seats. You can watch the chefs prepare your sushi and have them handed to you personally. 
Nawa Sushi is a fierce competitor of Kame Sushi as they're located just next to each other. If one is too crowded, you can always consider the other.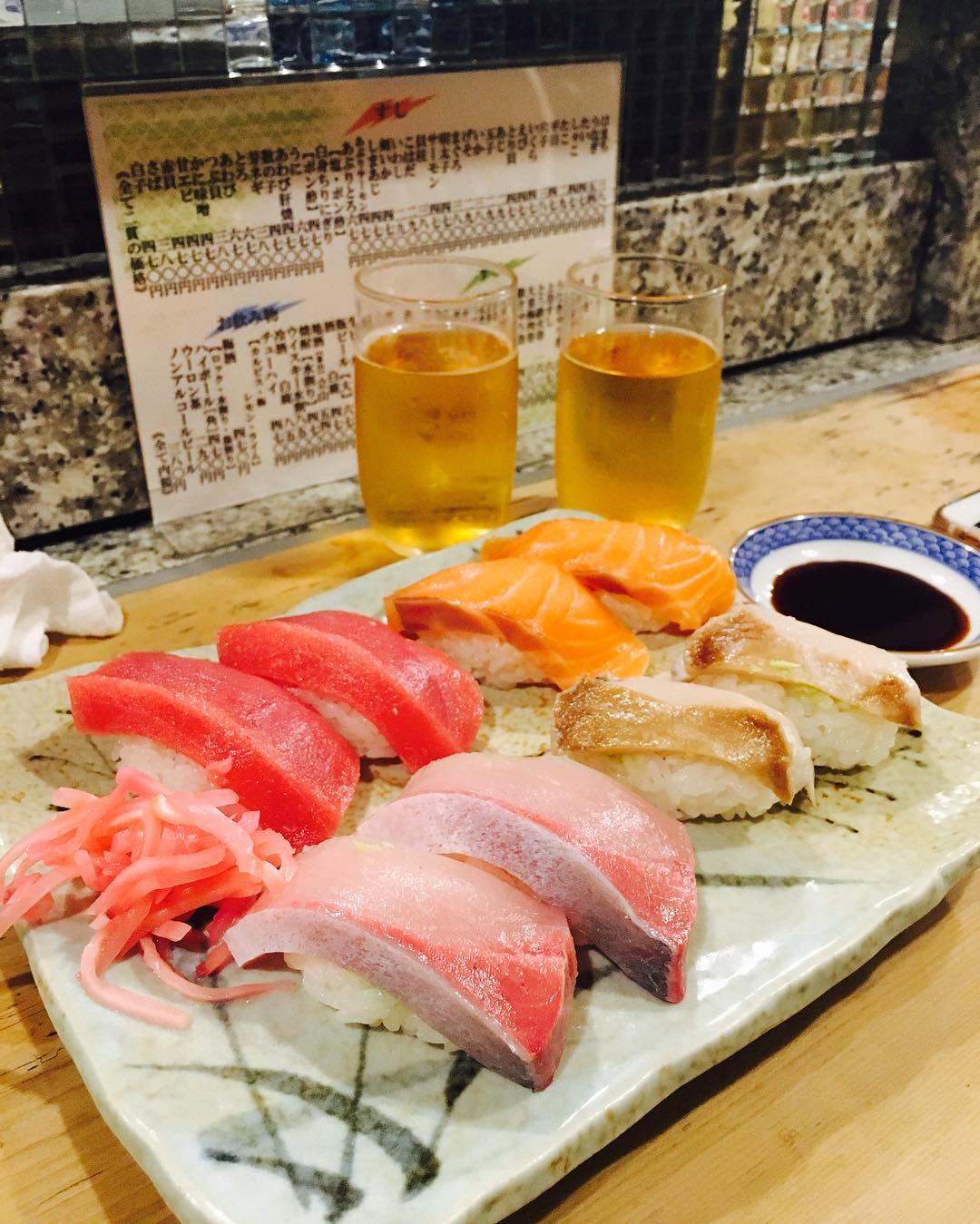 Image credit: @hyok9339
The sushi here is sold in pairs and like Kame Sushi Sohonten, they also use colour tags to tally your orders. You can get a plate of 2 pieces of sushi at ¥220 (~USD2.13). Prices of the rolls also start from ¥220 (~USD2.13). Nawa Sushi serves free beer with your meal if you arrive before 7PM, which is a plus point for those who drink.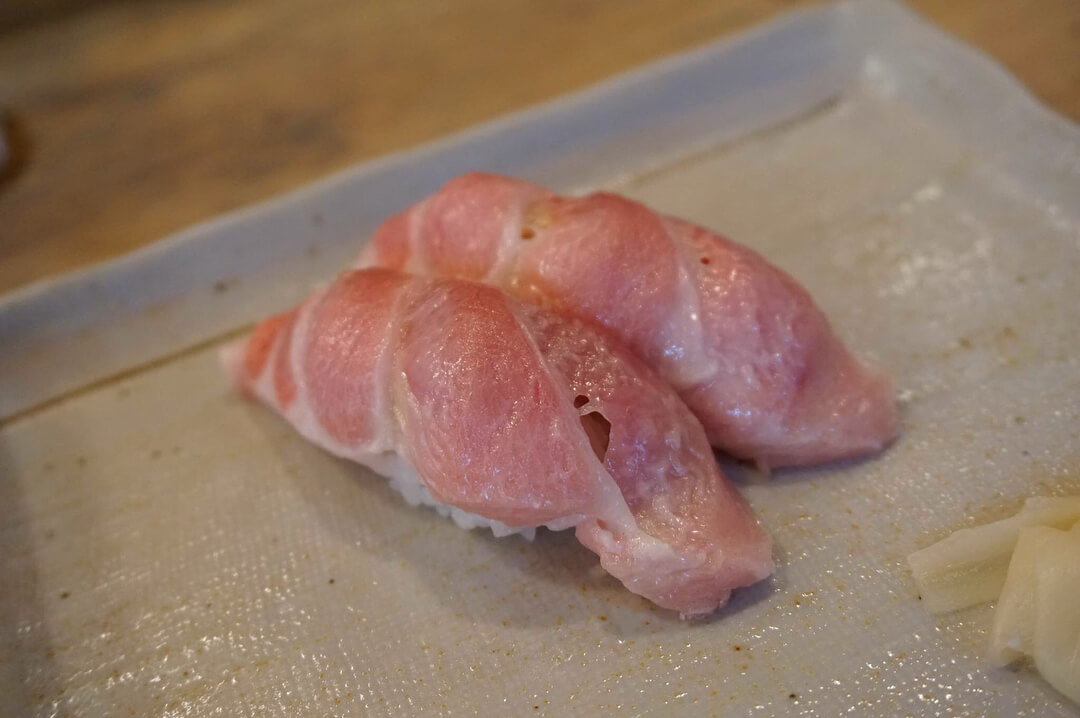 Image credit: @_______megmichi
Nawa Sushi opens till midnight every day, so if you're craving for a sushi supper, you know where to go.
Address: 2-14-1 Sonezaki, Kita-ku, 530-0057 Osaka
Opening hours: Mon – Fri 4PM-12.30AM (Last order at 12.15AM) | Sat & Sun 12PM-12AM
Telephone: 06-6312-9891
---
8. Sushizanmai Dotonbori
---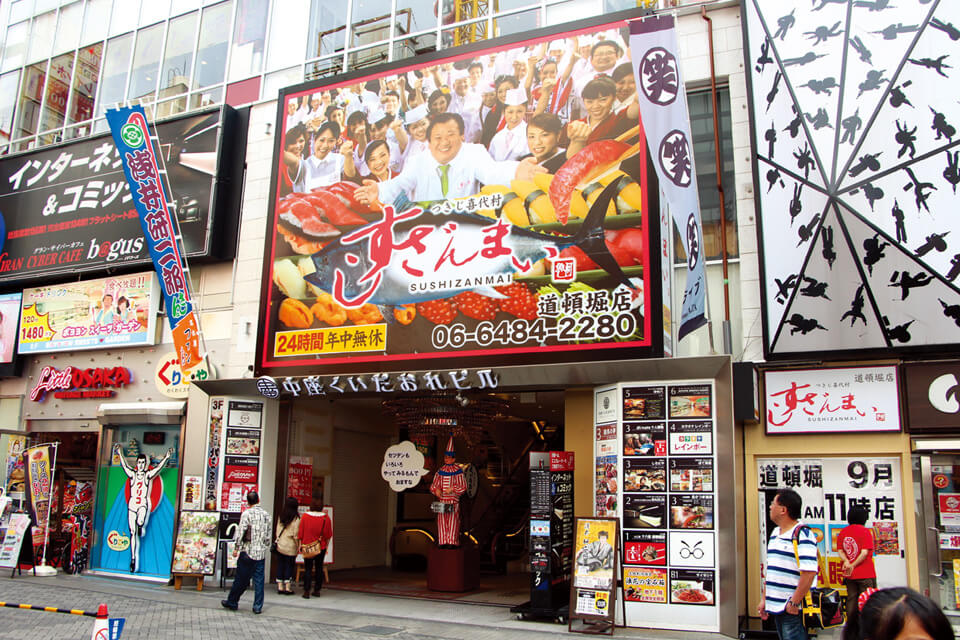 Image credit: Sushizanmai
Sushizanmai is a sushi restaurant chain with over 50 stores across Japan. In Osaka, there are 2 outlets – 1 located in the middle of Dotonbori, and the other located in Kita. 
The chain is owned by Kiyoshi Kimura, who calls himself the Tuna King. He is known for spending lots of money at the tuna auctions in Tsukiji Market. His record is paying ¥155,000,000 (~USD1,498,423.75) for bluefin tuna – you can get 2.1 million pieces of McNuggets with that kind of money.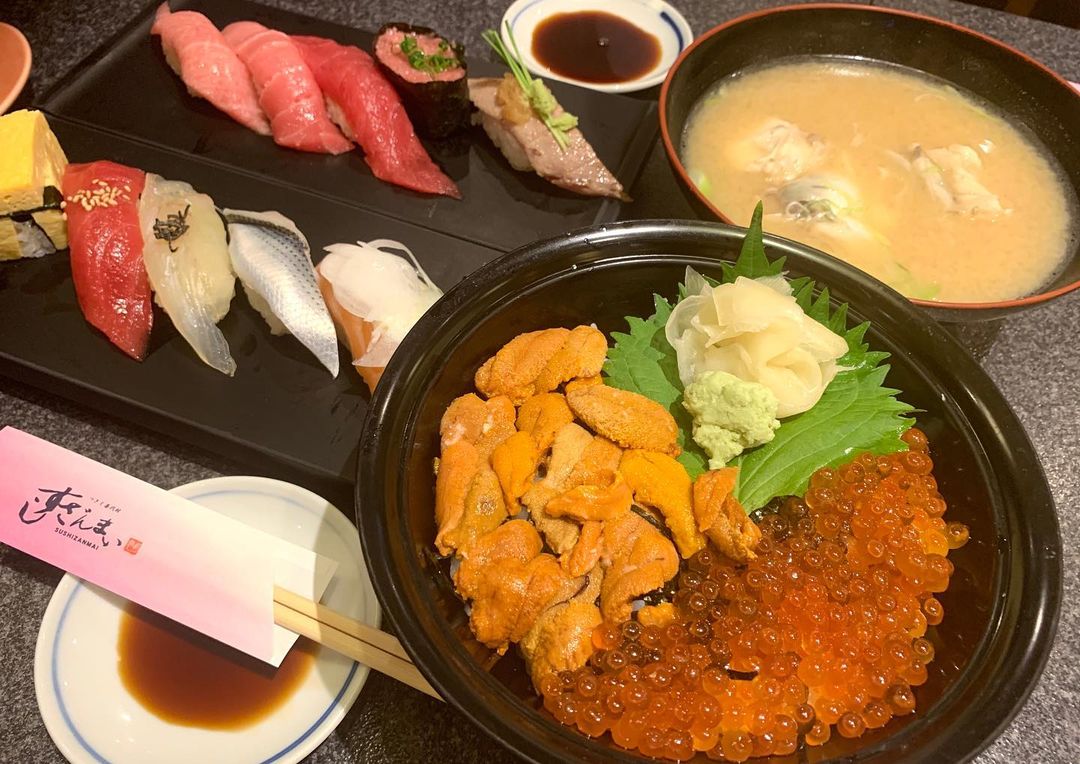 Image credit: @chisatopakupaku
At Sushizanmai, a piece of sushi can cost as little as ¥98 (~USD0.95), making it perfect for those dining on a tight budget. As you can order sushi individually, it means you can try more items on the menu.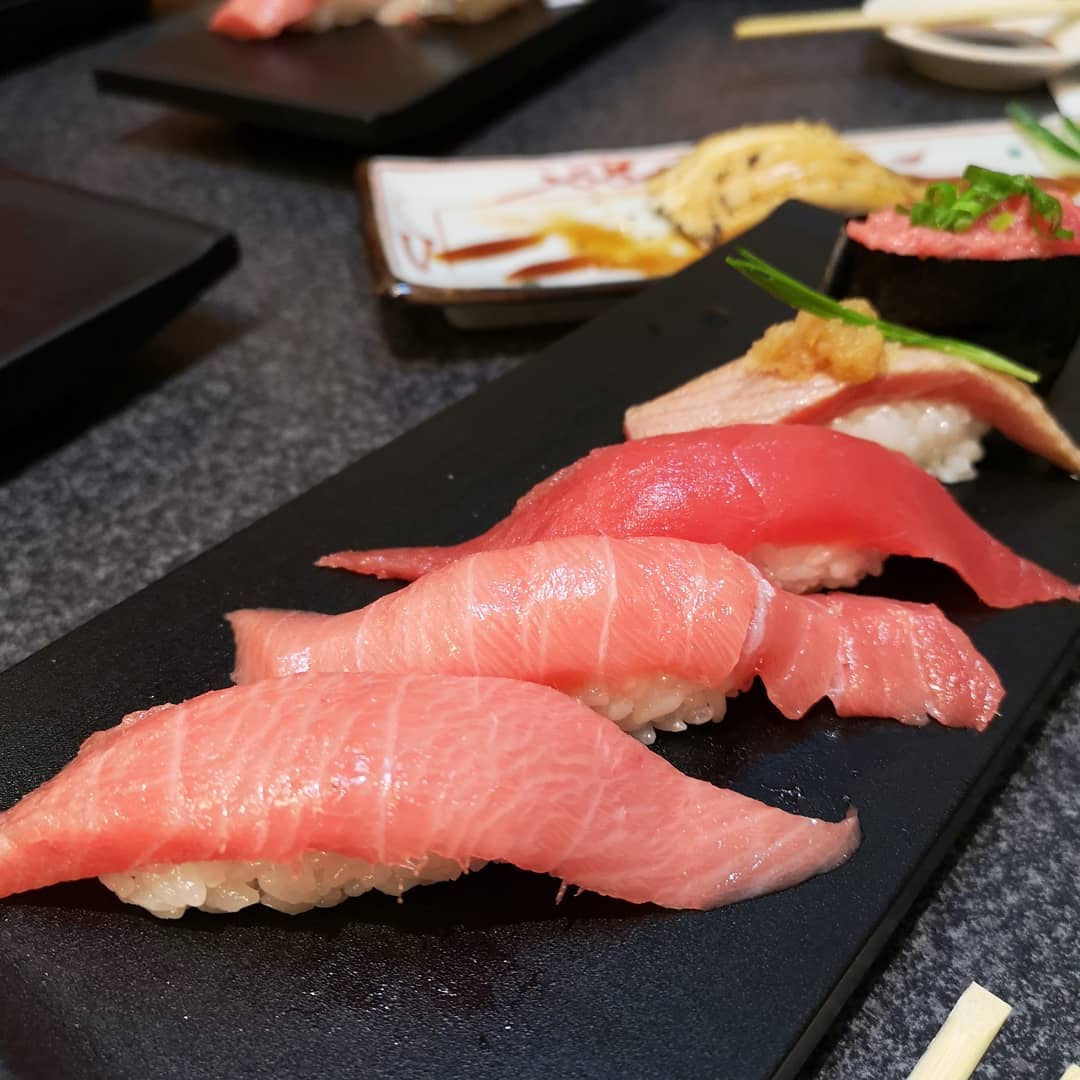 Image credit: @hia_025
Try all the different cuts of tuna, from regular tuna (¥198, ~USD1.91) to fatty tuna (¥398, ~USD3.85). They also have rolls, assorted sushi and sashimi plates, appetisers, and other grilled and fried items on their menu. Besides the affordability, Sushizanmai is open 24 hours, daily so you can enjoy good sushi whenever you want.
Address: Nakaza Kuidaore Building 1F, 1-7-21 Dotonbori, Chuo-ku, 542-0071 Osaka
Opening hours: 24 hours, Daily
Telephone: 06-6484-2280
Website
---
9. Sushi Chiharu
---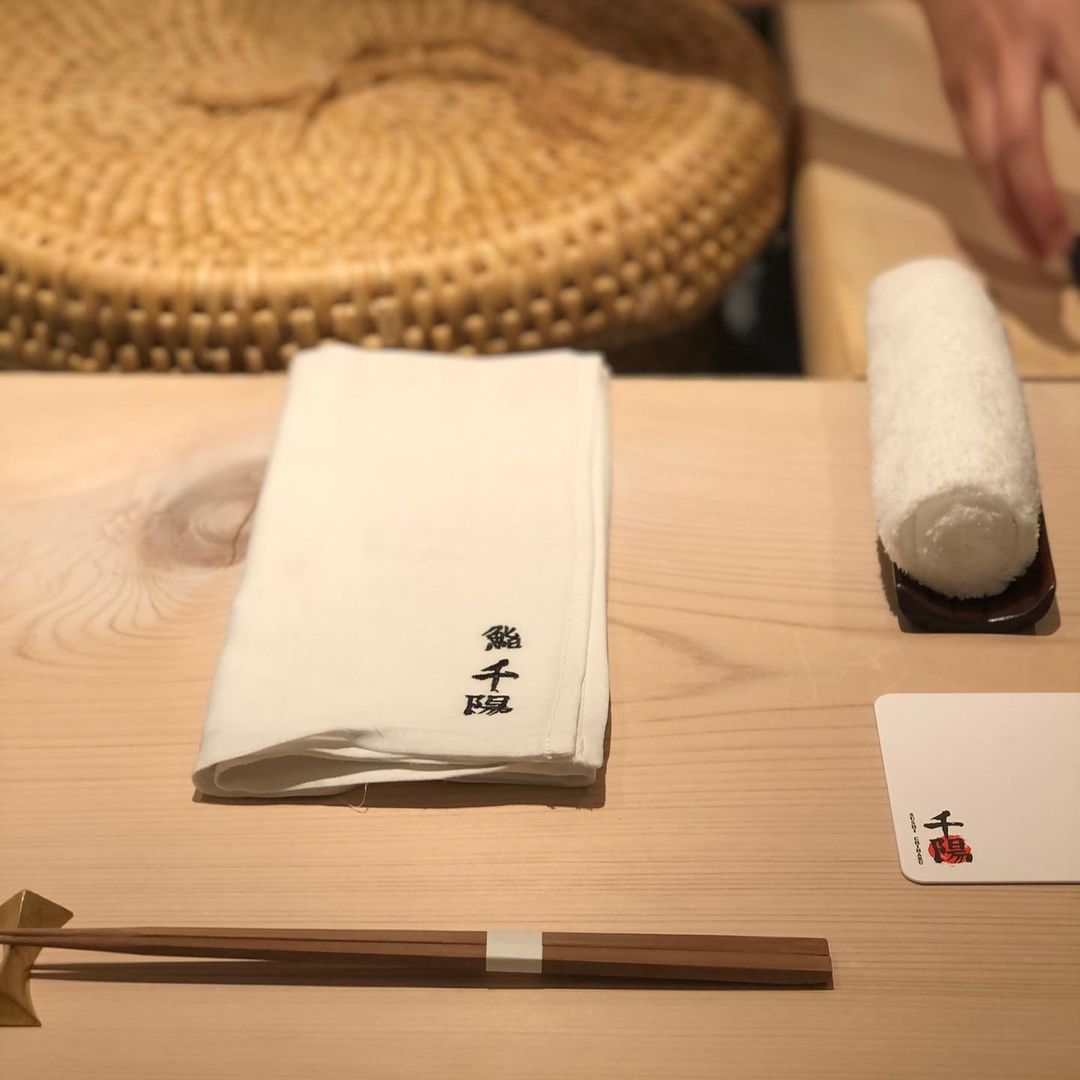 Image credit: @dlsdn430
For high-end sushi that won't burn a hole in your pocket, Sushi Chiharu is the place to go. Their set lunch costs ¥3,000 (~USD29.00) and comes with 9 pieces of sushi and a bowl of soup. Reserve in advance and they'll include a free appetiser as well.
As Sushi Chiharu partners with a sushi school, some of the chefs working there are fresh graduates of the school. However, that doesn't compromise the standards of food and service. Sushi Chiharu was even recommended in the Michelin Guide Bib Gourmand section from 2016-2018.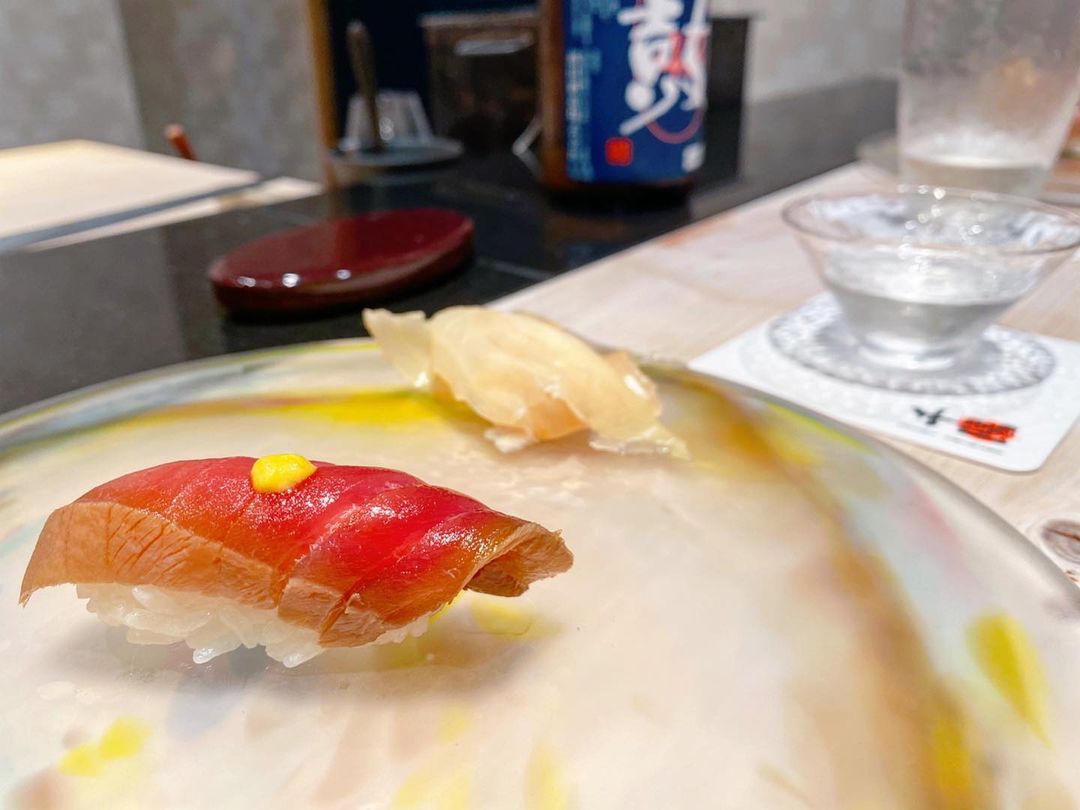 Image credit: @kuthushitakun
Sushi Chiharu is an omakase restaurant, meaning that the chef selects the best dishes available on that day and serves it. There's no menu available and you should inform the chef if you have any food allergies before the start of the meal. 
Just like at high-end omakase restaurants, the chef will prepare the sushi one by one and serve it to you right away. It is recommended that you consume the sushi once it's served to maintain its freshness.
Sushi Chiharu is often fully booked as it offers quality food and service befitting of a high-end sushi restaurant, but at affordable prices.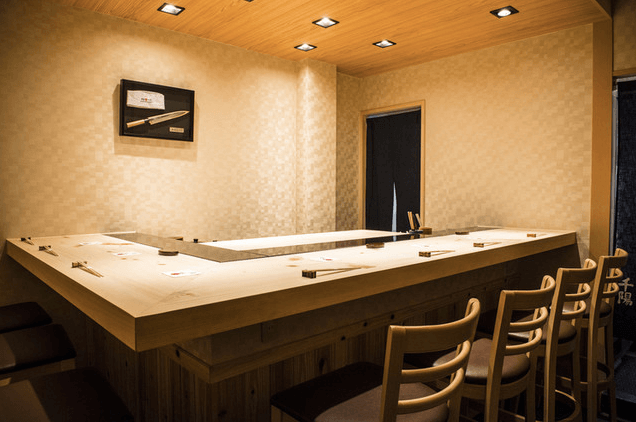 Image credit: Sushi Chiharu
Sushi Chiharu occupies 2 floors, but only the 1st floor is open during lunch. For dinner service, both floors are open. The 2nd floor, however, offers a more premium experience at a higher price.
Address: 5-12-14, Fukushima, Fukushima-ku, 553-0003 Osaka
Opening hours: 11AM-1PM & 5PM-9PM, Daily
Telephone: 06-6450-8685
Website 
---
Cheap sushi restaurants in Osaka
---
For those who are on a super tight budget, head to Sushizanmai or Nawa Sushi. Those who can afford to splurge a little, Endo Sushi and Kame Sushi Sohonten are good options that balance both price and quality. And for completionists, visit every restaurant on our list.
Check out these articles for more food guides:
---
Cover image adapted from (clockwise from top left): @hyok9339, @chengto, @oishiiimon, and @oume0310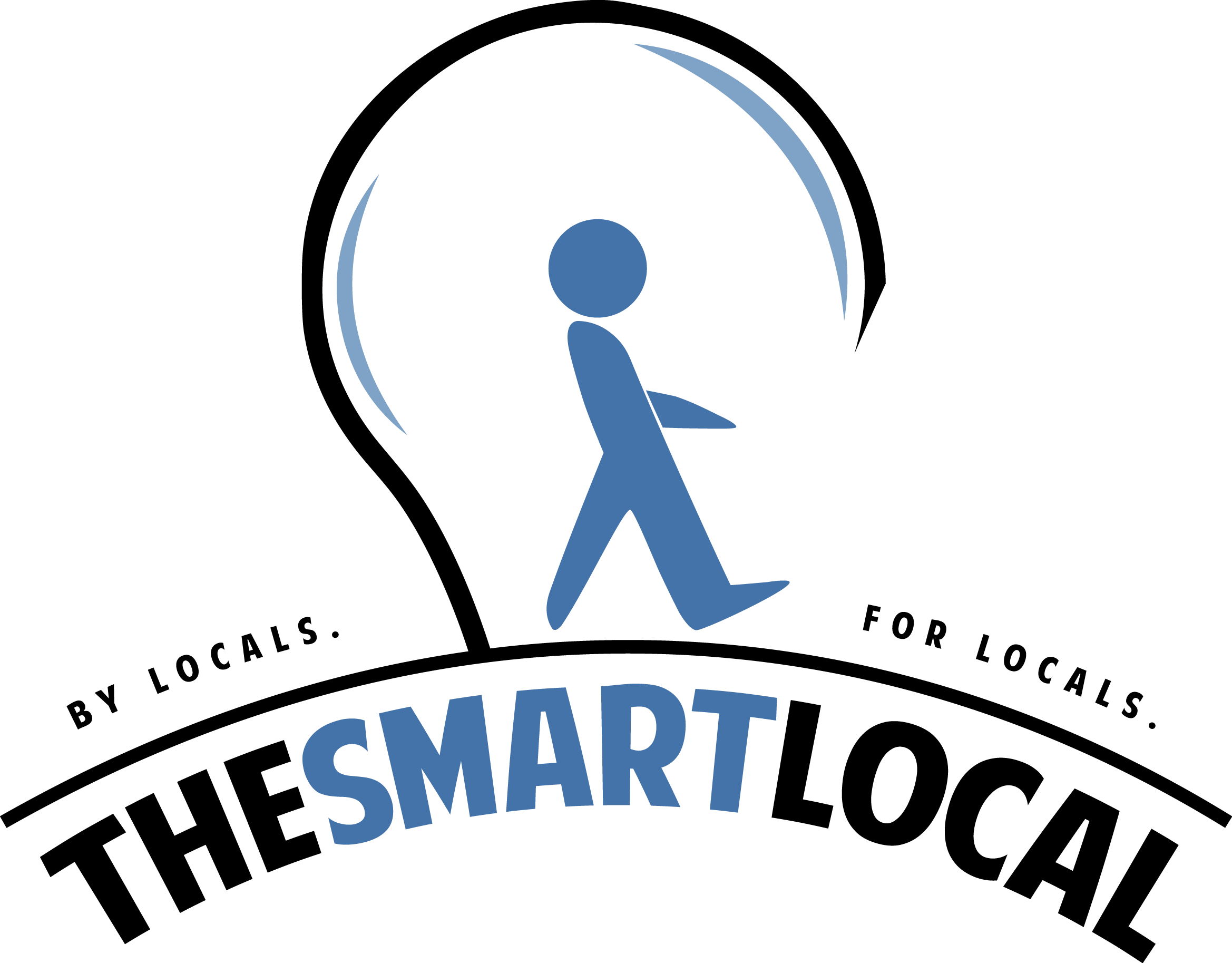 Drop us your email so you won't miss the latest news.