Giant food dishes
---
When it comes to our love for food, the limit does not exist. But unfortunately, serving sizes and suggested portions do. We've all been in that all-too-familiar situation where we can't get enough of a dish, only to be left craving for more when we're done.
Now imagine giant portions where you won't have to worry about that. Novelty concepts like this actually exist in Japan, where you can tick off both quality and quantity. Here's a list of where you can stuff yourself silly with jumbo-sized dishes, from parfait desserts to a godzilla gyoza. Some even come with challenges where if you succeed, you dine for free!
---
1. Ousama and Strawberry – giant sundae parfait with biscuit sticks
---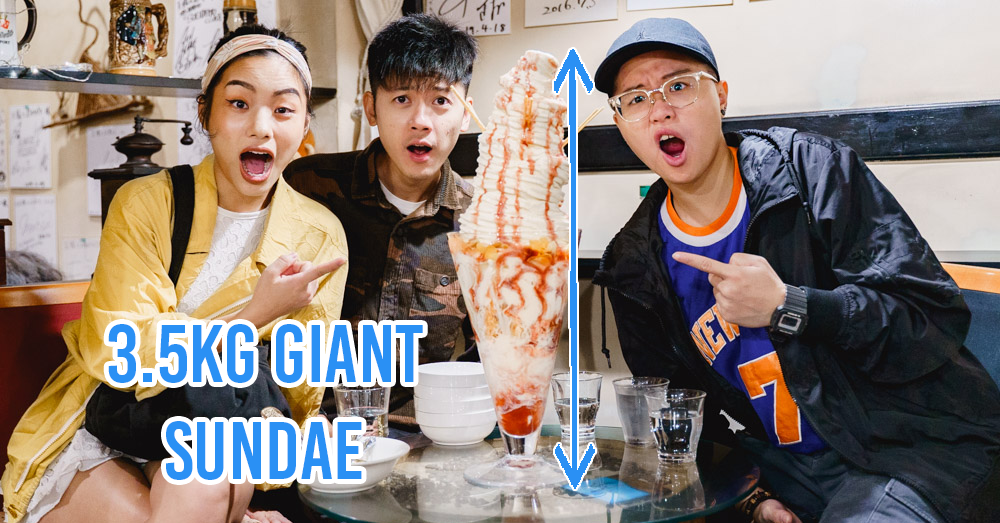 Don't let anyone tell you that you can't have dessert for a full meal. At Ousama and Strawberry in Shinagawa, they serve up a giant parfait that weighs 3.5KG and is 60CM tall – even carrying it off the table is a workout in itself.
The parfait costs ¥2800 (~$35), and comes with a sauce of your choice like chocolate, strawberry, kiwi and lemon, drizzled on top and stuffed at the bottom of the serving glass.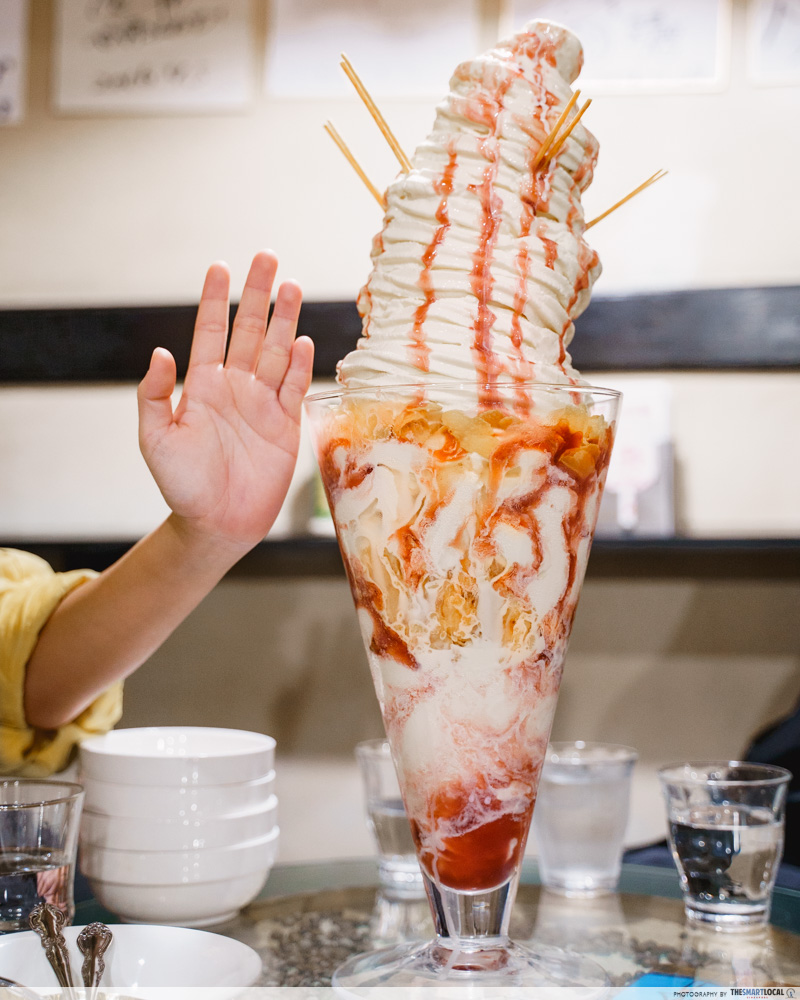 Hand to parfait ratio: 1:5
Besides the copious amounts of ice cream and sauce of choice, the parfait also boasts cereal bits and biscuit sticks to provide a crunch in every scoop you take. These additions elevate the dessert overall, although we did wish there was more biscuit to go around.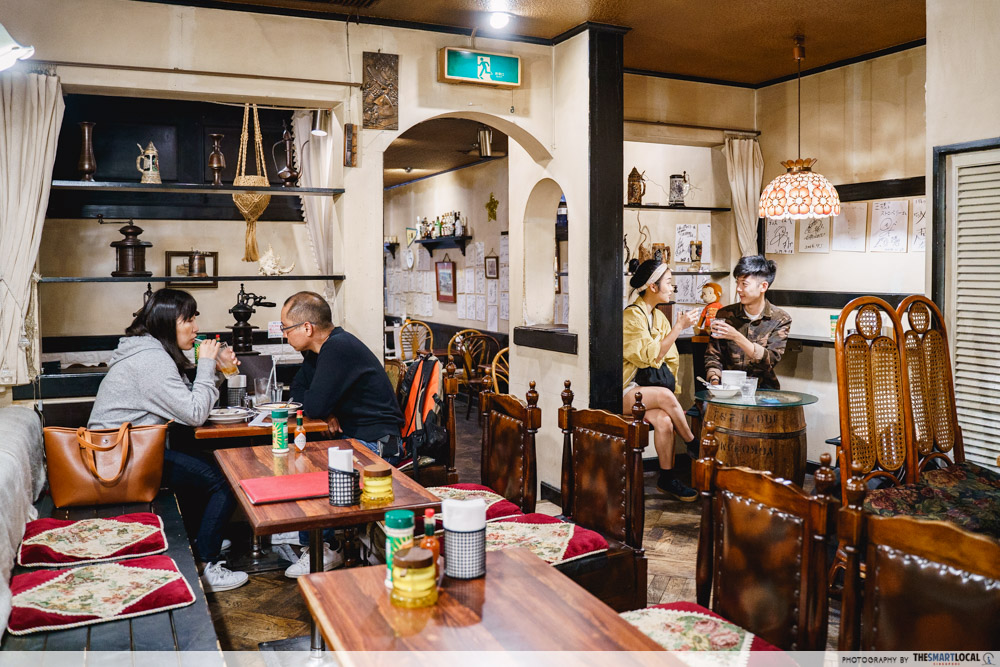 The cafe's interior deserves mention as well. Feel transported back in time with the wooden furnishings, random knick-knacks on the shelves and drawings pasted on the wall. It actually feels more like you're dining in someone's quaint home, instead of a cafe right in the middle of a shopping belt.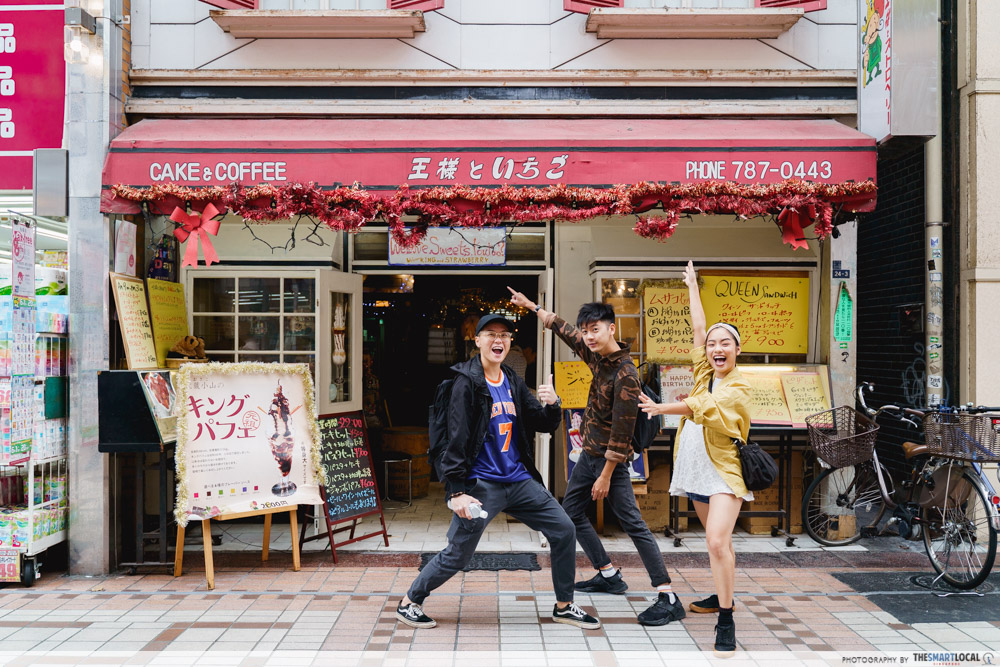 Watch our experience at this cafe here. 
Address: 3 Chome-24-3 Koyama, Shinagawa City, Tokyo 142-0062, Japan
Opening Hours: 9AM-10PM
---
2. Umakara Ramen Hyori – giant ramen bowl with various spicy levels
---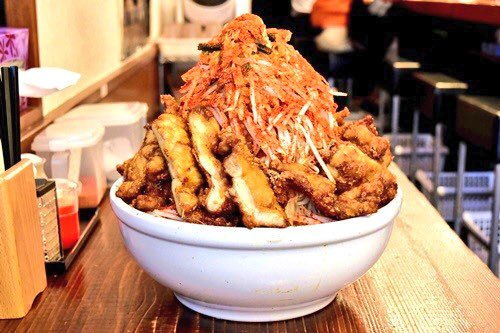 Image credit: @japanFM
There's nothing quite like slurping up a bowl of ramen to warm both our tummies and our hearts. For those that could do it all day long, put yourself to the test at Umakara Ramen Hyouri restaurant. 
If your hunger is up for the challenge, you can pay ¥3000 (~$37) for the ultimate ramen feast. But there are consequences both good and bad. Polish the bowl in 20 minutes and you'll leave ¥50,000 (~$625) richer, while finishing it in 30 minutes will reward you with ¥30,000 (~$375). Puking it out, however? That's an extra ¥10,000 (~$125) you'll have to cough up.
Challenge aside, it's still a whopping portion of ramen that will likely have you skipping any other meal for the day. 
Address: 4 Chome-7-19 Kudanminami, Chiyoda City, Tokyo 102-0074, Japan
Opening Hours: Mon – Fri 11AM – 10.45PM | Sat – Sun 11AM – 8.45PM
---
3. Kagurazaka Hanten – 2.5KG gyoza stuffed with minced pork and veggies
---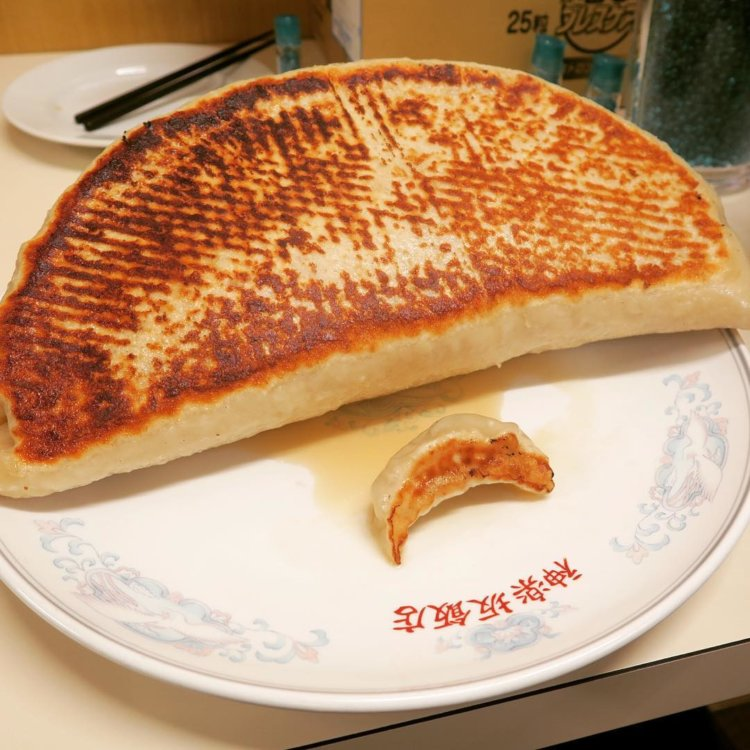 Image credit: @fallindebu
2.5KG is the usual weight of many things – a small sack of rice, a dumbbell for warm-ups, or even a newborn. But it's also the weight of a mega-sized gyoza in the heart of Tokyo.
Kagurazaka Hanten's dumpling challenge costs ¥9600 (~$120), and must be pre-ordered at least 2 days in advance. Succeed in chowing down the entire dish within an hour and you'll get it for free! 
There are some rules to adhere to, however, such as no getting help from a friend and no leaving to go to the bathroom. Even if you can't finish the entire thing, the restaurant will pack the leftovers for you so no food goes to waste.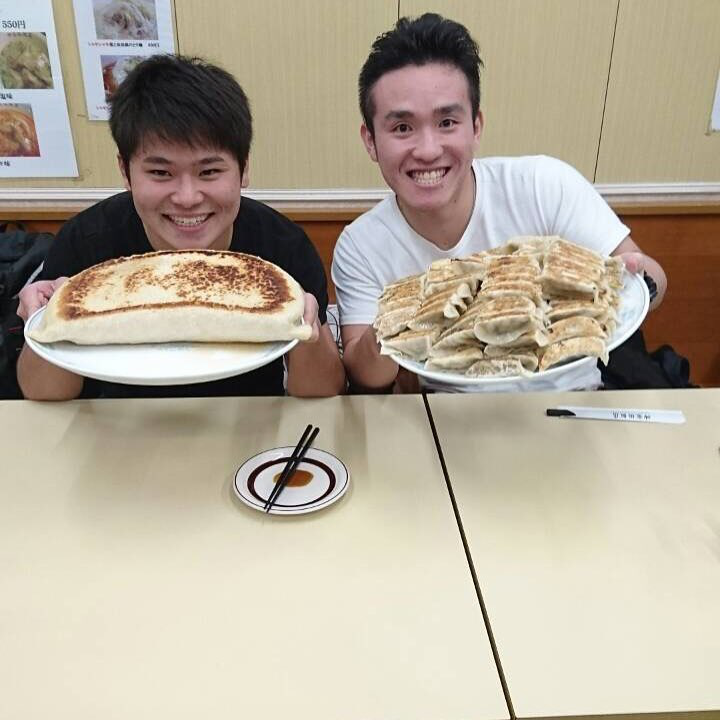 Image credit: @kagurazakahanten
If you prefer, you can also opt for 100 pieces of normal-sized gyozas instead of taking on a mammoth one.
Address: 1-14 Kagurazaka, Shinjuku-ku, Tokyo, Japan
Opening Hours: Mon – Fri 11AM – 11PM | Sat 11AM – 10PM | Closed on Sun
---
4. Kanazawa Gold Curry – giant curry rice
---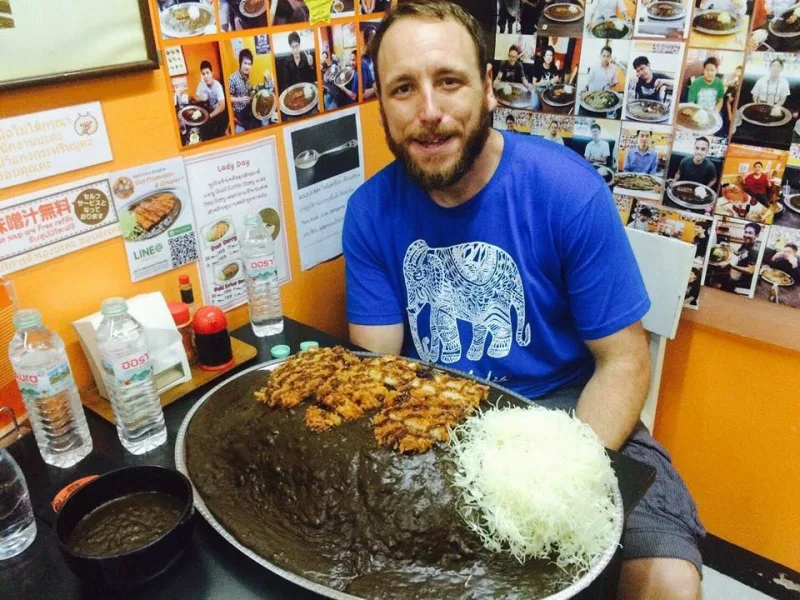 Image credit: Kanazawa Gold Curry
As much as I love Japanese curry, a standard portion gets me feeling jelat by the end of the meal. 
But if you can go for multiple helpings of the thick gravy and slight spice, take it all the way at Kanazawa Gold Curry. There are 5 tiers of challenges you can partake in, that range from 2KG to 10KG of curry rice.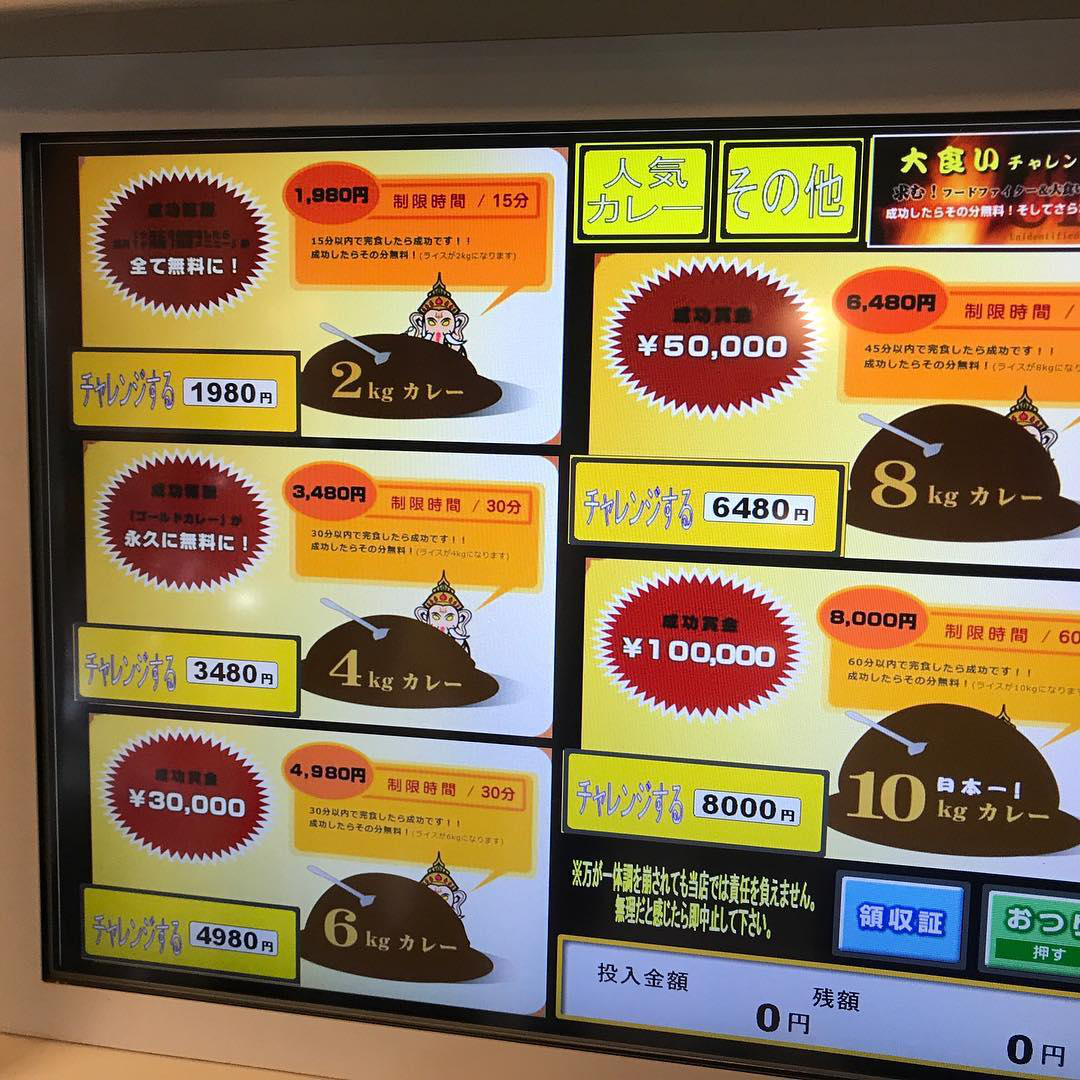 Image credit: @dametaro.sp
The ultimate challenge even lets you win a ¥100,000 (~$1240) reward – if you can wolf down the mammoth meal within an hour, that is. 
Address: 393-1 Fujie-kita, Kanazawa City, Ishikawa Prefecture
Opening Hours: Mon – Sun 11AM – 11PM
---
5. Hachinoya Curry – 2KG cream puff
---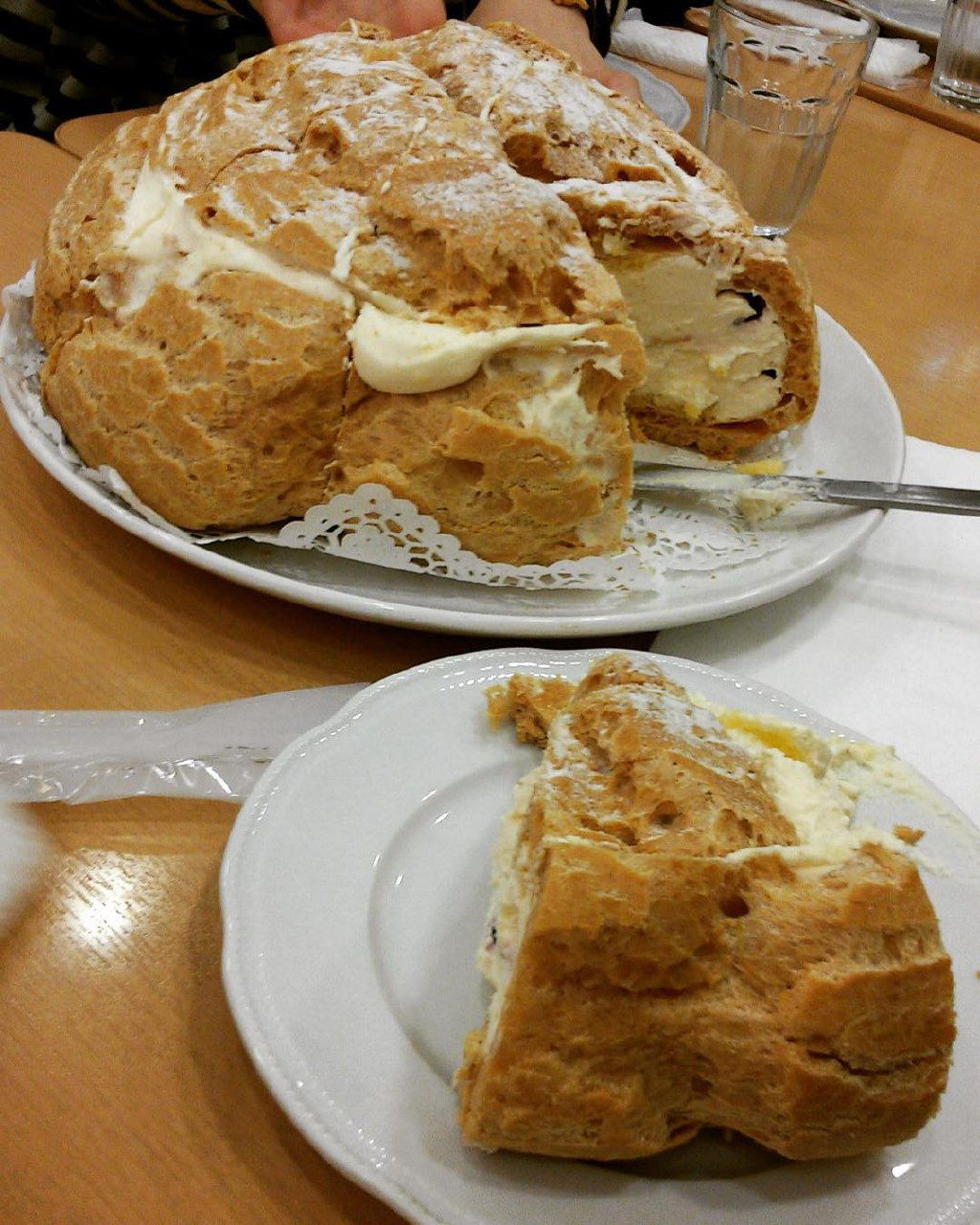 Image credit: @uiokatzenui
Hachinoya might have started out as a restaurant serving Japanese curry, but it's their cream puff that steals the show. Their giant cream puff costs ¥6000 (~$74.39), is famed for weighing about 2KG and is also stuffed with fruit slices for an added crunch.
They've also got a custard version for ¥4000 (~$49.60) that looks enough to share for a party or gathering.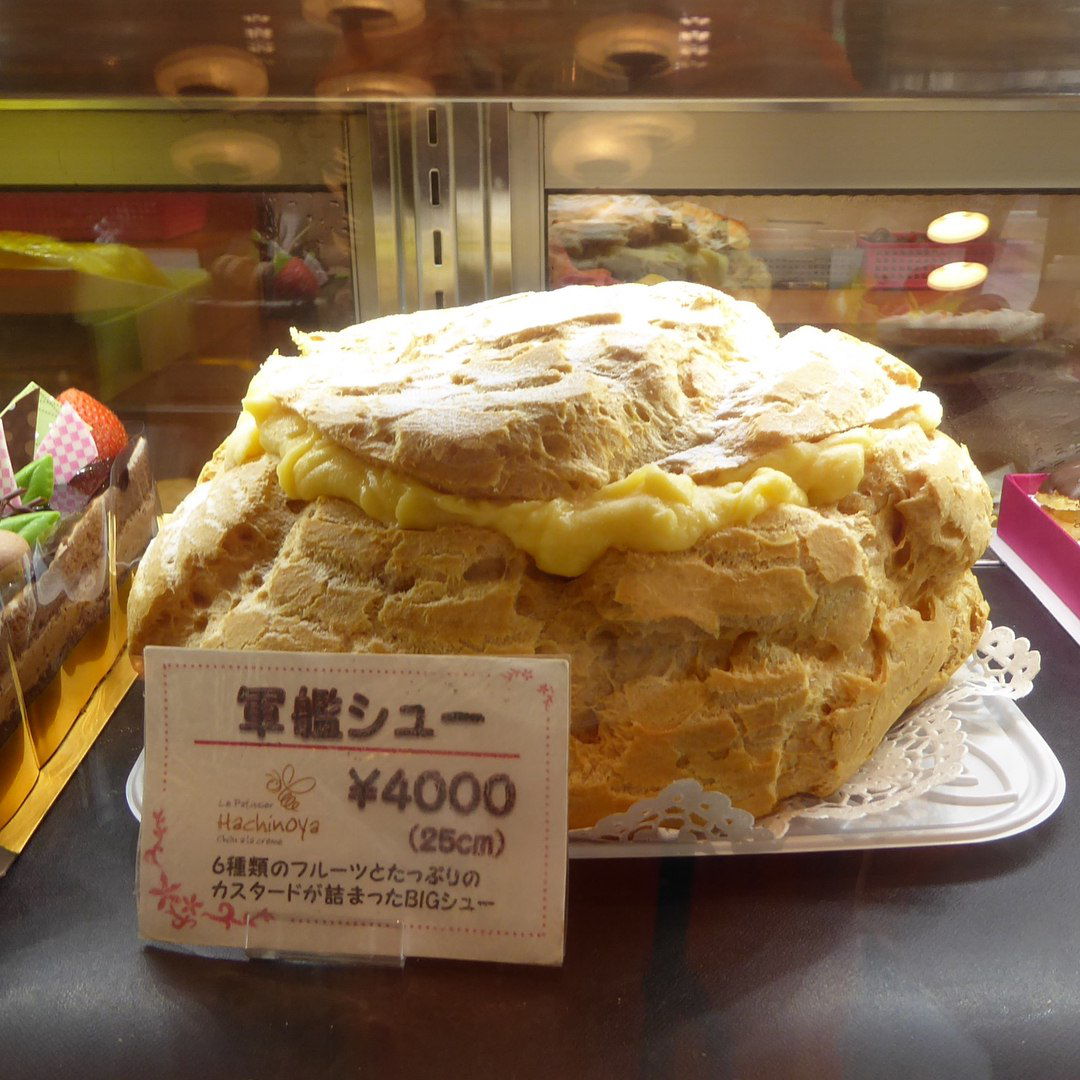 Image credit: @skajann
Address: 4-13-11, Ginza, Chuo-ku, Tokyo
Opening Hours: Mon – Fri 11AM – 9PM | Sat – Sun 11AM – 7PM
---
6. TOTTI CANDY Factory – giant rainbow cotton candy
---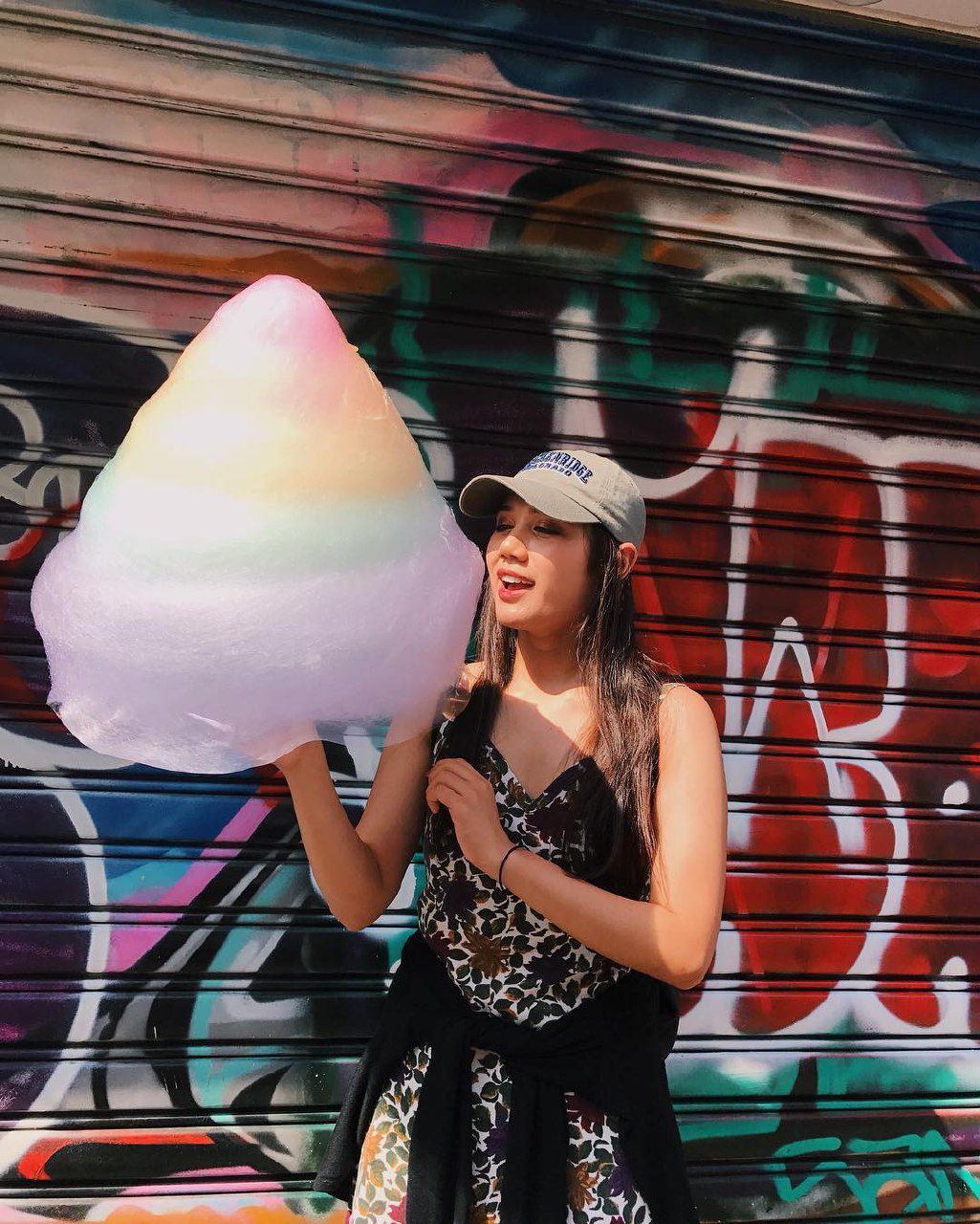 Image credit: @natashaanwar
Head to the popular youth district of Harajuku in Tokyo and you'll also find one of the biggest cotton candy creations. TOTTI CANDY Factory sees snakes of locals and tourists alike every day queuing for their famous pastel candy floss that swirls up to sizes larger than your head.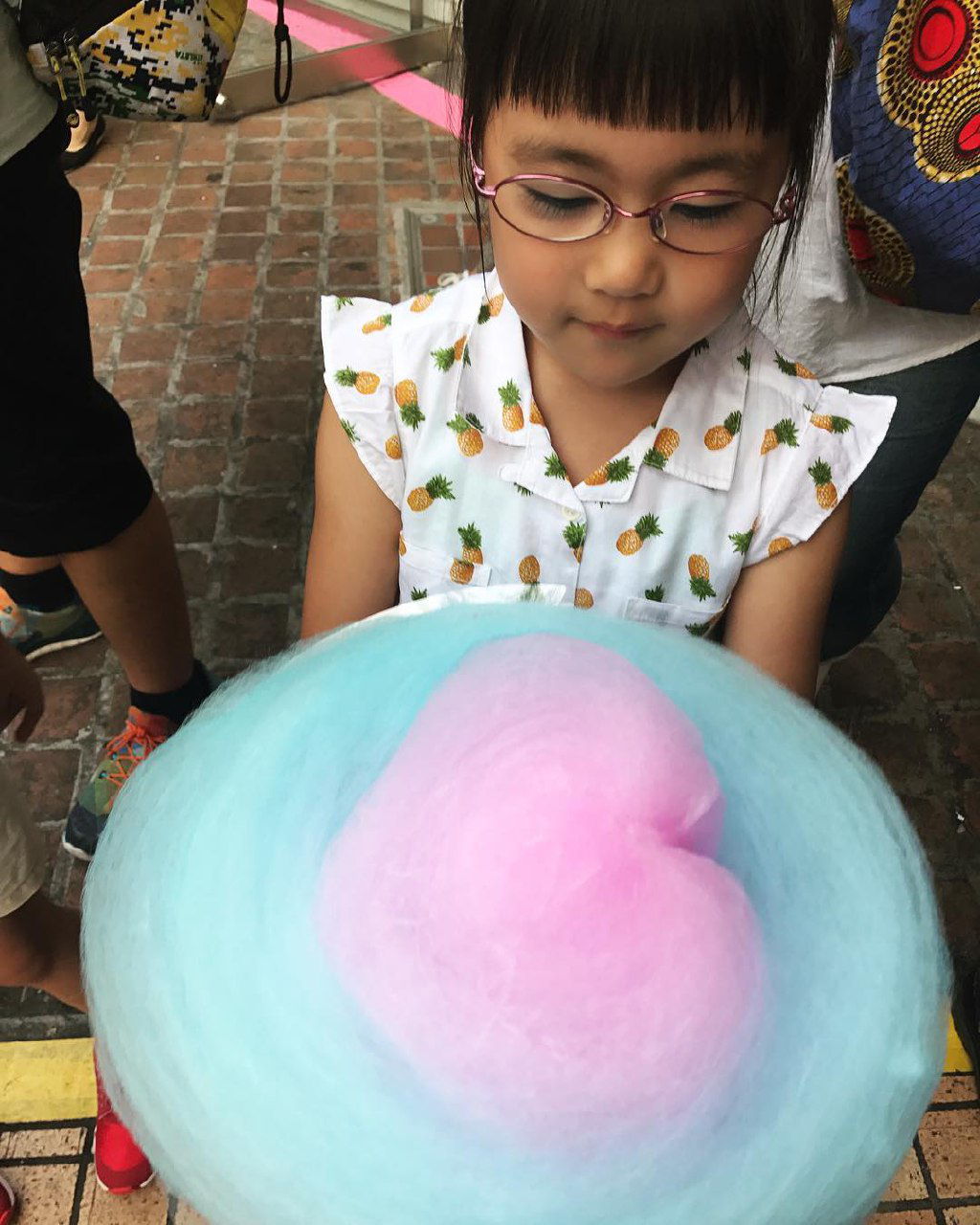 Heart cotton candy
Image credit: @falcan18
The Harajuku Special Cotton Candy costs ¥900 (~$11.16) and each coloured swirl is a different flavour, which makes tasting the individual tier a new experience. If you want something less common than the ones you see on Instagram, you can choose the Heart Cotton Candy for ¥650 (~$8) that comes with a giant heart shape in the middle. 
Address: 1-16-5 Jingumae Shibuya-ku, Tokyo
Opening Hours: Mon – Fri 10.30AM – 8PM | Sat – Sun 9.30AM – 8PM
---
7. Chikuzenya Ningyocho – 12 pieces of karaage chicken in a bowl
---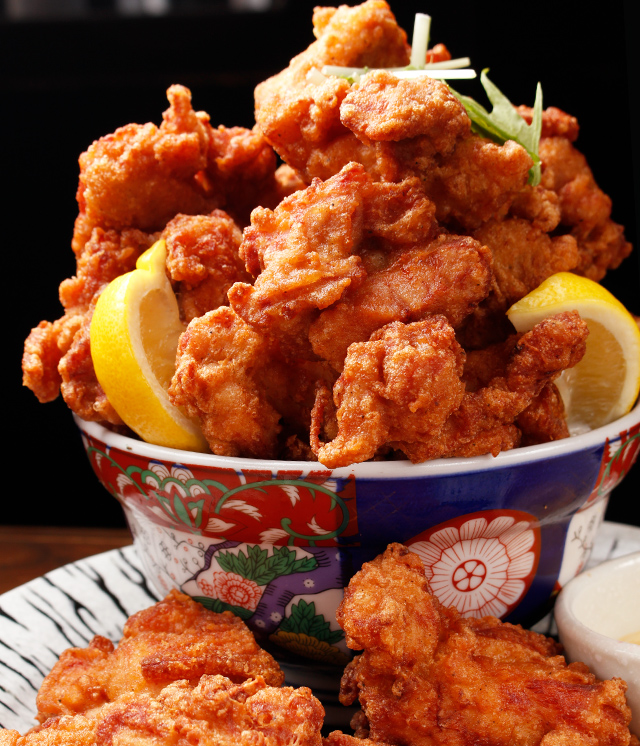 Image credit: centraltokyo-tourism
I'll admit, I'm a sucker for fried chicken. Even more so when it's crispy Japanese karaage dipped in mayonnaise – yum. 
But even I'm not sure if I can devour a bowl stacked with 12 pieces of these golden-brown bites. But at a price of ¥626 (~$7.80), it is a great bang for your buck.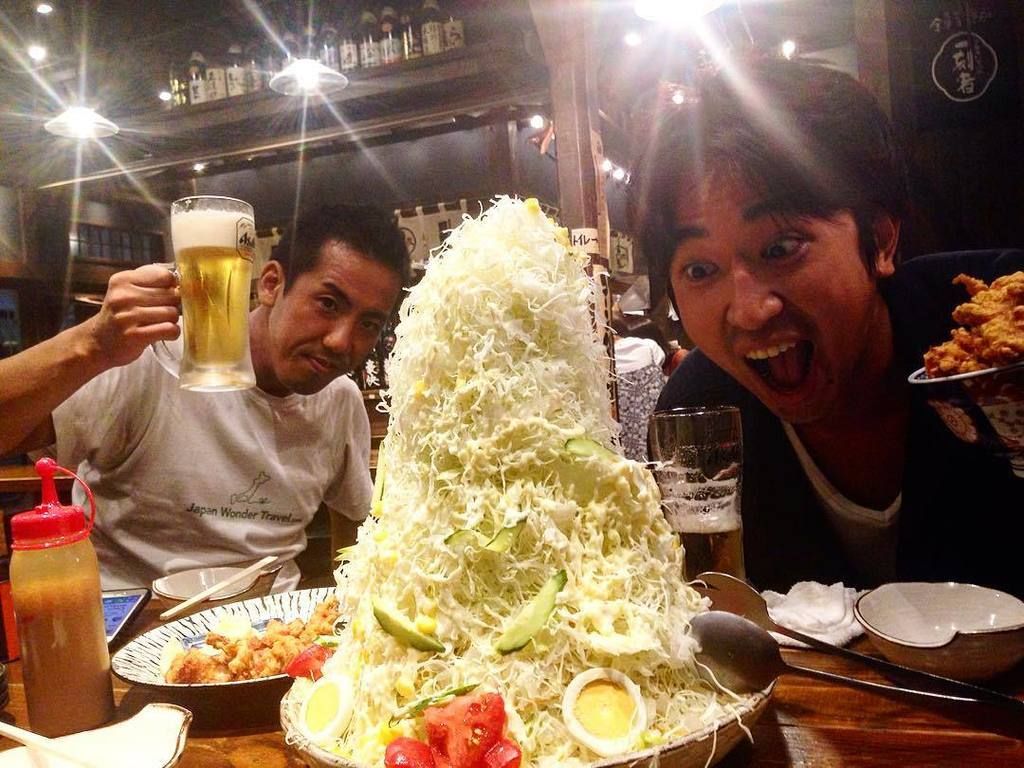 Image credit: @JapanWTravel
What's even more jaw-dropping is the side dish you can order to accompany your fried chicken – a literal 45CM tower of salad filled with cabbage, carrots and mizuna vegetables. But don't be fooled by its size and price of ¥734 (~$9), it's enough for a whole group to share at dinner.
Address: 2-7-16, Nihonbashi Ningyocho, Chuo-ku, Tokyo
Opening Hours: 4PM – 12AM daily
---
Giant food dishes in Japan
---
Japanese food is one of the most well-liked cuisines in the world, so to get them super-sized is like a dream come true. That dream is reality with these places with giant portions. From the biggest gyoza in the world to a dessert parfait that can feed a village, eat your fill the next time you're travelling in Japan.
Read our other food-related articles here: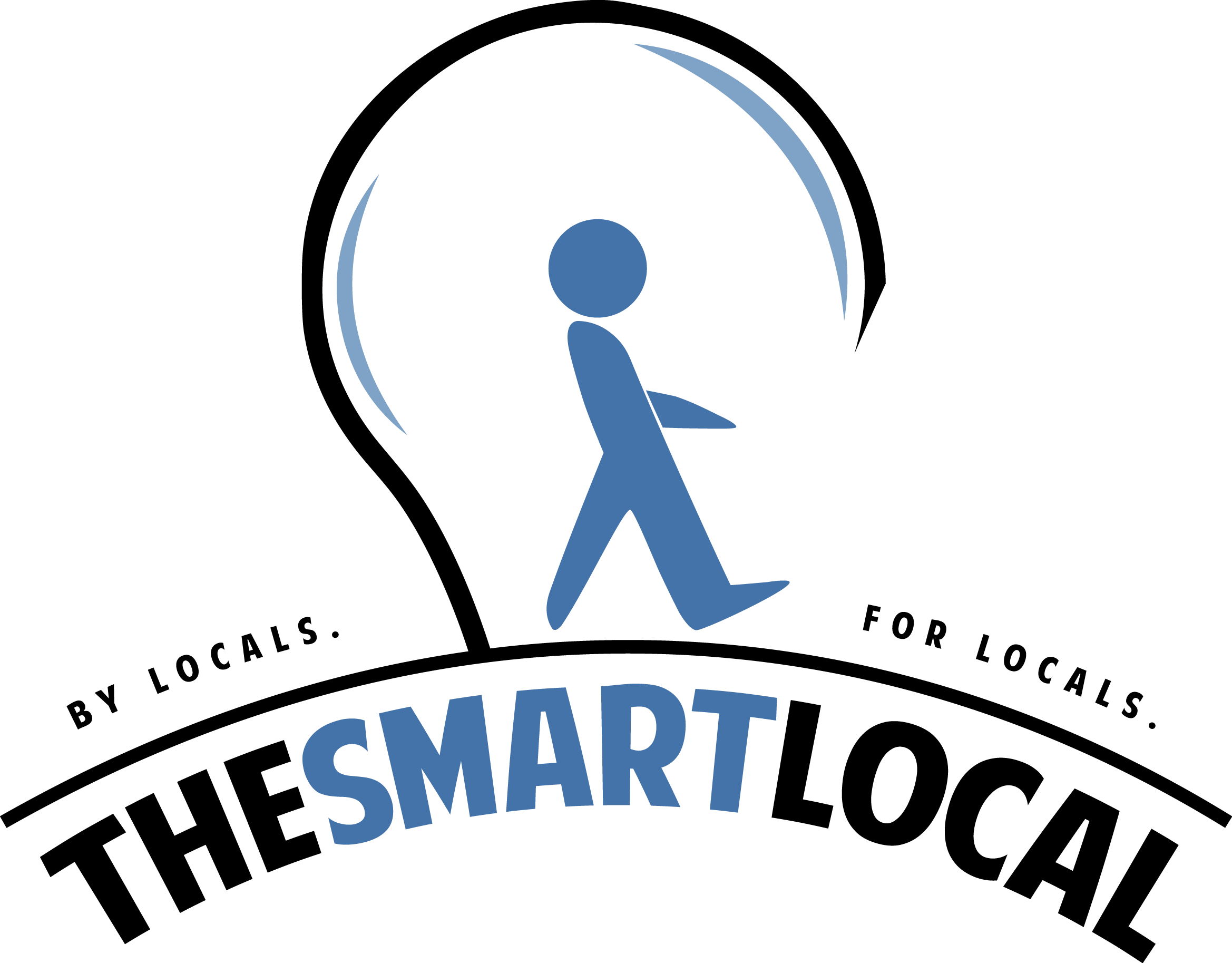 Drop us your email so you won't miss the latest news.