Hatsune Miku throwback songs 
---
Hatsune Miku, the internationally recognised virtual idol, will be celebrating her 13th birthday today, on 31st August 2020. Ever since her debut in 2007, Miku has released over 100,000 songs – many of which have touched the hearts of fans and become popular hits. 
To celebrate 13 years of Miku's music career, we've come up with a list of 13 throwback songs – one for each year – to take a trip down memory lane. 
---
1. Change The World (2019)
---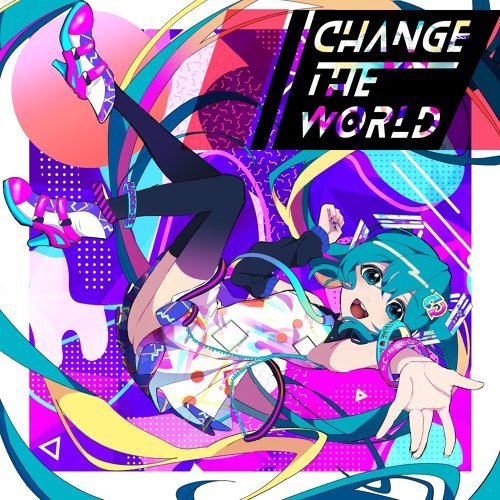 Image credit: KKBox 
Producer: AlpacaP
Change The World is the semi-grand prix winning entry of the Magical Mirai 2019 song contest. In this song, Miku sings about changing the world together with us to make it better, by turning all the dark moments in everyone's past into stars that will shine in the sky and illuminate everyone's futures.   
---
2. METEOR (2018)
---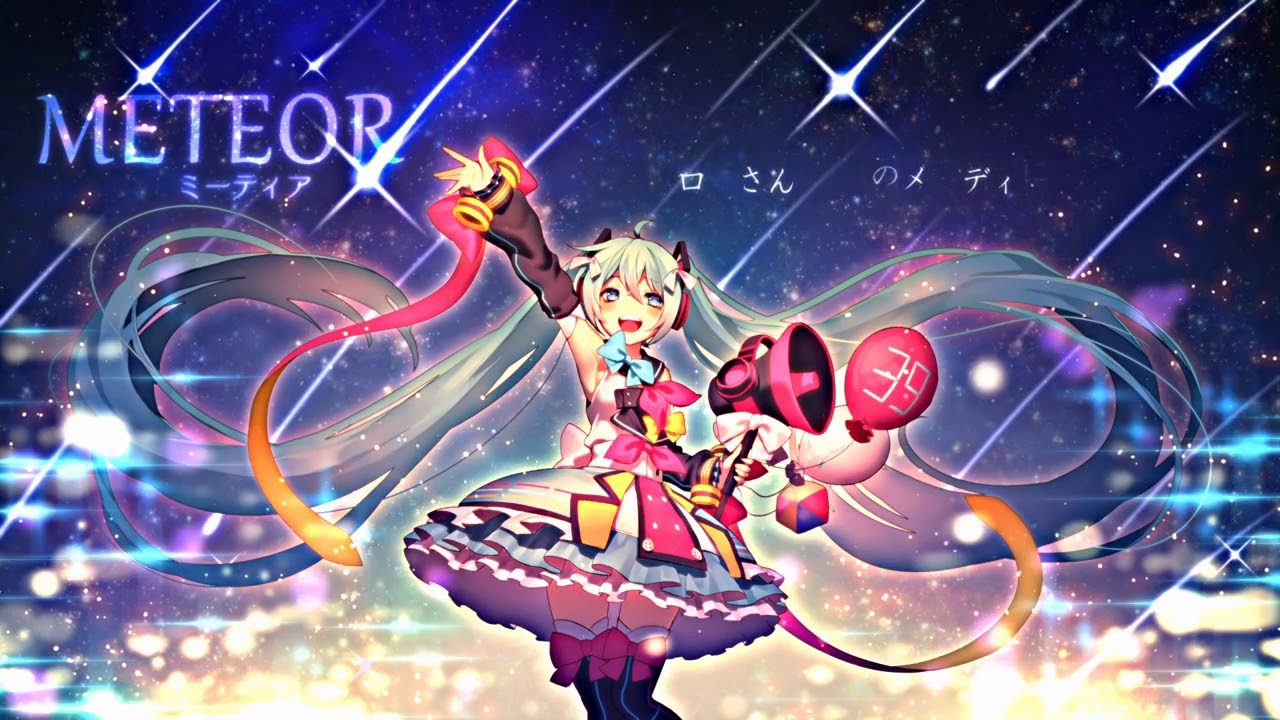 Image adapted from: Lilion Vivian 
Producer: DIVELA
METEOR is an original song by DIVELA and is the winning entry of the Hatsune Miku Magical Mirai 2018 Song Contest. This song talks about overcoming all odds to reach your goal with Miku by your side, supporting you through it all. 
This song is listed in the VOCALOID Hall of Fame – where only songs with more than 100,000 views on Nico Nico Douga – a Japanese video-sharing site similar to YouTube – can enter. It has over 600,000 views on Nico Nico Douga and around 4.5 million views on YouTube. 
---
3. Unite As One (2017)
---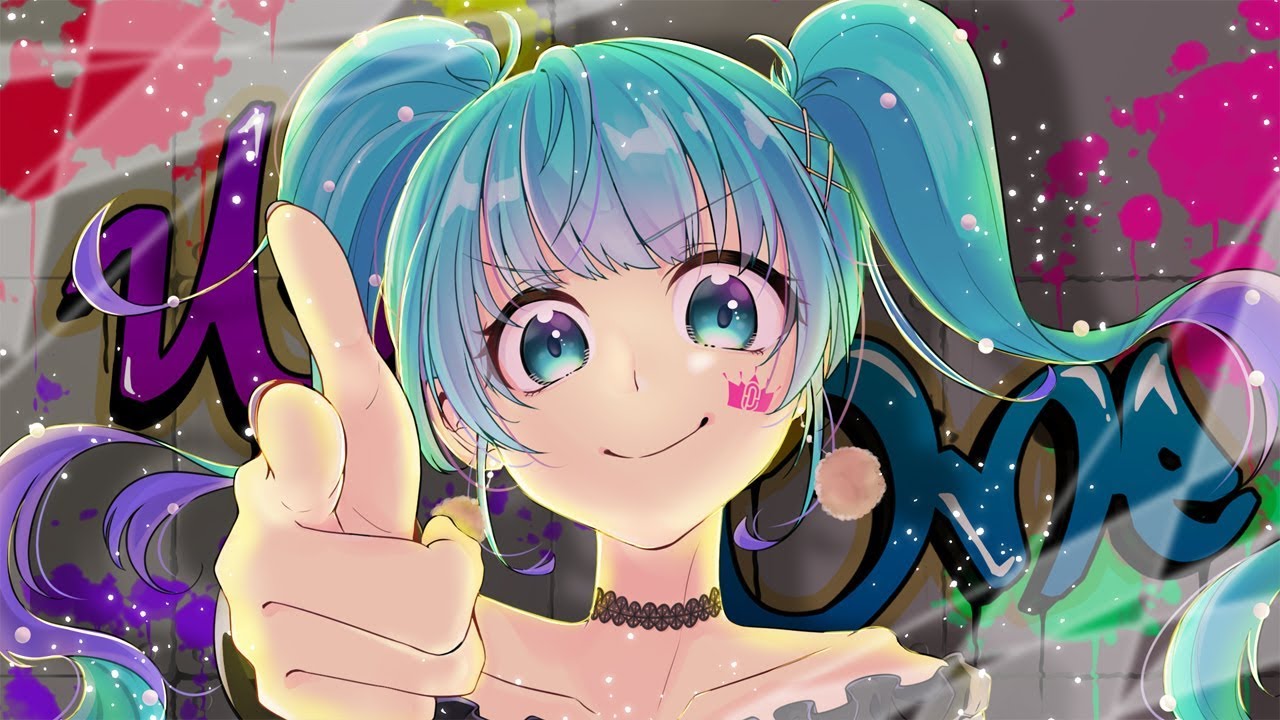 Image adapted from: Hachioji-P 
Producer: Hachioji-P
Featured in the album Connect Light, this song talks about how every little bit counts – that one person's effort might seem insignificant,  but if we combine our efforts, we'll be able to build a better future.   
The song Unite As One has over 100,000 views on Nico Nico Douga and 1.4 million views on YouTube. It is one of the many songs in the VOCALOID Hall of Fame. 
---
4. 39 Music! (2016)
---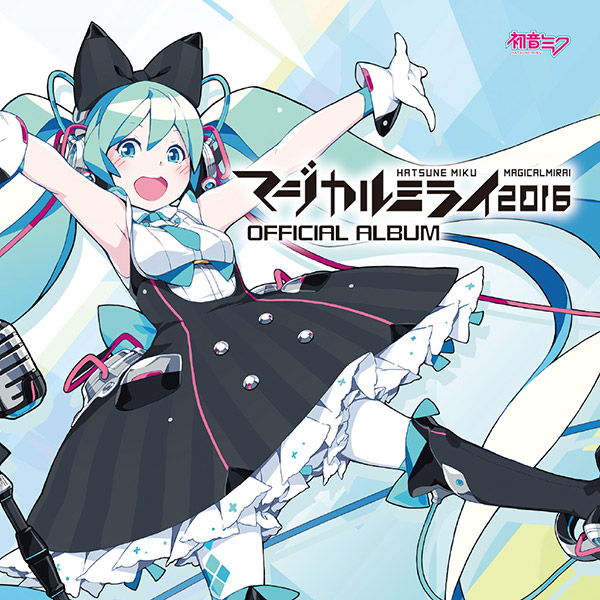 Image credit: Project DIVA Wiki 
Producer: Mikito-P
39 Music! is the theme song for Hatsune Miku Magical Mirai 2016. The number "39" and the words "thank you" are pronounced similarly in Japanese as "sankyuu", so this song can be interpreted as Miku thanking music for connecting the world, or her telling everyone to tune into her music by switching channels to Nico Nico Douga.  
This song has entered the VOCALOID Hall of Legends – where only songs that have more than 1 million views on Nico Nico Douga will be listed. It has over 1 million views on the site and almost 9 million views on YouTube.  
---
5. Desktop Cinderella (2015)
---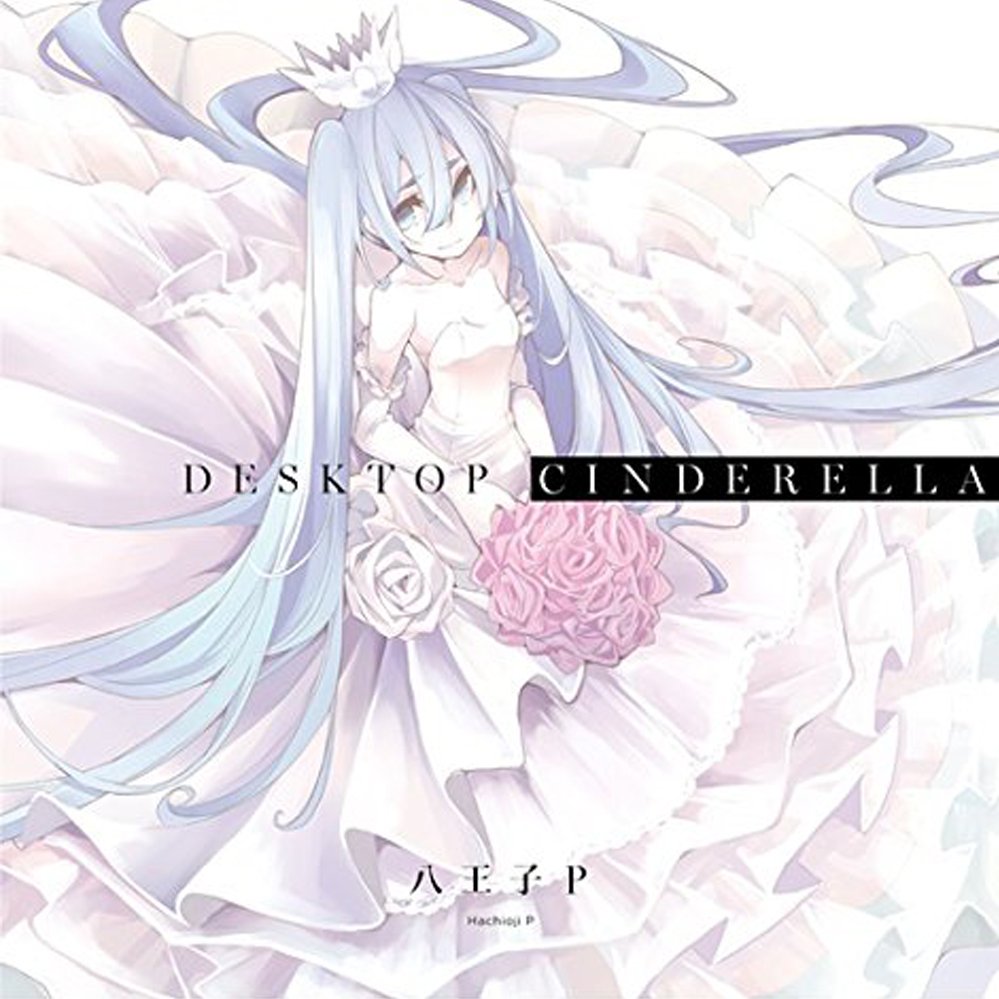 Image credit: ReverbNation 
Producer: Hachioji-P
Desktop Cinderella talks about the bond between a VOCALOID producer and Miku – the former stepping into Miku's world to create songs for her, and the latter "experiencing" the world through the songs. But unlike Cinderella, the magic doesn't end at 12 midnight for Miku, as long as the producer continues to write songs for her.
---
6. Stickybug (2014)
---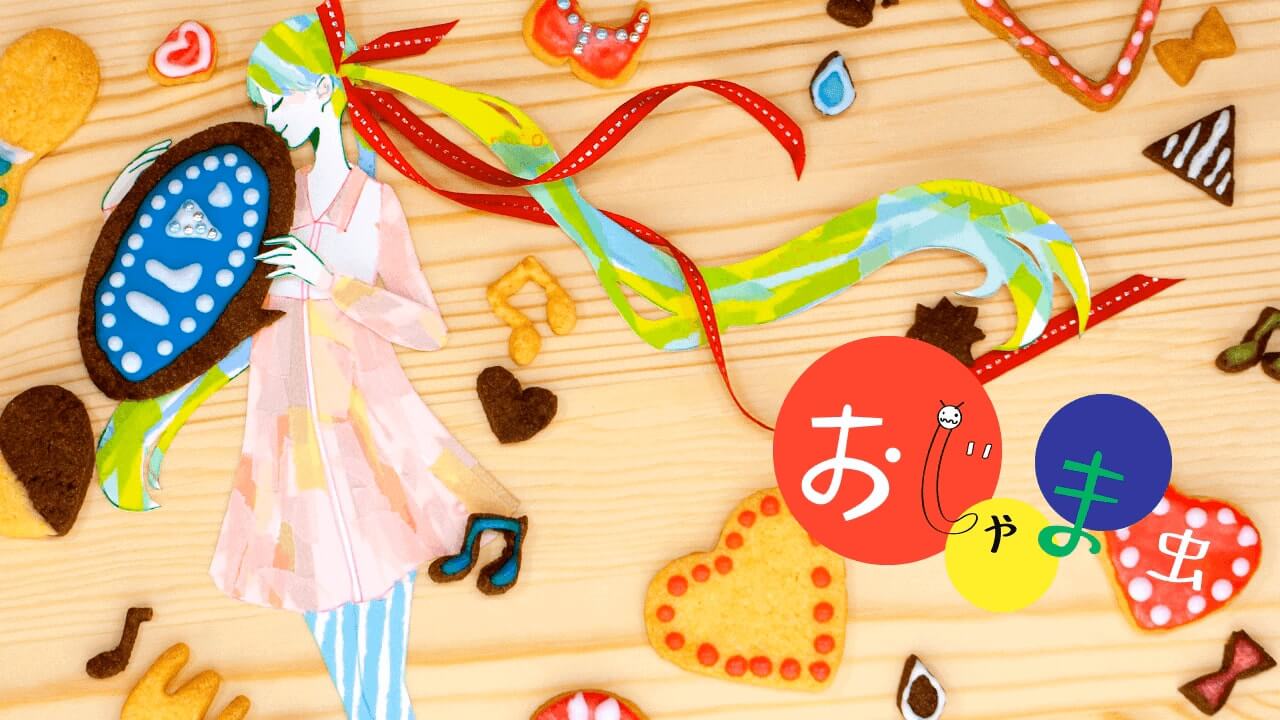 Image credit: Vocaloid Lyrics Wiki 
Producer: DECO*27
The song Stickybug is a cute love song that describes the person Miku likes and how she just wants to be a "sticky bug" so she can stay by his side forever. The upbeat song is best dedicated to the person you want to be together with until you're old and wrinkly, like Miku sings.  
With about 1.3 million views on Nico Nico Douga and almost 6.4 million views on YouTube, Stickybug is also in the VOCALOID Hall of Legends. 
---
7. Pink or Black (2013)
---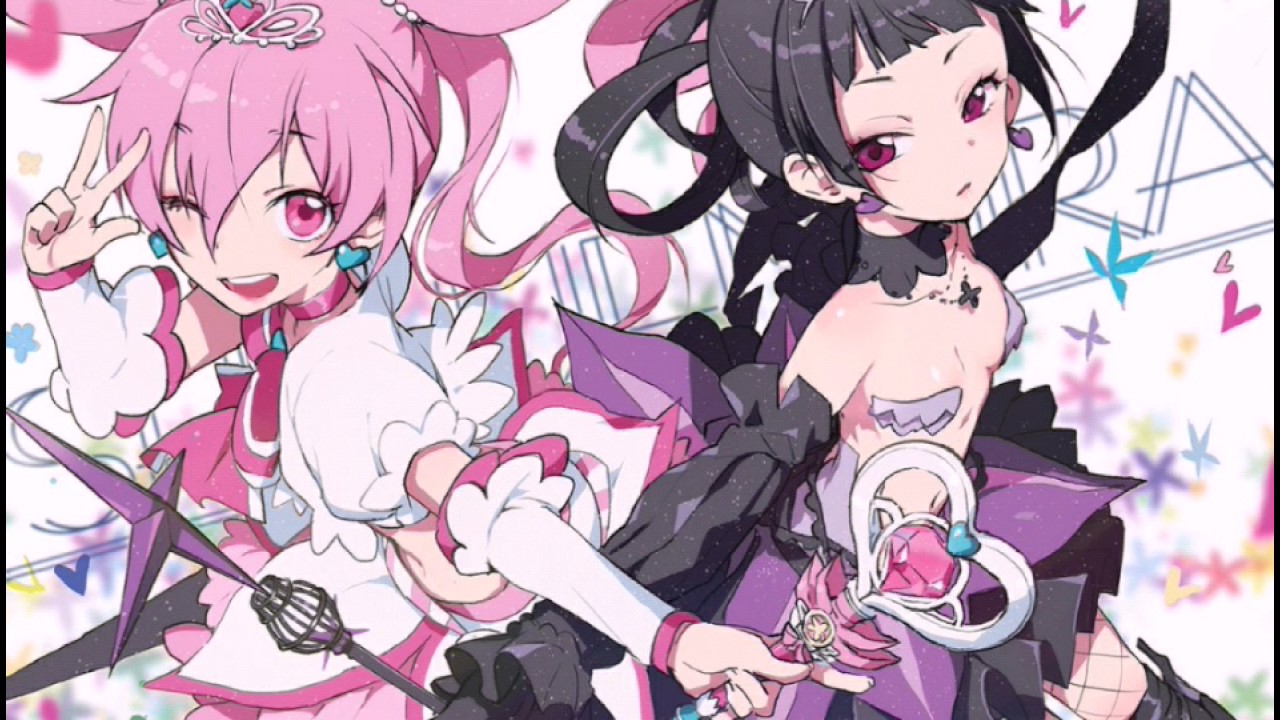 Image adapted from: Nene Art 
Producer: kz livetune
Pink or Black was written for makeup company Shu Uemura as an advertisement for their Six Hearts Princess collection – a makeup collection based on the anime franchise with the same name by Takashi Murakami. The music video commercial was released on Shu Uemura's YouTube channel, and has over 1.4 million views to date. 
Unlike the previous cute and fluffy love songs, Miku sings about the double-faceted nature of women in this – pink for the angelic side and the black for the mischievous nature that everyone can alternate showcasing with makeup.

---
8. Tell Your World (2012)
---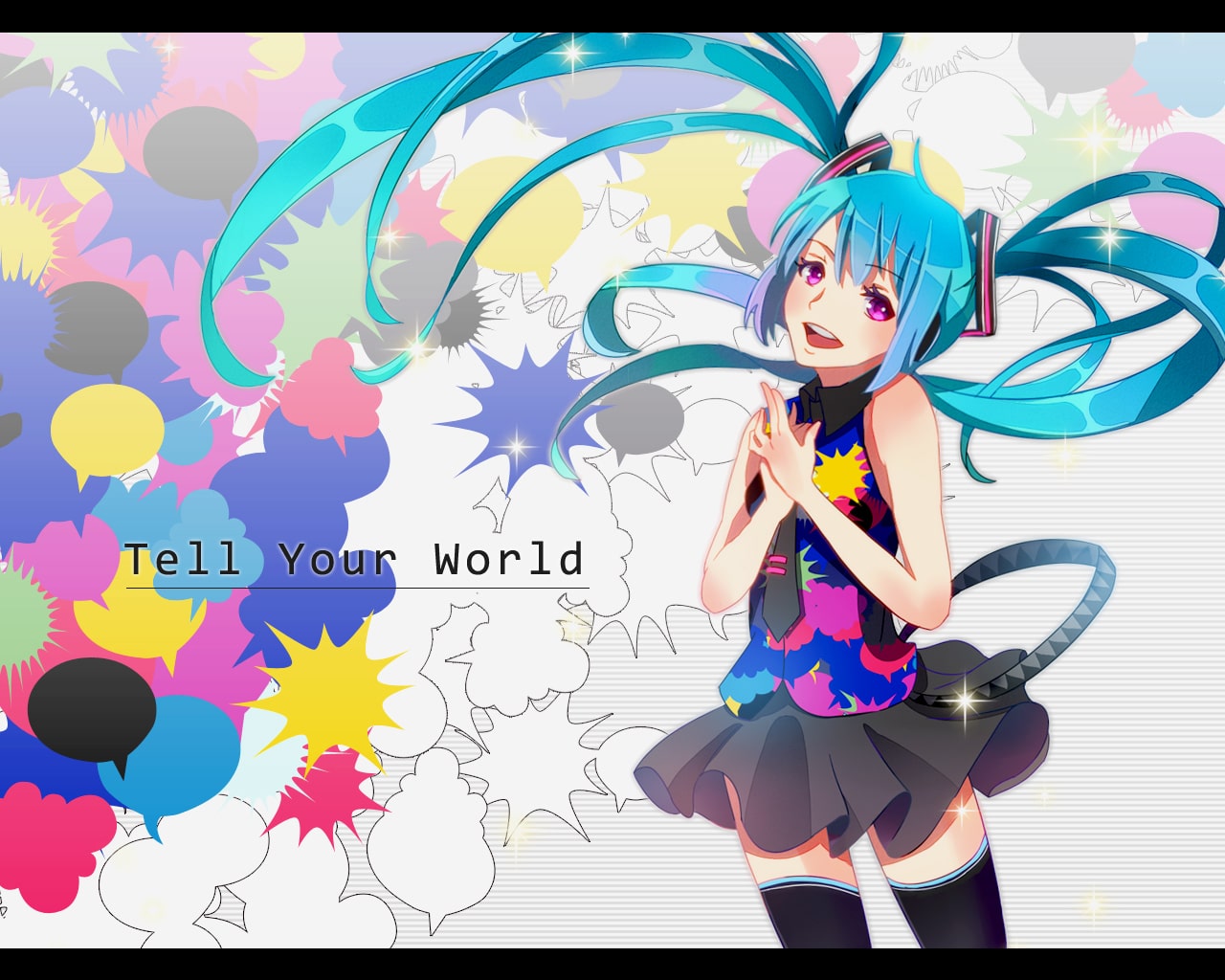 Image credit: Zerochan 
Producer: kz livetune
Tell Your World is about Miku's desire to connect everybody in the world using her songs. The lyrics also sum up the purpose of the VOCALOID community – which is to compose songs for Vocaloids to sing for the whole world to enjoy.  
Producer kz livetune initially wrote this for a Japanese Google Chrome advertisement, which gained over 5 million views – more than commercials done by other famous celebrities. Since its upload on kz's YouTube channel, the song has garnered more than 20 million views as of today. 
Due to its overwhelming popularity, this song also received many covers by UTAU, Utaite and other VOCALOIDs. So it shouldn't come as a surprise that this song is known as the most notable work of producer kz livetune, one of Miku's most well-known songs and the most popular VOCALOID song of all time.   
---
9. Hello/How Are You (2011)
---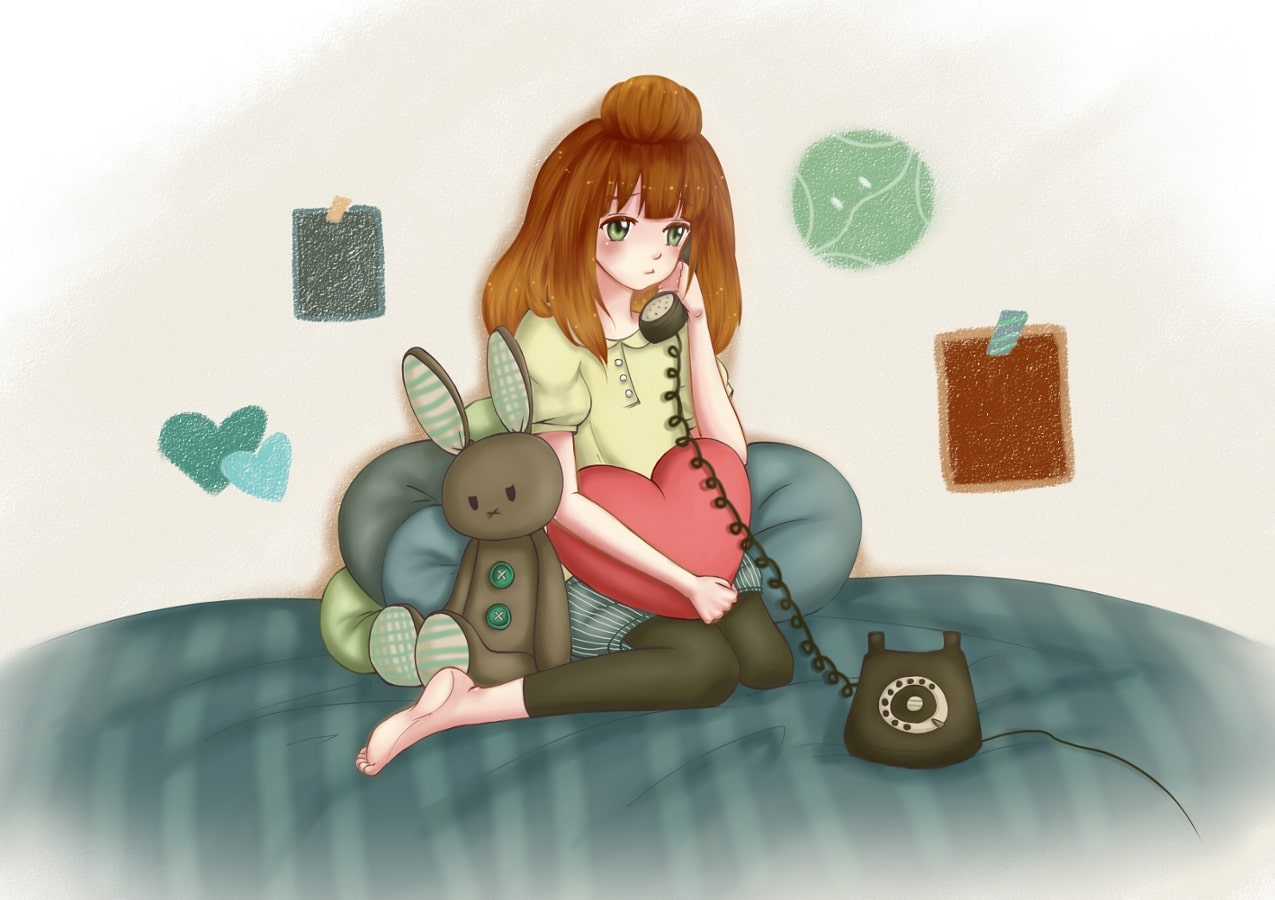 Image credit: Zerochan 
Producer: Hoehoe-P
Hello/How Are You is Hoehoe-P's 8th original work and his most notable song out of all the songs that he's produced for Miku. It touches on the topic of loneliness and the importance of reaching out to someone whenever you feel helpless or depressed. 
The song follows a lonely girl who struggles with imposter syndrome. Throughout the song, she sings "hello, how are you?" in an attempt to get some love and comfort from those around her. 
In the last chorus, she has an epiphany and decides to open up as she realises that the people around you will not know or understand your struggles unless you voice them out.
---
10. Time Machine (2010)
---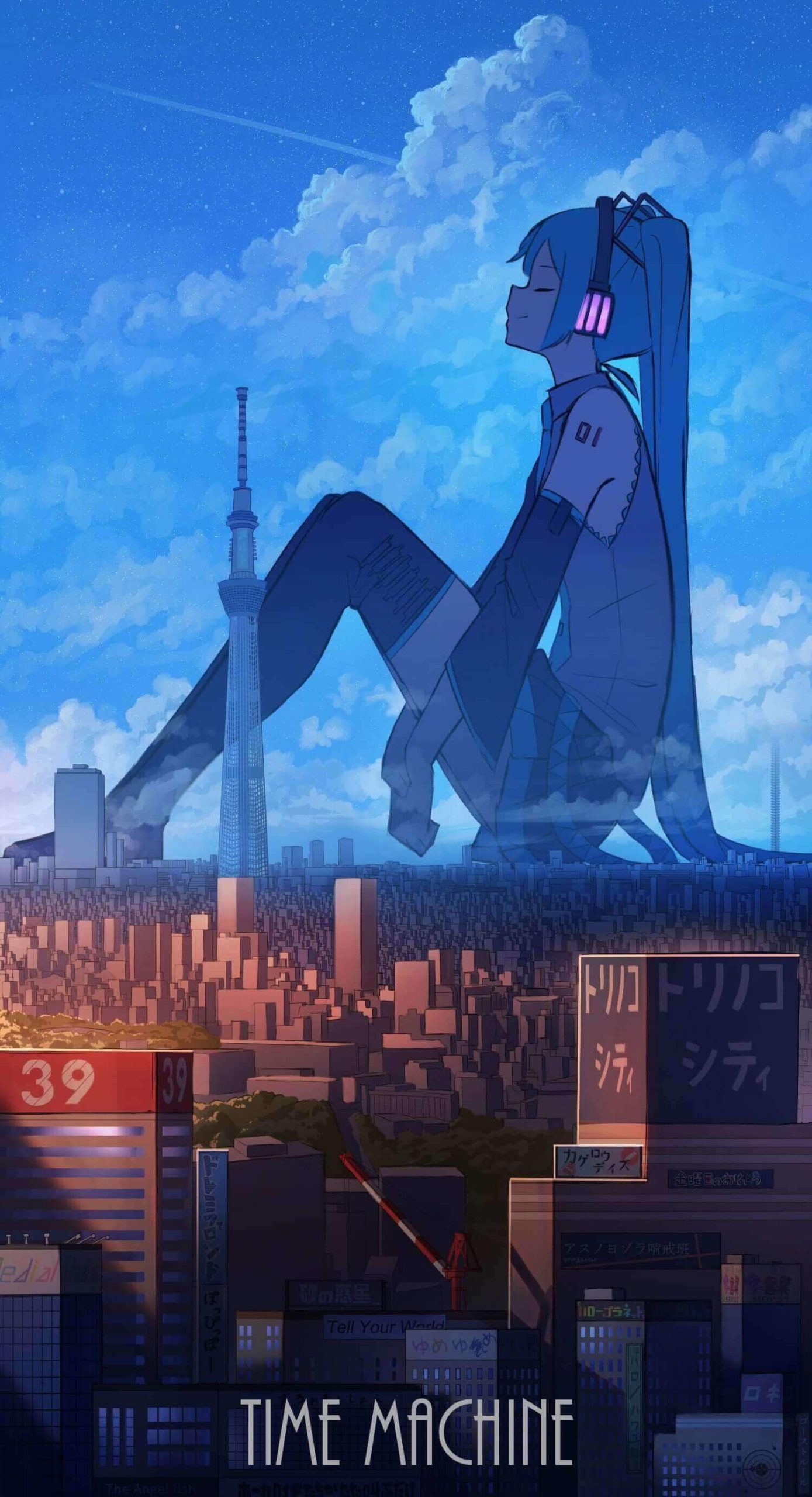 Image credit: Zerochan 
Producer: 1640mP
Time Machine is a nostalgic rock song where a person who is going to pursue their goal recalls old memories and looks back on what they are leaving behind as they bid a sad farewell to their hometown, family and friends, not knowing when they will ever be back again.   
This song collaboration by producers 164 and 40mP has garnered over 2 million views both on Nico Nico Douga and YouTube and is in the VOCALOID Hall of Legends.
---
11. Love Words (2009)
---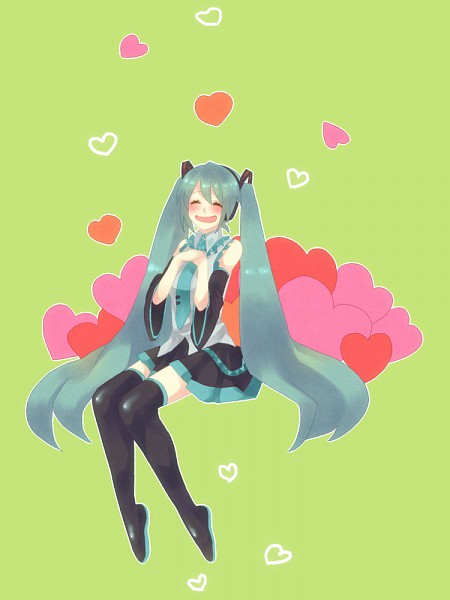 Image credit: Zerochan 
Producer: DECO*27
This is one of DECO*27's most popular works and it has entered the VOCALOID Hall of Legends with over 2.3 million views on Nico Nico Douga.
It is a song of love and gratitude as Miku thanks everyone from the producers that write songs for her to sing, to supportive fans that listen to all her songs. She also lists the different reasons for her affections for them, including being kind to her and loving her.   
---
12. StargazeR (2008)
---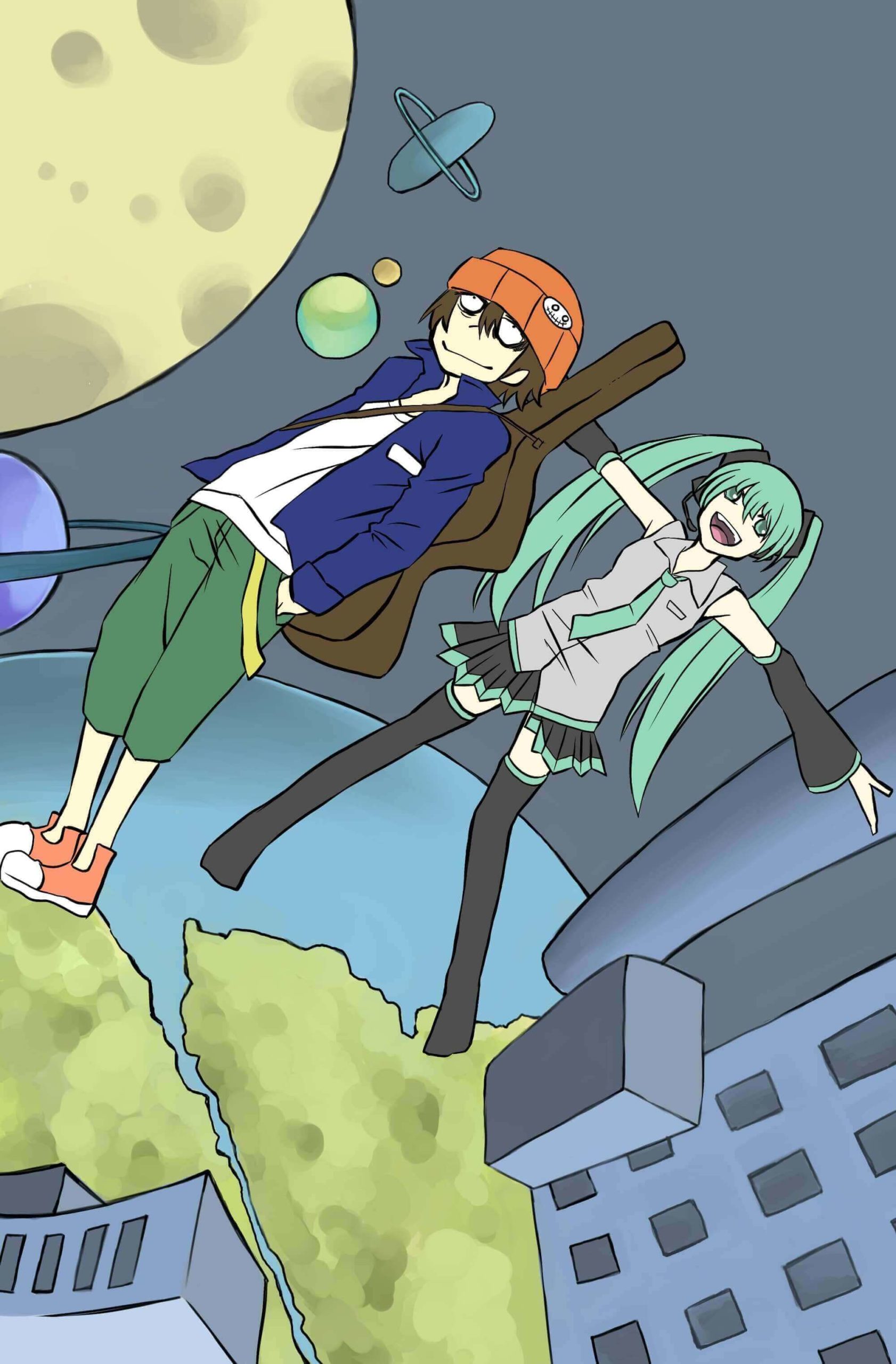 Image credit: Zerochan 
Producer: Kotsuban-P
In StargazeR, Miku sings about following one's dreams and never giving up. It's a song about persevering no matter how tough the journey gets or how much time has passed. 
This song was originally uploaded in January 2008, but Kotsuban-P uploaded another version with higher quality and minor changes in the music later in June. Both versions are still available on Nico Nico Douga. StargazeR is another song in the VOCALOID Hall of Fame with over 800,000 views for the second version. 
---
13. Melt (2007)
---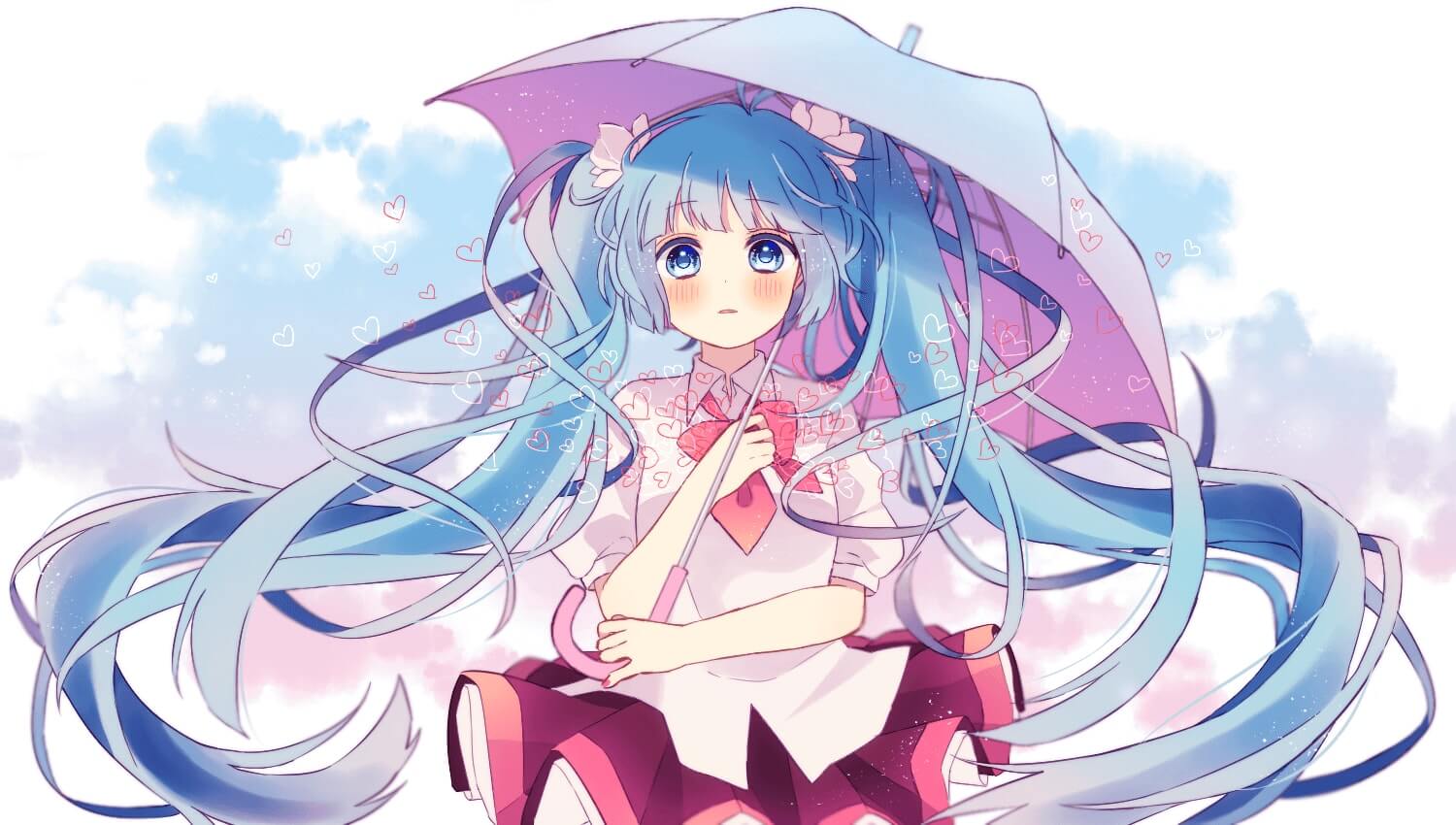 Image credit: Zerochan 
Producer: Supercell (ryo)
Melt is a song about the pure, unadulterated love for someone that you just want to be with them all the time. 
In the song, Miku is a shy schoolgirl who is so in love with a fellow schoolmate, she can't look him in the eye. One day, when it rains, the boy shares his umbrella with her and she is overjoyed because in Japan, sharing an umbrella is a romantic gesture and is often associated with couples. 
Ever since its release in 2007, Melt and its promotional videos have been so popular on Nico Nico Douga that it has been featured in some Nico Nico Medleys which are a series of music videos consisting of popular songs on Nico Nico Douga. On YouTube, many covers by other VOCALOIDs and live musicians can also be found. 
The song is in the VOCALOID Hall of Myths – where only songs that have hit more than 10 million views on Nico Nico Douga can enter. Currently, only 7 songs are listed inside. Melt alone has almost 14 million views and it is the 3rd most viewed original VOCALOID song on the site.  
---
Hatsune Miku songs to celebrate her 13th birthday
---
Since today is Hatsune Miku's birthday-cum-anniversary, go listen to these throwback songs and reminisce about your time as a fan of Miku. You can also celebrate by participating in the online fair which will be held by Animate 2 weeks from now.  
Check out other Japan-related articles:
Cover image adapted from: Pics.Tokyo, Risechi, Hachioji-P, googoo888
Get more stories like this!
Drop us your email so you won't miss the latest news.