---
Fukuroda Falls
---
A magnificent view, natural cool breeze, and calming powers – waterfalls are one of the greatest creations of Mother Nature. And Japan has many such natural wonders. Among them is Fukuroda Falls, a waterfall that stands at 120 metres tall in Ibaraki Prefecture, and one of Japan's designated national scenic spots. 
---
Annual light display 
---
Fukuroda Falls is also known as Yodo (四度) Waterfall, which translates to four-tiered waterfall, because the water cascades down 4 different rock surfaces. That said, there is reportedly a second reason for this nickname.
Since the waterfall's appearance changes every season, ancient poet-turned-monk Saigyō Hōshi commented that its beauty can only be truly appreciated if viewed across all 4 seasons.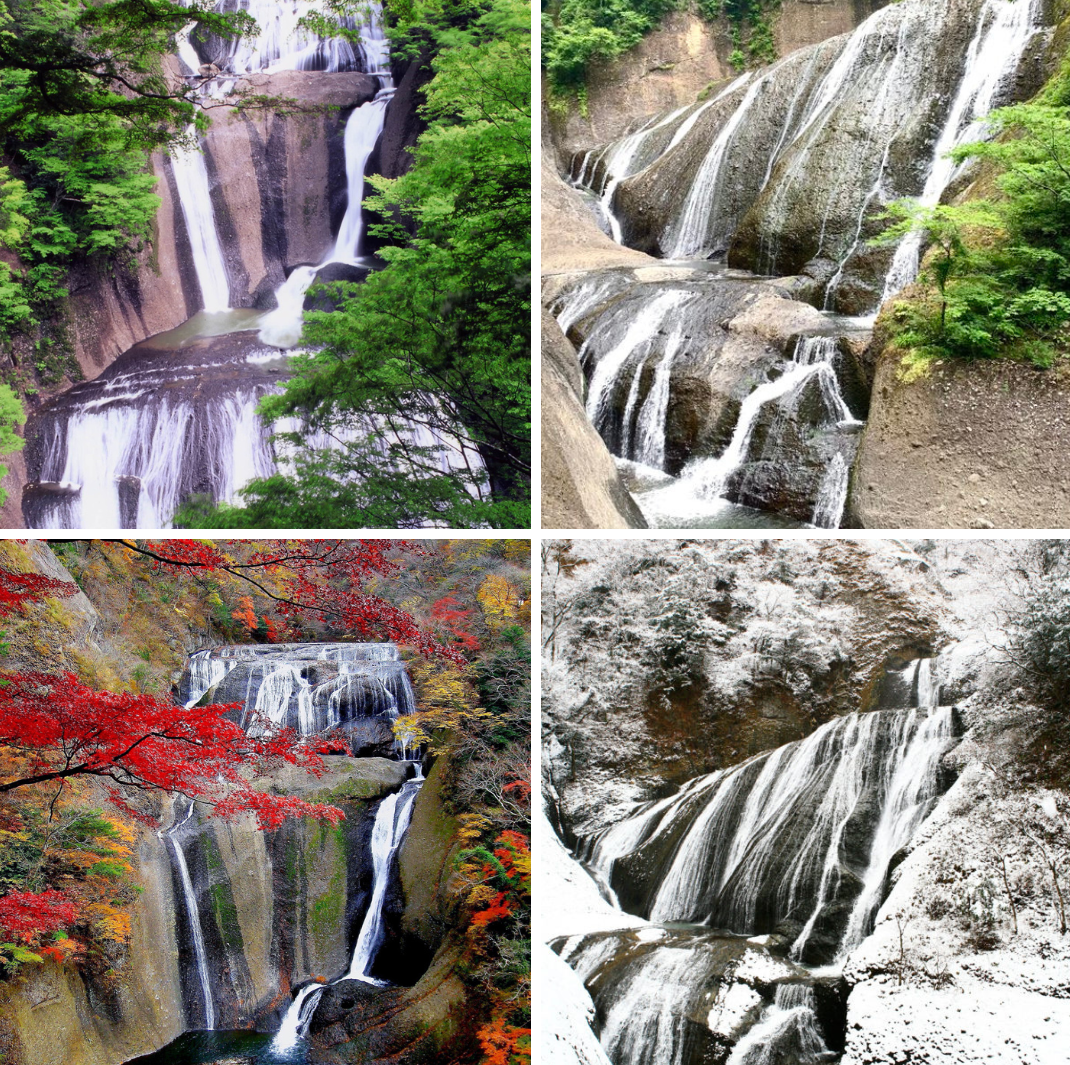 (Left to right) Spring, Summer, Autumn, and Winter.
Image adapted from: 大子町観光協会 and @colti
Visitors usually sightsee the waterfall via 2 observation decks – the first in the open and the second within an enclosed space. Both decks are accessible through the admission-based tunnel in front of the waterfall.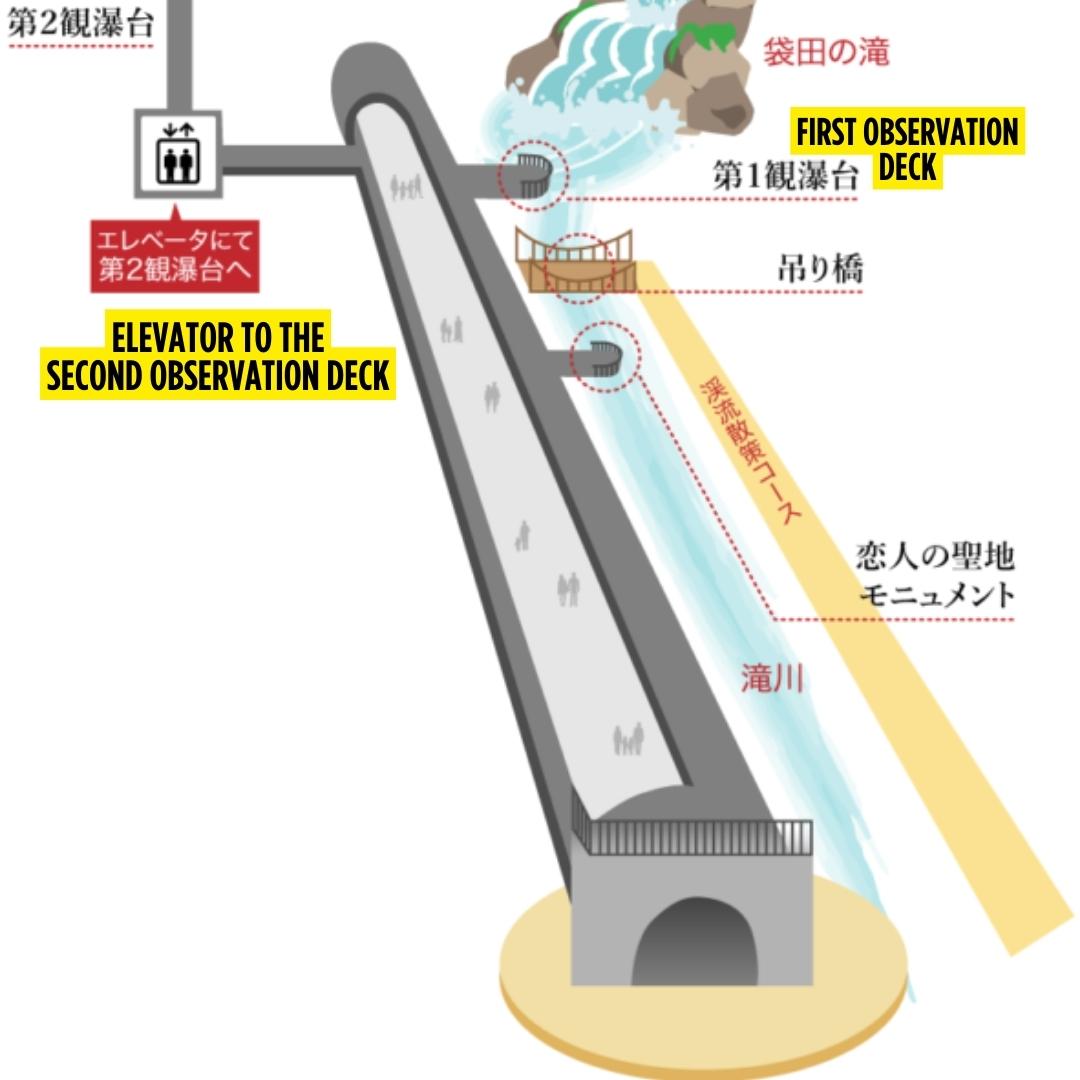 Image adapted from: 大子町観光協会
Every autumn and winter, both the waterfall and the tunnel are lit up, the latter decorated according to a unique theme. Usually, the light exhibition occurs across 2 periods – from October to November, and from December to January.
The tunnel's theme from 30th October 2021 to 1st January 2022 was shiki (四季), which means "the four seasons".
Among the seasons, the most striking passageway was that for the summer season, which showed hexagonal-surfaced decor with fireworks imagery.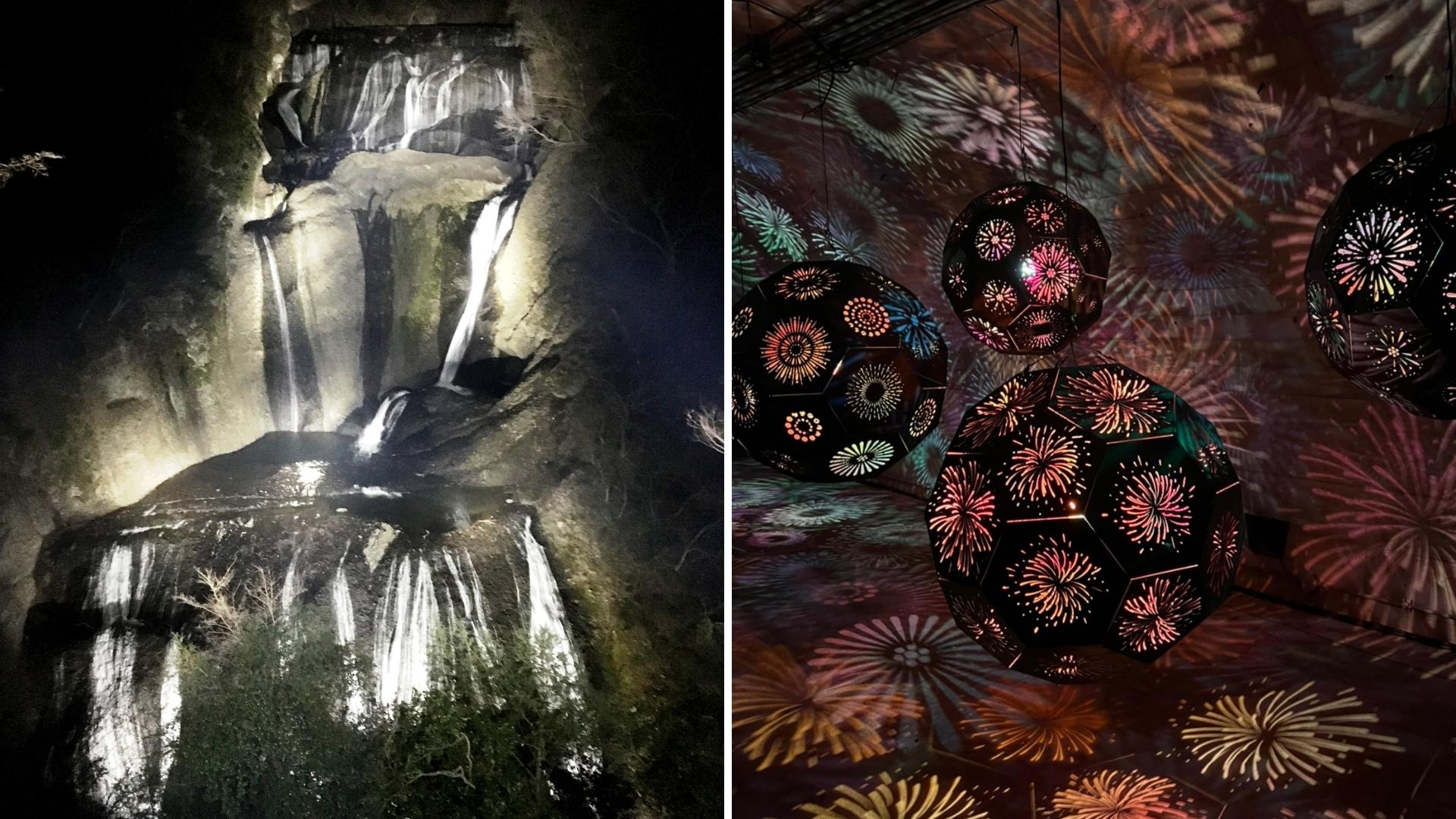 (Left to right) Lit up waterfall and tunnel interior for the 2021-2022 tunnel lighting event.
Image adapted from: @kanko_ibaraki and @daigo_town
For the coming autumn season, the annual light exhibition will be held daily from 1st October to 27th November, from 8am to 8pm. Presently, exhibition dates for the winter season haven't been released yet.
According to the official website, the 2022-2023's theme will be tsukiakari no kōyōji (月灯りの紅葉路 – MoMiJi -), which translates to "Moonlit Autumn Leaves Road". Based on the light exhibits that we've seen thus far, fans can expect a breathtaking display once again this year.
---
Lover's Sanctuary monument
---
Due to Fukuroda Falls' popularity with couples, it was awarded the Lover's Sanctuary title by Japan's Regional Revitalization Support Centre in 2015. 
As a non-profit organisation, the support centre works closely with the local governments and organisations to counter low birth rates and revitalise areas by pushing out social activities. 
To commemorate the awarded title, Fukuroda Falls' management built a Lover's Sanctuary monument of 2 kissing mandarin ducks. The bird is reportedly one of the bird species in Daigo Town.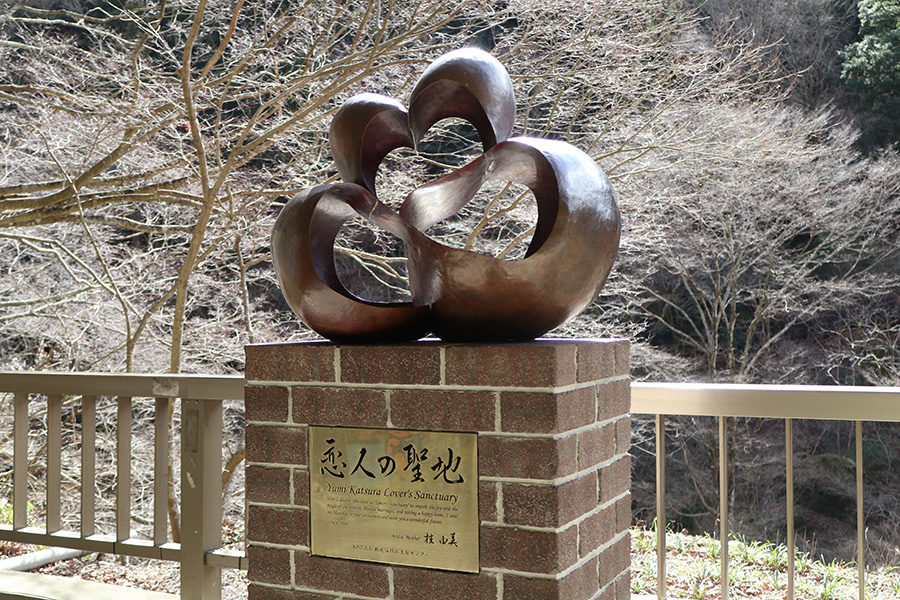 Image credit: 大子町観光協会
If you look closely, the monument's top half is in the shape of a heart, and its bottom half resembles an infinity symbol – truly the ultimate proposal site.
---
Getting to Fukuroda Falls
---
Fukuroda Falls is open daily all year round, so head over any day for relaxation. 
For the light exhibition that starts in October, ticket pricing remains the same as a regular day – ¥300 (~USD2.12) for adults, ¥150 (~USD1.06) for elementary and middle school students. 
The waterfall is a 10-minute taxi ride from Fukuroda Station. Alternatively, you can ride the train to Fukuroda Station or Hitachidaigo Station, followed by a bus ride.
By train/bus:
10-minute ride

from Fukuroda Station to Takimoto bus stop, followed by a 10-minute walk

15-minute ride

from Hitachidaigo Station to Takimoto bus stop, followed by a 10-minute walk
You can view the bus schedule and the bus ticket pricing via their official website. 
Admission: ¥300 (~USD2.12) for adults, ¥150 (~USD1.06) for elementary and middle school students
Address: 3-19 Fukuroda, Daigo, Kuji District, Ibaraki 319-3523
Opening hours: 8am-6pm, Daily (May-Oct) | 8am-5pm (Nov) |  9am-5pm, Daily (Dec-Apr)
Contact: 0295-72-4036 | Fukuroda Falls website
Also check out: 
---
Cover image adapted from: @kanko_ibaraki, @daigo_town and 大子町観光協会
Get more stories like this!
Drop us your email so you won't miss the latest news.