Ehime Prefecture guide
---
Retro locomotive trains, a historic bathhouse that inspired Spirited Away, and a cat island where felines outnumber humans – Ehime is a gem on the Shikoku Island waiting for travellers to uncover. With so many places to visit, our guide will show you how to make the best out of your stay in Japan's orange prefecture.
---
Matsuyama
---
1. Dōgo Onsen Honkan – have a soak in one of Japan's oldest onsen
---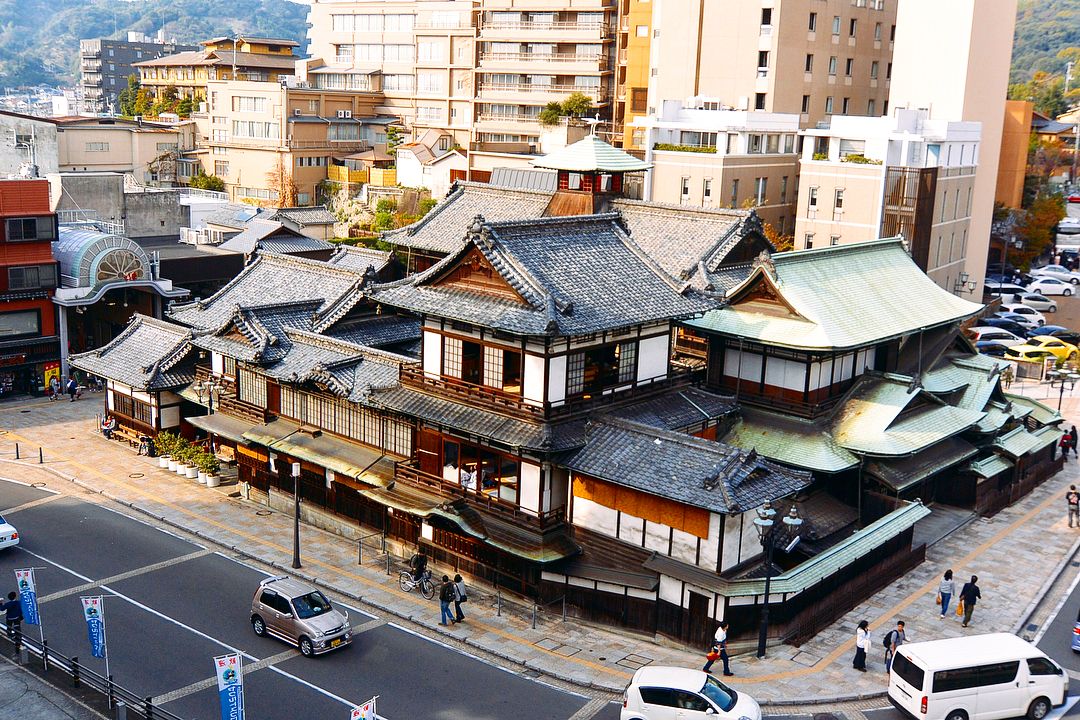 Image credit: @kazuha922
One of the oldest bathhouses in Japan and an alleged inspiration for the Ghibli cult classic Spirited Away, Dōgo Onsen Honkan (道後温泉本館) is a grandiose wooden bathhouse that has been welcoming guests since 1894. 
Comprising 3 floors, the historic bathhouse offers 2 main public baths – Tama no Yu and Kami no Yu – as well as tatami rooms of various sizes that serve as resting spaces at which guests can relax.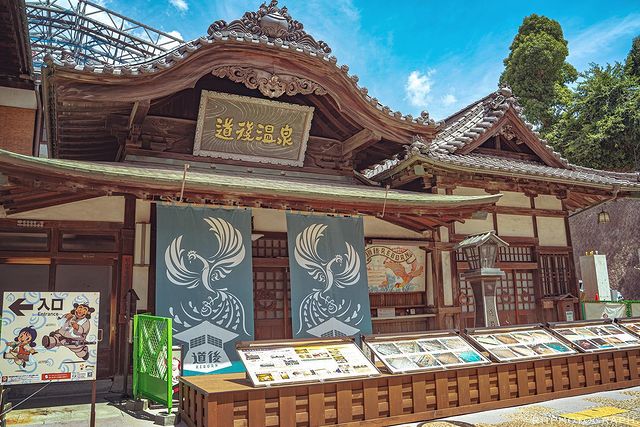 Image credit: @lovephoto_life
The building's main bath, Kami no Yu, is adorned with paintings on Tobe porcelain. Tobe is a town in Ehime that's famed for its ceramic ware production. Though smaller, Tama no Yu is noted for its luxurious interior, as its bath is made from Ōshima stone and its walls, marble.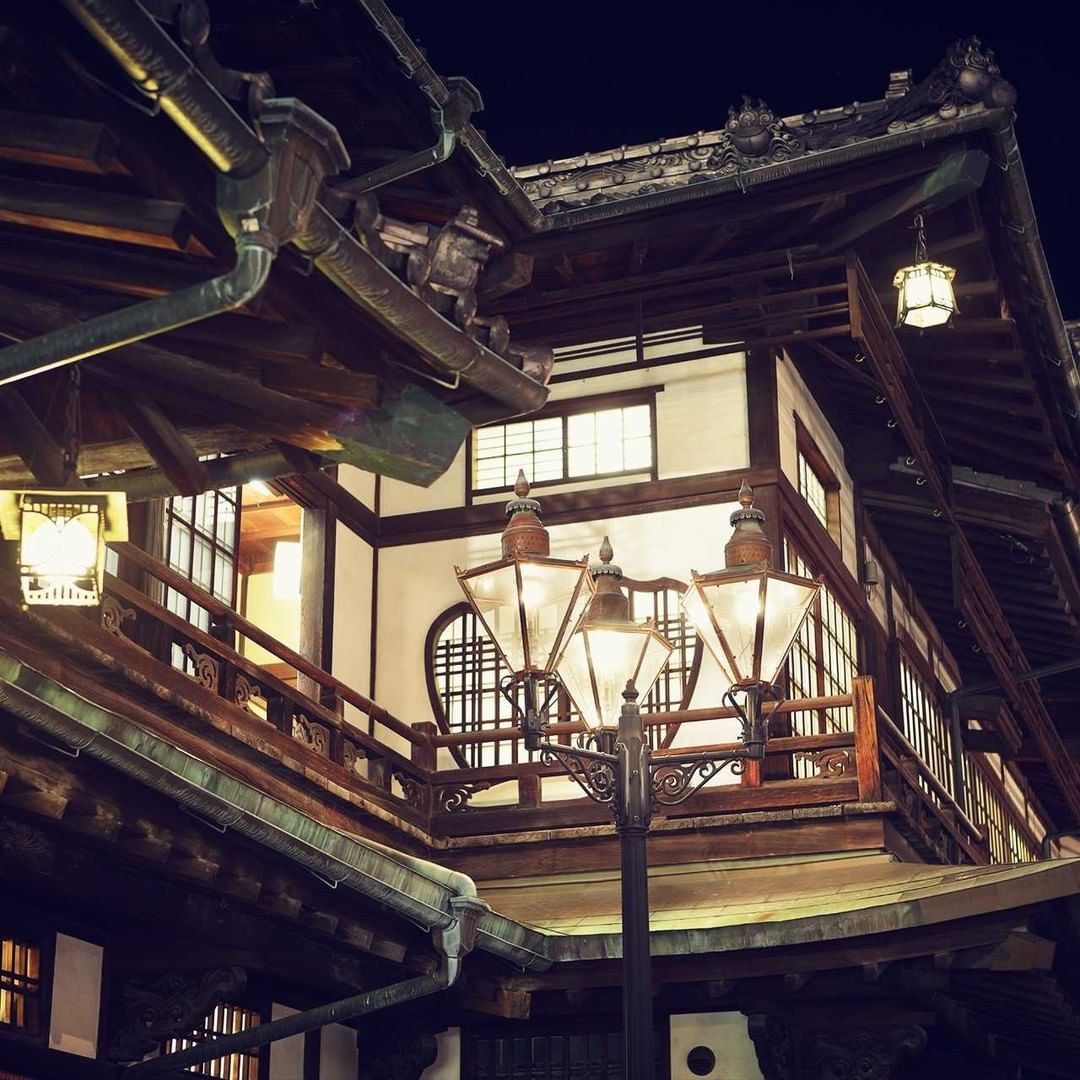 Image credit: @shikoku.th
Toiletries and towels cost an additional ¥50 (~USD0.37) to ¥200 (~USD1.46) per item, so remember to bring your own set along. Due to ongoing reparation, part of the building and roof is behind scaffolding, and the bathhouse is partially closed. Repair works are expected to last till December 2024.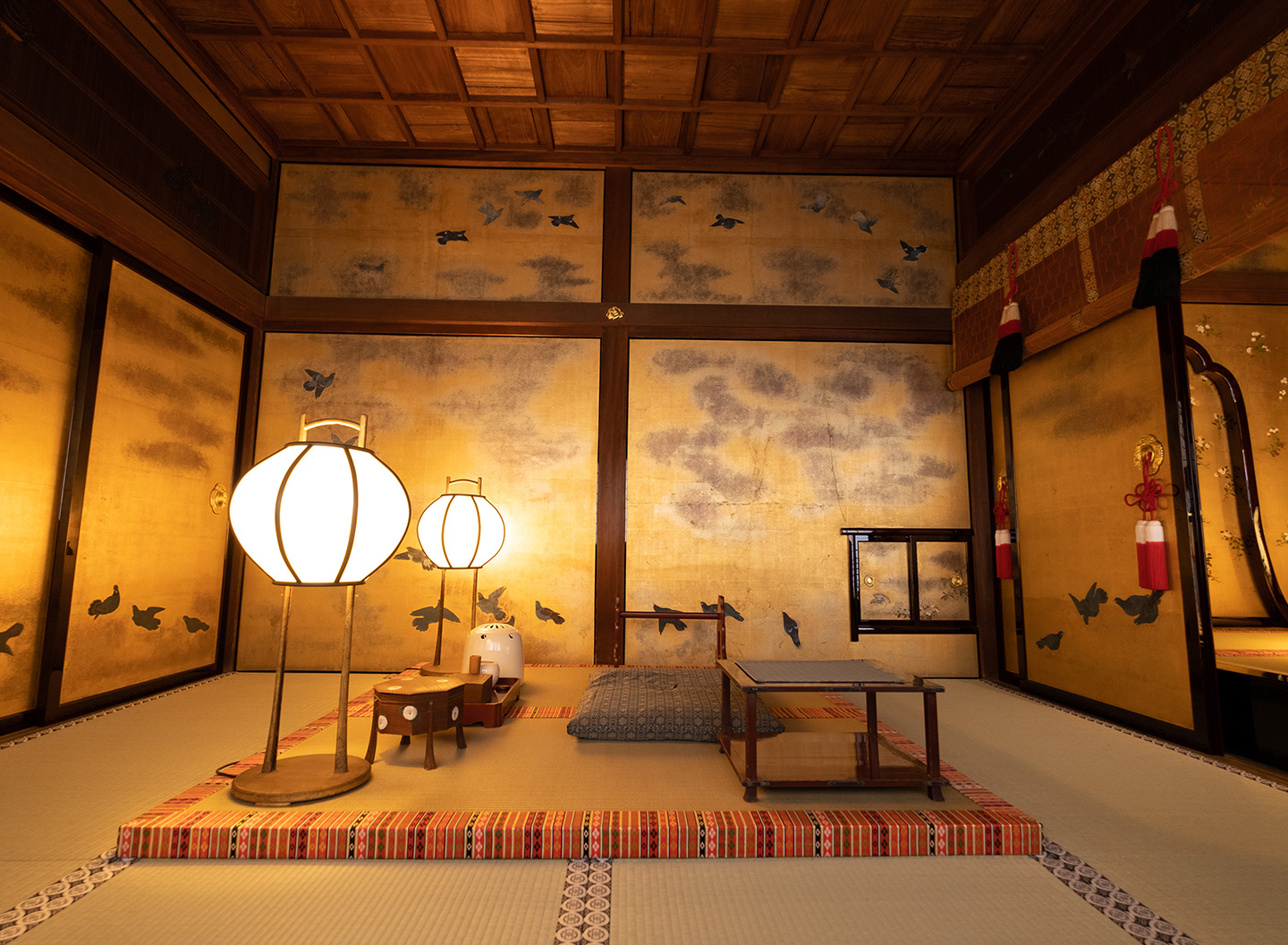 The lavish Oima Room that's part of Yūshinden.
Image credit: Dogo Onsen
Besides Tama no Yu that remains open during renovation works, Yūshiden, a room specially built in 1899 for the Imperial Family, is also available to the public. Visitors can join a short guided tour, which allows them access to view the ornate room and bath that are reserved for royalty. 
Reservations have to be made in advance – latest by 5pm a day prior to your visit – through a call or via their website.
Tama no Yu
Admission: ¥420 (~USD3.07) for adults, ¥160 (~USD1.17) for children aged 2 to 11
Address: 5-6 Dogoyunomachi, Matsuyama, 790-0842 Ehime
Opening hours: 6am-11pm, Daily (Last admission at 10.30am)
Contact: 0899-21-5141 | Dogo Onsen Website
Yūshinden
Admission: ¥270 (~USD1.98) for adults, ¥130 (~USD0.95) for children aged 2 to 11
Opening hours: 9am-5pm, Daily (Last admission at 4.30pm)
Contact: 0899-07-5554 | Yūshinden Reservation Website
---
2. Matsuyama Castle – castle viewing on a mountaintop
---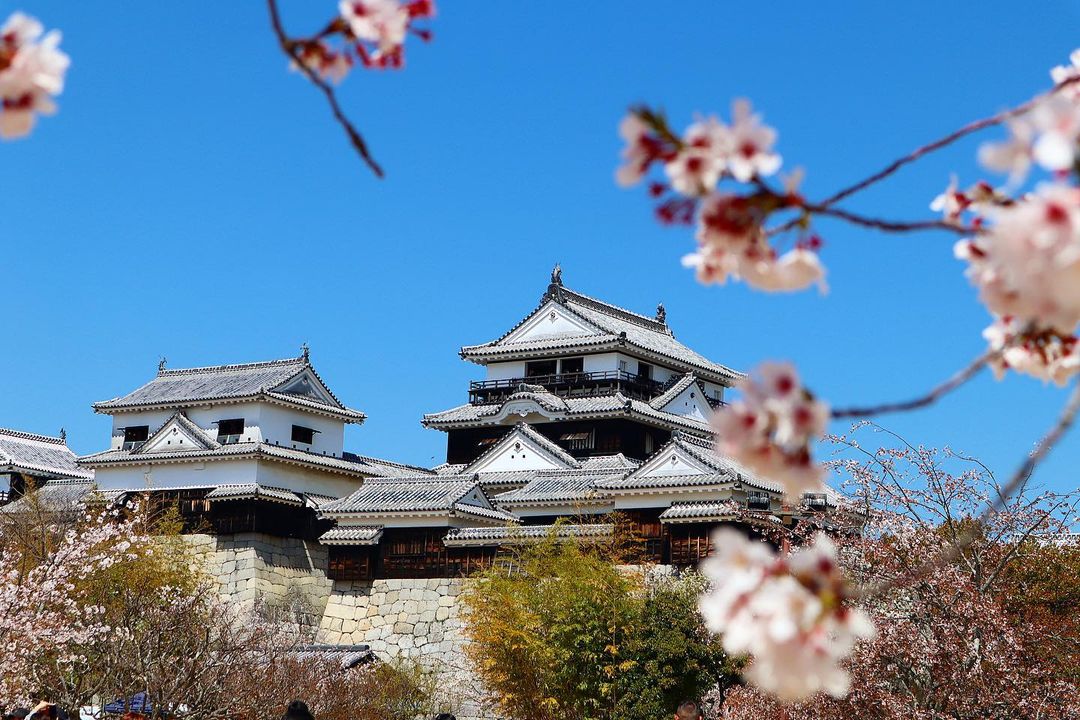 Image credit: @sangatu41
Towering over Mount Katsuyama in central Matsuyama, Matsuyama Castle (松山城) is one of the crowning symbols of the city, having been selected as one of Japan's top 100 historical landmarks. 
Thanks to its prime location, visitors are treated to a panoramic view of the city. Come spring, over 200 cherry blossom trees on the castle's compound bloom in symphony, engulfing the feudal castle in a sea of pink and white.  
As one of Japan's 12 castle towers that have remained intact since 1868, Matsuyama Castle is equipped with many gates and turrets. Known for its excellent defensive and offensive functions, the castle has skillfully arranged crevices, ishi otoshi (石落とし; stone drop windows), and high walls.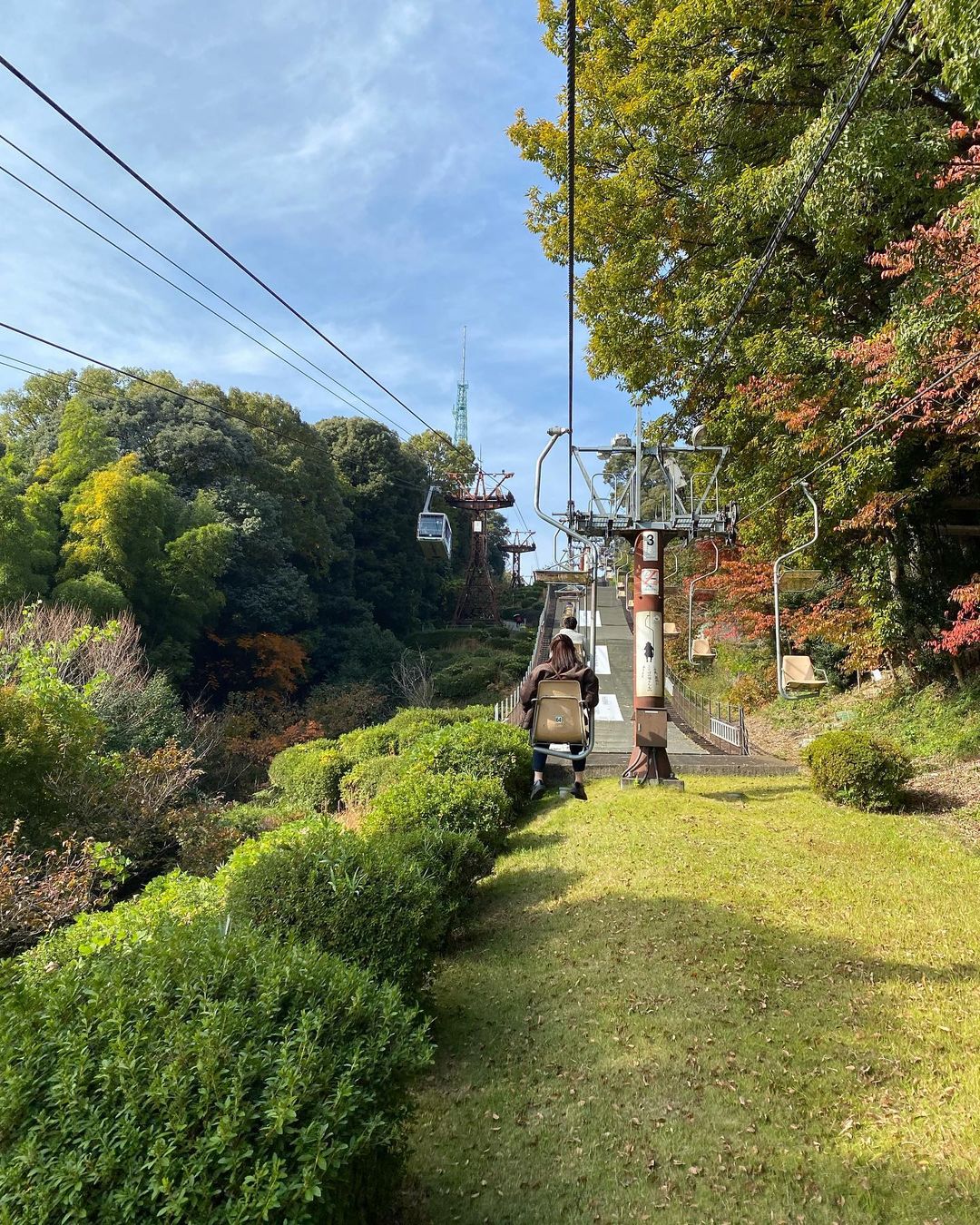 Image credit: @hirakiyh
As it's located on a steep hill, the easiest way to get to the castle is via the ropeway or chairlift. Both of the rides are conveniently located near Ōkaidō, the city's main shopping arcade.   
Castle Tower
Admission: ¥520 (~USD3.81)
Address: 1 Marunouchi, Matsuyama, 790-0008 Ehime
Opening hours: 9am-5pm, Daily (Last admission at 4.30pm) (Sep-Nov & Feb-Jul) | 9am-4.30pm, Daily (Last admission at 4pm) (Closed on 3rd Wednesday of December) (Dec-Jan) | 9am-5.30pm, Daily (Last admission at 5pm) (Aug)
Contact: 0899-21-4873 | Matsuyama Castle Website
Ropeway and chairlift
Admission: ¥520 (~USD3.81) for return tickets, ¥270 (~USD1.98) for one-way tickets
Address: 3-2-46 Okaido, Matsuyama, 790-0008 Ehime
Opening hours: 8.30am-5.30pm, Daily (Feb-Jul & Sep-Nov) | 8.30am-6pm, Daily (Aug) | 8.30am-5pm, Daily (Dec-Jan) 
---
3. Botchan Train and Karakuri Clock – dive into the world of Botchan
---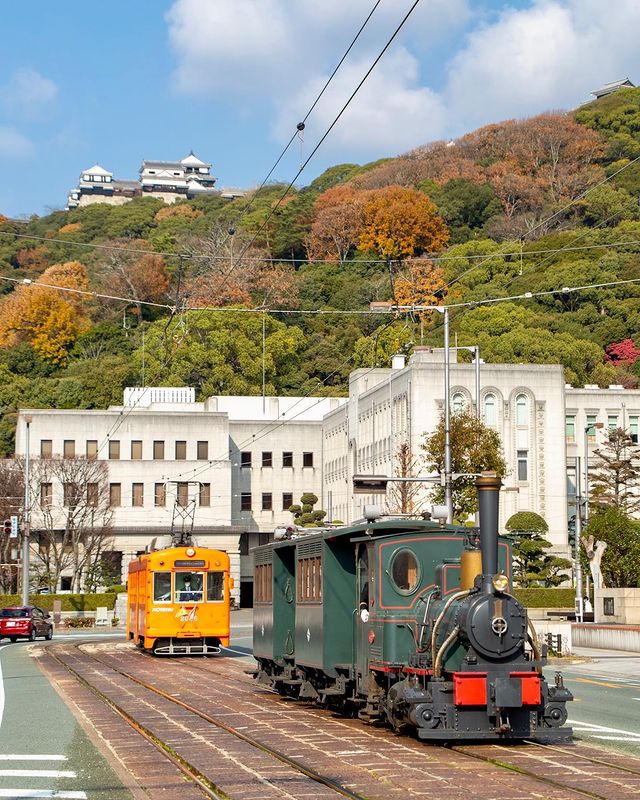 Image credit: @matsuno_wo_matsuno
Botchan, a Meiji era classic authored by Natsume Sōseki – one of Japan's most well-regarded novelists – is set in modern day Matsuyama. Hence, it's common to find places with names referencing the title, one of the most prominent landmarks being Botchan Train (坊ちゃん列車). 
Modelled after the original steam locomotive that ran on the streets when the novel was written, the replica train today runs only on weekends and national holidays. Offering rides between Dōgo Onsen and major train stations, Botchan Train even has train conductors dressing up like how they would back in the Meiji period, transporting passengers to the world of Botchan.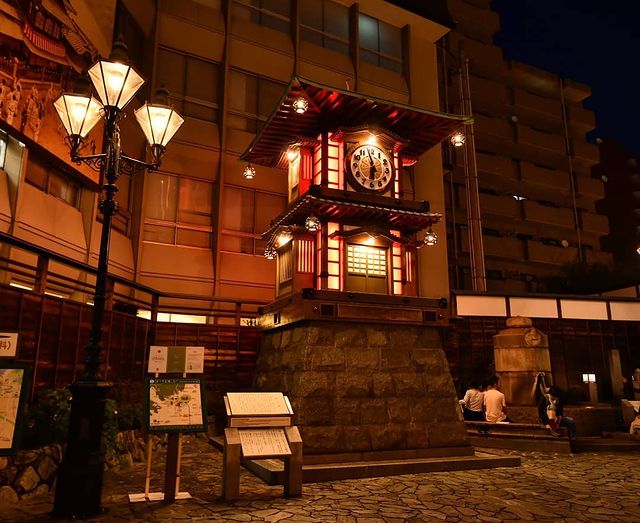 Image credit: @akihiro_suzu
Just outside Dōgo Onsen Station stands the Botchan Karakuri Clock (坊っちゃんカラクリ時計), a retro clock tower that follows architectural elements of Shinrokaku, a drum house with red glass-covered shōji (障子; traditional sliding doors) that's part of the Dōgo Onsen Honkan. To commemorate the 100th anniversary of the building, the clock was built and unveiled in 1994.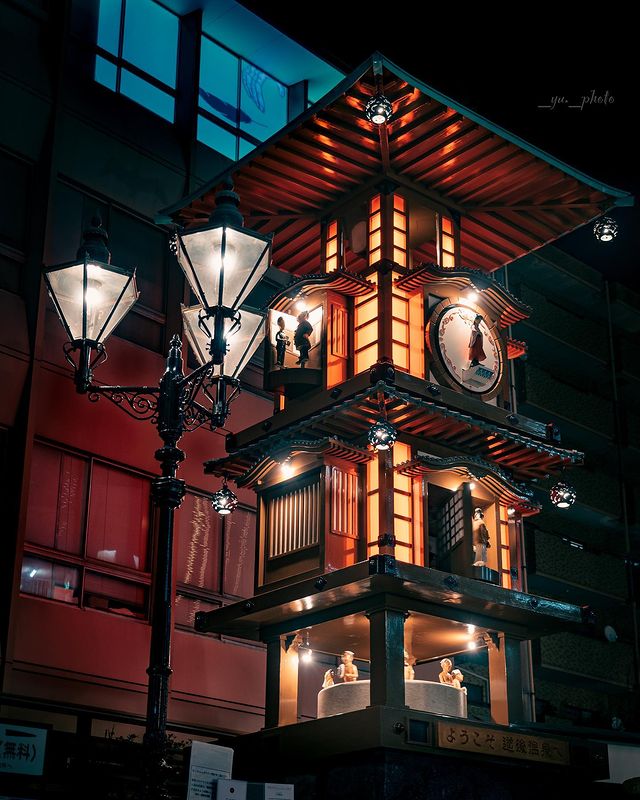 Image credit: @_yu._photo
Though the clock is already visually arresting with its vermillion exterior, the highlight comes when the minute hand hits 12. With the clock rising and gears turning to the melody, familiar characters from Botchan appear and dance to the music every hour. The frequency increases on weekends and national holidays, running every 30 minutes.  
Botchan Train
Admission: ¥1,300 (~USD9.53) for adults, ¥650 (~USD4.76) for children
Contact: 0899-48-3323 | Botchan Train Website
Botchan Karakuri Clock
Address: 6-7 Dogoyunomachi, Matsuyama, 790-0842 Ehime
Opening hours: 24 hours, Daily  
Show's opening hours: 8am-10pm, Daily
Contact: 0899-48-6555
---
4. Bansuisō – opulent Western-style building
---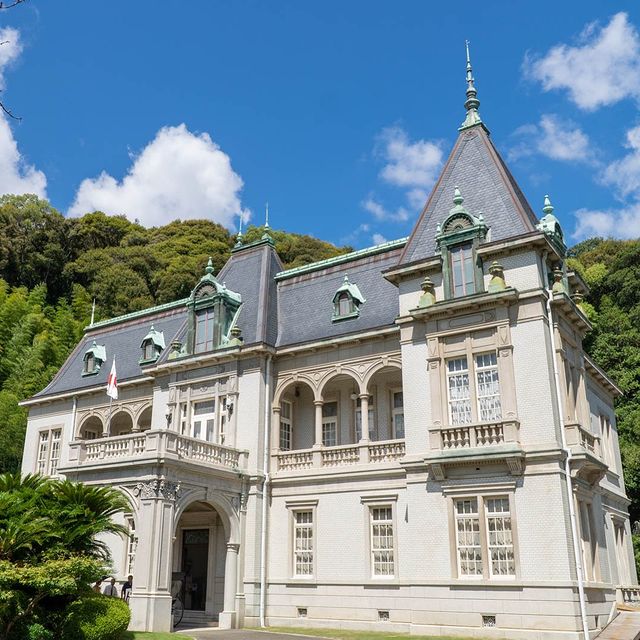 Image credit: @tonytani37
Erected in 1922 by Sadakoto Hisamatsu, descendant of the Matsuyama clan that ruled the city, Bansuisō (萬翠荘), stands out with its Western-style architecture. Having lived in France for more than a decade, Count Sadakoto opted for a French-style building.
Besides serving as a villa at which his family could relax, Bansuisō welcomed prominent figures who visited Matsuyama back then, and social gatherings were often held at the lavish neo-renaissance building.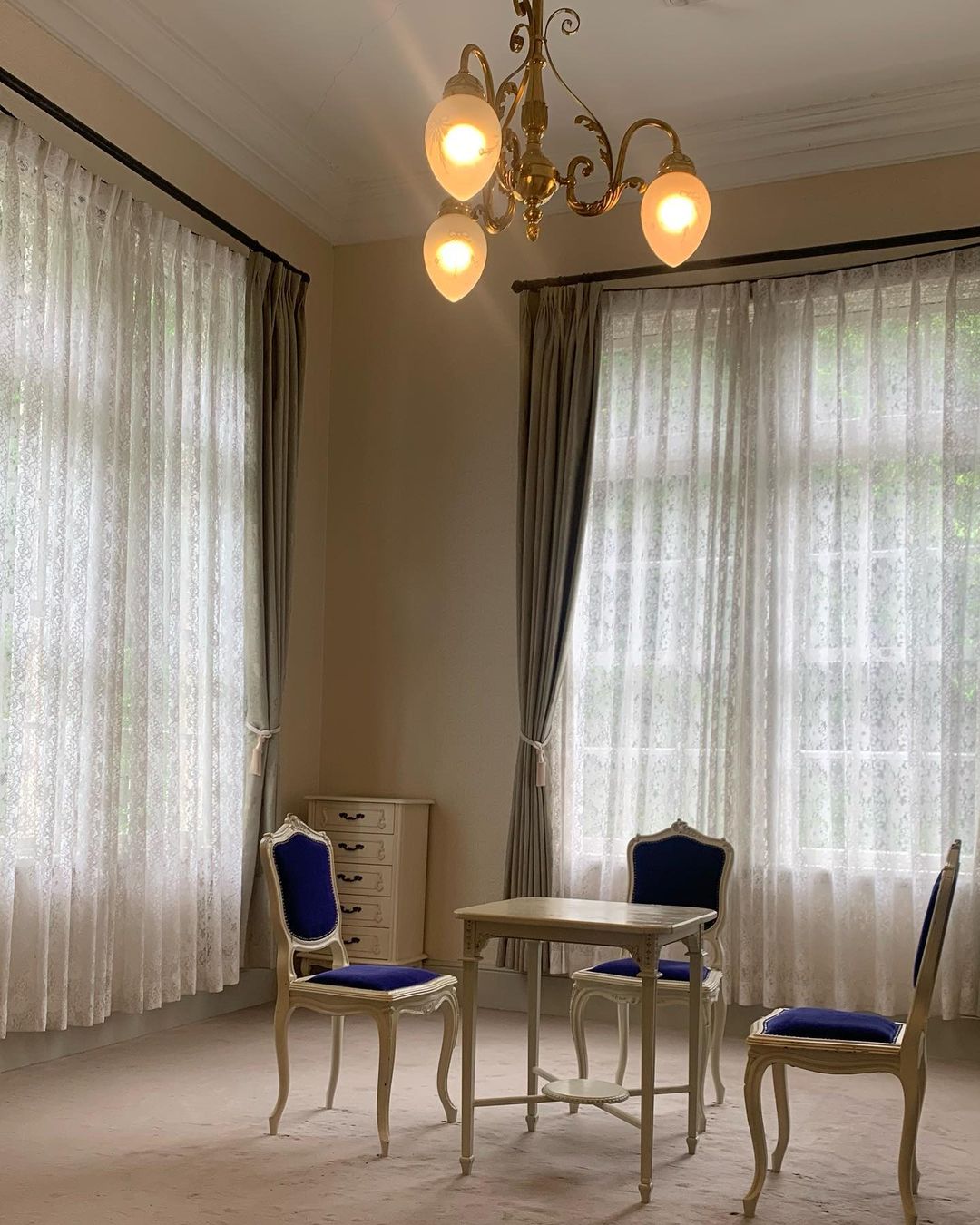 Image credit: @0826wtryzh
As the oldest concrete building in the prefecture, Bansuisō has fortunately escaped unscathed from World War 2. By the mid-1980s, it was designated a Tangible Cultural Property by the prefecture.
Admission: ¥300 (~USD2.19) for adults, ¥100 (~USD0.73) for high, middle and elementary school students
Address: 3-3-7 Ichibancho, Matsuyama, 790-0001 Ehime
Opening hours: Tue-Sun 9am-6pm (Closed on Mondays)
Contact: 0899-21-3711 | Bansuisō Website
---
5. The Shiki Museum – learn about one of Japan's most famous poets
---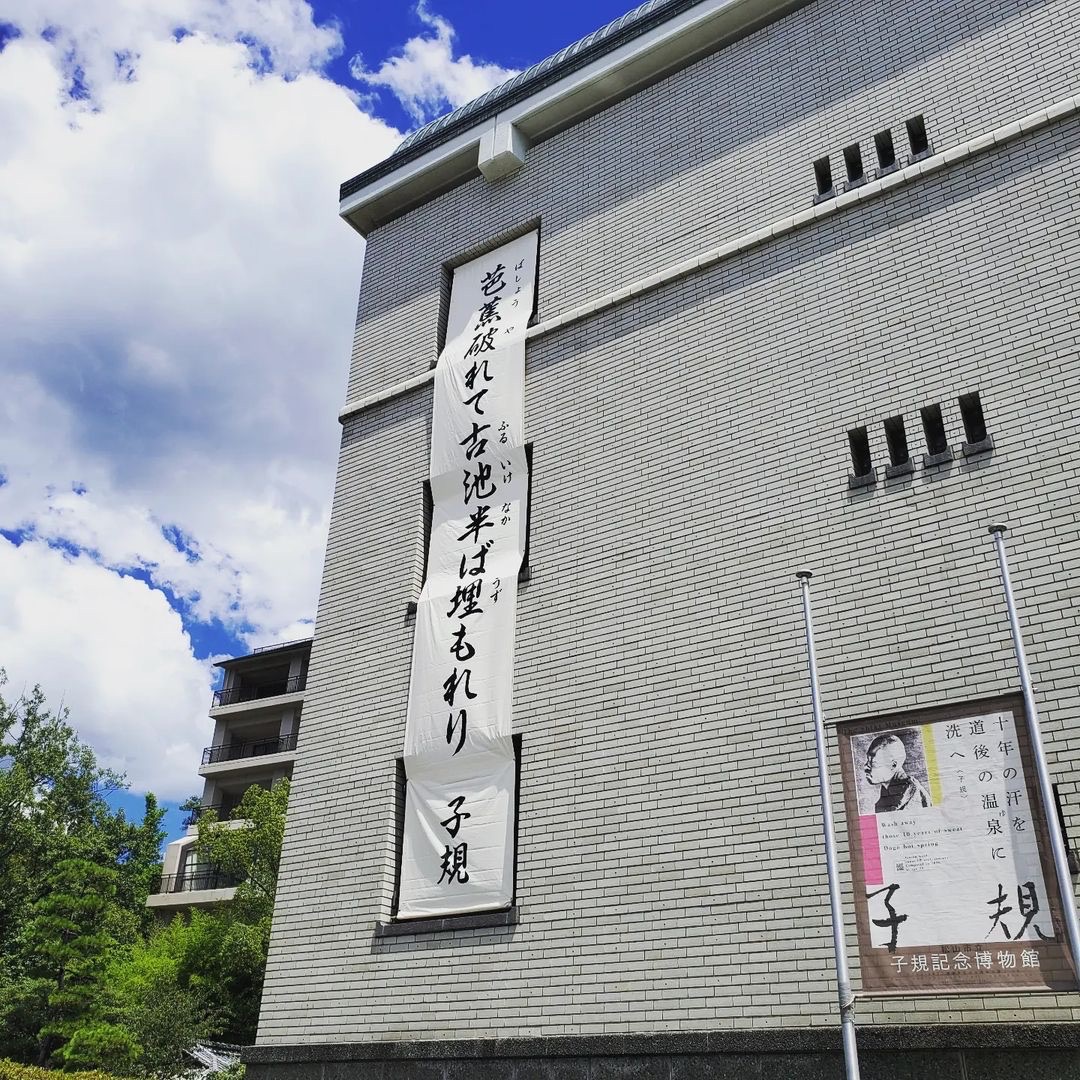 Image credit: @the_shiki_museum
Observant visitors will notice inconspicuous haiku (俳句; short form poetry consisting of 17 syllables) post boxes and haiku-carved stone monuments scattered around the city. Famed for being the birthplace of several well-regarded haiku poets, Matsuyama is known as the city of the traditional literary form. 
Masaoka Shiki, a revered Japanese poet credited with developing the modern haiku, is also born here. Besides reforming the poetry form we know today, he produced over 20,000 haikus in his short 34-year life.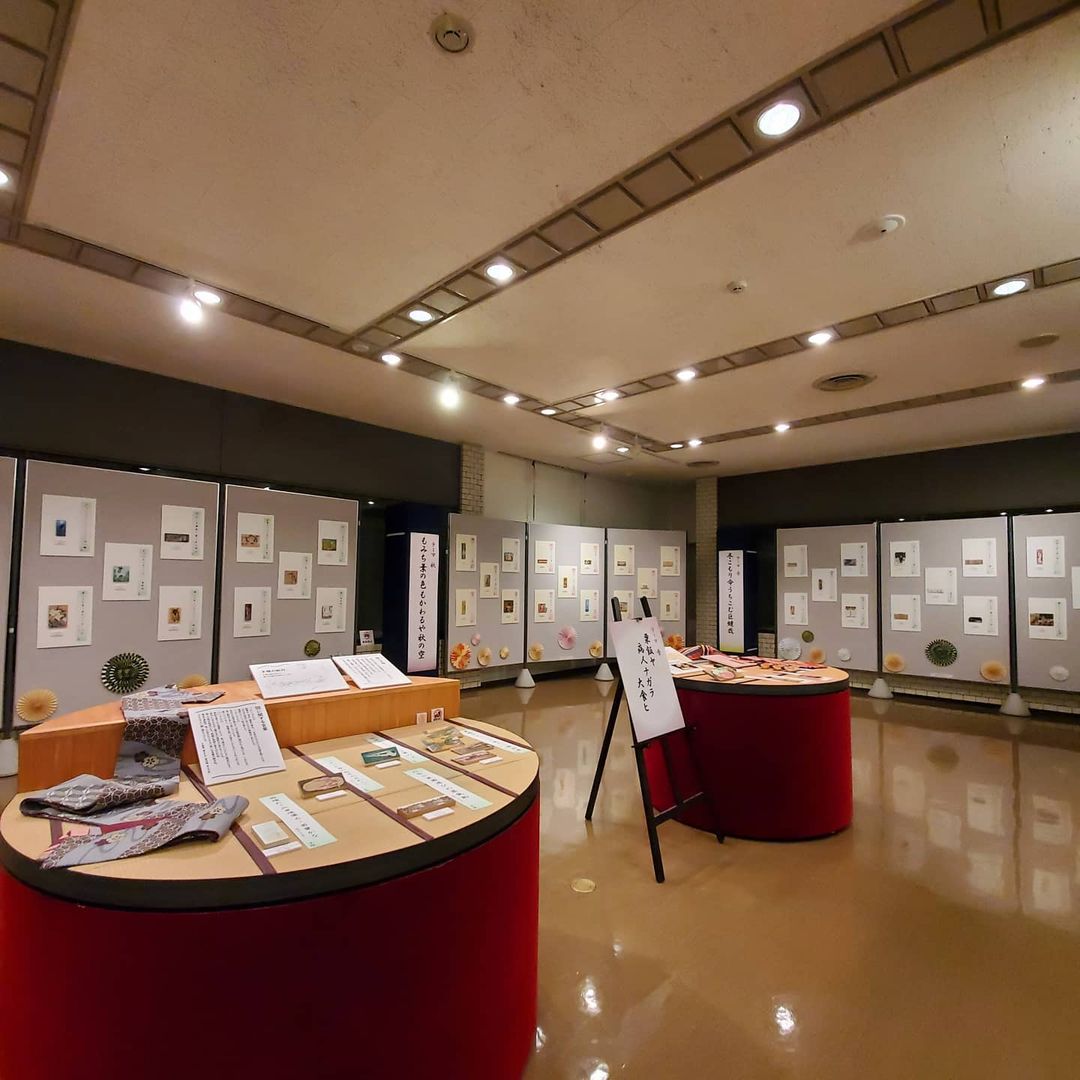 Image credit: @the_shiki_museum
To get a glimpse of his life and the history of literature in Matsuyama, The Shiki Museum (子規記念博物館) is a worthwhile visit. Most of the exhibits are in Japanese, save for some short English descriptions, so we recommend renting the audio guide (¥100, ~USD0.73) to maximise your viewing experience.  
Don't miss the Gudabutsuan, a replica of the now–defunct lodging where Masaoka Shiki and Natsume Sōseki stayed. 
Admission: ¥400 (~USD2.93) for adults, ¥200 (~USD1.46) for elderly aged 65 years old and above, free for high, middle and elementary school students
Address: 1-30 Dogokoen, Matsuyama, 790-0857 Ehime
Opening hours: Wed-Mon 9am-6pm (Closed on Tuesdays) (Last admission at 5.30pm) (May-Oct) | Wed-Mon 9am-5pm (Closed on Tuesdays) (Last admission at 4.30pm) (Nov-Apr)
Contact: 0899-31-5566 | The Shiki Museum
---
Imabari
---
1. Shimanami Kaido – cycle through the Seto Inland Sea
---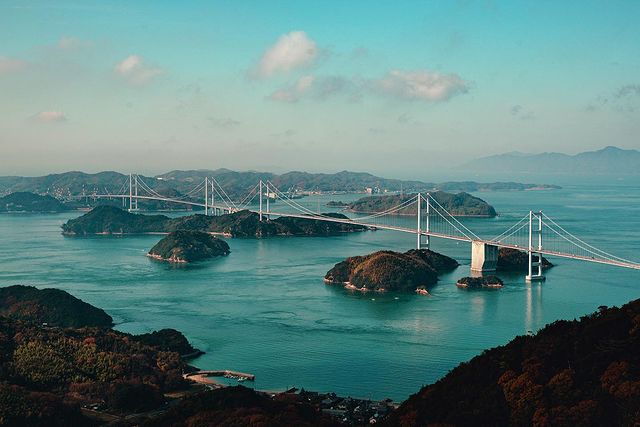 Image credit: @kaeday_photo
Imabari, the second-largest city in Ehime, is a stop that's frequented by cyclists on the Shimanami Kaidō (しまなみ海道), a cycling route that stretches all the way to Onomichi City in Hiroshima.
Cutting through 6 islands dotted in the Seto Inland Sea, the route that's along a 70km-long toll road offers an unparalleled view of the emerald sea and a unique experience of cycling in the sea breeze.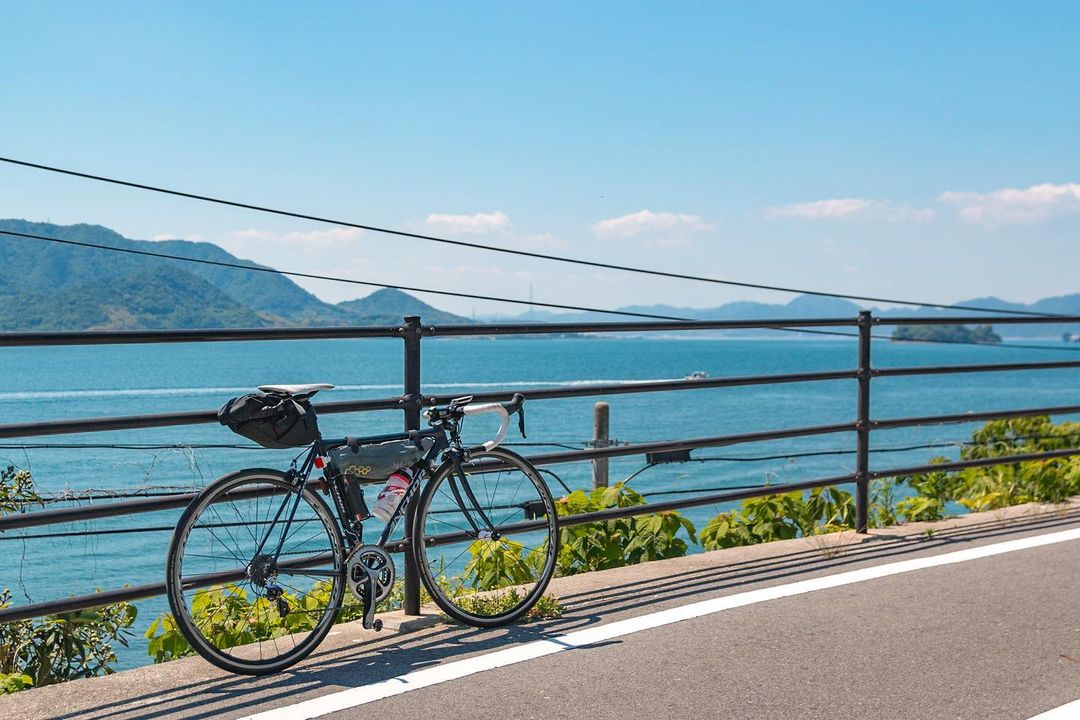 Image credit: @yuu_escapetrip.jp
While Onomichi is the official starting point, cyclists can depart from Imabari instead. With more than 150 cyclist-friendly facilities found throughout, the path is clearly marked and denoted with a striking blue line. Plenty of lodgings are available along the route, so the trip can be finished leisurely in 2 days for beginners.  
---
2. Towel Museum of Art – behind-the-scenes of towel making
---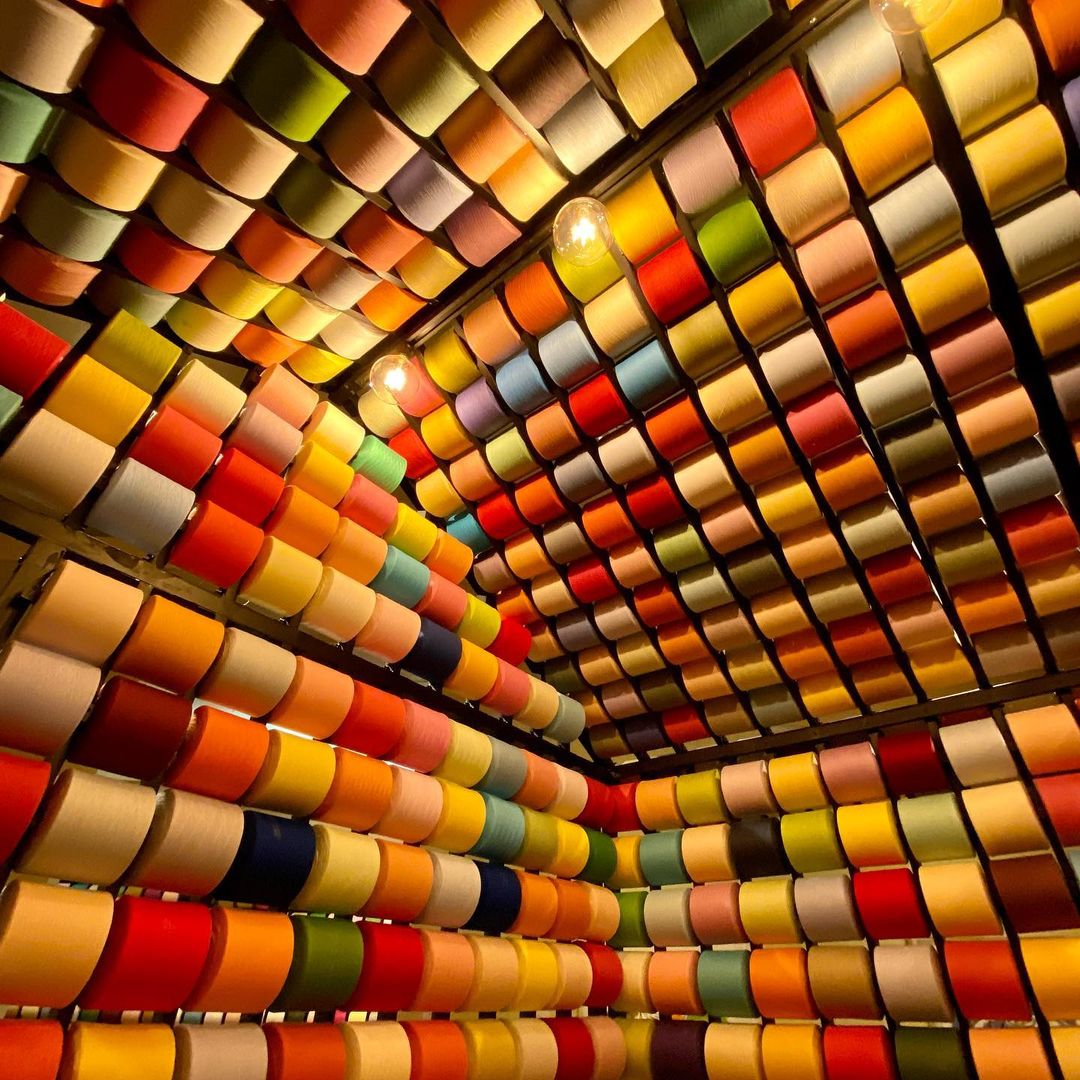 Image credit: @miki.9_6
If there's anything Imabari is known for besides having a bucket list-worthy cycling route, it's towels. As Japan's leading production area, the city is known for its exceptional towels that are highly absorbent and velvety soft.
Towels are common souvenirs you can bring home, but for a dive into behind-the-scenes production and how the city cemented its reputation as a mecca of the textile, pay Towel Museum of Art (タオル美術館) a visit.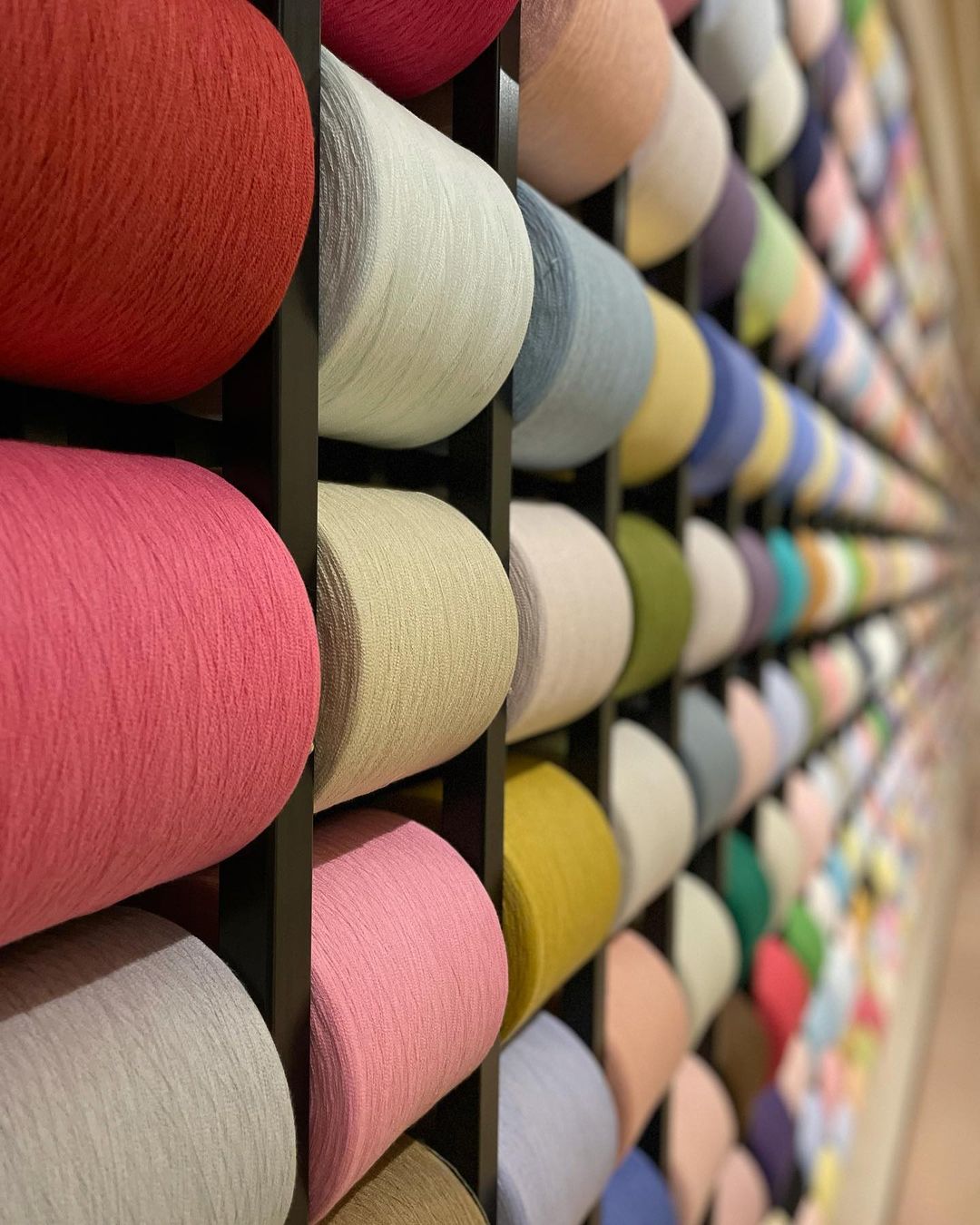 Image credit: @sumimart8888
From raw cotton to the weaving process, the museum shows how the famed Imabari towels are manufactured from start to finish. There's even an entire floor dedicated to towels of varying colours and designs, available for purchase. 
Admission: ¥800 (~USD5.86) for adults, ¥600 (~USD4.39) for high and middle school students, ¥500 (~USD3.65) for visitors aged 65 years old and above, ¥400 (~USD2.92) for elementary school students and disabled persons
Address: Ko-2930 Asakurakami, Imabari, 799-1607 Ehime
Opening hours: 9.30am-6pm, Daily (Closed irregularly)
Contact: 0898-56-1515 | Towel Museum of Art Website
---
3. Imabari Castle – rare water castle in Japan
---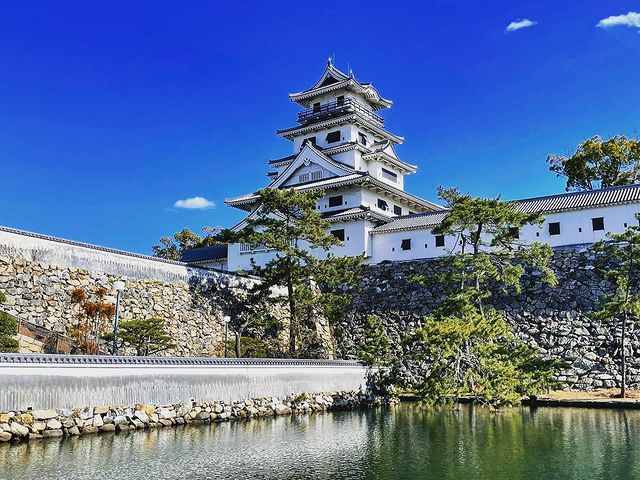 Image credit: @setouchi.mory
While Matsuyama's castle is perched atop a steep hill, Imabari Castle (今治城) is surrounded by waters, and it's famously known as one of the 3 water castles in Japan. What you see today is a replica of the original structure that was built in 1602, which was later demolished in 1869, save for its inner moat and the main enclosure's stone walls.
In 1953, the ruins were designated as historic sites by the prefecture. Reconstruction commenced in 1980, restoring the flatland castle to its former majestic glory.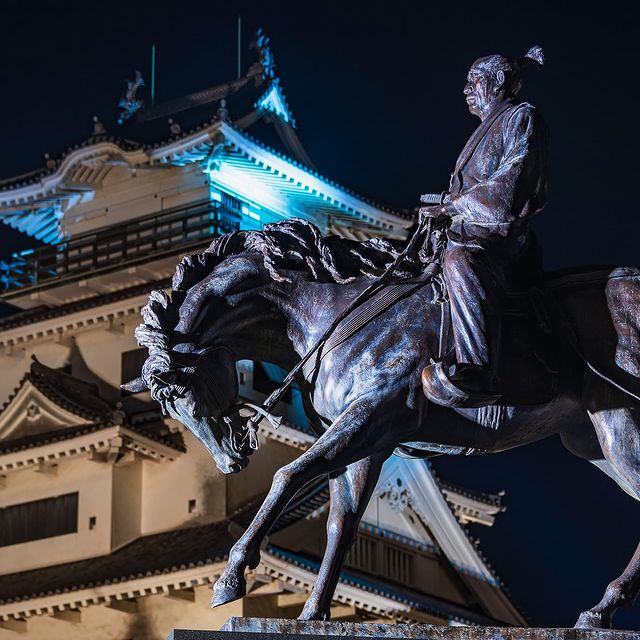 Image credit: @shn9251
With a vast square moat filled with seawater from the nearby port, fishes are often spotted – a different view of the standard castle fortifications most are used to. Due to its relatively recent restoration efforts, the modern interior is a stark juxtaposition to the exterior, and houses exhibitions that visitors can peruse. 
Admission: ¥520 (~USD3.79) for adults, ¥420 (~USD3.06) for visitors aged 65 years old and above, ¥260 (~USD1.90) for students, free for high, middle and elementary school students
Address: 3-1-3 Toricho, Imabari, 794-0036 Ehime
Opening hours: 9am-5pm, Daily (Closed from 29th to 31st December)
Contact: 0898-31-9233 | Imabari Castle Website
---
Ōzu
---
1. Garyū Sansō – serene villa by the river
---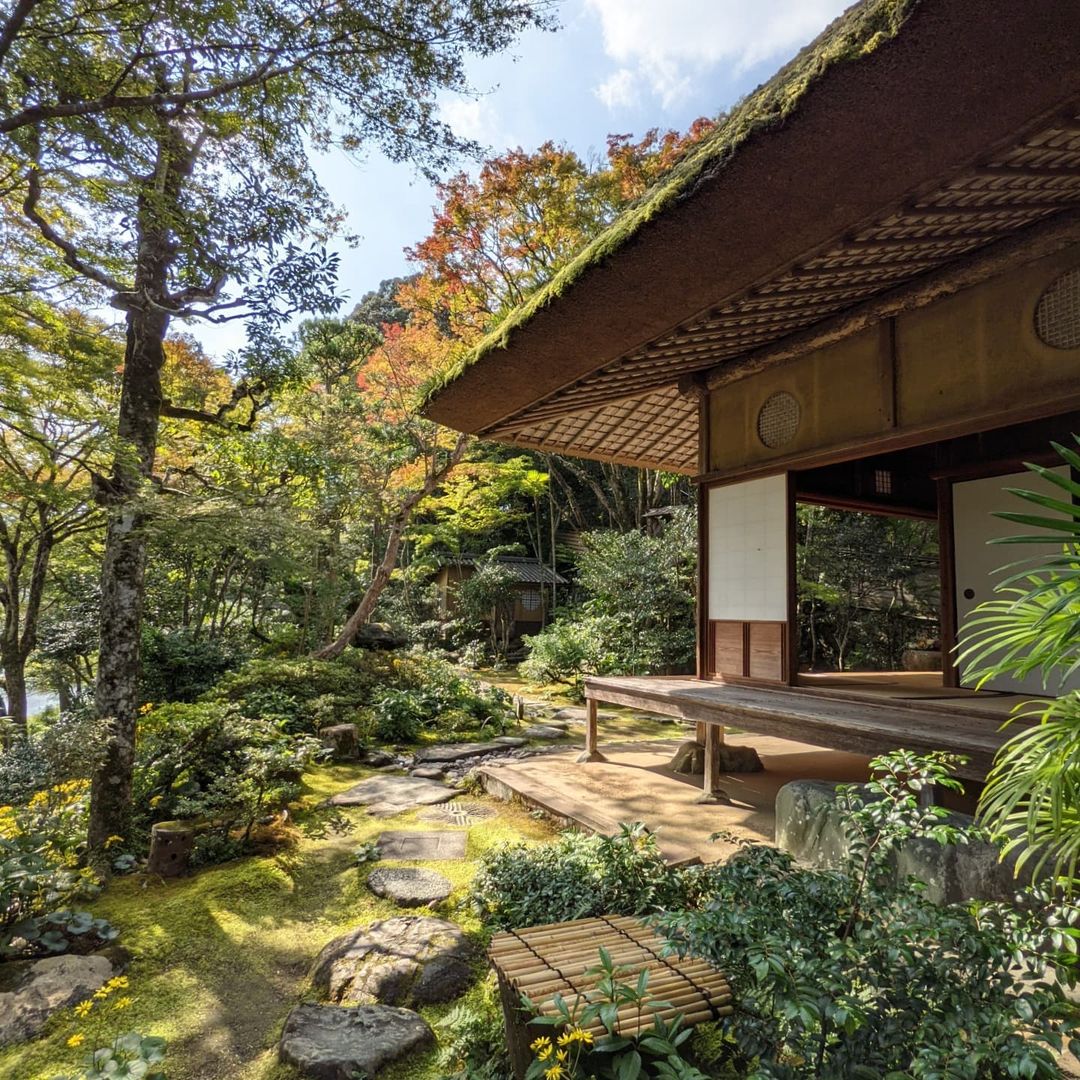 Garyū-in, the main building of the villa.
Image credit: @imai_hiroyasu
Accessible from Matsuyama, Ōzu – a city dubbed the little Kyoto of Ehime – makes for a serene day-trip destination for anyone looking to immerse themselves in historical townscapes. In particular, Garyū Sansō (臥龍山荘), an exquisite villa that sits near the clear Hiji River, boasts a traditional style of Japanese architecture and a distinctive thatched roof.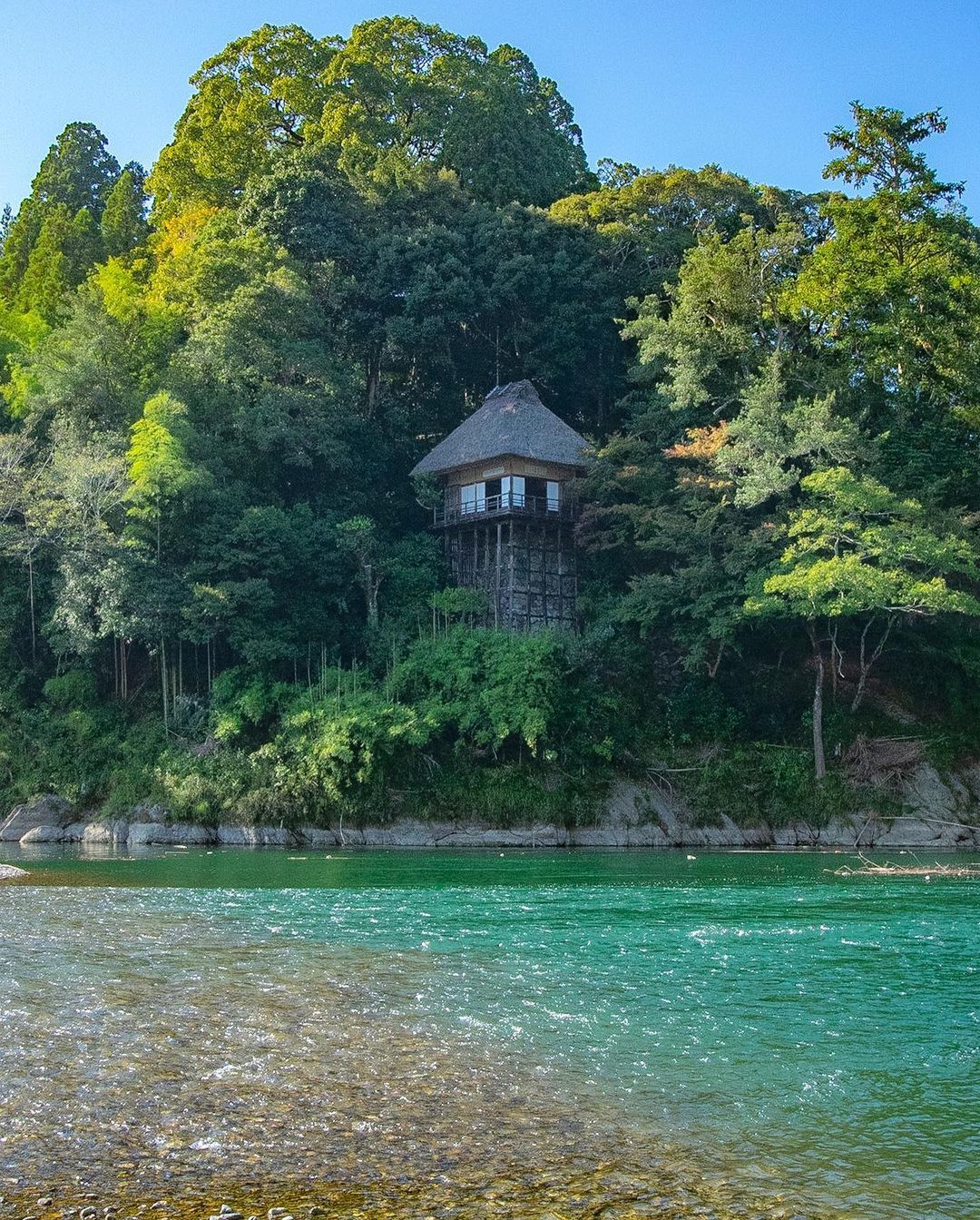 Image credit: @jp.best.roads100
Taking 10 years to conceptualise and 4 years to construct, the mountain villa is the result of collaboration between artisans and architects, as well as inspiration taken from celebrated imperial villas such as Kyoto's Katsura Rikyū.
Garyū Sansō is made up of several houses, but its main building, Garyū-in, contains several rooms that have interesting architectural components. Chishi-an, a tea room that used to serve as a bathroom, is also one of the highlights of the villa, though it's not open to the public.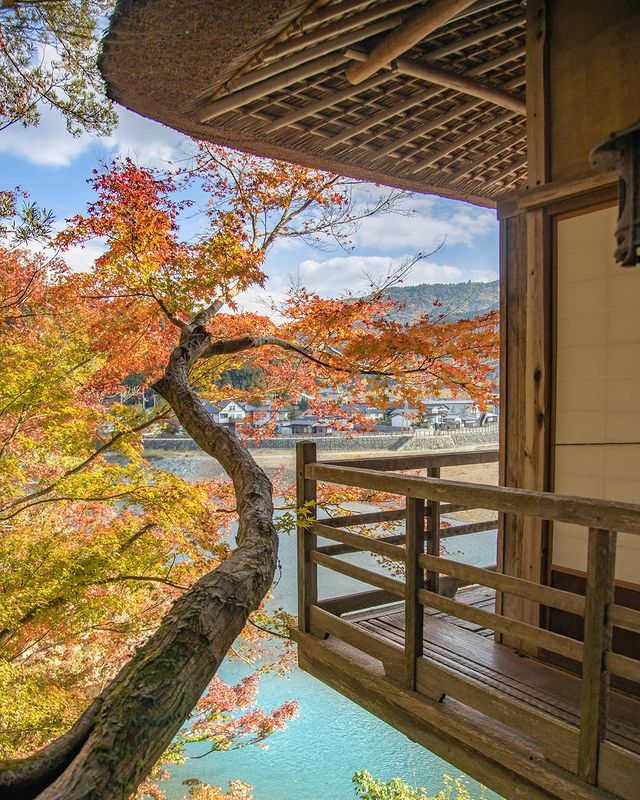 Image credit: @ufooo_photo
Instead, tea can be enjoyed at the tea room near Furōan, a house built on a cliff overlooking Hiji River. Here, the shōji opens up completely, allowing natural light to filter in, providing an unobstructed view of the surrounding scenery. 
Admission: ¥550 (~USD4.02) for adults, ¥220 (~USD1.61) for middle school students and below
Address: 411-2 Ozu, 795-0012 Ehime
Opening hours: 9am-5pm, Daily (Last admission at 4.30pm)
Contact: 0893-24-3759 | Garyū Sansō Website
---
2. Pokopen Yokocho – nostalgic Sunday shopping market
---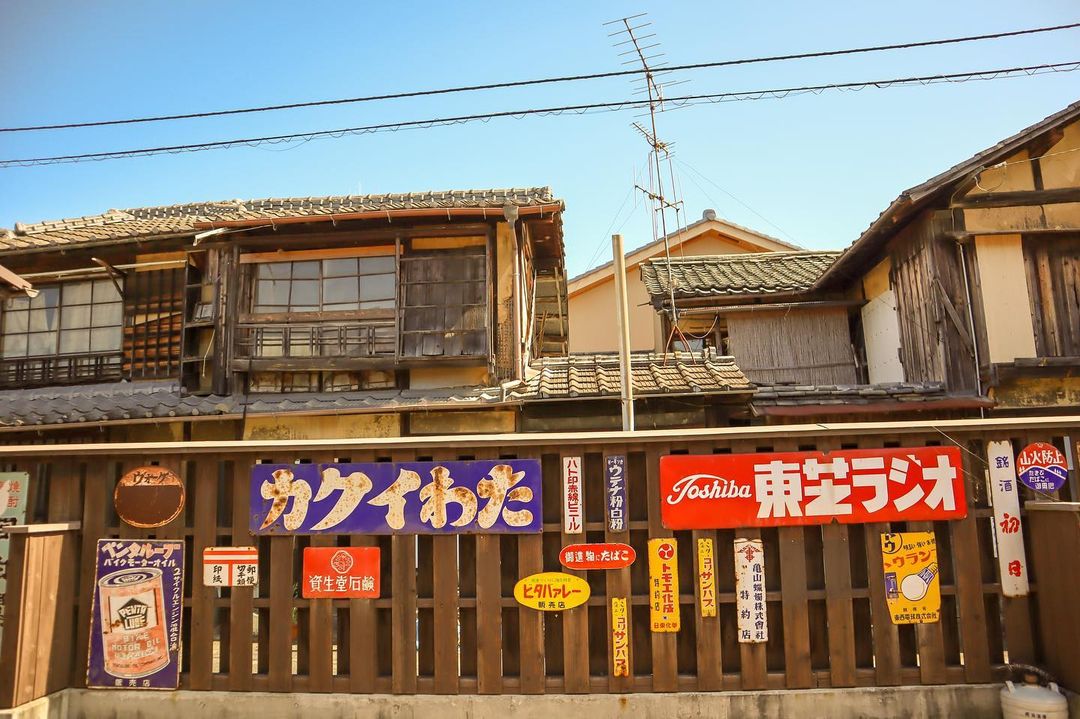 Image credit: @umi.2163
Held every Sunday from spring to autumn and every 3rd Sunday in the winter season, the antique street market of Pokopen Yokocho (ポコペン横丁) shows a different glimpse of Japan. The retro alley shopping street is lined with Shōwa-period enamel signboards, recreating fully the atmosphere of 1950s to 1960s Japan.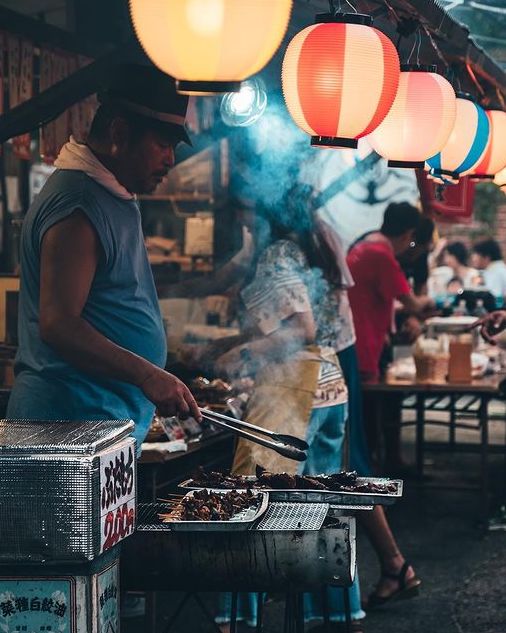 Image adapted from: @santauwajima
Eateries on the street serve up chūka soba (中華そば; Chinese-style ramen), yakitori (焼き鳥; grilled chicken skewers), croquettes, and more. The district is also lined with shops selling antique knick-knacks, toys, and miscellaneous goods.
Address: 103 Ozu, 795-0012 Ehime
Opening hours: Sun 10am-3.30pm (Apr-Nov) | 10am-3.30pm (Third Sunday of every month) (Dec-Mar)
Contact: 0893-57-6655
---
3. Aoshima – be surrounded by cats
---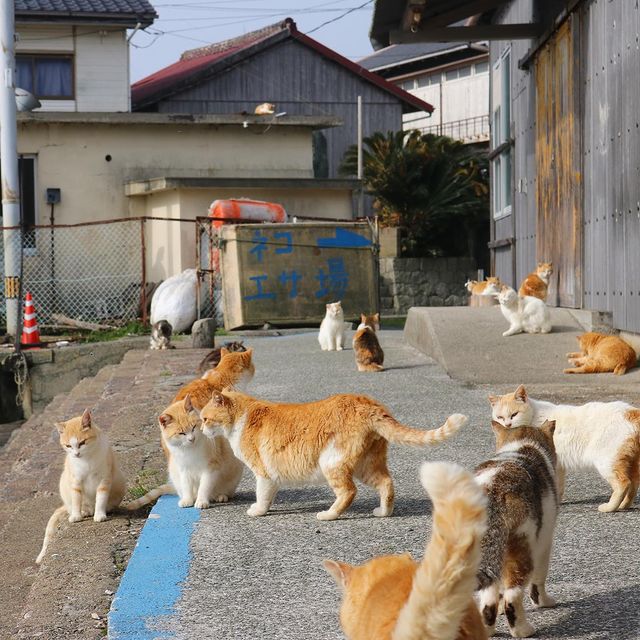 Image credit: @aoshima_cat
Though slightly out of the way, the remote Aoshima (青島) is worth the trip for cat lovers. Known as the Cat Island of Ehime, Aoshima has over 200 cats, outnumbering the handful of human residents living there.
Initially introduced in a bid to control the rat population, the cats multiplied and claimed the island as their home. Now, you're more likely to see feline residents roaming the streets of Aoshima, than run into humans.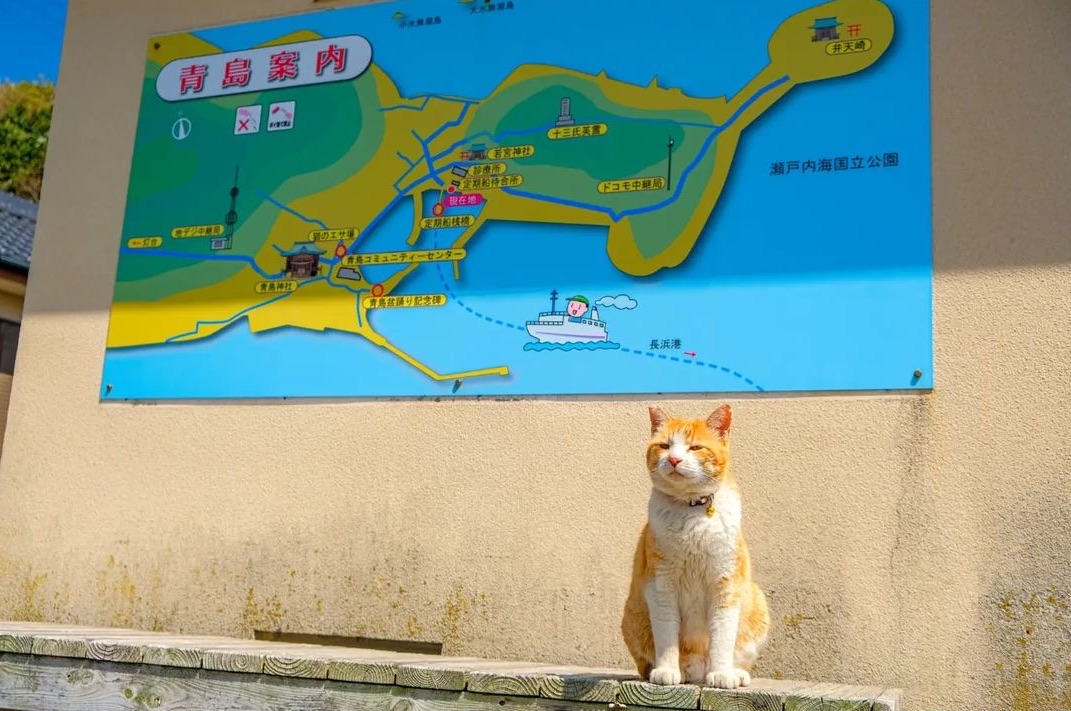 Image adapted from: @saori_wd_
Ferries depart from the port at extremely limited frequency, with only 2 trips made daily at 8am and 2.30pm from Nagahama Port respectively. Return trips depart from Aoshima Port at 8.45am and 4.15pm. To avoid missing the rides, check the ferry schedule here beforehand. 
That said, as the ferry's main purpose is to service the islanders and transport supplies, priority is given to them so there might be times when the ferries can't be boarded. As the island is mostly residential, don't expect convenience stores or eateries. Prepare necessities such as water and food before heading there.
Feeding the cats is possible, though do feed them only at designated spots and avoid giving them too much food.
Return ferry tickets: ¥1,400 (~USD10.17) for adults, ¥700 (~USD5.09) for passengers aged 12 years and below
Address: Nagahamacho Aoshima, Ozu, 799-3470 Ehime

---
Uchiko
---
1. Uchiko-za – learn about the dynamic stage sets of kabuki theatre
---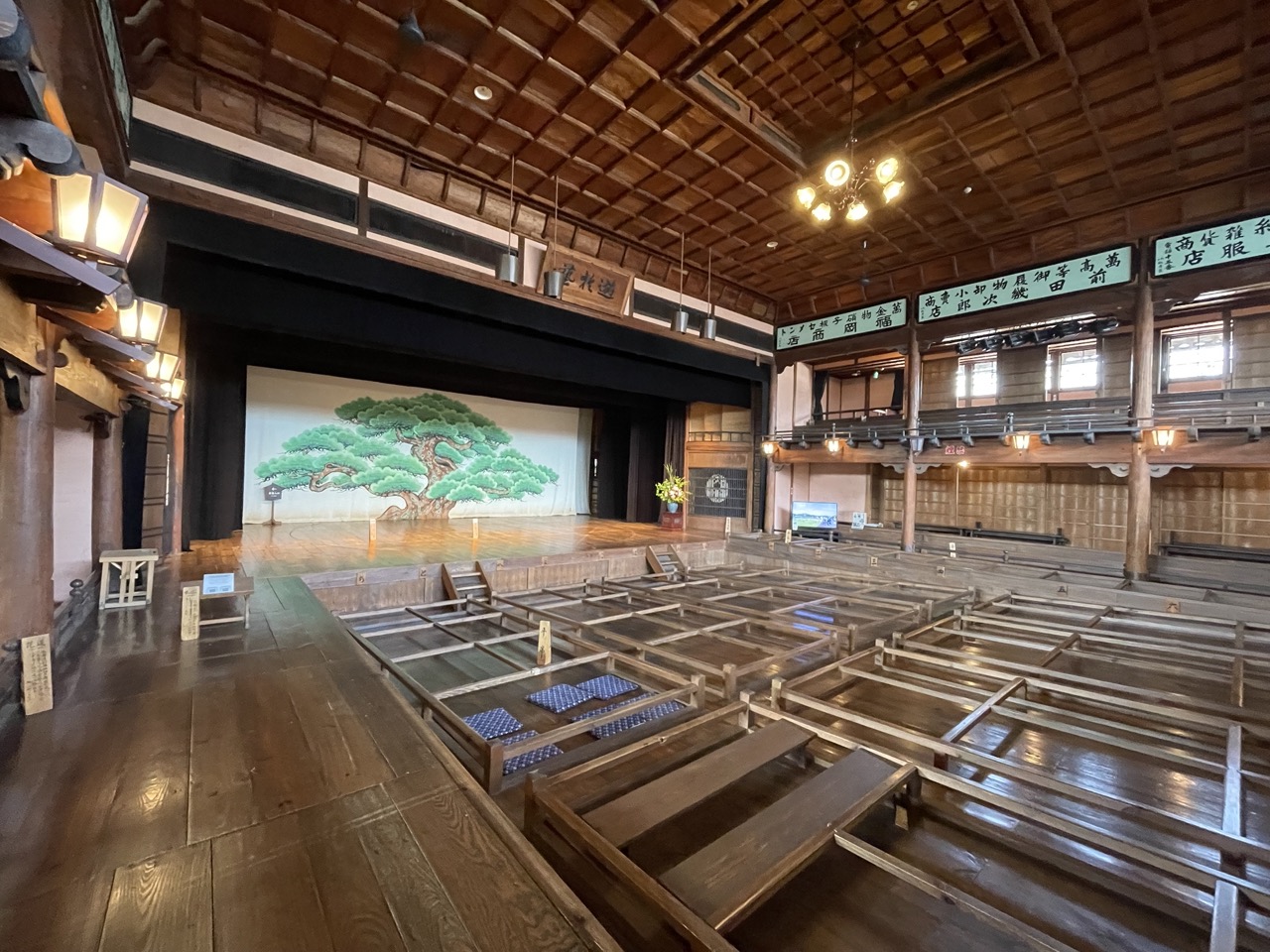 Image credit: Xiu Ting Wong
A quiet town that prospered due to its production of wax and raw silk thread, Uchiko lies south of Matsuyama and is yet another part of Ehime that deserves a day-trip visit. In particular, Uchiko-za (内子座), a theatre that was built in 1916, is worth the hour-long train ride. 
Since it was erected, Uchiko-za has been the centre of entertainment for the locals, with kabuki, rakugo, bunraku (all traditional forms of Japanese theatre and entertainment) performances held regularly.
Due to its deterioration, there were talks of demolition, but the theatre remained standing thanks to objections from the townspeople. Today, events continue to be held there regularly.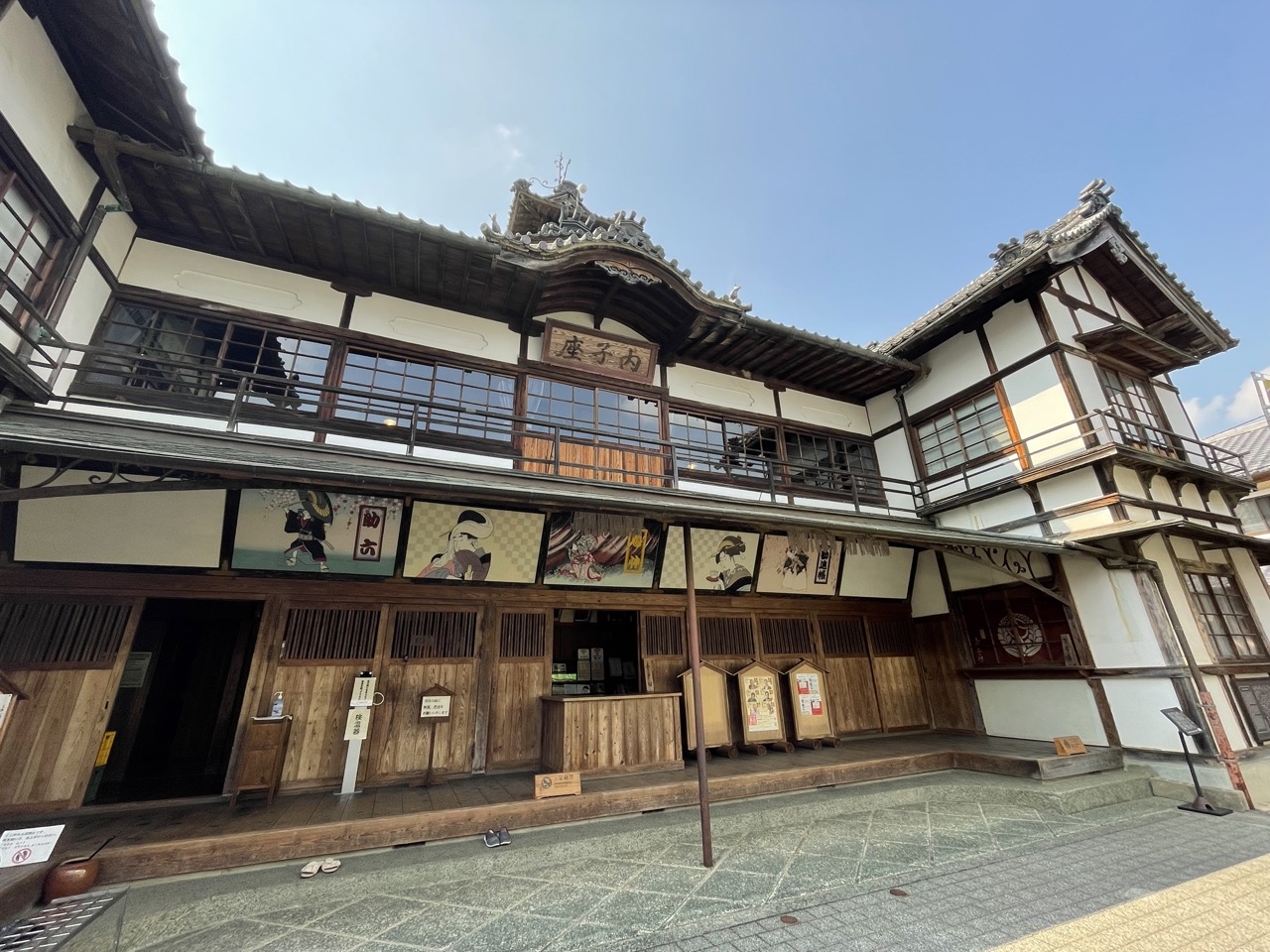 Image credit: Xiu Ting Wong
The 2-storey wooden structure with a gabled roof not only boasts a gorgeous interior, but also plenty of interesting learning points. Visitors are free to explore the naraku (奈落; an area beneath the stage section), where trapdoors and stage mechanisms are situated. A free tour is also available upon request.
Sadly, in order to carry out conservation work, Uchiko-za will be closed from 2023. It is expected to take approximately 4 years to complete. 
Admission: ¥400 (~USD2.91) for adults, ¥200 (~USD1.45) for middle and elementary school students
Address: 2102 Uchiko, Kita District, 791-3301 Ehime
Opening hours: 9am-4.30pm, Daily (Last admission at 4.30pm) (Closed from 29th December to 2nd January)
Contact: 0893-44-2840
---
2. Yōkaichi Old Town – stroll through preserved townhouses
---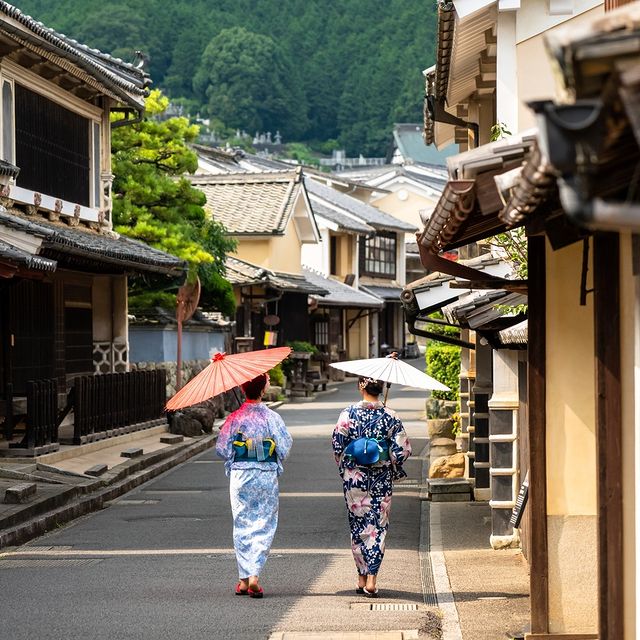 Image credit: @visit_uchiko
Uchiko, which had a prosperous wax industry from the late Edo to the Meiji and Taishō Period, thrived due to the production of the substance in the town. Using the money earned from this boom, wealthy merchants built high-quality townhouses. Today, many of those buildings and earthen storehouses remain, and are preserved in a 600m-long street called Yōkaichi (八日市). 
Kamihaga Residence, one of said conserved townhouses, is open to the public and has informative exhibits on the history of wax production in Uchiko.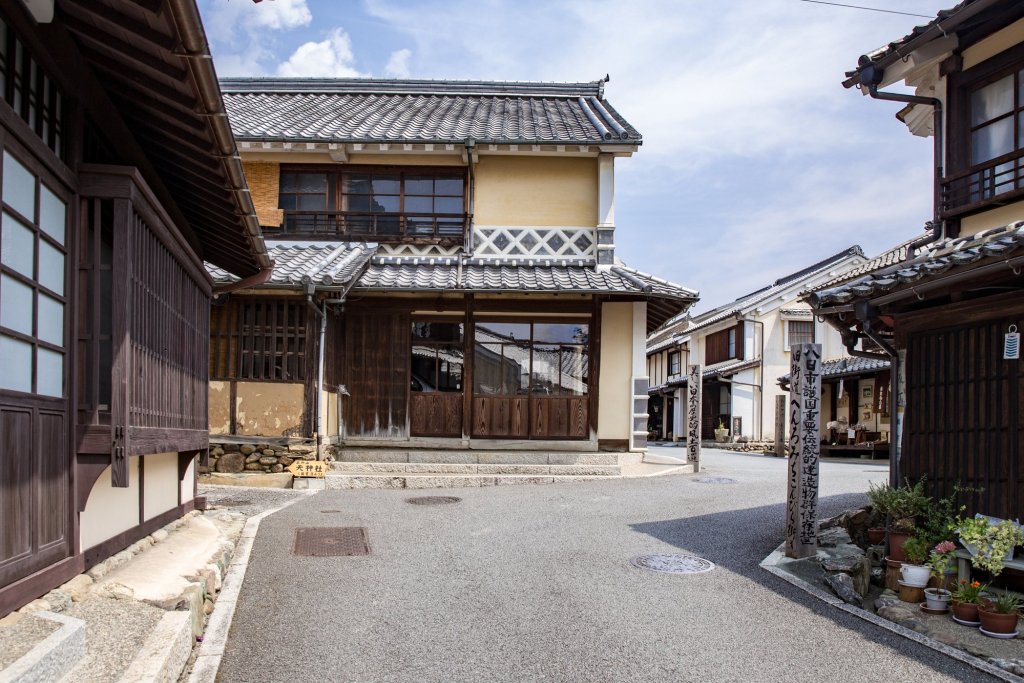 Buildings with pale yellow clay walls.
Image credit: Iyokan Net
While strolling along the street, one distinctive feature you'd notice is the yellowish clay walls, which are painted using local soil. Today, the area is still inhabited by residents, with some cafes occupying the houses.  
Address: Uchiko, Kita District, 791-3301 Ehime
Kamihaga Residence
Admission: ¥500 (~USD3.63) for adults, ¥250 (~USD1.82) for middle and elementary school students
Address: 2696 Uchiko, Kita District, 791-3301 Ehime
Opening hours: 9am-4.30pm, Daily (Last admission at 4.30pm) (Closed from 29th December to 2nd January) 
---
Local food to try
---
1. Oranges
---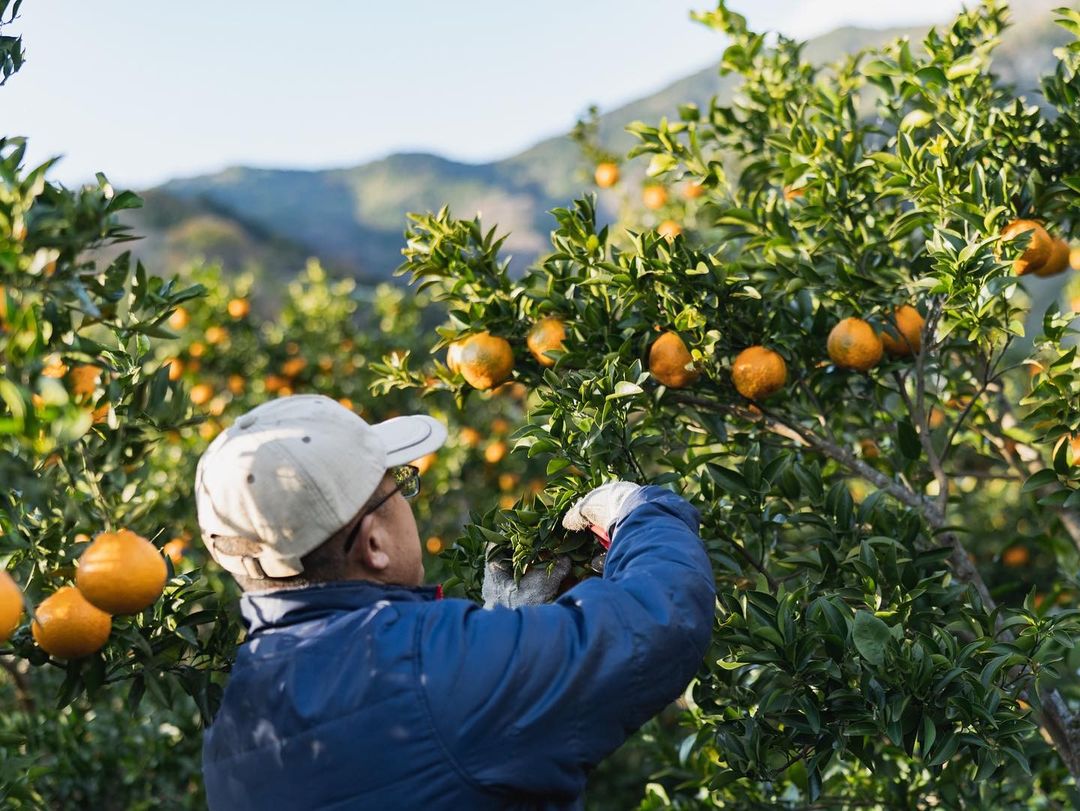 Image credit: @muchachaen
Famed for being the orange prefecture, Ehime is one of the leading mandarin orange production regions in Japan. Blessed with the 3 sunrays of Ehime's Nishiuwa region – sunlight, radiant heat from the stonewalls of Ishigaki, and reflection from the sea – the citrus fruit grows bountifully and deliciously.
About 17 varieties of oranges – with varying sweetness, acidity, and bitterness – are grown in Ehime at different seasons, so they can be enjoyed all year round.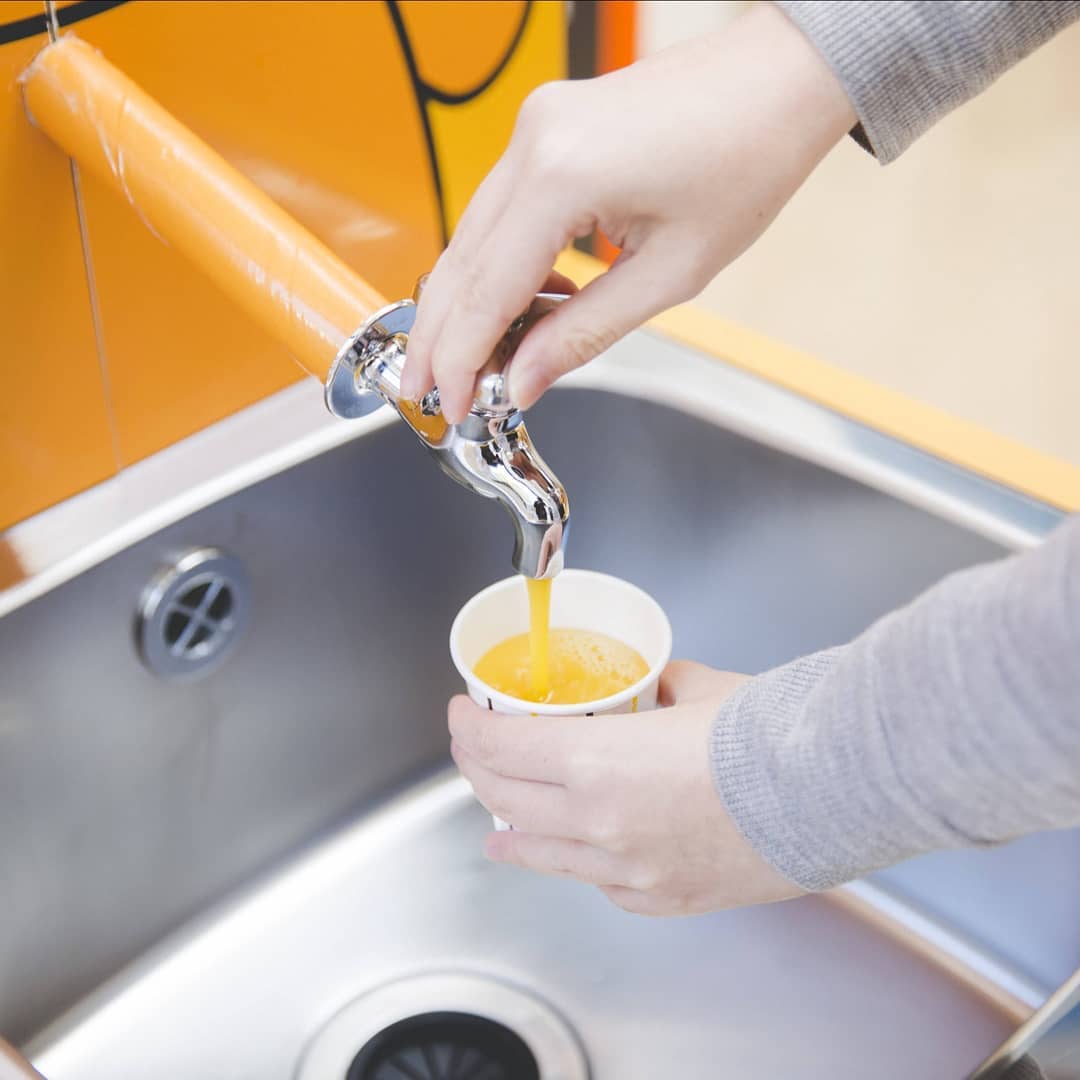 Image credit: @iyokannet

Besides the fresh fruits, orange juice faucets are an experience not to be missed. With a turn of the tap, orange juice will come flowing out like water. They can be found at tourist information centres and shops. Pay around ¥350 (~USD2.47) to ¥500 (~USD3.53) to get a cup. Some hotels even offer them for free. 
---
2. Sea bream
---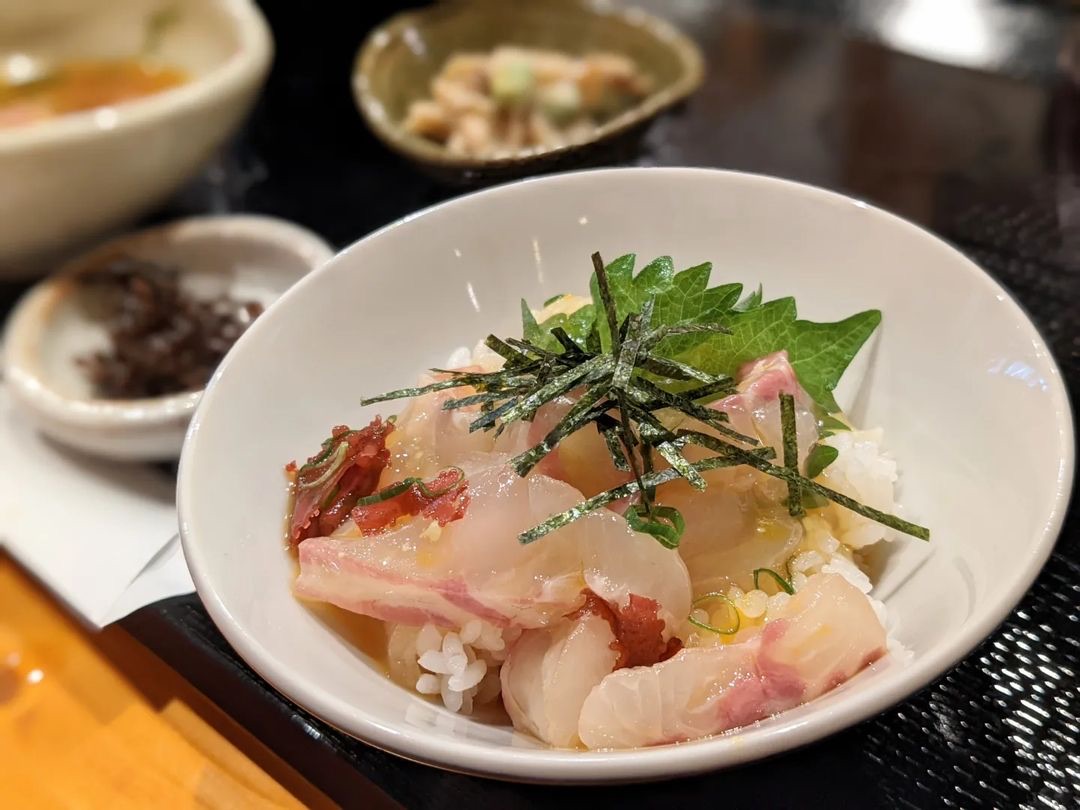 Uwajima taimeshi.
Image credit: @hdnr_0120
As the prefecture that boasts the largest production of sea bream in Japan, there are plenty of sea bream dishes that are loved by the locals. One of the most popular ways to enjoy the fish is taimeshi (鯛めし; sea bream rice), which is eaten differently depending on the region you're in. 
In Matsuyama and Imabari, which are in the chūyo (中予) and tōyo (東予) regions respectively, a whole sea bream is steamed with rice in an earthenware pot. 
In the nanyo (南予) region, namely Uchiko and Ōzu, raw slices of sea bream are laid atop a steaming bed of rice and drizzled with a soya sauce–based soup. This way of enjoying the fresh fish is also known as Uwajima taimeshi. 
Expect to pay around ¥1,000 (~USD7.05) to ¥2,000 (~USD14.11) for a single-portion. 
---
3. Nabeyaki udon
---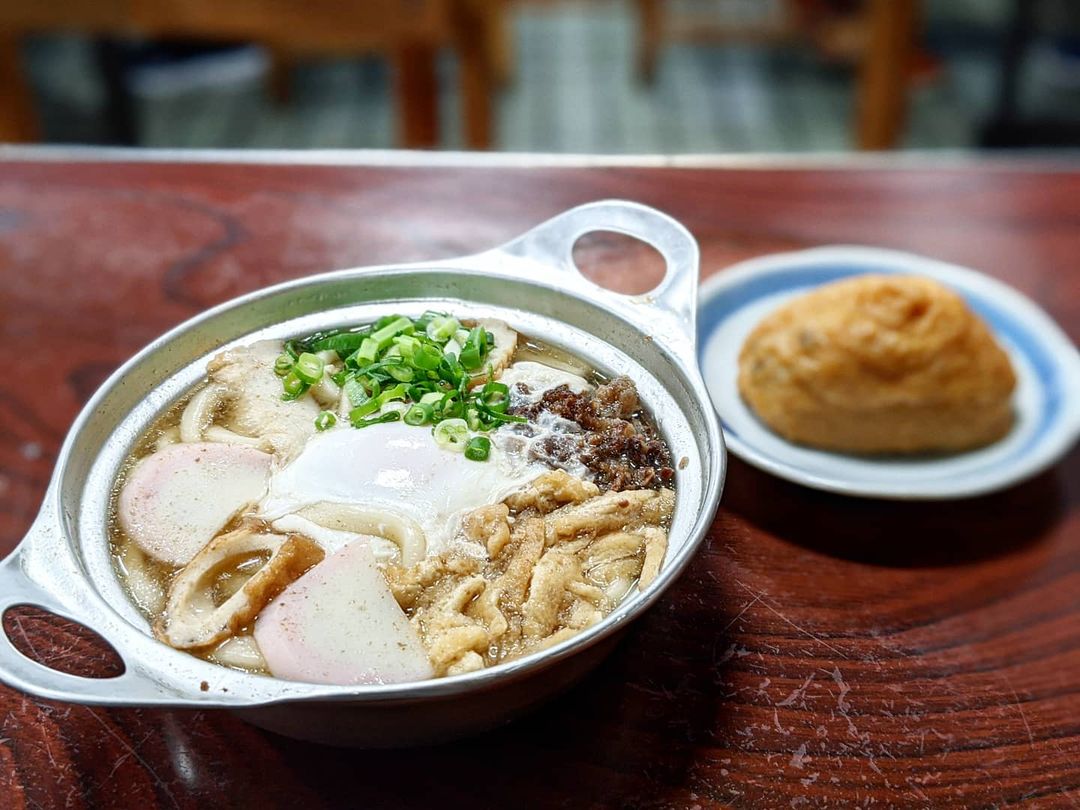 Image credit: @gnoot
Cooked and served in an aluminium pot, Nabeyaki udon is hailed as the soul food of Matsuyama. Soft udon noodles are served in a sweet savoury broth, then topped with a myriad of toppings such as beef and fish cakes. 
Prices vary depending on the shop, but it averages ¥800 (~USD5.64).
---
4. Botchan dango
---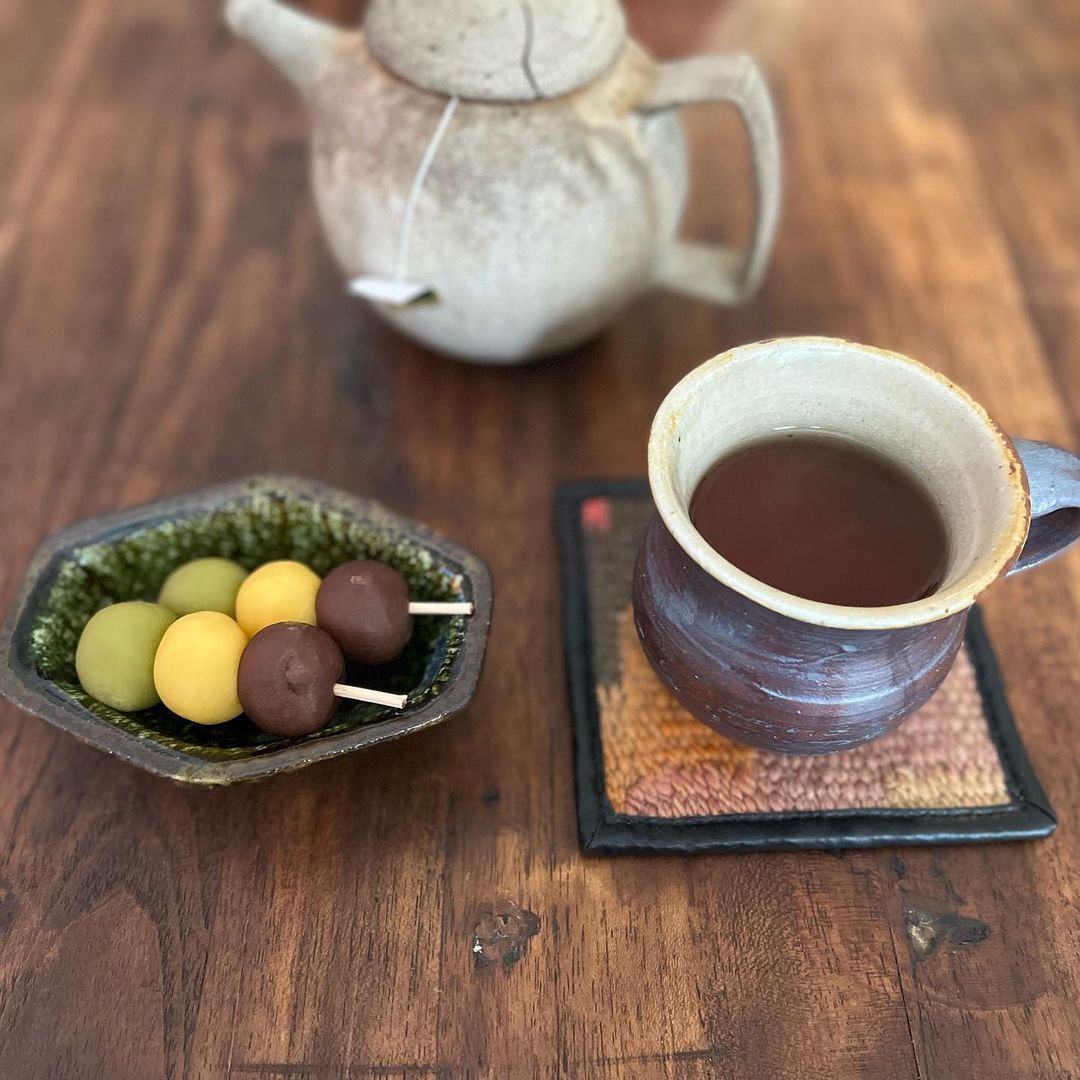 Image credit: @yukka.o39
Though not as well-known as the pastel trio hanami dango, Botchan dango has its moment of fame when it was mentioned in Natsume Sōseki's novel with the same title. 
The tri-coloured dango is a common sight in Matsuyama, where small balls of mochi are wrapped with bean paste that is naturally coloured with green tea, egg, and red beans. You can purchase them in a set of 2 for about ¥240 (~USD1.69).
---
5. Jakoten
---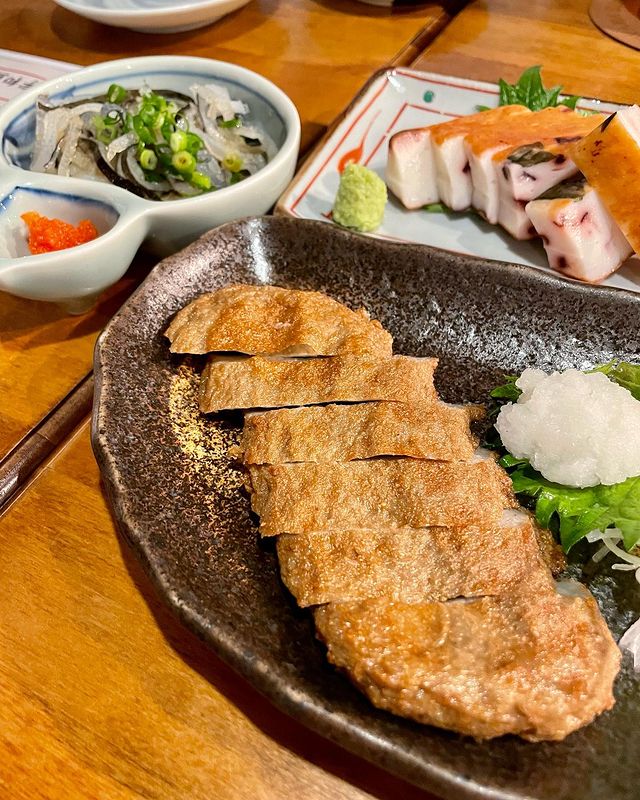 Image credit: @y32414506
Jakoten is a traditional fish paste product that's made by mincing raw small fish from the Uwa Sea, shaped into ovals, and then deep–fried. They can be enjoyed as toppings on dishes such as udon noodles, or as a snack on its own. Expect to fork out around ¥140 (~USD0.99) per piece.
---
6. Yakibuta Tamago Meshi
---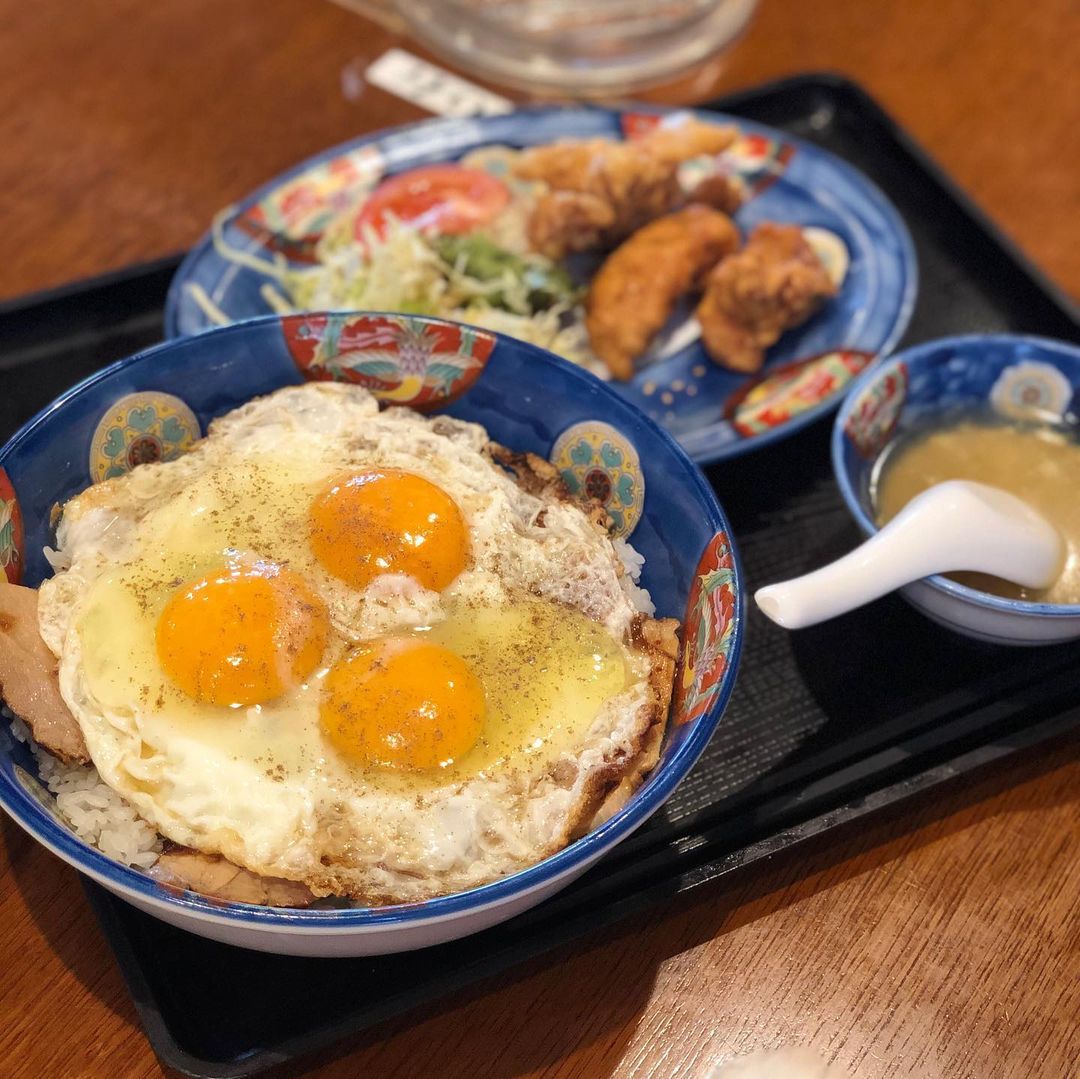 Image credit: @ehimeno_anchan
Yakibuta Tamago Meshi (焼豚玉子飯), which translates to roast pork and egg rice, can be found in Imabari. Originally created in a Chinese restaurant and intended to be a meal for staff only, this dish consists of marinated roast pork over rice, topped with a runny fried egg or two. Each serving costs around ¥750 (~USD5.29).
---
7. Senzanki
---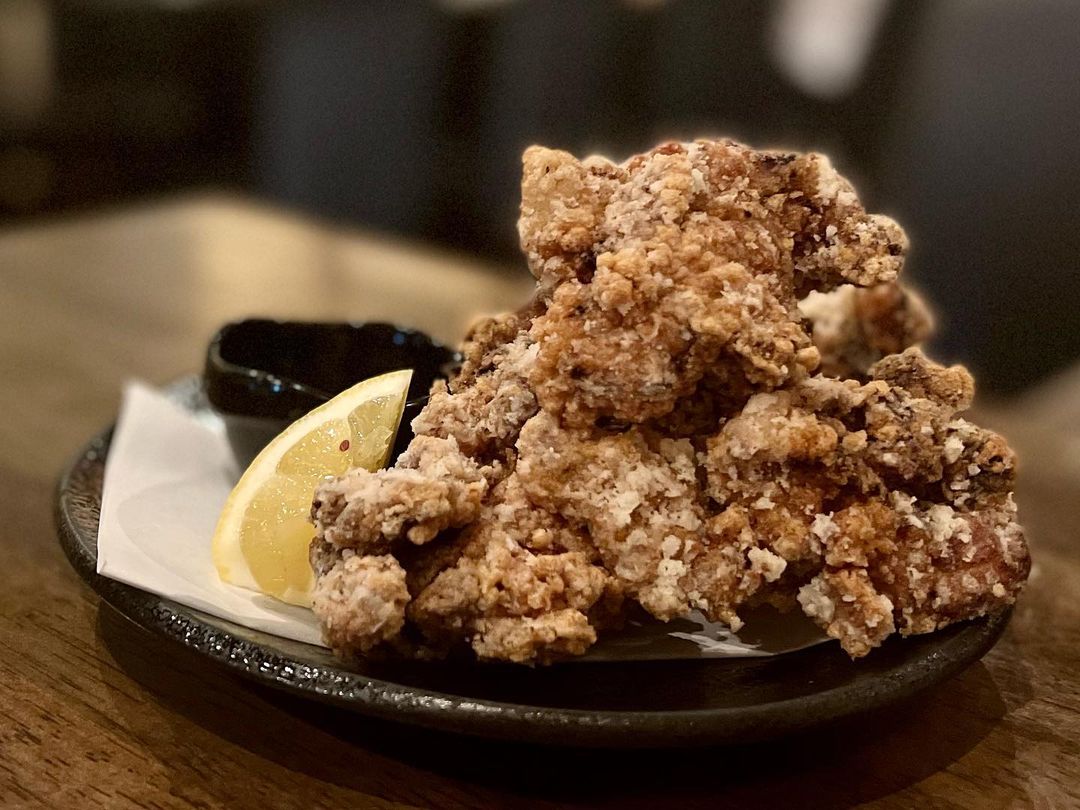 Image credit: @ebi.chan.549
Tōyo, the eastern region of Ehime, is known for chicken dishes. In particular, Senzanki (千斬切) is a local dish that is commonly found in the region and especially in Imabari. 
The name, which loosely translates to thousand cuts, is derived from the preparation method of cutting the chicken into bite-sized pieces, bones and all. Unlike normal karaage, senzanki contains bones, which imparts more umaminess and flavour than your average boneless Japanese fried chicken.  
A plate of senzanki will cost ¥300 (~USD2.12) to ¥700 (~USD4.94).
---
8. Imotaki
---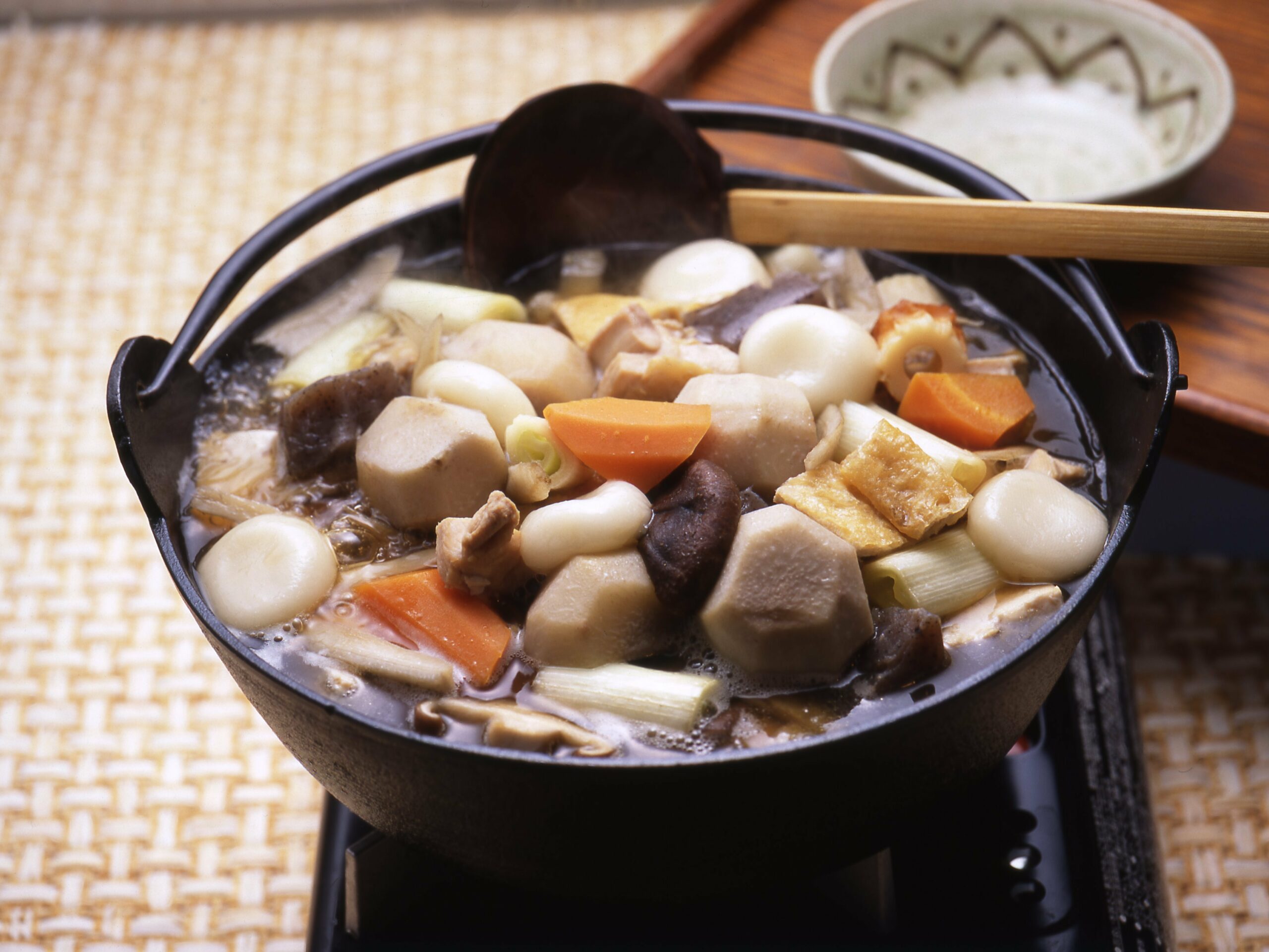 Image credit: Mizkan
Chilly weather calls for huddling around the table to enjoy hot pot, and Imotaki is traditionally enjoyed during autumnal months in Ōzu. Chicken, taro, deep-fried bean curd, shiitake mushrooms, and other toppings are simmered in a pot of dashi stock. 
As taro is an auspicious food that's associated with fertility and family prosperity, Imotaki is often enjoyed as a celebratory dish. A single serving of the dish averages ¥1,200 (~USD8.46) to ¥2,500 (~USD17.63).
---
Where to stay and getting around
---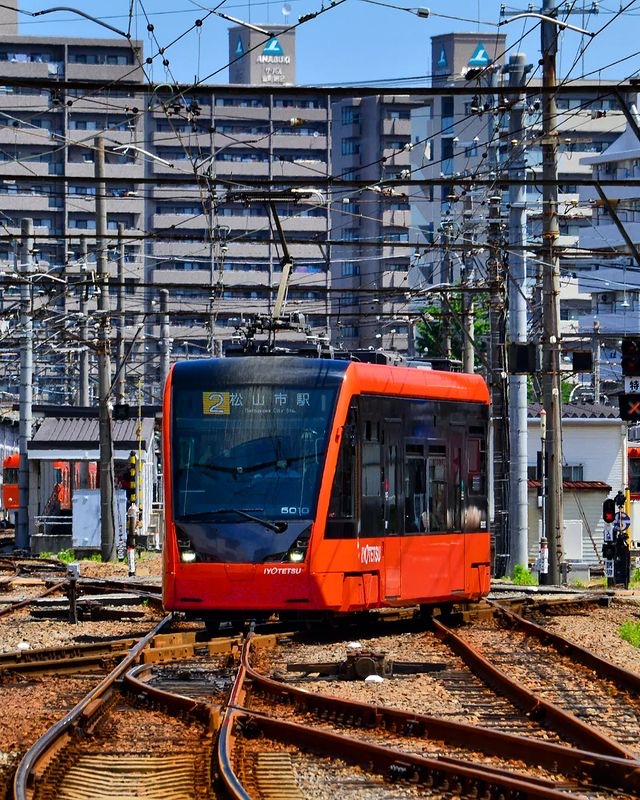 Tram in Matsuyama.
Image credit: @kajiscafe
If you're planning to explore different cities or towns in Ehime, basing your stay at Matsuyama is the most convenient option. JR Matsuyama Station services local and limited express trains to other areas in the prefecture, making it easy to hop on day-trips.  
Within the city, major sightseeing spots are easily accessible, thanks to trams that run on 5 official lines with wide city coverage and at regular intervals. 
---
Guide to Ehime Prefecture
---
Just like the sweet tangy flesh that hides within the peel of the citrus fruit, the prefecture of Ehime has much to uncover. All you have to do is unpeel the rind and you'll be awarded with hidden gems.   
Wondering what's good to eat? Stay tuned to the second part of this guide. 
For more, check out: 
---
Cover image adapted from (clockwise from left): @matsuno_wo_matsuno, @aoshima_cat and @lovephoto_life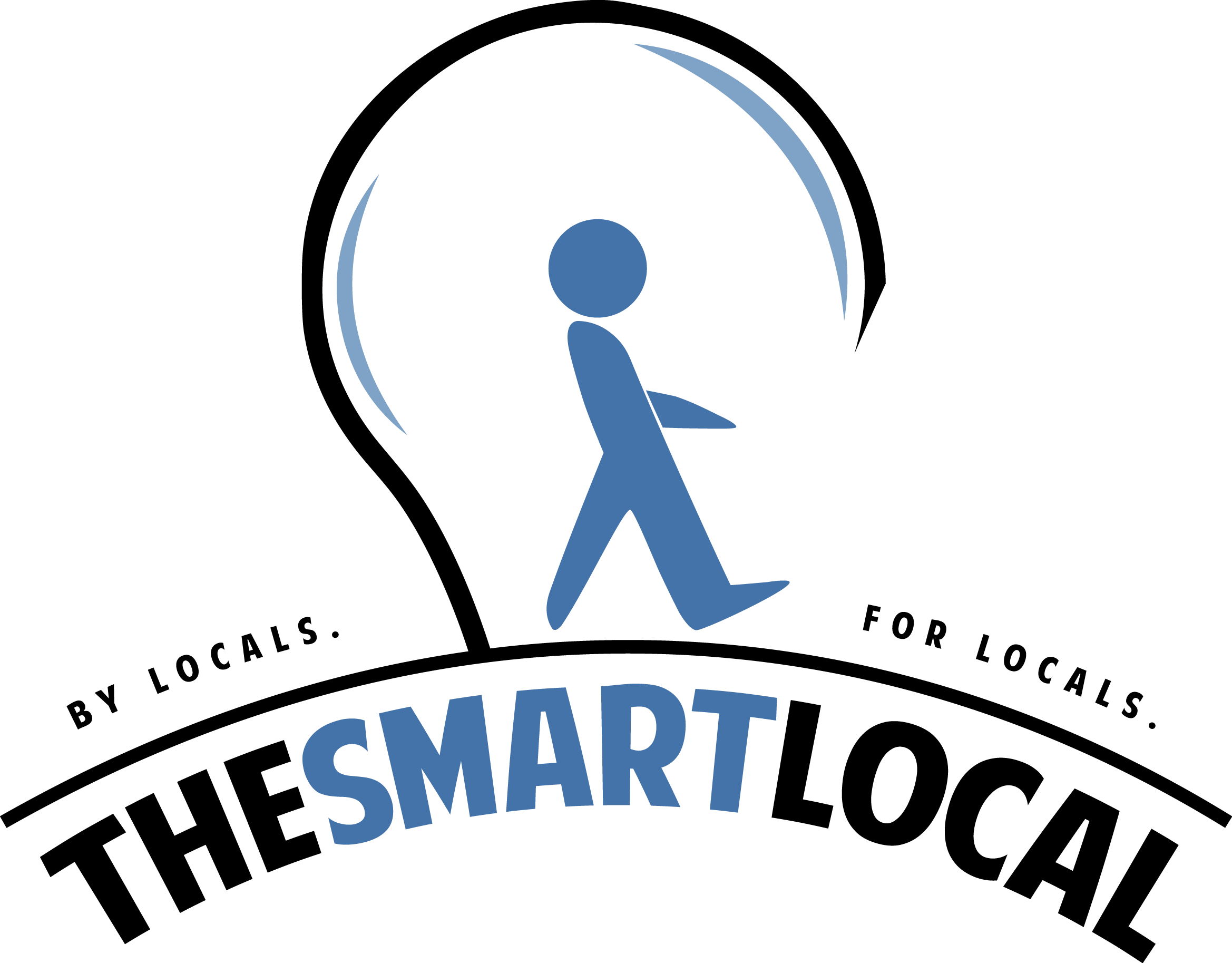 Drop us your email so you won't miss the latest news.