Simple Japanese dishes to cook at home
---

Simple Japanese dishes to cook at home
Image adapted from (clockwise from top-left): @ovenbirdhomekitchen, @saburamen, Naoko's Kitchen, 李踢接
Japanese cuisine is a favourite of many. However, people often mistakenly think that it's difficult to recreate Japanese dishes at home.
Most of the recipes here include ingredients that can easily be found at any Asian supermarket, or in the Japanese section of normal supermarkets. These recipes range from beginner to intermediate levels, so don't fret if you don't get it right the first time – practice makes perfect! Maybe, we'll come out of this quarantine with a couple of dishes up our sleeves to impress everyone else.
---
1. Okonomiyaki, serves 4
---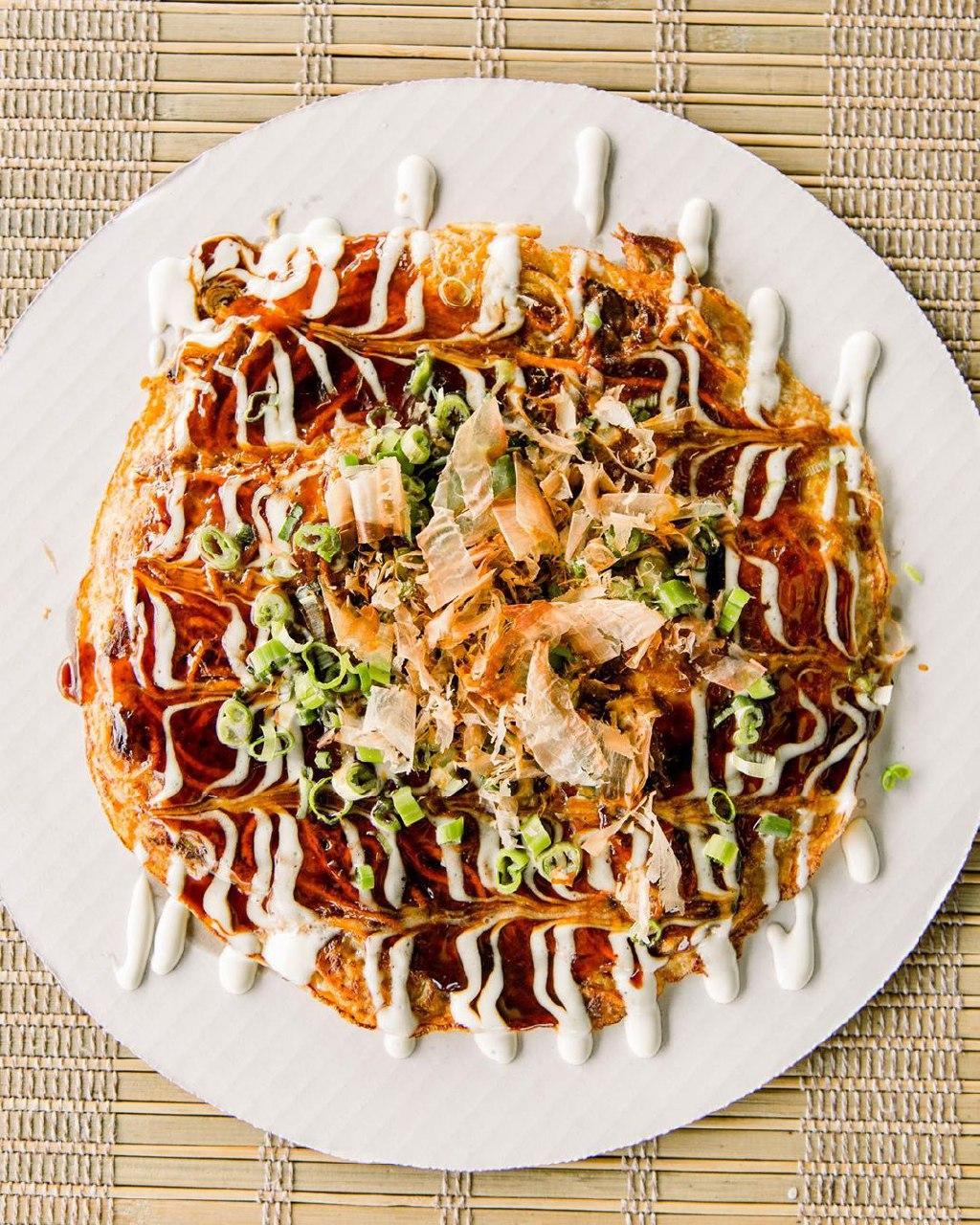 Image credit: @saburamen
Okonomiyaki is a popular street food in Japan, said to originate from Osaka. It's usually described as a savoury Japanese pancake, made with a variety of ingredients that are traditionally associated with Japanese cuisine.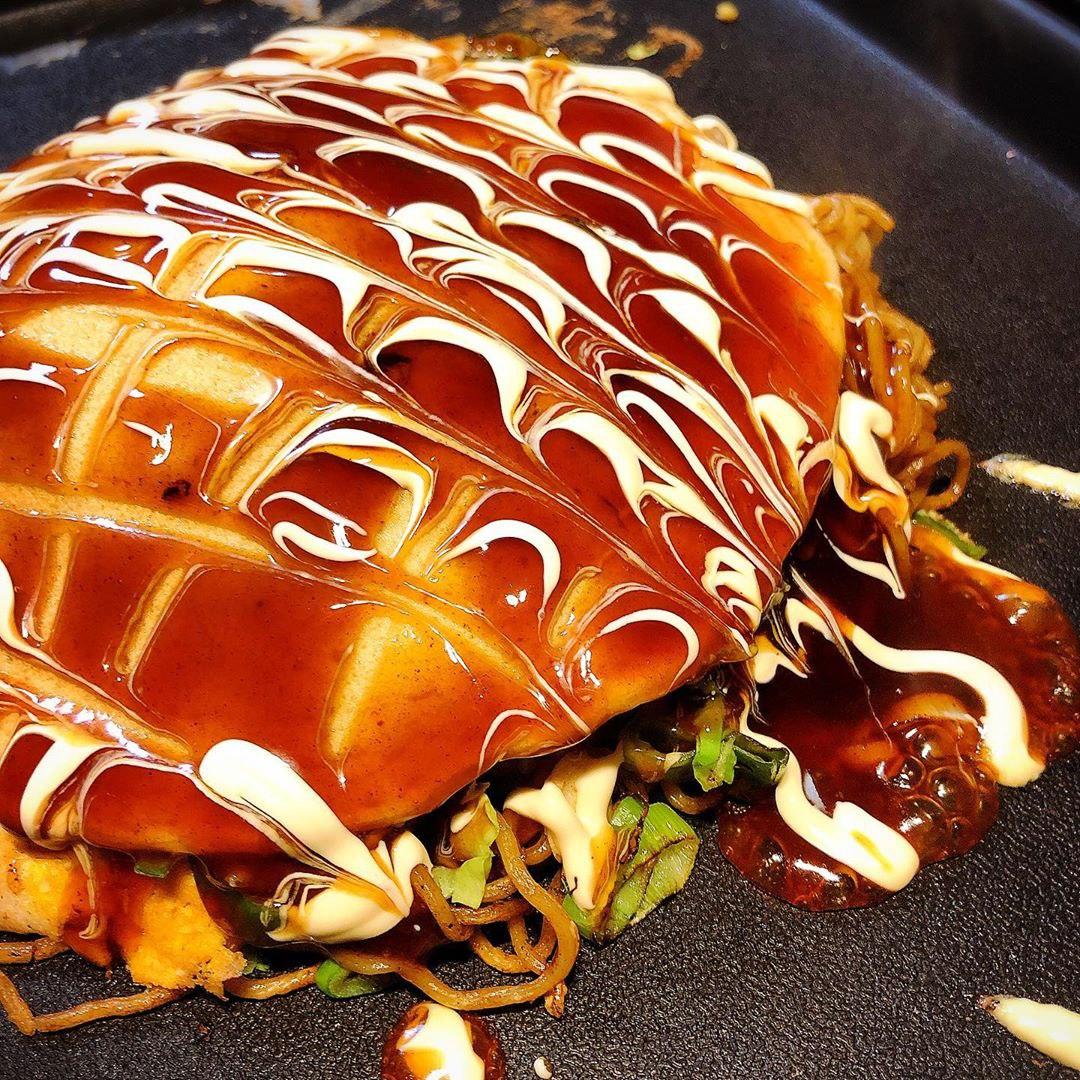 Image credit: @a_kchan
Ingredients:
½ a large cabbage, sliced thinly

⅓ cup flour

1 cup of water

5 eggs

2 tsp

dashi

(fish stock)

powder (can be replaced with chicken stock powder)

Worcestershire Sauce or Tonkatsu Sauce

About 6-8 pieces of thinly sliced pork

1 tbsp

beni-shouga

(pickled ginger) chopped finely

1  large

negi

(spring onion), sliced thinly

Japanese Mayonnaise

10g

katsuobushi

(bonito flakes)

Ao-nori

(dried seaweed)

Oil
Steps:
To form the batter of the okonomiyaki, mix flour, water, and eggs in a large mixing bowl. Mix in dashi, pickled ginger and some

negi

. Add cabbage and combine well. 

Heat a little oil in a pan. Ladle the batter into the pan, to make a circle about 22cm across and 1.5cm thick. Neaten the edges by using a spatula.

Place thinly sliced pork on top. 

Cook over medium-low heat for about 5 minutes. Flip the okonomiyaki, then cook for another 3-5 minutes.

Serve the okonomiyaki with the side with the meat facing up. Spread the Worcestershire sauce generously on top. Decorate with mayonnaise, bonito flakes and

ao-nori

.
The fun thing about okonomiyaki is that you can use different toppings, depending on what you're craving and what you have left in the refrigerator. Try adding octopus, mentaiko, and even kimchi – it's really up to you.
Check out the original recipe here.
---
2. Oven-baked Katsu Curry, serves 2
---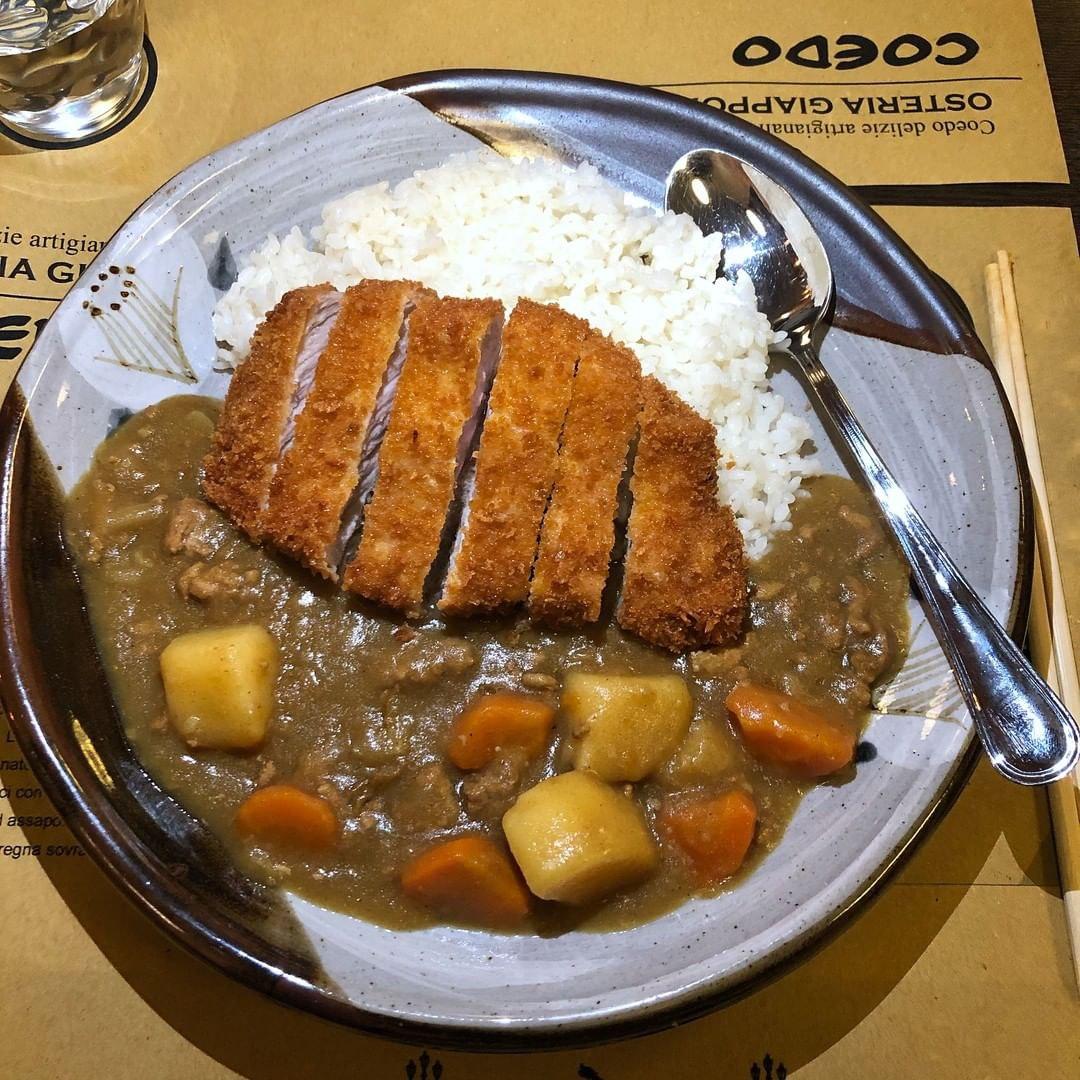 Image credit: @cookingwiththehamster
Japanese curry originated from India, and was brought over to the country by the British who were ruling the Indian subcontinent during the Meiji era. Today, Japan has adopted the dish as its own, and can be seen as one of its national dishes.
Japan has added its own take on the dish, making their curry thicker, less spicy, and sweeter. It's typically served with potatoes, carrots, potatoes, and a protein – the most popular choices are pork or chicken cutlet (tonkatsu), beef cubes or chicken.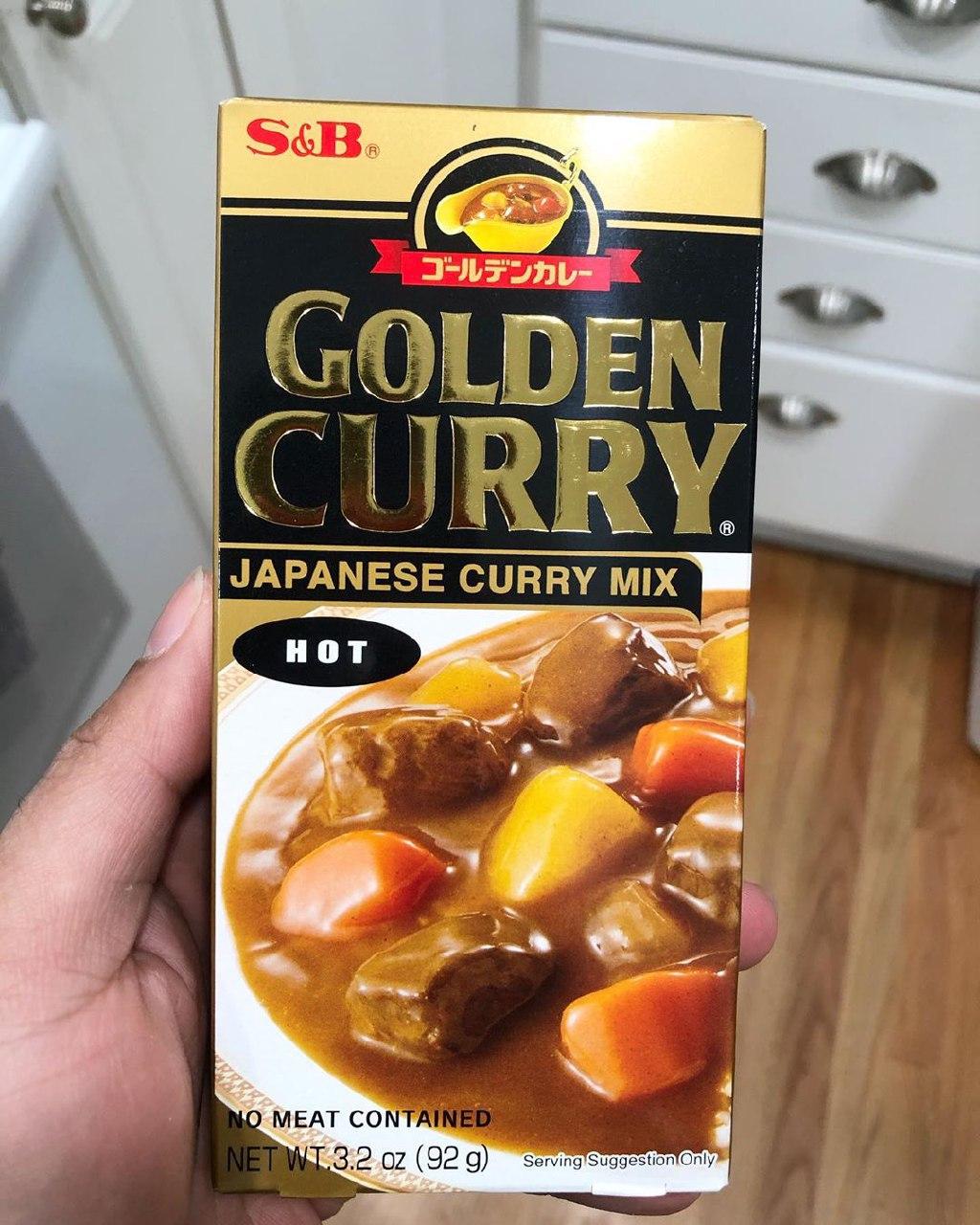 Japanese curry roux
Image credit: @homecookingwithcorgis
Japan has simplified cooking curry by creating curry roux, so that we don't have to make curry from scratch. These can be found in most Asian supermarkets or the Japanese section of your local supermarket.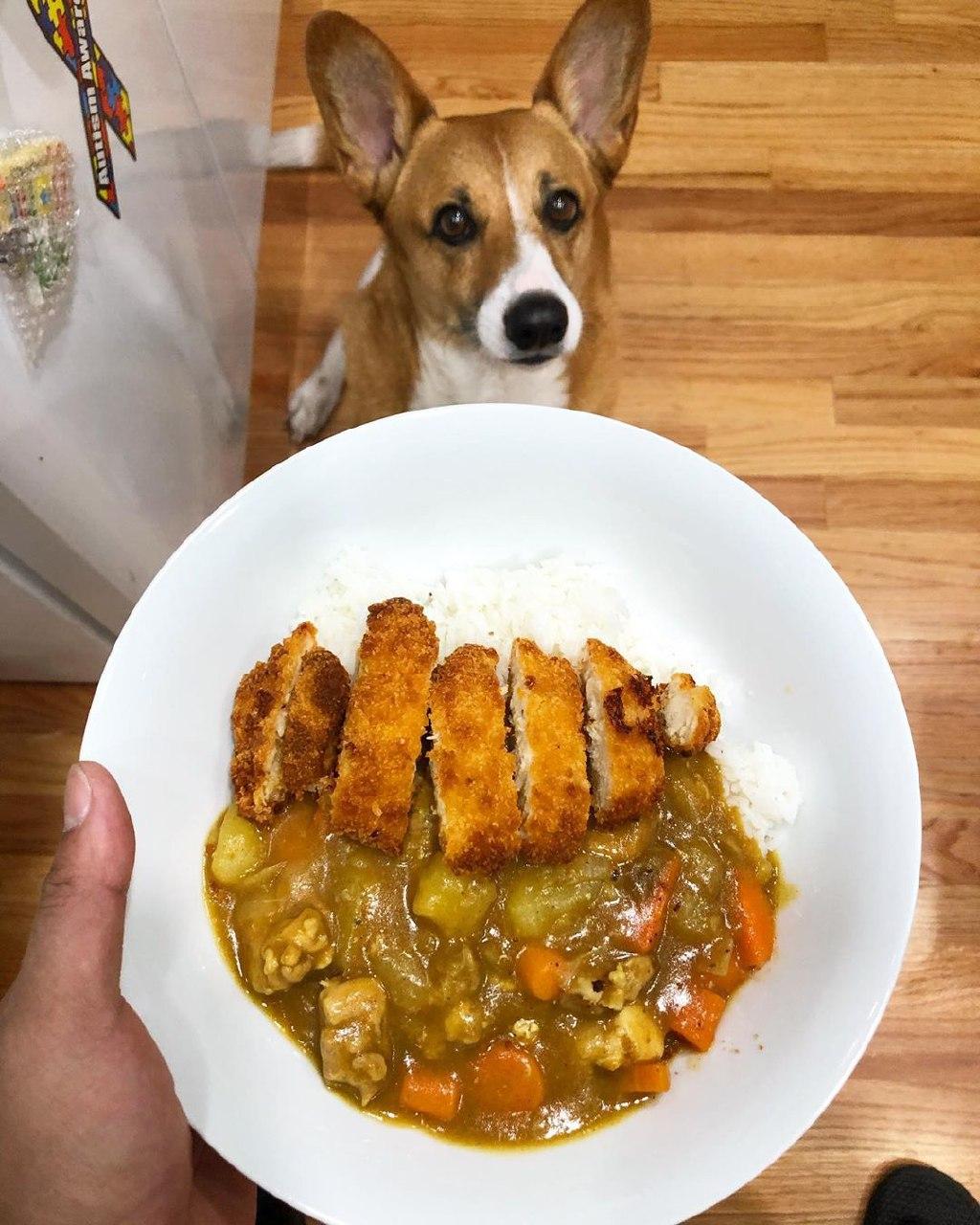 Image credit: @homecookingwithcorgis
Ingredients: 
Katsu:
¾ cup

panko

(breadcrumbs)

1 tbsp extra virgin olive oil

2 pieces of ½ inch-thick lean, boneless pork loin chops

1 tsp kosher/sea salt

Ground black pepper

2 tbsp all-purpose flour

1 large egg
Curry:
½ an onion, chopped thickly

1 carrot, chopped into chunks

1 potato, chopped into similarly-sized chunks

½ a box of Japanese curry roux

¼ apple, grated

500ml of water

A pinch of salt and pepper
Steps:
Katsu:
Adjust an oven rack to the middle position and preheat the oven to 200C. Line a rimmed baking sheet with parchment paper.

Combine the

panko

and oil in a frying pan and toast over medium heat until golden brown. Transfer panko into a shallow dish and allow to cool.

Tenderise the meat with a meat pounder or the back of a knife. Then, try to shape it back to its original size and thickness.

Sprinkle the pork chops with salt and black pepper.

Coat the pork chops with flour, then dip it into the egg mix. Afterwards, coat the chops with

panko

flakes.

Place the pork chops in the oven and let it bake for around 20 minutes. The insides should no longer be pink. Slice the pork chops into 1-inch thick slices.
Curry:
Stir-fry the potato cubes and carrot slices together.

Add the onion slices and stir it well.

Add water and curry roux to the pot and let the stew simmer for approximately 20 minutes until a thick consistency is achieved. While simmering, add in the grated apple and stir.

Season with salt and pepper.
Serve together on a plate with steamed rice. 
Experiment with other types of toppings, like beef, chicken, and fried tempura prawns. You can also add Worcestershire sauce to the curry for an added zing.
Check out the original recipe of the tonkatsu here.
---
3. Goya Champuru (Okinawan-Style Stir-Fried Bitter Gourd, Pork and Egg), serves 4
---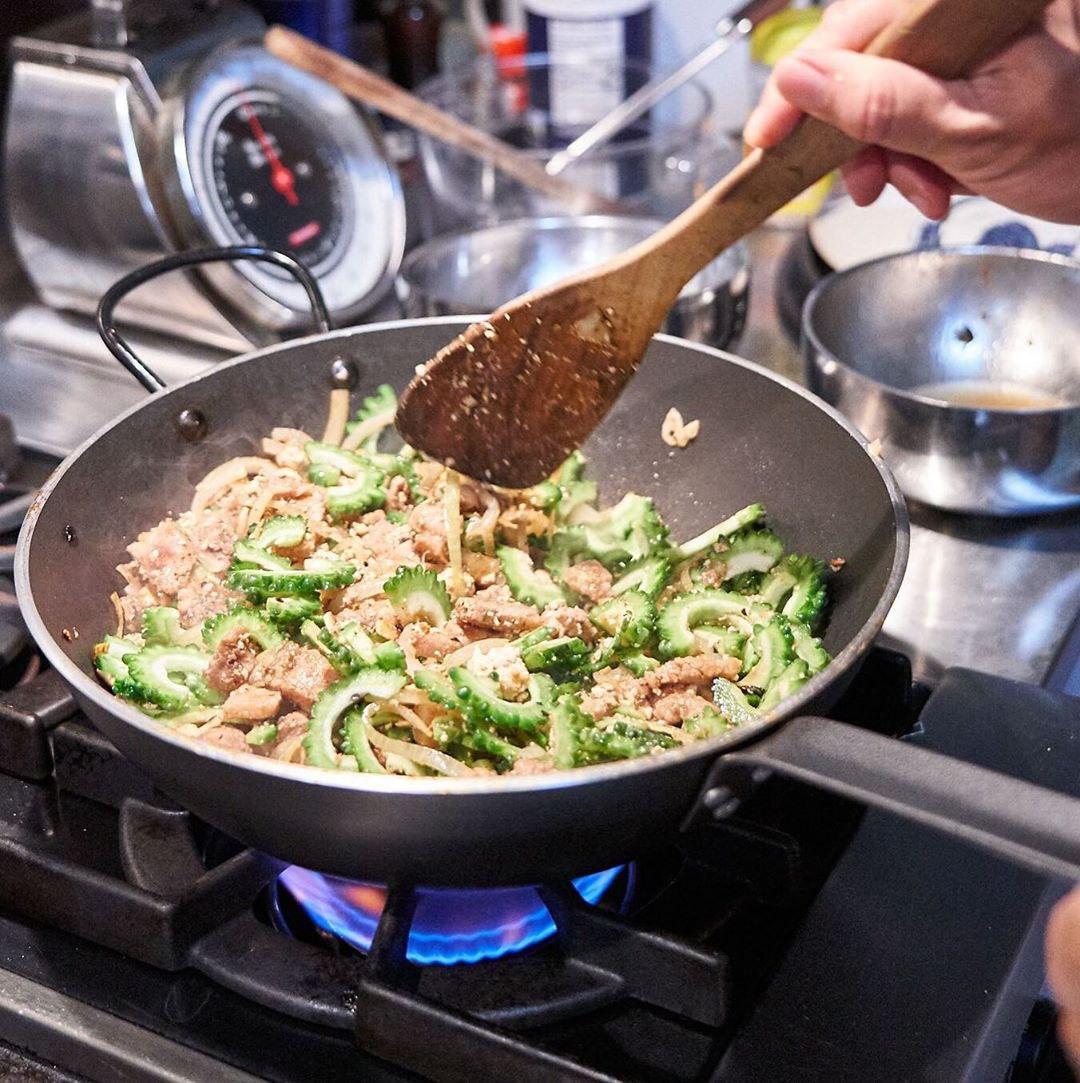 Image credit: @ovenbirdhomekitchen
Goya champuru – sometimes also spelt "chanpuru" – is an Okinawan dish that typically uses bitter gourd, tofu, egg, and luncheon meat or pork. It's heavily influenced by Chinese, Japanese, and Southeast Asian cooking, which have all played a role in shaping the island's history and culture.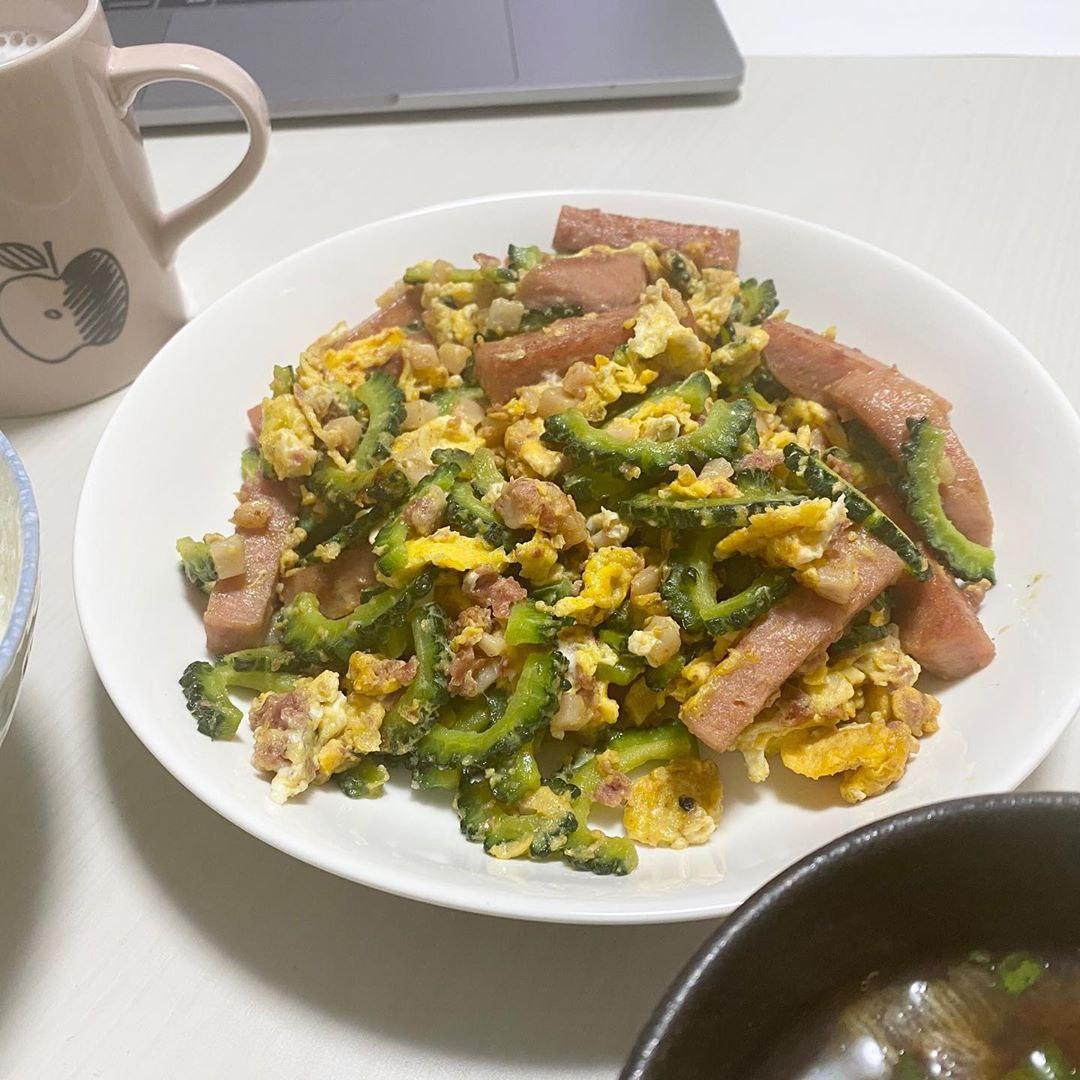 Image credit: @hi.ka.ri0309
Ingredients:
2 small bitter gourds

2 garlic cloves (minced)

1/2 large brown onion (sliced) 

5 medium eggs 

250g Pork loin 

1 tbsp oil

2 tbsp soy sauce (Kikkoman is recommended) 

1 tbsp sake

1 pinch of sugar

Sea salt

1 handful of dried bonito flakes

Black or white pepper (optional) 
Steps:
Pour the oil into a wok or frying pan and stir-fry the garlic and onion with a pinch of sea salt on low heat.

Meanwhile, cut the bitter gourd in half lengthwise and remove the seeds with a spoon. Slice it diagonally into thin pieces.

Slice the pork into chunks and season with some sea salt.

Beat the eggs well in a bowl and pour over the cooked garlic and onion, and stir-fry on high heat. Once the egg is cooked, add the pork and cook on medium heat.

After the pork is thoroughly cooked, add the bitter gourd and stir-fry on high heat and keep stirring. Add soy sauce, sake, sugar, and some sea salt.

Switch off the stove and serve with bonito flakes.
Goya champuru is a versatile dish, and you can swap out the pork for luncheon meat, canned tuna, and prawns.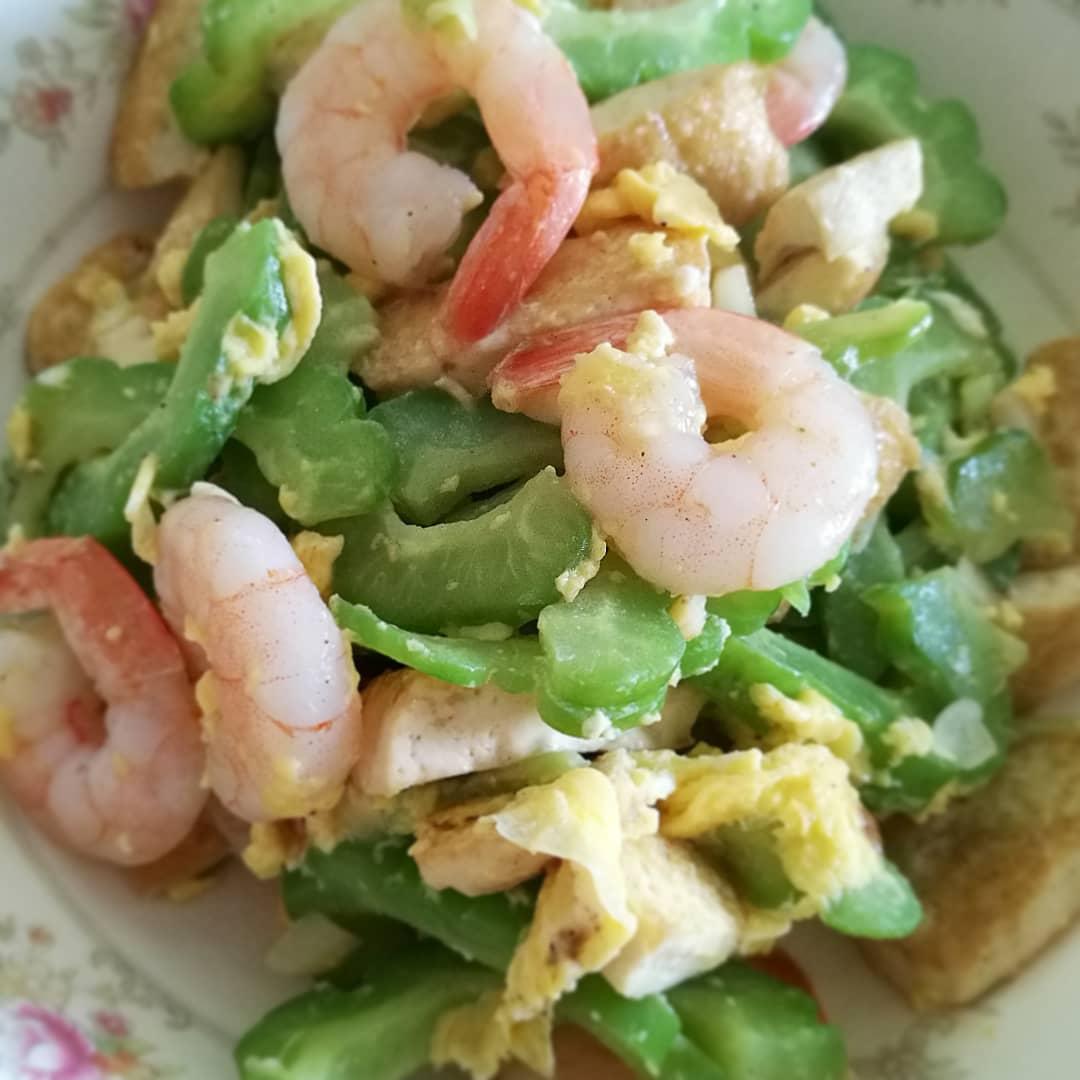 Image credit: @owllittlekitchen
Check out the original recipe here.
---
4. Japanese Beef Hamburger Steak with Glazed Teriyaki, Tofu & Wasabi, serves 4
---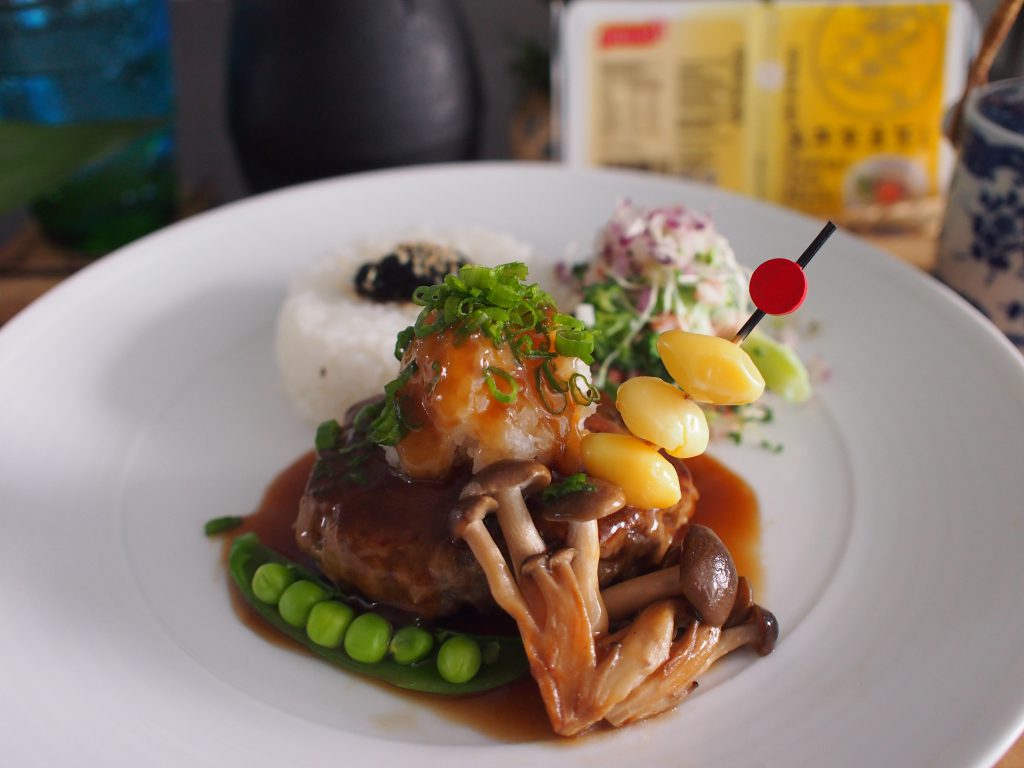 Image credit: Naoko's Kitchen

Japanese hamburger steak, also called hambagu (ハンバーグ), is a Japanese take on the Western hamburger. It's served with rice, rather than buns. The Japanese hamburger steak is a popular dish in Japanese yoshoku cuisine, where Western dishes are taken on with a Japanese twist.
Ingredients:
250g minced beef

75g egg tofu

3 cloves of garlic, minced

1/2 medium brown onion, minced 

2 tbsp whole grain bread (for raw

panko

) 

1 tsp Japanese soy sauce 

1 tbsp oyster sauce 

2 heaps wasabi powder 

1 pinch of salt 

1 pack of shimeji mushroom 

Daikon

(grated)

Spring onion (sliced finely) 

2 tbsp Japanese say sauce 

4 tbsp cooking sake 

1 tsp honey 

1 pinch of salt 

4 tbsp water 

2 tsp

hondashi

powder (dried bonito dashi powder) 

2 tsp potato starch 

1 tsp water
Steps: 
Tear the bread into fine pieces to make the raw

panko

. Alternatively, store-bought

panko

is fine, but be careful not to burn it.

Put the minced beef, egg tofu, garlic, onion,

panko

, soy sauce, oyster sauce, wasabi powder and salt in a bowl. Mix with your hand until the mixture turns sticky and well-mixed.
Tip: You can check the seasoning by pinching a small amount and heating it in a microwave or on a frying pan. 
Divide the mixture into 4 flat disc-shaped patties. Make a small depression in the middle of each patty.

Heat a non-stick frying pan on high heat and place the hamburger steak patties and Shimeji mushroom on them. Once the bottom is golden, turn it over and cook on low heat. Cover the pan with a lid.

After 5 minutes, stick a skewer through the thickest part of the steak. Clear juice flowing from the steak would indicate that the beef is properly cooked.

To make the teriyaki sauce, mix soy sauce, sake, honey, salt and 4 tbsp of water in a saucepan and bring it to boil. Meanwhile, mix the potato starch and 1 tsp of water in a bowl and stir well. Once the sauce boils, reduce heat and pour the potato starch batter over the sauce. Over high heat, stir until a nice and thick consistency is formed.

Transfer the hamburger steaks to plates and garnish with mushrooms and grated

daikon

. Drizzle the teriyaki sauce over and sprinkle some spring onion over.
You can check out the original recipe here.
---
5. Chawanmushi, serves 4
---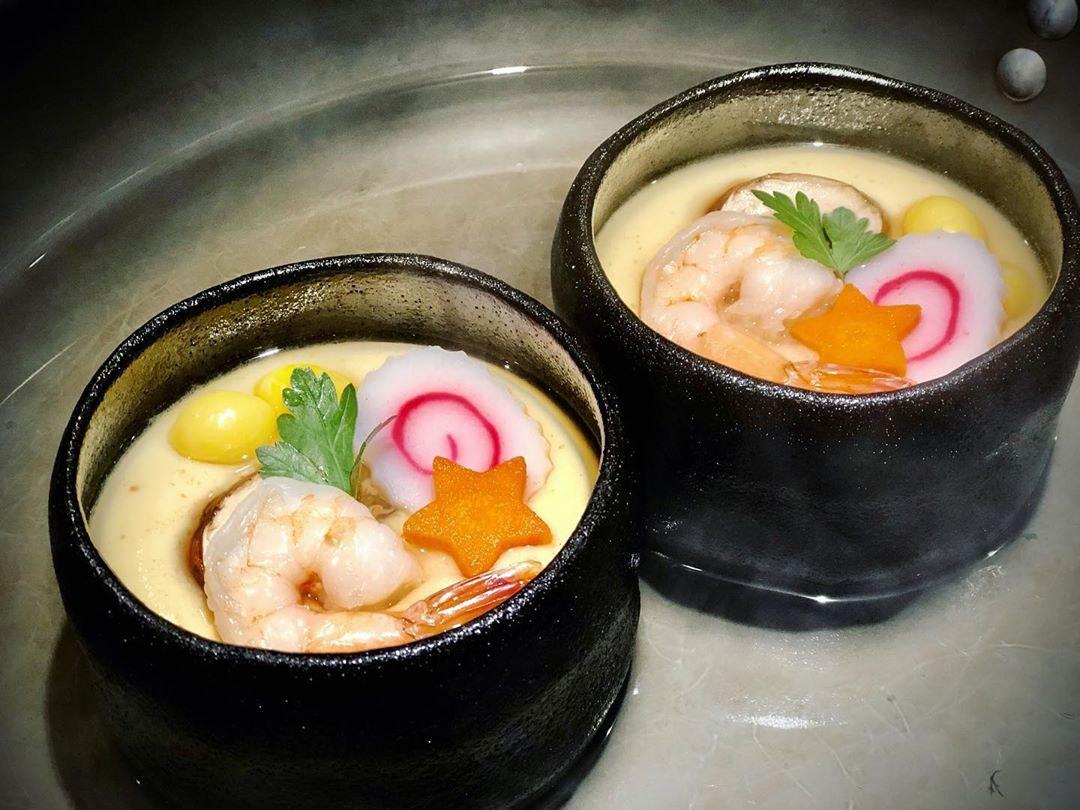 Image credit: @acanakitchen
An appetiser in Japanese cuisine, chawanmushi has a savoury taste that comes from the dashi stock it's cooked with and is perfect for whetting one's appetite.
Ingredients:
3 eggs

240ml of

dashi

stock (mixed with water)

4 large cooked prawns

4 shiitake mushrooms

8 slices

kamaboko

(steamed fish cake)

1 tsp of cooking sake

1 tsp of soy sauce

A pinch of sugar

A pinch of salt
Steps:
Beat the eggs in a bowl gently – make sure that the eggs do not froth up.

Meanwhile, soak the shiitake mushrooms in water.

In a separate bowl, mix the dashi stock, soy sauce, cooking sake, salt, and sugar. Add this mix to the eggs while stirring constantly.

Once you have mixed everything, strain the mixture through a sieve to make sure that the texture is smooth.

Drain the shiitake mushrooms, remove the stems and slice in half. Add two sliced halves of shiitake, one large prawn, and two slices of

kamaboko

to a small cup or bowl for each person.

Fill the cups with the egg mixture to near the top. For a smoother texture, use a cling wrap to cover the cup.

Add the cups into a pot and steam them on low heat for approximately 15 minutes.
If you are not a fan of fish, you can swap out the kamaboko for chicken chunks.
Check out the original recipe here. 
---
6. Cream chicken stew, serves 4
---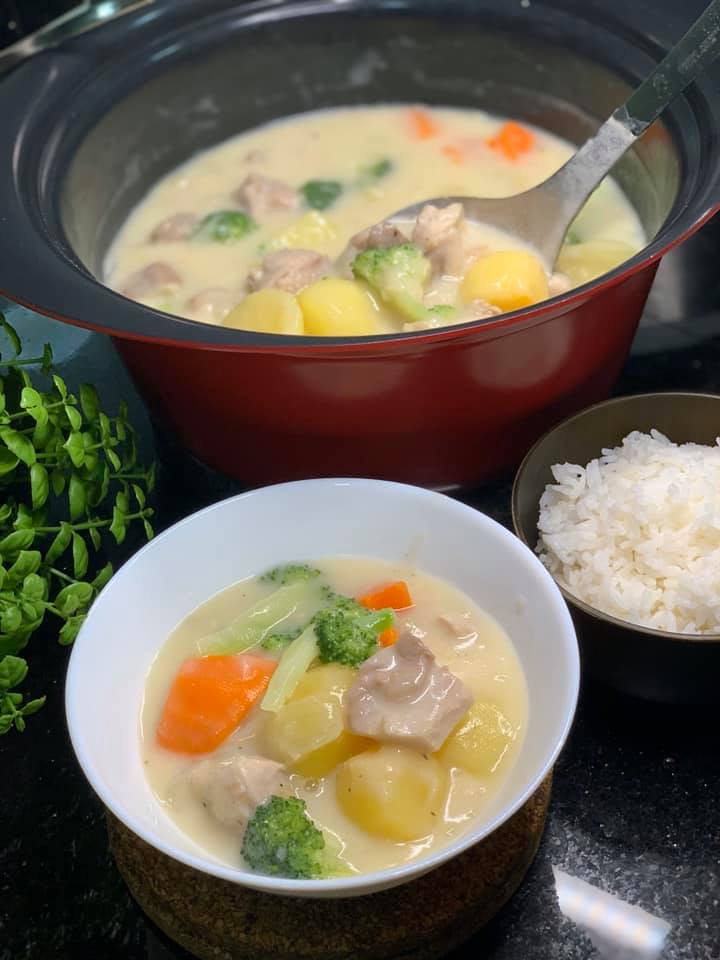 Image credit: Quek Seok Bin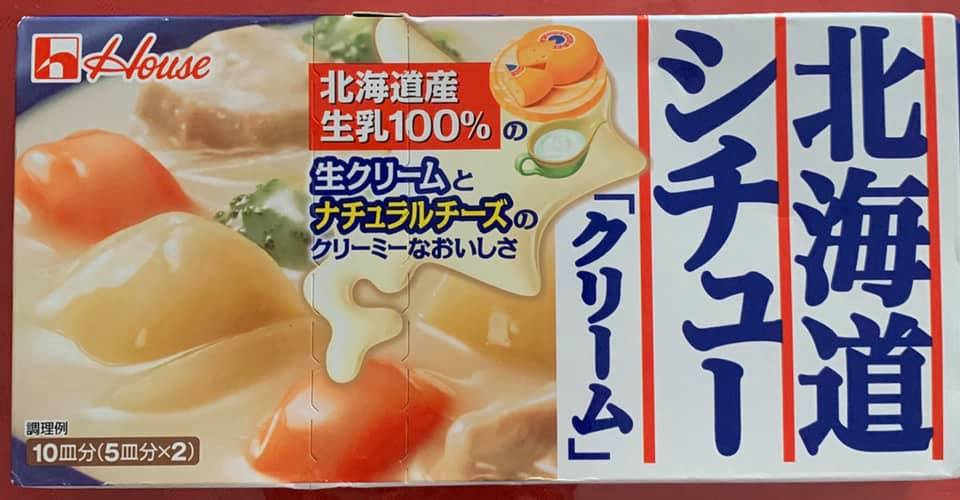 Japanese cream stew roux
Image credit: Quek Seok Bin
Japanese cream stew is also a popular dish in yoshoku cuisine. The Japanese have made it simpler too, and have created roux blocks to help in making the stew, much like curry. It's a simple and filling dish that can be cooked in one pot, making it popular amongst busy salarymen cooking dinner for themselves after work.
Ingredients:
2 boneless chicken thighs (pat dry)

1 big onion (sliced into wedges)

1 carrot (cut into small chunks)

2 potatoes (cut into small chunks)

1 broccoli (use only the florets)

1/2 box of pre-packaged cream stew roux

About 500ml of water

200 ml of milk
Steps:
Marinate chicken thighs with some black pepper and salt.

Heat up a pan and place marinated chicken thighs in the pan, with the skin side facing down. Once the skin is brown and lightly crisped, flip it over. Cook for an additional minute and remove from heat.

Slice the chicken into chunks when it's cooler and set it aside.

Along with the extracted chicken oil in the pan, add another tbsp of olive oil.

Sauté onions until they brown lightly before adding potatoes and carrots to stir-fry.

Add in the chicken chunks and fry everything together for a minute.

Add water to the pan and bring it to a boil, before reducing heat to a simmer to let the ingredients soften. For a thinner gravy, add more water.

Once all the ingredients soften, add in the cream stew roux and mix well. Tip: you can chop up the roux cubes to help it dissolve.

Simmer the stew for a couple of minutes to let it thicken.

Lastly, add in milk. Let it simmer on low heat again for 5 minutes before serving the stew.
You can play around with the ratio of milk to water. Add more milk and less water to create a creamier stew.
Check out the original recipe here, shared in the Singapore Home Cooks Group on Facebook.
---
7. Sukiyaki At Home, serves 2
---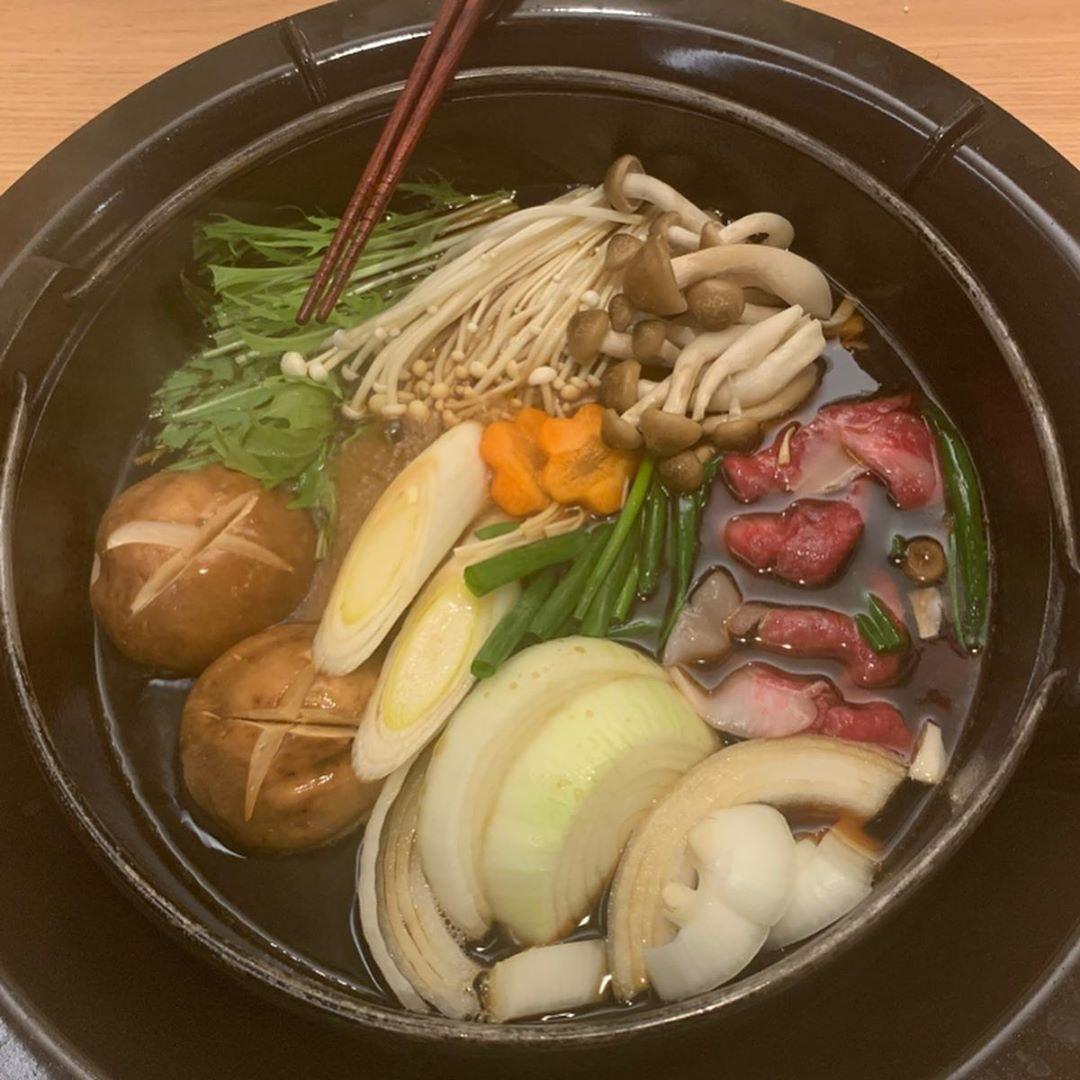 Image credit: @mimimi2680
In Japan, sukiyaki (Japanese hot pot) can be enjoyed both in groups or by yourself, and it's especially popular during winter. Preparation for a sukiyaki hot pot isn't difficult, and can be done very quickly.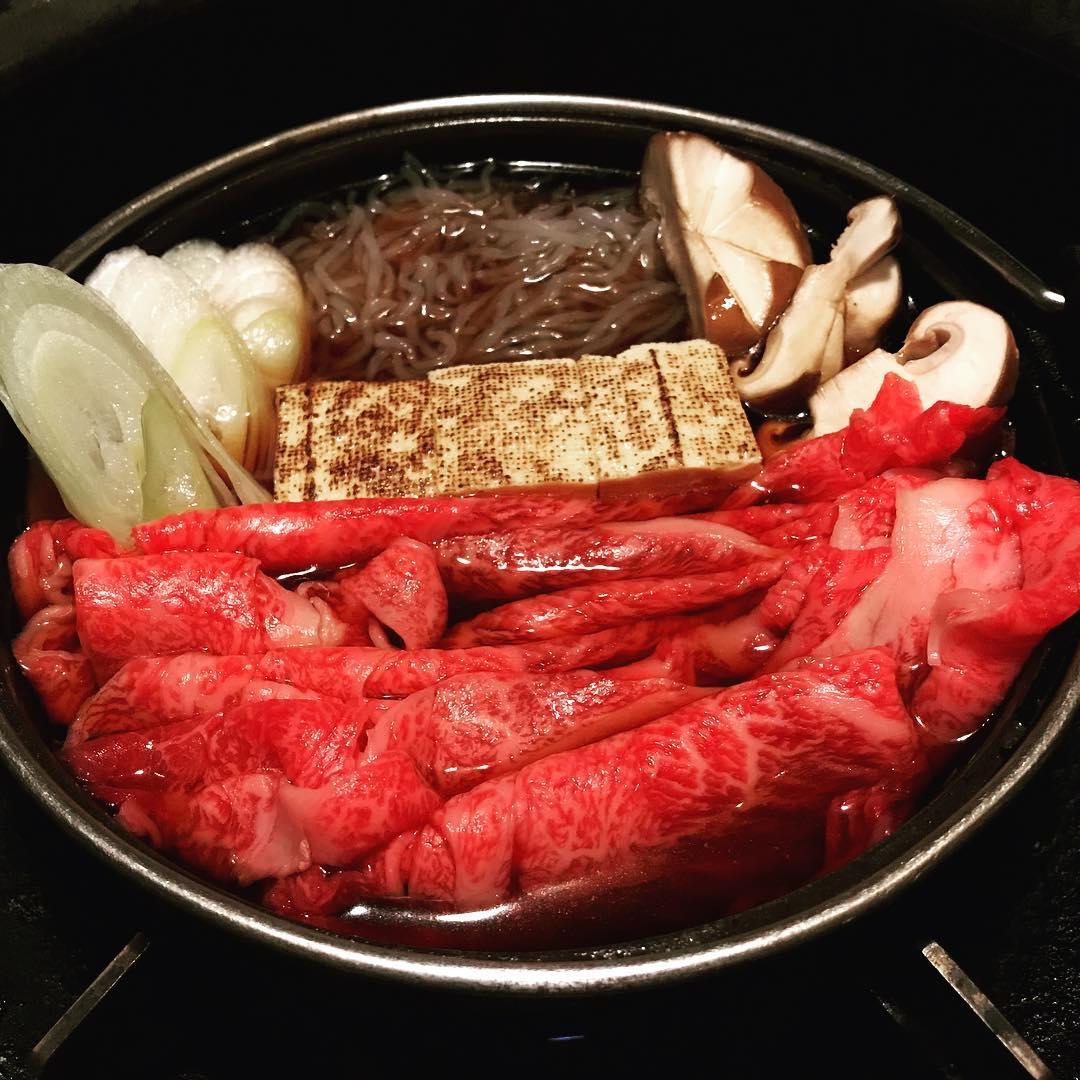 Image credit: @atsushiueda45
Ingredients:
Sliced pork – 250g

½ an onion

Shimeji mushrooms – 100g

Firm tofu – 200g

Konjac noodles – 200g

Snap peas, blanched – 6 pieces

Steamed rice – 2 bowls

2 eggs
Sukiyaki sauce:
Mirin (100cc)

Sugar (2 tbsp)

Soy sauce (70cc)

Dashi (500cc)
Steps:
Mix all of the sukiyaki sauce ingredients together.

Using a knife, cut 2 grooves on the top of the mushrooms to help them cook easier.

Slice spring onions into 6-inch pieces.

Cut the onions into pieces.

Pan-fry tofu cubes to brown the sides slightly before removing them.

Boil the konjac noodles until they're soft before removing them from the heat. Rinse the noodles before chopping them into smaller bunches.

Beat up the eggs. These will be used as a dipping sauce for the sukiyaki, so make sure they are certified safe for raw consumption.

Pan-fry everything along with the sukiyaki sauce and sliced pork in a flat-bottomed pot.
Tip: Add some water at the end to create a degreasing stock – it goes well with the vegetables, and it helps with cleaning up after you've finished your meal.
Check out the original recipe in this video.
---
8. Hayashi Rice (hashed beef rice), serves 2
---

Image credit: 李踢接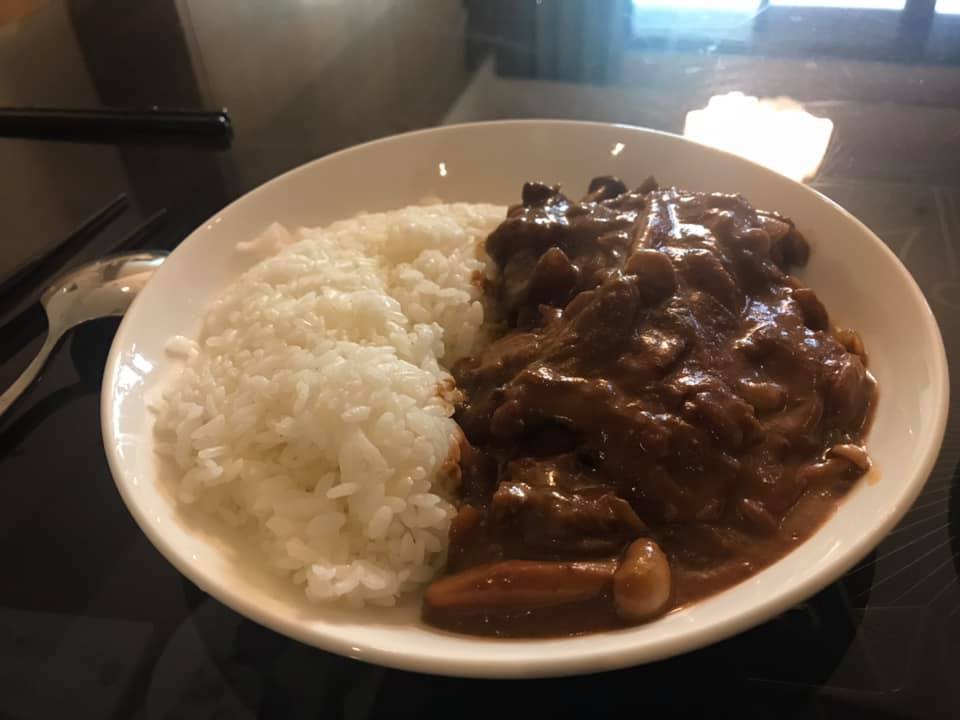 Image credit: Yi Hsien Liao
Hayashi rice, or hashed beef rice, is a yoshoku dish that generally includes beef and rice covered in a thick demi-glace sauce that's made from reduced red wine. Most restaurants that specialise in hayashi rice will simmer the demi-glace sauce over 24 hours to thicken it, but we've included an easier version that will save you time.
Ingredients:
Sliced beef – 250g

Salt and black pepper

½ an onion

Garlic – 2 cloves

Shimeji mushrooms – 100g

Enoki mushrooms – 50g

Butter – 1 tbsp

Red wine – 100cc

Cherry tomatoes – 350g

Brown sugar – 2 tbsp

Ketchup – 2-3 tbsp

Steamed rice – 2 bowls

Chopped parsley
Steps:
Peel the Shimeji mushrooms into small, individual pieces. Chop the Enoki mushrooms into small cubes.

Slice the onion into thick slices.

Peel and dice the garlic cloves into small pieces, about an inch long.

Puree the cherry tomatoes. You can use canned cooked tomatoes for the puree too.

Fry the beef slices in a pan until both sides are brown before removing and setting them aside.

With the same pan and the beef oils inside, add 1 tbsp of butter and saute the garlic pieces inside until they brown.

Add the onion slices and continue to stir-fry until the onion is translucent.

Throw in the mushrooms and fry until it's golden brown. 

Pour the red wine into the pan.

Pour the tomato puree and brown sugar and let the sauce simmer for 5 minutes. 

Add the soy sauce and ketchup into the pan.

Meanwhile, cut the beef slices into smaller, easy-to-eat pieces. Mix the beef into the stew and let it simmer for 2-3 minutes more.

Remove the pan from heat and serve it with rice on a plate.
Check out the original recipe in this video.
---
Easy Japanese dishes recipes
---
If your knowledge of how to cook Japanese dishes is limited to instant ramen, here are 8 simple Japanese dishes that you can make at home. With a bit of practice and determination, you'll soon be able to impress everyone with your newfound skills when the quarantine ends.
Check out these articles: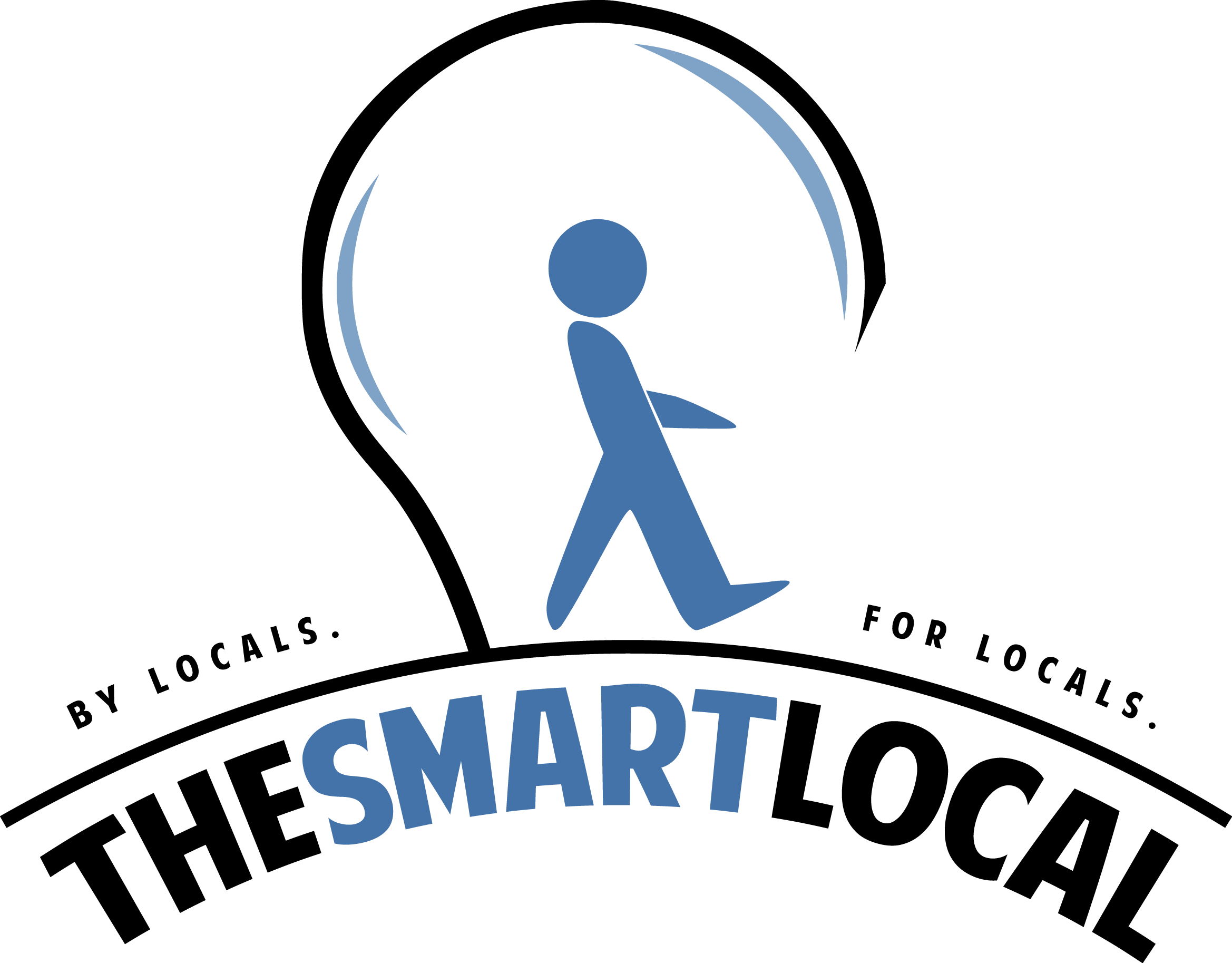 Drop us your email so you won't miss the latest news.