Death game manga
---
Alice in Borderland, which started out as a death game survival manga, took the world by storm when the 1st season of its live-action adaptation was released on Netflix in 2020. Season 2 was recently released in Dec 2022, but if you can't get enough of the thrill, here is a list of other death game manga to indulge in.
---
1. Darwin's Game
---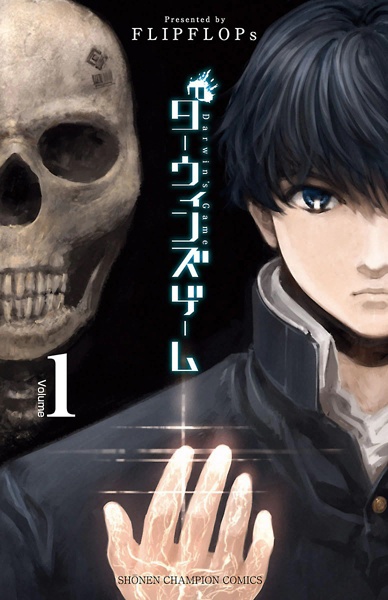 Image credit: Akita Shoten
Sudou Kaname gets an invitation from his classmate to play a mysterious mobile game called Darwin's Game. However, the moment he opens the application, a green snake emerges from his screen and bites him, rendering Kaname unconscious.
When he regains consciousness, Kaname finds himself in the school's infirmary. Though he recalls the green snake, he dismissed it as a figment of his imagination. 
Out of curiosity, Kaname opens the application again and starts a battle on a whim, facing a panda mascot as his opponent. Confused, he looks up from his screen to see a panda mascot brandishing a knife right in front of him.
As the killer panda mascot chases Kaname down with the intention of killing him, Kaname realises that he was roped into a brutal death game with no way out. After winning his battle and losing his classmate, Kaname vows to find out the truth behind such the cruel game and destroy its creator.
Darwin's Game was adapted into an anime series in 2020, and you can catch it on Netflix.
Artist: FLIPFLOPs
Genre: Action, Mystery
Volumes: 27
Status of manga: Ongoing
---
2. King's Game
---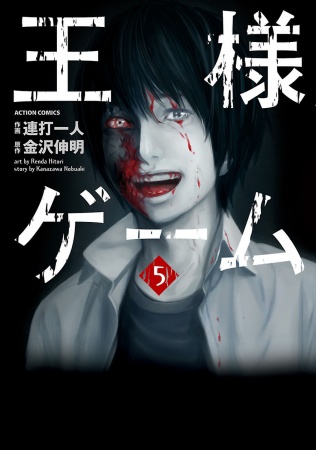 Image credit: Futabasha 
In King's Game, an entire class of 32 receive a text message instructing them to obey all commands. The first command starts out simply – 2 students are ordered to kiss – but the missions get worse as the manga progresses.
Initially, the students treat the text messages as simply a joke, but they soon realise that those who fail to obey the commands are punished with cruel deaths.
Nobuaki Kanazawa, the main protagonist, is determined to put a stop to the game and prevent any more deaths from happening.
King's Game was adapted into an anime series in 2017.
Artist: Nobuaki Kanazawa
Genre: Drama, Horror, Mystery, Supernatural
Volumes: 5
Status of manga: Completed
---
3. As The Gods Will
---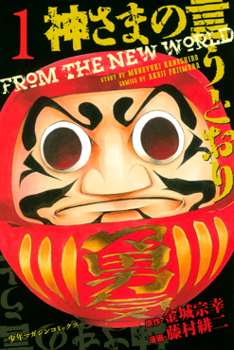 Image credit: Kodansha
In As The Gods Will, Takahata Shun leads a boring and uneventful life until one day, during class, his teacher's head suddenly explodes. Upon the teacher's death, a daruma doll appears, and the class is forced to participate in a cruel game.
The rules are simple: don't move when the daruma is looking at you, and the game ends when the button on the back of the daruma is pressed.
After surviving the daruma game, Shun finds himself thrown into another death game right away. He then vows to find out the truth behind these games and put a stop to them.
As The Gods Will was adapted into a film in 2014.
Artist: Muneyuki Kaneshiro
Genre: Action, Drama, Horror, Supernatural
Volumes: 5
Status of manga: Completed
---
4. Real Account
---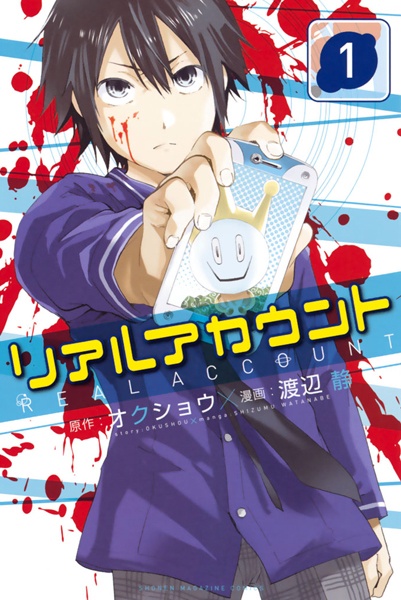 Image credit: Bessatsu Shounen Magazine
Real Account, or Re-Aca, is a popular social media app that has become indispensable for the majority of the population in the manga. This is especially true for Mukai Yuuma, who depends on the app to escape reality and connect with his followers, whom he considers to be his friends.
One day, Yuuma is transported into the virtual realm of Re-Aca alongside 10,000 other users and forced to participate in a series of horrifying games while risking their lives.
Dying in the virtual realm of Re-Aca guarantees one's demise in reality. On top of that, should a player die in the games, their followers would all follow suit. Despite the risks, players have to ensure that their follower count does not drop to zero, as that would warrant their death as well.
Artist: Shizumu Watanabe
Genre: Drama, Sci-Fi
Volumes: 24
Status of manga: Completed
---
5. Gambling Apocalypse Kaiji
---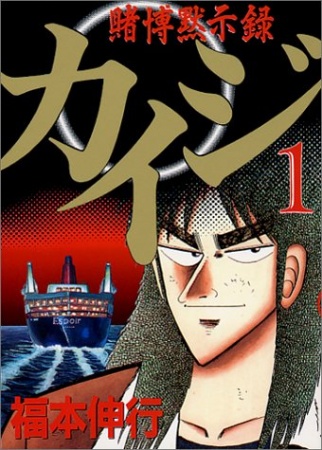 Image credit: Kodansha
Itou Kaiji is an unemployed man who tries to alleviate his bitter situation by drinking alcohol and playing pranks on others. One day, a loan shark named Endou visits Kaiji to collect an outstanding debt that he had carelessly co-signed with his former co-worker.
Endou proposes a golden opportunity to Kaiji that gives him a chance to clear the debt in one night – he can choose to board Espoir, a gambling ship, which will either help him win enough to clear the debt or drive him further into poverty.
Kaiji manages to survive the voyage and returns, only to continue to be roped into subsequent gambling nights.
Kaiji was adapted into 2 anime series Kaiji: Ultimate Survivor (2007) and Kaiji: Against All Rules (2011). It was also adapted into a live-action film in 2009.
Artist: Nobuyuki Fukumoto
Genre: Drama
Volumes: 13
Status of manga: Completed
---
6. Doubt
---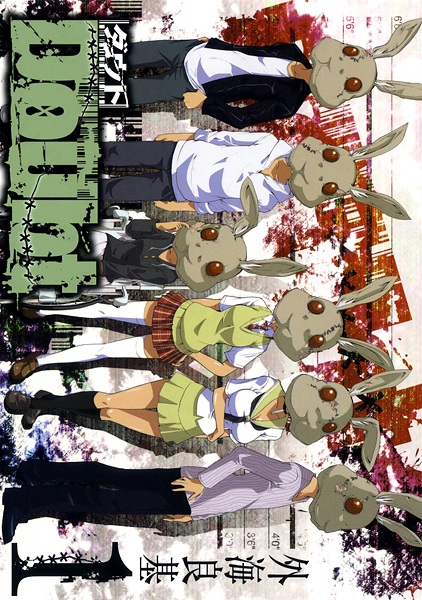 Image credit: Square Enix
Doubt revolves around a fictitious cellphone survival game where the players are all "rabbits" with the exception of one "wolf". The "rabbits" have to guess who the "wolf" is and kill it before they are all killed by the "wolf".
When the main protagonist of the manga, Aikawa Yuu, meets his friends at a bar, he is suddenly knocked unconscious by an unknown figure wearing a rabbit mask. After regaining consciousness, Yuu finds himself in an abandoned hospital, forced to play the fictitious game in real life.
Will the rabbits manage to find and kill the disguised wolf, or will they all get hunted down as prey?
Artist: Yoshiki Tonogai
Genre: Mystery, Suspense
Volumes: 4
Status of manga: Completed
---
7. Tomodachi Game
---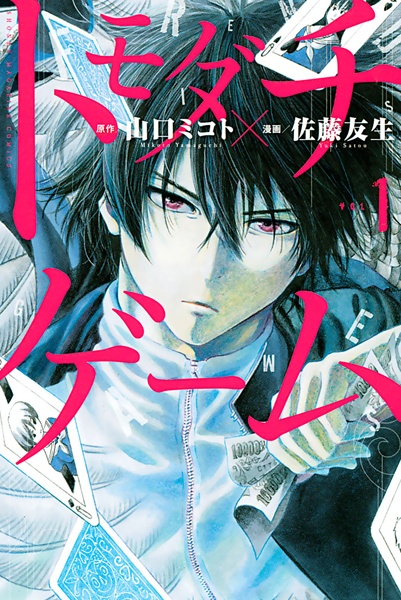 Image credit: Kodansha
Katagiri Yuuichi, the main protagonist of Tomodachi Game, has struggled financially his whole life. Nevertheless, he is content as his mother has always taught him that friendship is more important than money.
Yuuichi manages to save up enough money to go on a school trip with his friends, but unfortunately, the entire trip's funds go missing. A few days later, Yuuichi and his friends are tricked into meeting in front of their school gate, where they are subsequently knocked unconscious.
When they all regain consciousness, the group finds themselves in an unfamiliar place where Manabu-kun, likely to be behind their kidnapping, explains that they would be playing games to settle a ¥200,000,000 (~USD1,555,754) debt that one of them is responsible for.
Manabu-kun says that the games can easily be cleared as long as there is trust between the group of friends, but how can there be trust when there is clearly a traitor among them?
Tomodachi Game was adapted into an anime in April 2022. There are also various live-action adaptions of the title.
Artist: Yuuki Satou
Genre: Mystery, Suspense
Volumes: 21
Status of manga: Ongoing
---
8. Liar Game
---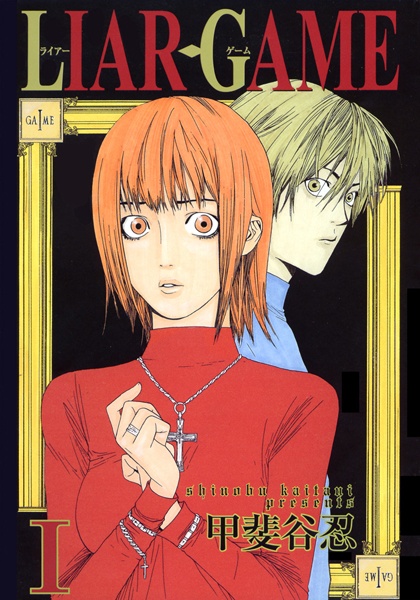 Image credit: Shueisha
Kanzaki Nao is an extremely kind but naive college student who one day receives a mysterious package. Inside, there's a note stating that once she opens the package, her participation in the Liar Game is confirmed and that she will not be able to withdraw from the game.
Not knowing any better, Nao opens the package and finds ¥100,000,000 (~USD777,877) inside, along with a note that confirms her participation. 
The note further explains the rules of the game –  Nao has to attempt to seize her opponent's money and, at the end of 30 days, return it to the game's representatives when they come to collect it.
Any additional amount she has successfully stolen from her opponent will be hers to keep at the end of the game. However, any deficit will put her in debt, and she would have to reimburse them for it.
Nao turns to Akiyama Shunichi – a famous swindler – for help, and the 2 go on to participate in a series of games.
Liar Game has had a few live-action adaptations featuring different story arcs in the manga.
Artist: Shinobu Kaitani
Genre: Drama
Volumes: 19
Status of manga: Completed
---
9. Dead Tube
---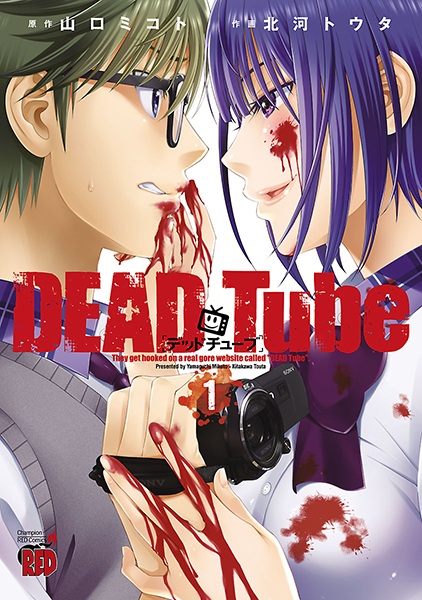 Image credit: Akita Shoten
The eponymous Dead Tube is an online video sharing and social media platform where people compete to upload violent and sensual videos that will rack up the most views.
The person who uploads a video that gets the highest number of views at the end of the week will receive a prize of ¥10,000,000 (~USD77,787), while all those involved in making the video with the lowest view count will be made to shoulder the fees incurred and crimes perpetrated by the other contestants.
As the goal is simply to get the highest view count, contestants will go to any lengths – even if it is criminal – to ensure that their videos are interesting enough to get as many views as possible.
Machiya Tomohiro is a member of the Film Research Club and was asked by Mashiro Mai, a member of the swim team, to film her for two days. However, on the 2nd day, Mai brutally murders one of their classmates, and that was how she roped Machiya into the deadly world of Dead Tube.
Artist: Kitakawa Touta
Genre: Horror, Erotica
Volumes: 21
Status of manga: Ongoing
---
10. Battle Royale
---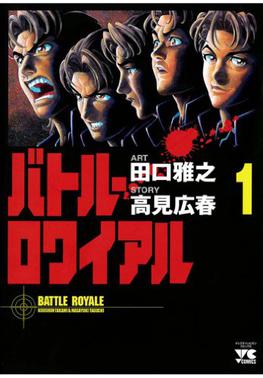 Image credit: Akita Shoten
In the cruel world of Battle Royale, there exists a military research project called "The Program", which randomly picks a class of students each year and sends them to an abandoned island to fight to the death.
The story follows the students from Shiroiwa Junior High's Class B, who have been chosen to be the participants of the survival death game this time round.
The students board a bus, thinking they were going on a school trip. Onboard, they are knocked unconscious with a gas and transported to a deserted island. When they wake up, the students realise that they are all wearing metal collars around their necks.
The collars will detonate and kill the students if certain conditions are not met – this is to force them to kill each other instead of remaining passive throughout the game. The objective is clear: kill everyone else and become the sole survivor of the game.
Artist: Masayuki Taguchi
Genre: Action, Drama, Horror
Volumes: 15
Status of manga: Completed
---
11. Life is Money
---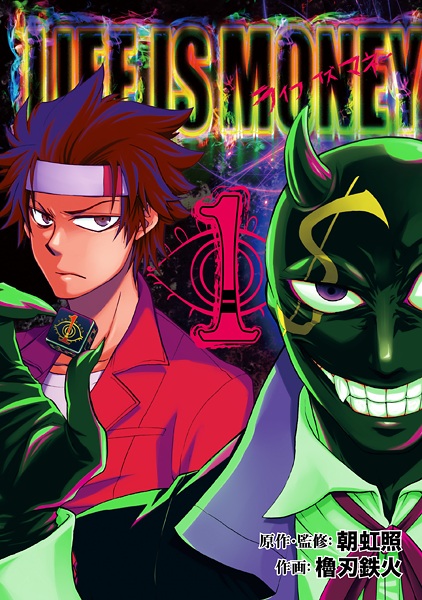 Image credit: Square Enix
Fukurokouji Meguru is a earnest young man who works various odd jobs in order to save up enough money for his younger sister's surgery. 
One day, a stranger comes up to the sibling and starts a support group for Meguru's sister. With Meguru's hard work in designing pamphlets and giving out speeches, they manage to raise enough money to pay for his sister's surgery.
However, Meguru finds out that the stranger has run off with their money and they're now back to square one. Meguru was drowning his sorrows in a pub when another stranger, Torameishi Tetsuo, introduces Meguru to the Nightmare Game, where players gamble with their lives to win a grand prize of ¥100,000,000 (~USD777,877).
Meguru eventually agrees to participate in the Nightmare Game when he's told that his sister will soon die if she does not get the surgery. However, this was simply a ruse by Tetsuo to trick Meguru into participating in the game.
Will Meguru survive Nightmare Game and emerge victorious?
Artist: Yaguraba Tekka
Genre: Drama, Horror
Volumes: 3
Status of manga: Completed
---
12. Danganronpa: The Animation
---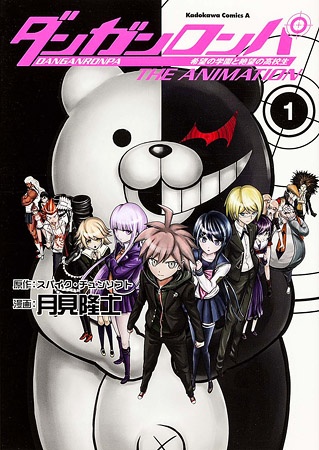 Image credit: Kadokawa Shoten
Hope Peak Academy is an elite school where only the most talented students are enrolled. Makoto Naegi, an ordinary boy with no special talents, was selected via lottery to enrol into the academy.
However, his hopes were crushed the moment he sets foot on the school grounds. Monokuma, the school's sadistic principal, tells the students that in order for them to escape, they must each kill a fellow student without getting caught.
Should the murderer be discovered, they will in turn die a horrible death.
Artist: Tsukimi Takashi
Genre: Action, Horror, Mystery
Volumes: 4
Status of manga: Completed
---
13. Rengoku Deadroll (Purgatory Dead Roll)
---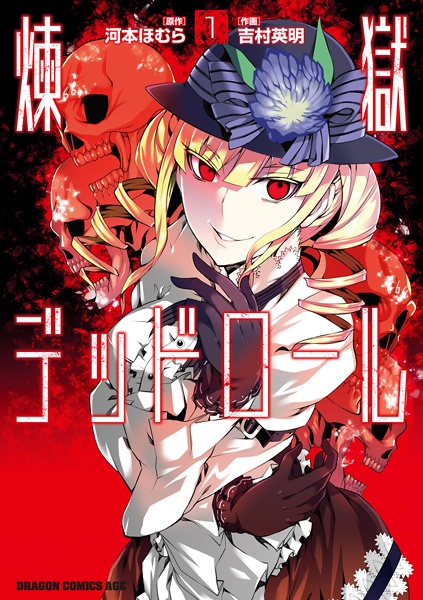 Image credit: Kadokawa
Sakai Hiroaki is a genius high school student who thinks that life is boring as it is too easy. One day, he witnesses a girl about to commit suicide on the school's rooftop and unfortunately dies while trying to save her.
He finds himself in a room full of people who have committed suicide and are all forced to play games where they have to kill each other. In this game, even if some of the players die, they will all be resurrected as long as there is at least one survivor in each round. 
If the player manages to kill 666 people, they will be granted any wish they want – they could even wish to be reborn in the real world. 
Hiroaki must now participate in these cruel games that are meant to punish those who committed suicide in order to break his own cycle of suffering.
Artist: Yoshimura Hideaki
Genre: Action, Suspense
Volumes: 6
Status of manga: Completed
---
14. Online: The Comic
---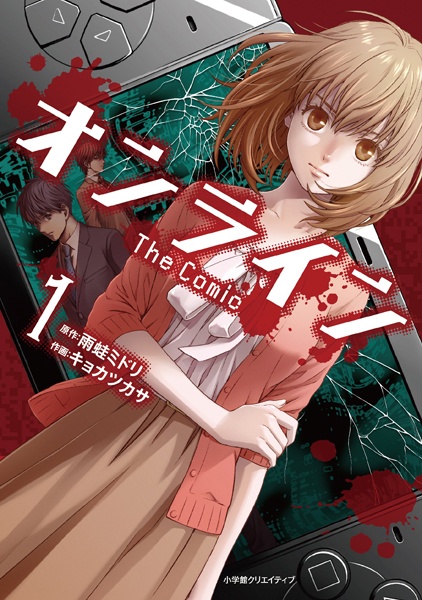 Image credit: Shogakukan
Yashiro Mai is an ordinary office worker whose life is overturned when a video game console arrives in her mailbox. The console warns her that should she refuse to play the game, her friends and family will be killed.
Having no other choice, Mai enters the game – Nightmare. In Nightmare, the player needs to participate in battles every day to earn points, or else they will die. 
The player needs to choose a body part to sacrifice to revive their character in the game, so if the player dies in-game, the body part that they chose will cease to function.
Mai's company creates a special strategy team to survive the game while finding more information about it in order to take down the game.
Artist: Kyouka Tsukasa
Genre: Horror
Volumes: 15
Status of manga: Completed
---
15. Jinrou Game (Werewolf Game)
---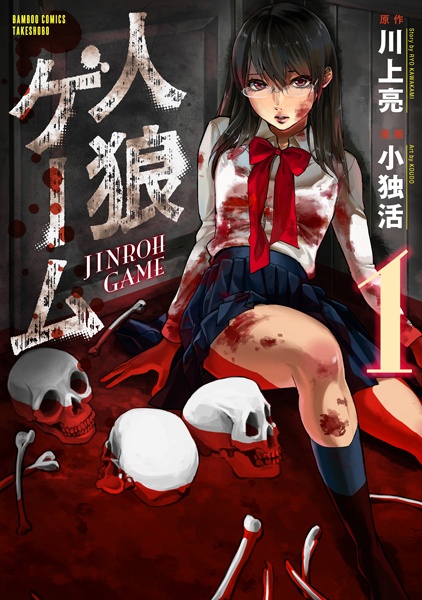 Image credit: Takeshobo
Nishina Airi is a 2nd-year student who was abducted and forced to participate in the Werewolf Game with others from her school.
The players are assigned roles as werewolves or villagers, and the 2 werewolves must succeed in killing a villager every night without getting caught to win the game.
Meanwhile, every day, the villagers gather to hold a meeting where they vote for who they think are the werewolves. Since the werewolves themselves are disguised as the villagers, their votes will also be counted. The person who receives the majority of the votes will be executed on the spot.
If the villagers manage to vote out and execute the 2 werewolves, they will win the game. The winning side will receive a prize of ¥100,000,000 (~USD777877).
Artist: Koudon
Genre: Drama, Horror, Mystery
Volumes: 3
Status of manga: Completed
---
16. Mirai Nikki (Future Diary)
---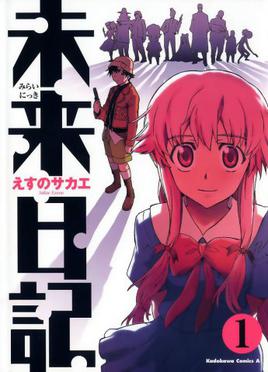 Image credit: Kadokawa Shoten
Amano Yukiteru is a reclusive middle school student who keeps to himself by writing in a diary on his cell phone. One day, the God of Space and Time – Deus Ex Machina – transforms Yukiteru's diary into one that can predict the future.
Deus explains that Yukiteru and the other 11 contestants have to play a survival game and eliminate all other diary users to become the next God of Space and Time.
Yukiteru finds himself being protected by Gasai Yuno, his classmate. Though Yuno seems sweet and charming on the surface, she's in reality a psychopathic stalker of Yukiteru. The survival game becomes more twisted as the truth about Yuno is slowly revealed.
Mirai Nikki was adapted into an anime in 2011, and you can catch it on Netflix here. And in 2012, it was turned into a live-action drama series titled Future Diary: Another:World, though the plot differs from that of the manga and anime.
Artist: Sakae Esuno
Genre: Action, Mystery, Supernatural, Suspense
Volumes: 12
Status of manga: Completed
---
17. Btooom!
---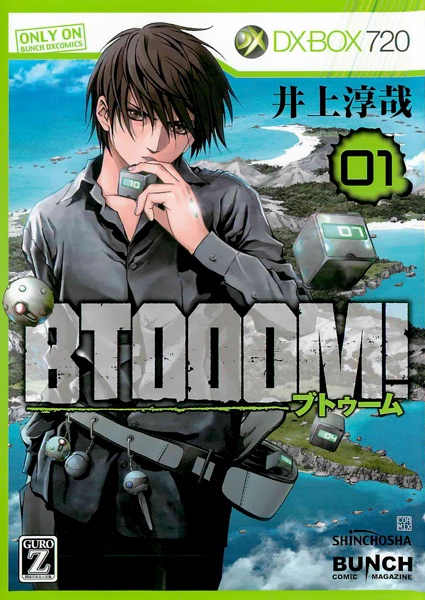 Image credit: Shinchosha
Sakamoto Ryouta is a 22 year old unemployed man who spends all his time in an online combat game called Btooom! As such, Ryouta has become extremely skilled at the game and is one of the top players.
One day, Ryouta finds himself on a strange island and realises that he is in the real-life version of the game. The virtual bombs that he was so used to have now become a deadly weapon that can kill.
In order to escape this horrifying survival game, Ryouta has to kill 7 other players and collect the chips embedded in their hands.
Btooom! was adapted into an anime series in 2012.
Artist: Junya Inoue
Genre: Action, Drama, Sci-Fi, Ecchi
Volumes: 27
Status of manga: Completed
---
18. Deadman Wonderland
---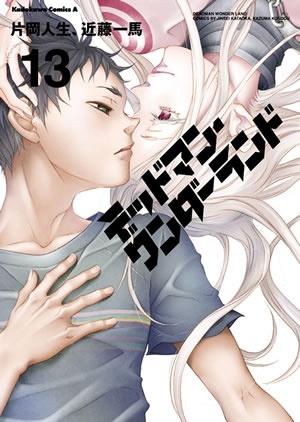 Image credit: Kadokawa Shoten
After a huge earthquake destroyed most of Tokyo, a prison that doubles as a theme park emerges in order to revive the decimated city. The prison is known as Deadman Wonderland, and its prisoners are forced to compete in cruel death games in exchange for points. 
These points are the main currency in Deadman Wonderland, and prisoners can use them to buy food, recreational items, and the antidote for the poison that is injected into death row prisoners.
Igarashi Ganta is a middle school student who is currently a death row prisoner at Deadman Wonderland. Though he was sentenced for murdering his entire class, Ganta knows that the massacre was perpetrated by a mysterious masked man, leaving him as the only sole survivor.
Ganta has to survive the harsh reality of Deadman Wonderland while investigating the truth behind the real killer in order to prove his innocence.
Deadman Wonderland was adapted into an anime series in 2011.
Artist: Kazuma Kondou and Jinsei Kataoka
Genre: Action, Adventure, Drama, Sci-Fi, Supernatural
Volumes: 13
Status of manga: Completed
---
19. Tenkuu Shinpan (High-rise Invasion)
---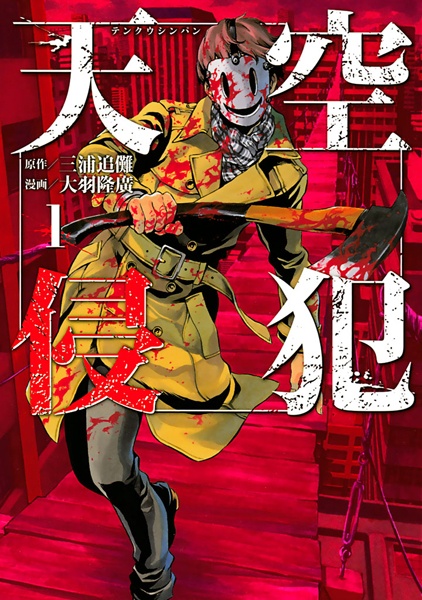 Image credit: Kodansha
Honjou Yuri is a high school student who finds herself transported into a world full of high-rise buildings and suspension bridges that connect the apartments together. 
Yuri then gets attacked by mysterious masked assailants who seem determined to urge Yuri and the other participants to jump off the buildings. Later, Yuri finds out that her brother is also in this world, and she is determined to survive and find him so that they can figure out a way to escape this world together.
Tenkuu Shinpan was adapted into an anime series in 2021 and you can watch it on Netflix here.
Artist: Takahiro Oba
Genre: Action, Horror, Mystery
Volumes: 21
Status of manga: Completed
---
20. Aphorism
---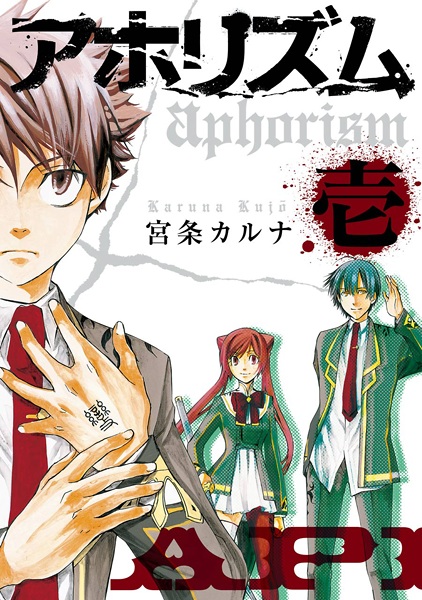 Image credit: Square Enix
Aphorism is set in Nara Shika High School – a school that only accepts students who can see the floating island in the sky. It is said that those who attend this prestigious school will be able to get far in life.
Rokudou Momiji begins his 1st day at Nara Shika High School, but it is far from what he imagined. Instead of studying, students at Nara Shika High School have to battle monsters and clear difficult trials in order to survive.
Once the students enter the school, they will not be able to leave until they graduate. 
Artist: Karuna Kujo
Genre: Action, Fantasy, Horror, Supernatural
Volumes: 14
Status of manga: Completed
---
Cruel death game manga to satisfy your sadistic needs
---
What could be more thrilling than reading about a bunch of people made to play sadistic games at the cost of their lives? Besides the thrill factor, we're also enthralled by the fantastical imagination of the mangaka (manga authors) who create intelligent games that are simply out of this world.
Also check out:
---
Cover image adapted from: Kodansha, Akita Shoten, Bessatsu Shounen Magazine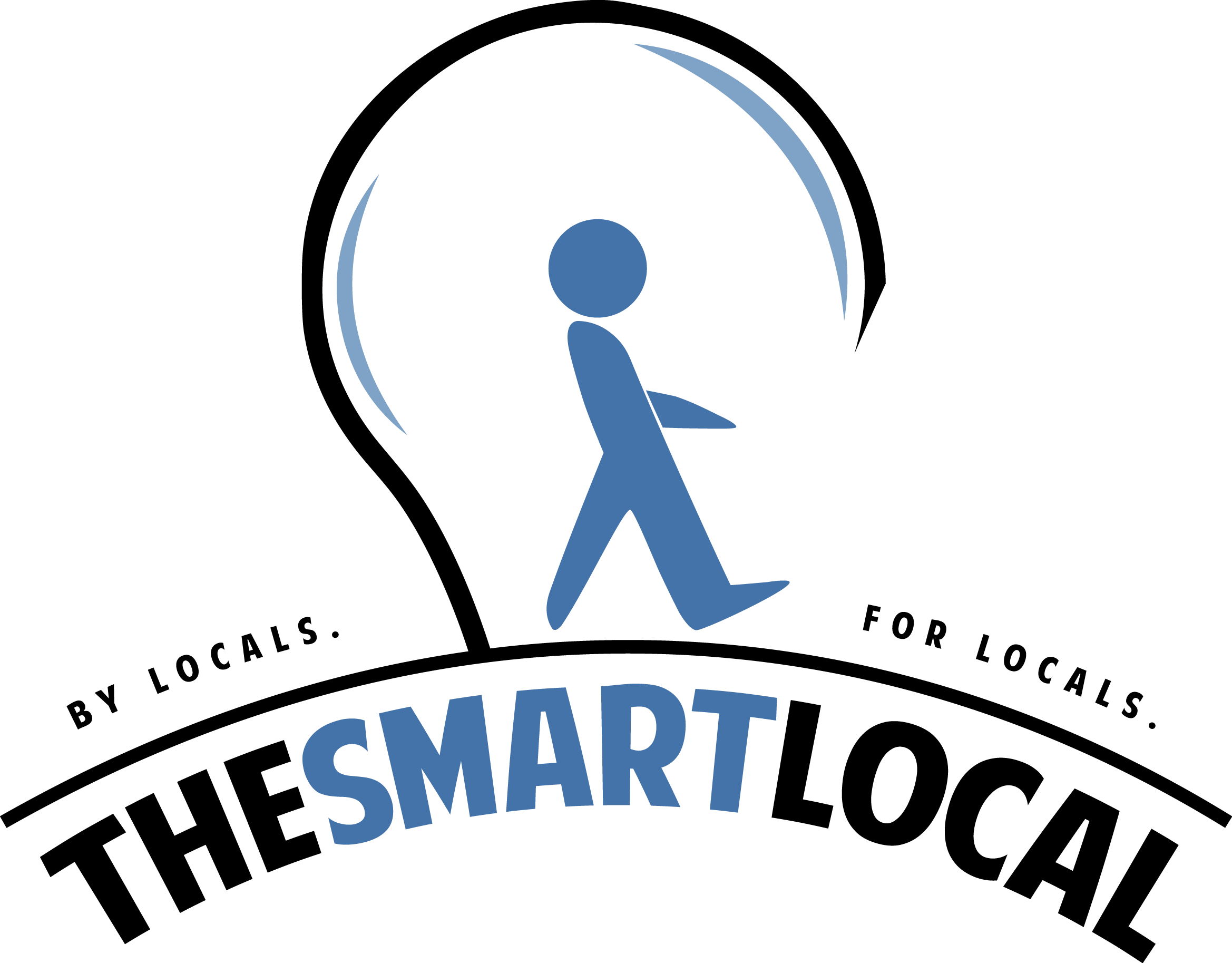 Drop us your email so you won't miss the latest news.