Uji travel guide
---
Travellers staying in the ancient capital of Kyoto tend to explore within the city centre, but just 20 minutes away by train lies Uji, a small city that's renowned for its superb tea and historic sites. 
If you've ticked sightseeing spots such as Gion off your Kyoto bucket list and are looking to uncover more hidden gems, here's how you can explore Uji, one of Japan's most culturally rich cities, on foot.   
---
1. Visit Byodoin on the Japanese ¥10 Coin
---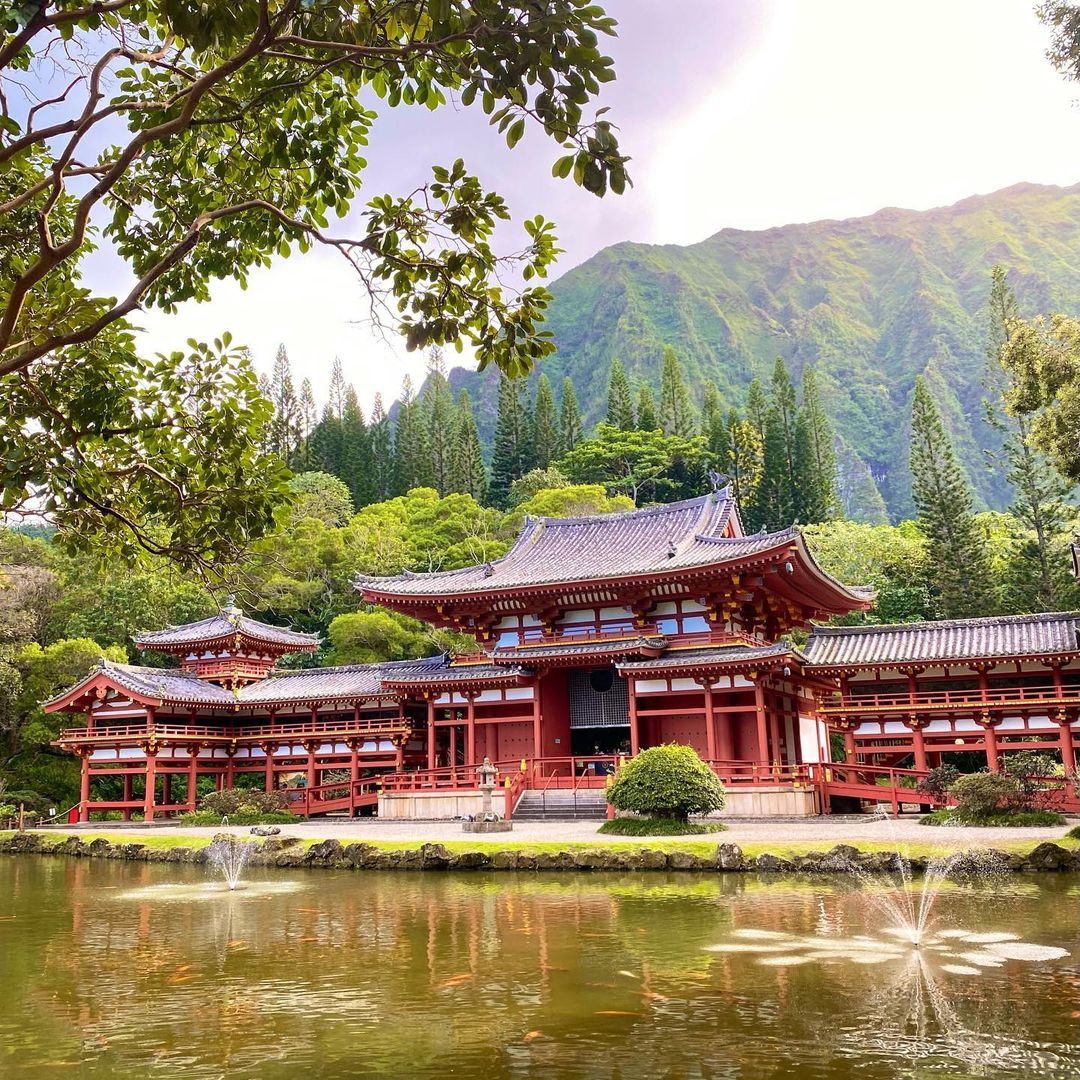 Image credit: @panda31_mik
Initially built to serve as a vacation home for Fujiwara no Michinaga, an influential statesman whose clan ruled the imperial court during the Heian Period, Byodoin (平等院) was converted into a Buddhist temple in 1052. Designated a UNESCO World Heritage site, it remains one of the most important surviving temples from the Fujiwara Regency.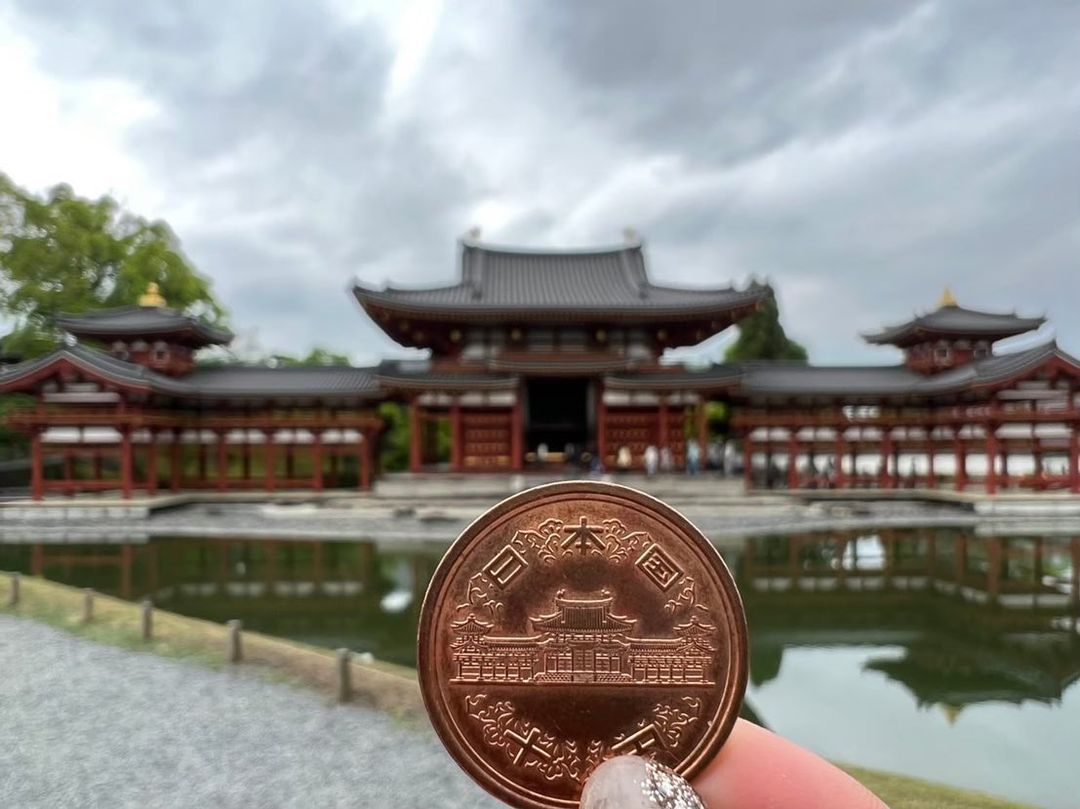 Image credit: @powerspotdrive
Specifically, Phoenix Hall (鳳凰堂), its most prominent feature, is a striking vermillion building that sits in the centre of a large pond. When viewed from the front, the symmetrical Phoenix Hall resembles the mythological bird spreading its wings, hence its name. On the roof, there are 2 gold phoenix statues, further driving home its connection to the mythical creature. 
If you have a wallet filled with coins, now's the time to put them to use. Fish out the ¥10 coin and you'll find the magnificent hall engraved on its back.
The interior of the hall can be accessed by joining a guided tour, which is available every 20 minutes and costs ¥300 (~USD2.09).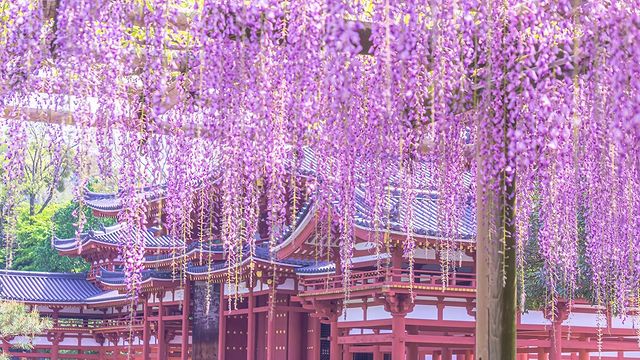 Wisteria vines in front of Phoenix Hall.
Image credit: @nao7_photography
With seasonal flowers blooming on the temple grounds all year round, Byodoin is worth the trip at any time. However, spring is arguably the best period as cherry blossoms are in full bloom from late March to early April.
For a few weeks from late April, wisteria vines – of which 4 trellises are roughly 300 years old – cascade by the pond, forming a purple waterfall in front of Phoenix Hall. 
Admission: ¥600 (~USD4.18) for adults, ¥400 (~USD2.78) for high and junior high school students, ¥300 (~USD2.09) for elementary school students
Address: Renge-116 Uji, 611-0021 Kyoto
Byodoin's opening hours: 8.30am-5.30pm, Daily (Last admission at 5.15pm)
Phoenix Hall's opening hours: 9.30am-4.10pm, Daily
Contact: 0774-21-2861 | Byodoin website
---
2. Admire the 1,000-year-old Ujigami Shrine
---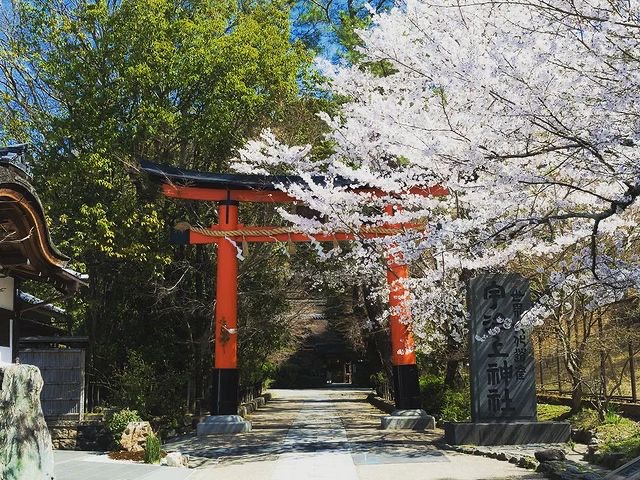 Image credit: @ysmz_mobile
Avid shrine–goers making their way around Kyoto to shrine-hop may want to add another one to their list. While not as flashy as its more famous cousins like Kiyomizu Dera, Ujigami Shrine (宇治上神社) wins age-wise as it is said to be the oldest original shrine building in Japan.
It enshrines Emperor Ōjin and his sons, Emperor Nintoku and Ujinowaki ​​Iratsuko, the latter of whom committed suicide in Uji after a succession dispute with his half-brother.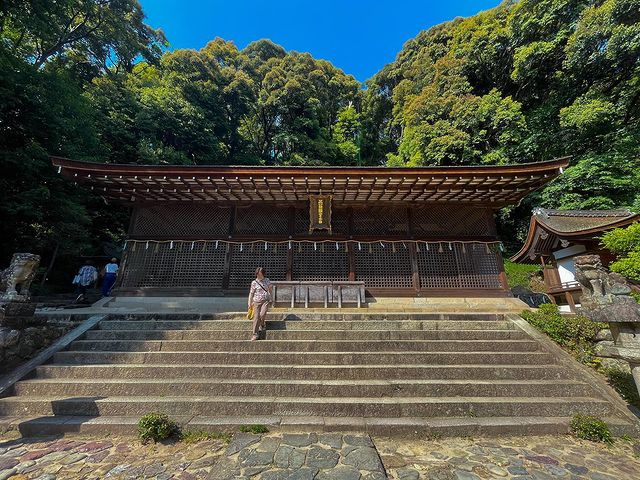 Ujigami Shrine's main hall.
Image credit: @templenaturelove
Designated a national treasure, the honden (本殿; main hall) was built with wood harvested in the late Heian period. The building is a prime example of the traditional nagare-zukuri (流造) style of shrine architecture, where the asymmetrical gabled roof extends outwards on its sides, resulting in narrow shelter in the front and back. 
The haiden (拝殿; worship hall), which is also a national treasure, is made of Japanese cypress that was cut down in the early Kamakura Period.
Address: 59 Yamada, Uji, 611-0021 Kyoto
Opening hours: 9am-4pm
Contact: 0774-21-4634 | Ujigami Shrine website
---
3. Learn about the world's first novel at The Tale Of Genji Museum
---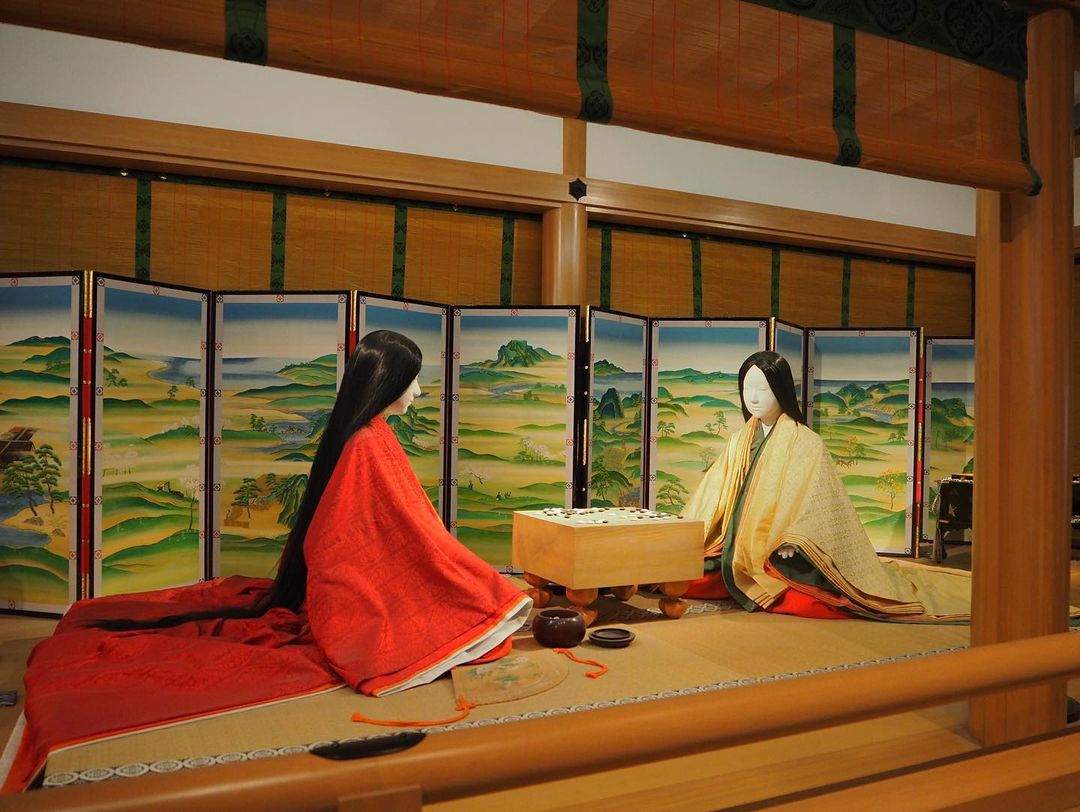 A replicated scene from the book.
Image credit: @kyoto.uji_tour_official
Written in the early 11th century, The Tale Of Genji is a riveting tale about aristocratic life and culture in early Heian Japan. This piece of classic Japanese literature is considered the world's first full-length novel.
Uji served as the setting for the final 10 chapters, and The Tale Of Genji Museum houses exhibitions, original animated movies, and interactive games that are related to the famed book.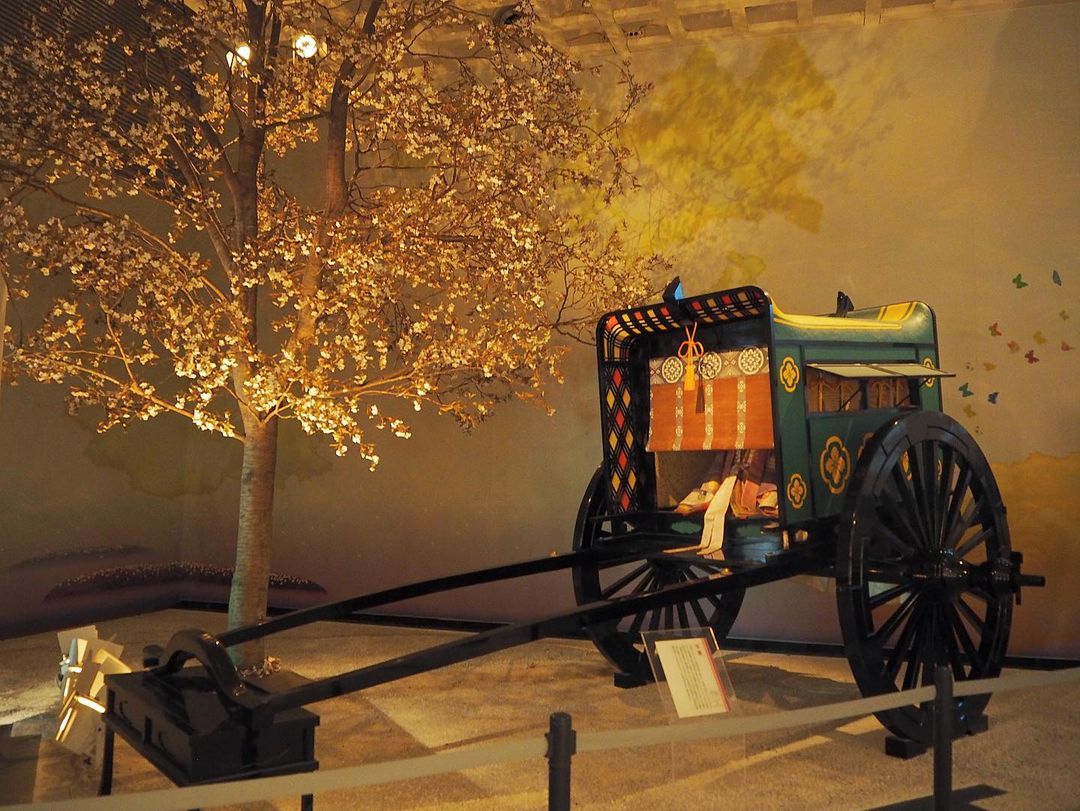 Full-sized replica of an ox cart.
Image credit: @kyoto.uji_tour_official
Life-sized models, such as a lacquered ox-cart and an elaborate 12-layer kimono worn by court ladies, that provide a glimpse into high-court life are also on display. However, note that the majority of the descriptions are in Japanese with limited English text.
For travellers who are fans of the renowned novel and understand the language, we recommend bookmarking this museum to see the classic tale come to life.  
Admission: ¥600 (~USD4.18) for adults, ¥300 (~USD2.09) for children
Address: Higashiuchi-45-26 Uji, 611-0021 Kyoto
Opening hours: Tue-Sun 9am-5pm (Closed on Mondays; Last admission at 4.30pm)
Contact: 0774-39-9300
---
4. Hydrangeas in full bloom at Mimurotoji
---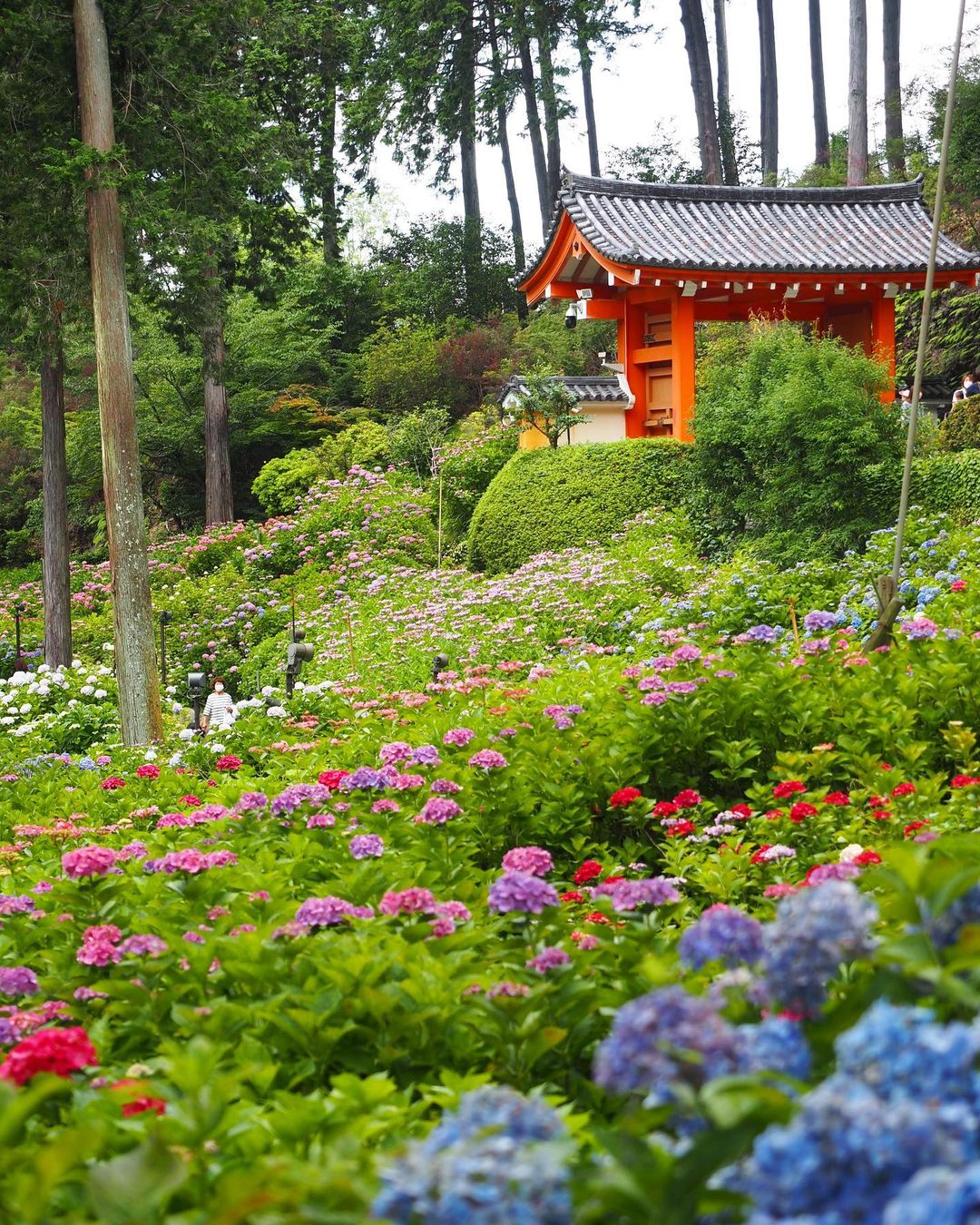 Image credit: @0531yumi
With a history of roughly 1,200 years old, the hillside temple of Mimurotoji (三室戸寺) boasts an ever–changing view of blooms in its expansive garden. Seasonal flowers such as azalea and lotus blanket the temple grounds in spring and summer respectively, but the biggest draw is its hydrangeas, which are in full bloom during the early summer months.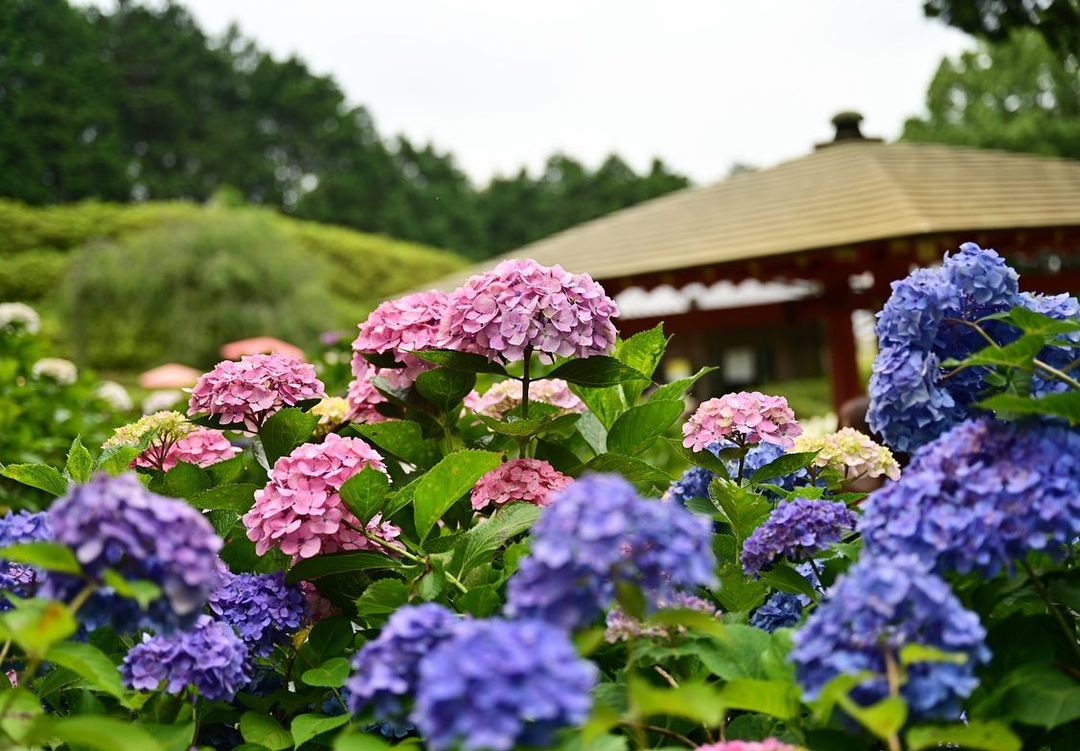 Image credit: @okamoto.kazunori
Dubbed the "Hydrangea Temple", Mimurotoji houses over 50 varieties of the summer flowering shrub. After the rainy season and right before the peak of summer – usually late June to early July in Japan – 20,000 hydrangeas of various colours bloom among the cedar grove, making for a pretty sight to behold. 
At the peak of the season, the garden is expected to be very crowded on the weekends. Hence, we recommend visiting on the weekdays for a more pleasant viewing experience.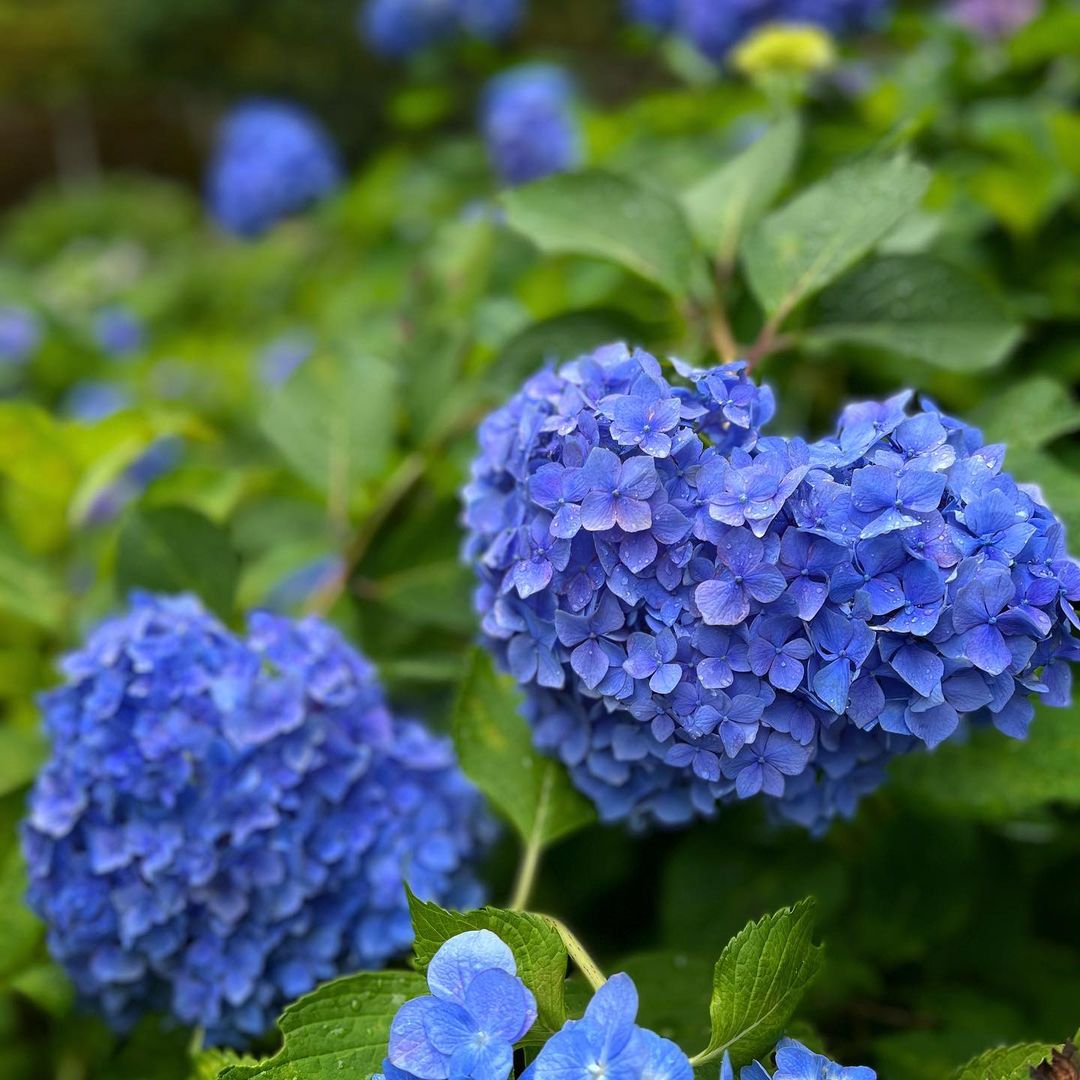 Image credit: @aki_na592
Admission: ¥500 (~USD3.48)/adults, ¥300 (~USD2.09)/children
Admission  (Weeping plum & azalea period): ¥800 (~USD5.56)/adults, ¥400 (~USD2.78)/children
Admission (Hydrangea period): ¥1,000 (~USD6.95)/adults, ¥500 (~USD3.48)/children
Address: Shigatani-21 Todo, Uji, 611-0013 Kyoto
Opening hours: Apr-Oct 8.30am-4.30pm, Daily (Last admission at 3.50pm; Closed from 13th to 18th August) | Nov-Mar 8.30am-4pm, Daily (Last admission at 3.20pm; Closed from 29th to 31st December)
Contact: 0774-21-2067 | Mimurotoji website
---
5. Watch cormorant fishing on the Uji River
---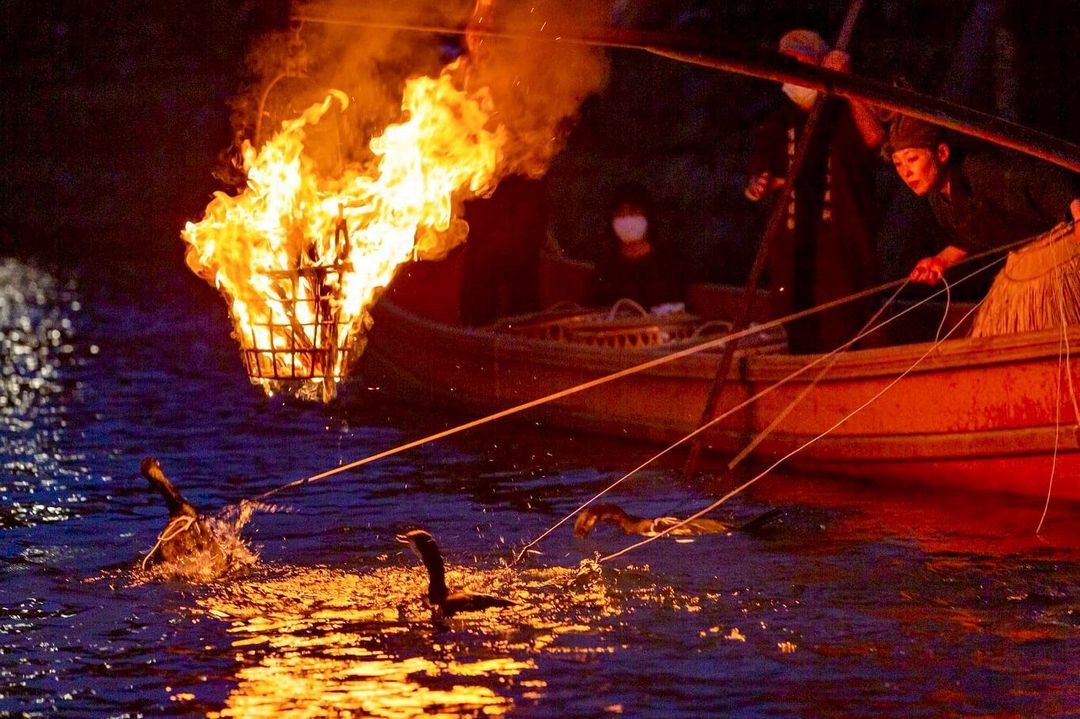 Image credit: @fuka93.ino
A traditional fishing method that dates back to the Heian Period, cormorant fishing (鵜飼; ukai) happens annually in summer along the Uji River. Domesticated cormorants are leashes and led to the river alongside fishermen on wooden boats.  
The blazing flames from the kagari-bi (かがり火; fishing fire basket), which is hung from the fishing boats, provide light amidst nightfall and illuminate the way. There, cormorants dive under the water to catch ayu (鮎; sweetfish) with their sharp beaks, swallowing them whole. 
As the bird's throat is lined with a special pouch that allows them to store their catch, the fishes are later retrieved by trained fishermen.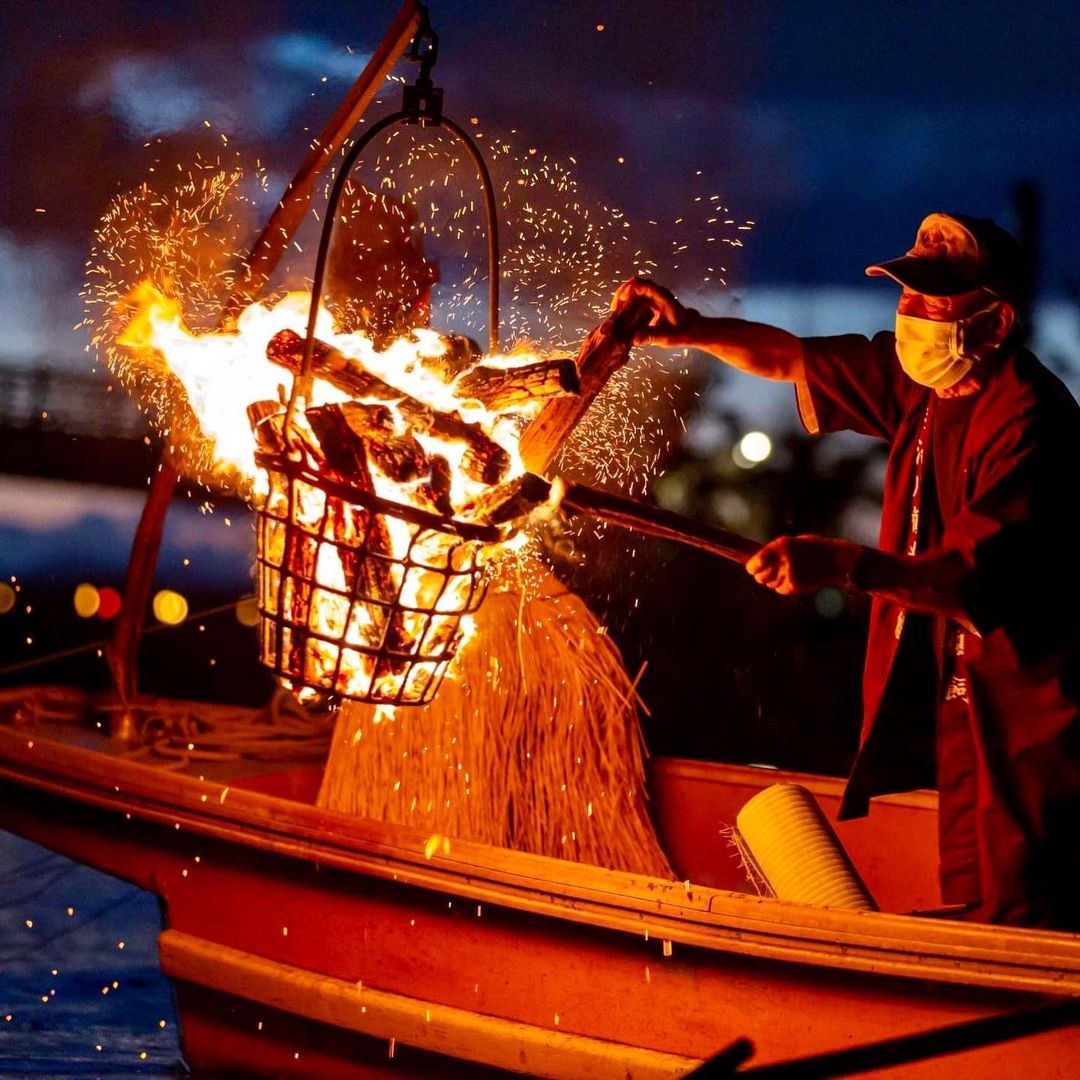 Image credit: @fuka93.ino
Uji is one of the remaining places in Japan where travellers can see the 1,300-year-old fishing technique in action. At the peak of summer, namely July to September, sightseeing boat tours are open for reservation, although availability is subject to weather conditions. 
Rates: ¥2,000 (~USD13.88)/adults, ¥1,000 (~USD6.94)/elementary school students
Address: Togawa Uji, 611-0021 Kyoto
Departure: Jul-Aug 7pm, Daily | Sep 6.30pm, Daily
Contact: 0774-23-3353 | Uji City Tourism Official website
---
6. Enjoy matcha-infused curry and noodle dishes
---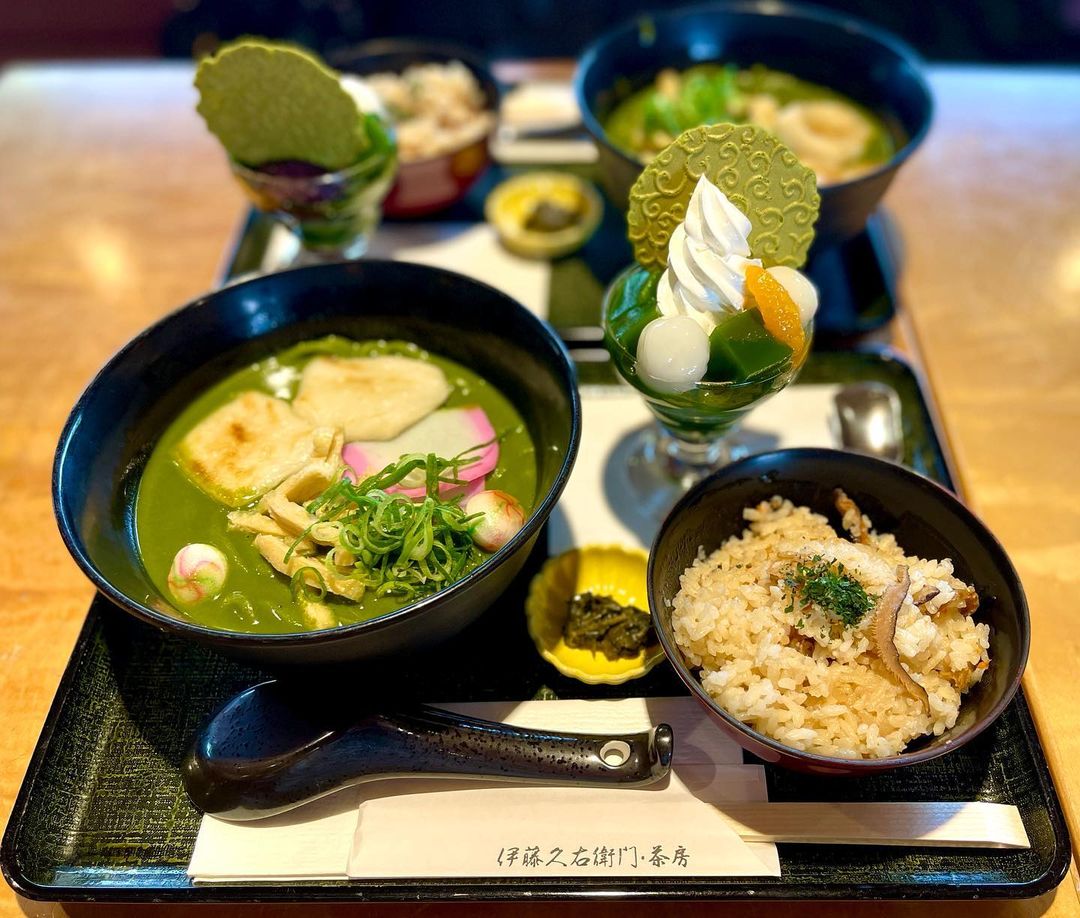 Lunch set that comes with matcha curry udon, kayaku gohan & mini parfait.
Image credit: @e_yasuyo
Shops selling matcha desserts and sweets can be found virtually anywhere in Uji. But if you're already in the city famed for its matcha, you might as well go all out and try unusual savoury dishes that are infused with tea. 
Itoh Kyuemon (伊藤久右衛門), a popular long-standing tea house and a purveyor of tea in Uji, serves an intriguing dish – Uji matcha udon in thick, silky matcha curry broth. The noodles are topped with the usual suspects – kamaboko (fishcake), green onions, and eggs – and the tea fragrance comes through faintly. 
Order it à la carte (¥1,090, ~USD7.63) or in a set that includes a bowl of kayaku gohan (mixed rice) (¥1,290, ~USD9.03). If you have a sweet tooth, get the set that comes with both the rice and a mini parfait (¥1,590, ~USD11.13).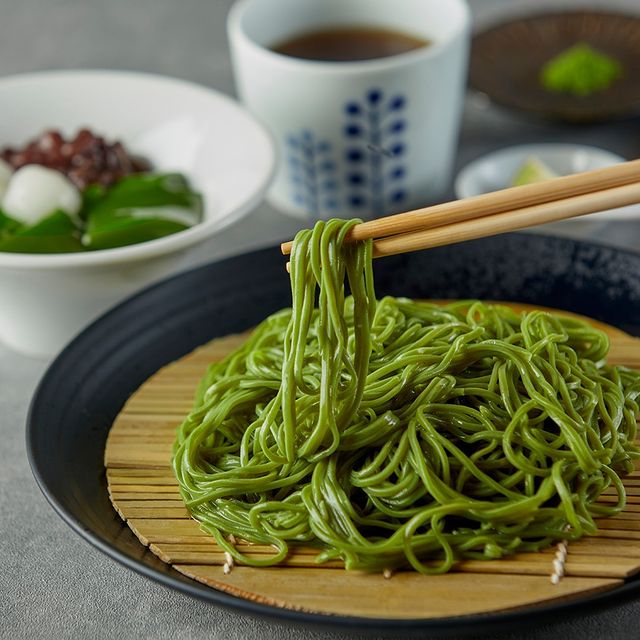 Image credit: @nakamura_tokichi_official
For something light, the matcha soba from Nakamura Tokichi (中村藤吉) – a well-known tea house founded in 1854 – is a refreshing fix. Slightly bitter and sweet due to the addition of matcha, the soba noodles are served either cold (¥820, ~USD5.74) or in a hot broth with aburaage (fried tofu pouches) for ¥870 (~USD6.09). 
Itoh Kyuemon Uji Main Store
Address: 19-3 Aramaki, Todo, Uji, 611-0013 Kyoto
Opening hours: 10am-5pm, Daily (Last order at 4.30pm)
Contact: 0774-23-3955 | Itoh Kyuemon website
Nakamura Tokichi Uji Main Store
Address: 10 Uji Ichiban, Uji, Kyoto
Cafe's opening hours: 10am-5.30pm, Daily (Last order at 4.30pm)
Tea shop's opening hours: 10am-5.30pm, Daily
Contact: 0774-22-7800 | Nakamura Tokichi website
---
7. Attend a tea workshop at Fukujuen Ujicha Kobo
---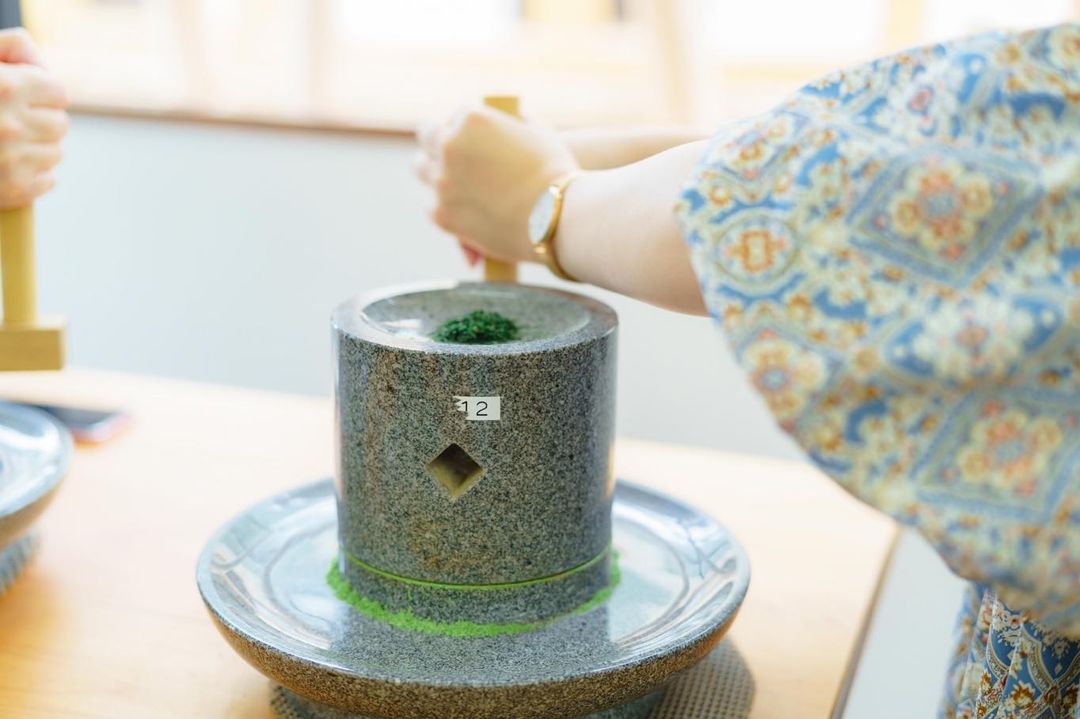 Matcha grinding workshop.
Image credit: @kakipy
Fukujuen Ujicha Kobo (福寿園宇治茶工房) offers a number of workshops that shed light on tea production and brewing. In the matcha grinding workshop, participants get to grind green tea leaves using a stone mill. This was commonly done in the past as people would only grind the necessary amount of tea leaves needed to ensure its freshness.  
Upon finishing the 40-minute class, you'll be served with tea brewed using your freshly milled matcha, alongside confectionery. The class costs ¥1,320 (~USD9.24) per head.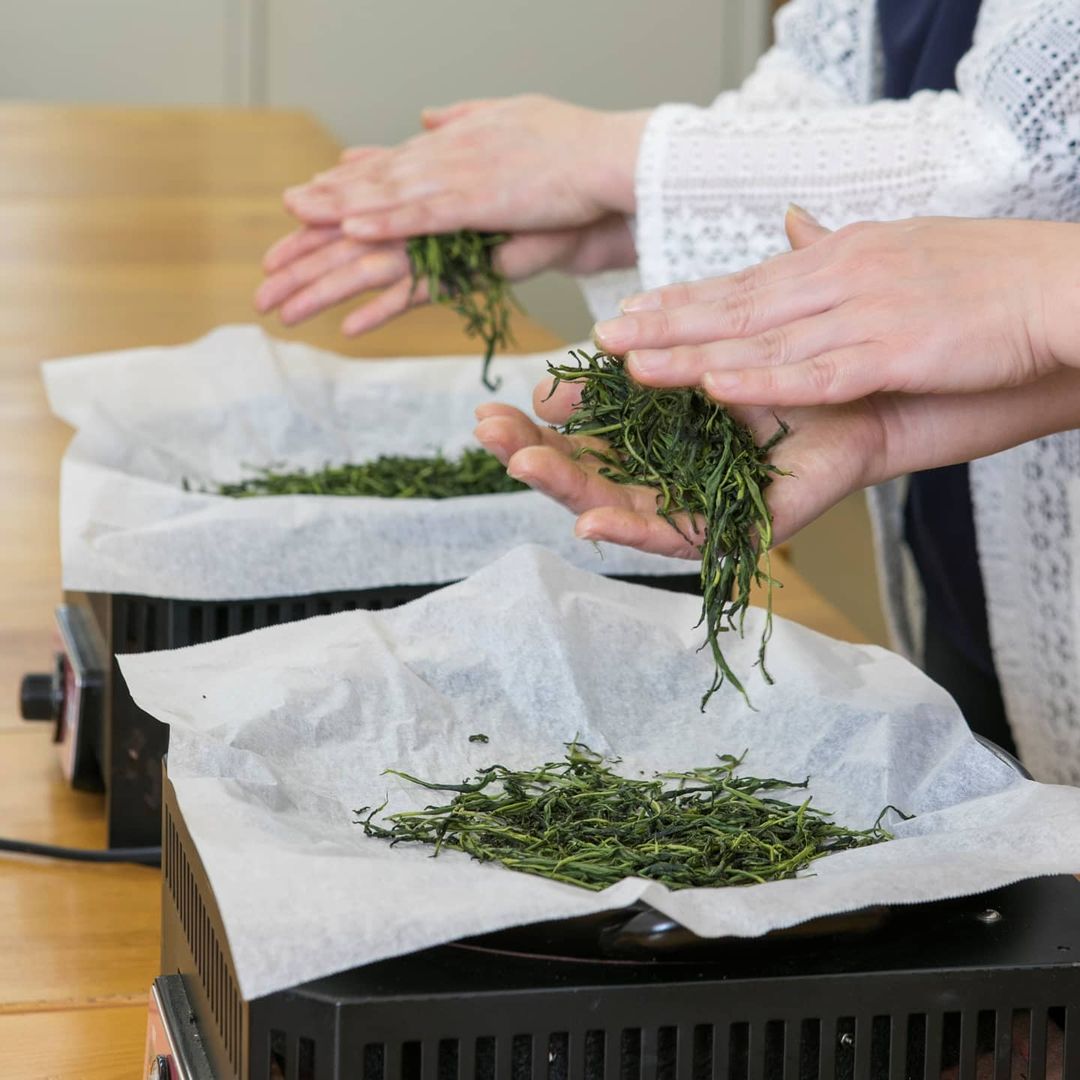 Participants kneading steamed sencha leaves.
Image credit: @ujikoubou_fukujuen
Other workshops include sencha making (¥2,750, ~USD19.26), which involves kneading and rubbing steamed tea leaves over a ceramic hot plate. It is said that this method, which has been passed down since the Edo period, brings out the full flavour and aroma of sencha. 
A total of 9 workshops, which range from ¥1,320 (~USD9.24) to ¥7,150 (~USD50.10), are available. Reservations have to be made at least 3 days in advance through their website. 
Address: Renge-35 Uji, 611-0021 Kyoto
Opening hours: Tue-Sun 10am-5pm, Daily (Closed on Mondays)
Contact: 0774-28-6810 | Fukujuen Ujicha Kobo website
---
8. Authentic traditional tea ceremony at Taihoan
---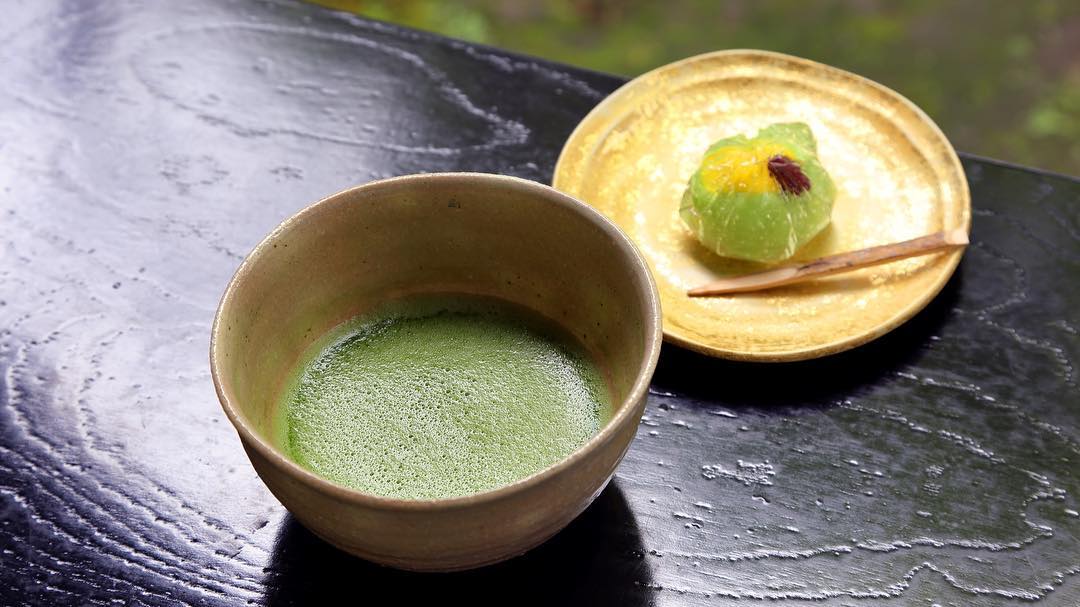 Tea & wagashi (traditional Japanese confectionery) served during the ceremony.
Image credit: @kyoto.uji_tour_official

To end your trip on a high note, delve into the world of sado (茶道; traditional Japanese tea ceremony) at Taihoan (対鳳庵). For an affordable price of ¥1,000 (~USD6.94), visitors can partake in the artistic ritual at a traditional tea house, where the host will prepare and serve matcha in a graceful yet systematic flow.
Read our Taihoan guide for more on what to expect at the tea house.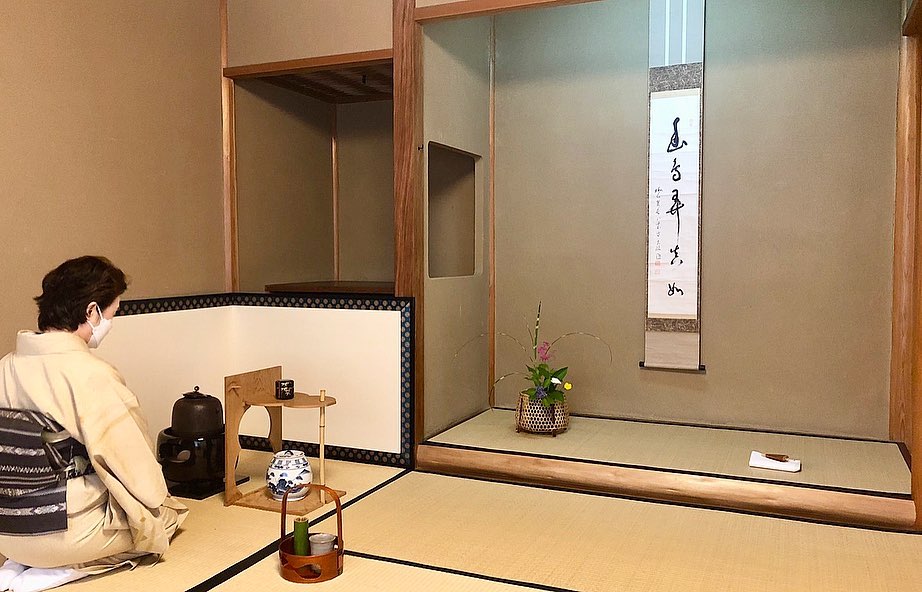 Image credit: @kyoto.uji_tour_official
Address: Togawa-2 Uji, 611-0021, Kyoto
Opening hours: 10am-4pm, Daily (Closed from 21st December to 9th January)
Contact: 0774-23-3334
---
Getting to & around Uji
---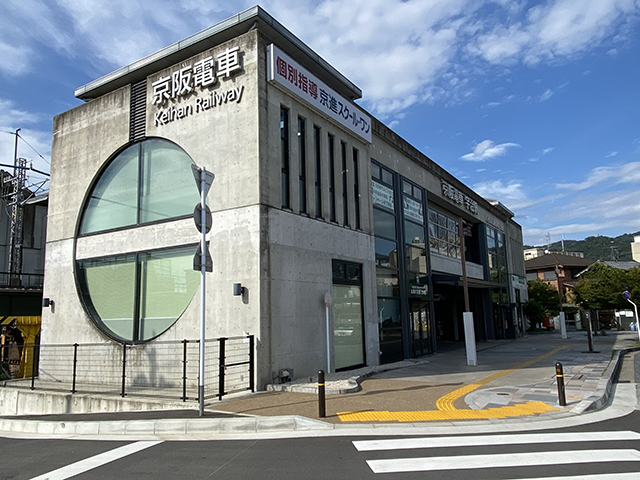 Keihan Uji Station.
Image credit: Keihan Ujisen Okeihan
The city of Uji is easily accessible via a short train ride from Kyoto. For JR Pass holders and travellers who are based nearer to Kyoto Station, take the JR Nara Line from Kyoto Station and alight at Uji Station. A one-way trip costs ¥240 (~USD1.67), and it will take 18 and 28 minutes for rapid and local trains respectively.
Alternatively, Uji is also reachable via the Keihan Uji Line if you're departing from popular sightseeing areas like Gion. Board the Keihan Main Line from Gion Shijō Station, make a transfer at Chūshojima Station to the Keihan Uji Line, before alighting at Keihan Uji Station. It costs ¥310 (~USD2.15), which is slightly more expensive than taking the JR train, but most spots are located nearer to this station. 
With the exception of Mimurotoji, the places on our list can be quickly reached on foot. To get to Mimurotoji, take bus 40 or 40A from Keihan Uji Station and get off at Monnomae Station (¥230, ~USD1.60). From there, it's a 13-minute walk to the temple.  
---
Guide to a day trip in Uji, Kyoto 
---
With so much to offer, the charming city of Uji is an ideal day trip destination for those who are based in Kyoto and the Kansai area. No matter the time of the year, stunning sights and seasonal activities await you. 
For more, check out: 
---
Cover image adapted from: @kakipy, @panda31_mik, @okamoto.kazunori, @nakamura_tokichi_official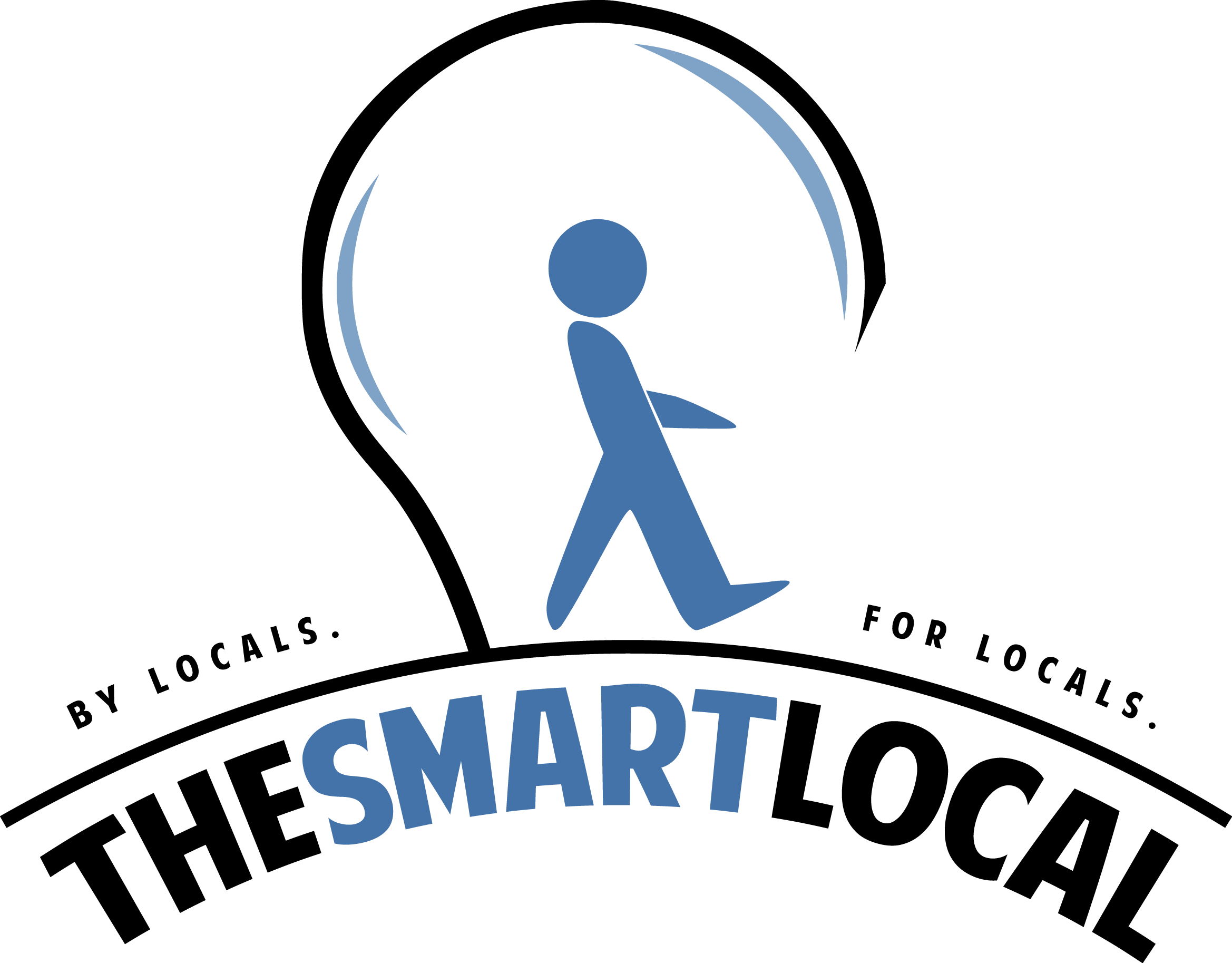 Drop us your email so you won't miss the latest news.